Athol Corps
107 Ridge Avenue, Athol, MA 01331-0373
ph. (978) 249-8111 | fax: (978) 249-3140
www.SalvationArmyMA.org/Athol
____________
Lowell Corps
150 Appleton Street, Lowell, MA 01853-1456
ph. (978) 458-3396 | fax: (978) 458-4923
www.SalvationArmyMA.org/Lowell
____________
Lynn Corps
1 Franklin Street, Lynn, MA 01902-4105
ph. (781) 598-0673 | fax: (781) 586-9327
www.SalvationArmyMA.org/Lynn
____________
Boston (Central Hispanic) Corps
23 Vernon Street, Roxbury, MA 02119
ph. (617) 427-6700 | fax: (617) 424-1498
www.SalvationArmyMA.org/BostonCentral
____________
Milford Corps
29 Congress Street, Milford, MA 01757-2039
ph. (508) 473-0786 | fax: (508) 634-4763
www.SalvationArmyMA.org/Milford
____________
Mystic Valley Corps (Malden)
213-219 Main Street, Malden, MA 02148-6939
ph. (781) 324-1970 | fax: (781) 321-8270
www.SalvationArmyMA.org/MysticValley
____________
Boston Ray & Joan Kroc Corps Community Center
650 Dudley Street, Dorchester, MA 02125
ph. (617) 318-6900 | fax: (617) 318-6999
www.Boston.SalArmyKroc.org
____________
New Bedford Corps
619 Purchase Street, New Bedford, MA 02740-6307
ph. (508) 997-6561 | fax: (508) 997-6565
www.SalvationArmy.org/NewBedford
____________
Boston South End Corps
1500 Washington Street, Boston, MA 02118-2015
ph. (617) 536-5260 | fax: (617) 236-0799
www.SalvationArmyMA.org/SouthEnd
____________
Newburyport Corps
40 Water Street, Newburyport, MA 01950-2751
ph. (978) 465-0883 | fax: (978) 465-4300
www.SalvationArmyMA.org/Newburyport
____________
Brockton Corps
216 Centre Street, Brockton, MA 02303-4047
ph. (508) 583-1896 | fax: (508) 427-5548
www.SalvationArmyMA.org/Brockton
____________
North Adams Corps
393 River Street, North Adams, MA 01247
ph. (413) 663-7987 | fax: (413) 663-3751

Cambridge Corps
402 Massachusetts Avenue, Cambridge, MA 02139-7451
ph. (617) 547-3400 | fax: (617) 491-7451
www.SalvationArmyMA.org/Cambridge
____________
North Shore Corps
93 North Street, Salem, MA 01970-3963
ph. (978) 744-5181 | fax: (978) 741-1159
www.SalvationArmyMA.org/NorthShore
____________
Camp Wonderland
186 Massapoag Avenue, Sharon, MA 02067
ph. (339) 502-5900
www.campwonderland.org
____________
Pittsfield Corps
298 West Street, Pittsfield, MA 01202-5770
ph. (413) 442-0624 | fax: (413) 499-4373
www.SalvationArmyMA.org/Pittsfield
____________
Chelsea/East Boston Corps
258 Chestnut Street, Chelsea, MA 02150
ph. (617) 884-0260 | fax: (617) 884-3789
www.SalvationArmyMA.org/Chelsea
____________
Plymouth Corps
52 Long Pond Road, Plymouth, MA 02360
Mailing Address: PO Box 3760, Plymouth, MA 02360
ph. (508) 746-1559 | fax: (508) 746-1368
www.SalvationArmyMA.org/Plymouth
____________
Children's Learning Center
26 Wales Street, Dorchester, MA 02124-2104
ph. (617) 436-2480 | fax: (617) 822-9015
www.SalvationArmyMA.org/ChildrensLearningCenter
____________
Quincy Corps
6 Baxter Street, Quincy, MA 02169-6932
ph. (617) 472-2345 | fax: (617) 472-8605
www.SalvationArmyMA.org/Quincy
____________
Fall River Corps
290 Bedford Street, Fall River, MA 02722-0444
ph. (508) 679-7900 | fax: (508) 730-1791
www.SalvationArmyMA.org/FallRiver
____________
Springfield Corps
170 Pearl Street, Springfield, MA 01101-0971
ph. (413) 733-1518 | fax: (413) 737-3624
www.SalvationArmyMA.org/Springfield
____________
Fitchburg/Montachusett Corps
739 Water Street, Fitchburg, MA 01420-6749
ph. (978) 342-3300 | fax: (978) 345-4155
www.SalvationArmyMA.org/Fitchburg
____________
Waltham Corps
33 Myrtle Street, Waltham, MA 02453-0557
ph. (781) 894-0413 | fax: (781) 893-1903
www.SalvationArmyMA.org/Waltham
____________
Framingham Corps
350 Union Avenue, Framingham, MA 01702
ph. (508) 875-3341 | fax: (508) 626-0926
www.SalvationArmyMA.org/Framingham
____________
Wonderland Conference Center
186 Massapoag Avenue, Sharon, MA 02067
ph. (781)784-8924
www.SalvationArmyMA.org/Wonderland
____________
Greenfield Corps
72 Chapman Street, Greenfield, MA 01301
ph. (413) 773-3154 | fax: (413) 773-0140
www.SalvationArmyMA.org/Greenfield
____________
Worcester Citadel Corps
640 Main Street, Worcester, MA 01608
ph. (508) 756-7191 | fax: (508) 756-3232
www.SalvationArmyMA.org/WorcesterCitadel
____________
Haverhill Corps
395 Main Street, Haverhill, MA 01830-3340
ph. (978) 374-7571 | fax: (978) 374-7553
www.SalvationArmyMA.org/Haverhill
____________
Worcester Nueva Vida Corps
640 Main Street, Worcester, MA 01608
ph. (508) 756-7191 | fax: (508) 756-3232
\www.SalvationArmyMA.org/WorcesterNuevaVida
____________
Holyoke Corps
271 Appleton Street, Holyoke, MA 01040-0544
ph. (413) 532-6312 | fax: (413) 533-1968
www.SalvationArmyMA.org/Holyoke
____________
Hyannis Corps
100 North Street, Hyannis, MA 02601-0369
ph. (508) 775-0364 | fax: (508) 862-0256
www.SalvationArmyMA.org/Hyannis
____________

____________
Lawrence Corps
250 Haverhill Street, Lawrence, MA 01842-0652
ph. (978) 682-8038 | fax: (978) 687-8235
www.SalvationArmyMA.org/Lawrence
____________
Sours: https://massachusetts.salvationarmy.org/ma/locations
The 12 Best Secondhand Shops in and around Boston
The best places to find used clothing and furniture
Shopping for clothes, furniture, and housewares can be a challenge on a student budget. Fortunately, Boston-area secondhand stores offer a wide range of goods, from tables and chairs to designer duds and accessories. And purchasing someone else's castoffs is good for the environment, as well as for your wallet. Consider this: the average American throws out 81 pounds of clothing each year, adding a staggering 26 billion pounds of textiles a year to landfills.
Whether you're hitting a thrift, resale, consignment, or vintage store, you'll find clothes and furniture for relatively low prices. There are differences, though: thrift stores sell donated items, resale stores pay sellers for items, and consignment shops accept items from owners, who get a percentage when the items sell. Resale shops tend to sell more current styles, while consignment shops normally sell a mix of vintage (items more than two decades old) and current clothing and accessories.
There is a thrill to unearthing a hidden gem at the bottom of a pile or at the back of a shelf, and knowing that it's worth at least double what it's marked. So we've put together a list of secondhand stores worth checking out, from a vintage store specializing in retro video games to a consignment store where you can get designer clothes for low prices and support local charities. Have a favorite that we've failed to include? Add it in the Comment section below.
And given the current coronavirus pandemic, many stores have shortened hours or have implemented COVID-19 safety policies when it comes to consignment appointments, so it may be best to call the store first if you have questions.

Note: Many stores are taking extra precautions when it comes to selling, such as asking customers to wash their items before dropping them off (which is always a good idea) and leaving them untouched for 24 hours.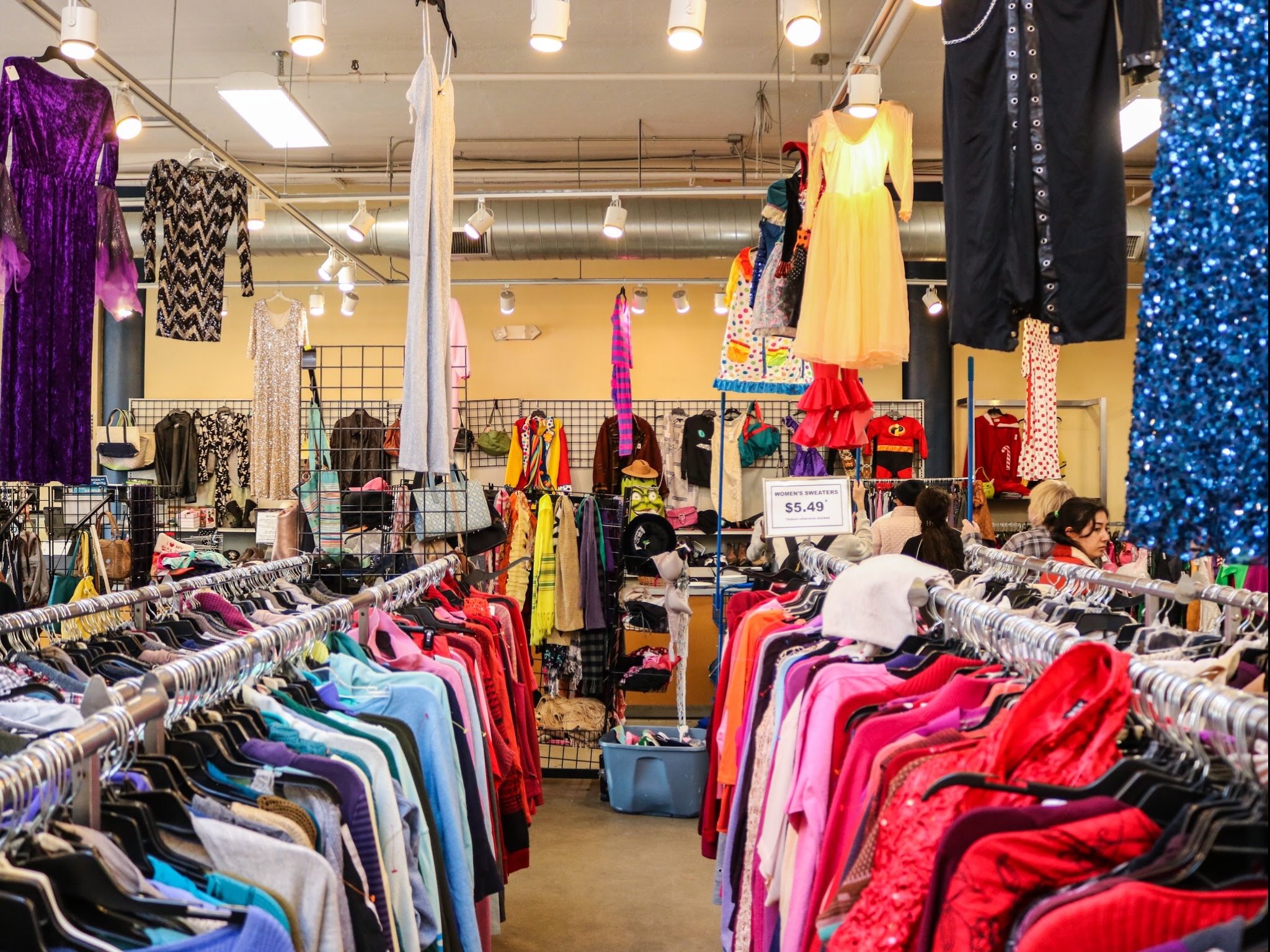 Morgan Memorial Goodwill Industries was founded in Boston's South End in 1895 (by a BU alum). Today, stores supporting the nonprofit can be found throughout the world. The closest is in West Campus. Clothes are organized by type and color, and most have a set price: jeans for $7.49, graphic T-shirts for $1.99, and so on. There's also a pricier boutique section of higher-end brands and noteworthy vintage items. An ongoing weekly tag sale offers special discounts, and college students get a 15 percent discount every Thursday. Note: the store is not currently accepting donations.
Hours: Monday to Saturday, 10 am to 6 pm

Buffalo Exchange occupies that magical space between a thrift store and a consignment shop. Items—both men's and women's clothing with a youthful and hip bent—average $15. Low- and high-end brands can be found, ranging from H&M and Urban Outfitters to more expensive labels like Calvin Klein. Those selling clothes can get 25 percent in cash or 50 percent for store credit with a valid government-issued ID. Sign up for the store's newsletter to find out about special deals, like student discount day. And bring a reusable bag: Buffalo Exchange donates money to local charities in lieu of providing bags.
Hours: Monday to Saturday, 11 am to 8 pm, Sunday, 11 am to 7 pm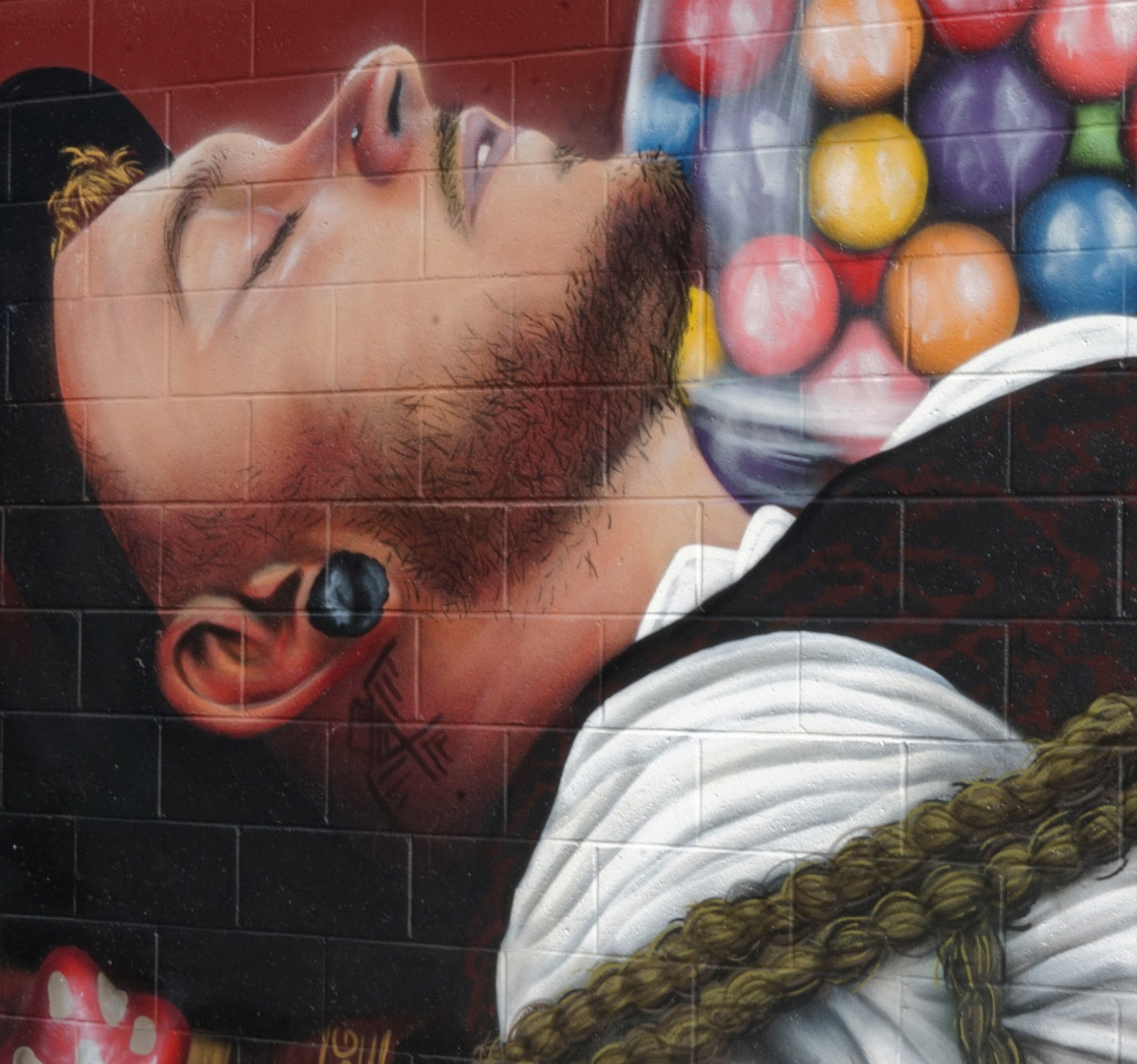 It's impossible to miss Vivant Vintage. The exterior has two colorful murals, one that declares the store "home of the traveling spectacular." If that's not enough to draw you in, the eccentric atmosphere should be—it's like walking into a collector's attic, with items from vintage cameras and old typewriters to an elk head with a gas lantern dangling from its antler. It can be hard to tell what's for sale and what's part of the permanent decor, but owner Justin Pomerleau will happily clarify. The clothes vibe is rock 'n' roll bohemian: lots of leather jackets ($70 to $150), vintage graphic T-shirts ($20 to $30), and button-downs with big '70s collars. There's plenty of outerwear, dresses, leather bags, boots, wingtips, sunglasses, jewelry, and ties ($15, two for $25). Vivant Vintage also offers a 15 percent discount for students and teachers every Wednesday.
Hours: Every day, 11 am to 6 pm

One of Boston's most popular chain of thrift stores, Boomerangs is noted for lavishly decorated windows, especially at Halloween and other holidays. You can find plenty of cheap bargains on a variety of items. The stores offer clothing, kitchenware, art, furniture, books, jewelry, and more. Proceeds benefit the AIDS Action Committee of Massachusetts. Keep up with special sales via Boomerangs' Facebook page.
Jamaica Plain hours: Monday through Friday, 11 am to 6 pm, Saturday, 10 am to 6 pm
Central Square hours: Monday through Saturday, 10 am to 6 pm
South End hours: Tuesday through Sunday, 11 am to 6 pm
At Castanet you'll find lots of designer brand duds for sale, all in excellent condition. Expect to shell out some serious money, though, because the labels include Chanel, Balenciaga, Isabel Marant, and more. Castanet squeezes a lot of merchandise into two small rooms and offers one of the best deals available to those consigning clothing: up to 50 percent of the selling price. Call to set up an appointment or email the store's owner ([email protected]) with a description of your items.
Hours: Tuesday through Saturday, noon to 5 pm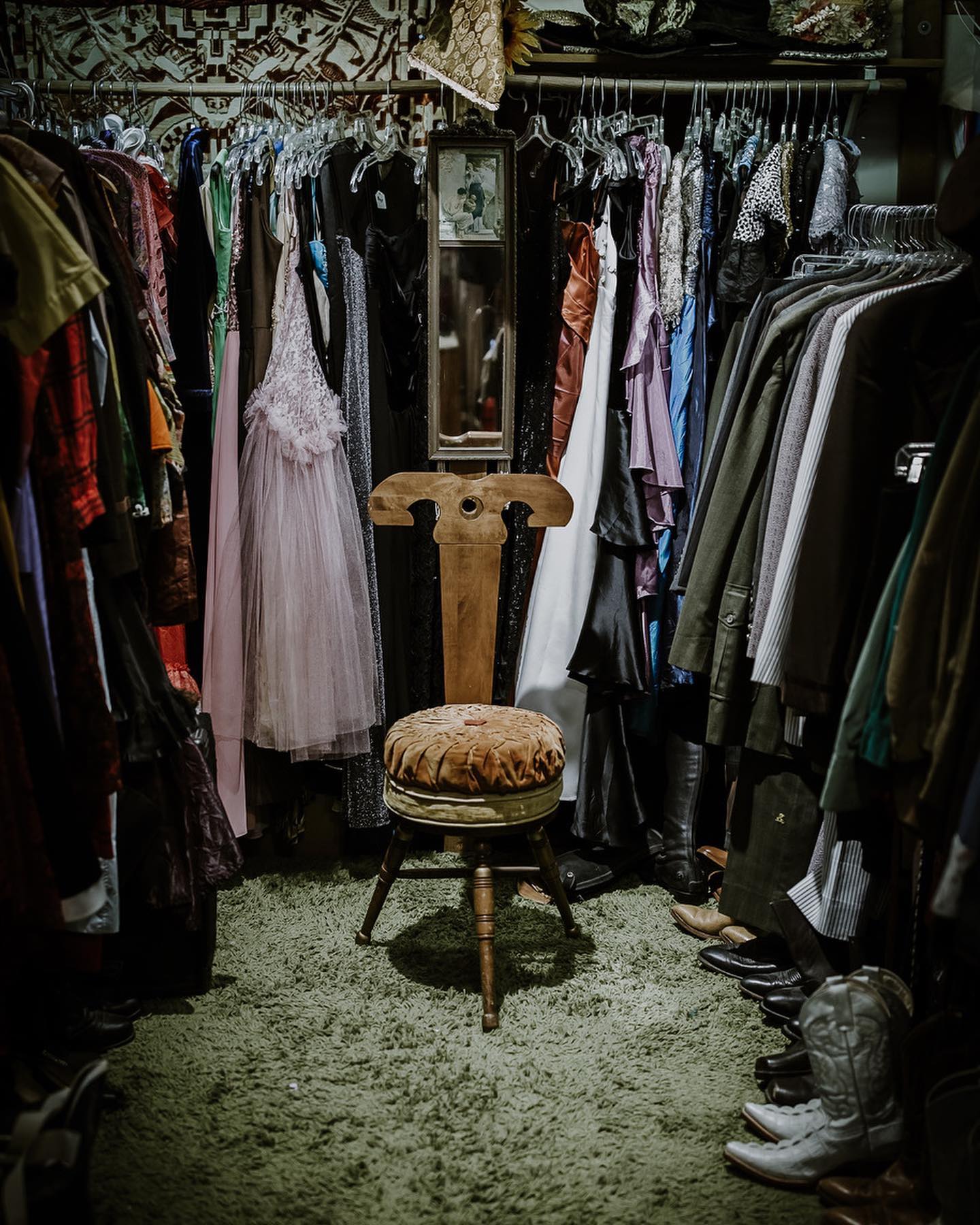 Founded in 1969, Great Eastern Trading Company was one of the first vintage stores in the Boston area. Today, it's known for its unique clothing for all genders, binary and nonbinary. With vintage items from the 1920s through the 1980s, it's also a good place to find a Halloween costume or an outfit for a costume party. The store carries statement items: we recently spotted a luxurious white fur coat, guaranteed to get you noticed.
Hours: Tuesday through Saturday, noon to 7 pm, Sunday, 1 to 6 pm
A woman-owned small business in East Cambridge, We Thieves is an intimate boutique (just 420 square feet) for those looking for a well-curated selection of vintage, independent artists, and one-of-a-kind finds. Expect to find vintage clothing, jewelry, and shoes, but also an apothecary section, with salts, salves, creams, body washes, and oils for some pampering and self-care. Visitors can venture into the store for an in-person look, or shop from the comfort of home from the online store.
Hours: Tuesday to Friday, noon to 7 pm, Saturday, 11 am to 7 pm, Sunday, 11 am to 5 pm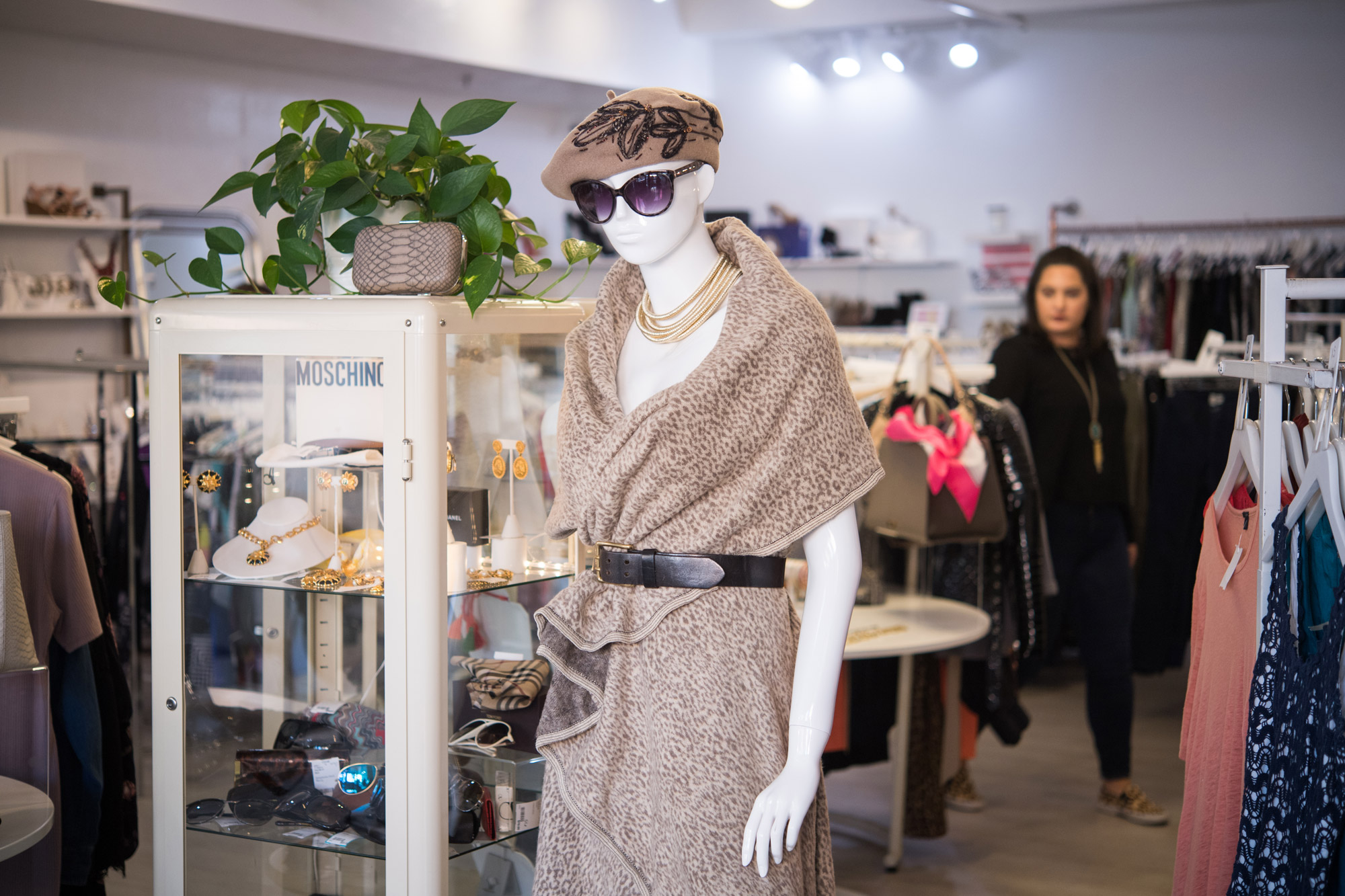 A quote by Carrie Bradshaw—Sarah Jessica Parker's character from Sex and the City—greets visitors entering this South Boston vintage boutique: "I like my money where I can see it…hanging in my closet." Covet is a consignment boutique offering both high-end and affordable apparel and accessories. There are some real gems to be found among the eclectic selection of tops, dresses, and pants. Recent fashionable finds include a Hermès bucket hat ($375), red and white heart-patterned Gucci slides ($625), and a Louis Vuitton bag for $560 (they normally retail for thousands). Check out Covet's Instagram (@covetfashion) for daily updates on its inventory, but act fast—almost as soon as items are posted, the word "Sold!" appears next to them.
Southie hours: Monday to Friday, 11 am to 7 pm, Saturday, 10 am to 6 pm, Sunday, 10 am to 5 pm
Beacon Hill hours: Monday to Friday, 11 am to 7 pm, Saturday, 10 am to 6 pm, Sunday, 10 am to 5 pm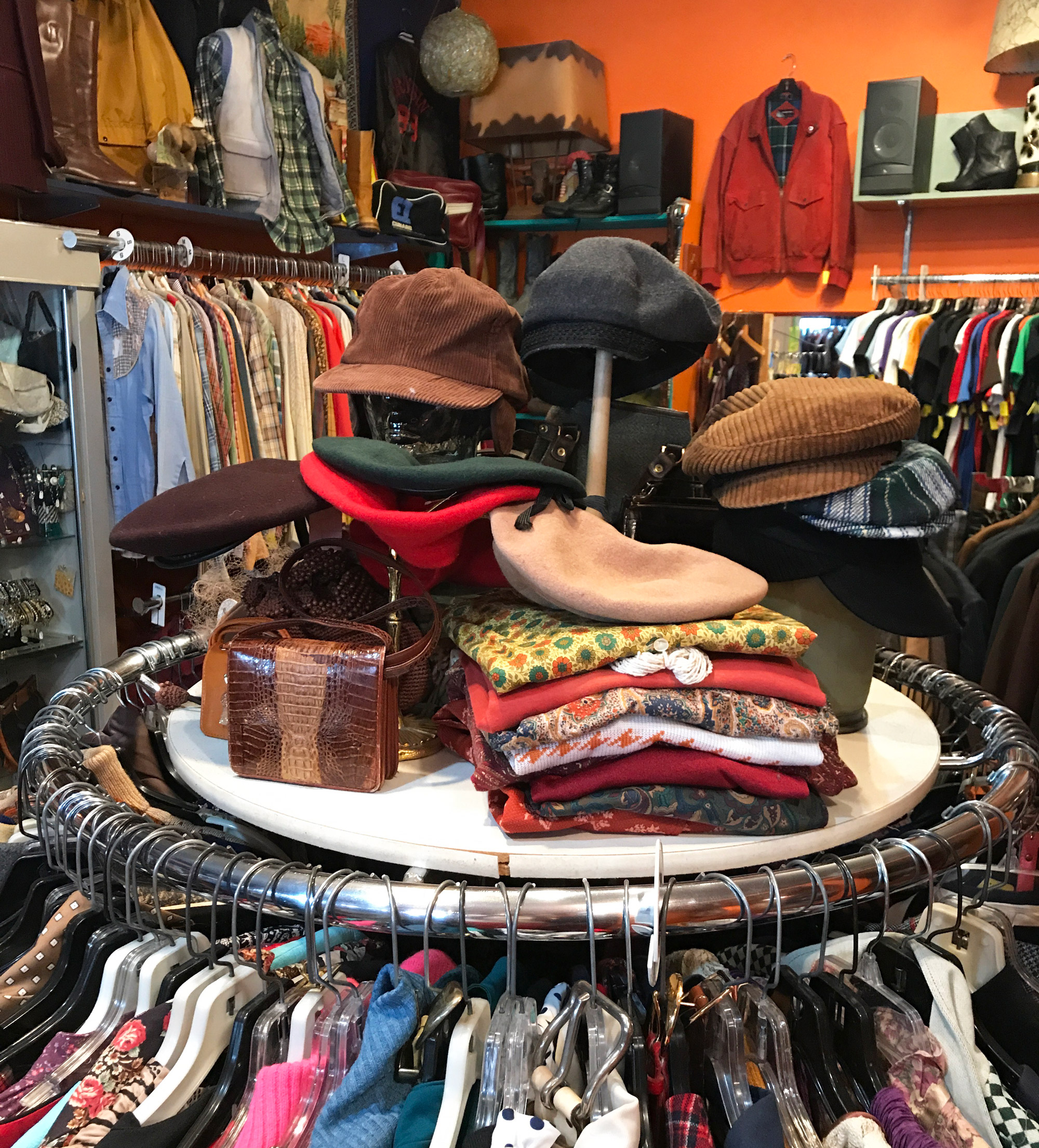 Sometimes vintage stores feel more like museums, with a look-but-don't-touch ethos. But 40 South Street has a down-to-earth vibe, with a fun and weird—rather than prim-and-proper—selection. You'll find vintage denim, pleated skirts, and leather vests adorning the chain-link fence entryway of the tiny shop. You'll also find sparkly evening dresses, kitschy sweatshirts, and men's and women's pieces from the '60s to the '80s, ranging from the basics (a vintage sweater vest for $35) to the statement-making (a pair of graphic, paint-splattered overalls for $55). Owner and local rocker Hilken Mancini—cofounder of Girls Rock Campaign Boston and Punk Rock Aerobics—plays punk classics while you peruse the racks. Take a look at her Etsy store to get a taste of the selection here.
Hours: Thursday and Friday, 1 to 7 pm, Saturday, 11 am to 6 pm, Sunday, noon to 5 pm

Bring in some gently used clothing, or just stop by for this consignment shop's many in-store sales. Raspberry Beret retails both new and consigned pieces of women's fashion. Carrying mostly mid-range women's apparel—many pieces are around $30—it has an eclectic assortment of higher-end designer items and more low-end trendy merchandise. Caution: plan to spend some time here. Most of the merchandise is on crowded, non-color-coordinated racks, meaning you may have to dig a bit harder to find what you're looking for—but it's worth it. There is also one small rack of men's items. Your purchases might even help support a local charity: Raspberry Beret invites local nonprofits to open consignment accounts that any seller can opt to donate items to. In addition to the Cambridge storefront, there is another location, in Maynard, Mass., and items are also available online.
Cambridge hours: Tuesday to Sunday, 11 am to 7 pm

Boasting the biggest selection of vintage clothing in the Boston area, Kendall Square's Garment District offers one-stop shopping for both vintage and contemporary secondhand clothes. Women's blouses are $7 to $14, dresses start at $10. Men will find items from business suits and button-downs to T-shirts and jeans. The pieces range primarily from the '50s to the '90s. Check out the massive pile of clothing on the bottom floor, where you pay $2 per pound. The Garment District sells kids' clothing, used designer duds, and brand-new clothing as well. The building also houses Boston Costume, one of the area's biggest costume rental locations, which is open daily, with the same hours.
The Garment District and Boston Costume hours: Sunday through Friday, 11 am to 8 pm, Saturdays, 10 am to 8 pm
By the Pound hours: Sunday through Thursday, 11 am to 7 pm, Friday, 11 am to 6 pm, Saturday, 10 am to 8 pm
High Energy Vintage in Union Square is a tucked-away gem with a serious retro-futuristic vibe and a ton of vintage treasures. Owner Andrew Wiley whistles along to '80s electro-pop as customers look through the merchandise, which ranges from men's and women's vintage clothing and shoes (most appear to be from the '70s and '80s) to vintage video games, cameras and other electronics, and vinyl records. There are $3 records, 4/$10 deals, and even rare, hard to find records for $100. Don't miss the $5 "trunk o' treasure" right inside the door. Check out High Energy's Facebook page for sales and new additions.
Hours: Monday, Wednesday, Thursday, and Sunday, noon to 6 pm, Friday and Saturday, noon to 7 pm
Have a favorite secondhand or consignment shop that's not on our list? Add it in the Comment section below.

Explore Related Topics:
Sours: https://www.bu.edu/articles/2020/thrift-stores-boston/
The Salvation Army Family Store & Donation Center
Salvation Army, Thrift Stores
Hours:
Tips
Hours
Business operations may be affected due to COVID-19. Please contact the business directly to verify hours.
Most Recent Comments
July 2021

Got there at 545 on a Friday night. Would not let us in. Said they closed at 6 and had 5 people in line to check out. They said they were at capacity!!!!

July 2021

Was very displeased. I came all the way from Monson since I needed some shorts for work and their website and google said they closed at 7pm so I ended up arriving at 6pm and they said they were closed. They should have updated their hours at least on their own webpage if not on google as well to reflect their new hours.

July 2021

This is my favorite thrift store to keep my boys clothed in name brand clothing in excellent condition. Today, I bought ten pairs of shorts, two pair of swimming trunks and a couple of t-shirts for under $50.Some of the brands Urban Pipeline, Cabela's, American Eagle, Banana Republic, Columbia, and evolution--average price... read full comment
More Comments(45)
From The Salvation Army Family Store & Donation Center
When you donate goods to The Salvation Army, those items are then sold at our Family Stores. Proceeds are used to fund our Adult Rehabilitation Centers, where those struggling with drugs and alcohol find help, hope, and a second chance at life.
Other Information
Sours: https://www.loc8nearme.com/massachusetts/springfield/salvation-army/583418/
Salvation Army Thrift Store - THRIFT with ME to Resell on Ebay
.
Store thrift salvation boston army
.
BEST THRIFT STORES IN BOSTON + THRIFTING TIPS - I found GUCCI, MARC JACOBS, MIU MIU
.
Now discussing:
.
1035
1036
1037
1038
1039