AT&T Collections is one of the biggest telecom providers in the country, with phone, data, and TV packages through U-Verse.
If you missed a phone bill or canceled your AT&T account and forgot to pay the final balance, you could be contacted by their collections department.
When AT&T Collections contacts you, it can damage your credit score for years and result in a string of unwanted phone calls and letters.
While your first instinct might be to pick up the phone and make a payment, hold that thought.
Because simply paying your debt won't do your credit any good.
Instead, take a look at our guide to dealing with AT&T Collections to ensure the company's collections entry gets removed from your credit report.
You may save money on repayment along the way.
How Does AT&T Collections Agency Work?
AT&T is a completely legitimate business, and so is its collections department.
In other words, if the name "AT&T Collections" appears on your credit report, you can trust that it is the real collections arm of AT&T.
When your AT&T bill goes unpaid for a length of time, it can transition into collections stage debt, which means that a collections entry will be added to your credit report.
This type of entry is damaging to your payment history and can result in a lower score, especially if you have more than one on your credit report.
Your credit report is created through the information provided by the three major credit reporting agencies, Experian, Equifax, and Transunion.
Collections entries linger longer than many other types of debt, staying on your report for 7 years, whether you make a satisfactory payment or not.
That's why it's important to get AT&T to agree to remove the entry, which we'll get into later.
Along with affecting your credit, AT&T can call you and send notices in the mail in its collection attempts.
If you are overwhelmed by dealing with negative entries on your credit report,
we suggest you ask a professional credit repair company for help.
Ask Credit Saint for Help
3 Ways to Remove AT&T Collections from Your Credit Report
Until you make a move, AT&T Collections will continue to lower your credit score and hang over your head.
You can take action today to get the collection entry removed from your credit report.
It's easier than you might think.
Mail AT&T Collections a Debt Validation Letter
Mistakes happen. AT&T could be contacting you in error regarding a bill that's already been paid. Alternatively, you could be the victim of fraud or mistaken identity theft.
Unfortunately, it has gotten easier and easier for someone to steal your information to open a new credit card account or use an existing card to go buy the latest iPhone, leaving you on the hook for those charges.
Either way, you should contact AT&T Collections to remedy the situation. You can do this by submitting a debt validation letter, which you can craft with our free template.
But what if you do owe AT&T? This strategy is worth trying regardless of whether the debt belongs to you or not.
Sometimes, companies don't have the documentation they need to see their collections attempts through.
Fortunately, the Fair Debt Collection Practices Act requires companies to show you proof of the debts they're trying to collect if you seek validation early on.
You've got 30 days from AT&T Collections' first call or letter to submit a debt validation letter.
If AT&T can't back up their request, their entry should be deleted from your credit report, and their communications with you will end promptly.
Arrange a Pay-for-delete Agreement
Debt validation doesn't always work. While it's often effective with third-party debt collectors, there's a good chance AT&T will have the records needed to validate your debt.
If that's the case or you've missed out on the four-week window, you should try to get AT&T to consent to a pay-for-delete agreement.
The only way to guarantee that your payment will result in deletion from your credit report is to get AT&T to agree to it in writing.
The best part of a pay-for-delete is that you might be able to get AT&T to accept a lower payment amount than what you owe them.
For instance, if you owe $100 on an old phone/data plan, you could negotiate to only pay $50 to get the collections entry off your report.
Remember that just paying your balance without an agreement will not help your credit score. Be sure to negotiate with AT&T in writing to get the best results.
Once your payment is in, your credit report should be updated quickly.
If you're 30 days in and there's still no change, you should write to AT&T again and remind them of their agreement to update the credit bureaus.
Get a Free Copy of Your Credit Report
Get Help from a Credit Repair Company
Can you dispute debts and negotiate a pay-for-delete agreement on your own? Absolutely.
But that doesn't mean you have to. Confronting a company about debts you owe them can be stressful and potentially time-consuming.
If you'd rather skip the hassle and don't mind paying for assistance, a credit repair company is well worth the money.
This is especially true if your credit issues are complex.
Whether your identity has been stolen, you're rebuilding after bankruptcy, or you're simply looking for an extra boost to your credit score, a credit repair company might be just the service you need.
There are loads of credit repair services out there. We recommend you get started with one of the top ten companies here for quick quality service.
Whichever approach you choose, remember to:
Know your rights under the FDCPA
Communicate in writing
Act quickly
Dealing with AT&T Collections
Debt collectors tend to be on the receiving end of several complaints from consumers.
The Better Business Bureau and the Consumer Financial Protection Bureau can give you an idea of other consumers' experiences with debt collectors like AT&T.
Most complaints have to do with debt collectors' communication tactics, their lack of response to requests for debt validation, and their credit reporting.
Before you contact AT&T Collections, you should take a few moments to brush up on the Fair Debt Collection Practices Act.
This law gives you some basic protections, restricting debt collectors from threatening, harassing, or otherwise unlawfully attempting to collect debts from you.
When you talk to debt collectors, you should notify them that you're aware of your rights under the FDCPA, one of which is the right to only communicate with them in writing.
Mail correspondence is much more reliable than talking on the phone, holding you and AT&T to any agreements that are reached regarding your debt.
As a general disclaimer, the information in this article is not meant to substitute as legal advice. Please seek out a law firm for legal advice should your situation warrant it.
Sours: https://bettercreditblog.org/att-collections-agency/
Recover Your Revenue, Ethically & Effectively.
Debt Collection Services Made Simple
Your office has unpaid invoices from consumers that you need collected. It's time to find a debt collection agency that turns past-due accounts into revenue using a consumer-friendly approach. IC System ensures that we maintain your valued relationships using an ethical, consumer-friendly approach to our debt recovery services.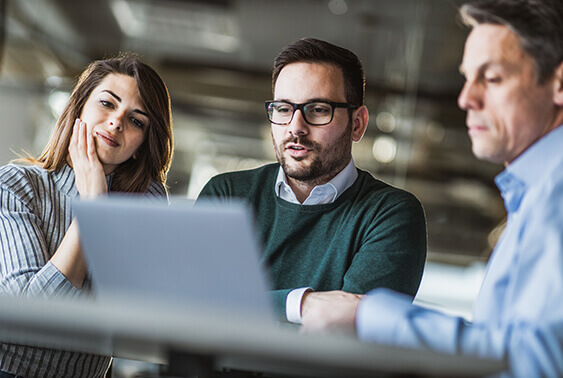 Proven Debt Collection Services Built For Your Business
Our flexible debt collection programs adjust to your business needs. The best debt recovery program will depend largely on your company's current needs. Work with the experts at our debt collection company, and we'll find a program will be right for your situation. We will help you recover more revenue and maintain your healthy customer relationships.
View Programs & Pricing
Recovery Plus
A two-phased recovery program with letters-only and intensive collection treatments offered at a competitive flat rate. During the letters phase, you keep 100% of the money recovered.
View
Premier Collect
Contingency-based and adjustable debt collection program. Fees for this program are flexible based on your business needs.
View
What Makes Us Unique
Nationwide Recovery Services
100% US-based agency serving a nationwide clientele with an average tenure of 16 years
Over 80 Years of Expertise
Proven collection strategies forged by our third-generation, family-owned business
Consumer-Friendly Approach
Focused on maintaining your partnerships through ethical methods that work
World-Class Data Security
Ironclad security, national licensing, and compliance protocols to protect your data
Painless Process
You need a simple but effective approach to your accounts receivable, and you need it fast. Our debt recovery services make it easy to pick a product, securely place accounts, and start to improve the financial outcomes of both you and your consumers.
See How it Works
Not Sure Where to Start for Your Business?
Our experts can help develop the right approach to debt collection for your business. We'll talk about your goals and accounts receivable inventory to create a solution that will increase your revenue. Together, let's find the debt collection service that's right for your business.
Contact Us
Our COVID-19 Response, a message from IC System's President & CEO John Erickson
As we all adjust to these uncertain times, know that IC System is fully operational and ready to help generate revenue on your behalf.
Read More
Sours: https://www.icsystem.com/
Who is AT&T Collections Agency?
AT&T U-Verse is AT&T's television, phone, and Internet service provider. AT&T's Collections Department is headquartered in Dallas, Texas.
You may see them listed on your credit report as a collections account. This can happen if you forgot to pay your cable or phone bill and your account was sent to AT&T's Collections Department.
How to Remove AT&T Collections Agency from Your Credit Report
Collections can hurt your credit score and remain on your credit report for up to 7 years regardless of whether you pay it or not. Unfortunately, paying the collection could even lower your credit score.
However, it is possible to have a collection account removed from your credit report before 7 years.
(Debt collectors prefer that we didn't tell you this, but it's something you should know.)
Lexington Law is a credit repair company that helps people fix their credit.
In addition to collections, Lexington Law will help you challenge (and possibly remove) other inaccurate information from your credit report. These items include inquiries, late payments, charge-offs, foreclosures, repossessions, judgments, tax liens, and bankruptcies.
Call Lexington Law now to learn more: (800) 220-0084
Should I contact or pay AT&T Collections Agency?
Nothing good can come from speaking to a collection agency on the phone. And making payments on the collection account will reset the clock. So instead of helping your credit, it could make it worse.
The best way to go about handling this is to work with a professional credit repair service. They have deleted millions of negative items from companies like AT&T Collections Agency for millions of clients nationwide.
And they can help you too.
Will AT&T Collections Department sue me or garnish my wages?
It's possible, but if you work with a law firm like Lexington Law, you have nothing to worry about. They will help you dispute the collection account with the credit bureaus and possibly get it removed from your credit report. It's also quite possible that you will never hear from or have to deal with AT&T Collections Agency again.
Call Lexington Law to learn how they can help you avoid lawsuits and remove negative items from your credit report that will significantly improve your credit scores.
Wage Garnishment
Some states allow wage garnishment, while others do not. It is important to note that if you are in a state that does not allow wage garnishment, it is illegal for them to threaten to garnish your wages.
It is also illegal for AT&T Collections Department to make any claims they cannot or will not follow through on – this includes threatening to sue you or to foreclose on your home.
AT&T Collections Agency Complaints
Most collection agencies have numerous complaints filed against them with the Consumer Financial Protection Bureau (CFPB) and the Better Business Bureau (BBB). Most complaints are about inaccurate reporting, harassment, or failure to verify a debt. If you find yourself facing any of these situations with a debt collection agency, you should also consider filing a complaint.
You have many consumer rights under the Fair Credit Reporting Act (FCRA) and the Fair Debt Collection Practices Act (FDCPA). Lexington Law knows that you have rights, and AT&T Collections Agency does too.
How Collections Affect Your Credit
Missed payments over several months will cause a hit to your credit score. Couple that with a collection account on your credit report, and it can definitely impact your ability to qualify for new credit.
Debt collectors often buy and sell debt from one another, so this can lead to multiple collections showing on your credit reports for the same account.
When this happens, if you don't dispute the accounts, they will definitely harm your credit score.
Your Rights When Dealing with AT&T Collections Department
There are strict regulations about what a debt collector can and cannot do in the United States. For example, the Fair Debt Collection Practices Act prevents the use of abusive or deceptive tactics to collect any debt, whether or not you actually owe it. In addition, the FDCPA provides you with many rights to ensure that collection agencies don't take advantage of you. In particular:
It is a violation of federal law for AT&T Collections Agency to report inaccurate or incomplete information on your credit report.
Debt validation. Under the FDCPA, you have the right to validate a debt. Upon request, the collection agency reporting the information must prove to you, within 30 days, that the account is really your responsibility and the amount of money you owe is accurate.
All personal debts are covered, including personal credit cards, auto loans, household bills, and mortgage payments.
AT&T Collections Agency may not threaten or harass you, call you repeatedly, swear at you, or publicly publish a list of debtors.
AT&T Collections Agency must be honest about who they are and what they are trying to do. They must notify you that they are a collection agency both orally and in writing.
AT&T Collections Agency cannot threaten to have you arrested, and they are not allowed to threaten to take legal action if they have no intention of doing so.
More Tips on Dealing with AT&T Collections Department
Avoid the phone. NEVER talk to a debt collector on the phone. The less they know about you, the better.
Politely tell them it's your policy to deal with everything in writing. Request a letter with the original debt information and then hang up. If they keep calling, send them a cease & desist letter.
Record their calls. If you must deal with a debt collection agency on the phone, record them. Thirty-five states and the District of Columbia allow you to record your phone conversations secretly.
In the other 15 states, you can record with the other party's permission. If you tell the debt collector you are going to record, and they keep talking, that's considered giving permission. They will usually hang up.
Don't believe what they say. Debt collectors are known to make false threats, lie, and tell you whatever they need to tell you to try to get you to pay the debt.
Don't try to hide money. It's considered fraudulent to hide money or assets from a legitimate debt collector if you owe them. However, it's also best to avoid giving access to your bank account or credit card information.
Don't apply for new lines of credit. It's also considered fraudulent to apply for new lines of credit if you are unable to pay your current creditors.
Don't ignore them. You can do things on your terms, but ignoring the situation will not make AT&T Collections go away. Ignoring them sets you up for a possible lawsuit.
Know Your State's Statute of Limitations. Each state has a statute of limitations on debt. Once your debt reaches a certain age, it is considered "zombie debt," and you are no longer legally obligated to pay it. The age limit varies from state to state, but usually, it's around 4-6 years.
A collection agency is still allowed to contact you about these debts, but they can no longer sue you for them, and you are not required to pay them.
Can AT&T collections be removed from my credit report?
Lexington Law specializes in disputing AT&T collection accounts. They have over 28 years of experience and have removed over 7 million negative items for their clients in 2020 alone.
Get Your Collections Removed Today!
If you're looking for a reputable credit repair company to help you with collection accounts and repair your credit, we HIGHLY recommend Lexington Law.
Call them at (800) 220-0084 for a free credit consultation. They have helped many people in your situation and have paralegals standing by waiting to take your call.
Sours: https://www.crediful.com/collection-agencies/att-collections-agency/
AT\u0026T U-verse Review 2018 - AT\u0026T U-verse Prices, Packages, Channels, and More
11 U Verse AT&T collection
WOW- They did the EXACT same thing to me in 2017!!! Unbelievable that they are doing this to so many other people!! They should be shut down!

This is what happened to me and my account / credit report / situation with them: In 2017, I Spoke to AT&T on the phone, (Before an account was in collections because My account/ bill at the time was only about 1 month not paid!)
The woman from AT&T that i spoke with this day in 2017 advised me of my account, and "late balance", asked if I still had the cable / tv / internet equipment.
I told her yes, I am aware, and planning on paying the bill, and yes still have the equipment. She asked if i was able to return that equipment back to the local store branch. I told her Yes, I was already planning on returning it to the store location that weekend. She said that was great, and advised me that when i return it, that it would take $100 off of my total bill (My total bill was $220). She went on to tell me, when I go return it to make sure i let them know which account / bill it pertains to, and to deduct the $100 dollars off the bill, for returning it. (That weekend i did all of that. )

While still on the phone with her, she then asked me if i would like to go ahead and set up a payment arrangement for what the remaining balance on the account will be once the $100 was deducted. I said yes, i would like to go ahead and do that. So, she set up the arrangement, which i was told would be for $120 dollars total. She then asked if i would like to go ahead and make a payment on this arrangement, and i said sure, yes, i can do that. She asked for my debit card number and info, i provided all that info to her, she ran a payment from my debit card for a payment right then of $50.00. After that she set up the following payment, which was set to be auto drafted the following week from the same debit card, for a payment of $70.00 which would have then paid off my balance! The following week, that $70.00 WAS auto drafted from my card/ bank account!

Therefore, being that I returned what I was told to return, agree to set up a payment arrangement on the phone with that lady that day, MADE a payment on the phone with her that same day, AND had the remaining amount auto drafted the following week, I ASSUMED that everything was GOOD TO GO!!

I never heard from them again, no mail, no phone calls, NOTHING... and i assumed that i wouldn't since i returned everything, and made the payments to pay off the bill!

Then fast forward to 2019. I randomly checked my credit report and saw i had a "New" collections account, listed as 11 ATT U VERSE, for an amount of $353!!!! (Which is WAY more than the $220 original amount that i was told my bill was for in 2017!!)

Ever since 2019 when seeing it on my credit reports from ALL 3 credit bureaus, I have disputed the account and all information several l times and they just keep coming back with " info reported as accurate" when its not! After disputing it SEVERAL times, AT & T ended up transferring the "collections account" to ANOTHER debt collection agency (I C SYSTEM) !!!
I have now spoke with I C SYSTEM on the phone, and have been told by them that "They have NO past information, payments made, records, documents or knowledge of this collections account before it was transferred to them by ATT U VERSE!!! Legally they have to give them all info regarding an account that is "given" to them by another creditor.

So now due to all this, i will be getting a lawyer involved, and thinking about suing them if they do not remove ALL of this from my credit reports from all 3 bureaus!

It is infuriating that they do this, and that they do it to a lot of people, and just so THEY can make MORE money ( and make it ILLEGALLY) and "get away with it" !!!!!!

Maybe the legal action i, (and others may) take for their theft and fraud will shut them down and prosecute them accordingly- as they should be, and then they wont have a way to spend all that free, illegally made money that they have been for gosh knows how long!
Sours: https://forums.att.com/conversations/the-military-discount/11-u-verse-att-collection/5e8745d5758fed36e2dbe320
Att u verse collection 11
If you are looking for at&t collections customer service, simply check out our links below :
1. How To Contact Collections – Resource Information From AT&T
https://forums.att.com/conversations/wireless-billing/how-to-contact-collections-resource-information-from-att/5defeb51bad5f2f606b99a0b


For collection related inquires, contact our team at 1.800.947.5096. Need to Setup AutoPay? Why pick up the phone? Sign up for AutoPay Online!
2. How can I pay off debt with AT&T collections department …
https://forums.att.com/conversations/wireless-billing/how-can-i-pay-off-debt-with-att-collections-department/5defc931bad5f2f606558e9d
I'd be more than happy to help with getting this taken care of! When an account shows on your credit report, it sometimes is listed with a contact …
3. Billing & payments Support & Contact Info – AT&T Official Site
https://www.att.com/support/topic/my-account/topic_billingpayments1/
Explore ways to view and pay your bill, and understand your bill charges. AT&T has you covered with Billing & payments support and customer service.
4. How do you get in contact with the collections department …
https://forums.att.com/conversations/wireless-billing/how-do-you-get-in-contact-with-the-collections-department-customer-service-cannot-even-connect/5df01d70bad5f2f60612817d
AT&T Community Forums · Wireless Billing. Announcements. Power outages and damage from Winter Storm Uri may be affecting service for …
5. How To Remove, AT&T Collections Agency From My Credit …
https://www.creditglory.com/collections/at-t-collections-agency
At&T Collections Phone Number. AT&T collections can be reached at 1-800-532-7486. Keep in mind, if you think AT&T is on your credit by mistake …
6. How To Remove AT&T Collections Agency from Your Credit …
https://bettercreditblog.org/att-collections-agency/
If you missed a phone bill or canceled your AT&T account and forgot to pay the final balance, you could be contacted by the AT&T collections …
7. How to Remove AT&T Collections from Your Credit Report
https://www.crediful.com/collection-agencies/att-collections-agency/
Who is AT&T Collections Agency? · Should I contact or pay AT&T Collections Agency? · Will AT&T Collections Department sue me? · AT&T Collections Agency …
8. Dealing with AT&T Collections Agency | Get Them Off Your …
AT&T Collections Agency
They offer phone, data, and TV plans to customers, and their collections team works to get customers to make payments on their late AT&T bills.
9. Call AT&T Customer Service | Paying AT&T Bill Info
AT&T Customer Service
Contact AT&T customer service to get help with existing service. Interested in new AT&T services? Call Allconnect® to find the right plan.
10. Get AT&T Collections to Fix Your Credit Report – FairShake
Get AT&T Collections to Fix Your Credit Report
Contact the AT&T Collections Department: · Contact the three major credit bureaus (Transunion, Equifax, and Experian): · Make a legal claim against AT&T through …
11. AT&T Customer Service & Support | Call 1-800-288-2020
https://www.cabletv.com/att/customer-service
Get answers to questions about your phone, internet, or TV service with AT&T customer service today.
12. AT&T U-verse Customer Service | 866-210-2675
https://www.attsavings.com/contact-us
View AT&T customer service information and phone numbers for existing AT&T U-verse® customers. Call us at 1-866-210-2675 to order new AT&T services.
Related
Categories A CsSours: https://cs-directory.com/att-collections/
AT\u0026T U-Verse TV - Wired Receivers vs. Wireless Receivers
.
Now discussing:
.
1161
1162
1163
1164
1165