If you want to stand out from the crowd this Halloween, I recommend skipping the store bought costumes and knitting or crocheting your own instead.
This post contains affiliate links
There are some really amazing halloween costume patterns available on Etsy which will inspire you to get making!
I don't know why, but knitted and crocheted costumes always seem so much more amusing and whimsical. I guess that yarn just makes everything a little bit more fun, especially when used in unexpected places.
When Emma wore the lion head hat I crocheted for her Luna Lovegood cosplay, people at Comic-Con were stopping us just to get a good look and have a chat about how awesome it was.
Even with basic skills, you'll be surprised at how easy it is to crochet a Halloween costume or hat.
Crochet is super versatile craft. It lends itself to sculptural pieces, making it the perfect technique to make 3D items like wigs, helmets and armour.
Knitting a costume takes a little more skill, but it's worth the effort.
Babies look particularly cute in crochet Halloween costumes, and just a funny hat is all you need to put together a look.
I've curated a list of creative Halloween costume patterns which include some really fun knitted and crocheted costume ideas for the whole family.
There are crochet and knitted baby Halloween costumes, as well as Halloween costume patterns for kids and adults too.
All the popular franchises are covered. I've rounded up some cool Star Wars, Marvel, Harry Potter and Disney costumes. As well as some more quirky costume ideas. Did somebody say baby lobster?
With a couple of weeks to go till Halloween, there is still plenty of time to dig out your yarn stash and get creative!
Yoda Baby Costume Crochet Pattern
Photo Credit: www.etsy.com
A funny and cute Baby Yoda Costume for the youngest of padawans. Pattern includes hat, mittens and booties. Size to suit 12mo.
Velvet Witch Hat Crochet Pattern
Photo Credit: www.etsy.com
The essential costume accessory for any witch or wizard on Halloween. Made from soft velvet yarn for an extra touch of sparkle.
Crochet Spider Web Poncho Pattern
Photo Credit: www.etsy.com
A very versatile poncho. Just throw this spider web over anything black and you have yourself an instant spooky costume. Looks easy enough to make with basic crochet skills. One size fits most adults.
Princess Leia Bun Hat Knitting & Crochet Patterns
Photo Credit: www.etsy.com
Even if you have short hair, your dreams of dressing up as Princess Leia from Star Wars can finally come true. No need to bother with fussy hairstyles, just pop on this hat with attached knitted hair buns and you are set to go.
Pumpkin Costume Crochet Pattern
Photo Credit: www.etsy.com
A fun toddler Halloween costume for that cute little pumpkin in your life. Pattern includes sizing from 6mo up to 24mo with plenty of growing room.
Brain Beanie Crochet Pattern
Photo Credit: www.etsy.com
So many costume options with this gory brain beanie. Dress as a brainy scientist, zombie attack victim. giant brained alien, or just wear it as a 'thinking cap' to help your ideas flow. Available in 7 sizes from newborn to adult.
Baby Bat Costume Crochet Pattern
Photo Credit: www.etsy.com
This baby bat costume is just the cutest thing ever! This seller also has a baby butterfly onesie costume for those of you with aversions to flying mammals. The Baby Bat Costume is a hat and onesie set. It includes baby's sizes 6 and 12 months.
Baby Frog Prince Suit Crochet Pattern
Photo Credit: www.etsy.com
OMG! Can these crochet Halloween costumes for babies get any cuter? I wonder if kissing this little frog will turn me into a princess? Pattern size available from newborn to 18mo.
Moana Inspired Dress Costume Crochet Pattern
Photo Credit: www.etsy.com
Let your little one sail across the ocean wearing this DIY Moana costume. Very clever use of yarn to make a grass skirt effect. Instructions available for multiple sizing.
Anna from Frozen Dress and Wig Crochet Pattern
Photo Credit: www.etsy.com
This pretty Anna dress includes a crown and braids. More of an Elsa fan? This seller has also designed a crochet Ice queen dress pattern. Sizing available from NB to 8yo.
Viking Hat Knitting Pattern
Photo Credit: www.etsy.com
Heavy metal helmets are overrated. Instead make this soft and cozy viking helmet with horns! Throw on with a tunic and cloak and you have the perfect viking costume. Pattern size includes Small, Medium and Large.
Hooded Cape Crochet Pattern
Photo Credit: www.etsy.com
Such a practical pattern, this hooded cape can lend itself to so many costume uses. Sizes available from Child small to adult large.
Medieval Corset Crochet Pattern
Photo Credit: www.etsy.com
Boned corsets are so uncomfortable to wear (and difficult to sew). Get the same look with this crochet corset, an ideal addition to any period style Halloween costume.
Crochet Viking Helmet pattern
Photo Credit: www.etsy.com
Another fun viking helmet, but this one has the option of a very luxurious beard. Looks particularly amusing on ladies or young children.
Butterfly Costume Crochet Pattern
Photo Credit: www.etsy.com
Whip up this Butterfly costume in a weekend. Made from colourful chunky yarn, you'll be surprised how easily this costume works up.
Old Lady Wig Crochet Pattern
Photo Credit: www.etsy.com
This funny Old lady costume idea is so adorable. What a fun idea to make a wig from yarn. Add some glasses and a cardigan, and you are all set. Pattern size available from NB to adult.
Forky Crochet Hat Pattern
Photo Credit: www.etsy.com
Fans of the new Toy Story film will recognise Forky, an unusual toy made from a spork. Wear this hat with a white outfit, and you have an instant Forky Costume.
Thanos Infinity Gauntlet Knitting Pattern
Photo Credit: www.etsy.com
A very detailed knitting pattern designed for the ultimate Marvel fan who longs to wield the power of the Infinity Gauntlet. Also available in a crochet pattern version.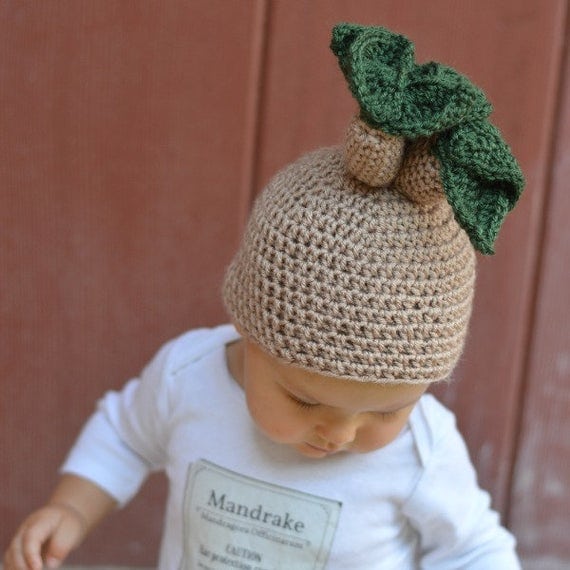 Harry Potter Baby Mandrake Crochet Hat Pattern
Photo Credit: www.etsy.com
Muggles beware! EAR PROTECTION REQUIRED! The cry of the uprooted Mandrake will kill! The perfect costume for babies of Potter fans. Mandrake Hat is 6-12 month size
Hunger Games Katniss Inspired Wrap Knitting Pattern
Photo Credit: www.etsy.com
This wrap is inspired by a costume piece worn by Katniss in the Hunger Games movie, Catching Fire. It looks like a piece of modern armour and would make a great accessory worn in the colder months. Sizes available - Adult size S,M, L,XL, Kids size (age 7 and up)
Cabbage Patch Wig Hat Crochet Pattern
Photo Credit: www.etsy.com
Hands up if you had a Cabbage Patch Kid doll. The original ones had yarn hair just like this wig. Many hair style variations included.
Trolls Movie Branch Crochet Hat Pattern
Photo Credit: www.etsy.com
This Trolls hat is truly hair raising! This pattern includes 51 pages of detailed instructions to guide you though the crochet process, step-by-step.
Crochet Beard and Beanie Pattern
Photo Credit: www.etsy.com
A beanie that will keep your face warm. So cute! Add a checked shirt and you have an instant Lumberjack or Hipster Costume.
Top Hat Crochet Pattern
Photo Credit: www.etsy.com
Top hats are hard to come by, so if you are looking for the finishing touch to a magician, Steampunk or Victorian style costume, crocheting your own hat could be an easy option.
Lobster Hat Crochet Pattern 
Photo Credit: www.etsy.com
What could be funnier than a lobster costume? The hat ties are lobster claws. Haha! Available in 5 sizes.
More DIY Halloween Costume ideas:
Related
Tags
costumehalloweenSours: https://mypoppet.com.au/makes/halloween-costume-knitting-crochet-patterns/
Crochet Outfits for Babies-20 Newborn Crochet Outfits Patterns
#19. Blue Beanie and Overall
A great outfit for baby boys. To make it more funky, you can add in multi coloured buttons or pattern.
via
#18. Cocoon Giraffe Outfit for Winter Baby
Who can stop their smile at the site of this cute little baby giraffe. Crochet cocoons are also great for keeping our baby warm in winters.
via
#17. Boxer Baby
The combination of white and red looks perfect on newborn babies. The outfit can be used for both girls and boys. The pattern is also simple enough for you to make this your self.
via
#16. Santa's Helper Outfit
Thinking of a Christmas outfit for your newborn? What could be better than dressing your little angel as Santa's little helper.
via
#15. Baby Lion Hat
This is not just adorable but will also keep your baby's head warm.
via#14. Red Riding Hood Outfit – The costume and those beautiful booties are lovable. You could also change the colour and styling a bit for your baby boy.
via
#13. Adorable Crochet Outfit
Make your baby feel comfortable at home in this fox costume. You might also be interested in these [highlight]20 cute outfit ideas for baby boy's 1st birthday party[/highlight].
via
#12. Ice-cream Cocoon
What's sweeter, ice-cream or your baby? A combination of the two would be an overdose of sweetness for sure.
via
#11. Baby Sheep Outfit
via
#10. Crochet Snail
Another simple to make outfit and the colours are simply amazing for summers.
via
#9. Unisex Lady Bug Outfit
A great outfit for both baby boys and baby girls.
via
#8. Vintage Inspired Outfit for Baby Girl
Your little girl would love to crawl around in this vintage inspired outfit. Perfect for all seasons and occasions.
via
#7. Tuxedo Outfit for Baby Boy
Want to get your baby dressed up for a wedding function? What could be a better idea than this?
via
#6. Baby Hoodies
Great for babies and toddlers to wear in winters.
#5. Unisex Minion Outfit
Also check out 12 Cute minion outfits for babies/toddlers that you will love.
via
#4. Cowgirl baby Costume
via
via
#3. Cowboy Baby
Won't it be fantastic if the mother dresses up in a matching cowgirl outfit with this baby? For some great inspirations, check out [highlight]Cowgirl outfits-25 ideas on how to dress like cowgirl[/highlight].
via
#2. Tutu Outfit for Baby Girl with Headband
via
#1. Mermaid Beach Outfit for Baby Girl
Make your baby girl feel like a princess in this mermaid dress.
via
via
via
Sours: https://www.outfittrends.com/crochet-outfits-for-babies-newborn-crochet-outfits-patterns/
15 Crochet Baby Outfit Patterns
Outfitting your ever-growing child can be expensive so learn how to make clothes for your little one with these amazing Crochet Baby Outfit Patterns!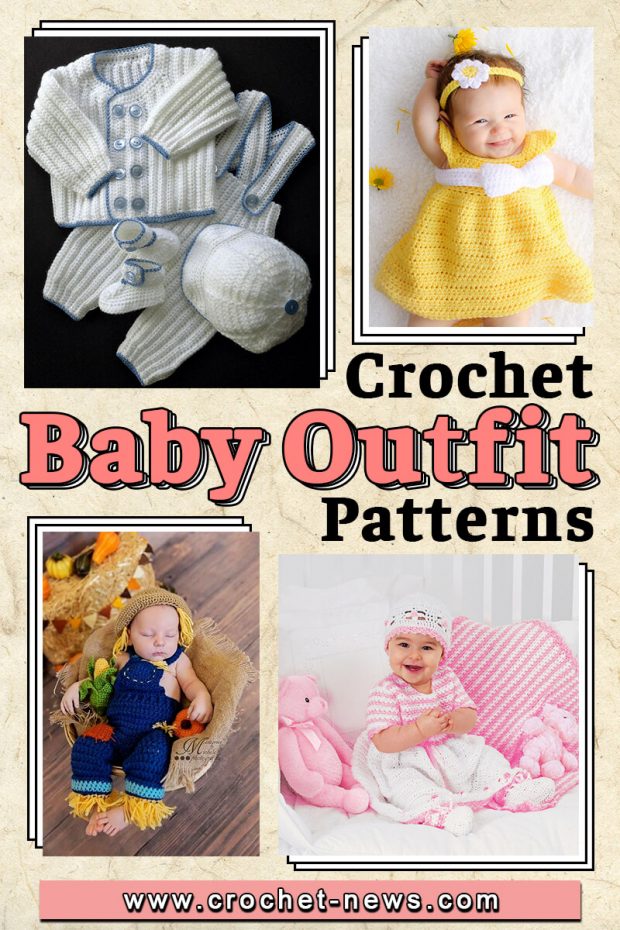 Let's face it–your little one's only going to be this small, cuddly, and willing to be dressed in whatever you choose for so long, so why not make the most of it?

Whether you want to DIY your baby's Halloween outfit or just simple everyday wearables, the ideas below will help you make stylish clothes for your infant without spending much money. Check out our crochet baby costumes!

1. Crochet Baby Romper Pattern by Banana Patterns
These rompers look adorable on any baby or toddler. They are the perfect outfit for busy little ones since they are easy to put on and take off.

This Crochet Baby Romper Pattern is easy and quick to crochet and you can customize it in any color you like.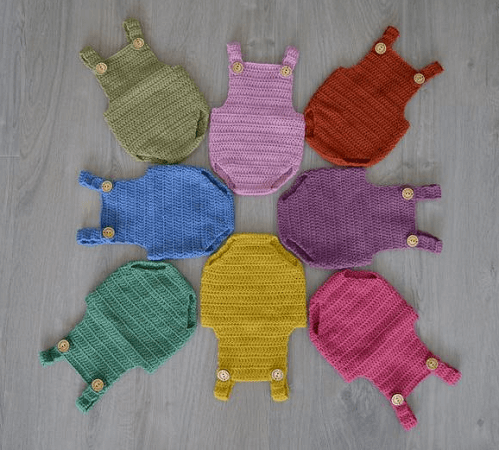 Get the Pattern by Banana Patterns here

2. Baby Policeman Crochet Newborn Outfit Pattern by Sue Stitch
This super cute Crochet Baby Policeman Outfit Pattern includes instructions for the outfit with a police hat, vest, diaper cover, donut, and handcuffs! This pattern includes newborn size newborn (0-3, 3-6, 6-9) months are also included.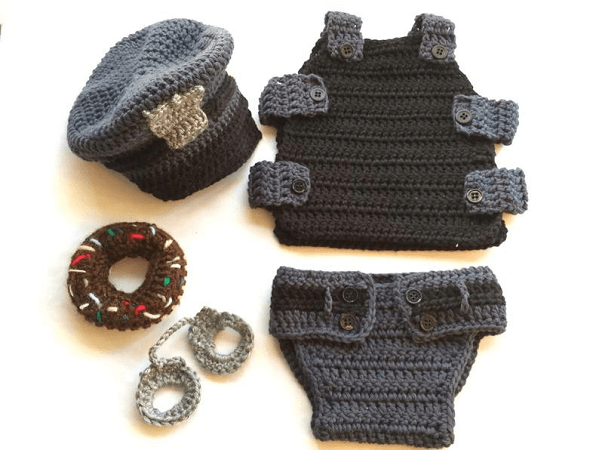 Get the Pattern by Sue Stitch here

3. Simply Spring Crochet Baby Dress Pattern by Winding Road Crochet
This Simply Spring Baby Dress Free Crochet Pattern is designed to make the little girl in you life look adorable while not making you lose your hair with an overly complex crochet pattern.

The pattern provides sizes newborn through 18 months. You will find a bonus pattern for the headband as well! This outfit will make a perfect last-minute baby shower gift!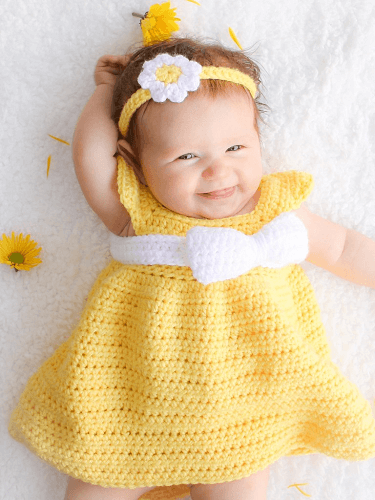 Get the Pattern here

4. Crochet Baby Outfit Pattern by Knitsy Crochet
This crochet baby outfit pattern is for Tinkerbell inspired baby outfit! Sweetheart neckline bodice flares out into a skirt made from individual leaves!

The pattern also includes slippers with fluffy pom poms and a headband with one large pom. Perfect for baby shower gifts and photography sessions!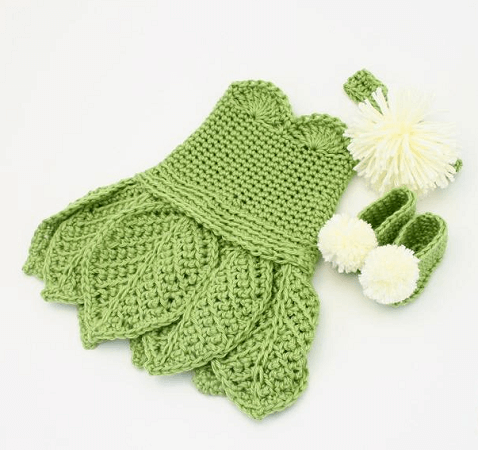 Get the Pattern by Knitsy Crochet here

5. Little Hula Girl Outfit Crochet Pattern by Gramma Beans
This Little Hula Girl Outfit Crochet Pattern includes a hula skirt/diaper cover, bikini top, and tieback headband.

Sizes included newborn to 6 months. Great for photo props, easy to make, and works up quick! Great for a baby shower gift or nice warm weather photos.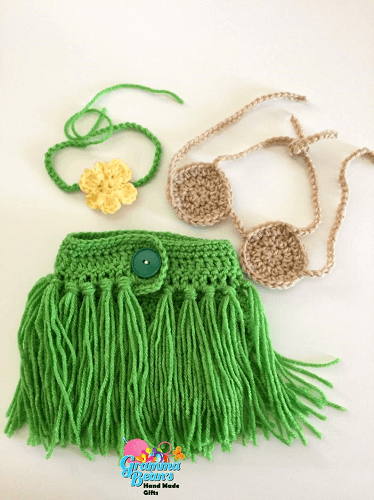 Get the Pattern by Gramma Beans here

6. Crochet Baby Baseball Outfit Pattern by DAC Crochet
This cute little baseball outfit is gender-neutral. The pattern is a 5 piece set so you can mix and match.

The pattern includes written instructions for the jersey, pants, shorts, ball cap, and ruffle brim hat. It's a quick and easy pattern using basic crochet stitches.

Choose your favorite baseball team and create a baseball uniform designed in your team colors!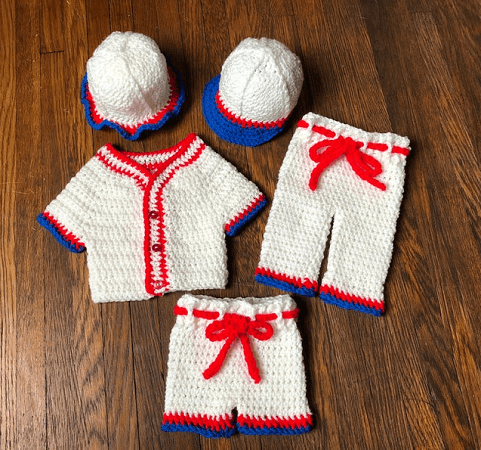 Get the Pattern by DAC Crochet here

7. Sweet Baby Outfit Crochet Pattern by Yarnspirations
Babies love sweet ensembles like this Sweet Baby Outfit, that combine comfort and style! Crochet this adorable dress, cap, and bootie set with the softest yarn, so it's always safe to enjoy. This set makes a sought after gift of style that any parent loves.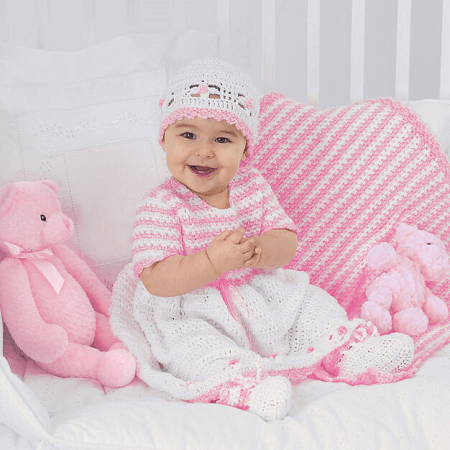 Get the Pattern here

8. Baby Halloween Outfit Crochet Pattern by AMK Crochet
This crochet pattern gives you the instructions, so you can make a scarecrow hat, overalls, and little amigurumi corn and pumpkin prop. Perfect photo prop for every little boy and girl and great for any newborn photo session!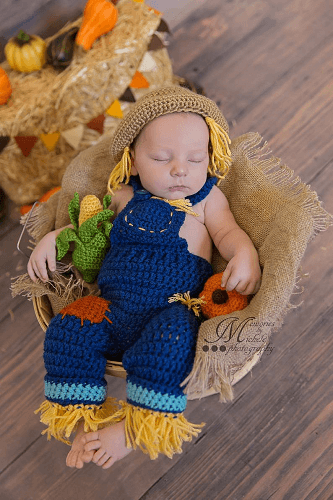 Get the Pattern by AMK Crochet here

9. Crochet Fox Baby Outfit Pattern by Crochet Courtesan
This pattern is for a crochet fox hat and diaper cover with tail in size 0-3 months only. This pattern is for the complete crochet fox outfit.

The newborn fox set uses single and double crochet, half-double crochet, single crochet decrease, and half-double crochet decrease.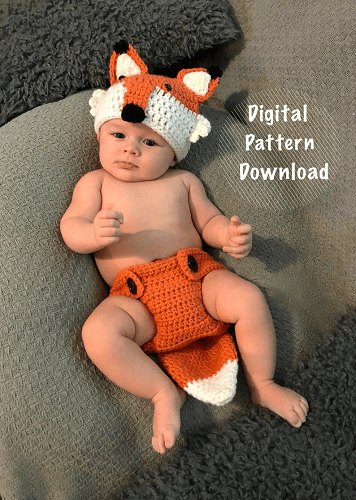 Get the Pattern by Crochet Courtesan here

10. Crochet Unicorn Baby Outfit Pattern by Heathers Boutique US
This adorable unicorn baby outfit is perfect for a newborn photoshoot, a little one's first birthday party, or a baby shower gift for your favorite unicorn lover.

The pattern is for a newborn size crochet unicorn outfit, but the pattern can be easily adjusted for larger sizes.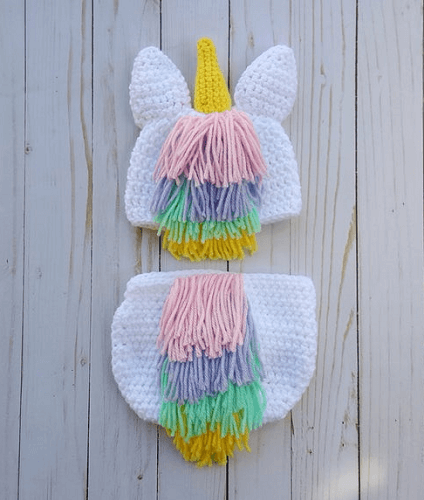 Get the Pattern by Heathers Boutique US here

11. Crochet Elephant Baby Outfit Pattern by Captain f The Hooks
This Crochet Elephant Baby Outfit Crochet Pattern includes how to make the hat and ears, diaper cover and tail, and booties. These finished products will fit a baby from size Newborn to 3 Months.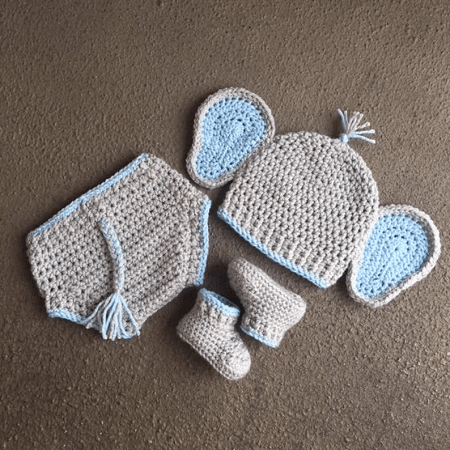 Get the Pattern by Captain Of The Hooks here

12. Butterscotch Baby Onesie Crochet Pattern by Megmade With Love
If you're in the market for an adorable handmade baby wearable, then grab a skein of your favorite DK yarn and check out this Butterscotch Baby Onesie Crochet Pattern.

The pattern is available for sizes newborn through 12 months. It features a button closure bottom for easy changes, and the straps are buttoned along the top as well.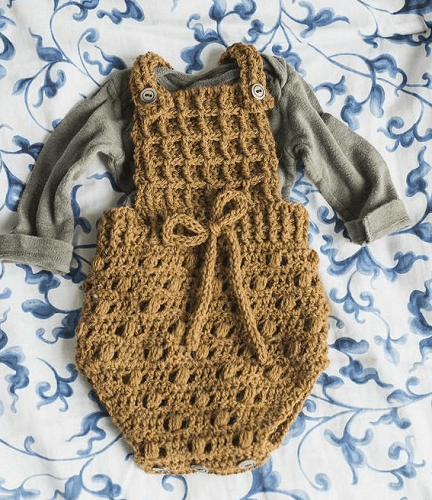 Get the Pattern here

13. Crochet Mickey Mouse Baby Outfit Pattern by Handmade In Doncaster
This Crochet Mickey Mouse Baby Outfit will look great on your little one for Halloween or any time of the year. It would be perfect for that first trip to Disneyland as well!

The pattern uses the spike stitch and also requires color changing on the hood if you want to make the hood stripy.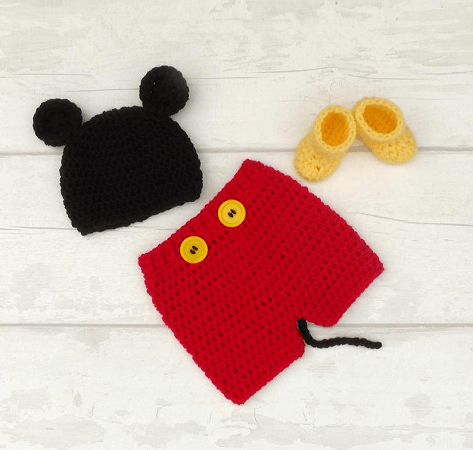 Get the Pattern by Handmade In Doncaster here

14. Crochet Baby Boy Christening Outfit Pattern by The Best Dressed Baby
This Crochet Baby Boy's Christening Outfit Pattern is designed to fit a 4-6-month-old infant. Use specific yarn and crochet hooks to produce the exact size you need.

This pattern includes instructions for making all the pieces shown: a double-breasted sweater jacket, pants with suspenders, a baseball-style cap
and button-strap booties (in two sizes).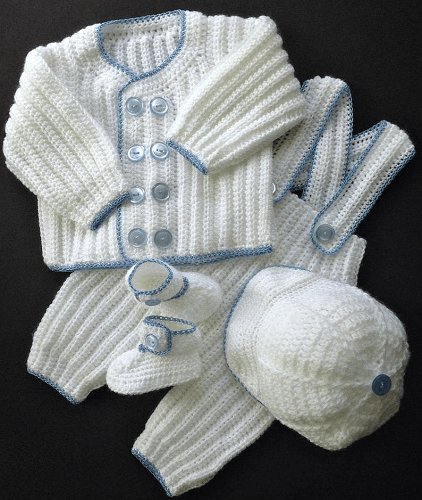 Get the Pattern by The Best Dressed Baby here

15. Crochet Baby Overall Outfit Pattern by Croby Patterns
Here's another very cute Crochet Baby Overall Outfit that is nice and easy and has a lovely button detail. The pattern gives instructions for sizes newborn up to 12 months. Make one in any color you can imagine for your little one's everyday wear.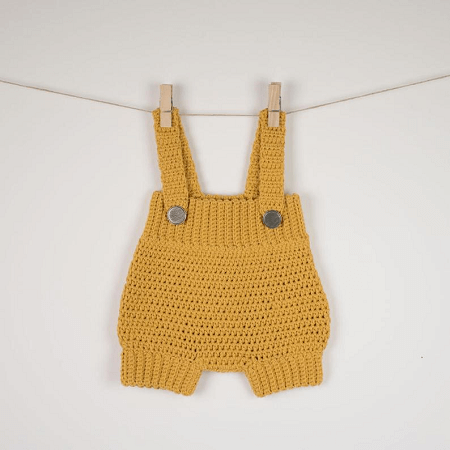 Get the Pattern by Croby Patterns here
With all these adorable crochet baby outfit patterns, don't you want to make them all?
Do please share your finished pieces with us over on our Facebook Page if you make some, bonus points if a baby is in it!

Craving for more for that little darling? We have a huge collection of crochet patterns for babies and kids – from clothes to blankets, from toys to booties, we got your precious one covered!
Happy hooking with your favorite crochet baby outfit patterns and give something special to the newest bundle of joy in your life!
Sours: https://crochet-news.com/crochet-baby-outfit-patterns/
\
24 Free Crochet Baby Dress Patterns
close
Sharing Your Own Images
Who can share images?
You! Anyone who is a registered and logged in user.
What should I share?
Please share images that will help other visitors. For example:
Images that highlight a article's features ("Here are the controls on this music player", "See the clasp for this necklace", "Look at the box this came in")
Images showing someone using a product ("Here I am wearing this scarf", "Install the ink cartridge here")
Images related to a topic ("My dog Skipper", "A great outfit", "Our family at Yellowstone", "How to glue a chair using a cabinet clamp")
Images that show how a product performs ("I took this picture with this camera", "This shirt shrunk in the wash", "The saw blade after 100 cuts")
Images that give a sense of the size of the product ("This refrigerator is actually 6' tall", "A cellphone the size of a credit card")
Do include captions for your images. While not required, they provide context for your images. Additionally, you can use the Image Notes feature to highlight one or more interesting areas in your image. Everyone will see your notes when they roll over your image.
What shouldn't I share?
Behave as if you were a guest at a friend's dinner party: please treat the Prime Publishing community with respect. Do not share:
Profane, obscene, or spiteful images, or any images with nudity
Images to which you do not own the intellectual property rights
Images featuring phone numbers, mail addresses, or URLs. You can watermark an image with copyright information.
Images featuring availability, price, or alternative ordering/shipping information
Images featuring external Web sites, contests, or other solicitations
Any personal information about children under 13
Images with automobile license plates that are prominent and easily read (pictures with license plates that have been fuzzed out or that otherwise cannot be read are acceptable).
The same guidelines apply to your captions and notes.
What image formats and sizes are supported?
We support JPEG, GIF and PNG images. Files must be no more than 1MB. Both the image height and the image width must be between 60 and 3500 pixels.
Instead of uploading an image, can I just enter a link to an image?
No, all images must be uploaded to Prime Publishing. This ensures your image is always available.
How long does it take to upload an image?
The time varies depending on the speed of your Internet connection and the size of the image file. For a 400KB image, for example, you should expect 2 to 4 minutes over a 56KB modem and under 1 minute for DSL or cable modem.
Where will my image appear?
Generally your image will appear where you uploaded it: in the article image gallery.
Who owns the images I upload?
The rights owner of the image continues to own the image; uploading your image to Prime Publishing does not transfer ownership.
close
Sours: https://www.allfreecrochet.com/Free-Baby-Crochet-Patterns/Free-Crochet-Baby-Dress-Patterns
Crochet patterns baby costume
.
\
.
Similar news:
.
1218
1219
1220
1221
1222