10 Games Like Star Stable
Animal Jam
Animal Jam is a virtual world for children that incorporates real animal and plant facts into fun storylines that are supported by National Geographic educational content. Ideal for the curious child gamer Animal Jam also offers a range of social and game mechanics within its virtual world locations to encourage engagement with a child, tween and even teenager audience. Given the audience in mind Animal Jam avoids offering outside advertising in its game experience supporting itself through prem...[Read Review]
AndroidBrowserFreeiOSPC
8.9 User Avg(366 votes)
The Endless Forest
In The Endless Forest players can explore a beautiful and peaceful game world as a deer. The game is free to play and a massively multiplayer online experience meaning you'll run into plenty of other players during your adventure. In the game players don't have any goals or even the ability to talk to other players, the game is all about simulating what life would be like living as a deer in a peaceful environment. The Endless Forest is definitely in a genre of its own with this very interesting...[Read Review]
FreePC
8.8 User Avg(76 votes)
WolfQuest
WolfQuest is a video game available for Windows and Mac that simulates wolf ecology. In the game you'll get to experience life as a wolf living in Yellowstone National Park in both single player and multiplayer game modes. Note that the most recent version of WolfQuest is no longer free to play. However, the old version (2.5.1) is available for free here with restrictions around multiplayer, regardless it is still a great alternative for those who can't buy the full WolfQuest version. Star...[Read Review]
MacPC
8.5 User Avg(54 votes)
My Horse
My Horse lets you live out your dream of having a realistic horse to call your own. Available on your mobile device My Horse lets you own, care, groom, feed and compete with your very own virtual horse. The game aims to be a realistic simulation game and succeeds most notably due to the impressive graphics that can really help bring your horse and the game world to life. You'll often be captivated while watching your horse as they trot around, flick their tail and even occasionally neigh. ...[Read Review]
AndroidFreeiOS
8.4 User Avg(16 votes)
Feral Heart
Feral Heart is one of the few games around that lets you assume the role of an animal in a MMO style world. The game is free to play and lets players connect with others using lion like avatars. In Feral Heart players will have plenty of fun as they make new friends, explore a large open world and chat with other players. In order to be part of this experience players will have to create their own avatar from a large number of options. The customisation available for avatars is the best feature ...[Read Review]
FreeLinuxMacPC
8.4 User Avg(193 votes)
Wildlife Camp
Start your own Wildlife Camp adventure with nearly a dozen different animals to interact with, care for and train within your own camp. Available for Windows and released back in 2010 Wildlife Camp offers a range of mechanics, cut animals and an expansive list of items for you to collect and use in this animal management game. Revolving around the player discovering various animal species and nursing them back to health from their injuries or other illness Wildlife Camp is a game that slowly bui...[Read Review]
PC
8.4 User Avg(15 votes)
Dogzer
Dogzer is a free to play browser based game targeted towards dog lovers worldwide with the ability to adopt, raise, train and even breed your own virtual fur friend. Blurring the lines between social network and MMO Dogzer lets you undertake these activities with your own virtual dog while participating in a large community of other dog lovers within your browser. With well over 50 dog breeds for players to choose from there is plenty of choice when you start your Dogzer adventure and ensures yo...[Read Review]
BrowserFree
8 User Avg(73 votes)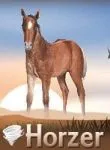 Horzer
Horzer offers similar gameplay to Dogzer, except that it trades dogs for horses. If you're seeking a game that lets you train horses, compete in equestrian competitions, be part of a community and have a horse related job few games compare to the browser based experience of Horzer. When creating your account you'll get to pick from two dozen horse breeds that have their own stats which can dictate the area of Horzer that you focus on. When choosing a horse you'll also be able t...[Read Review]
BrowserFree
7.5 User Avg(23 votes)
Bella Sara
Bella Sara offers a range of gaming experiences depending on your preferred platform. Regardless of your choice of platform though players will be experiencing a high quality horse orientated adventure that has you riding, trading, customising and caring for a vast number of horse breeds. The franchise grew from a free online virtual pet game that combined with collectible horse trading cards and redeemable codes from various merchandise. The PC and DS (version reviewed here) versions of the gam...[Read Review]
BrowserDSFreePC
6.9 User Avg(11 votes)
RELATED PAGES:
Games Like Bin Weevils, Games Like Club Penguin, Games Like Fantage, Games Like FeralHeart, Games Like Gaia Online, Games Like Habbo Hotel, Games Like Howrse, Games Like Meez, Games Like Millsberry, Games Like Moshi Monsters, Games Like Movie Star Planet, Games Like Neopets, Games Like OurWorld, Games Like Pixie Hollow, Games Like Poptropica, Games Like Star Stable, Games Like TinierMe, Games Like Toontown Online, Games Like Webkinz, Games Like WeeWorld, Games Like WolfQuest, Games Like Woozworld, Games Like Zwinky, Games Like Animal Jam, Games Like Zoo Tycoon, Games Like FooPets, Games Like GirlSense, Games Like Lady Popular, Games Like Pet Society, Games Like StardollShow More
Sours: https://gameslikefinder.com/games-like-star-stable/
Screenshots
Description
Ride into an enchanting world
Welcome to Jorvik, a beautiful island full of endless adventure! Together with your very own horse, you become part of a magical story and can explore a fabulous open world from the saddle.

Go on exciting quests
There are lots of intriguing characters and thrilling mysteries waiting for you in the magical online world of Jorvik. Solve the quests while you experience the immersive stories together with your friends!

Care for and train your horses
Ride, train and care for your very own horse. As you become a more experienced rider, you can buy more horses and choose from a variety of breeds. In Jorvik, you can have as many four-legged friends as you like!

Hang out with your friends
There are always new things to discover in Star Stable Online. Meet up with your friends and ride together, chat or challenge each other in one of the island's many competitions. Or why not start your own riding club?

Be a Hero
The sisterhood of Soul Riders needs you! Team up with our four heroes Anne, Lisa, Linda and Alex as they fight dark forces on the magical island of Jorvik. Alone, you are strong. Together, you are unstoppable!

Customize, customize, customize
Have it your way! In Star Stable Online you can have fun endless fun styling your player avatar and of course all of your horses. Clothes, accessories, bridles, leg wraps, blankets, saddlebags, bows… It's up to you!

A world of horses
The island of Jorvik is home to all kinds of beautiful horses. From super-realistic Knabstruppers, Irish Cobs and American Quarter Horses to spectacular magical steeds, there are over 50 breeds to choose from, with more to come!

Cross-platform
Whether you play on iOS or desktop, Star Stable Online keeps up with you, automatically picking up where you left off when you switch devices. It's easy!

Become a Star Rider
Star Stable Online is free to play up to level 5. To experience all of Jorvik and access all the game's features, you can become a Star Rider with a one-off payment. Star Riders can access thousands of member-only quests, choose from multiple unique breeds, hang out with old and new friends and join the community. They also enjoy all of our game updates!

Saddle up for the adventure of a lifetime - play Star Stable Online now!

Find out more on our socials:
instagram.com/StarStableOnline
facebook.com/StarStable
twitter.com/StarStable

Get in touch!
We'd love to hear what you think – why not write a review so we can work towards an even better game together!

Questions?
Our customer support team is happy to help out.
https://www.starstable.com/support

For Parents
Star Stable Online is a fun and safe online adventure game designed for kids between the ages of 9 and 18. Each player rides and cares for their own horse, embarks on quests, participates in competitions and becomes part of an epic story.

You can find more information about the game here http://www.starstable.com/parents.
New Bonus shop items.
New Birthday content.

New race on Paddock Island.
We have improved memory handling in My Stable which should reduce crashes.



Ratings and Reviews
AMAZING! 5 STAR!
Star stable (sso) is a amazing game and makes me overly elated when ever I log in to see my horse and see the citizens of Jorvik, it's well animated, and has 5 star graphics! But, when ever I log in these days, I only get a few (meaning 4 or 5) seconds to get my horse moving before getting kicked from the game and being transferred to my Home Screen, trust me, it's annoying. I haven't had a chance to do any of my quests or generally see my horse, I never see the updates because, I get kicked out every 5 seconds. I tried getting on today and I didn't even see my horse! That's how fast it removes me from the game. I really don't know how you can fix this problem, I'm not really the tech savvy type. My sister struggles with the same problem, she can't even move without getting kicked. I'm really disappointed that I can't get in, because I truly believe it's the best horse game on the market. The only reason I give 4 outta 5 is because I keep getting kicked out. overall, I 100% recommend this game! It's amazing!
Thanks for reading! 🐎
I LOVE SSO mobile
I have been playing Star stable on computer and absolutely love playing it but now that it is on mobile I can play it more often. While playing Star stable on mobile I have noticed some bugs and I do get that Star stable on mobile is still new and that bugs will occur but I just wanted to say one that is the most annoying to me. When i dismount my horse usually in my home stable my joy stick appears but then it turns back to the horses … buttons?? Sorry not the right word but anyways the horses buttons appear and I can't move and sometimes I'm further away from my horse and I can't tap it to mount back on and back off. So I would usually press go to entrance and mount on and off to fix it. But so far it has only happened to me in my home stable because that's when I dismount my horse the most but if I was in a quest and had to dismount and it did the glitch I would have to go all the way back to my home stable.
Other than this bug I do very much enjoy and love Star stable!
Can't cross the water :(
Hi Star Stable I really love your game. The graphics are AMAZING and I love having adventures with the soul riders. I would be giving your game a five out of five star rating it's just when me and Starshine freed Lisa we had to give the tree what she wanted as you know. It's just when we use the harp to get across the water my controls aren't their and I can't move my horse River Dancer. This could be because I play on a phone and SSO is usually meant for computers but I hope you can fix this update somehow maybe by asking a question like do you play on a computer or a phone right before they do this quest if they say computer it can stay how it is but if they say phone can you PLEASE PLEASE PLEASE put controls on the quiz. I really hope somebody sees this message because I will be waiting for something to happen with this bug. Thanks star stable
The developer, Star Stable Entertainment AB, indicated that the app's privacy practices may include handling of data as described below. For more information, see the developer's privacy policy.
Data Linked to You
The following data may be collected and linked to your identity:
Contact Info
User Content
Identifiers
Data Not Linked to You
The following data may be collected but it is not linked to your identity:
Privacy practices may vary, for example, based on the features you use or your age. Learn More
Information
Seller

Star Stable Entertainment AB

Size

39.2 MB

Category

Games

Compatibility

iPhone

Requires iOS 14.0 or later.

iPad

Requires iPadOS 14.0 or later.

iPod touch

Requires iOS 14.0 or later.

Languages

English, Danish, Dutch, Finnish, French, German, Hungarian, Italian, Norwegian Bokmål, Polish, Portuguese, Russian, Spanish, Swedish

Age Rating

9+ Infrequent/Mild Cartoon or Fantasy ViolenceInfrequent/Mild Horror/Fear Themes

Copyright

© Star Stable Entertainment AB

Price

Free

In-App Purchases

Starcoin Package L$26.99
Starcoin package M$9.99
Starcoin Package S$4.49
Supports
Family Sharing

Up to six family members will be able to use this app with Family Sharing enabled.
More By This Developer
You Might Also Like
Sours: https://apps.apple.com/au/app/star-stable-online/id1445695988
ourbatshit:
Ngl thats pretty fucking funny lmao.
this is honestly hilarious bc this person is literally so annoying and nothing SSO does or updates makes them happy. just a cloud of negative energy on all the social media pages. pay for the game like everyone else lmao
Source: ourbatshit
shipqueen101:
Imagine being so entitled you write emo poetry about a company overcompensating you for an error five years ago and claiming said company is entirerly in the wrong for not letting you freeload anymore.

I love this community holy fuck.
sorry wtf is going on
Source: shipqueen101
Source: ydrisdove
Source: southhoofsoulrider
Source: itsmegunsworddeep
Source: itsmegunsworddeep
southhoofsoulrider:
SLAMS MY HEAD INTO A WALL I JUST SAW SOMEONE CALL AIDEEN A MILF 💀
Source: southhoofsoulrider
everwindfields:
Uhhh so the champ glitched and didn't show the results screen which often happens so I went home to my stable… got sent to hell instead I guess
Source: everwindfields
lilakennedy:
𝐨𝐧𝐞 𝐥𝐨𝐧𝐠 𝐬𝐮𝐦𝐦𝐞𝐫 𝐯𝐚𝐜𝐚𝐭𝐢𝐨𝐧, 𝐡𝐮𝐡 𝐛𝐮𝐝𝐝𝐲?

10 years with my boy, here's to 10 more!

Source: lilakennedy
ourbatshit:
in 2018, when sso updated the starter horse, i "retired" my starter.
So this is what i think of anytime i see somebody mention their starter.

Anyways he is now 23 years and is enjoying his retirement in 2018 version of the harvest counties.
Source: ourbatshit
shipqueen101:
So was anyone gonna tell me Rob and Bob canonically have a Patreon or was I just supposed to find that out through the Star Stable Limited Birthday Event Tour Guides myself?
Source: shipqueen101
Source: lizaqueenstone
itsmegunsworddeep:
god okay winter riders 100% did not fuck around with how many medals i had to earn/how hard some of them were

but after i don't even know how many weeks/hours, i got 'em all! now onto spring!
Source: itsmegunsworddeep
phoenixravenport:
The people on Jorvik will see one (1) teenager and trust them with all their secrets
Source: phoenixravenport
Source: itsmegunsworddeep
Sours: https://clara-diamondsong.tumblr.com/
star stable/HINTS AND SPOILER !!!
Star Stable
Playing Star Stable is simple enough, because it draws a player in with a diverse story line and a variety of tasks to keep you busy. Jumping over obstacles and dashing through various races is entertaining enough, but the realistic side of caring for a horse is enjoyable as well. You must take care of your horse to earn new skills and become a better rider, as well as progress through levels. The game receives weekly updates and additions to content for players who have finished everything. Star Stable is definitely marketed towards tween girls -- shopping is a girl's best friend here, because all your hard work pays off in Jorvik. Just pull up to a seller and choose from a variety of tack, clothing, accessories, and gear for you and your horse. That's notable because, though it targets girls, there's a fair share of adults (and boys) playing this game, as evidenced by its social media following.
But not everything is perfect in this island paradise of horses and adventure. There's no kind of progress or health meter for your animal. Since you don't always know which tack or accessories are best for your animal, having some kind of feedback would be helpful, instead of players being forced to stumble through the game until they figure things out. Star Stable also tends to lag in some spots after being downloaded, which affects the accuracy of navigating a horse during timed races. Its graphics are cartoonish and a bit over the top, which may appeal to some kids, but are nothing like the images on the website, which doesn't feel honest or accurate for the game. There's also the issue that, unless you decide to pay for the lifetime subscription, you'll constantly be paying to explore the story and gameplay. If you or your kids don't love horses, you may find yourself bored with this game quickly. Star Stable is a fun experience for horse fans, but other players may start to move to greener pastures.
Sours: https://www.commonsensemedia.org/game-reviews/star-stable
Adventures star stable
A horse game full of adventures!
Star Stable is the exciting online game where adventures, horses and mysteries are waiting to be explored. Play for free up to level 5!
Apps
Star Stable is an online game for PC and Mac, but there is more to it. Download our apps and get even more experiences right in your phone.
Star Stable Horses
Care for your very own baby foal. Raise it into a healthy and happy horse and let it join you on all your adventures in Jorvik!
Star Stable Friends
Don't miss out on any of the latest news. Send messages to friends, learn about our latest updates, buy Star Coins and stable care directly from the app.
Be a Star Rider
Star Stable is free to try. To unlock the game and get full access to all adventures and quests, you need to be a Star Rider.
Unlock the whole world of Jorvik and all its adventures, beyond the free-version limitations.
Choose from multiple unique horse breeds.
Access thousands of quests and all game updates. New features every Wednesday!
Join the community and hang out with old and new friends.
Sours: https://www.starstable.com/en/
Halloween HORSES !!!!
.
You will also be interested:
.
1301
1302
1303
1304
1305