How Each Caesars Rewards Diamond Benefit Work? [2021]
Earning Caesars Rewards Diamond Tier Status
Stay at the Caesars Rewards owned hotels or play at Caesars-owned casinos a lot to earn 15,000 tier credits. 
Request upgrade to Caesars Rewards Diamond by presenting another valid VIP loyalty card from competitors at any Caesars Rewards Center between February 1 - December 31, 2021. Once upgraded, your Diamond status will be valid through January 31, 2022. 
Match your Wyndham Rewards Diamond status to Caesars Rewards Diamond. 
Receive complimentary automatic Caesars Rewards Diamond status with the FoundersCard
Related Post:
Caesars Rewards Diamond Benefits 
While there are several benefits that come with Caesars Rewards Diamond status, I'm going to just list those that are worth mentioning and explain to you how each one works: 
No resort fee on any hotel stays where applicable
$100 Celebration Dinner
Complimentary valet & self-parking
Complimentary access for select shows & attractions
Gain access to the VIP Laurel Lounge 
Complimentary stay at Atlantis, Paradise Island in The Bahamas  
2 free nights at Caesars Bluewaters Dubai
No Resort Fees On Hotel Stays
If you frequent casino hotels & resorts, you know that those properties love to charge resort fees in addition to the room rates. As Caesars Rewards Diamond, there are no resort fees on any hotel stays where applicable. 
This benefit is valid for one room per stay per Diamond member. 
Resort Fees are not automatically assessed for Diamond, but such packages may be purchased upon request with Reservations or Front Desk Agent. 
$100 Celebration Dinner 
Good News: Due to COVID-19, if you have not used your 2020 Celebration Dinner yet, it is now extended and valid through January 31, 2022. The 2021 Celebration Dinner is valid from February 1 - January 31, 2022. So you have a $200 Celebration Dinner!
Here's how $100 Celebration Dinner works: 
You can use $100 Celebration Dinner credit at participating Caesars-owned restaurants only. 

Before ordering, ask the Caesars-owned restaurant's server to see if you can use your $100 Celebration Dinner. 
You can find out participating Caesars restaurants from the Caesars Rewards desk or online here. They can provide you a list of up-to-date participating restaurants. 

The credit can only be used towards food and beverages consumed in the restaurant. No take-out is allowed or retail merchandise. 

While the term clearly states that, take-out is not allowed. I was able to redeem the $100 Celebration Dinner at Gordon Ramsey Burger at Planet Hollywood in Las Vegas for take-out because I could not get a dine-in reservation. But keep in mind that your mileage may vary. That's why it is important to ask the server before ordering. 

Alcohol may not be covered at some properties. 
Gratuity is not included in the offer and you cannot use part of the credit for tipping. 
If your total bill is under $100, the remaining amount is forfeited. 
If your total bill is more than $100, you are responsible to pay the difference. 
Complimentary Valet & Self-parking
If you are staying at Caesars hotels and resorts, you can receive complimentary valet and self-parking as a Diamond elite member. If you do not stay at Caesars hotels and resorts, you can still get free parking. To self-park, simply scan your Caesars Rewards Diamond card at the parking kiosk. 
Complimentary Access For Select Shows & Attractions
The best way to find out what shows and attractions that offer free tickets to Caesars Rewards Diamond members is to stop by the Diamond desk. 
The diamond desk is also where you will obtain the free voucher tickets.
I do know that they are currently offering Bodies Exhibit and LINQ Hotel & Casino's High Roller attraction tickets. These are subject to change, so it's best to stop by the Diamond desk and ask. 
We personally did the High Roller and it was pretty cool! The ride slowly climbs up to 550 feet above the ground and offers an incredible view of the Vegas Strip. The whole ride takes approximately 30 minutes and one adult anytime ticket costs $36, but this is free for Caesars Rewards Diamond members. 
I stopped by the Diamond desk to ask for the Higher Roller voucher for 2 people. The voucher once issued is good for 3 days and you can exchange it for tickets at LINQ's Higher Roller ticket's box office to get on the ride any time of the day.  
Editor's Tip: High Roller is one of the popular attractions in Las Vegas, so do expect queues when you go to exchange the voucher for tickets. But here's a tip: when you arrive, tell the people at the door that you have a voucher given by the Caesars Rewards Diamond's desk. They should be able to let you bypass the line and go to the box office where there's a priority line service for Diamond guests. The agent at the ticket office's counter will ask you to scan your Diamond card, sign the voucher and then send you e-tickets to your mobile number on file.
Gain Access to the VIP Laurel Lounge 
Diamond elite members get complimentary access to VIP Laurel Lounge. 
Complimentary stay at Atlantis, Paradise Island in The Bahamas
As a Diamond elite member, you also receive one (1) complimentary stay at the Atlantis in the Bahamas, Caribbean. The Atlantis offers a vibrant casino, 141-acre water park, 21 restaurants, 19 bars and lounges, the award-winning Ocean Club Golf Course, and Mandara Spa.
Please note that members with complimentary Caesars Rewards Diamond status through the FoundersCard do not qualify for this benefit until they earn the necessary Tier Credit criteria. 
Your complimentary night stay in the Bahamas is divided into Peak and Off-Peak offers:
Peak Offer:

Complimentary 4-night stay in The Royal or The Coral, including room taxes
Up to 2 additional nights at a Special Casino Rate of $150 per night
$75 Free Slot Play
Access to Aquaventure, a one-of-a-kind 141-acre waterscape with 20 swimming areas and 11 pools

Off-Peak Offer (February, May, June, September, October & January ONLY)

Complimentary 4-night stay in The Royal or The Coral, including room taxes
Up to 2 additional nights at a Special Casino Rate of $120 per night
$100 Free Slot Play
Access to Aquaventure, a one-of-a-kind 141-acre waterscape with 20 swimming areas and 11 pools
To redeem this benefit:
2 Free Nights at Caesars Bluewaters Dubai
Caesars Rewards offers a complimentary 2-nights benefit at Caesars Bluewaters in Dubai for Diamond elite and above members. Here are the terms and details of the complimentary 2-nights stay:
Benefit only valid for earned Diamond members earning at least 15,000 Tier Credits and Seven Stars members earning at least 150,000 Tier Credits. Members with gifted or matched Diamond status including complimentary Diamond status through the FoundersCard do not qualify until they earn the necessary Tier Credit criteria. 
Valid from February 1, 2020 - January 31, 2022. 
Must book 30 days in advance. 
Good for Standard Room. Room upgrades are available at an additional charge. 
For accommodation only. It does not include airfare and transportation. 
Breakfast or other packages are not included. 
Complimentary night's stay is limited to two people, one of which must be the Caesars Rewards member. All accompanying members must be 21 years of age or older.
Complimentary stay must be fully completed by 1/31/22. 
A tourism fee of AED 20 (~$5 USD) per bedroom/per night will be paid at the hotel upon checkout.  
To book your 2 free nights at Caesars Bluewaters Dubai:
Diamond members can conveniently book using the online form here.
From the Request Signature Experience drop-down, select DIAMOND- 2 Free Nights at Caesars Resorts
Fill out the form and submit it.
It is also possible for two players. If you and your spouse both have Caesars Rewards Diamond elite status, you can book 2 nights under you and 2 nights under your spouse for a total of 4 nights.
Upon arrival, Diamond member also receives a personal greeter and wine with chocolate. For more information on 2 Free Nights at Caesars Bluewaters Dubai, here's the Direct Link to the Offer
Full Disclosure: We love living points life by using points and miles to elevate travel experiences. In the interest of being transparent with you, we may be compensated from an approved credit card's application, or from some of the products and services recommended on this site. This only happens when you click on our affiliate links. We also earn commissions from purchases made through Amazon Services LLC Associates Program. Thank you for your support and especially for reading this blog! Please see our Advertiser Disclosure for more details!
Sours: https://www.mypointslife.com/2021/03/everything-about-caesars-rewards-diamond-benefits.html
As someone who visits Las Vegas at least twice a year, I hate paying resort fees. There have been some instances where the resort fees are more than the base room rate. One way to get resort fees waived at Cesar Total Rewards Properties is to have Diamond status with them. Here's how to status match to Total Rewards Diamond status.
Caesars Total Rewards Diamond Status Benefits
A few Diamond status perks that stand out to me:
Gift up to 5,000 Reward Credits to a friend (limit of two transfers per year)

15% Advertised room rate

2 Complimentary show tickets every month at Total Rewards properties

No resort fees

Guaranteed Room with 72 hours notice in Atlantic City and Las Vegas

Access to Diamond Lounges

Priority lines at hotel check-in, restaurants, casino cages and the Total Rewards Center

Complimentary stay at Atlantis, Paradise Island in The Bahamas
See more benefits here: caesars.com/total-rewards/benefits-overview
How to Match to Total Rewards Diamond Status
Step 1: Request a status match for Wyndham Rewards Diamond Status

The fastest way to earn status is through select credit cards, as opposed to staying 50+ nights at the hotel group. Most of the hotel credit cards that give you automatic status have an annual fee, but they also offer a free anniversary night each year.
If you use the free anniversary night wisely, you can get more value than the annual fee.
For example:
Paying = $100 annual fee

Getting = "free night" you can use at hotels ranging from $50 to $200.
There are a few credit cards that give you automatic status that will match to Wyndham Rewards Diamond status, but my preference is IHG because it also matches to higher tiers at other programs like Best Western. We'll use IHG in our example.
Sours: https://www.asksebby.com/blog/how-to-status-match-to-caesars-total-rewards-diamond-status
Status Through 2023! Caesars Diamond Status Match From Other Casinos
Caesars Status Match
TheCaesars status match to Diamond statushas been a very useful, cheap and widely available way to earn casino status since it's Total Rewards days and Caesars just launched another status match promo for new members. Status Match Opportunities are a popular topic since casino rewards programs offer a ton of ways for gamblers and non gamblers alike to get perks and benefits even without visiting Las Vegas or other gaming destinations. As I've covered in the past, casino status matching often starts with a hotel loyalty match promotion. The most well know was theWyndham Diamond to Caesars Diamond match whereby Wyndham Diamond status was obtained through matching existing loyalty status from a different hotel chain. Unfortunately, Wyndham has discontinued it's status match promotion from other hotels until further notice but to be clear, Wyndham and Caesars are partners and they continue to offer reciprocal status matches for members of each other's program. On the other hand, it seems that nearly every casino program is offering Status Matches to elite members of competing casinos. I covered this extensively in this post:GUIDE: Casino Status Matching (Now that Wyndham Match is DEAD!)
Related: Mlife Status Match to Gold or Platinum + World of Hyatt Status Match (2021)
How the Caesars Status Match to Diamond Status Works
New Caesars Rewards members just have to present your valid eligible VIP loyalty card from select competitors at any Caesars Rewards Center between February 1 – December 31, 2021, and you will be matched to Diamond status valid January 31, 2022. Choose a location from the list on thestatus match pageto see if you are eligible for a Diamond status upgrade.
Note: It may take up to 10 days to process your upgrade request.
---
Here's a link to a video covering Casino Status Matches and a few of the tricks I use that I didn't think I should put in writing (AKA the good stuff.) Also please give me a thumbs up and be sure to subscribe with every email you've ever had.
---
Caesars Total Rewards Diamond Benefits
No resort fees
Priority lines at hotel check-in, restaurants, casino cashiers and the Caesars Rewards Centers
20% discount at casino gift shops
Free Stay at Atlantis Bahamas
Lounge access
$100 Celebration Dinner
And more!
MUST READ: 2021 Caesars Rewards Guide (Plus Earning and Redeeming Tier Credits, Rewards Credits and Benefits)
How to Earn Caesars Diamond Through 2023 (and Why it's worth it)
Keep earning to extend your Diamond status for 2023 by reaching these hurdles. 
As you can see by waiting until later in the year to match status you can earn Diamond for a long time without really having to do much. If you went in December, you could earn 1,250 Tier Credits just by spending $250 on resort spend.
Honorable Mention: Founderscard Offers Caesars Diamond (UPDATE: FoundersCard Renews Caesars Rewards Diamond Benefit Through 2023)
---
MUST READ:2021 MGM Mlife REWARDS GUIDE (PLUS EARNING AND REDEEMING TIER CREDITS, REWARDS CREDITS AND BENEFITS)
---

Caesars Diamond Status Match Details
Caesars STATUS MATCH DETAILS AND CHART (Click Here)
The list of casinos that qualify for matched status is extensive and includes every casino I've ever heard of in this list of states. To see the casinos just Choose a location from the list to see if you are eligible for a Diamond status upgrade. (To give you an example I clicked on Louisiana and as you can see- that's a pretty generous list.)
Fan Club: Isle of Capri Casino, Lake Charles
mychoice: L'aubegre Casino, Lake Charles
Preferred
Elite
Owners Club
24K Select: Golden Nugget Hotel & Casino, Lake Charles
mychoice: Boomtown, Bossier City
Preferred
Elite
Owners Club
B Connected: Sam's Town, Bossier City
Rewards Club: DiamondJacks Casino, Bossier City
Club Eldorado: Eldorado Resort Casino, Shreveport
Margaritaville Player's Club: Margaritaville Resort Casino, Bossier City
B Connected: Treasure Chest Casino, Kenner
mychoice: Boomtown, New Orleans
Preferred
Elite
Owners Club
Closest Caesars Rewards Centers located at Harrah's Louisiana Downs, Horseshoe Bossier City and Harrah's New Orleans.

Diamond Caesars Rewards Benefits Obtained Through Status Matches:
• No resort fees on any hotel stay
• $100 Celebration Dinner
• Complimentary valet and self-parking at most destinations, including Las Vegas & Atlantic City
• Access to Diamond Lounges
• Priority lines
• Match your status with Wyndham Rewards Diamond
Caesars Diamond Status Match Benefit Exclusions
Certain benefits like Caesars Bluewaters Dubai and Complimentary Laurel lounge access are only valid for members with earned Tier Status (Diamond members earning at least 15,000 Tier Credits. Members who earned less than 25K Tier credits will be charged 1,000 Rewards Credits for themselves and 1,000 Rewards Credits for a guest to enter the Laurel Lounges (FKA known as Total rewards Diamond Lounges.)
MUST READ: MASTERCARDS AMAZING TRAVEL BOOKING PORTAL & WHY IT'S BETTER THAN FHR AND LHRC
Caesars Status Match: Maximize Value (FKA Total Rewards)
The status match gravy train has been going on for years and it'll be interesting to see whether Wyndham brings back it's match promotion but we do know that the Wyndham and Caesars partnership has been extended through 2022 so you'll be able to keep it going for a few years at least by matching. Wyndham and Caesars back and forth each year.
Filed Under: Casino, Loyalty ProgramsTagged With: Caesars diamond, caesars rewards, casino loyalty, casinos status match, Elite Status, loyalty programs, total rewards, wyndham
Sours: https://www.bougiemiles.com/caesars-status-match/
Caesars Palace CLOSING Rao's Italian Restaurant Las Vegas
There's a new method to match your way to top-tier casino status
Editor's note: This post has been updated with current information. The status match opportunity to Wyndham Rewards is no longer available as of publication.
Got status? If the answer's no, don't despair. While now may not be the ideal time to travel to Las Vegas, you can still update your 2020 status-match checklist.
Previously, if you held elite status with any hotel chain, you could status match to Wyndham Rewards, all the way to the program's top-tier Diamond status. And if you qualified for Wyndham Diamond status, you could match that to Diamond status within the Caesars Hotels and Resorts chain, which owns many of the most famous hotels on the Strip and in Atlantic City: Caesars Palace, The LINQ, Paris, Planet Hollywood, Bally's, Harrah's, Nobu and more.
Unfortunately, this lucrative elite status match opportunity is no longer available. But as reported by Miles to Memories, there's a new offer that will get you top-tier casino status for when you're ready to travel again.
For more TPG news delivered each morning to your inbox, sign up for our daily newsletter.
Match your elite status to Caesars Diamond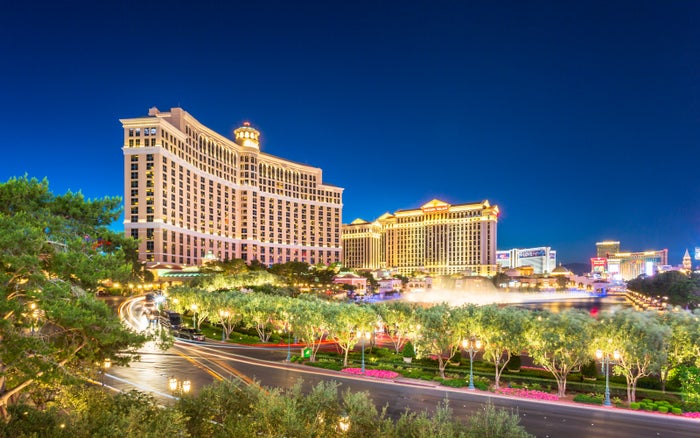 The new status match opportunity is valid through Jan. 31, 2021. To qualify, you'll need to provide your VIP loyalty card from select competitors to start enjoying Caesars Rewards Diamond Tier benefits. There are dozens of eligible casino programs, broken down by state.
To start the status match, you'll have to go in-person to the nearest Caesars Rewards Center between now and Dec. 31, 2020.
The Caesars Diamond perks include:
Waived resort fees on all stays
Complimentary valet and self-parking
$100 annual celebration dinner at Caesars-owned restaurants
15% off best available rate on rooms and suites
Guaranteed room with 72-hour notice (in Las Vegas and Atlantic City)
Two free show tickets per month
Priority lines at check-in, shows, restaurants, valet, casino cages, and rewards desks
Complimentary four-night stay at the Atlantis Paradise Island Bahamas
I'd peg the most valuable of these perks as the waived resort fees (which saves you about $44 per night), the free $100 dinner and the complimentary valet parking (which is regularly $24 per night). Everything else is nice, but these three together can transform your Las Vegas trip from amazing, to amazing and cheap.
An additional status match opportunity for Hyatt elites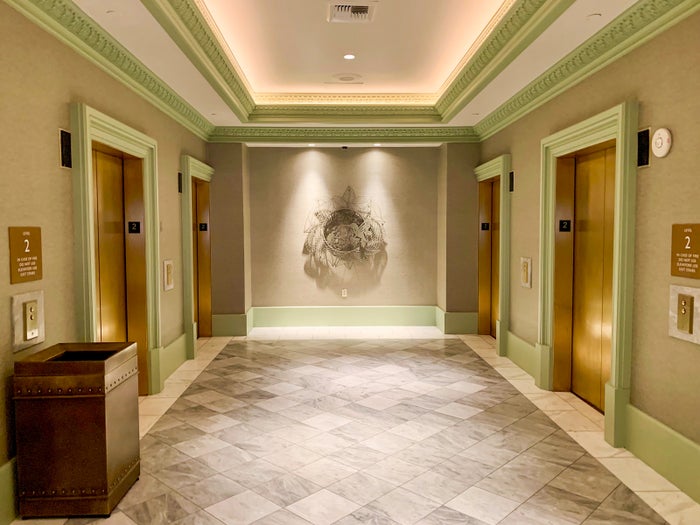 If you don't happen to have any casino elite status — but you do have Hyatt Explorist status or above — you can also take advantage of this opportunity. That's because you can match Hyatt status to MGM M life Gold and from there, match to Caesars Diamond.
Related: 5 reasons why I went all in on the World of Hyatt card
Bottom line
Because of coronavirus, a lot has changed in Las Vegas. While buffets will no longer look the same, the whole "more is more" concept remains, including the many Sin City fees. From your parking to your resort fees and even your in-room coffee, just about everything in Vegas has a cost. Though Las Vegas is a notoriously expensive city, you can reduce the cost while maximizing your benefits by leveraging elite status across its hotels.
This is certainly not as lucrative as the previous Wyndham status match promotion, but it's still a great option for those that are looking to get a taste of Caesars Diamond status.
Additional reporting by Carissa Rawson and Katherine Fan.
Featured photo by Toms Auzins/robertharding/Getty Images.
Sign up for our daily newsletter
Sign-up Successful!
Welcome to The Points Guy!
Chris Dong is a reporter at The Points Guy, where he covers the intersection of credit card rewards and travel. You can follow his adventures on Instagram.
Question, comment or tip? Email him:
[email protected]
Sours: https://thepointsguy.com/guide/status-match-maximize-las-vegas-trip/
Status caesars diamond
Caesars Rewards Diamond Status – 2021 Update
Caesars Rewards is not what it used to be.  Caesars Entertainment was purchased by Eldorado and it seems that they are cutting costs left and right. In my opinion, they are making visiting Caesars Rewards properties a lot less pleasant and appealing.  Here are a few things that have changed.
No Laurel Lounges
All Laurel Lounge locations in Las Vegas remain closed.  If you are a Diamond elite, you are out of luck.  Those with Diamond Plus (or above) can swipe their card at a kiosk and get four coupons each day for free beverages.  The coupons expire that day at 11:59pm.  Seven Star elites also get one $10 food coupon per day.
The list of locations where you can redeem the coupons is available here.
No Free Show Tickets
One of my favorite perks of Caesars Rewards Diamond status was the free show benefit.  Even as shows have reopened in Las Vegas at full capacity, the free show benefit has not returned.  I think it is unlikely that this benefit will ever return, but I hope to be proved wrong.
Instead they are offering free tickets to see the Real Bodies exhibit at Bally's.  I also noticed when I logged in to the kiosk as a Diamond Plus I received an offer for two free High Roller tickets; however this isn't a listed benefit for all Diamonds.
No Spa Access
Historically Caesar Diamond elites could get a spa day pass at a discount (or for free).  While anyone can book treatments, the facilities (hot tubs, steam rooms, sauna, etc) remain closed.
However there are still few benefits to having elite status:
$100 Celebration Dinner
One benefit that remains intact is the $100 annual Celebration Dinner.  The locations seem to be always changing, but I was able to find this list (current as of July, 2021).
No Resort Fees
Probably the best benefit of Caesars Rewards Diamond status is that you never have to pay resort fees.  These fees are often around $50 per night.  When I get comped nights at M life properties, I still have to pay this fee.  Not so at Caesars properties.
Other Perks
There are a few other minor perks such as free parking, priority lines, and some discounts.
Interested in other information about Caesars Rewards?  Check out my Caesars Rewards page with tips to help you make the most out of your next visit including how to easily get Diamond status, access to free shows and food, reviews of hotels and much more.
Categories Casino, LoyaltyTags caesars rewards, vegasSours: https://singleflyer.com/2021/07/01/caesars-rewards-diamond-status-2021-update/
CAESARS REWARDS UPDATE SEPTEMBER 2020 - NINTH ISLAND CONNECTION - CAESARS PALACE LAS VEGAS
In this post, I'll show you how to do the Caesars Diamond Status match so you can benefit from all the Las Vegas Hacks such as free food, free hotels and much more. To get matched to Caesars Rewards Diamond, you'll need to have Wyndham Diamond Status. To get Wyndham Diamond Status, you can match with Wyndham from some of the other popular hotel chains.
Don't have any hotel status? No problem! You can instantly get hotel status with several credit cards.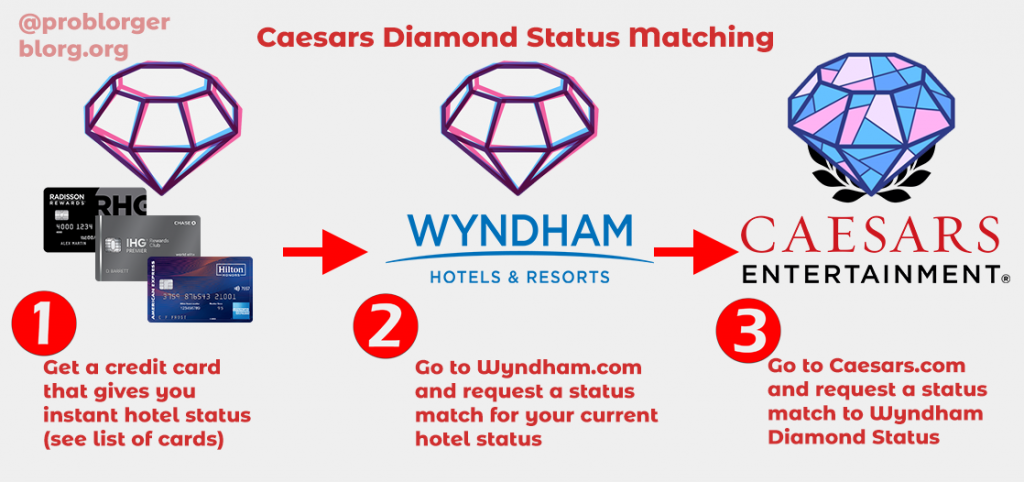 Why do you want Caesars Diamond Status?
I've outlined the details and value in my Vegas Hacks post. As a quick summary, you can get over $2000 EVERY year in value just from having Caesars Diamond Status:
Free valet parking and self-parking (worth $25/day)
15% off your stay at an Caesars Entertainment property
No resort fees (worth around $40/night)
Caesars Diamond Express lane for hotel check-in, buffets, shows and restaurants
$100 annual dining credit that can be used at buffets and restaurants
2 complimentary nights at the Caesars Blue Water Dubai!
4 complimentary nights at the Atlantis Bahamas!
As an added bonus, you can perpetually have Caesars Diamond Status every year! See below for details.
Step 1: Make Hotel Accounts!
If you don't already have accounts with Caesars, Wyndham, Hilton or any of the other hotels you plan on having status with, I would start with that. For those of you planning on getting a credit card with instant status, you'll want to have an account with the hotel program you are applying for (Hilton, Radisson or IHG).
Step 2: Get Instant Status
You can instantly get hotel elite status from a credit card. These credit cards will give you status pretty soon after being approved:
Program
To Match to Wyndham Diamond
Instant status with Credit Card Available?
Hilton Honors
Gold
AMEX Hilton Surpass ($95)
AMEX Platinum ($550)
Hilton Honors
Diamond
AMEX Hilton Aspire ($450)
IHG
Platinum Elite
IHG Premier Credit Card ($89)
Marriott Rewards
Gold Elite
AMEX Marriott Bonvoy Brilliant ($450)
AMEX Platinum ($550)
Radisson Rewards
Gold
Radisson Rewards Premier Visa ($75)
Read carefully and know what you're getting into before applying for a credit card. The annual fees can be VERY high for some of these cards. Some other websites on this topic won't mention that.
If you're looking for something reasonable, there are 3 credit cards you can apply for that have a reasonable annual fee and pretty good benefits (in addition to getting you Diamond Status with Caesars).
I would recommend the IHG Premier credit card (or Hilton) over the Radisson. The IHG card has an $89 annual fee each year, but I keep it open for the free night you get (which is really an $89 night) because you can use it at ANY IHG property. I've used it at the Intercontinental Osaka (video) which was one of the best hotel experiences of my life.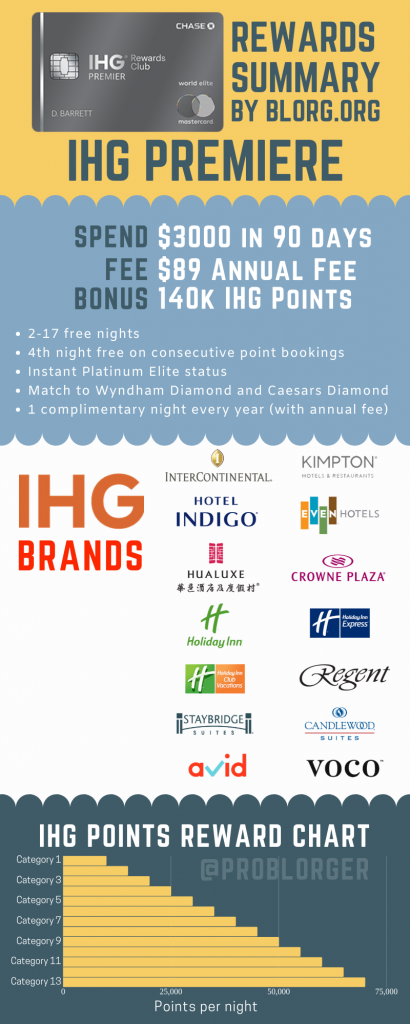 My all time favorite deal is the Hilton Surpass card. I've actually kept the card open more than a year. I don't like paying annual fees unless it's worth it. The benefit of having free breakfast at the Hilton, upgrades and access to airport Priority Pass lounges (10 visits) for $95/year was well worth the price.
I stayed 20 nights at Hilton hotels in 2019 and if you consider just the breakfast for 1 person, that's $5/meal. Extra value if you have a family of 4 ($1.25/meal)! Most hotel breakfast buffets aren't great but I actually really like the offerings Hilton has compared to most hotels. The Hilton Kuala Lumpur was my absolute favorite Hilton for breakfast.
If you're interested in getting the American Express Hilton Surpass credit card, I have a referral link.
But I already have status…
To qualify for the Caesars Diamond Status Match, you'll need to have elite status with any one of these hotel programs:
Program
To Match to Wyndham Diamond
Instant status with Credit Card Available?
Best Western
Diamond Select
N/A
Choice Privileges
Diamond
N/A
Hilton Honors
Gold
Diamond
AMEX Hilton Surpass
AMEX Hilton Aspire
Hyatt
Globalist
N/A
IHG
Platinum Elite
Spire Elite
IHG Premier Credit Card
N/A
Marriott Rewards
Gold Elite
Platinum Elite
Platinum Premier Elite
Platinum Premier Elite with Ambassador
N/A
Omni Select Plus
Black
N/A
Radisson Rewards
Gold
Platinum
Radisson Rewards Premier Visa
N/A
If you already have a qualifying level of status, you can skip to the section below for status matching on the Wyndham website.
Step 3: Match Your Hotel Status To Wyndham
Since you already made a Wyndham account in Step 1, this will be easy. Just head over to the Wyndham website and status match here.
The "Loyalty Program" drop down will have a list of the available programs you can match from (list above). You'll need to select your loyalty program then your status level in the next box.
You'll then be required for Membership verification. This can just be a screenshot of your account page from Hilton, Marriott, Radisson or wherever you have status. As mentioned in the note, do not include any sensitive information in the screenshot. The screenshot I sent for the Wyndham status match was of my Hilton Gold account. I didn't censor out my Hilton account number from it though.
After submitting your Wyndham Diamond Status Match request, they should get back to you within a week.
Step 4: Caesars Diamond Status Match
After you get your Wyndham Diamond Status match, your ready to leverage that status to get Caesars Diamond Status. Just head over the Caesars Official website here:
You'll then be required to sign in and link your Wyndham and Caesars accounts. The process can take a few days to a week. There will not be an email notification so you'll just have to log in at the Caesars Website to check your status.
The points earned was from the money spent dining at the Bacchanal Buffet. It was free for me, but my friends didn't have status. We did use that status to skip the line which saved us an hour!
Overview on getting Caesars Diamond Status
If you're lucky, you can probably get the Caesars Diamond Status done within 2 weeks. Status is pretty instant with the credit cards, especially the AMEX Hilton. Then you'll need to take a screenshot of your status and send it over to the Wyndham Status match page. You'll receive an e-mail from Wyndham when the status match is complete, which can take a few days. The last step in the process is going to the Caesars Status Match page and filling out your information there. It could take up to a week for the match to clear and you will not receive a notification.
Sours: https://blorg.org/get-caesars-diamond-status/
You will also be interested:
.
1313
1314
1315
1316
1317