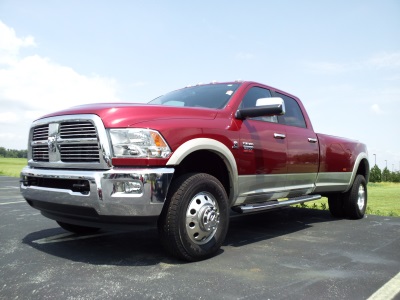 Halfway through the 2007 model year, Dodge replaced the venerable 5.9 24v Cummins diesel with a new 6.7 liter model, in order to keep up with the ever-increasing competition from Ford and GM. In addition to a massive power increase, this also brought the Ram up to emissions standards not scheduled to go into effect until 2010, three years later than it was released. With small updates, this engine is still in production in Ram heavy-duty pickups today.
Initial reviews of the 6.7 were glowing, with everyone appreciating the newfound capability from a proven engine platform. However, it did not take long for problems to arise. Within the first year of the trucks coming out, every diesel truck forum on the internet had some variation of a "08 Dodge Ram 3500 6.7 Cummins Problems" thread, with upset owners sharing stories of expensive repairs on trucks that were still new at the time. The first sign was a check engine light, frequently caused by a P2262 diagnostic code for a clogged turbo.
The 6.7 has a variable-geometry turbo. Developed in the 1980's but first used on a large scale by Porsche for the 997-chassis 911 Turbo, this is a turbo with moveable flaps inside the compressor housing, which restrict the pressure until enough is generated to open this up. This has the effect of a smaller turbo at low RPM, for better response off the line, but opens up a larger area inside the turbo once enough boost is created, so you can get the bigger power numbers at a higher RPM that you receive from a larger turbo. Other manufacturers, including Ford with their PowerStroke diesel, got similar results from using sequential turbochargers, where one small turbo fed into a second larger one. The advantage of a variable-geometry turbo is greater efficiency from a smaller package.
2007-2012 Dodge Ram Turbocharger
In order to meet increasingly strict emissions standards, the Ram Cummins used an exhaust-gas recirculation (EGR) system, where some of the exhaust is cycled back into the intake. This way, the exhaust gases can be run through the engine again, to burn off any pollutants in the initial exhaust cycle. A diesel engine inherently creates more emissions than a gasoline-powered one, because the fuel is less refined, and ignition is controlled by compression, not spark, so it is more difficult to control. Seeing as how the 6.7 is derived from the previous 5.9, which itself was derived from the Cummins 6BT diesel, advanced measures such as EGR were required for the engine to meet emissions compliance.
However, the downside of EGR is that the air entering the turbo through the intake tract is much dirtier than on vehicles without it, since it is a combination of air from the atmosphere and diesel exhaust. Pollutants from the EGR cause the vanes on the variable-geometry turbo to clog up, restricting their ability to open and close to produce the boost levels required. This would cause the truck to lose power, and trigger the aforementioned P2262 diagnostic trouble code. You can remove and clean the turbo as a temporary solution, but that will not fix the issue long-term. By the time drivability is compromised and a check-engine light is triggered, the damage is already done.
After a couple years and thousands of warranty claims, Dodge finally made some updates to the Cummins that greatly reduced the occurrences of this issue, and were able to be back-dated to earlier models. Replacement turbos are almost always going to be of the updated variety for much better long-term reliability, and they work as a direct bolt-on for all late 2007-2012 Ram models with the 6.7. This means that if you have to replace the turbo on your Ram, you will only have to do so once for the normal life of the truck.
While these issues may mirror some of the complaints levied by owners of Ford trucks with the 6.0 PowerStroke engine (EGR and other emissions devices affecting reliability), the 6.7 Cummins is still extremely well-regarded by diesel enthusiasts. If you need to replace the turbo on your Dodge diesel truck, as long as you choose a quality part from a reputable supplier, you will be all set for another several hundred thousand miles with an excellent, reliable truck. Contact us for knowledgeable assistance getting direct-fit replacement turbos from reputable brands like Holset, BorgWarner, Stigan, Garrett and more!
Find Turbos for 2007-2012 Ram 6.7 Here!
Find Turbos For 2013-2016 Ram Pickup 6.7L Here!
Find Turbos For 2013-2015 Ram Cab & Chassis Here!
Sours: https://www.buyautoparts.com/blog/2007-2012-dodge-ram-6-7l-cummins-turbocharger-problems/
The Everyday Ram: A 650 hp Dodge Anyone Can Build
A manually shifted, Cummins-powered Dodge Ram is the quintessential truck for most diesel enthusiasts. In the eyes of many, combining the B-series inline-six with a standard transmission offers the best of both worlds: steadfast durability and utter simplicity.
Jake Bosie certainly thought so, as he jumped at the chance to buy this '05 Dodge Ram 3500 that he found sitting at a local dealership. While he'd previously owned an older 5.9L Cummins-powered Dodge, it wasn't the third generation body style or (more importantly) equipped with common-rail injection.
"The VP44 truck ('98.5-'02) I had before it just didn't have the power that the common-rail 5.9L does," Jake told us.
Stock Bottom End
Because the '03-'07 5.9L Cummins' rotating assembly is known to handle in excess of 800-rwhp before stronger rods and different pistons need to be considered, the short block in Jake's Ram is 100 percent stock. However, the top-end has received considerable upgrades in order to withstand elevated boost and cylinder pressure. After being sent off to the Cummins gurus at Scheid Diesel, the 24-valve head was cut to accept fire-rings (for an uncompromising combustion seal). While there, the 125-pound chunk of cast-iron was also fitted with oversize valve seats and a set of 5,000-rpm valve springs. The head anchors to the block via ARP's exotic material, Custom Age 625+ head studs.
(Read about the renowned Scheid Diesel Extravaganza.)
Stoking the Fire
Like many modern day diesel enthusiasts, Jake chose a huge injector when it came time to upsize from stock. He did this for two reasons: 1) large electronically controlled injectors can be detuned (dialed back) via tuning to match the engine's airflow capability, and 2) large injectors provide room for growth, should more airflow (i.e. compound turbos) ever make it into the equation. The injectors currently feeding the engine were built by Exergy Performance and feature nozzles that flow 80 percent more fuel than stock. To keep the injectors happy, a Dual Fueler CP3 injection pump system from Pacific Performance Engineering is employed, along with an AirDog lift pump that flows 150-gph.
Respiratory System
When it came time to spec the perfect turbocharger for the engine, Jake had his work cut out for him being that the truck was heavily fueled and manually shifted. He was tasked with finding a charger that could keep the truck drivable at low rpm (not laggy, or worse, smoky), yet provide strong midrange and exceptional top-end performance. He ended up settling on an age-old favorite: the PhatShaft 66 from Industrial Injection. Based on the BorgWarner S300 series, the 66mm charger spools quick and produces 53 pound of boost at full tilt. On the ECM side, a Smarty Touch S2G Programmer is used to tie all the truck's modifications together, electronically.
Iron Over Aluminum
Although the truck left the assembly line packing a G56 six-speed manual transmission, it was scrapped long ago. After destroying four gearboxes — a common problem when the G56's aluminum case is exposed to the earth-twisting torque a modified Cummins creates — the tried and true (cast-iron case) NV5600 became the truck's saving grace. But before the six-speed swap took place, the NV5600 was torn down, its internal parts were cryogenically treated for stress relief, and the gearbox was rebuilt. A 3850 competition dual disc clutch from South Bend is responsible for sending quadruple digit torque through the gearbox on a regular basis.
For Jake, addressing weak links before adding horsepower, careful parts selection, and sticking to a reasonable budget throughout the buildup explain why the truck is as well-rounded as it was the day it rolled off the assembly line. He can drive it year-round, rely on it daily, get 20 mpg on the highway, reel in sports cars and still tow or haul anything he needs to. Best of both worlds? It's more like best of all worlds…
With a quick glance under the hood of Jake Bosie's '05 Dodge Ram 3500, the 5.9L Cummins doesn't appear to be highly modified. Sure the bright red intake elbow and K&N system clue us into the fact that a couple of bolt-ons have been added, but otherwise the engine looks rather tame. By design, most of this Ram's power adders are hidden under the valve cover, the exhaust manifold, or in the ECM.
Bolting to the stock exhaust manifold and thereby dwelling in the factory location is a PhatShaft 66 turbo from Industrial Injection. The S300 series BorgWarner charger features a cast, 66 mm compressor wheel, 74mm turbine wheel, and a 14 cm, T3 foot exhaust housing. The PhatShaft 66 is known throughout the diesel industry for supporting big horsepower and being tough as nails. We can vouch for the tough as nails part, as this thing sees 53 psi of boost at full tilt — and on a daily basis.
Replacing the choked down, squared factory intake elbow is a red powder coat unit from CFMPlus. A port incorporated into the back of the elbow allows Jake to keep an eye on turbo boost via in-cab gauge, which registers more than 50 psi under wide-open throttle.
A pair of CP3 injection pumps, courtesy of a Dual Fueler kit from Pacific Performance Engineering, grace the engine. The factory pump resides in the stock location and the second CP3 (shown) is belt-driven up top. The two pumps work together in supplying 26,000 psi worth of fuel rail pressure to a set of 80-percent over injectors from Exergy Performance.
With an expensive set of injectors and dual injection pumps onboard, Jake wanted to take good care of his performance investment. This 150-gph AirDog lift pump system ensures a consistent 15 psi of fuel supply pressure is always on tap for the CP3 pumps to use.
The '05.5 and newer Ram trucks were equipped with the G56 six-speed transmission — Jake's being one of them — which is notorious for failing when subjected to high torque loads (i.e. from a modified Cummins in front of it). After replacing the G56 on three separate occasions, an NV5600 swap was performed. And not only that, all of the NV5600's internals were cryogenically treated by Zumbrota Bearing And Gear (ZBAG) of Zumbrota, Minnesota prior to being installed. Torque transfer is made possible via a competition dual disc clutch from South Bend with a 3,850-pound plate load rating.
For year-round drivability, the truck relies on a set of 305/55R20 Nitto Terra Grappler G2's, which are mounted to 20x10-inch Fuel Maverick wheels. For Jake, the biggest plus of running the Terra Grappler G2 is its ability to hold traction well in the rain and with the truck in two-wheel drive. Believe it or not, maintaining rear-wheel traction in inclement weather is a big problem for diesel trucks in this horsepower range.
A Smarty Touch Programmer S2G takes care of tuning the truck's ECM and monitoring key vitals (engine coolant temp, boost). In case you were wondering, Jake leaves the Smarty set on kill at all times (Level 9 for power, with number 3 timing and number 3 set for rail pressure).
Don't ever let someone tell you that you can't pull off a good burnout with a manual transmission vehicle. With 1,300 lb-ft of torque at Jake's disposal at low rpm, very little effort is required to get the white smoke rolling.
POWER SPECS
2005 Dodge Ram 3500
ENGINE: 5.9L Cummins featuring a Scheid Diesel fire-ringed cylinder head with oversize valve seats, ARP Custom Age 625+ head studs, 5,000-rpm valve springs
FUEL SYSTEM: PPE Dual Fueler CP3 system, Exergy Performance 80-percent over injectors, AirDog 150-gph lift pump system
AIRFLOW: Industrial Injection PhatShaft 66 turbo (S366) with 74 mm turbine wheel, 14 cm exhaust housing, T3 flange, and internal wastegate, K&N cold air intake, CFMPlus intake elbow
EXHAUST SYSTEM: 5-inch Flo-Pro turbo-back system with 6-inch tip
TRANSMISSION: Cryogenically treated NV5600, South Bend 3850 competition dual disc clutch
TUNING: Smarty Touch Programmer S2G
TIRES: Nitto Terra Grappler G2 305/55R20
WHEELS: Fuel Maverick 20x10-inch
SUSPENSION: Homemade rear traction bars
Sours: https://www.drivingline.com/articles/the-everyday-ram-a-650-hp-dodge-anyone-can-build/
If you spend any time watching YouTube or reading the forums, you're certainly aware the highest performance diesel builds are usually based on the common rail Cummins. For the last four years in a row, the overall winner of the Ultimate Callout Challenge has driven one, and in 2019's competition, the top seven trucks on the dyno all had a Cummins under the hood, and they ALL made over 2,000 horsepower. There's no disputing the fact the legendary inline six can make some steam, but what does it take to build one?
Start at the Bottom
Starting in 2003, the standard output 5.9 liter common-rail Cummins produced 235hp and 460lb.ft. of torque, and the high-output version of the same year made 305hp and 555lb.ft. Halfway through 2007, the larger 6.7 liter model was released which was rated at 350hp, and brand new 2019 models are available with 400 horsepower and 1,000 pounds of torque, which makes Ram the first automaker to release a pickup truck with a four digit torque rating. If you want to move Mt. Rushmore on the back of your gooseneck, the Ram will get the job done. But if you want to go fast, you need to bump those numbers a bit further.
There are tons of speed parts out there for the Cummins, and it can be difficult to determine which ones you need, and in what order to install them. Depending on who you ask, you'll get different opinions on what order is best, but one thing is for sure: if you put the cart before the horse, you can certainly do damage to your engine. The horsepower figures we'll be referring to are all at the rear wheels, and we'll mostly be dealing with round numbers since every year of truck is different. We'll go through the steps required to build a stock truck into a monster, talk about the parts needed to make it happen, and why those parts are important.
Stage One: 430HP
Even before the warranty is up, most owners will perform what I consider a "stage one" set of upgrades. There is minimal work required, and its all about getting a little more air into and out of the engine. The additional airflow will prepare the engine for a performance tune which is where the majority of the power will come from. You've no doubt heard it before, but cooler air is denser, and denser air can make more power; that's the whole name of the game. A cold air intake system from S&B starts with the largest and freest flowing filter possible and isolates it from engine bay heat in a sealed airbox, which is fed by cool outside air. When combined with a larger and freer flowing intake tube, the turbo will have all the cold air it can ask for, and the engine can operate to its full potential, giving a touch more power and fuel mileage. Plus, you can select a reusable oiled filter, or a dry filter if you prefer.
On the opposite side of the turbocharger, we need to deal with the spent gasses. The stock exhaust system does a great job of restricting flow and keeping noise down, but it's time to let that Cummins breathe. It's a very easy job to replace the whole system from the turbocharger to the tail pipe, and it's smart to install the system which supports the final amount of horsepower the truck will make. There are really two options for tube diameter, 4 or 5 inches. The internet will tell you a 4" exhaust will make more low-end torque since a turbo "needs more back pressure" to operate at low engine speed. I'm here to tell you that's FALSE. A turbo does not need any restriction, in fact, the less restriction the better. The main tradeoff between the two sizes is sound, and the total amount of power it can support. If you plan on making anything less than 600 horsepower, a 4-inch exhaust will be adequate. However, if you want to run a 5-incher on your near stock truck, there's no reason you can't. Just be prepared for a little more up-front cost, a little more weight, and some more noise. Either size you choose will result in an increase in power, lower EGT, and an increase in fuel mileage. A great high flow system which will last throughout all stages of the build would be a 5" MACH Force XP turbo back kit from AFE. It's made from stainless steel, so you know it wont rust out, has a high flow muffler to keep the noise at a respectable level, and it even includes a polished tip for good looks.
Finally, we get to programming, and this is where the real power gains will come from. The ECM for the Cummins engine has gone through many changes throughout its production run, and each generation requires different "tools" or software to reflash the computer. If you are happy with a "stage one" type of build, a box programmer like an Edge or Bullydog will be all you need, however, if you want to push further, it's a smart financial move to choose custom tuning which can grow with your build. For 2003 to 2007 5.9 trucks, one of the best custom tuning platforms is HP Tuners, and Ryan Milliken from Hardaway Performance can reprogram your ECM to meet whatever horsepower goals you have, even when starting with a bone stock truck. The best part about custom tuning is as you add more hard parts, it's very a simple process to update the tune file to keep everything working in balance.
For later model trucks, its advantageous to use the EFI Live tuning platform, since it has the capability to switch between power levels on the fly with an optional switch. Calibrated Power provides their tunes on an Autocal device which you simply plug into the OBDII port and re-flash the computer. Once the CSP switch is installed, you can enjoy towing, daily driving, or racing, all with a clean running truck that gets better fuel mileage than stock.
Stage Two: 550HP
One accessory I consider to be necessary after stage one is a good set of gauges, with the two most important being a pyrometer and a boost gauge, as they are the best indicator of the health of your engine, and they give you a warning to take your foot off the accelerator if things get too hot. For a high-tech look you can install an Edge Insight CTS2 using an external sensor for the pyrometer, plus it will allow you to keep an eye on other parameters like injection timing, rail pressure, fluid temperatures, and a whole lot more.
Parts that Support Power
The parts for stage two are broken up into two separate categories: parts that support power and keep the engine together, and parts that add power through increased airflow. As a precautionary measure, I always recommend the "safety" parts first, which means its time to pull the valve cover off and take advantage of how easy it is to work on a Cummins. At a stock or mildly tuned power level the factory head bolts work great, but since it's so easy for a Cummins to make a ton of horsepower and boost, the stock bolts will run out of strength, which is why it's very common to see a tuned Cummins with a blown head gasket. To prevent that from happening, its necessary to swap out the head bolts with a stronger fastener, and the industry standard is a set of ARP Head studs. For most street trucks making under 800hp, the ARP2000 (rated at 220,000 psi tensile strength) studs will work great. For higher power levels, you should step up to the CA625 material. This does represent a pretty steep price jump, but the fasteners are rated at a much higher at 260,000 to 280,000 psi. After all, if your combustion pressure isn't sealed inside the engine, you're not going anywhere.
The valve spring is responsible for closing the valve, but it also has to push a rocker bridge, rocker arm, pushrod, and a tappet back down to the base circle of cam. There is a lot of mass to move, plus you have boost and exhaust drive pressure pushing against the backsides of the valves trying to work against the spring. When you combine that with higher RPM, the stock valve springs have a hard time keeping up, and if they cant close the valve in time, the piston will step in and do the job instead, which is not what you want to have happen. To keep the valves where they belong, stronger springs are in order, and it's an inexpensive and worthwhile upgrade on any tuned Cummins. Hamilton 103 Pound Valve Springs will work much better than the stock 80-pounders and will keep the valves in place without putting too much pressure onto the cam lobes. Since you already have the valve cover removed to install the head studs, valvesprings will only add another hour or two to the job. The final upgrade I'd do while under the valve cover, is stronger pushrods. Since they are so long and made from thin wall tubing, the stock pushrods can bend due to the stronger valvesprings and elevated cylinder pressure, so an inexpensive upgrade to Hamilton Extreme Pushrods will keep you out of trouble. It will cost $630 for both valvesprings and a set of pushrods, but its honestly cheap insurance.
Parts that Add Power
Now that the valvetrain is stabilized and the head is clamped to the block, its time to add a bit more air into the mix. On the driver's side of the engine, the stock intake horn is very restrictive and only flows 432 CFM of air which becomes a bottleneck, so an easy and inexpensive solution is the Banks Monster Ram Intake and larger boost tube. You can get 3.5- or 4-inch version for your Cummins which will flow up to 1,008 CFM, feed more air into the cylinders, lowers air temp, and actually raise boost pressure without creating any additional exhaust back pressure.
It's always smart money to upgrade the intercooler during stage two to pull more heat away from the air headed to the engine. The stock intercooler will flow a bit more than it was designed to, but once the boost is turned way up, the stock core becomes a restriction, creates a pressure drop, and is less efficient at removing heat. An AFE Bladerunner can flow 30% more air than stock and has 3/16" TIG welded end tanks, and since its rated at 200 psi it can handle any amount of boost you can pump into it.
Turbo Time
The turbocharger is very important when it comes to making power, and of course for stage two and beyond you'll need a larger one, but the big choice is what type. When it comes to picking turbos for the Cummins, there are two separate schools of thought: those who recommend a 2nd gen swap, and those who prefer a stock 3rd/4th gen style. Each has its pros and cons, but first let's explain what it all means. Common rail trucks from 2003 onward (3rd and 4th generation body style) mount the turbine housing between the 4th and 5th cylinder with the manifold discharge pointed straight down. This puts the turbo much lower in the engine bay and closer to the block. Though the manifolds from the 5.9 and 6.7 look nearly identical, they are slightly different. The 5.9s used a standard T3 flange, and the 6.7s used a slightly larger (but not T4) flange with the VGT charger. In both instances, the runners inside the manifold are restrictive, and the placement limits what turbochargers you can physically bolt up. A second gen swap will ditch the stock design, and instead uses an exhaust manifold designed to fit a 2nd generation 24-valve Ram from 1998.5 to 2002, where the turbine is centered between cylinders 3 and 4, and the manifold has more symmetrical look with even airflow between all the cylinders. The turbo is mounted higher and further away from the engine, which means you can install a larger and more durable S400 style of turbo, with plenty of size options for a range of power levels.
For simplicity sake, you can stick with the stock turbo placement since you'll be able to re-use the exhaust system and cold air intake you already have, but the manifold itself should be swapped out for a higher flowing replacement like the BD-Power 2-piece exhaust manifold. It's a direct replacement, will work with your emissions equipment, flows much better, and is made from a much thicker and more durable material so it won't crack like the stock versions do. For the needed airflow, it can be paired with a BD-Power Screamer turbo, which is a modified VGT with a 64.5mm compressor wheel which will support nearly 700hp and still have excellent street manners and spool up, along with turbine braking ability which is a must if you still use your Ram to tow. If you want even more power potential without losing spool up or drivability, you can also add a Hardway Performance Compound Kit on top of your BD Manifold and Screamer turbo. It works in conjunction with a stock or modified VGT, still allows for all emissions components to operate, and you can install it in an afternoon with basic hand tools. If you have compounds on stock fuel with the supporting mods like studs and valvesprings, you'll have almost no chance of hurting your engine, but you will max out around 550hp, since you're fuel limited. But whenever you add more fuel later on, the compounds will really come into their element.
2nd Gen Baby
So, what about that 2nd gen swap? It too has its place, but you have to be willing to give up a few things, most notably, the stock variable geometry turbocharger and its wide power band, but if you're chasing a quadruple digit power number, it's a sacrifice you'll have to make. One major factor for deciding between the two styles is driver preference. Some love the feel of a larger single charger, because instead of a smooth linear spool up, it's a violent rush of power that hits all at once, and admittedly it's a blast to drive. To get that S400 installed, you'll have to ditch your stock manifold and turbo and start with a BD Iron Horn Series Turbo Kit. It can be configured in a variety of ways with your choice of manifold and turbo, but for a mild street build you could start with an S363 and cast manifold, or if you want to go nuts you can swap to an S369 SX-E . This means a single S475 is possible, but you wouldn't want to run that on stock fuel since the spool up time would be pretty long. But whatever option you choose, stage two is all about getting more air into and out of the engine with less restriction, which paves the way for stage three.
Stage Three: 750HP
By now the head is clamped down tight, the valvetrain is stable, and there is plenty of cool air making its way into the engine, so the only thing missing is fuel. With the groundwork laid, it's time to test the limits of your engine. The common-rail inline six has by far the stronge
st stock internals of the big three, but it's far from indestructible. The earlier 5.9 sits at the top of the heap, and if a larger single turbocharger is used and low RPM torque is kept to a reasonable level, the connecting rods can survive in excess of 1,000hp. The later 6.7's used a slightly weaker and more brittle connecting rod, and when combined with a VGT and aggressive tuning, massive low RPM torque can cause the rods to split and window the block, which is a very catastrophic (and expensive) failure. If you insist on low RPM boost and torque, a budget friendly upgrade is to install some shot-peened 12-vave connecting rods in your 6.7. Either way, a conservative number to shoot for would be between 750 horses and less than 1,400 pounds of torque at the wheels, and to get there we need a lot more fuel than the stock parts can supply. So, let's start at the tank and work our way forward to the engine.
If you own a Ram, the easiest and simplest way to upgrade the lift pump is with a Fleece Powerflow in-tank lift pump assembly. It installs as a direct replacement to the stock pump and sending unit but has two electric fuel pumps mounted in the bucket. It will flow enough to support 800 horsepower, and will even work with a dual CP3 configuration, but the best part is since the fuel pump sits inside the tank, it requires no drilling to sump the tank, and its very quiet.
When it comes to high pressure fuel, the stock CP3 will throw in the towel somewhere around the 550hp mark. Although you may not need all 1,000hp worth of fuel, the most economical solution is a Deluxe Fleece Dual CP3 kit. It mounts a second belt driven CP3 pump to the engine and comes with a stock displacement CP3K pump which has been modified to supply fuel above 3,000 RPM. And because the fueling duties are now split between two pumps, each has much less work to do, so they will last for a very long time. And if one ever fails, you can simply replace it with an affordable stock displacement pump, rather than a pricey stroker CP3.
Finally, the valve covers need to come off one more time so we can throw some larger injectors into the engine. When choosing injector or nozzle size, you'll want to keep your overall power goal in mind, and for that 800whp target, you'll need about 80 percent more fuel than stock, and a BD-Power 180hp injector set will be just the ticket, since they flow 93% more fuel than stock, which wraps up stage three. This is what I would consider to be the upper limit of a "practical" hot street build. At this point you'll still be able to drive the truck daily, tow a mild load, and have a ton of fun all at the same time. You can push things further however….
Stage 4: No Limits
Remember the trucks we talked about from the UCC? With seven rigs proving you can make over 2,000hp you can guess where this is headed, and that's a blank check. Yes, you can take your regular 250k mile Cummins engine to the extreme, but all the parts we had for stage one, two, and three will be thrown out, and we need to start over. The engine has to come out to install stronger pistons and rods, custom machine work will need to be done on the head for more airflow, you want to throw in a larger cam, massive turbos, fire hose injectors, and a couple 14mm CP3 pumps fed by a pair of 200gph+ lift pumps. Is this all practical? Not exactly, but the better question is how fast do you really want to go?
The reality is most owners will stop somewhere between stages two and three. Maybe they have a modified single VGT and slightly larger nozzles, along with a few airflow and valvetrain upgrades, and are perfectly happy with 600 horsepower. When budgeting your build, don't forget we totally skipped over the supporting mods, and even at 600hp, you'll have a lot more work to make sure the rest of the truck survives at higher power levels, especially with an automatic transmission. Also, the brands and specific parts you choose may vary, as will your specific power output, but be smart about the order you install parts, avoid doing a job twice, and most importantly, keep an eye on that EGT gauge to keep your pistons happy and the rods inside your block. If you do all that, you'll have a high power inline six which will put a smile on your face every day.
Sours: https://www.dieselpowerproducts.com/mm5/
24v CUMMINS dodge grounds
For the first time in 17 years, I don't own a V8, or anything with a carburetor that doesn't have handlebars, spinning blades, or a pull cord. Of the five horribly impractical pieces of machinery clogging my driveway and garage at the moment, only one of them hails from the last century, and I've already yanked out its Precambrian guts with the intention of replacing them with post-Y2k innards.
This doesn't feel like me. I've spent more than half my life staring down a spread bore.
I sold the last of the old guard a week before my daughter was born. I'd owned my 1978 International Scout Terra for almost a decade after trading the owner a couple of days worth of labor and plucking it from a field. A long line of people had given up on that truck before I came along, but I was too stupid, or bored, or optimistic to do the same. Maybe all three.
I found myself driving home in a hammered Cummins that needed nearly everything a truck could need.
The Scout followed me from job to job, state to state. I asked my wife to marry me on the tailgate. When it came time to renovate our first house, I built a rack for the bed and used it to haul the old bones away and bring the new pieces home. It was doggedly reliable, but compromised in that way that all old machines are. The old IH 304 V8 in the nose drank fuel with a purpose, but produced less power than a Camry. It was hot in the summer, cold in the winter, and as drafty as a hay barn all year around.
It was also woefully dangerous. After years of poking, prodding, and improving, it was as close to mechanically perfect as it could be, but it also had the crash structure of an apple crate. I'll gladly throw a leg over a motorcycle with one brake and a stuck throttle. The Scout was just as much of a gamble, but the thought of putting my pregnant wife in the passenger seat wore at the back of my mind. I flat out refused to put my daughter in the Scout. I wasn't worried about the truck. I was worried about the army of smart-phone addicted drones on the road around us.
So I sold it.
The plan was to replace it with something anonymous. Worthless. Something I didn't have to worry about leaving to rot outside in the rain. Something with ready parts availability. A Chevrolet. One with a stubborn gas motor and a back seat. I was willing to pay out the nose for a truck that didn't look like it had been flung into a quarry at some point. If it was reasonably sorted, all the better.
This meant accepting certain sacrifices. The Scout was a four-speed manual. Throwing that long lever from gear to gear felt like engaging some piece of ancient, and unknowable machinery. It clicked into place with a musical precision that was both addictive and satisfying. And it had all of the civility of a deep-sea trawler. The heavy, cast-iron V8 in the nose was beautifully industrial. International threw them in everything from dump trucks to construction cranes, generators to well pumps. The fact that it saw duty in a road-going passenger vehicle was both hilarious and fantastic. It was also why the truck had survived 37 years of abuse and neglect.
The Scout followed me from job to job, state to state. I asked my wife to marry me on the tailgate.
Opting for a modern truck seemingly meant accepting an automatic transmission and a consumer-grade engine. It meant wading into a pool of cheap plastic and power windows. It felt like the Wal-Mart age had finally caught me, and there wasn't shit I could do about it.
After driving a handful 6.0-liter V8s with blown head gaskets, missing exhaust manifold studs, and price tags on the far side of sane, I took a flier on something completely different: a 2003 Dodge with 281,000 miles on the clock. I didn't want a Dodge, a diesel, or a truck that needed anything beyond a quick hose-down and a trip to the fuel station. Instead, I found myself driving home in a hammered Cummins that needed nearly everything a truck could need: tires, wheel bearings, ball joints, u-joints, shocks, brakes, a windshield, and HVAC work. About the only thing that didn't need immediate attention was the drivetrain.
But oh, that drivetrain. The 5.9-liter, turbo-diesel inline six is a mule – a clamoring pile of pistons and torque. It's loud and uncivil. It feels like it got lost on the way to the tractor plant and wound up in a pickup instead. I love it. I want to put one in my vacuum cleaner. The fact that it puts out 555 lb-ft of torque in factory tune doesn't hurt; neither does the fact that it's bolted to a six-speed manual transmission. There's a floor-shift transfer case, too, and it puts power to two massive stick axles.
With its fully-boxed frame, this is as close to a modern take on the Scout as I can come. Not in dimensions or philosophy, but the feel of the thing. It's an honest truck built with no regard for concepts like "commuting," "connectivity," or "turning radius." It's a tool, not an accessory, and that makes me grin like a fool every time I hear it clatter to life in defiance of its odometer.
I miss my carburetors and dim-witted big blocks, but not enough to go back. The Dodge is a clear reminder that there's still space for good mules in a world full of show ponies and mortgage-rivaling MSRPs. You may just have to split a few knuckles to keep them kicking.
This content is created and maintained by a third party, and imported onto this page to help users provide their email addresses. You may be able to find more information about this and similar content at piano.io
Sours: https://www.roadandtrack.com/car-culture/buying-maintenance/news/a25269/why-the-hell-did-i-buy-a-truck-with-281000-miles/
Cummings forum dodge
48RE

I have an 03 w/5.9 and 190,000+ miles. When I bought it I knew the Tranns would be the weakest link. At 126,000 miles I put in a Goerend built 48RE, not because I had too (some small issue) but because I wanted the piece of mind. I don't plan on selling it... Ever..! I Have and have had other trucks but this one is a keeper.

I would buy it, run it and then upgrade the trans when the time comes. The Pre EPA 5.9 HO CR is a 500,000 to 1,000,000 mile motor but no other component on any truck will last anywhere near that long.

The 48RE is a good transmition, just not a great transmittion the way the factory builds them. The shame of it is if the factory could have put better torque converters, valve bodies, shafts and flex plates in them to begin with, but bean counters rule over engineers in the big auto companies and others.

FYI, I've got a 2010 F350 diesel 4x4, Crew Cab, lariat, leather, loaded and leveled I'll sell you!
Sours: https://www.snowest.com/forum/threads/anybody-have-problems-with-2006-dodge-automatic-transmission.255630/
The BIGGEST ISSUE with the 5.9 CUMMINS!
DPF Delete Recommendations for Dodge Cummins
Deone said:

Bought a friend's 07 6.7 Cummins, with 215K on it.

Not the millage of my 5.9 Cummins. I am told the answer is the DPF Delete, and it can add 6 miles a gallon.

Has anyone done one, what is the price I am looking at, and does it make a difference???

My 03 get 10 L to 100K. This 07 is getting 14 L / 100k. At $1.22 a liter, that could be $5.00 difference IFFFFF the millage improves to 10 L / 100K, or I expect payback in 20,000 kilometers (if I can get it done for $1,000).

Any Diesel gurus that can give me their opinions??

Click to expand...
We had an 05 RAM dually with the 5.9 (total out hit the rear of a semi) next one was an 08 RAM dually with the 6.7. This one had the DPF on it and after 75K started having issues with the DPF. ......we ended up getting a check from RAM for the issues. They even suggested to remove the DPF and we added a Smarty JR chip in it. We picked up about 4-5 MPG but she did throw some black smoke when you stomped it.
When the shop did the work I had to sign a form I would not drive on the road as this was for "off road use only".
But when we traded it in, no issues the dealer knew the removal since they changed the oil, wheel bearings, U-joints, brakes. No issues about trading it in, and did not want the parts I had saved for the 8 years to put back on just in case. When we traded it in it had 275K, it set on the RAM lot for 2 weeks and they resold it to somebody close to us. He is using it to pull his racing boat around.
In a little over a year the DPF plugged up 3 times and RAM had to replace it each time warranty issue. These thing ran $3000 for each DPF and labor. So the cheaper way was to hand me $5k and tell me how to fix the problem. Yeah you can remove the DPF and get better MPG on it.
.....
Sours: https://heartlandowners.org/threads/dpf-delete-recommendations-for-dodge-cummins.74339/
Similar news:
.
1402
1403
1404
1405
1406