The Gadgeteer is supported by readers like you! If you buy something through links on our site, we may earn an affiliate commission. Thank you! Learn more.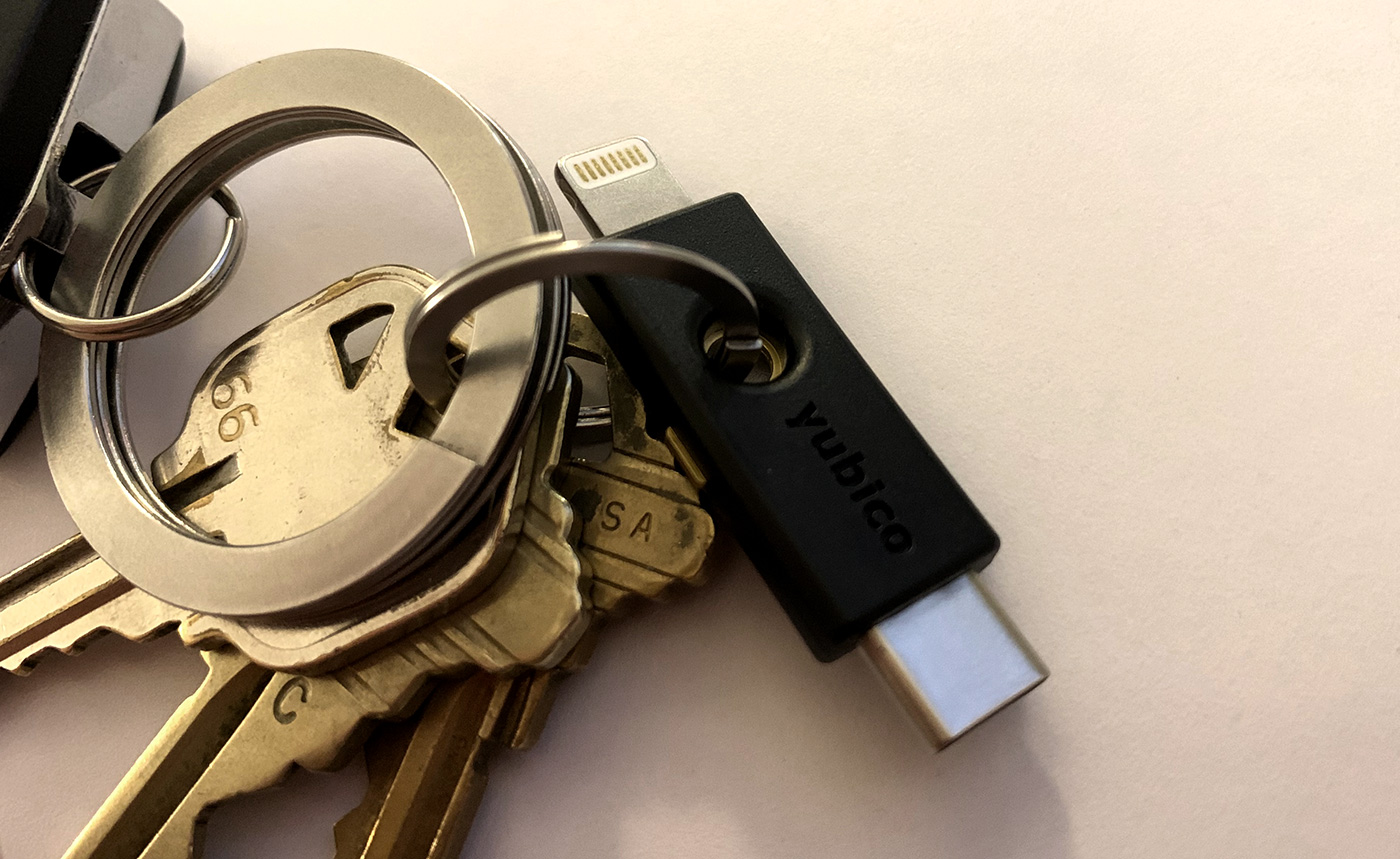 REVIEW – Internet security is no joke. With increasing data breaches and phishing scams, it's not uncommon for someone besides you to get ahold of your online account credentials, no matter how safe you've been. Adding an extra layer of authentication with a security key, like the YubiKey 5Ci, goes a long way toward keeping your accounts safe.
What is it?
The YubiKey 5Ci is a dual connector (Lightning and USB-C) security key meant to act as a unified security solution across both desktop and mobile devices. It can be used as a secure login key or set up for quick two-factor authentication (2FA).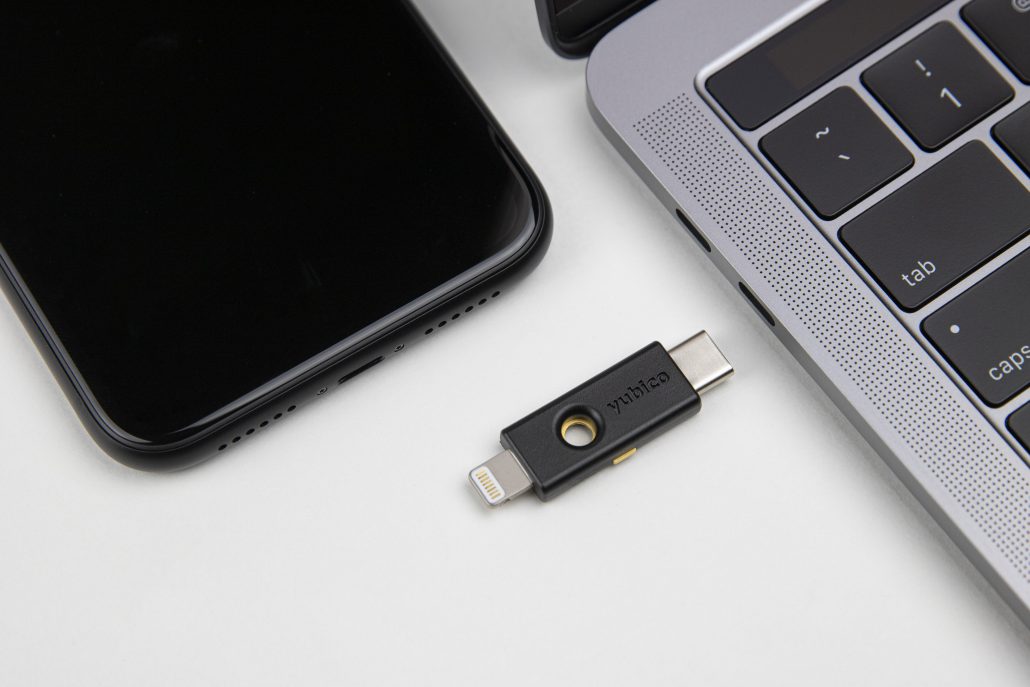 What's in the box?
Hardware specs
USB Type: USB-C and Lightning
NFC-enabled: No
Authentication Methods: Passwordless, Strong Two Factor, Strong Multi-Factor
Design & Durability: No Batteries Required, No Moving Parts
Function: WebAuthn, FIDO2 CTAP1, FIDO2 CTAP2, Universal 2nd Factor (U2F), Smart card (PIV-compatible), Yubico OTP, OATH – HOTP (Event), OATH – TOTP (Time), Open PGP, Secure Static Password
Certifications: FIDO 2 Certified, FIDO Universal 2nd Factor (U2F) Certified
Cryptographic Specifications: RSA 2048, RSA 4096 (PGP), ECC p256, ECC p384
Device Type: FIDO HID Device, CCID Smart Card, HID Keyboard
Design and features
I feel like before getting into the review of this specific YubiKey 5Ci, I should write a little explainer of what a 2FA security key is used for.
What the heck is 2FA, anyway?
You might be asking yourself what this two-fah thing is. 2FA, short for two-factor authentication, is an extra layer of security for logging into an account on an untrusted device or computer. Typically this comes in the form of inputting a code sent to a cell phone or, if you have an Authenticator set up with that account, typing in the code from that application. Basically, in addition to your login and password, the second form of authentication is generated on a device that only you can access and not a potential hacker.
With an authentication key, the second authorization factor is a small physical device that you can plug into a USB or Lightning port, or by holding your NFC enabled smartphone close to the key. So rather than having to type in or paste a code from a text or authentication app, plugging in the key and activating it does this step for you. In many cases, it's faster than accessing the text message or app, and is much more secure.
Setup
The initial setup is, by far, the most time-consuming aspect of owning a security key. The good news is that the number of services that utilize YubiKeys is vast and growing. Services such as password managers, cloud storage, domain registrars, social media and even gaming accounts (like Epic) are able to be set up with security keys.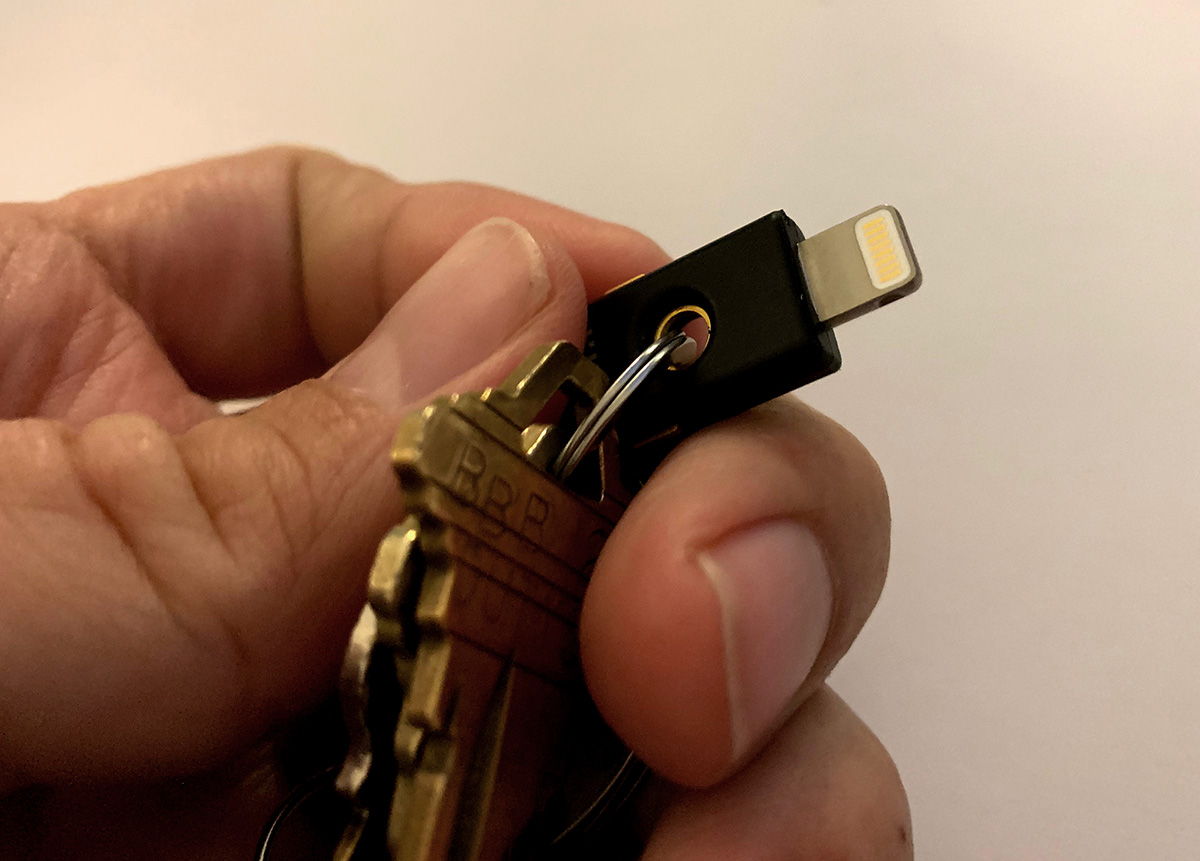 Your first step is to find out what services are compatible. You can check directly on YubiKey's website, but let's use Twitter as an example.
You already secure your Twitter account with a login and password, but let's say you want to add an extra layer of protection. Inside your Twitter account security settings is an area to activate 2FA, whether through text message, authenticator app or security key. I think you must activate 2FA through an authenticator app, first, like Google Authenticator, Microsoft Authenticator, or Authy. There are others, but you're going to want to get one of these set up, first.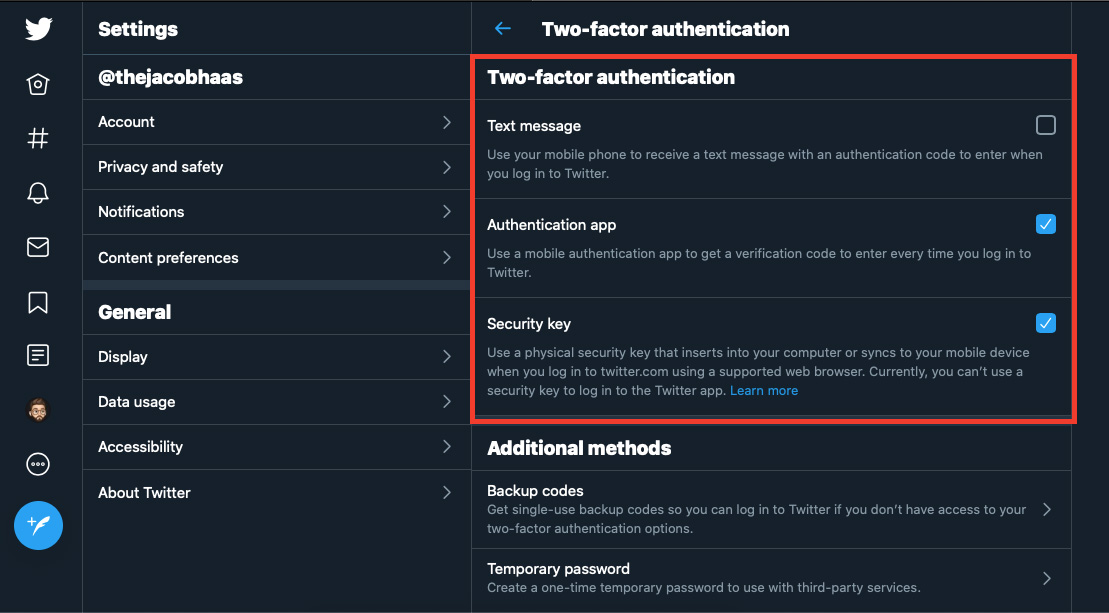 Once that's done, you can choose to tie a YubiKey to your account. It will ask you to connect the key to your device, "activate" the key, which in the case of the 5Ci, pressing on the two small prongs on the side of the device. Once the key is paired to your account, you can choose to use it as your 2FA method.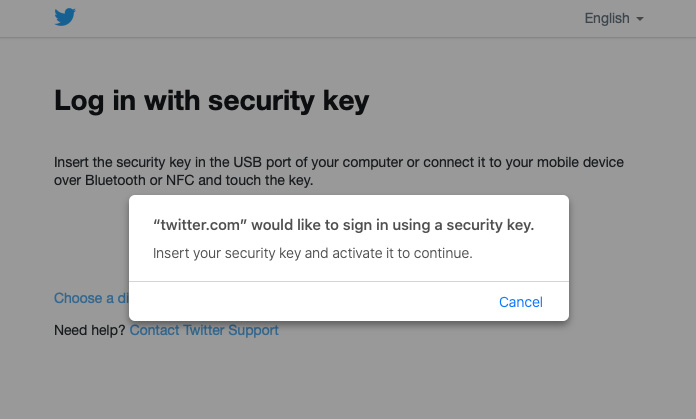 Now, you must repeat this process with all of your other accounts. It's … cumbersome, for sure. Depending on how many accounts you'd want to attach to the key, you could be looking at an afternoon of logging in, setting up 2FA, and tapping that key. But the good news is that once you do have those accounts set up, it's a much quicker way of authentication.
Design and Performance
There's not much to the YubiKey 5Ci, itself. It's very small, very portable, and has a little hole in the middle of the key itself, perfect for adding to a keyring or small key hook.
The 5Ci has both USB-C and Lightning connectors, which is extremely useful and probably its most unique feature. It's definitely forward-thinking of them, as most newer devices would accept at least one of these formats.
It's a little awkward to put right on a keychain with a bunch of other keys. It doesn't get in the way, per se, but it's tricky to plug it into your phone or computer with a bunch of keys getting in the way. I haven't figured out a good solution just yet, and have been instead carrying it in a small pocket in my bag.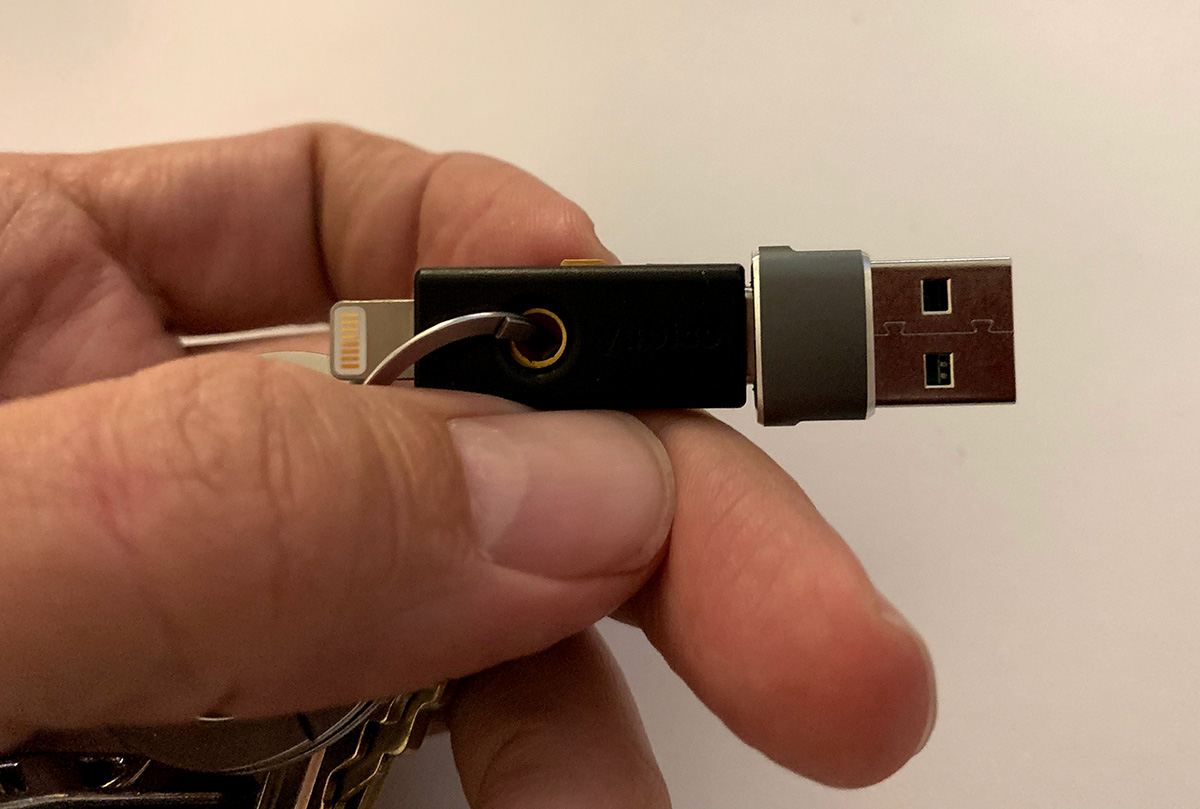 Speaking of awkward, I very quickly realized just how few devices I have that natively accept USB-C. Newer MacBooks and iPad Pros have a USB-C port on them, but if you're rocking something more than a couple years old, you're pretty much stuck with needing an adapter. In fact, the first thing I had to do before I could try it out was grab a USB-C to USB-A adapter off Amazon for a few bucks, add it to the YubiKey, and pretty much leave it attached.
In use, and after attaching the key to all of my compatible accounts, the YubiKey was very simple to use. Just plug it in when prompted, activate it by touching both side prongs with your fingers (sort of completing the circuit) and the key works its magic. No typing in codes from text messages. No playing "beat the clock" with authenticators.
As of iOS 13.3, which made its way to the pubic only a few weeks ago, iPhones and iPads are now compatible with YubiKeys. I gave that a test as well when logging in to 1Password, my password cataloging app of choice, and it gave me a nice little graphical prompt to plug my key into the bottom of my phone, and worked perfectly.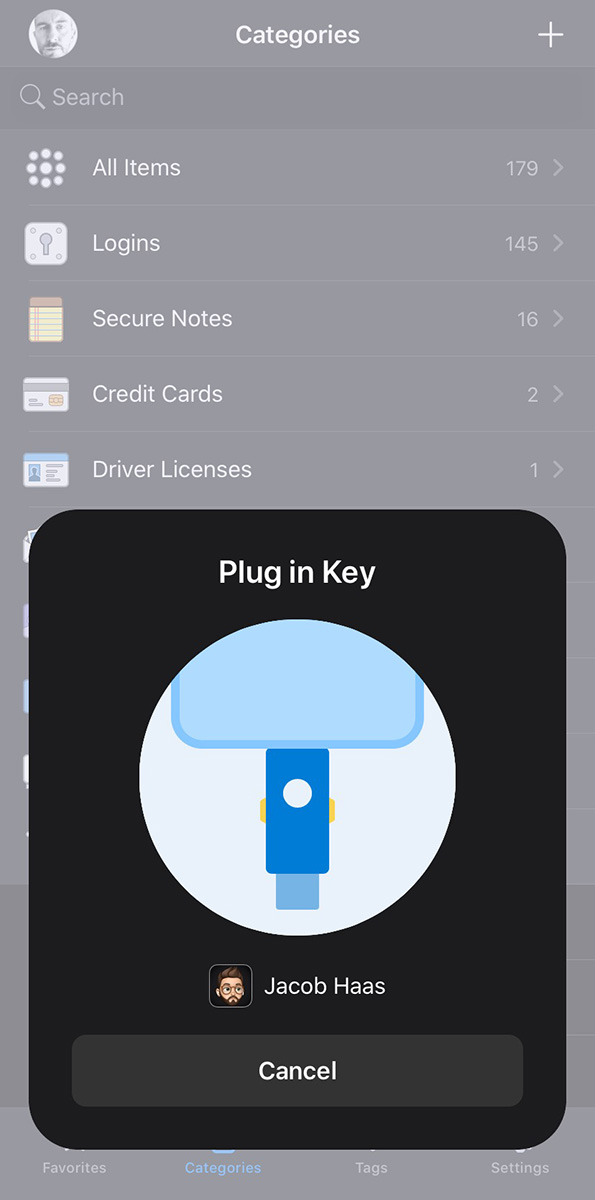 I don't think you're able to actually set up a YubiKey on a mobile platform as of writing. I tried to do so in a couple instances in Mobile Safari and the browser didn't seem to have that capability. I could be mistaken, but I think for now you're going to need to use a desktop browser to set up the key with your accounts.
So by now you're probably asking yourself, is it even worth grabbing a security key like this vs. using some other 2FA method? Your mileage may vary, for sure, but with massive data breaches happening in increasing frequency, I would for sure recommend you at least turn on 2FA on every account you possibly can. Even if someone were to get ahold of your login/password, you'd at least be the only one getting a text message with that 2FA code in it.
And once you start having to use that method often, you might get sick of seeing so many 2FA text messages cluttering up your Messages app, and find that plunking down a little bit of cash to set yourself up with a YubiKey is worth the initial setup for the extra security and ease of use.
What I like
Very fast authentication
Small and durable
Offers peace of mind in protecting your online accounts
What I'd change
A USB-C to USB adapter might have been nice
Limited use in a mobile-only setting
Shape is a little awkward on a keychain
Final thoughts
While a hardware security key might not be for everyone, it is a very quick alternative for 2FA. And I very much like the dual desktop/mobile function of the YubiKey 5Ci. Although it was a little awkward to use, personally, since I didn't have any USB-C ports on my old MacBook.
Plus, now that iOS has been updated to take advantage of YubiKeys, there will likely be an increased acceptance of this technology on the application level.
Keep your eye on these devices, I'm certain they will become much more common as internet security is pushed to the front of the average user's mind.
Price: $70
Where to buy: You can pick up a YubiKey 5Ci directly from their website.
Source: The sample of this product was provided by YubiCo.
SHARE ON
TwitterFacebookPin It
Support The Gadgeteer: The Gadgeteer is supported by readers like you! If you buy something through the links on our site, we may earn a small affiliate commission. Thank you! Learn more.
Sours: https://the-gadgeteer.com/2019/12/30/yubikey-5ci-usb-security-key-review/
Yubico Security Key That Supports USB-C and NFC Is Finally Here for $55
(Credit: Yubico)
You can now get a security key from Yubico that supports both USB-C and NFC.
Yubico has been previewing the YubiKey 5C NFC since last year, but it finally launches today for $55 to address a gap in Yubico's catalog for security keys.
The company has been selling the $70 YubiKey 5Ci, which sports a USB-C and a Lightning connector. However, the 5Ci lacks support for NFC, the wireless communication protocol that both Android and iPhone devices support. The new YubiKey 5C NFC tries to rectify the problem by swapping the Lightning connector for an NFC chip and cutting the price by $15.  
(Credit: Yubico)
According to Yubico, the demand for the product is high at a time when the latest hardware has been dropping USB-A ports for the newer USB-C slots. "With one simple tap or touch, the YubiKey 5C NFC can be used to authenticate across all leading platforms—iOS, Android, Windows, macOS and Linux—and on any mobile device, laptop, or desktop computer that supports USB-C ports or NFC," the company says. (A year ago, Apple's iOS began supporting Yubico's NFC-based keys.)
You can also secure your devices and online accounts with a tough password and two-factor authentication, but a security key takes the protection to the next level. To prevent account hijacking, the setup demands the user supply both the right password and the correct piece of hardware: a security key, which can digitally sign the authentication request. 
(Credit: Yubico)
It's why security experts say the products can help people and companies prevent phishing attacks; even if a hacker does steal or successfully guess your login credentials, they still have no way to break into your account. To do so, they'd need to physically steal your security key. Companies that support security key-based authentication in their applications include Google, Dropbox, Microsoft, Facebook, and Twitter, among many others.
According to Yubico, the need for stronger account protections is especially high due to COVID-19 and the increase in working from home. "COVID-related phishing attacks continue to surge in the context of remote work, and millions of corporate-owned devices are now shared with families and home networks, making it critical for companies to secure users from any location and machine," the company says.
The pandemic, in fact, delayed the launch of this security key. "Unfortunately, we did experience unexpected delays to production due to COVID-19 with regard to the launch of the YubiKey 5C NFC," a spokesperson says.
It's now on sale, however, via Yubico.com. Supported authentication protocols include FIDO2 and WebAuthn, FIDO U2F, PIV, OATH-HOTP and OATH-TOTP, OpenPGP, YubiOTP, and challenge-response.
For users on older hardware, the company also sells the Yubikey 5 NFC, which uses a USB-A connector instead of a USB-C, but still offers NFC.
Further Reading
Security Reviews
Security Best Picks
Sours: https://uk.pcmag.com/encryption/128533/yubico-security-key-that-supports-usb-c-and-nfc-is-finally-here-for-55

Multi-protocol security key, eliminate account takeovers with strong two-factor, multi-factor and passwordless authentication, and seamless touch-to-sign. Multi-protocol support allows for strong security for legacy and modern environments. And a full range of form factors allows users to secure online accounts on all of the devices that they love, across desktops and mobile.
Multi-protocol support; FIDO2, U2F, Smart card, OTP, OpenPGP 3
USB-A, USB-C, NFC, Lightning
IP68 rated: dust tight and water submersible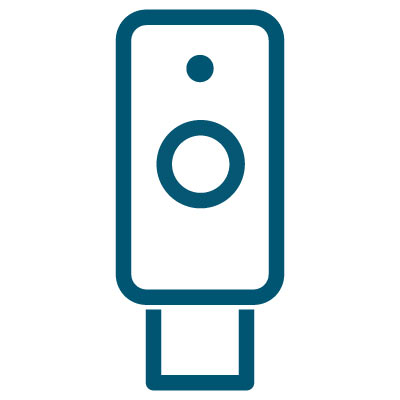 Hardware authenticator as a second factor, in addition to a password, in a strong two factor authentication solution.
Combination of a hardware authenticator with a PIN to secure high assurance requirements such as financial transactions or submitting a prescription.
Hardware authenticator delivering strong single factor authentication, replacing weak passwords, as part of a rapid but secure tap-n-go experience.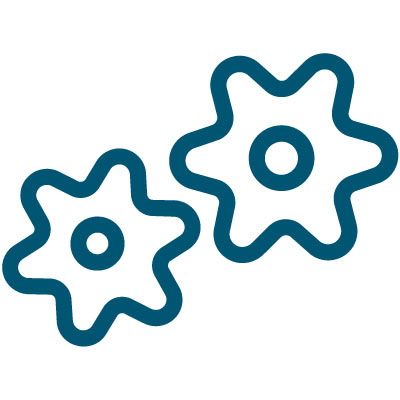 Works with hundreds of services
The YubiKey works with Windows and Mac login, Gmail, Dropbox, Facebook, Salesforce, Duo, and many more services.
SECURITY KEY: Protect your online accounts against unauthorized access by using 2 factor authentication with the Yubico YubiKey security key.
FIDO: The YubiKey is FIDO certified and works with Google Chrome and any FIDO-compliant application on Windows, Mac OS or Linux. Secure your login and protect your Gmail, Facebook, Dropbox, Outlook, LastPass, Dashlane, 1Password, accounts and more.
COMMUNICATIONS: Available with USB-A, USB-C, Lightning, NFC. Insert the YubiKey into a USB port and tap to gain access.
NFC-ENABLED: Touch-based authentication for NFC supported devices.
DURABLE AND SECURE: Extremely secure and durable, YubiKeys are tamper resistant, water resistant, and crush resistant.
MULTI-PROTOCOL SUPPORT: FIDO2, FIDO U2F, Yubico OTP, OATH-TOTP, OATH-HOTP, Smart card (PIV), OpenPGP, and Challenge-Response capability to give you strong hardware-based authentication.
Sours: https://www.newegg.com/yubico-yubikey-5ci-security-key/p/2S7-058N-00004
ASMR - UNBOXING YUBIKEY 5 ci , SATECHI USBC adapter
.
Adapter c yubikey usb
.
How to use a YubiKey Security Key with an iPhone
.
Now discussing:
.
1422
1423
1424
1425
1426