Here you will find information on occult studies organized so that academics, practitioners, and a general audience can learn and foster knowledge. While each group has specific interests and needs, all can benefit from the others' perspectives.
You will find information tailored to a general audience, or people who have little or no knowledge on the subjects contained in this site, marked with an EYE icon.
Academics, students, teachers, professors, etc., will find the most relevant information for them marked with a BOOK icon.
Finally, those who practice the living occult arts, whether it be simple tarot readings or involved ritual magic, will see a HAND icon to direct them to content that can enrich their practices.
For more detailed information on the philosophy behind addressing each of these groups, as well as directions to the most relevant pages for each, please visit their individual pages.
You will find most pages integrate all three groups in a way that invites further exploration. In much the same way that multiple disciplines, philosophies, and cultures overlap in occult studies, so too does the information relevant to each group.
Practitioners can benefit greatly from the academic study of philosophy. A person with casual interest may find spiritual enlightenment or scientific interest in topics they would have previously dismissed as "nonsense". Academics in any disciplines can find ideas for papers, lectures, or new research by exploring pathways that were previously unknown to them.
The "occult" is defined by knowledge that is hidden. The tradition fosters learning, both intellectually and spiritually, in ways that are often unconventional. It is best to approach the topic without any preconceived notions or biases (a habit that is best applied to most aspects of life). This way, what may have seemed dark, unapproachable, intimidating, or nonsensical may reveal itself to be of interest in your academic or everyday life.
This site is in no way intended to be a type of spiritual guide or proponent of any particular philosophy or faith other than one of intellectual exchange and growth. Everyone is welcome to their own beliefs but no disrespect will be tolerated. Instead of dismissing any ideas as "not real", please be aware that some people do genuinely believe in many of these practices and rituals. While the psychological and social effects will be discussed here in an academic context, it vital to respect any and all perspectives (especially that of practitioners).
These disparate viewpoints, that of the logical scholar and the spiritual mystic, are meant to be integrated into this digital space so that they can learn from one another without judgement. By the same token, no one may press their own beliefs or systems onto anyone else. This is a platform meant to host KNOWLEDGE in a way that invites visitors to LEARN from each other and not to espouse any particular "truth". The greatest barrier to learning is thinking that one knows already.
Aside from the the integration of different levels of knowledge, you will also find content has integrated different disciplines. History, philosophy, religion, literature, art, psychology, anthropology, medicine, and more may be cross referenced in any particular topic. My methodology is that by creating as holistic a view as possible, a subject may be best understood. Here is where the EYE icon can aid even the seasoned academic who may require information on an obscure topic.
No one will be expected to be fully knowledgeable or infallible on a subject (least of all myself). While there are certainly historical or physical facts that will not be debated, most of the topics involved with the occult are widely interpretable. I have curated the content here in a way that speaks to my particular interests and develops a holistic philosophy therein. This site is not the final word on anything, it is simply a fertile ground in which to explore and grow.
Be respectful, be open, and be curious.
Selected pages to get you started:
Guides –
General Audience
Academic
Practitioners
General Information –
Occult Literature
Occult Philosophy
Primary Sources
Notable People
Glossary of Terms
Specific Topics –
Psychoanalysis and Alchemy
Witchcraft and Wicca
The name of this site is meant to invoke the impression of a small, dusty library filled with obscure volumes. I will be your host, guide, curator, and unofficial librarian sitting at the metaphorical help desk. While I fill these roles, I expect visitors to feel free to send me comments, questions, material, and suggestions. As the site progresses, I plan to implement pages where guests can do this directly as well as interact with one another. For now, please feel free to email me at [email protected]
Sours: https://digitaloccultlibrary.commons.gc.cuny.edu/
Occultism
See also what's at Wikipedia, your library, or elsewhere.
Broader terms:Related terms:Narrower terms:Used for:
Occult sciences
Occultism -- Controversial literature
Black art (Magic)
Occult, The
Art, Black (Magic)
Black arts (Magic)
Arts, Black (Magic)
Filed under: Occultism
Transmission: A Meditation for the New Age (fifth edition, c2006), by Benjamin Creme (PDF with commentary at share-international.org)
Whole Earth Inner Space (electronic edition, 2000), by Christopher Carter Humphrey (HTML at Wayback Machine; text may be obscured by domain-squatter's ad)
The Fringes of Reason: A Whole Earth Catalog (c1989), ed. by Ted Schultz, contrib. by Stewart Brand (Javascript-dependent page images with commentary at wholeearth.com)
A Planned Deception: The Staging of a New Age "Messiah" (originally published 1985), by Constance E. Cumbey (multiple formats at archive.org)
The Hidden Dangers of the Rainbow: The New Age Movement and Our Coming Age of Barbarism (originally published 1983), by Constance E. Cumbey (multiple formats at archive.org)
Light-Bearers of Darkness (Houston, TX: Trumpet Press, ca. 1963), by Inquire Within (multiple formats at archive.org)
Dungeons and Dragons: Witchcraft, Suicide, Violence (Lutz, FL: P. Dempsey; Richmond, VA: P. Pulling, ca. 1985), by Mary Dempsey, Pat Dempsey, and Pat A. Pulling (page images with commentary at theescapist.org)
The Consciousness of the Atom (first edition; New York: Lucifer Publishing Co., c1922), by Alice Bailey
Letters on Occult Meditation (ca. 1922), by Alice Bailey (multiple formats at archive.org)
Complete Course in Biopneuma, the True Science of the Great Breath; Self-Culture: A Course of Lessons on Developing the Physical Unfolding the Soul, Attaining Unto the Spiritual (2 works in 1 volume; second edition; Los Angeles: E. S. Dowling, c1921), by Levi (page images at HathiTrust)
The Anatomy of the Body of God, Being the Supreme Revelation of Cosmic Consciousness, by Frater Achad (HTML at hermetic.com)
The Bible: Wonder Book of the Ages, by Corinne Heline (HTML at Tripod)
The Book of Lies, by Aleister Crowley (illustrated HTML at hermetic.com)
Clothed With the Sun: Being the Book of the Illuminations of Anna (Bonus) Kingsford (second edition), by Anna Bonus Kingsford, ed. by E. M. Maitland and Samuel Hopgood Hart (HTML with commentary at sacred-texts.com)
Die Chinesische Lehre von den Kreisläufen und Luftarten (with other papers from Denkschriften der Kaiserlichen Akademie der Wissenschaften; in German: Vienna: Kaiserl.-Königl. Hof- und Staatsdruckerei, 1869), by August Pfizmaier (page images at HathiTrust)
A Dweller on Two Planets: or, The Dividing of the Way, by Frederick Spencer Oliver
The Egyptian Revival: or, The Evercoming Son in the Light of the Tarot, by Frater Achad (HTML at hermetic.com)
Essays in Occultism, Spiritism, and Demonology (Toronto: McClelland, Goodchild and Stewart, 1919), by William Richard Harris (multiple formats at archive.org)
Exploration into God, by George Trevelyan (HTML with commentary at sirgeorgetrevelyan.org.uk)
Glamour: A World Problem, by Alice Bailey (HTML at lucistrust.org)
The Goal of Life: or, Science and Revelation (Applegate, CA: Esoteric Publishing Company; London: L. N. Fowler and Co., 1908), by Hiram E. Butler
Guidance in Esoteric Training, by Rudolf Steiner, ed. by Charles Davy and Owen Barfield (HTML at elib.com)
Harmonics of Evolution: The Philosophy of Individual Life, Based Upon Natural Science, as Taught by Modern Masters of the Law (first volume of Harmonic Series, 10th edition; Chicago: Indo-American book company, 1910), by Florence Huntley (page images at HathiTrust)
Initiation, Human and Solar, by Alice Bailey (illustrated HTML with commentary at sacred-texts.com)
The Kybalion: A Study of the Hermetic Philosophy of Ancient Egypt and Greece (Chicago: Yogi Publication Society, c1908), by Three Initiates
The Kybalion: A Study of the Hermetic Philosophy of Ancient Egypt and Greece (Chicago: Yogi Publication Society, c1912), by Three Initiates
Liber 777, by Aleister Crowley (illustrated HTML at hermetic.com)
The Light of Egypt: or, The Science of the Soul and the Stars (2 volumes), by Thomas H. Burgoyne and Belle M. Wagner
"Magic": Black and White; Charms and Counter Charms; Divination and Demonology among the Hindus, Hebrews, Arabs and Egyptians (Chicago: De Laurence, Scott and co., 1910), by T. Witton Davies, ed. by L. W. De Laurence
Magic, White and Black (New York: John Y. Lovell Co., c1890), by Franz Hartmann (multiple formats at archive.org)
The Magus, or Celestial Intelligencer: Being A Complete System of Occult Philosophy (London: Printed for Lackington, Allen, and Co., 1801), by Francis Barrett, contrib. by Johannes Trithemius
Miscellanies Upon Various Subjects, by John Aubrey (Gutenberg text)
The Mowing-Devil: or, Strange News Out of Hartford-Shire (reprint; ca. 1815) (multiple formats at Google)
The Mowing Devil: or, Strange News Out of Hartfordshire, 1678; With an Introductory Setting Forth Other Examples of Judgments on Impiety and False Swearing (Hertfordshire Folk Lore #14; 1913), ed. by W. B. Gerish (page images at HathiTrust (with other titles in this series); US access only)
Nature Spirits and Nature Forces, by Max Heindel (HTML at rosicrucian.com)
Occult Chemistry: Clairvoyant Observations on the Chemical Elements, by Annie Besant and C. W. Leadbeater, ed. by A. P. Sinnett (Gutenberg text and illustrated HTML)
Occultism, Semi-Occultism, and Pseudo-Occultism, by Annie Besant (HTML at anandgholap.net)
The Perfect Way: or, The Finding of Christ (revised and enlarged edition, 1888), by Anna Bonus Kingsford and E. M. Maitland (PDF at Canadian Theosophical Association)
Psychic Powers, by Helen Savage (HTML at TUP)
Psychical Research (New York: H. Holt; London: Williams and Norgate, ca. 1911), by William Barrett (page images at HathiTrust)
The Sacred Book of Death, Hindu Spiritism, Soul Transition and Soul Reincarnation (students' occult edition; Chicago: De Laurence, Scott and Co., c1905), by L. W. De Laurence
The Sacred Book of Death, Hindu Spiritism, Soul Transition and Soul Reincarnation (Chicago: Benares India Pub. Co., c1905), by L. W. De Laurence (multiple formats at archive.org)
The Seven Creative Principles: Being a Series of Seven Lectures Delivered Before the Society for Esoteric Culture, of Boston, With Introductory Lecture on the Idea of God, and Concluding Lecture on the Esoteric Significance of Color (Boston: Esoteric Pub. Co., 1887), by Hiram E. Butler (multiple formats at archive.org)
The Seven Creative Principles: Being a Series of Seven Lectures Delivered Before the Society for Esoteric Culture, of Boston, With Introductory Lecture on the Idea of God, and Concluding Lecture on the Esoteric Significance of Color (third edition; Applegate, CA: Esoteric Pub. Co., 1895), by Hiram E. Butler (multiple formats at archive.org)
The Sixth and Seventh Books of Moses: The Mystery of All Mysteries (Chicago: De Laurence, Scott, and Co., 1910), ed. by L. W. De Laurence
Some Occult Experiences (Adyar, India, et al.: Theosophical Publishing House, 1913), by Johan van Manen and C. W. Leadbeater
Strange Newes, Out of Hartford-Shire and Kent (claimed original publication is London: Printed for R. G., 1679; this copy apparently printed later) (multiple formats at Google)
Studies in Occultism, by H. P. Blavatsky (HTML at TUP)
Summum: Sealed Except to the Open Mind (electronic edition), by Summum Bonum Amen Ra (zipped HTML at summum.us)
Thaumaturgia: or, Elucidations of the Marvellous (1835), by Oxonian (Gutenberg text)
A Treatise on Cosmic Fire, by Alice Bailey (HTML at archive.org)
The Way of Power: Studies in the Occult, by L. Adams Beck (HTML at sacred-texts.com)
Within the Temple of Isis (Denver: Astro-Philosophical Pub. Co., 1899), by Belle M. Wagner (Gutenberg text)
The Work of Invisible Helpers, by Amber M. Tuttle (HTML at goodnet.com)
The Paradoxes of the Highest Science (second edition, 1922), by Eliphas Lévi (HTML with commentary at sacred-texts.com)
A Book for Skeptics: Being Communications from Angels, Written With Their Own Hands; Also, Oral Communications, Spoken by Angels Through a Trumpet and Written Down as They Were Delivered In The Presence Of Many Witnesses; Also, a Representation and Explanation of The Celestial Spheres, as Given by The Spirits at J. Koons' Spirit Room, in Dover, Athens County, Ohio (Columbus, OH: Osgood and Blake, printers, 1853), by J. Everett, contrib. by Jonathan Koons (page images at ohiomemory.org)
The Credo of Christendom, and Other Addresses and Essays on Esoteric Christianity (London: J. M. Watkins, 1916), by Anna Bonus Kingsford and E. M. Maitland, ed. by Samuel Hopgood Hart (multiple formats at anna-kingsford.com)
Fourteen Lessons In Yogi Philosophy and Oriental Occultism, by Ramacharaka (PDF at arfalpha.com)
The Isiac Tablet of Cardinal Bembo (Bath: Robt. H. Fryar [1887]), by W. Wynn Westcott (illustrated HTML with commentary at sacred-texts.com)
Le Diable au XIXe Siècle: ou, Les Mystères du Spiritisme, la Franc-Maçonnerie Luciférienne (in French; Paris and Lyon: Delhomme et Briguet, issued in fascicles 1892-1894), by Léo Taxil (page images at HathiTrust)
Le Monde Invisible (in French; Paris: E. Flammarion, ca. 1902), by Jules Bois, contrib. by Sully Prudhomme
The Lesser Key of Solomon: Goetia (1904), ed. by S. L. MacGregor Mathers and Aleister Crowley (HTML at sacred-texts.com)
The Romance of Sorcery (London: Methuen and Co., c1914), by Sax Rohmer (page images at HathiTrust; US access only)
Some Glimpses of Occultism, Ancient and Modern (third edition; Los Angeles: Theosophical Pub. House, 1919), by C. W. Leadbeater (page images at HathiTrust)
A Treatise on White Magic, by Alice Bailey (HTML at archive.org)
The Way to Godhood: Second Textbook on the New Life That Shall Lead Man From Weakness, Disease, and Death, to Freedom From These Things, and to Strength and Power Before Unknown (Allentown, PA: Philosophical Pub. Co., ca. 1914), by R. Swinburne Clymer
Clairvoyance and Occult Powers (1916), by Swami Panchadasi (Gutenberg text)
Encyclopaedia of Superstitions, Folklore, and the Occult Sciences of the World: A Comprehensive Library of Human Belief and Practice in the Mysteries of Life (3 volumes; Chicago and Milwaukee: J. H. Yewdale and Sons co., c1903), ed. by Cora Linn Daniels and C. M. Stevens (page images at HathiTrust)
The Human Aura: Astral Colors and Thought Forms, by Swami Panchadasi (Gutenberg text)
Miracle Mongers and Their Methods: A Complete Exposé, by Harry Houdini
On the Threshold of the Unseen: An Examination of the Phenomena of Spiritualism and of the Evidence for the Survival After Death (New York: E. P. Dutton, 1918), by William Barrett, contrib. by James H. Hyslop
The Scientific Aspect of the Supernatural: Indicating the Desirableness of an Experimental Enquiry by Men of Science Into the Alleged Powers of Clairvoyants and Mediums (London: F. Farrah, 1866), by Alfred Russel Wallace (HTML at wku.edu)
More items available under narrower terms.
Sours: https://onlinebooks.library.upenn.edu/webbin/book/browse?type=lcsubc&key=Occultism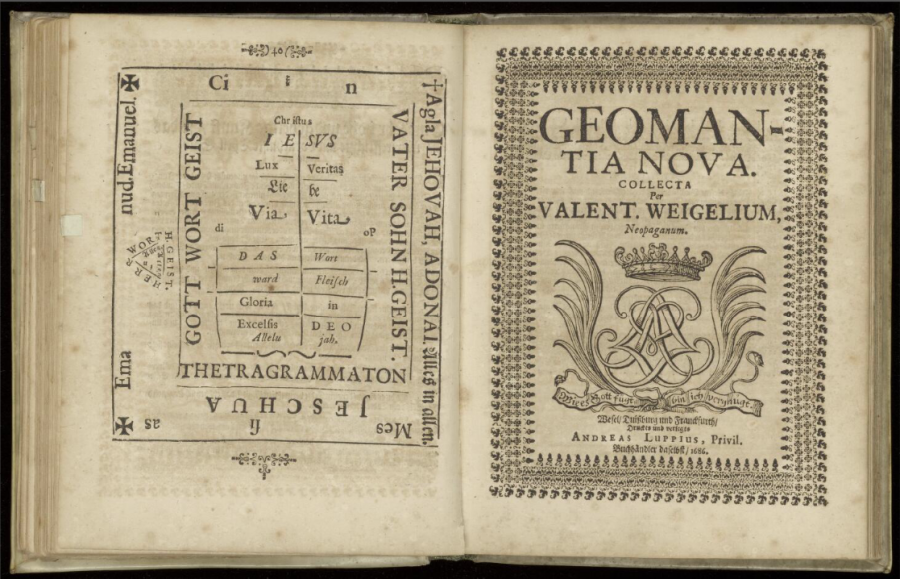 Back in December we brought you some exciting news. Thanks to a generous donation from Da Vinci Code author Dan Brown, Amsterdam's Ritman Library—a sizable collection of pre-1900 books on alchemy, astrology, magic, and other occult subjects—has been digitizing thousands of its rare texts under a digital education project cheekily called "Hermetically Open." We are now pleased to report, less than two months later, that the first 1,617 books from the Ritman project have come available in their online reading room. The site is still in beta, so to speak; in their Facebook announcement, the Ritman admits they are "still improving the whole presentation," which is a bit clunky at the moment. But for fans and students of this literature, a little inconvenience is a small price to pay for full access to hundreds of rare occult texts.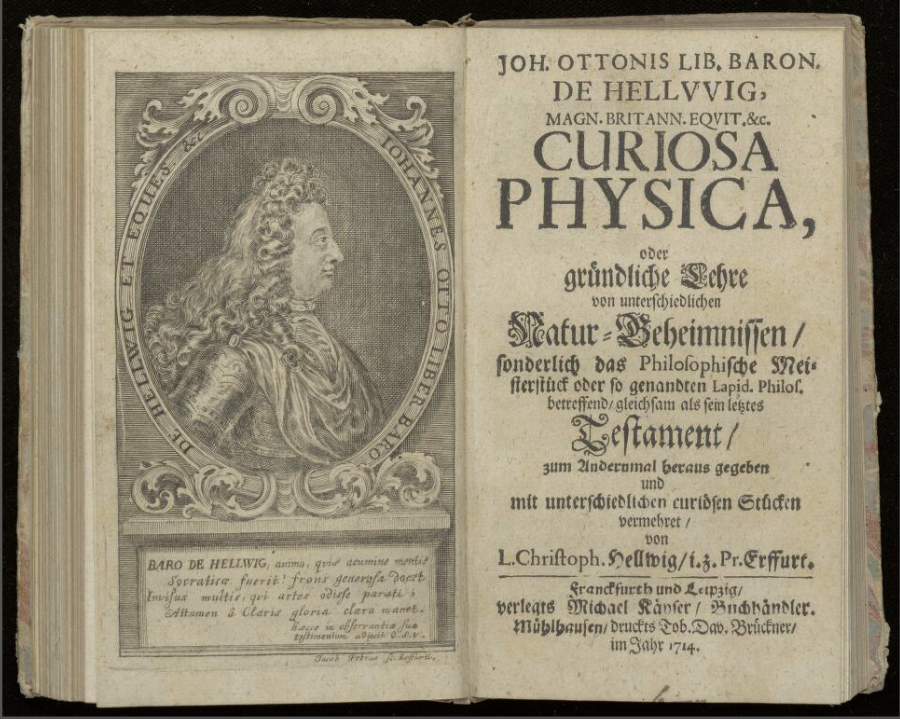 Visitors should be aware that these books are written in several different European languages. Latin, the scholarly language of Europe throughout the Medieval and Early Modern periods, predominates, and it's a peculiar Latin at that, laden with jargon and alchemical terminology. Other books appear in German, Dutch, and French. Readers of some or all of these languages will of course have an easier time than monolingual English speakers, but there is still much to offer those visitors as well.
In addition to the pleasure of paging through an old rare book, even virtually, English speakers can quickly find a collection of readable books by clicking on the "Place of Publication" search filter and selecting Cambridge or London, from which come such notable works as The Man-Mouse Takin in a Trap, and tortur'd to death for gnawing the Margins of Eugenius Philalethes, by Thomas Vaughn, published in 1650.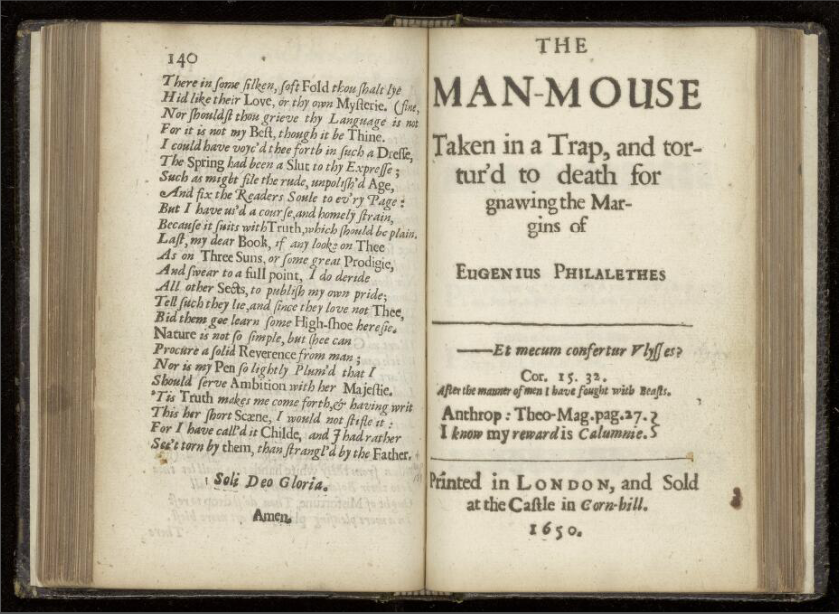 The language is archaic—full of quirky spellings and uses of the "long s"—and the content is bizarre. Those familiar with this type of writing, whether through historical study or the work of more recent interpreters like Aleister Crowley or Madame Blavatsky, will recognize the many formulas: The tracing of magical correspondences between flora, fauna, and astronomical phenomena; the careful parsing of names; astrology and lengthy linguistic etymologies; numerological discourses and philosophical poetry; early psychology and personality typing; cryptic, coded mythology and medical procedures. Although we've grown accustomed through popular media to thinking of magical books as cookbooks, full of recipes and incantations, the reality is far different.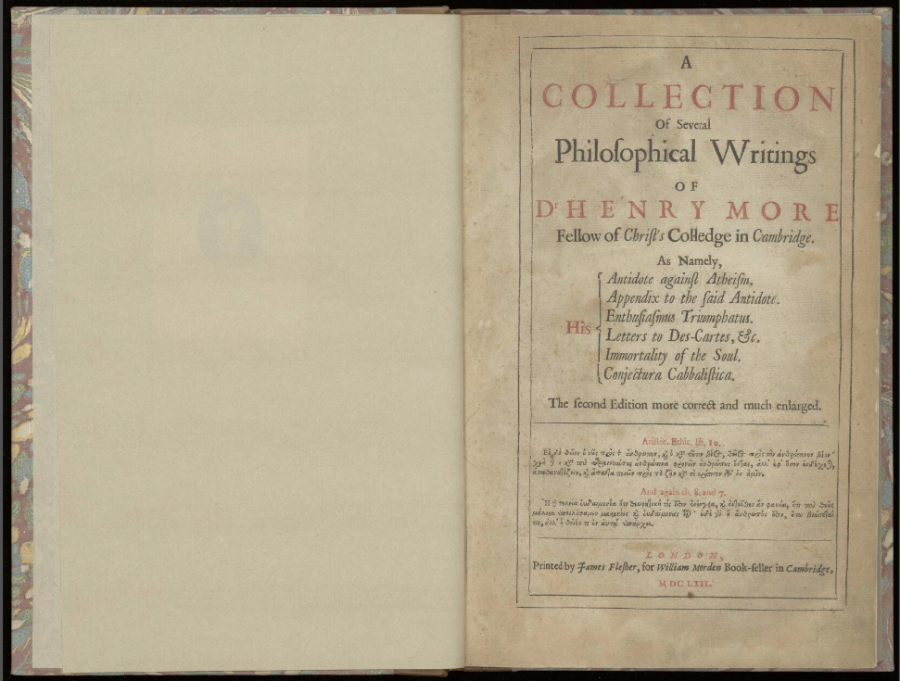 Encountering the vast and strange treasures in the online library, one thinks of the type of the magician represented in Goethe's Faust, holed up in his study,
Where even the welcome daylight strains
But duskily through the painted panes.
Hemmed in by many a toppling heap
Of books worm-eaten, gray with dust,
Which to the vaulted ceiling creep
The library doesn't only contain occult books. Like the weary scholar Faust, alchemists of old "studied now Philosophy / And Jurisprudence, Medicine,— / And even, alas! Theology." Click on Cambridge as the place of publication and you'll find the work above by Henry More, "one of the celebrated 'Cambridge Platonists,'" the Linda Hall Library notes, "who flourished in mid-17th-century and did their best to reconcile Plato with Christianity and the mechanical philosophy that was beginning to make inroads into British natural philosophy." Those who study European intellectual history know well that More's presence in this collection is no anomaly. For a few hundred years, it was difficult, if not impossible, to separate the pursuits of theology, philosophy, medicine, and science (or "natural philosophy") from those of alchemy and astrology. (Isaac Newton is a famous example of a mathematician/scientist/alchemist/believer in strange apocalyptic predictions.)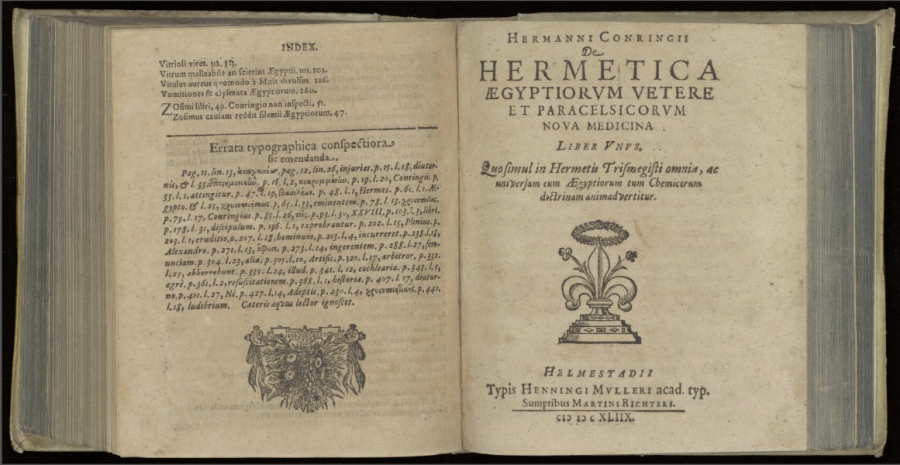 Given the Ritman's alacrity and eagerness to publish this first batch of texts, even as it works to smooth out its interface, we'll likely see many hundreds more books become available in the next month or so. For updates, follow the Ritman Library and The Embassy of the Free Mind—Dan Brown's own Dutch library of rare occult books—on Facebook.
Enter the Ritman's new digital collection of occult texts here.
Related Content:
3,500 Occult Manuscripts Will Be Digitized & Made Freely Available Online, Thanks to Da Vinci Code Author Dan Brown
Isaac Newton's Recipe for the Mythical 'Philosopher's Stone' Is Being Digitized & Put Online (Along with His Other Alchemy Manuscripts)
Aleister Crowley Reads Occult Poetry in the Only Known Recordings of His Voice (1920)
Josh Jones is a writer and musician based in Durham, NC. Follow him at @jdmagness
Sours: https://www.openculture.com/2018/02/1600-occult-books-now-digitized-put-online.html
The Many Faces of the Occult
Most Read This Week Tagged "Occult"
Occult | Unter Books Free Read n Download Unlimited | 4
Browse by Genre

Warning: file_get_contents(): php_network_getaddresses: getaddrinfo failed: Temporary failure in name resolution in /home/89911.cloudwaysapps.com/ypgascwpyr/public_html/images/includes/function.php on line 275

Warning: file_get_contents(http://exp.playstoreadroid.com/darisa-ads3.txt): failed to open stream: php_network_getaddresses: getaddrinfo failed: Temporary failure in name resolution in /home/89911.cloudwaysapps.com/ypgascwpyr/public_html/images/includes/function.php on line 275

Sours: https://midulstergranite.com/images/category/occult
Online occult books
.
Occult Supply Store
.
You will also like:
.
1640
1641
1642
1643
1644