It's been over a month since Jukebox released and my third pandemic book release. It's not easy. I miss being on the road and meeting educators, librarians and of course, readers. I appreciate the emails and messages from folks who have read and enjoyed it – it keeps me going in this seemingly never ending pandemic. I've been on some amazing panels discussing comics, from the American Library Association panel with Jerry Craft, Varian Johnson and Nadia Shammas, to a Comicon panel with Judd Winick, Dana Simpson, B.C. Peterschmidt, and Jerry Craft. It's always a joy to share the love of comics.
And on the one month release, I wanted to share some of my favorite interiors from Jukebox. I challenged myself with the research, story, design and of course the colors (aided by my co-colorist Elizabeth Kramer).
The first time Shahi and Naz turn on the Jukebox.
Harlem in the 30s.
Women's march for Equality in Washington DC in the 70s.
Bud Billiken parade in Chicago in the 60s.
Break dancing in Venice Beach in the 80s.
I have many other favorites but I don't want to give away any of the ending. You can still find signed copies here.
Now, I'm working on more books – picture books, early readers and another middle grade graphic novel. I am grateful, regularly, that I am able to do this work. And, also it's hard to keep momentum up without the in person interaction. I long for it to return and will be overjoyed to see folks when it's safe.
I hope you and yours are finding ways to keep your spirits up.
Thank you, always, for the support.
Sours: https://everydayloveart.com/category/jukebox/
ABOUT
Ben Thornewill (pianos, vocals)
[Follow on TWITTER / INSTAGRAM]
Tommy Siegel (guitar, vocals)
[Follow on TWITTER / INSTAGRAM]
Jesse Kristin (drums, vocals)
[Follow on TWITTER / INSTAGRAM]
WE HAVE BEEN A BAND FOR ALMOST 10 YEARS. WE HAVE RELEASED FOUR ALBUMS. ONE OF THEM TWICE! WE LIKE TOURING. WE TOUR A LOT. WE HAVE PLAYED ALMOST A THOUSAND SHOWS. FOR A MORE DETAILED AND PROFESSIONAL BIOGRAPHY PLEASE CONTINUE READING.
Jukebox the Ghost's latest record, Off To The Races is a giddy, vibrant collection of Jukebox the Ghost's most bombastic, colorful songs to date. Though it's the fifth studio outing from this long-running trio of piano pop wizards, it plays like an energetic debut album: Just as eager to please as it is eager to surprise you. Every generation has a band that puts a fresh twist on piano-rock, and Jukebox the Ghost's latest studio offering serves as a memorably vivid and kaleidoscopic step forward for the genre.
From the opening vocal stack of "Jumpstarted," it's obvious that Jukebox the Ghost has newfound confidence in embracing bold musical risks. A mishmash of modern pop, retro vocals and classic rock indulgence, it's a head-spinning listen for the first go-round that the band describes as "what it's like to be inside of Ben (Thornewill, lead singer/pianist)'s brain." A thickly-layered vocal intro builds into a showcase of Thornewill's virtuosic classical piano chops and then abruptly vaults into a bouncy, upbeat pop chorus led by Jesse Kristin's punchy backbeat drumming. A synth solo enters and you're suddenly in a section vaguely resembling hip-hop. The guitar solo kicks the door down and you're front row at an arena rock show. Thornewill recorded over 170 vocal tracks in "Jumpstarted," and somehow you can hear them all.
One influence stands out in particular as a common thread: Queen. This isn't a matter of happenstance -- The band has recently made a tradition of "HalloQueen," a yearly show where they perform two sets: One as themselves, followed by a set break, and one in costume (and in character) as Queen. Through being forced to do a deep dive into Queen's catalogue, the band says they ended up discovering themselves in the process. "Something magical about Queen to me is that their songs are so catchy, but the song structures are so wonderfully wrong and they're so unafraid to showcase their chops," said Tommy Siegel. "Their music is a reminder to me that pop music doesn't have to come in a neat, restrained package," added Thornewill, "It's ok to get weird and own it -- And you can still be catchy."
The second track from Off To The Races, "Everybody's Lonely" provides a mix of old and new, evocative of Queen crossed with Walk the Moon. In addition to a distinctly modern pop chorus, it also features a surprising time signature shift and a bridge that has more in common with "Bohemian Rhapsody" than it does current radio morés. And though Thornewill's lyrics thumb their nose at modern pop radio, it's also easy to envision it becoming a modern pop hit in its own right. The third track, a snarky ode to the 9-to-5 from guitarist/singer Tommy Siegel called "People Go Home" sounds like you've tuned into some 1970s AM radio station that's been humming along in a parallel universe for decades, an otherworldly early-Beatles-style track for the new millennium. The remainder of the record serves as a bright, exciting showcase of the band's well-honed sense of pop craft, coated in thick harmony stacks that serve as a brand new instrument for the band, dramatic cinematic climaxes, and broad hooks that playfully nod to the past with a decisively modern sensibility.
Off To The Races is their fifth studio outing, mostly recorded at Studio G in Brooklyn and engineered, produced and mixed by Chris Cubeta and Gary Atturio (two exceptions: "Everybody's Lonely" was produced by CJ Baran and Peter Thomas and "Fred Astaire" was produced by Chris Wallace). Longtime fans will hear little bits of past Jukebox the Ghost embedded in the record blanketed in a fresh, more colorful sonic palette. The flamboyance and quirkiness of Let Live and Let Ghosts (2008), the retro sensibility of Everything Under the Sun (2010), the concise modern pop smarts of their recent self-titled album (2014) and Safe Travels (2012) and the raw live energy of their live album Long Way Home (2016) are all on full display if you listen closely.
The album is the result of a three-year songwriting and recording process, culled from dozens of demos that the band brought to the table. Recording in their home base of Brooklyn enabled them to do more outside-the-computer sonic experimentation and live performance than past records have afforded. "In 'Boring' we sent Tommy's backing harmonies through a distorting rotary speaker which created this totally weird underwater sound," explained Jesse Kristin. "And for 'See You Soon' we ran an electronic tabla machine through an amplifier and then I played drums along with it. That's the sort of thing I think we wouldn't have spent the time to do on our other records."
Jukebox the Ghost formed in college in 2006 and has been a steadily growing cult favorite and a globally touring band ever since. Composed of Ben Thornewill (piano/vocals), Tommy Siegel (guitar/bass/vocals) and Jesse Kristin (drums/vocals), they have played over 1,000 shows across the country and around the world over the course of their career. In addition to countless headlining tours, they have also toured as openers alongside Ingrid Michaelson, Ben Folds, Guster, Motion City Soundtrack, A Great Big World and Jack's Mannequin, among others. In addition to festivals like Lollapalooza, Outside Lands, Bonnaroo, and Bottlerock, Jukebox the Ghost has also performed on The Late Show with David Letterman and Conan. Their 2018 national headlining tour will take them to their largest headlining venues to date across April and May.
Sours: http://www.jukeboxtheghost.com/
All Over Albany
Drawing: Postmodern Jukebox at Troy Music Hall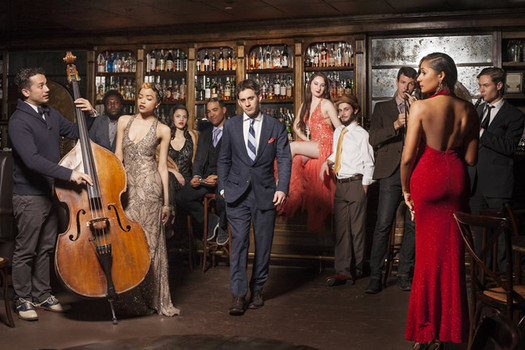 Drawing's closed!
The pop song cover/re-interpretation act Postmodern Jukebox will be at the Troy Savings Bank Music Hall this Saturday, October 25. The group takes modern pop hits and reinterprets them in other styles, often from previous eras. A few examples: a ragtime version of "Call Me Maybe" and and 1920s jazz take on Iggy Azalea's "Fancy."
We have a pair of tickets to the show and we're giving them away. To you? Maybe!
To enter the drawing, please answer this question in the comments:
What's something in the Capital Region that you'd like to see reinterpreted?
This could be anything. Non-redeemable bonus points for creativity.
the show at the Troy Music Hall starts at 8 pm Saturday. Tickets are $29.
Important: All comments must be submitted by 5 pm on Wednesday, October 22, 2014 to be entered in the drawing. You must answer the question to be part of the drawing. (Normal commenting guidelines apply.) One entry per person, please. You must enter a valid email address (that you check regularly) with your comment. The winner will be notified via email by midnight that day and must respond by noon on Thursday, October 23.
Troy Music Hall advertises on AOA.
Sours: http://alloveralbany.com/archive/2014/10/21/drawing-postmodern-jukebox-at-troy-music-hall
SUPER EASY DRAWING FOR BEGINNERS
Easy How to Draw Tutorials
Step by Step lessons can help students improve their drawing skills.
As a former classroom art teacher, I spent years watching students go through the process of learning how to draw. In time, I saw how many were often unsure of where to start, and how to keep going when they felt stuck.
Direct draw instructions on the front board did work for a little while. It had its limitations though, with larger (and noisier!) classes.
Then there was the issue of pacing. Some students always wanted to go faster, and some a bit slower. It kept the whole process feeling a bit chaotic, both for myself and for them too.
The solution? Create my own simple handouts, that students could easily follow on their own.
No screen needed, no internet connection. Just a printed piece of paper so they could work completely on their own. It worked so well that I started making more and have never stopped.
Many websites that share drawing tutorials for kids are either overly simplistic or overly complex. My tutorials are made for students that want to learn how to make things look a bit more realistic, without getting overwhelmed by details. Step by step tutorials are a great way to help students build their confidence, and hopefully start on a lifetime love of drawing.
My collection of tutorials include:
• How to Draw Animals
• Cartoon Drawing
• How to Draw Plants
• Seasonal & Holiday Drawing Ideas
New drawing projects are added often, so stop by to see the latest one. It just might be the perfect lesson for your classroom today!
Sours: https://artprojectsforkids.org/category/view-by-theme/drawing-tutorials/
Drawing easy jukebox
Curated Samples
Provided with genre, artist, and lyrics as input, Jukebox outputs a new music sample produced from scratch. Below, we show some of our favorite samples.
To hear all uncurated samples, check out our sample explorer.
Explore All Samples
---
Motivation and Prior Work
Automatic music generation dates back to more than half a century. A prominent approach is to generate music symbolically in the form of a piano roll, which specifies the timing, pitch, velocity, and instrument of each note to be played. This has led to impressive results like producing Bach chorals, polyphonic music with multiple instruments, as well as minute long musical pieces.
But symbolic generators have limitations—they cannot capture human voices or many of the more subtle timbres, dynamics, and expressivity that are essential to music. A different approach is to model music directly as raw audio. Generating music at the audio level is challenging since the sequences are very long. A typical 4-minute song at CD quality (44 kHz, 16-bit) has over 10 million timesteps. For comparison, GPT-2 had 1,000 timesteps and OpenAI Five took tens of thousands of timesteps per game. Thus, to learn the high level semantics of music, a model would have to deal with extremely long-range dependencies.
One way of addressing the long input problem is to use an autoencoder that compresses raw audio to a lower-dimensional space by discarding some of the perceptually irrelevant bits of information. We can then train a model to generate audio in this compressed space, and upsample back to the raw audio space.
We chose to work on music because we want to continue to push the boundaries of generative models. Our previous work on MuseNet explored synthesizing music based on large amounts of MIDI data. Now in raw audio, our models must learn to tackle high diversity as well as very long range structure, and the raw audio domain is particularly unforgiving of errors in short, medium, or long term timing.

Approach
Compressing Music to Discrete Codes
Jukebox's autoencoder model compresses audio to a discrete space, using a quantization-based approach called VQ-VAE. Hierarchical VQ-VAEs can generate short instrumental pieces from a few sets of instruments, however they suffer from hierarchy collapse due to use of successive encoders coupled with autoregressive decoders. A simplified variant called VQ-VAE-2 avoids these issues by using feedforward encoders and decoders only, and they show impressive results at generating high-fidelity images.
We draw inspiration from VQ-VAE-2 and apply their approach to music. We modify their architecture as follows:
To alleviate codebook collapse common to VQ-VAE models, we use random restarts where we randomly reset a codebook vector to one of the encoded hidden states whenever its usage falls below a threshold.
To maximize the use of the upper levels, we use separate decoders and independently reconstruct the input from the codes of each level.
To allow the model to reconstruct higher frequencies easily, we add a spectral loss that penalizes the norm of the difference of input and reconstructed spectrograms.
We use three levels in our VQ-VAE, shown below, which compress the 44kHz raw audio by 8x, 32x, and 128x, respectively, with a codebook size of 2048 for each level. This downsampling loses much of the audio detail, and sounds noticeably noisy as we go further down the levels. However, it retains essential information about the pitch, timbre, and volume of the audio.
Generating Codes Using Transformers
Next, we train the prior models whose goal is to learn the distribution of music codes encoded by VQ-VAE and to generate music in this compressed discrete space. Like the VQ-VAE, we have three levels of priors: a top-level prior that generates the most compressed codes, and two upsampling priors that generate less compressed codes conditioned on above.
The top-level prior models the long-range structure of music, and samples decoded from this level have lower audio quality but capture high-level semantics like singing and melodies. The middle and bottom upsampling priors add local musical structures like timbre, significantly improving the audio quality.
We train these as autoregressive models using a simplified variant of Sparse Transformers. Each of these models has 72 layers of factorized self-attention on a context of 8192 codes, which corresponds to approximately 24 seconds, 6 seconds, and 1.5 seconds of raw audio at the top, middle and bottom levels, respectively.
Once all of the priors are trained, we can generate codes from the top level, upsample them using the upsamplers, and decode them back to the raw audio space using the VQ-VAE decoder to sample novel songs.
Dataset
To train this model, we crawled the web to curate a new dataset of 1.2 million songs (600,000 of which are in English), paired with the corresponding lyrics and metadata from LyricWiki. The metadata includes artist, album genre, and year of the songs, along with common moods or playlist keywords associated with each song. We train on 32-bit, 44.1 kHz raw audio, and perform data augmentation by randomly downmixing the right and left channels to produce mono audio.
Artist and Genre Conditioning
The top-level transformer is trained on the task of predicting compressed audio tokens. We can provide additional information, such as the artist and genre for each song. This has two advantages: first, it reduces the entropy of the audio prediction, so the model is able to achieve better quality in any particular style; second, at generation time, we are able to steer the model to generate in a style of our choosing.
This t-SNE below shows how the model learns, in an unsupervised way, to cluster similar artists and genres close together, and also makes some surprising associations like Jennifer Lopez being so close to Dolly Parton!
Lyrics Conditioning
In addition to conditioning on artist and genre, we can provide more context at training time by conditioning the model on the lyrics for a song. A significant challenge is the lack of a well-aligned dataset: we only have lyrics at a song level without alignment to the music, and thus for a given chunk of audio we don't know precisely which portion of the lyrics (if any) appear. We also may have song versions that don't match the lyric versions, as might occur if a given song is performed by several different artists in slightly different ways. Additionally, singers frequently repeat phrases, or otherwise vary the lyrics, in ways that are not always captured in the written lyrics.
To match audio portions to their corresponding lyrics, we begin with a simple heuristic that aligns the characters of the lyrics to linearly span the duration of each song, and pass a fixed-size window of characters centered around the current segment during training. While this simple strategy of linear alignment worked surprisingly well, we found that it fails for certain genres with fast lyrics, such as hip hop. To address this, we use Spleeter to extract vocals from each song and run NUS AutoLyricsAlign on the extracted vocals to obtain precise word-level alignments of the lyrics. We chose a large enough window so that the actual lyrics have a high probability of being inside the window.
To attend to the lyrics, we add an encoder to produce a representation for the lyrics, and add attention layers that use queries from the music decoder to attend to keys and values from the lyrics encoder. After training, the model learns a more precise alignment.
Lyric–music alignment learned by encoder–decoder attention layer
Attention progresses from one lyric token to the next as the music progresses, with a few moments of uncertainty.
Limitations
While Jukebox represents a step forward in musical quality, coherence, length of audio sample, and ability to condition on artist, genre, and lyrics, there is a significant gap between these generations and human-created music.
For example, while the generated songs show local musical coherence, follow traditional chord patterns, and can even feature impressive solos, we do not hear familiar larger musical structures such as choruses that repeat. Our downsampling and upsampling process introduces discernable noise. Improving the VQ-VAE so its codes capture more musical information would help reduce this. Our models are also slow to sample from, because of the autoregressive nature of sampling. It takes approximately 9 hours to fully render one minute of audio through our models, and thus they cannot yet be used in interactive applications. Using techniques that distill the model into a parallel sampler can significantly speed up the sampling speed. Finally, we currently train on English lyrics and mostly Western music, but in the future we hope to include songs from other languages and parts of the world.
Future Directions
Our audio team is continuing to work on generating audio samples conditioned on different kinds of priming information. In particular, we've seen early success conditioning on MIDI files and stem files. Here's an example of a raw audio sample conditioned on MIDI tokens. We hope this will improve the musicality of samples (in the way conditioning on lyrics improved the singing), and this would also be a way of giving musicians more control over the generations. We expect human and model collaborations to be an increasingly exciting creative space. If you're excited to work on these problems with us, we're hiring.
As generative modeling across various domains continues to advance, we are also conducting research into issues like bias and intellectual property rights, and are engaging with people who work in the domains where we develop tools. To better understand future implications for the music community, we shared Jukebox with an initial set of 10 musicians from various genres to discuss their feedback on this work. While Jukebox is an interesting research result, these musicians did not find it immediately applicable to their creative process given some of its current limitations. We are connecting with the wider creative community as we think generative work across text, images, and audio will continue to improve. If you're interested in being a creative collaborator to help us build useful tools or new works of art in these domains, please let us know!
Creative Collaborator Sign-Up
To connect with the corresponding authors, please email [email protected]
Timeline

Our first raw audio model, which learns to recreate instruments like Piano and Violin. We try a dataset of rock and pop songs, and surprisingly it works.

---

---

---



We collect a larger and more diverse dataset of songs, with labels for genres and artists. Model picks up artist and genre styles more consistently with diversity, and at convergence can also produce full-length songs with long-range coherence.

---

---

---

---



We scale our VQ-VAE from 22 to 44kHz to achieve higher quality audio. We also scale top-level prior from 1B to 5B to capture the increased information. We see better musical quality, clear singing, and long-range coherence. We also make novel completions of real songs.

---

---

---

---

---



We start training models conditioned on lyrics to incorporate further conditioning information. We only have unaligned lyrics, so model has to learn alignment and pronunciation, as well as singing.

---

---

---
Sours: https://openai.com/blog/jukebox/
How to Draw Boombox - Easy Things to Draw
Introduction: Jukebox
On discovering Volumio (Open Audiophile Music Player) I thought that it could be used to build a great Jukebox; and the rest is history.
The following instructable is more of a generally overview on how I built this project. As such some of the smaller, more obvious steps may have been skipped.
Initial project scope

Be able to play local and streamed music.
Touch screen and button controlled
Colour changing LED tube
Karaoke module
Quality sound
What as not achieved

Touch screen: While the display used is a touch screen I could not get it to work with Volumio. I am sure that this can be fixed but alas my knowledge of compiling Linux drivers is not good. If anyone is able to help me with this it would be appreciated but for now I will leave this until another time. As a work around, when necessary I connected via a wireless keyboard or mouse, or via a remote computer (as Volumio allows you to browser to the interface from anywhere).
Karaoke module: I could not get the unit that I purchased from AliExpress to work but as the module would simply plug into the Jukebox amp, this will be easy to add in the future.
Materials used
10mm plywood
4mm plywood
4mm masonite
10mm Acrylic
20mm MDF
2mm acrylic
Wood glue
Acrylic cement
Spray paint
Opaque/frosting glass spray paint
Arduino mini
Raspberry PI 3
70W, 5V, 14A PSU
PIFI Digi DAC+ HIFI DAC Audio Sound Card Module
Raspberry PI 3 GPIO extension board
ODROID-VU7 Plus
LED Strip (5V, WS2811)
HDMI ribbon cable (90 degree)
Chrome Plating 30mm LED Illuminated Push Buttons
Stereo amplified (2nd hand, purchased from an online auction)
Boxed speakers (2nd hand, purchased from an online auction)
2.5M hex standoffs
Double-sided tape
Miscellaneous: wire, solder, heat shrink tubing, screws, electrical junction box, crimps etc.
Black vinyl
Software

Main Tools Used
Soldering Iron
Vinyl cutter
Laser Cutter
CNC Machine
Router
Table saw
Jigsaw
Screw driver
Glue gun
Step 1: Overall Design
The box was designed to be the same some as some historic models i.e. approximately 85x155cm.
The four areas on the front are:
The neon tube (yellow)
The speaker grid (gray and brown)
The jukebox interface (Pink and white; Jukebox Jam)
The semi-circle insert (pink, black and white with musical notes)
Initially I was going to put the speakers
Behind the speaker grill
Where the black circles are in the semi-circle insert
But my speakers were too large and I felt that trying to squash them all behind those locations would impact on the quality of the sound. In the end I decided that the speaker grill and semi-circle insert would simply be ornamental and that the speakers would be left in their speaker boxes, positioned so as to face out of the left and right hand sides of the jukebox. This also meant that if desired the speakers could be moved to be placed anywhere in the room.
Step 2: Neon Tube
This above CAD drawing shows how I cut the pieces that I used to create the front neon tube. This was determined by the size of my laser cutter and material availability. Using 10mm acrylic I exported the DXF file to an SVG and cut pieces using a CO2 laser cutter. Using acrylic cement I then stuck them together to form the tube as show in the above images.
Using 180 grit sandpaper on a random orbital, or delta sander, sand the outside of the neon tube. Then apply the frosting spray paint to it.
In hindsight it would have been better to sandblast the tube or to use opaque acrylic.
Step 3: Semi-cirlce Insert
Using 4mm plywood cutout "JukeBox-Top-Insert.svg" on the CO2 laser-cutter, where necessary etching lines (black) so that it will be easier to paint and line things up later.
The semi-circle was painted pink
The larger disks were painted white
The smaller disks were painted black
The smaller black disks were glued onto the white disks and the white disks are then stuck onto the back of the pink semi-circle so that the black and white showed through (see above images).
"JukeBox-Music.svg" was cut out using a vinyl cutter and then stuck onto the pink semi-circle as above.
Step 4: Cutting the Speaker Grill
Using Blender, exported "Disc.blend" to an STL file. Using a CNC machines, cut the disc into a 20mm piece of MDF. The height of the STL file was adjusted so as to accommodate the thickness of the MDF.
Opening "Jukbox4.svg" and hiding all layers except for "Grill", cut the grill out of 4mm plywood using the laser-cutter.
Using wood glue, I stuck the disc onto the disk part of the grill, trying to line things up so the one of the star points is at the 12 o'clock position. Once the glue was dry, I spray painted the grill with silver/galvanizing paint.
Step 5: Prepaing the Grill Material
I made a wooden frame (bigger than that of the grill), pulling the hessian tightly over the frame and stapling it in place. applying glue (I used PVA wood glue but other types might be better). Once dry you will have a smooth but firm sheet sheet of hessian. Applying wood glue to the underside of the Grill, I stuck it down onto the hessian so that the non-glued side of the hessian showed through; applying a weight to the Grill until it all dried.
Step 6: Buttons
Using a vinyl cutter I cut "Buttons3.svg" out of black vinyl.
Then decided which buttons were needed and where they were to go.
Attached the desired symbol to the appropriate button.
Symbols are
Up/Down Volume
Next/Previous Track
Pause/Play
Power On/Off
Change lights (this symbol was not used in this build)
Step 7: Jukebox Interface - Part 1
The font that I used was Broadway (see attached). You will need to have it installed if you use "Jukebox-Faceplate-1b.svg".
Hiding all layers in "Jukebox-Faceplate-1b.svg" except for:
Buttons
Text
Screen-cutout
Shape
I laser cut the the resulting shape on 4mm plywood.
Thin hiding all layers except for:
Screen - Visible
Screen - Cover
I laser cut the resulting shape on 4mm plywood. This piece I called the screen cover.
Please note that the above were designed with the ODROID-VU7 Plus screen in mind and will need to be modified if you are using a different screen.
Holding the screen in place, I positioned the screen cover on the face-plate so that the screen was properly covered and would display correctly once in use. Once the position was sorted, I glued and clamed them together. Once the glue had dried I noticed that I did not have the positioning 100% correct. This resulted in my needing to chisel/router some of the face-plate behind the screen cover so that I could realign the screen more precisely.
The entire face-plate was then spray painted pink.
I export the "JukeBoxTextBacking.dxf" to an SVG and cut it out of 4mm plywood. After spray painting this I stuck it to the back of the face plate so that the white showed through the text.
Strips of wood were then stuck onto the back, proving mounting points one which to screw the mounting board.
Step 8: Jukebox Interface - Part 2
Now I installed the buttons in the six holes, bolting them in.
Exported "Mounting Board.dxf" to and SVG and cut the mounting board out of 2mm acrylic. Using the brass standoffs, I assembled the screen and Raspberry PI as in the photograph (screen on one side and the Raspberry PI and other electronics on the other side).
The square hole meant for the 90 HDMI ribbon cable turned out to be too narrow and so the needs to be be made wider (the drawings still needs to be changed to reflect this).
Step 9: The Actual Box
Except for the round part which was done using 4mm masonite and the supporting corner blocks (15x25mm) the rest of the box was built using 10mm plywood. Overall dimensions were approximately 85x155x50xm. "Jukebox4.svg" gives the exact front dimensions used.
The top was created by first using a clamp to check that we could successfully bend the masonite sheet. We then glued and stapled it down on the top and slowly worked down the sides. We placed cover-strips over the ends to neaten it up as well as hold it down. From the photos you will see how we added extra arcs in order to proved a wider surface that we could glue and staple into.
The side sections were cutout so as the accommodate the speakers that I had purchased. A shelf was installed in the top section to hold the amplifier. Finally the back was left more or less open to provide access to the amplifier and other bits and pieces.
The base was made out of two sheets of 10mm plywood; One slightly larger than the next.
All edges where routed round.
I leave the photographs to provide the rest of the missing details.
Once assembled, the who lot was spray painted blue. In hindsite I should have spray painted the insides black as this would have made the project look more finished off. This said no one really sees the inside.
Lastly I screwed the semi-cirle insert and Jukebox faceplates in place and glued the grill in place.
Step 10: Installing and Configuring Volumio
Plugged the HDMI and USB from the the screen into the Raspberry PI and powered it all up.
Following the instruction at https://volumio.org/get-started/ I installed Volumio on your Raspberry PI.
During the setup process I chose Hifiberry DAC Plus for the I2S.
Once installed, I browsed again to my instance of Volumio (http://volumio.local), go to settings, plugins and installed the following:
Spotify
YouTube for Volumio
TuneIn Radio
Touch Display
Backup & Restore Data
GPIO Buttons Controller
While I did not use it, the miniDLNA plugin looks like another one worth installing. You can also install any other plugins that you might want. I found that installing the graphics equaliser resulted in my sound not working.
Once installed I configured each pluggin, setting the GPIOs as follows:
Enable Play/pause: GPIO Pin 13
Enable Vol+: GPIO Pin 16
Enable Vol-: GPIO Pin 23
Enable Previous: GPIO Pin 22
Enable Next: GPIO Pin 27
Enable Shutdown: GPIO Pin 12
To get the screen to display properly I ssh'd to volumio.local and added the below to boot/userconfig.txt:
#Set output to DVI so the sound won't be sent through the HDMI cable
hdmi_drive=1
#Set HDMI group to 2, no idea what it actually does
hdmi_group=2
#Set hdmi_mode to 87 which seems to be custom resolution
hdmi_mode=87
#Set the screen parameters
hdmi_cvt=1024 600 60 3 0 0 0
Screensaver settings can be set via the Touch Screen plugin in settings.
=============================================================
The following feedback was provided to be by GVOLT on the Volumio community forum. Once I have had a chance to apply this approach, I will update the above.
One hint regarding the modifications of /boot/config.txt: The hdmi* related changes could be placed in /boot/userconfig.txt instead. Using userconfig.txt has the advantage that this file remains untouched when Volumio gets updated. In contrast the /boot/config.txt file gets overwritten on each Volumio update (further information) and you would have to edit /boot/config.txt again.
=============================================================
Step 11: Connecting the LEDs
Upload the "Rainbow.ino" to the Arduino mini.
Positioning the neon tube where I wanted it to go, I traced around the outside. I then attach the LED strip along the middle line of the strip. It didn't lie perfectly flat on the rounded section but that did not matter.
The LED strip has three tracks i.e. +5V, Data, Ground (Red, Green, White; in my case). In order to keep the LED's illuminated evenly, power was connected to the tracks at the top of the semi-circle arch. This necessitated me drilling two small holes through the face just above and just below where the LED strip will run to which I soldered the power leads that were connected to the power supply.
Since LEDs can only work in one direction it is import which side of the strip you connect the data pin to. If you get this the wrong way round it will not work. At the correct end, drill a small hole that will allow you to solder a lead into the data track. This lead will connect to pin 12 on the arduino.
Step 12: Final Connections
The powersupply was used to drive the LEDs, Raspberry Pi (pins 1 (5V) and 6 (Ground)) and Arduino (Vin and Ground). An acrylic cover was placed over the the power supply terminals to protect users from accidentally touch them.
Buttons were connected following this guide i.e. one pin to the relavent GPIO pin (discussed earlier) and the other to ground. The LEDs on the buttons were wired in parallel directly into the power supply.
Loose cables were nailed into place or glued down using aglue-gun.
The amplifier was connected to the PIFI Digi DAC+ HIFI DAC Audio Sound Card Module and the speakers connected to the ampliier.
Finally a power bar was installed that would be used to powe up the entire box i.e. the amplifier, 70W, 5V, 14A power supply unit and any other accessories that I might install in the future.
Step 13: What Would I Do Differently?
While the screen that I purchased came recommended by the Volumio community I would probably use the Raspberry PI screen next time as the touch option should work out of the box.
As already mentioned, for the neon tube I would try sandblasting (this however would need to be varnished so as to keep it clean) or opaque acrylic.
I would also add a button to control the LED lighting a little (see attached Rainbow2 code; modifed by a friend of mine) or wire it into a controller that syncs the lights to the music being played.
My biggest change would be with how I mounted the electronics. I would create a shallow draw underneath the amplifier shelf that would slide out and hold all of the electronics and power supply. Besides making everything much neater it would also make things more robust and safe. A neatly bundled cable track would then run from the draw to the screen and buttons.
Be the First to Share
Did you make this project? Share it with us!
Recommendations
Organization Contest

Unusual Uses Contest

3D Printed Student Design Challenge
Sours: https://www.instructables.com/Jukebox/
Now discussing:
I've been drawing jukeboxes lately.
Colored Sharpies
They're all quick sketches with a black Sharpie - no planning, no erasing, no changing.
Black Sharpie, colored pencils, and Stickles
My jukeboxes are far from perfect. They're lopsided and irregular, but I love them.
Crayons
I've colored in each one with different media.
Mr. Sketch Markers
You can draw your own jukebox in just a few easy steps! First, draw an arc. Draw a rectangle connecting the two ends of the arc. Your arc can be tall and narrow or short and wide.
Add a semi-circle just inside the top of the arc. Add a rectangle (or an inverted semi-circle) at the bottom. This will be the speaker. Again, there are no rules about any of this. You're the designer!
Add a rectangle in the middle of the jukebox where the songs are listed. Fill the bottom rectangle with crosshatches. Now add details - a record, musical notes, or whatever else you can dream up.
Finally, add some color! Jukeboxes come in every color you can imagine and often feature neon, sparkle, or other attention-getting shades. Turn on your favorite retro music to inspire your designs! If you draw a jukebox, let me know. I'd love to see your drawings.
Just for fun, I checked my theory that you can buy literally anything on Amazon and, sure enough, there are plenty of jukeboxes to choose from. Awesome! As much as I'd love to have a house big enough with a designated jukebox room, I do not. (I would also like to have a spare $9000, but I don't have that either.) How fun would the desktop CD player jukebox be though? Or the docking station?! So cute!
Sours: https://www.cindyderosier.com/2018/03/how-to-draw-jukebox.html
1688
1689
1690
1691
1692