Poulsbo is a city in Liberty Bay Kitsap County of Washington State. Nestled in the heart of Kitsap Peninsula, Poulsbo maintains its historic Scandinavian ambiance. It is known as "Little Norway on the Fjord." This Little Norway has plenty to show off; from beautiful Puget Sound waterways to vast stretches of green pathways. Its charming waterfront is filled with quaint little shops, bistros, micro-breweries and pubs. This Pacific Northwest destination is popular among tourists from across the world, especially Seattle, Bainbridge Island, San Juans County and other cities of Washington State, due to its beautiful open space, trails and scenic waterways. If you are planning your next adventure with us, here's a list of things to do and see in Poulsbo.
Things to do and see in Poulsbo
Tourist Attractions: This Scandinavian-themed city is just a short boat ride from Seattle and Bainbridge Island, but it feels like a whole new and different world. Kitsap Peninsula's favorite destination for visitors of all ages and interests is it's Little Norway streets. Stroll down Front Street to explore its amazing galleries, museums, and shops in Poulsbo's growing art district. Discover the history, heritage and culture of the city at Poulsbo throughout the popular Historical Society Museum, Poulsbo Maritime Museum, Heritage Museum, and Martinson Cabin Museum. You can visit the newly opened Sea Discovery Center where you can learn more about the marine environment and underwater technology. If you and your group would love to see a live orchestra performance, then do visit Poulsbo Community Orchestra. You can attend a variety of concerts and enjoy woodwind, brass, and percussion musical performances from community musicians.
Parks and Recreation: Parks and recreation facilities play a vital part in the unique character of Poulsbo. The city has 15 parks, which cover 137 acres of Little Norway. The 11-acre Nelson Park has picnic tables with shelters, benches, playgrounds, a farmhouse and Maritime Museum. American Legion Park boasts wooded trails, pedestrian boardwalk, playgrounds, picnic shelters and restrooms. Kitsap Memorial State Park is famous for diving, saltwater fishing, crabbing, clamming, oyster catching, bird watching and hiking. Other popular parks of Poulsbo include Poulsbo's Fish Park, Lions Park, Oyster Plant Park, Forest Rock Hills Park, Wilderness Park, Frank Raab Park, Poulsbo Pump Track, and Morrow Monor Park among others. Poulsbo's Clear Creek Trail is a 3-5 mile trail that runs through pathways of wooden bridges, open field spaces and wetlands. This trail is perfect for people of all age groups. Port Gamble Trails are ideal for mountain bikers and horse riders. If you want the best scenic spot to drive around the city, the Fjord Drive is the ideal place to start. Drive through downtown Poulsbo onto Fjord, where you will get stunning views of the water, beautiful neighborhoods and patches of greenery.
Outdoor Activities: Poulsbo offers plenty of activities to enjoy for outdoor enthusiasts. Go hiking or bird at Shine Tidelands, Raab Park, American Legion Park, and Kitsap Memorial State Park. You can discover Liberty Bay by kayaking and be a part of Poulsbo Art Walk. It is held second Saturday of each month and provides the opportunity to visit art galleries, dine and shop in the historic downtown. Poulsbo is literally surrounded by water on all sides, making Fly Fishing an exciting event for tourists. Hire a fishing charter and fly fish multiple beaches throughout the day while enjoying scenic views from the water. You will have an excellent experience for fly fishing Sea-Run Cutthroat fish species during your excursion. The surrounding freshwater and saltwater of the Kitsap Peninsula offer plentiful fishing spots such as Agate Passage area, Sandy Hook area, Port Madison, Erickson Reservoir, and Miller Bay, where you can expect to catch chinook, sockeye, pink, chum, and coho. Kitsap County is connected to the eastern shore of Puget Sound. You can also try a dive with scuba diving in Puget Sound, where you can explore an incredible diversity of fish and corals in these nutrient rich waters. Some of the dive sites of Puget Sound include Agate Pass, Dead Man's Wall, Keystone, Owens Beach, Ranger, Fox Island Bridge, and more.
Dining and Shopping: Poulsbo boasts a wide variety of restaurants that feature ethnic food, Northwest cuisine, and of course a number of pizza parlors and coffee houses. For ethnic food, visit Burrata Bistro, Campana's Italian Restaurant, Sogno di Vino Wine Bar & Ristorante, Azteca, Taqueria Los Cazadores, and Arawan Thai Cuisine. Enjoy a leisurely cup of coffee at one of the coffee houses of Poulsbo including Little Bean Espresso, Cups Espresso, Hot Shots Java Coffeehouse, Poulsbohemian Coffeehouse, and Starbucks. Some of the popular , wine tasting rooms and wine shops in this area include Olympic Wine Shop, Liberty Bay Cellars, and Eleven Winery - Poulsbo Tasting Room. For authentic Northwestern dining experience, check out some of the restaurants of Poulsbo – The Loft Poulsbo, ChocMo Bistro, JJ's Fish House, 12 Trees Café & Catering, Mor Mor Bistro, Spady's Smokehouse BBQ Catering, and Sheila's Port Side Restaurant and Bar just to name a few. Whether you want to buy a perfect gift or wish to explore the antique shops, Poulsbo has it all! Just stroll down Front Street to visit the various shops including Bad Blanche, Possum's Boutique, Molasses Tree, Beachside Gifts, Saisons Boutique, and Poulsbo Village Shopping Center among others.
Day Trips: There are so many great towns and getaways nestled just a few minutes to an hour away from Poulsbo. These destinations make up for a great day trip during your vacation in Poulsbo. Want to enjoy the nature to the fullest, head to Bainbridge Island. The island has rustic charm with lovely gardens and so many fun outdoor activities to enjoy. You can take your private yacht charter to perhaps the most popular Pacific Northwest destination – Seattle. Its skyscrapers, amazing views of mountains and water, as well as outdoor recreational activities make it the most famous destination in Washington State. Seattle offers a full range of arts, cultural, historical, sporting activities and attractions for tourists to explore and enjoy. If you want to discover the history of Puget Sound and wish to experience modern life, then Port Townsend is the place to be. Port Townsend is an easily accessible base camp for the Olympic Peninsula. Here you will have the opportunity to discover Washington's maritime heritage, artistic spirit and urban chic. Visiting Bremerton is like experiencing renaissance. Quaint shops, theaters, museums and restaurants add to the beauty of this stunning city in Kitsap County. When you are in Poulsbo, why not visit the pristine San Juan archipelago. The four islands of the San Juan's County - Lopez, Orcas, San Juan, and Shaw – are the usual destinations for weekend getaways and extended stay vacations for relaxation and enjoying activities, such as whale watching, kayaking, bicycling and gentle sightseeing. The waters surrounding the San Juan's are home to Orca Whales. Set sail on a whale watching tour to see Killer Whales, sea lions, seals, porpoise, bald eagles and a variety of sea birds in their natural habitat. Each San Jaun island destination has its own unique character. If you are a bird lover, then the Puget Loop will surely entice you. Puget Loop has 42 main sites and 18 "more birding" locations to see Bald Eagles, Pileated Woodpeckers, Anna's Hummingbirds, Pacific Wrens, Chestnut-backed Chickadees, and Pigeon Guillemots. Other popular destinations near Poulsbo include Friday Harbor, Whidbey Island, Ballard Locks, Oak Harbor, and Desolation Sound. You can even plan your extended stay vacation in Vancouver and Victoria.
Poulsbo is a thriving community with many tourist attractions, picturesque places, several parks and fun outdoor activities. It boasts beautiful museums, antique stores, coffeehouses, restaurants, bakeries and gift shops. At Pacific Northwest Yacht Charters, we provide private luxury yacht charters in Poulsbo and to its surrounding destinations. We also offer day trips from Poulsbo to nearby Northwest destinations such as Seattle, Bainbridge Island, San Juans and many more. To learn more about Pacifc Northwest destinations, click on the DESTINATIONS link here. If you have any query regarding our yacht charter services, call us directly at 702-401-4284. We will be happy to help you plan your yachting excursion!

Sours: https://pacificnorthwestyachtcharters.com/portfolio-view/poulsbo/
Bremerton Marina
We are following the most current Covid-19 mandate at our marinas
Located on the waters of the stunning Puget Sound, the Bremerton Marina offers easy access to boating locations from Seattle to Olympia, to the San Juan Islands and beyond! The great downtown area has delicious food, fantastic events, and so much more to offer visitors. It's the perfect spot to get away for the weekend and enjoy the beautiful Sound.

TrawlerFest 2017
Customer service is our number one priority and our staff promptly responds to customer concerns and questions. Whether you are a permanent tenant or a visitor seeing the sights, we go out of our way to make your boating experience the best in the Puget Sound!
Reserve your moorage today.
Bremerton Marina Map+
Click on the PDF below to view and download the marina map.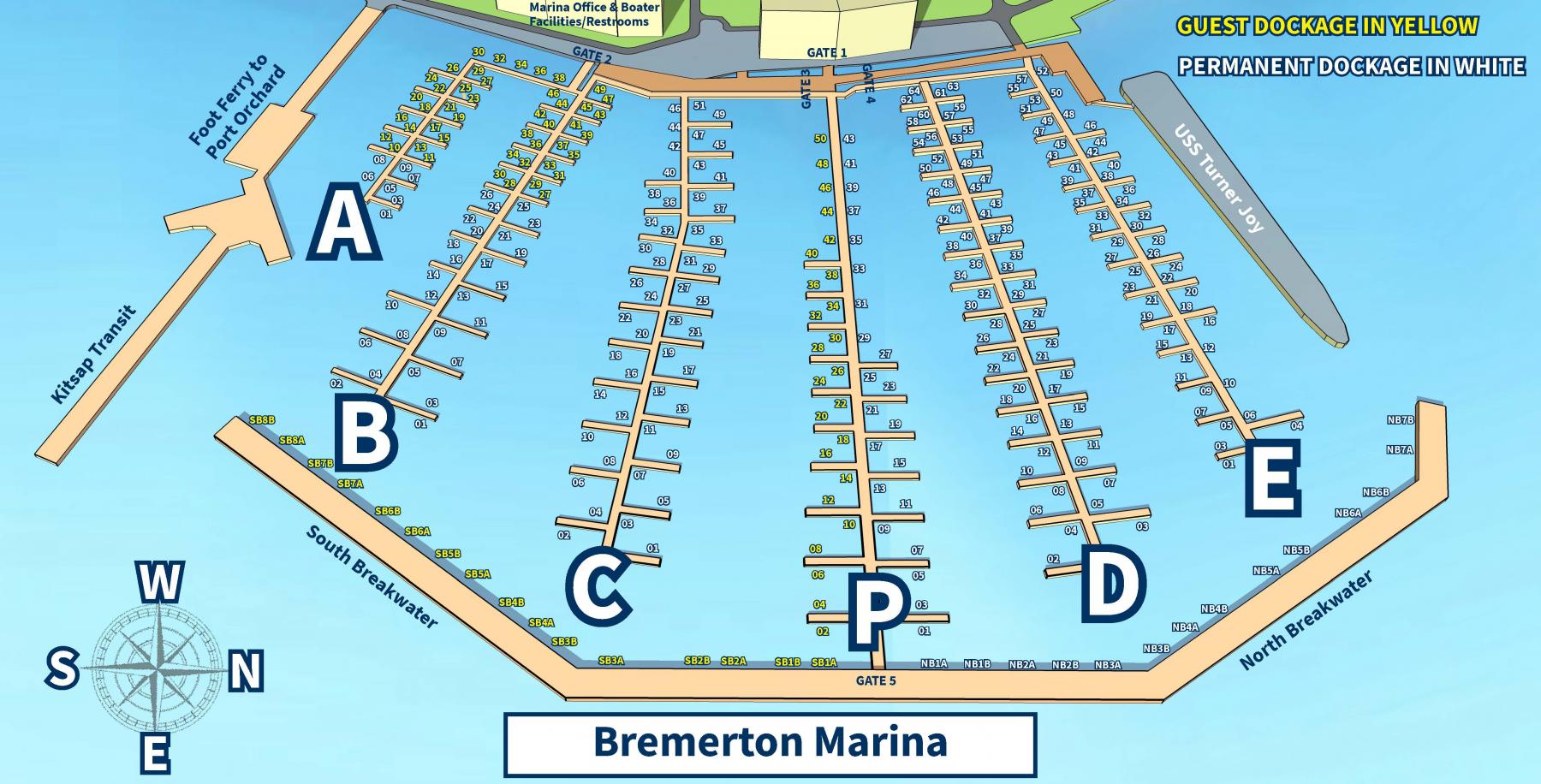 Bremerton Marina Map
Videos+
Bremerton Marina Video
TrawlerFest
Tenants & Visitors+
The Bremerton Marina welcomes both permanent tenants and visitors. We offer month-to-month affordable moorage rates as well as tenant incentives for live-aboard tenants and excellent rates for visitors passing through. If you are planning a visit to Bremerton Marina, please make your reservation in advance.
Capacity & Amenities+
Bremerton Marina offers 80+ spots for visiting boaters. We also offer:
Code access
Security cameras
Security personnel
Free dock-side pump out by appointment on Fridays
Free water
Clean restrooms including free showers
Laundry facilities on-site
Ample dock carts
Free Wi-Fi
Should you need repairs or fuel, our full-service repair yards and fuel dock are located just 1.5 miles away at our Port Orchard Marina.
Our friendly staff will also assist with your lines, but please call ahead to the marina office or hail us on vhf 66a to assist you with line handling. Should you need repairs or fuel, our full-service repair yards and fuel dock are located just 1.5 miles away at our Port Orchard Marina.
Event Coordination+
Let us plan your next rendezvous!
We will plan your next rendezvous for you, whether it be beer or wine tasting, or a more formal gathering at the Kitsap Conference Center (located within a few feet of the Bremerton Marina). Let our experienced staff help you and your group enjoy all there is to offer in Kitsap peninsula.
Sours: https://www.portofbremerton.org/bremerton-marina
Water Activities on the Kitsap Peninsula
If you love being in, on and around the water, then the Kitsap Peninsula is your paradise. You'll find many ways to enjoy the water — from boating, sailing, diving, kayaking and fishing to leisurely strolling the spectacular public piers and beaches. Read our blog to learn about the Kitsap Peninsula Water Trails. Below are links, events and other ideas to get you out exploring the Kitsap Peninsula Water Trails.
Quick Links
Resources & Rentals
Clubs & Organizations
Sours: https://www.visitkitsap.com/water-activities
Looking for boat rentals in Northern California?
The 10 Best Boat Rentals in Washington!
From the Puget Sound to the state's sparkling lakes, Washington makes for a beautiful place to get out on the water. And you don't need to own a boat to enjoy it. Whether you're looking to paddle around in a kayak or go for a spin on a yacht, these boat rental places in Washington State are some of the best around!
1. The Center for Wooden Boats, Seattle, WA
How cool would it be to learn about the history of ancient boats and how they were used in the Northwest, and then be able to rent one for the day? That's exactly what you can do at The Center of Wooden Boats, a free to the public museum that preserves and promotes maritime history. Based in Seattle, Washington, The Center for Wooden Boats has been setting sail for over 25 years, taking passengers out on Lake Union and recreating history. There are building to explore, interactive displays, and volunteers are on hand to provide information. There are many ways to keep The Center for Wooden Boats afloat: personal donations, sign up for a workshop to learn new skills, buy or donate a boat, or volunteer to help where needed most. Adult volunteers earn a free hour of boating with every three hours of time donated.
2. Columbia River Boat Rental, East Wenatchee, WA
Columbia River Boat Rental in East Wenatchee, Washington, sits in the heart of the state near the Cascade Mountains. If you love the water and enjoy being out on it, boat rental might be the answer to a fun-filled summer. Whatever your favorite watersport is, Columbia River Boat Rental has what you need from wakeboards to water skiing to fishing and leisurely cruising your favorite spot. They have hourly, daily, and weekend rates, many different styles of boats, and you can be the captain or rent a boat driver.
3. Point Defiance Marina, Tacoma, WA
Established in 1888, Point Defiance in Tacoma, Washington, has always been a favorite spot for fishing and other water activities. They have boats for rent that can be used for fishing, casual enjoyment, or active exploration, and most boats can hold up to four adults. Each boat comes with a full tank of gas, safety equipment and gear, and life jackets, and can be rented by the hour or by the day. If you're looking for something a little smaller that can be shared with a friend, you can also rent a kayak and explore Puget Sound at your leisure.
4. Yarrow Bay Marina, Kirkland, WA
Lake Washington makes a beautiful background for a day on the water. You don't have to own a boat to enjoy being outside. If you're at least 25 years old, you can rent one by calling or visiting Yarrow Bay Marina in Kirkland, Washington. A small deposit will hold a boat that's fully equipped with life jackets, safety cushions, fire extinguishers, paddles, and other safety equipment. You can also rent two-person inner tubes, and in case plans change, you won't lose your deposit with a 24-hour or longer cancellation.
5. Shoreline Watercraft and Boat Rental, Chelan, WA
Shoreline Watercraft and Boat Rental in Chelan, Washington, has been a family-owned business for almost 30 years. You can experience the thrill of skimming across the water on your choice of boats that include Bayliners, Reinells, luxury boats, or pontoon boats for rent by the hour or the day. Boats can hold from seven to 14 passengers, and are subject to availability. Gas and taxes aren't included in the pricing, but daily specials are available and advertised on the website. Discounts for active police, fire, and military personnel are available. If you like the idea of being on the water but not in a boat, jet ski are also available for rent.
6. Lake Escape Boat Rentals, Nine Mile Falls, WA
If you're looking to have fun on the water this summer, make sure to check out Lake Escape Boat Rentals. Located in Nine Mile Falls, Washington, Lake Escapes has been putting the fun in boating since 2009. They provide the boats and equipment to help you have a great experience on the water, and can even deliver your boat to several lake locations upon contract. And if you rent a boat from them, you can also get tubes, water skis, and wakeboards free! Rent a boat for the day, the week, or longer.
7. Seattle Boat Share, Seattle, WA
Seattle Boat Share, located in Seattle, Washington, offers a great solution for those who love boating but don't own their boat. By allowing you to select one of the five the membership that fits your needs and lifestyle, you get unlimited boating for a flat rate with no dock fee. With more than 30 boats in their fleet, you can cruise Lake Union, Lake Washington, or maneuver through the locks. If you're new to boating, they have lessons that include two days on the water with a qualified instructor.
8. Boatsetter, Multiple locations
There are so many good reasons to be out on the water. Whether you like fishing, sailing, waterskiing, entertaining, or just celebrating life, there's a boat for every occasion. Boatsetter is a fun website that helps you search for the type of boat you want, connect with the owner, book your rental time, and have the greatest adventure of the season. It's work much like Airbnb, where you select where you want to go, the boat you want, communicate with the owner about the specifics of the trip, and book and pay online. Then you're all set to go!
9. My Girl, Tacoma, WA
Want to sail Puget Sound in style? Charter a yacht from My Girl. Based in Tacoma, Washington, this family owned business has over 19 years of experience providing Coast Guard-certified yachts, captains, and crew. With dates and times that are flexible and locations that are easy to find, you'll have the best floating adventure around. Private parties, corporate get-togethers, family reunions, educational programs, fundraising opportunities, or any other special occasions can take on a new level of excitement when done on the water.
10. Issaquah Paddle Sports, Issaquah, WA
Located at Tibbett's Beach in Washington State, Issaquah Paddle Sports is the popular place to rent one or two-person kayaks, one or two-person paddle boats, pedal boats, or fishing kayaks for a fun time on the water. The only requirement for renters is that you know how to swim. Offered on a first-come, first-served basis, rentals are by the hour and reservations are not taken. Life jackets and paddles are provided for all rentals, and lessons are also available. Looking for a new place to have your next birthday party? Let Issaquah Paddle Sports help by hosting and teaching your partygoers all about paddle boating or kayaking, then take a trip on the water. It's fun for everyone!
Sours: https://bestthingswa.com/boat-rentals/
County boat rentals kitsap
.
RENTING A BOAT IN SAN DIEGO, CALIFORNIA!!! 🚤 🌊
.
Similar news:
.
1696
1697
1698
1699
1700