Chakra Kits: Create Your Own!
Using A Chakra Kit Explained

Written By Liz Oakes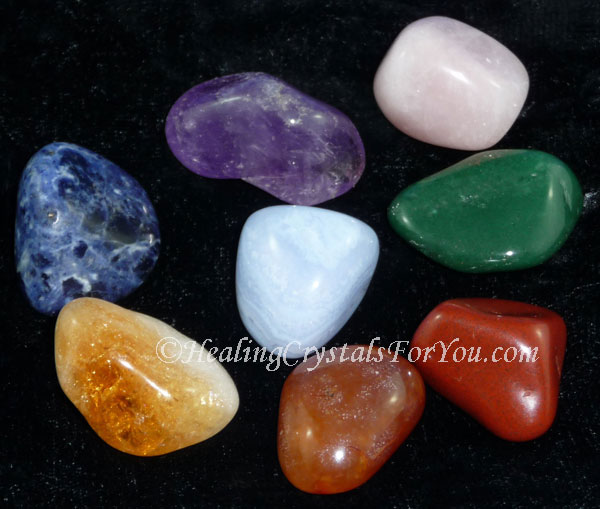 Chakra Kit
Chakra kits are groups of healing crystals that are sold together with a stone to use for healing each of the chakras. 
Some kits have seven stones but many contain nine stones or more.
Anyone who wants to take responsibility for their own healing may choose to buy the various healing crystals.
This allows you to use them in the correct combination for healing all of the chakras.
You can buy them ready made, or put your own together! So who needs a chakra kit?  

While you may buy one ready made, you could also make one up yourself. If you buy one, you may simply go ahead and use it.

There are many healing crystals for you to use, so if you own a number of crystals you might already have the stones you need on hand.

What Is In A Chakra Kit?
Often you may find that when you either buy or put together such a kit you may be particularly drawn to one of the stones.
It is a common reaction, and is a sign that the universal mind is prompting you to heal the bodily area that the chakra stone governs.
The chakra kit usually has at least seven stones, one to use for each of the seven major chakras. Look at the stones in the photo above.
There are eight stones in that photo, one for each major chakra and the higher heart, and you may notice that there is a stone in each major chakra color.  
These stones are a common combination to be found in many kits.
Some kits have nine or ten stones as they add extra chakra stones, for the chakra above the head, the one below the feet, as well as the higher heart.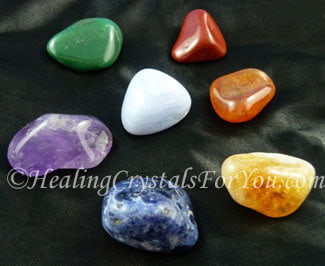 Example Of Chakra Kit Stones
The chakra above the head, the eighth chakra is called the soul star chakra, and it is located above the crown chakra.
The earth star chakra is located below the feet, and as mentioned above, it is also beneficial to add in a stone for the higher heart, the area related to compassion for others.
There are also other transpersonal chakras, but it is rare for kits to contain stones for these chakras. This combination is the most advantageous, as it grounds you to the earth and connects you to spirit, and to your higher heart.
If you are not totally sure what chakra stones are, there is article which talks in detail about the stones and the chakras.
For a detailed explanation on what the chakras are go to my in-depth page where the chakras are explained.
Chakra Colors: How Will It Help You?
Specific colors and sounds or vibrations are connected with each chakra.
For healing each of these chakras you use those respective colors. Healing crystals of the specific colors will work to heal individual chakras.

There are various stones of other colors that can be used as well. Once you know the chakra meanings it may be easier to acquire the crystals you wish to use.
Work on healing yourself with one of these combinations of chakra stones. It means that you are working on all chakras simultaneously.
This will create a much stronger healing outcome than using one stone alone for an individual chakra. My suggestion would be that you meditate while lying with the stones in place.
Allow yourself to visualize what healing outcome you require. As you make that Divine connection, you will receive what you need from the universe.
The benefit of ready made chakra kits are that these often have detailed instructions on suggested ways to use them.
There are many crystal books available that show you how to do crystal healing with detailed body layouts.

It is possible that they may suggest using different combinations of stones, and use these for different healing outcomes.
Have fun experimenting with the combinations. It will all be interesting information to learn and meditating with your crystals will improve your life for the better.
How To Use Chakra Kit Stones
Its easy to use the combinations of stones that has been chosen for this task. You may find that you can assist yourself in healing your own body.  
Using these crystals in your own home may be of benefit for those of you who prefer to take responsibility for your own health and personal growth. 
Often when you buy chakra kits they may also provide body layouts. These are diagrams explaining how to lay the crystals on your body, to heal yourself.  
Most suggest that you lie down either on the floor or a bed, just make sure you are comfortable. You then place the stone that pertains to that chakra on that area of your body.  
Place the stone for the soul star a few inches above your head and the stone for the earth star a few inches below your feet.
The higher heart is between the heart and the throat, a little to your left. Then you simply lie back and relax, and allow the energy to do its work.
Which Chakra Stones To Use?
Please see the list below with the stones that are my choice for you to use. I chose these as they are ones that have a strong enough vibration for most people to feel.
As well most of these are quite easy to source. Many are ones that may be commonly sold in chakra kits, but there are a few less common ones as well.

Ametrine, Sugilite or Lilac Lepidolite
Amethyst, Tanzanite or Charoite
Lapis Lazuli, Blue Lace Agate or Larimar
Tugtupite, Morganite, Dioptase or Rose Quartz
Rose Quartz, Green Aventurine, Morganite, Kunzite or Emeralds
Citrine Crystals, Golden Labradorite, Amber, Honey Calcite or Yellow Apatite
Orange Calcite,  Carnelian, Vesuvianite, Crocoite, Amber or Golden Topaz
Red Jasper, Red Aventurine, Red Garnet, Red Calcite, Ruby or Black Tourmaline
Black Tourmaline, Black Andradite Garnet, Smoky Quartz, Black Obsidian or Chiastolite
Creating Your Chakra Kit
These stones shown here are also stones that are often used in kits that you may buy ready made.
Many kits will just have the main seven chakras, and omit the soul star, higher heart and earth star chakras, so you will possibly need to add stones for these if you buy a ready made kit.
Check out places that sell chakra kits to see what is available, so that you can decide which way to go. Enjoy the healing using these will bring you.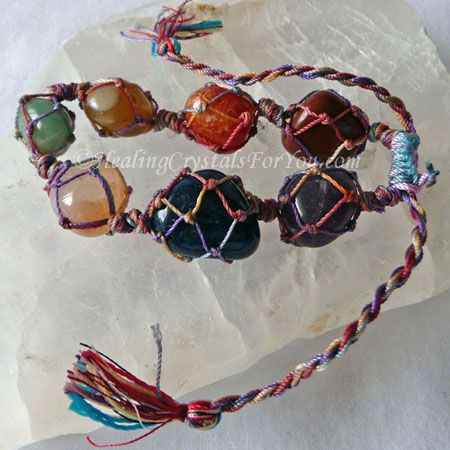 You can wear your chakra stones!
As you can see there are a number of stones that you may choose to create your own chakra kit.
The reason for choosing the ones on the list is that they are usually stones that are easy to obtain, and they are stones which I have written an in-depth page about.
You may also like to use the links on the left hand side of the above table to go to the individual chakra pages.
You will see that there are many more stones for every chakra, in addition to those listed above.
Looking For A Crystal Book?
There are quite a few new books that have hit the market lately, but I truly have to say that my favorite of the crystal books I have read are those shown below.
Read about some of the latest books on my crystal book review page. This page is updated regularly, to include newly published books that are good ones to use.
Depending on your need, many one of these books would benefit you when you have a specific question you need answered.
The crystal books shown below are very in-depth crystal reference books.
All of the authors have been in the crystal industry for many years, and any one of their books are good to have on hand.
To read reviews of my favorite Crystal Books Click Here.
Read About Specific Chakra Stones For Chakra Kits
There is a good possibility that is you are already using crystals that you may have some stones for many of the chakras.
The stones below are examples of stones you may use, in the specific color for each chakra, but there are many more.

If you wish to discover if a stone you have is a good stone to use for that chakra, you can use the Google search box below, to discover more information.
Please Note: You will see Clear crystals below and they are also known as white stones. Simply click on the pictures, to go to the related pages. 
Soul Star Chakra: White
Crown Chakra: Violet or White
Third Eye Chakra: Purple or Indigo
Throat Chakra: Blue
Higher Heart Chakra: Pink or Turquoise Green
Heart Chakra: Pink or Green
Solar Plexus or Power Chakra: Yellow
Sacral or Navel Chakra: Orange
Base or Root Chakra: Red or Black
Earth Star Chakra: Black or Brown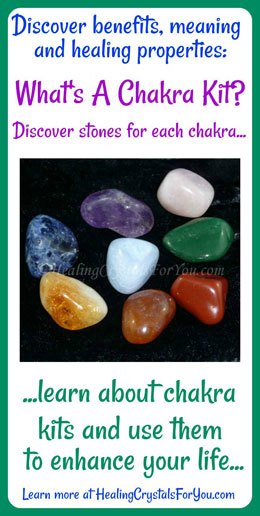 Chakra Kits
Please Read Copyright And Disclaimer Notice
For: https://www.healing-crystals-for-you.com/
Any information that may be found anywhere on this site is not presented as a substitute, nor intended to be a substitute for medical advice, treatment or diagnosis.
Never disregard advice from your medical professional or delay seeking medical advice because of anything you may have read on Healing-Crystals-For-You.com.
Sours: https://www.healing-crystals-for-you.com/chakra-kits.html
7 Healing Crystals You Probably Haven't Heard About
Takeaway
There are hundreds — if not thousands — of new crystals to choose from when you're considering adding one to your collection, including many varieties you may not have heard of.
Just like their better-known counterparts, these less common crystals are also believed to carry potent energies that may aid physical, emotional, and spiritual healing.
Whichever crystals you choose to add to your collection, it's important you source them ethically.
Remember that crystal healing isn't supported by scientific evidence, but it's generally considered a safe complementary practice to support your well-being.
---
Victoria Stokes is a writer from the United Kingdom. When she's not writing about her favorite topics, personal development, and well-being, she usually has her nose stuck in a good book. Victoria lists coffee, cocktails, and the color pink among some of her favorite things. Find her on Instagram.
Sours: https://www.healthline.com/health/mind-body/healing-crystals-you-probably-havent-heard-of
promotional items Gemstone Healing Stones Kit 12 Stones Velvet Bag, Free Shipping 751446810479 discount promotions
twitter announced today that it will be removing its implementation of stories dubbed "fleets." the feature was either loved or hated by twitter users since its initial release last year.
this short-lived feature, which was released in november of last year, will be removed on august 3. twitter acknowledged the controversial nature of the snapchat/instagram clone with the farewell tweet. notably, there was no fleet from the main twitter account announcing the departure of the feature, only a standard tweet.
in the goodbye, the company said it is working on "new stuff." one can hope that they add the ability to edit tweets, in addition to the new edit audience and monetization features.
in a more detailed blog post, twitter shared that it hoped fleets would make people more comfortable posting onto twitter. as fleets disappear, some of the fleet creation features, like gifs and stickers, will be implemented into the standard tweets composer.
ftc: we use income earning auto affiliate links.more.
---
check out 9to5mac on youtube for more apple news:
you're reading 9to5mac — experts who break news about apple and its surrounding ecosystem, day after day. be sure to check out our homepage for all the latest news, and follow 9to5mac on twitter, facebook, and linkedin to stay in the loop. don't know where to start? check out our exclusive stories, reviews, how-tos, and subscribe to our youtube channel
Sours: https://www.eyeboston.com/admin.php?oshaab/acd2433831.htm
Crystal Chakra Healing Kit -- Advanced #1
Crystal Kit 101
This healing crystal kit is a perfect magical addition. No two are alike and range from 1/2″-1." Each crystal comes lovingly packaged in a cotton drawstring pouch with a little note about the crystal.
Rose quartz: rose quartz is often called the "love stone." It's energetic hallmark is that of unconditional love whether it's self-love, family, platonic, romantic.
Amethyst: amethyst has healing powers to help with physical ailments and emotional issues. Amethyst crystal therapies are primarily associated with physical ailments of the nervous system, the curing of nightmares and insomnia.
Clear quartz: quartz is a master healer stone. It's an excellent all purpose crystal healer stone. It is said to amplify healing energy and is used to perform diagnostic healing.
Shop healing crystals kit today at Elle & Reese
In stock
SKU: SQ0102028Categories: Crystals & Stones, Wellness
Sours: https://elleandreese.com/wellness/crystal-kit-101/
Stones kit healing
Here's how to buy the best chakra healing stones and crystals without breaking the bank or ending up with a cheap and totally useless imitation!
DID YOU KNOW that many throat chakra healing stones and other types of jewelry is made using inferior quartz or even plastic made to look like the real thing?
No worries! We put together a list of top rated chakra quartz and crystal healing stones and jewelry you can buy without any concerns of getting ripped off!
What are the ideal Chakra Healing Stones & Crystals?
Chakra stones and crystals promote healing through the power of positive spirit and nature. These stones and crystals are available with particular colors and vibrations, each used to target specific healing properties in the mind, body and soul.
An individual can use a specific chakra stone to cause healing in another person's chakra.  Chakra stones and crystals are in the market in large numbers. Some of the rocks have more healing power than others.
Throat Chakra Healing Crystals
These super popular designs are also one of the most highly imitated using cheap faux materials. Authentic throat chakra healing crystals offer a beautiful means of gathering spiritual power while showcasing the stones or crystals on a necklace pendant or lanyard hanging from the neck over the throat.
Many plastic imitations are out on the market so be careful you buy and authentic product!
Each chakra has crystals that work in its favor, and these crystals work differently from each other.
Below is a list of 5 best chakra healing stones and crystals you can buy online!
1. Premium Chakra Healing Crystals
The package comes with all the 7 Chakra stones, rose, Selenite, Geode, and Quartz Cluster, among others. It's a perfect gift for your loved one. The crystals are cool in helping you stay in the status of mindfulness and manifestation. It also comes with a120 day 100% cashback, and with a free crystal e-book and a 9×8 guided insert.
Special Features
A perfect gift for loved ones
It also comes as a complete 7 Chakra and all necessary things for healing,
120 days full money back benefit,
Free e-book for guidance
Our Rating: (5/5)
GET BEST PRICE!
---
2. PP OPOUNT 13
The product comes along with all the 7 Chakra stones, and other products needed for complete healing. Others include rose quartz, chakra pendulum, chakra bracelet, amethyst.
It does also come with all the instructions on how to use your crystal kit. It, therefore, is perfect for all starters.
It's a 100% customer satisfaction from its carefully packed package. You can use it for spiritual practice, reiki, yoga, meditation, chakra healing, or home décor.
Special Features
100% customer satisfaction
Wide application,
High quality and from natural mines.
Our Rating: (4/5)
GET BEST PRICE!
---
3. Chakra Stones Set
The whole package comes with the seven chakra stones, which are natural mines. It also comes with 7-chakra bracelet, 7-chakra pendulum, an e-book, crystals for beginners, and 7-chakra pendants, among other stuff.
It's a perfect option to give as a gift with a wide range of applications, among them meditation, balancing, Tarot, massage stone, and healing. 100% money-back guarantee and also offers a free e-book for all beginners.
Special Features
100% money-back guarantee
7-chakra stones package for maximum healing,
Wide range of application, and
Perfect gift for a loved one.
Our Rating: (4.5/5)
GET BEST PRICE!
---
4. Hamoery Men Women 8mm Lava Rock 7 Chakras
The package comes along with 3-bracelets. The three pieces Lava Chakra and Lapis Lazuli, and also come with tiger eyes.
They also come with a minimum size of 6.5" and a maximum size of 9.4 inches. It's an excellent gift for Christmas, especially for mothers, girlfriend, dads, and other family friends.
Special Features
Perfect gift for Christmas,
A whole package is 3-bracelets
Come in different colors that make them ideal for a gift.
Our Rating: (4.5/5)
GET BEST PRICE!
---
5. Exceptional Gift Set-Chakra Crystals
Feel peaceful, happy, and with happiness as you use the 7-pieces of stones. The stones help you to attract more abundance to your life using the rose quartz, tiger eye, and amazonite that will help you prosper in life. They also offer you a free chakra e-book,
Special Features
Highly applicable in meditation, healing, and beauty.
Helps you boost your abundance, and
Also excellent in boosting your confidence.
Our Rating: (5/5)
GET BEST PRICE!
---
Top quality chakra stones and crystals are a beautiful way to improve the wellness of your mind and helping you increase your abundance. They are a great option for gift giving on birthdays and holidays as well!
The chakra healing stones and jewelry gift sets are very nice because they contain a wide variety of stones in different shapes, sizes and colors. Many of the quartz healing stones are actually cleaned and polished in top quality rock tumblers designed to clean any dirt or imperfections off the stones to make them true collector quality.
Clean and poished stones are especially important if they are being worn as necklaces, bracelets, and other types of jewelry. Some users claim that cleaner and shinier healing stones are able to transmit more power to the user. Whether this is true or merely a fable is up for debate!
Just be sure to buy the real deal and don't end up buying a cheap imitation. With so many online retailers jumping into the healing stone and chakra jewelry rush, there are numerous vendors selling inferior products. Know what to look for and you can rest assured you are buying the best quality chakra healing stones for you, your friends and your loved ones to enjoy for years and years!
Summary
Reviewer
Carlo Jonty
Review Date
Reviewed Item
Chakra Healing Stones
Author Rating
Sours: https://rocksfast.com/the-best-chakra-healing-stones-crystals/
How to Grow Your Own Crystals at Home
.
You will also be interested:
.
15
16
17
18
19