Camping in Marble, Colorado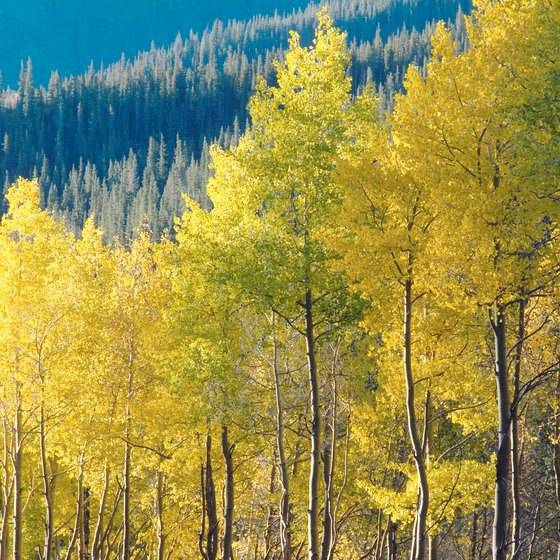 Marble, Colorado is located in an alpine setting.(Photo: Jupiterimages/Photos.com/Getty Images )
In the late 1800s the Colorado mountain town of Marble grew prosperous after settlers discovered the world's richest marble deposits along nearby Yule Creek. This valuable natural resource was used to create famous national landmarks such as the Lincoln Memorial and the Tomb of the Unknown Soldier, but as demand for marble declined, the community's main industry collapsed. Today, Marble's biggest attractions are spectacular places to camp, ride and play in nearby forests.
Dispersed Camping
Marble is surrounded by the White River National Forest (fs.usda.gov/whiteriver), a 2.3-million-acre wilderness playground with high alpine forests and peaks that ascend 14,000 feet or higher. Dispersed camping is allowed in all national forest lands. Campers who choose dispersed camping are responsible for hauling their own supplies, packing out all garbage and digging their own holes for burying human waste. Visitors are allowed to practice dispersed camping in the wilderness surrounding Marble, provided that they follow standard rules, such as obtaining any required permits, keeping campsites at least 200 feet away from water, roads, parking areas and other locations with continuous human activity. For a list of the most scenic and solitary locations, contact an official in the Aspen-Sopris Ranger District (no website; 620 Main St., Carbondale; 970-963-2266).
Primitive Campgrounds
The Aspen-Sopris Ranger District that surrounds the Marble area has one developed campground with vault toilets, picnic tables, fire rings and trash service. The Bogan Flats Campground is suitable for up to 36 tents and RVs up to 40 feet long. Although there are no utility hookups, piped water is available in a central location. Campers will find food and other provisions 8 miles away in the Redstone General Store (redstonegeneralstoreonline.com) or they can travel 35 miles to Glenwood Springs for more shopping choices as well as use of sanitary dump stations at local RV parks. This campground is heavily used and advance reservations are recommended.
RV Park Camping
Marble is a scenic, popular place to visit when weather is best between May and September, however RV park campsites are limited. The Meri Daes RV Park (caccl.com/meridaesrvpark) is the only place in Marble that caters to RVs by featuring water and electrical hookups at each site. A central sanitary dump station is available for campers, as well as other amenities including restrooms with showers and a group recreation area. Meri Daes RV Park also features remnants of the Marble Catholic Church's marble slab foundation, which are located throughout the park.
Things to Do
Marble's history as a rich source of marble is the pride of this community. Begin your tour at the Marble Museum (no website; 412 W. Main St., Marble; 970-963-9815) to learn about the town's past as a thriving center of marble mining and a modern arts colony for sculptors. Other entertainment options include taking a rugged four-wheel-drive tour to one of Colorado's most-photographed landmarks, the Crystal Mill (marbletourismassociation.org/crystal_mill.html). This historic structure is perilously perched on top of a massive wall of river rocks overlooking the Crystal River. After a long day hiking, you may want to consider a dip in the clothing-optional Penny Hot Springs (marbletourismassociation.org/penny_hot_springs.html). This volunteer-run hot springs has small, two-foot-deep pools that hold a dozen or more people.
References
Resources
Writer Bio
Rene Agredano is a traveling journalist and entrepreneur based in Fort Collins, Colo. Since 1998, she has covered travel, home-and-garden, fitness, animal care and other lifestyle topics for publications such as "The Times-Standard" newspaper of northern California. Agredano holds a Bachelor of Arts in English from Chapman University.
Sours: https://traveltips.usatoday.com/camping-marble-colorado-57799.html
Marble, Colorado
While it is a Marina Campground designed for boaters, and there are 3 other campgrounds within the complex, we stayed here on the water. Pit toilets, water spigot, dump station $10 Fishing in the reservoir and 2 miles away to gold metal waters in the frying pan river Site number 8 was the most…
Sours: https://thedyrt.com/camping/colorado/near/marble/with/tent
Marble RV Park & Campground
After traveling full-time for over two years we have experienced quite a few campgrounds. This one was so nice we extended our stay from three to five nights. The only noise we heard were the birds chirping, squirrels chattering and marmots barking. You may hear a little road noise, but it is infrequent.
The camp host Char is wonderful, friendly and helpful.
One other reviewer mentioned the bathrooms were dirty and musty. We found the bathrooms clean every day. The musty smell is more than likely because the campground is old and it is a damp climate.

My only suggestion would be fresh crushed rock in each campsite.
No cell service in town. But the local coffee shop, The Hub, makes a killer pour over and has weak WiFi. Unplug and relax I say.
Imagine if Fred Flintstone and Barney Rubble brought home chunks if rock and decorated the town. This is what Marble is like. It is a must see to experience.

Sorry, no dogs allowed for obvious reasons. Blame it on the inconsiderate dog owners that stayed before you.

We will definitely visit again next year.

Access
Location
Cleanliness
Site Quality
Noise
AT&T
Jeff&Deni&Oliver would stay here again
Helpful 0
This review is the opinion of a Campendium member and not of Campendium.com
Sours: https://www.campendium.com/marble-rv-park-and-campground
Camping and Playing Marble, CO August 2019
Bogan Flats Campground Grp S
White River National Forest
Bogan Flats Campground stretches along the Crystal River in a valley of aspen groves, towering Ponderosa Pine, spruce, and willow. The setting is ideal for larger groups seeking recreation and relaxation in White River National Forest.

Sites in the campground are widely spaced and offer a nice mixture of open and shaded spots, with several sites at the river's edge. The group site is located away from the main campground, offering a more private location.
Bogan Flats Campground is able to accommodate tents, trailers and RVs, and has a designated group site.

The campground is equipped with picnic tables, campfire rings, vault toilets, and drinking water. Electrical hook-ups are not available.

Firewood is available on-site for a fee.
Need to Know
Maximum RV length is 40 feet

All food, beverages, trash and scented items must be properly stored when not attended. Bear-proof food lockers are provided at each site and bear-proof trash receptacles are provided at the campground.

No dump station on site; closest facility is in Glenwood Springs

In accordance with standard industry practices, there will be an additional vehicle fee per day on the second vehicle in each single family campsite, and on the third and fourth vehicles in any double family campsite, provided these vehicles are not joined to the first vehicle by a hitch and towed onto the site. In the case of motorcycles, the first two are considered as one vehicle for determining additional vehicle fees. The third and fourth motorcycle would also be considered as one vehicle. No additional vehicle fees are collected for bicycles.

Fire Restrictions: Fire restrictions may be imposed at any time due to hot, dry weather conditions, at which time campfires and charcoal fires may not be allowed. 

Refunds: Refund requests made through www.recreation.gov will be charged a $10 processing fee. This fee is retained by the reservation service contractor along with the non-refundable reservation fee. All requests for the return of the non-refundable reservation fee and the cancellation fee will be declined by the campground concessionaire as they did not receive these fees (these are the fees retained by the reservation contractor, a different entity).

Don't Move Firewood: Prevent the spread of tree-killing organisms by obtaining firewood at or near your destination and burning it on-site. For more information visit dontmovefirewood.org.

Click here for more information about White River National Forest

This facility is located in Gunnison County. Please visit https://covid19.gunnisoncounty.org/ for the current COVID-19 County Public Health Order and information on gatherings and events.
Natural Features
In the heart of the Rocky Mountains, the 2.3 million acre White River National Forest is a place of serenity and adventure, boasting 8 wilderness areas, 4 defined seasons, and 10 peaks surpassing 14,000 feet in elevation.

The Crystal River flows near the campground and drains the Valley of the Coal Miners, a glacial valley that was once a center of coal mining in southwestern Colorado.

Wildlife in the area abounds. Bighorn sheep navigate rocky ridges and bull elk bugle at dusk. Scenic rivers sustain populations of cutthroat, rainbow, and brown trout. Alpine regions provide habitat for pika and ptarmigan. These species, along with many others, depend on surrounding undeveloped wilderness, clean streams, and diverse forests to live.
Nearby Attractions
The quaint mountain town of Redstone is a hidden gem, located south of Carbondale. In addition to shops, galleries, and restaurants, the town boasts a castle that was built by industrialist John Osgood at the turn of the 20th century.


Recreation
Crystal River, a tributary of Roaring Fork River, is renowned for its fly fishing. Rainbow, cutthroat and brown trout are plentiful in this waterway.

A hike up Mt. Sopris offers spectacular panoramic views. This 12,953-foot mountain dominates the surrounding landscape. The hike is 14.8 miles with a 4,600-foot. elevation gain. In summer, wildflowers carpet the trail through aspen groves and mixed conifer forest, climbing up to talus slopes.

Other popular activities in the area include jeep tours, biking, and historic sightseeing.
Contact Information
Default
SOPRIS RANGER DISTRICT CARBONDALE CO 81623
Phone Number
For campground inquiries, please call: 970-927-0107
Rental Options
Learn more about gear rental options for your trip
Driving Directions
Take I-70 west of Denver, Colorado, to Glenwood Spring exit 116, Highway 82, south to Carbondale. Take Highway 133 south for 20 miles. Turn left on Gunnison County Road 3 toward Marble. Campground located another 1.5 miles near the river.
Available Campsites
Site 024, Loop BOGA, Type Standard Nonelectric
Site 006, Loop BOGA, Type Rv Nonelectric
Site 022, Loop BOGA, Type Standard Nonelectric
Site 035, Loop BOGA, Type Standard Nonelectric
Site 007, Loop BOGA, Type Standard Nonelectric
Site 026, Loop BOGA, Type Standard Nonelectric
Site 011, Loop BOGA, Type Standard Nonelectric
Site 036, Loop BOGA, Type Standard Nonelectric
Site 005, Loop BOGA, Type Standard Nonelectric
Site 010, Loop BOGA, Type Standard Nonelectric
Site 034, Loop BOGA, Type Standard Nonelectric
Site 016, Loop BOGA, Type Rv Nonelectric
Site 025, Loop BOGA, Type Standard Nonelectric
Site 003, Loop BOGA, Type Standard Nonelectric
Site 002, Loop BOGA, Type Standard Nonelectric
Site 017, Loop BOGA, Type Standard Nonelectric
Site 013, Loop BOGA, Type Standard Nonelectric
Site 033, Loop BOGA, Type Standard Nonelectric
Site 030, Loop BOGA, Type Standard Nonelectric
Site 018, Loop BOGA, Type Standard Nonelectric
Site 037, Loop BOGA, Type Standard Nonelectric
Site 008, Loop BOGA, Type Standard Nonelectric
Site 031, Loop BOGA, Type Standard Nonelectric
Site 021, Loop BOGA, Type Rv Nonelectric
Site 027, Loop BOGA, Type Standard Nonelectric
Site 028, Loop BOGA, Type Standard Nonelectric
Site 019, Loop BOGA, Type Standard Nonelectric
Site 020, Loop BOGA, Type Standard Nonelectric
Site 1, Loop GRP, Type Group Standard Nonelectric
Site 004, Loop BOGA, Type Standard Nonelectric
Site 023, Loop BOGA, Type Standard Nonelectric
Site 009, Loop BOGA, Type Standard Nonelectric
Site 014, Loop BOGA, Type Standard Nonelectric
Site 012, Loop BOGA, Type Standard Nonelectric
Site 015, Loop BOGA, Type Standard Nonelectric
Site 029, Loop BOGA, Type Standard Nonelectric
Photo Gallery
Sours: https://www.recreation.gov/camping/campgrounds/232158
Colorado marble campground
Bogan Flats Campground
This campground offers 35 campsites plus a host site near the Crystal River. Bogan Flats Campground is located adjacent to the Crystal River. It is one of the most scenic and therefore popular campgrounds on the Sopris District. Bogan Flats Group Campground is 1/4 mile east of Bogan Flats Campground.
Camping units for auto and trailer, pickup campers, motor homes and tents. No hook ups. Water available from faucets in the main campground 1/3 mile away. Campsites have table and benches, firerings, and spurs for parking. Paved campground roads.
Attractions, Considerations & Nearest Services: Coffee Bar, Store - Marble (5 miles east); Grocery Store - Redstone (8 miles north) Gas Station - Carbondale (25 miles north); Dump Station - Glenwood Springs (35 miles northwest); Drug Store - Carbondale; Physicians - Carbondale; Hospital - Glenwood Springs; Church - Marble/Redstone
At a Glance
| | |
| --- | --- |
| Reservations: | Reservations can be made by visiting Recreation.gov. Reservations must be made 4 days ahead of arrival and can be made up to 6 months in advance for standard sites or 12 months in advance for group sites. |
| Fees | Check our forest-wide campground table for current pricing. |
| Open Season: | May |
| Usage: | Heavy |
| Restrictions: | 40-foot maximum RV length |
| Closest Towns: | Marble, CO |
| Water: | Yes |
| Restroom: | Yes - composting toilets (2), Vault toilet (1) |
| Operated By: | Concessionaire |
| Information Center: | Aspen-Sopris Ranger District |
General Information
Directions:
From Carbondale, CO take State Route 133 south for about 21 miles. Turn left on County Road 3 and follow for 1.5 miles and go left on Evergreen Lane and follow for less than a mile to the campground.
The group site is located about 1/4 mile east of the campground.
Sours: https://www.fs.usda.gov/recarea/whiteriver/recarea/?recid=40983
Redstone Campground Tour + Area Activities
.
You will also be interested:
.
1706
1707
1708
1709
1710