Looking for balcony ideas to transform your space? Balcony gardens are in some ways the perfect outdoor spaces. Convenient, big enough to sit on (hopefully) but not so big as to create too much work, and the perfect canvas to create real wow factor outside.
Balcony gardens don't have soil, so won't have weeds, they have fewer pests and, will usually have a great sense of openness – but there are challenges.
Most balconies are either in the sun or the shade, and that is a determining factor. Sunny balconies are really sunny, whilst on the shady side of a building there's no dappled shade or semi-shade – it's completely sunless. They can also be windy without catching passing rain. And one of the greatest problems is that everything is on view, there's no hidden corner to put things which aren't needed right now.
But, having said all of that, balconies can be a wonderful extension of your living space. Work with all of the challenges and they can be rewarding and beautiful places all year round.
Golden rules
1. Before you put in any plants think about watering. How will you get water to the plants and where will the water go afterwards? An outside tap is ideal but if you have to rely on watering cans think about how many trips you'll need to keep everything looking good throughout the summer. Don't put in more plants than you will happily water.
2. Always think about safety with balconies. The main issues are things falling off, making sure drainage is good and not putting too much weight on your balcony. If in doubt ask for professional help. Also, rather importantly, you should not BBQ on your balcony as it poses a fire and safety risk.
3. If there's space, treat your balcony like an outside room, so use pots or decorations to create a sitting area. And, just like indoors, decorate the walls, think about lighting and accessorise with a good strong look in mind.
4. Work with the conditions. If your balcony is on the sunny side you will probably need to bring in shade, if it's windy try creating wind-breaks. If there's a bad view, screen it off with plants and trellis.
5. One thing that is often forgotten on balconies but is really important is fragrance. Scented plants so close to the house are really magical, not just in summer but in winter too.
6. Remember to use the verticals on your balcony. Don't just use the floors to place pots and ornaments on, the walls are vital growing and decorating spaces.
7. Finally, the one thing that will make a huge difference to any balcony is regular love. There is no sight so sad in the gardening world as a neglected balcony. Even if it's just 10 minutes a week, make a date to go out there, sweep around, water and generally spruce up. It will make all the difference.
Balcony plants
Balconies tend to deal with extremes, so if it's sunny it will be bakingly sunny; if it's shady, it will be absolutely sunless, especially in winter.
1. If you have a sunny balcony the best plants to have will be ones which can cope with lack of water. There's a reason geraniums are the balcony plant of choice in Mediterranean countries, they are bright and colourful and won't wilt if they are left for a few hours (or even days!) in the sun. Varieties such as petunias or marigolds are also good options.

2. Also try grasses, not only will these thrive in sunny dry conditions, they move beautifully in any breeze and bring a lovely gauziness.
3. For scents, those Mediterranean herbs provide a cornucopia of possibilities – basil, lavender, sage, rosemary. Your sunny balcony is exactly what they like.
4. If you have shade think about going with large-leaved jungle plants, so things like fatsia, bamboos and hostas. These will create a great atmosphere and many of them have the added benefit of being evergreen. Chris Bonnett from GardeningExpress.co.uk suggests primroses and foxgloves if the sun is hard to come by.
5. Scent is harder to come by in the shade but there are some lovely surprises like Christmas box for winter and nicotiana sylvestris for amazing summer scent.
6. Plants which are low-lying and therefore less likely to break in the wind, such as Begonias, should fare better than taller plants such as Delphiniums, explains Chris Bonnett.
Crocus
Geranium rozanne ('Gerwat')
SHOP NOW
Balcony planters
Container gardening: If you have no soil to plant directly into, containers are a great alternative and will provide the conditions needed to grow flowers. Containers can be pots, troughs, hanging baskets and window boxes. Many pots and troughs in particular can be designed to fit onto balcony railings.
'Using containers and pots means that you can position your plants anywhere in the space and is a great way to personalise and add colour to a balcony,' says Chris.

Not just limited to front gardens, hanging baskets can make the perfect balcony display. Styling several hanging baskets at different heights against a bare wall can create a great feature.
For the eco-conscious, you can repurpose items in your home, for example, using an old wellington boot as a planter.
Seasonal changes and affordable updates
Balconies are relatively small, and so any changes you make will be easy to do and should be cheaper than doing up a whole garden.
1. With a balcony, every corner is on show so there's no room for a pot or container that isn't performing. Even if you can't do a clean sweep every few months, at the least always have seasonal performers at the front or on the table to catch the eye. Use winter bedding, spring bulbs, or even just a bunch of flowers to brighten up the space with plants that are looking their best.
2. Repainting is a great way to update the look of a balcony. The walls and the floor tend to be very dominant to the spaces, so a fresh coat of paint can really transform how it all looks.
3. Think about having a change around with the furniture – new seats will have a great immediate effect. They don't have to be expensive and if you're on a budget, look for second hand furniture which can be painted to fit your look.
4. Having a theme or look in mind is really helpful when choosing paint, furniture or ornaments. For example, you could create a clean, modern look with white and grey, or opt for bright primary colours to cheer up your space in winter or summer.
'During the summer, I turn to decorations that conjure up a relaxed boho look without much effort, for example, wall hangings and outdoor rugs in all colours and shapes. Try layering rugs in different patterns and colours to create a striking look and add depth to a balcony with limited square footage,' explains Wayfair's Resident Style Advisor, Nadia McCowan Hill.

5. Use the uprights more effectively. Putting up trellis on the walls, even before the plants have grown up, will add structure and make the area look more finished. Or even a ladder shelf that can hold plants, a watering can or other accessories.

'Don't forget to take advantage of vertical space. A decorative wooden ladder offers a spot for hanging succulents, small lanterns or wool blankets for cooler evenings. While ceiling-mounted hanging chairs leave the floor free and convey a feeling of lightness,' adds Nadia.
7. When it comes to balcony furniture, try to create an outdoor room, bringing the inside out. Asmall lounge corner is great for creating a cosy nook on a balcony. Poufs and stools are also perfect for a small balcony and have a relaxed feel. With an outdoor rug, there are plenty of designs to choose from, whether it's a neutral or bold pattern.
8. Add storage space. An outside storage box or bench with under seat storage will make a huge difference and is perfect for hiding essentials or accessories that need to be kept in a cool, dry place.
Low maintenance
It's really important with balcony gardens to do some maintenance – they tend to get dusty and things blow over, so even just a few, regular minutes will do to sweep round.
1. The area will inevitably create rubbish, whether that's dead leaves, old flowers or just sweepings. To make it easy to get rid of the rubbish, have a bin outside, a ready supply of bin bags, and a brush and pan against the wall.
2. Watering is a big time-consumer with balcony gardening so make it as easy as possible. There are some really stylish watering can designs nowadays, so you can buy one to suit your decor. Alternatively, a collapsible watering can will be easier to use and store than a conventional one.
Notonthehighstreet.com
Heritage Blue And Copper Watering Can
notonthehighstreet.com
£18.00
SHOP NOW
3. Pot trays, used under your containers, will hold the water and will mean you can get the watering can out less often.
Big mistakes
It's easy to get balconies wrong; they can look over busy and over crowded.
1. Even if your balcony is small don't think you have to use small pots and small plants. Big, bold, structural planting will still look better than over-filled, fussy arrangements.
2. Random planting rarely looks good. Regular patterns of tall and short will feel and look better than a scattering of different sizes. So perhaps go for taller plants at the corners of the balcony and shorter along the front. This will give a balance and structure which will feel better.
3. Even if you think we don't have much sun in this country, it can get too hot very quickly on a balcony, so a bit of shade is really essential on a balcony that faces south. One great way to introduce shade is to use climbers over wires. If you use deciduous plants, which die back in winter, you'll have lovely green dappled shade in summer but won't block off the light in winter.
4. Trying to fit too much onto the balcony will make it all feel too tight. A table that you can't get around will not feel right and won't look right. There are some wonderful space-saving products coming through now which fit onto the railings, from foldout desks and tables to planters.
Flower Council of Holland / Wilfried Overwater
Luxury wows
The railings of your balcony can really make the difference to how the whole thing looks. Stainless steel and glass balustrades are the most beautiful modern alternatives, not cheap, but they look great and let in light. For a more traditional building, have a look at ornate iron work – hugely expensive but works of art.
Like this article? Sign up to our newsletter to get more articles like this delivered straight to your inbox.
SIGN UP
---
Balcony furniture buys for every budget
Bistro Set - Balcony Furniture
Lois 2 Seater Balcony Table & Chairs
marksandspencer.com
£179.00
SHOP NOW
Neat, streamlined and incredibly chic, this bistro set was made for small spaces! As demonstrated here, the tables tuck in perfectly when not in use. It's also available in teal.
Balcony Screen - Balcony Furniture
Balcony Privacy Screen
HOMPERamazon.co.uk
£14.99
SHOP NOW
To create more privacy on your balcony, consider buying a privacy screen like this, which you can attach to the railings. It's easy to install and it comes with cable ties. It provides ideal protection against wind, rain and UV.
Slimline Bistro Set - Balcony Furniture
Nardi 2 Seat Bistro Set, Olive Fibreglass & Resin
SHOP NOW
We love how compact this table and chairs bistro set is. Made from lightweight resin with perforated panels, it's the perfect blend of minimalist and industrial.
Balcony bench - Balcony Furniture
Addisyn Steel Bench
SHOP NOW
Invest in a compact bench for your balcony for ultimate style and comfort. Place against the wall, ensuring you'll have enough room to stretch your legs. Just layer with outdoor cushions and throws.
Plant Stand - Balcony Furniture
Fir Wood 3-Tier Outdoor Plant Ladder Stand
Outsunnyaosom.co.uk
US$74.99
SHOP NOW
If you've got a lot of plants to showcase on your balcony, do it in style with this three-tier plant stand. The varying heights help to provide interest and the slatted design enables sunlight to seep through.
Balcony Stool - Balcony Furniture
Sacha Reactive Glaze Decorative Stool, Turquoise
SHOP NOW
Who needs chairs when you can perch on stools? And stylish ones at that. These reactive glaze outdoor stools are compact enough for even the narrowest balconies. The reactive glaze means the colour and pattern of each stool will be unique.
Balcony Parasol - Balcony Furniture
Balcony Parasol with Aluminium Pole
vidaxlvidaxl.co.uk
£59.99
SHOP NOW
Stay in the shade with this charming half parasol which can be fixed against your balcony wall.
Balcony Table - Balcony Furniture
Bistro Balcony Table
Fermobamara.com
US$349.00
SHOP NOW
Having a balcony instead of a garden doesn't mean you can't dine alfresco. This wall mountable bistro balcony table is perfect – fix to the wall or railings and enjoy breakfast, lunch and the sights from up high. The set comes with two chairs and, best of all, everything's foldable – including the table. The top storage compartment is ideal for displaying plants or storing condiments.
• You can also shop more colours on Made In Design.
Balcony Planters - Balcony Furniture
Bright Balcony Planters - Set of 3
Argos Homeargos.co.uk
£12.00
SHOP NOW
Want to decorate your balcony with plants? To do that you'll need these cheap and cheerful colourful planters which hook onto your railings. It's also available in pink and yellow.
Garden Bean Bag - Balcony Furniture
Max Indoor / Outdoor Bean Bag, Grey
John Lewis & Partnersjohnlewis.com
£85.00
SHOP NOW
Get cosy with a bean bag. An alternative seating option, bean bags are great for relaxing while catching the sun rays from your balcony or sitting down to read a good book.
• SHOP MORE: The best outdoor bean bags
Balcony bar - Balcony Furniture
Balcony Furniture Set
SHOP NOW
If you prefer a high table for your balcony, Suttons is selling this three-piece compact dining set made from FSC certified acacia wood. It'll make lunchtime dining all the more chic.
Balcony Table - Balcony Furniture
Hanging Rail Table
Outsunnyaosom.co.uk
US$17.00
SHOP NOW
It couldn't be easier to pop this wall-hung table on your balcony, and it's foldable, too.
Balcony Storage - Balcony Furniture
90L Patio and Balcony Chest
SHOP NOW
Need to store some garden tools and accessories? At just £20, this wood effect 90L capacity storage box is great for storing plant pots, cushion pads and tools. Please note, while it's water resistant, the box isn't waterproof.
Balcony Screen - Balcony Furniture
Balcony Screen Oxford Fabric 90x400 cm Terracotta
vidaxlvidaxl.co.uk
£19.99
SHOP NOW
Enjoy privacy while relaxing or sunbathing on your balcony with this waterproof balcony screen. Made from a special PU coated oxford fabric, the balcony shade also blocks the wind.
Bar Table - Balcony Furniture
Bar Table with Cooler Bucket
SHOP NOW
Sitting back, enjoying the sun and cooling down with a chilled drink is made all the more easier with this bar table and cooler bucket. There's also wine glass holders to the side of the table.
Side Table - Balcony Furniture
Edson Garden Side Table, Cement and Metal
SHOP NOW
Side tables don't come much slimmer than this. The industrial concrete and metal finish makes it perfect for your balcony.
Balcony Planters - Balcony Furniture
6 Pockets Hanging Planter Bags
Dsarenamazon.co.uk
£15.59
SHOP NOW
Create more space for planting flowers, herbs and vegetables with these hanging planter bags. Simply attach to your balcony railing.
Balcony Floor - Balcony Furniture
Floor decking, outdoor, grey/white
SHOP NOW
Looking for a fuss-free flooring solution? The MÄLLSTEN floor decking from IKEA easily clicks together without tools.
Garden Shelf - Balcony Furniture
Burford Garden Tall Garden Shelf Ladder
Croft Collectionjohnlewis.com
£149.00
SHOP NOW
Made of FSC-certified eucalyptus wood, this ladder-style shelving unit is a perfect display piece for all your potted plants or herbs. And it's pretty slimline too, so it should fit perfectly on a balcony.
Balcony Braces - Balcony Furniture
Balcony Braces
SHOP NOW
There really is no excuse not to grow some plants on your balcony! Use the hooks and adjustable straps on these braces for hanging a plank of wood or a crate.
• You can also buy these balcony braces on Made In Design.
This content is created and maintained by a third party, and imported onto this page to help users provide their email addresses. You may be able to find more information about this and similar content at piano.io
Sours: https://www.housebeautiful.com/uk/garden/designs/how-to/a781/balcony-garden-guide/
With these 70 nicest Balcony Garden Ideas in this post, you can make your balcony the best outdoor space of your home!
If you don't have a backyard, your balcony can be the best place to unwind yourself and have the best leisure time. With some plants and accessories, you can make it more appealing and relaxing. To inspire you, we're sharing the 70 nicest Balcony Garden Ideas below!
---
Nicest Balcony Garden Ideas
1. Build a Vertical Balcony Garden
This DIY post will teach you how to build a vertical garden on your balcony from scratch. Check out more vertical garden ideas here.
2. How to Build a Small Urban Garden
Whether you've got a small patio or balcony, this informative post will teach you how to set up a garden in a limited space.
Also Read:How to Start an Urban Garden in Small Space
3.. DIY Balcony Table
Utilize the corner of your balcony to build this floating table and create a desirable leisure spot. The DIY is here!
4. Japanese Balcony Garden
Want a secluded corner to sit peacefully in your free time? Build a Japanese Style Balcony Garden!
5. Make a Squirrel Proof Balcony Garden
Squirrels happen to be the cutest creature ever until they start damaging your plants. If you don't want the squirrels to visit your balcony garden often, take the help of this DIY to repel them.
6. Balcony Ladder Planter
This video tutorial will teach how to make a ladder planter for a balcony, rooftop, or patio garden. For more DIY ladder ideas, click here.
7. Water Feature in a Balcony
Adding a water feature to your high-rise balcony like this will make it look peaceful and serene.
8. All New Balcony Garden
If you're a balcony gardener and wish to alter your mini balcony, check out this exciting transformation here.
9. Apartment Balcony With Container Water Garden
You can have a beautiful container water garden on your balcony or patio. Check out more ideas here.
10. Balcony Vertical Succulent Tower
You can arrange pots like this to grow succulents or any other plants on your balcony, creating a space-saving yet picturesque container garden.
11. Easy and Stylish Small Balcony
This balcony garden uses vertical space aptly, saving you the extra space to create a sweet spot for yourself.
Have a look at the best decorated small outdoor balconies on Pinteresthere
12. Small Space Vegetable Garden
How many vegetables can you grow on a balcony or deck? This image is the answer! Find out vegetable garden ideas here.
13. Build a Balcony Jungle
If you prefer greenery, design a balcony with a jungle-like appearance with lush plants that can create privacy.
14. Have a Lot of Hanging Baskets
You can have many hanging basket planters in your balcony garden like this and still save a spot for yourself for sitting.
15. Charming Balcony Garden
Opt for deck tiles or real wooden flooring on your balcony. Adding gravel and stepping stones can add a more natural touch.
16. Hanging Fence Balcony Planter
A hanging herb garden like this can allow you to grow your favorite culinary herbs in little to no space.
17. String Lights in a Balcony
Here is another idea of setting up a small balcony garden with palms and ferns, and accessories. To make it even more perfect, add a glimmer of light.
18. Balcony Wall Garden
A small patio with storage and a walled garden like this makes a nice space for a small cozy family conclave.
19. Patio Balcony Garden
An arrangement like this can go well with both a patio or a large balcony. Use laid-back chairs and tables for a relaxing time with your loved ones.
20. If You Love the Color BLUE
If blue is what you love, then this balcony garden idea is for you.
21. Organic Veggies in Balcony
What is better than growing your veggies organically and having this enchanting and colorful balcony garden.
22. Wooden Staircase Vertical Garden
A combination of wood and green is a match, and incorporating both will give your balcony garden a natural vibe.
23. Balcony Gutter Pipe Railing Planter
All you need is a gutter pipe, some anchors, flowering plants, and you can bring together this beautiful garden idea.
24.  Bird Cage in Balcony Garden
Do you wish to make a garden that is distinct from others? Birdcage can be used as a decorative balcony idea; it gives your garden a quirky look.
25. Balcony With a Greenhouse

A balcony with a greenhouse is a nice idea. Check out more mini-greenhouse projects here!
26. Modern Garden in Balcony or Rooftop
Make your balcony or rooftop an entertaining place for your friends and family.
27. Balcony Living Wall
A space-saving sidewall living garden could be a great idea.
28. Hammock Balcony
Adding a hammock chair or swing can make your balcony more entertaining. Also, check out these DIY Hammock Ideas for inspiration.
29. Bamboo Fence Balcony Garden
In love with bamboos? Why not assimilate it in your balcony and create a garden that is different than others!
30. Balcony Herbs Tower
Growing a tower garden will not only be a great space-saving idea but also give a chic look to your balcony. Check out more herb tower garden ideas for inspiration!
31. Modern Balcony Shed
If a balcony like this is not a place for some cozy family time, then what is? Add some funky furniture and greens to your balcony, and you are good to go.
32. Succulent Balcony Garden
This balcony garden is crowded with plants yet admirable.
 33. Hanging Coconut Shell Planters
Recycling is a good thing, and it's possible anywhere. This image is an example! Using water bottles and coconut shells as planters, you can create a frugal balcony garden.
34. Balcony Lawn
Want to enjoy a balcony lawn in your apartment? Go for synthetic grass.
35. Colorful Balcony Garden
This limited space garden doesn't look less than a real cottage garden. Imitate this idea on your balcony. Learn the most important aspects of designing a container garden here!
36. Balcony Rose Garden
Trust us; this beautiful garden can be yours. Here is how you can create this balcony rose garden.
37. Topiary Balcony
Build this topiary garden by learning the art of topiary or buy a collection of some fake topiary trees.
38. Balcony Study Room
Your balcony could be the most comfortable spot for summertime reading.
39. Apartment Vegetable Garden
Transforming your ordinary balcony into a productive vegetable garden is possible if it receives full sun.
40. Hanging Planters for Balcony
Use pockets, bags, and pouches to plant plants and hang them on your balcony railing to share your creativity with the world.
41.  Balcony Swing
You can add a swing as well on your balcony if it has some space along with your favorite plants.
42. Assortment Succulent Wall
You can imitate the design of this restaurant in your balcony. With faux plants or real ones, this is a unique idea.
43. Succulents Balcony Frame
When making a modern balcony, adding a vertical wall is a must. Also, avoid filling the space too much with plants.
44. Balcony Railing Planter
A plant holder like this gives an option for placing your plant pots vertically on the railing.
45. Artificial Grass Turf Balcony
Top view of a beautiful balcony garden spruced up with artificial grass. Check out more balcony flooring ideas here.
46. Balcony With a View

Choosing the right set of furniture is key when creating a balcony garden. Learn how to select the best furniture for the balcony here.
47. DIY Hanging Planters
Try making these DIY hanging planters for your balcony. It's easy!
48. Modern Balcony Garden
Add lots of pebbles and bamboos to give an idyllic touch to your balcony garden—a great idea for a shady space.
49. Finest Balcony Decor
A shade or canopy will be a good idea for your balcony if it's open. Also, add some pretty planters to add to the finesse of the balcony.
50. Ikea Balcony Garden With Flowers
A piece of fine furniture is all you need to create this fantastic urban-style balcony.
51. A Backyard Balcony Garden With Hanging Plants
Got some extra bags lying around? Recreate this hanging bag planter idea for your balcony garden.
52. Romantic Balcony
Got a mini balcony? You can recreate this romantic balcony idea and surprise your partner!
53. Glass Railing Balcony With Large Planters

Redo your balcony with large planters and glass railing, and it will give your balcony an elegant and classy look.
54. Backyard Balcony Wall Marble Seating and Plants                                                                                                                                                                                                                                                                                                                                               c
Give a traditional touch to your balcony with this fresh and colorful balcony garden idea.
55. Mini Jungle Balcony Garden
Create this really cool, composed, and cozy corner in the house with a combination of various kinds of plants and planters.
56. Succulents in Balcony With Trailing Vines
You can create this balcony garden with vines and creepers for railing, along with other succulents. This will create a bohemian look for your balcony.
57. Pots in Long Balcony Passage
Got a narrow balcony and still wish for a balcony garden? Choose plants and planters wisely and arrange them in the above pattern.
58. Mini Apartment Balcony With a Bamboo Fountain
Give a rural touch to your balcony with this rustic style furniture and planter idea for your balcony garden.
59. Urban Balcony With Snake Plants
Snake plants are known for their air-purifying abilities, and their striking green foliage gives an elegant look to your balcony. Besides, they are effortless to maintain.
60. Patio With Wooden Flooring and Plants
If you have a small patio outside your house and you are looking to refurbish it, this patio garden idea is for you.
61. Terrace Balcony With Lavender in Pots
Add lavenders to your balcony and patio garden and make it everyone's favorite spot in the house. You can learn how to grow lavender plants here.
62. Fresh Herbs in Balcony
Growing aromatic herbs on your balcony can be used for culinary purposes. It'll also create beautiful green and fragrant aura around your balcony.
63. Japanese Style Balcony Garden
Create a Japanese-styled balcony garden with plants, rubbles, and big stone like the picture here! For more ideas on the Japanese balcony garden. Click here.
64. Zen Balcony Garden
A beautiful arrangement of lots of white pebbles and plants in pots can be made to create a miniature zen balcony garden for yourself.
65. Hanging Herbs Planter
You can recreate this hanging balcony garden just by attaching your planters to the fence in your gallery and enjoy the herbs as well.
66. Upside Down Tomatoes in Balcony
Grow tomatoes upsidedown in your balcony and keep them hydrated for a longer time. Here is how you can do it.
67. Drought Tolerant Succulents in Balcony
Collect some drought-resistant plants for your balcony garden as they can survive in bright and direct sunlight, plus it'll save you the need for watering them every day.
68. Balcony Wooden Wall Planters from Pallets
Using wooden planks, you can create a side wall planter for your balcony that'll take less space. Read the details here.
69. Apartment Balcony Succulent and Cacti Garden
You can plant your favorite succulents and cacti in the balcony garden using a metallic stand and window boxes. Do not forget to add a plastic flamingo too!
70. Minimalistic Balcony Garden
Sours: https://balconygardenweb.com/best-balcony-garden-ideas/
We may get commissions for purchases made through links in this post.
Adding a garden to your balcony is a great way to spice up your living space, adding color and dimension. Whether you have a small or sprawling balcony area, you can create a beautiful outdoor garden oasis with greenery, blossoms, or even produce.
It can be as simple or as complex as you want it to be, using basic or unique, decorative pots and containers. The balcony garden you create may depend on the light, space, and direction the balcony faces, as well as the look you want, money you want to invest, and the time you have available for upkeep.
It's always okay to start slow and increase your plant quantity over time, as you become more comfortable and experienced with balcony plant care. Design your balcony garden with care so it looks beautiful and deliberate rather than chaotic and messy. Choosing the right containers and plants will go a long way. Check out some balcony garden inspiration below and start designing your own outdoor oasis today!
Upgrade your garden with these bamboo ideas!
Interspersing perennials and annuals in containers is a fun way to mix things up. Use prolific blooming annuals and perennials to complement each other and their attributes. In order to have year-round blooming, choose plants that will bloom at different points of time in the year.
Don't let space confine you too much; you can enjoy fresh fruit and vegetables from your own balcony garden. Plant various herbs that will complement your vegetables. Since plants grown in containers require more attention, make sure you water and fertilize them enough to maintain their health.
Using the vertical space of your balcony greatly increases your gardening area while simultaneously creating more dimension to the space. Use the space creatively and experiment with different heights and sizes of planters.
Sun-loving plants perform best in wide-open railing planters such as these. If your balcony is very exposed to the sun, known which plants will do best in those climates and make sure to keep them well-watered.
Differing sizes, colors, shapes, and textures play off each other. Using a uniform color of planter ensures that the plants remain the focal point of your balcony garden design and capture the eye.
Alternate the style, color, and size of your railing containers to develop a pattern on your railing and fill them with beautiful blooms.
Spice up that bland corner of your balcony with colorful pots and plants.
Vegetable gardens perform well in long containers, absorbing and distributing nutrients amongst themselves. Utilizing your balcony space as a garden is a great, convenient way to grow and enjoy your own fresh produce.
If you use a wire plant hanging board, you can change up the planter locations to create a new look when you want. This adds a lot of versatility to your balcony garden.
Get creative with the containers you use for your balcony plants, there are no rules! Cut up plastic bottles serve well as planters for small plants or seedlings.
Greenery spruces up any area in which it's planted. Utilizing hanging baskets of different styles and plants adds a lot of texture and freshness to your space.
Using the same type of plant but different size and color containers in your balcony garden is a great way to add beautiful dimension and unexpected color. Practical yet decorative is the way to go.
If the size of your balcony permits it, adding pieces of furniture can enhance the appeal and comfort of your balcony garden. Working or studying at your desk becomes a lot more enjoyable when you can surround yourself with plant life.
Choose a color palette for your blooms and double-sided railing planters to generate a beautiful arrangement. Placing light features in your containers enhances their nighttime appeal.
Create your own trellis by wrapping twine or wire around the railing to assist your plant in its climbing habit of growth. This method ensures that you still have an optimal amount of visibility and can appreciate your view.
Trellises work well for climbers and vines because of the support and structure that they provide. Use wood or metal, depending on the look you want to create.
Create an outdoor dining oasis when you use railing planters full of bright, luscious blooms.
White railing planters are simple yet beautifully showcase the stunning blooms inside of them.
With sprawling balconies comes a lot of freedom in choosing how to utilize and decorate the space. Place deck loungers to soak up the sun while enjoying the fragrance and color of potted citrus trees. This adds a look of sophistication to your outdoor space.
Multi-tiered, stacking pots are a great option for balconies with limited space. These types of planters allow you to plant multiple varieties in one place. Also, when you water the top tier, as the water drains, it flows through all the soil, providing nutrients and water for all (self-watering system). Over-watering won't be an issue with this planter.
Turf gives your balcony the look and feel of a yard, but without the upkeep and care of one. It can also decrease the heat on your balcony and enhance the look it.
Tall, narrow containers are suitable for plants such as bamboo. Aside from their beautiful appeal, the quick-growing bamboo serves well as privacy screens.
Repurpose items like old ladders to provide shelving for your potted plants. Turn lackluster items into works of plant art. This is perfect for creating space on your balcony for more plants.
Talk about using your space well! Vertical gardens are a wonderful way to draw attention to an area, add an interesting concept, and even help with air circulation.
This hanging plant display is a unique way to add some character to your balcony garden. This concept is a great way to make the most of your balcony space without completely obstructing the view!
Get cozy outside with your balcony garden. A concept like this incorporates a wide variety of plants with all shapes and sizes of planters.
Incorporating crates is a great way to give your balcony garden a rustic vibe. They add depth and they can help better showcase your flowers.
Recycled plywood makes great planters for your balcony garden. It's an inexpensive but effective way to make your balcony garden stand out. The best part is that you can customize the size of each planter to fit your needs.
Think outside of the box and design your own miniature pond for your balcony garden. Add a few lily pads and the result is an aesthetic, lively vibe.
A complementary color scheme like this is a great way to add an element of intriguing uniformity to your balcony garden. A combination of different flowers and various planter sizes can be a great way to add some beautiful contrast.
You Might Also Like
Sours: https://gardentabs.com/balcony-garden-ideas/
Watch Me Create a Patio Jungle with Houseplants!
A balcony garden is no stranger to urban apartments. If you are living in a big city where a backyard is not an option, you likely rely on nearby parks for your daily dose of greenery. Wishing to have a little nature inside of your own home is a very common wish, but it can be quite a challenge setting up a garden in a small apartment. If your urban apartment has a balcony, you can use it to create a unique garden that is rich in plants and therefore rich in the color green! Get inspired by these incredible green balcony gardens that show off the true impact of plants!
Urban Meets Natural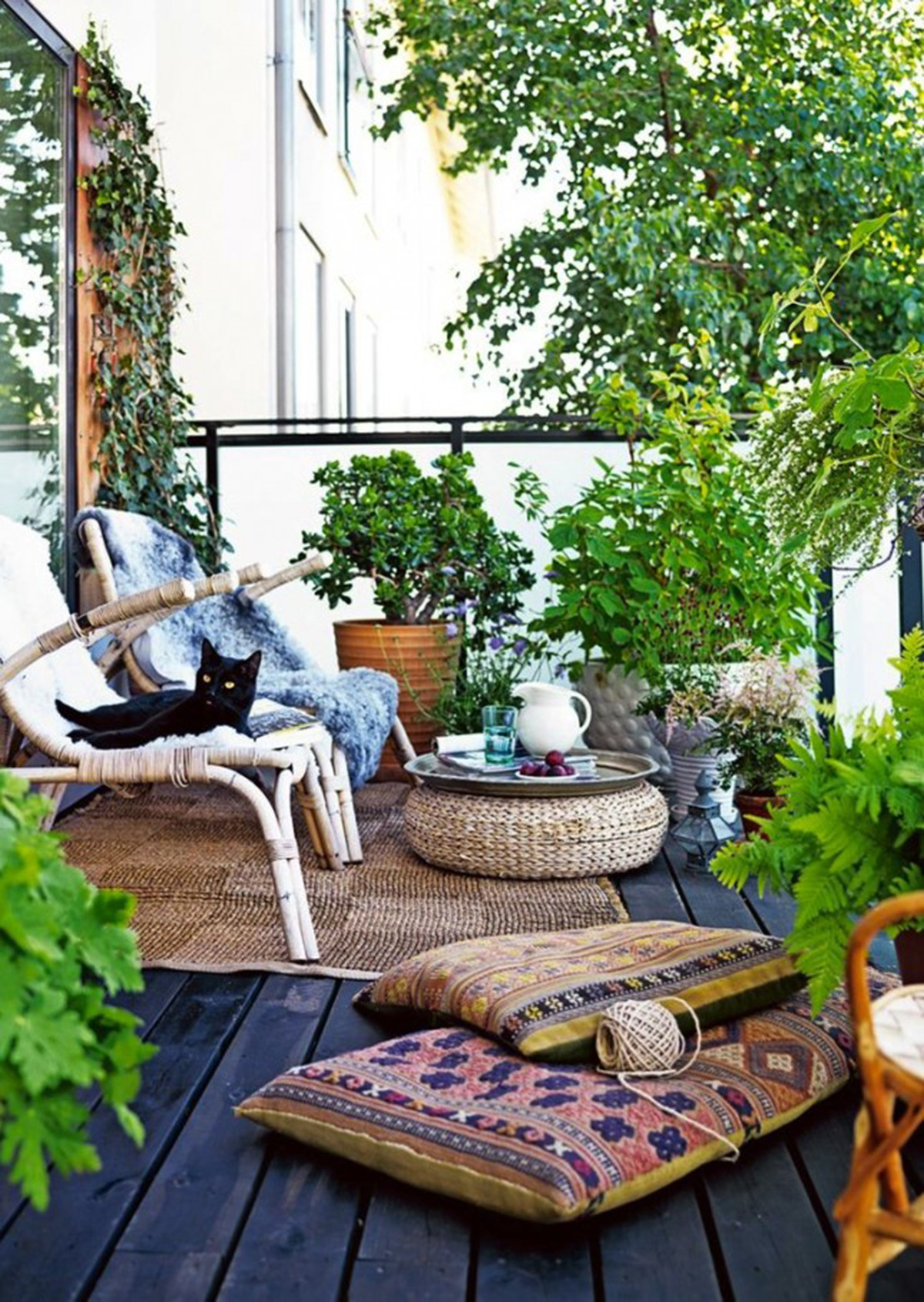 A balcony garden, once it's fully blooming, can obscure much of your small outdoors. The shield created by greenery establishes a more intimate and secure space, giving you privacy among the big apartment complexes.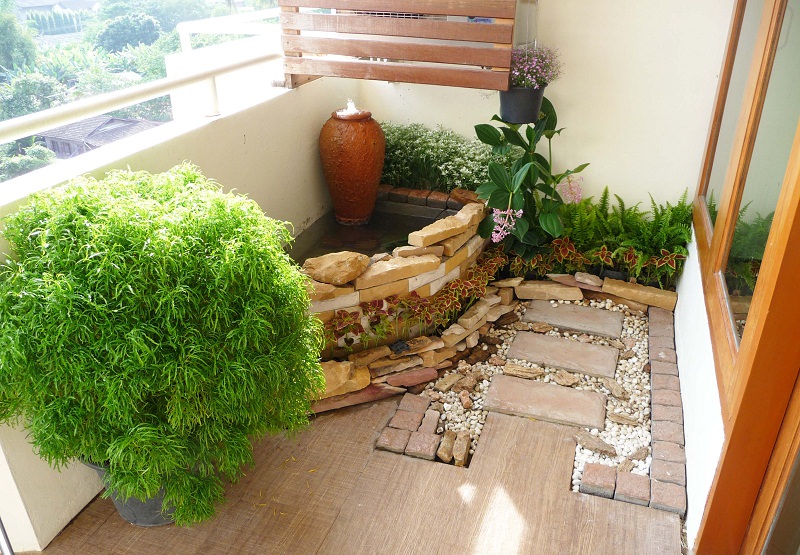 A Japanese styled balcony garden creates a sacred space within the small area, keeping things simple and stunningly unique. The plants have a thoughtful placement, keeping out of the way but leaving their impact on the space.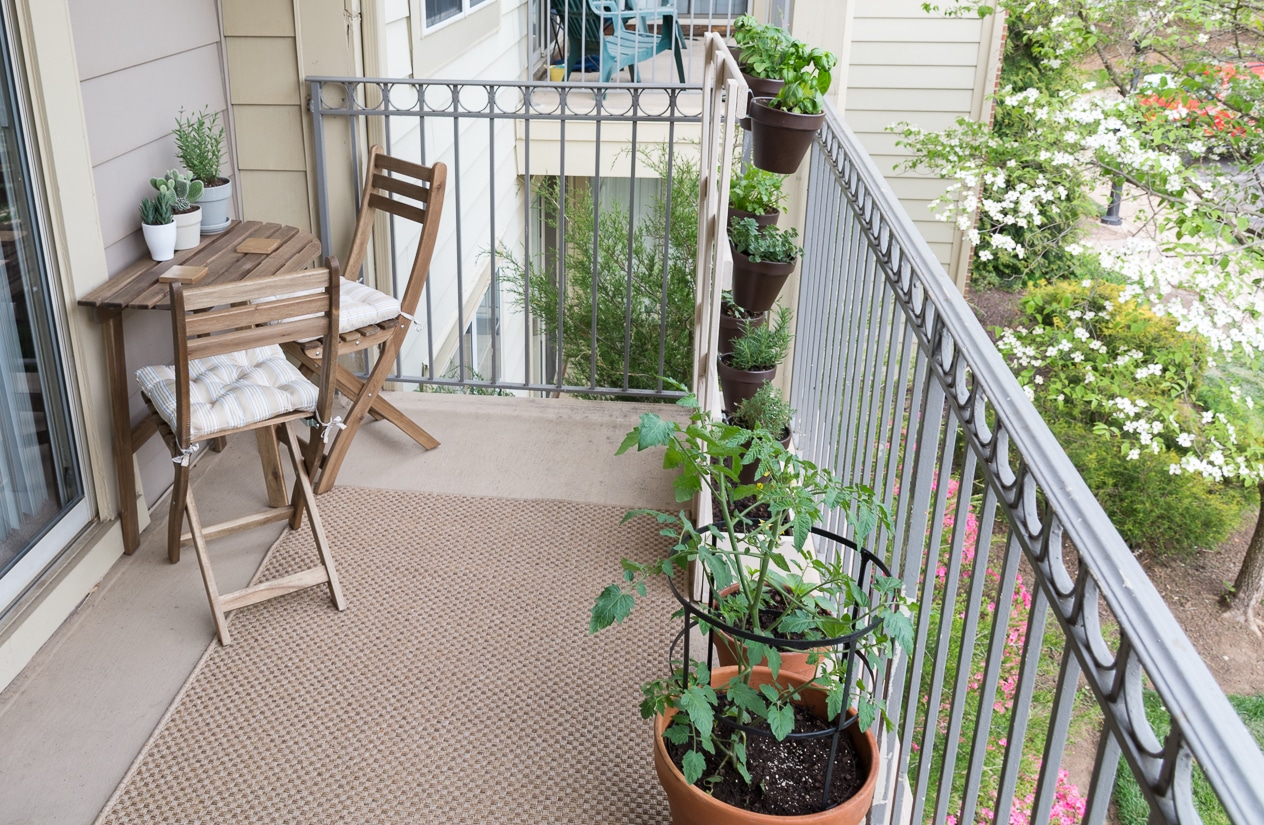 A minimalist balcony garden is a great addition to any modern apartment that wishes to feature a few natural elements as well. If you want to keep the space open and roomy, arrange the potted plants near the railing!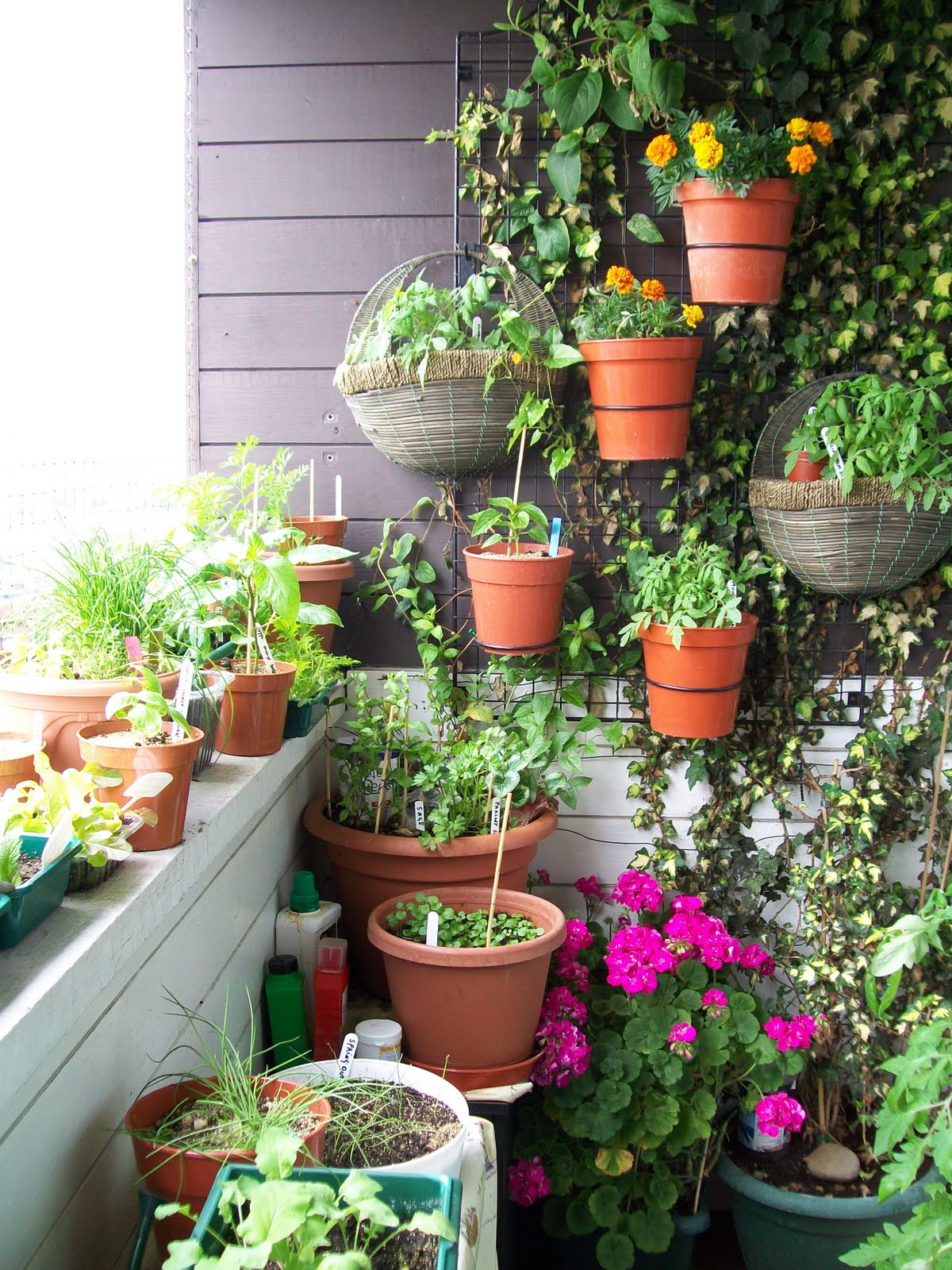 A balcony garden doesn't necessarily mean that you can only have a small amount of plants. You can absolutely have an abundance of greens beautifying your tiny outdoor area! The trick is to make use of the vertical space by hanging some of the plants on the wall!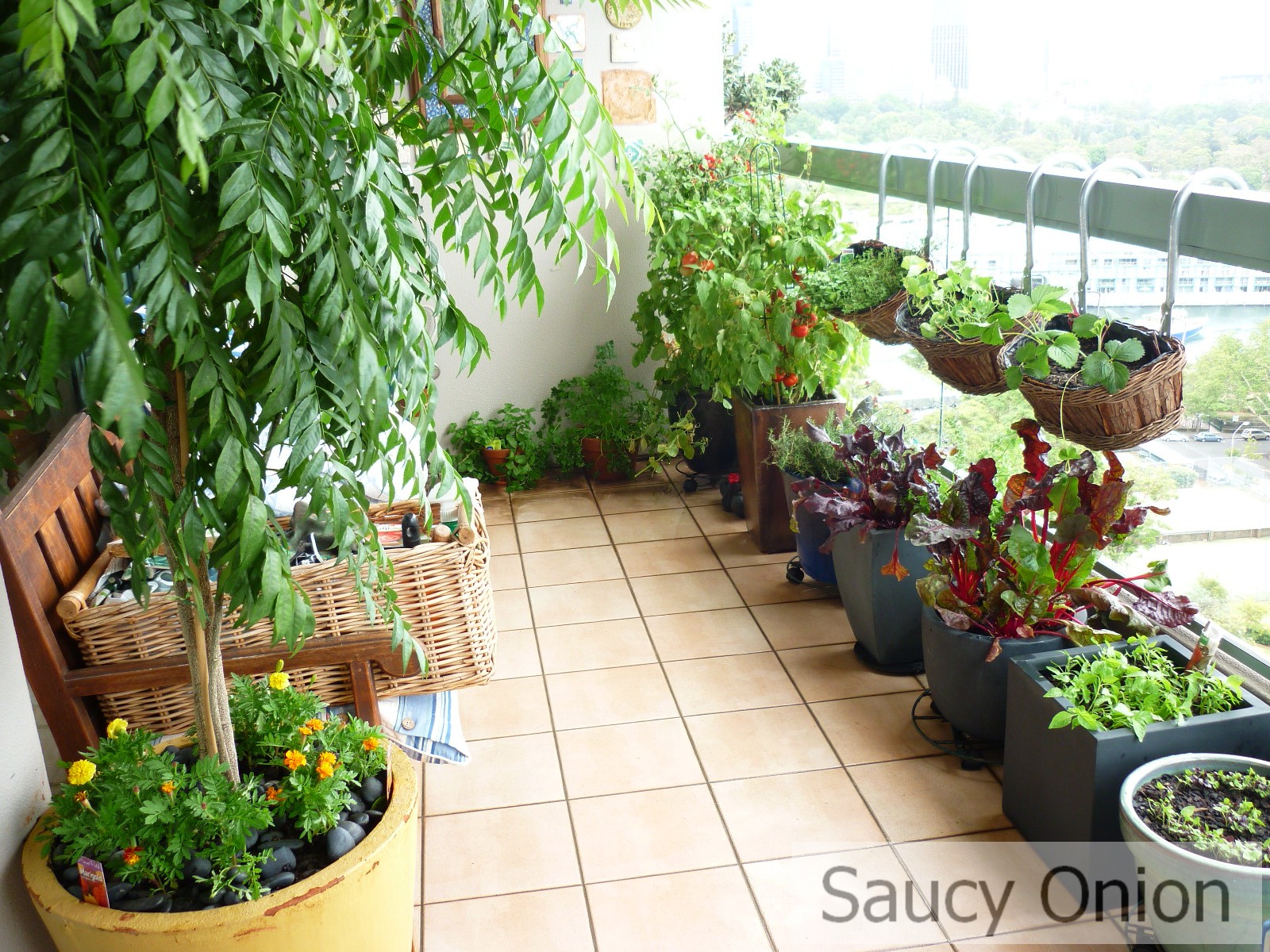 In metropolitan areas, where the gray buildings are taking over, stepping onto a vividly green balcony feels very refreshing! The more plants that are added to the balcony, the greater the contrast with the colors of the city.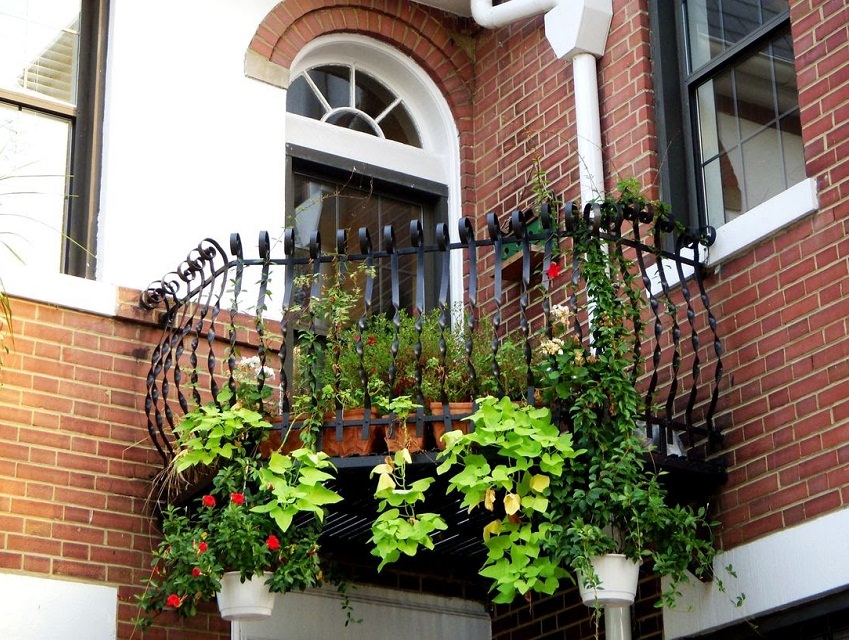 When we're decorating a really small space it's important to think outside the box and utilize every inch of room we can find. This urban balcony has a beautiful green garden that extends even beyond the railing!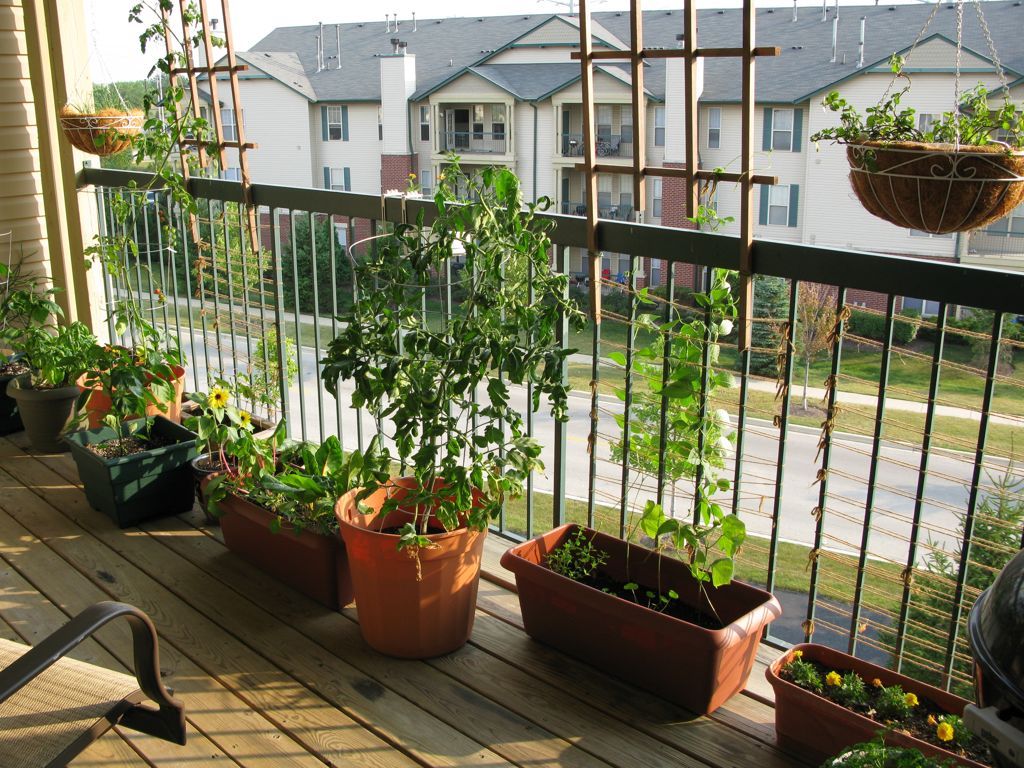 Green is a very cheerful color with a strong sense of familiarity. This is easily the consequence of it being a great representative of nature itself. Having a variety of potted plants on the balcony will fill it with that recognizable charming green vibrancy!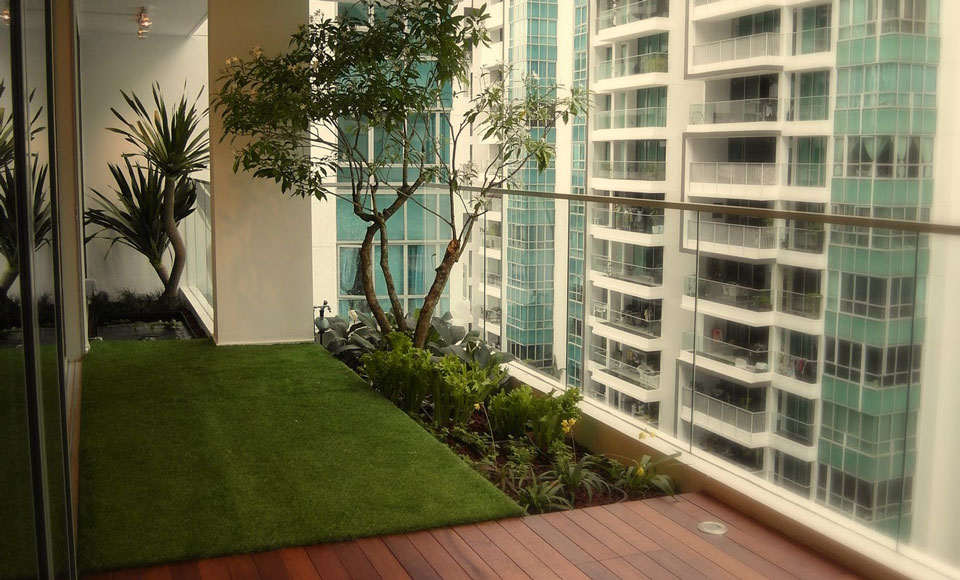 A balcony garden is not just a method of bringing nature into an urban area, it's also a great way to create an oasis within the city, an organic sanctuary that provides you with peace and serenity without having to drive out of the city for it.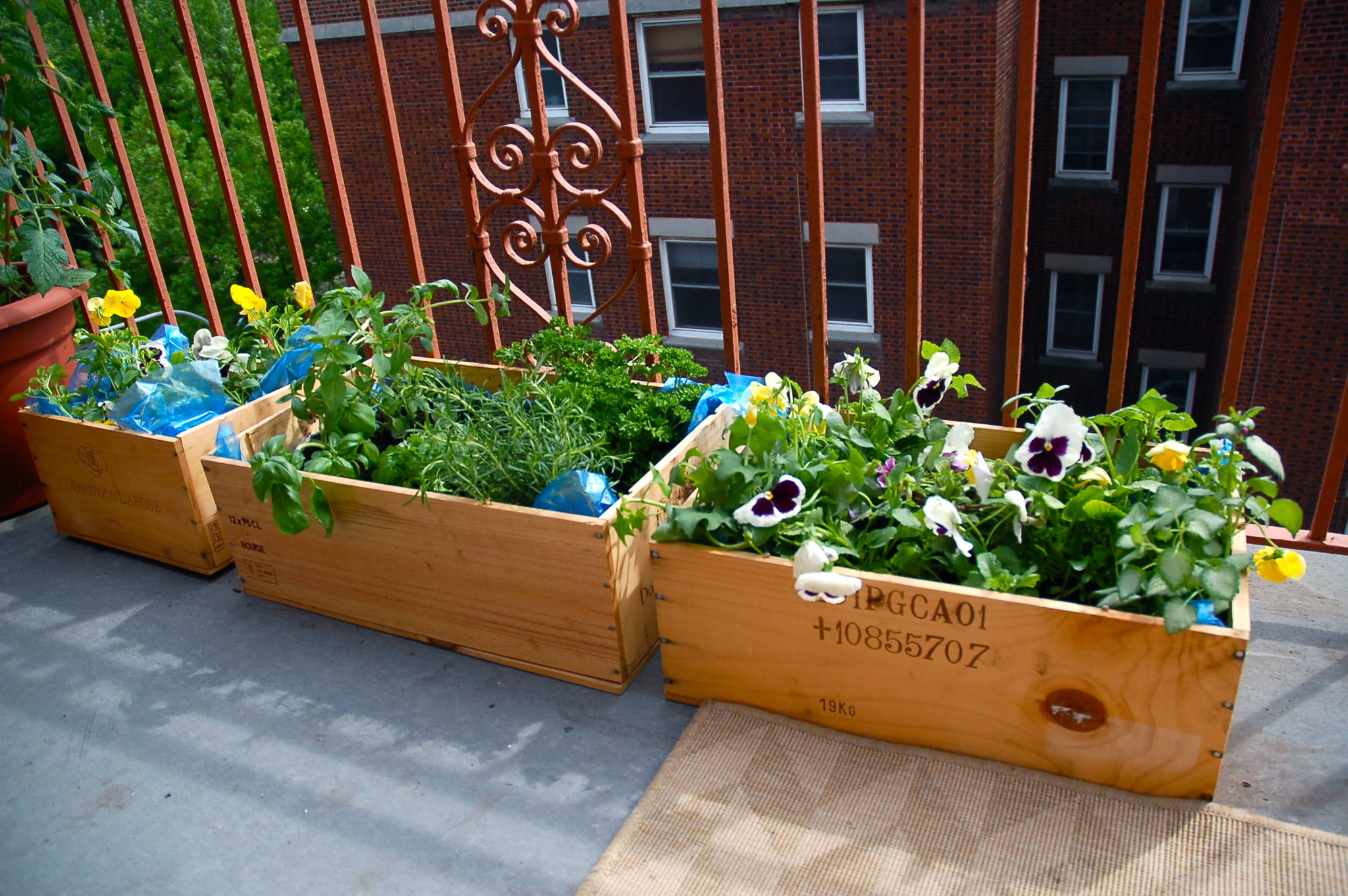 A simple way to create a blooming green balcony garden is to utilize wooden planter boxes! They are convenient and beautiful, don't take up much space and have a very clean look!
Modern Way of Gardening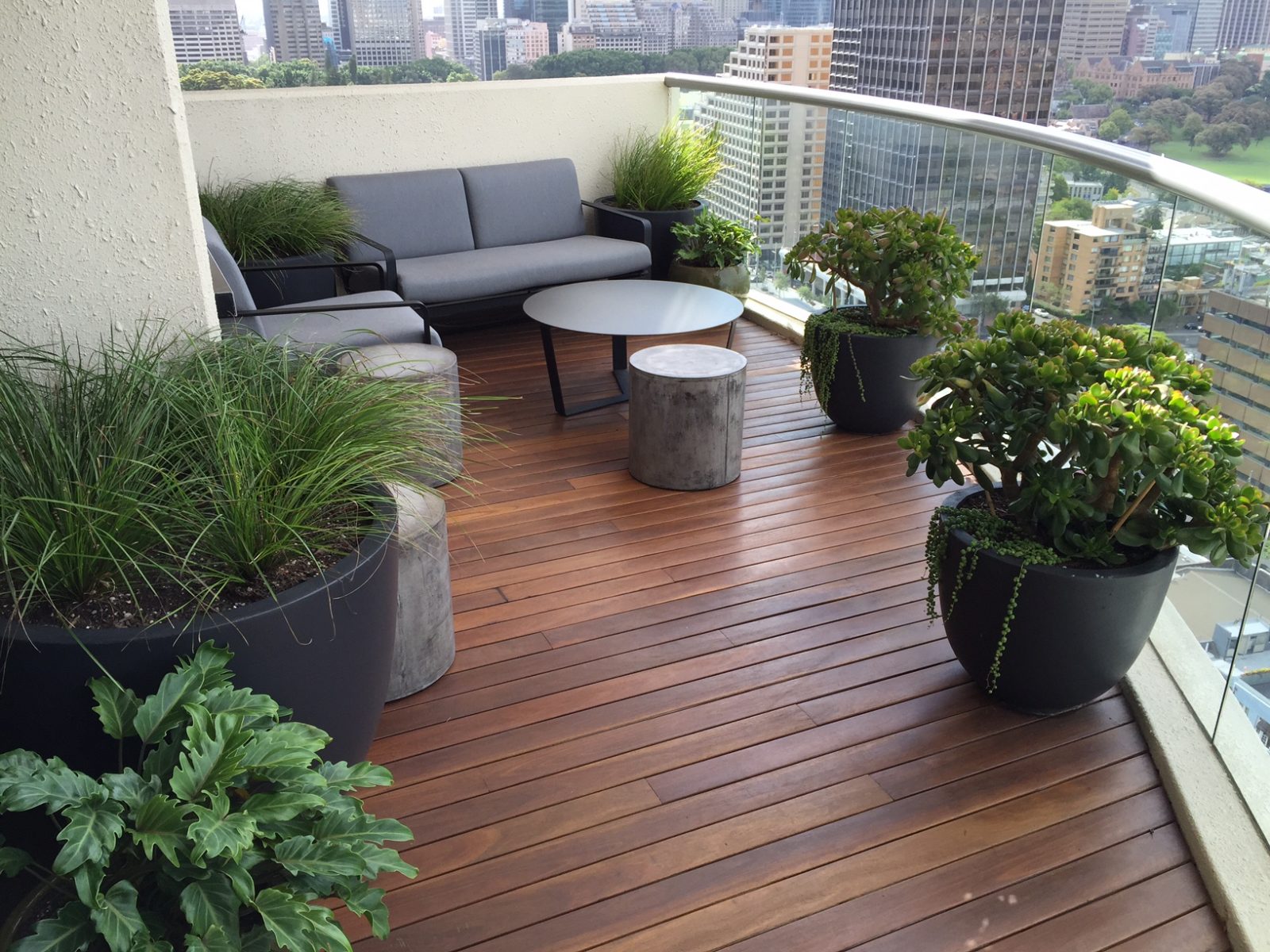 A large and elegant balcony overlooking the city can really benefit from having big bushy plants neatly placed all over it. The merging of urban scenery and natural elements creates one of the most stunning balcony gardens!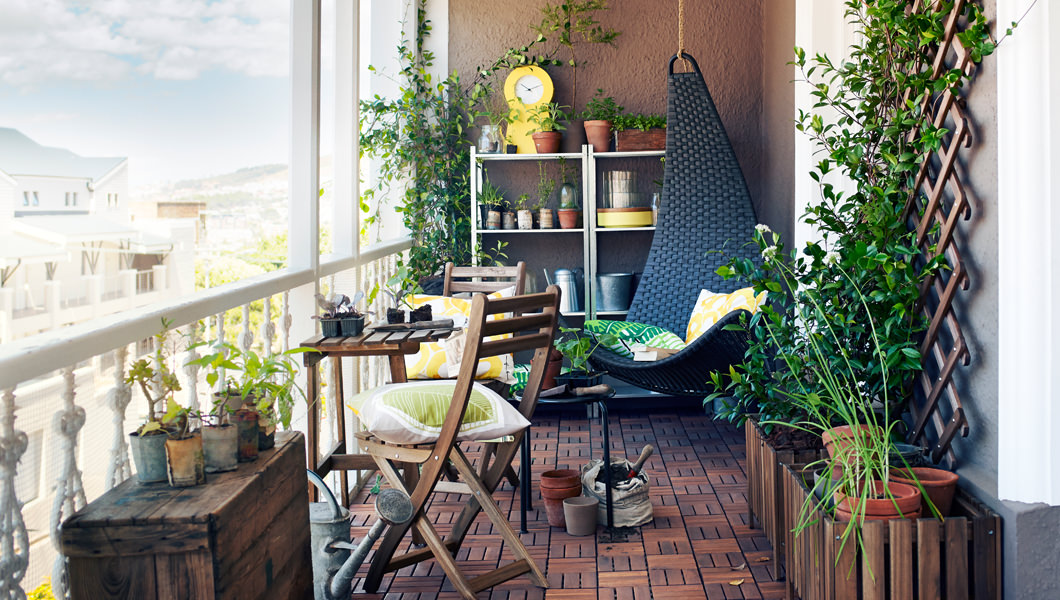 Perhaps the most modern way to set up a balcony garden is one where the plants are completely integrated in the space. Every nook and cranny has a flash of green, transporting you away from the city's hustle and bustle within seconds of stepping into the charming balcony garden!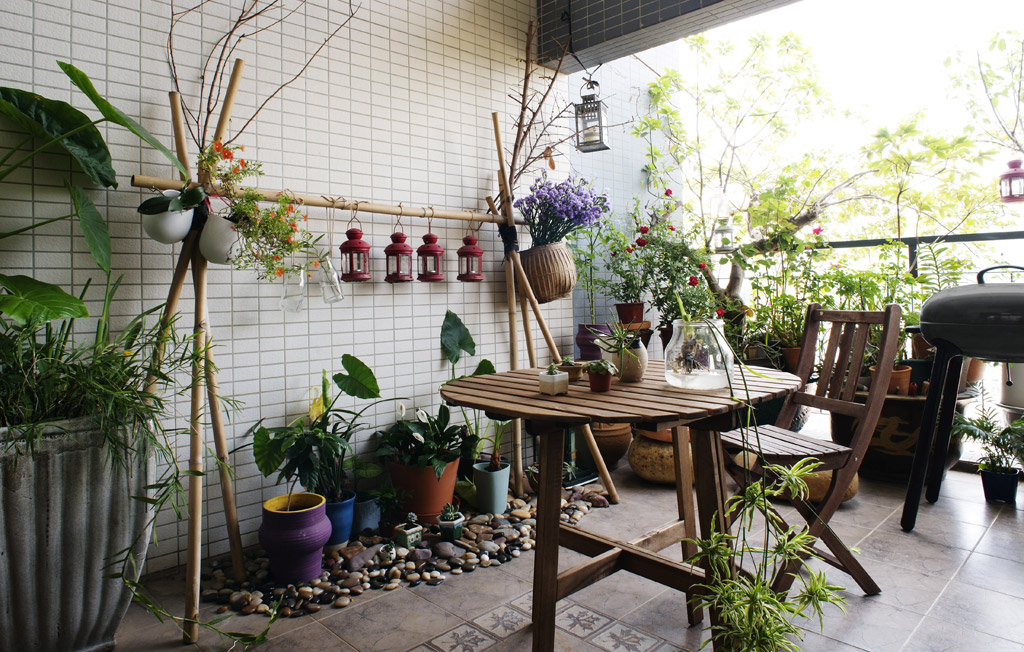 Place a tiny wooden table and a matching chair in the center of your balcony, then create the urban garden around it! Such a natural and carefully curated space, with many elements that make the garden as authentic as any backyard, can almost make you forget that you are in the middle of the city!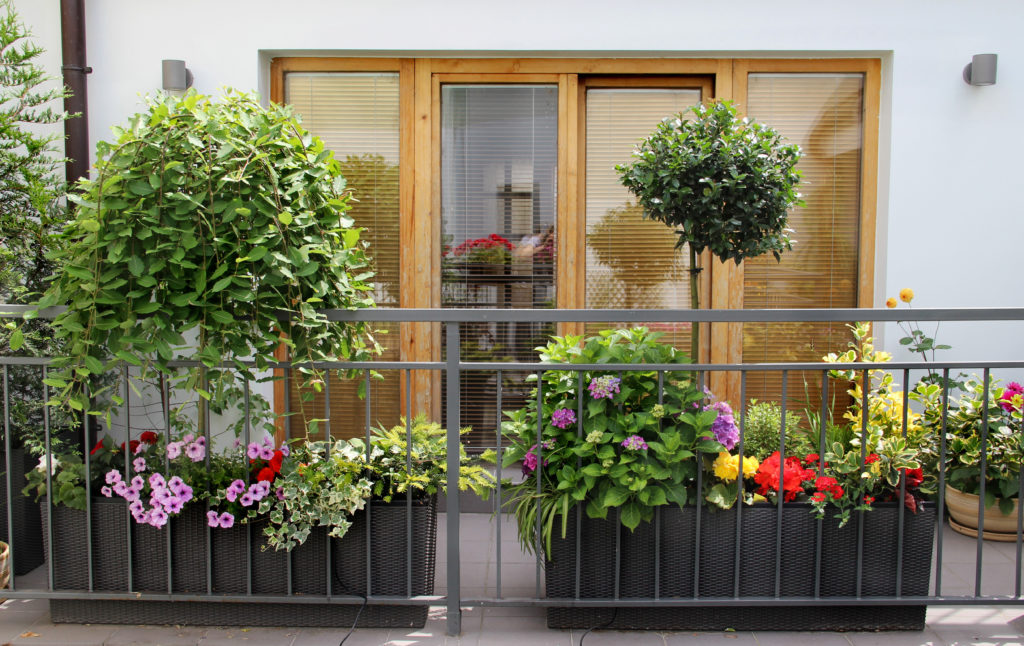 Some people mistakenly think that balcony gardens are disorganized and in a state of disarray. Let this beautiful balcony, whose garden radiates elegance and symmetry, be an example of a great practice!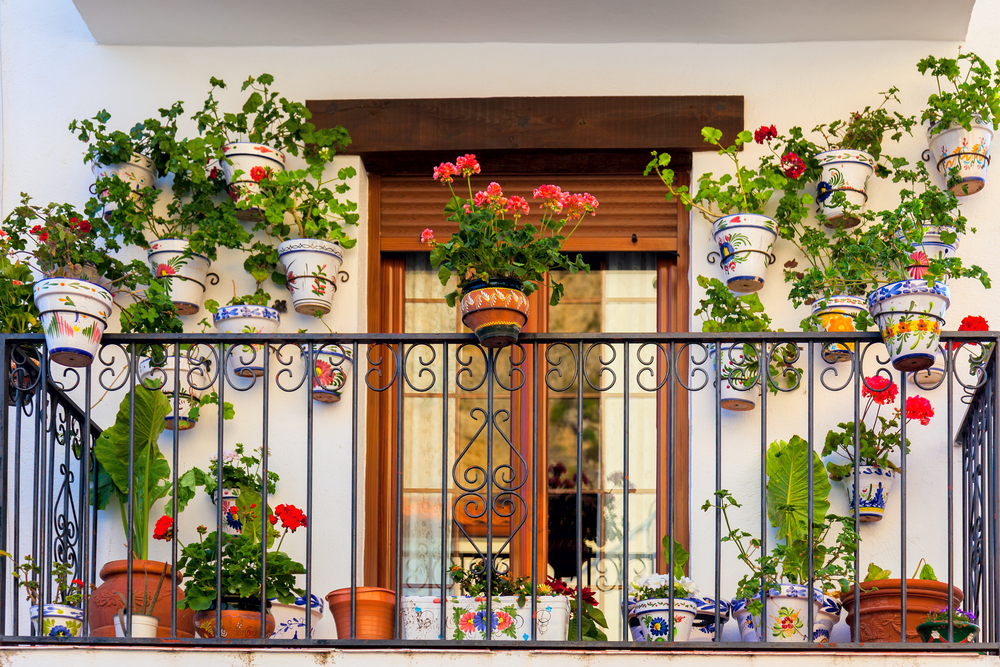 Even the greenest urban balconies can do with some color! It doesn't have to dominate the space, but it can make it seem even more alive! If you are seeking to create a colorful outdoor garden, match the blooming florals with uniquely decorated planters!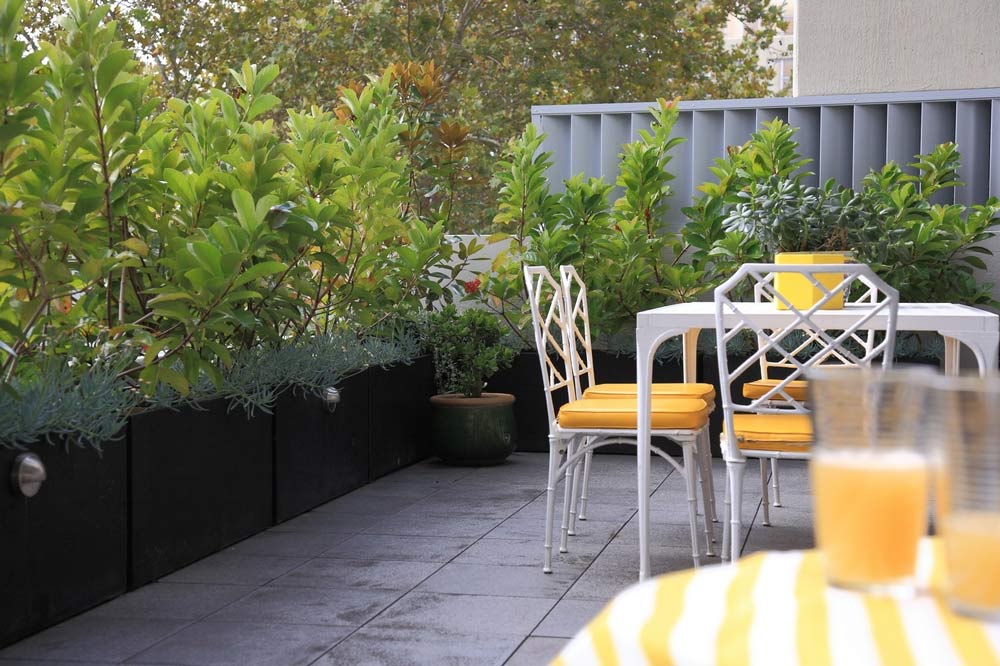 The plants can create a wall around the balcony, securing the space's privacy and creating a cozy ambiance. This way the balcony garden doesn't only have a decorative purpose, but a functional one as well!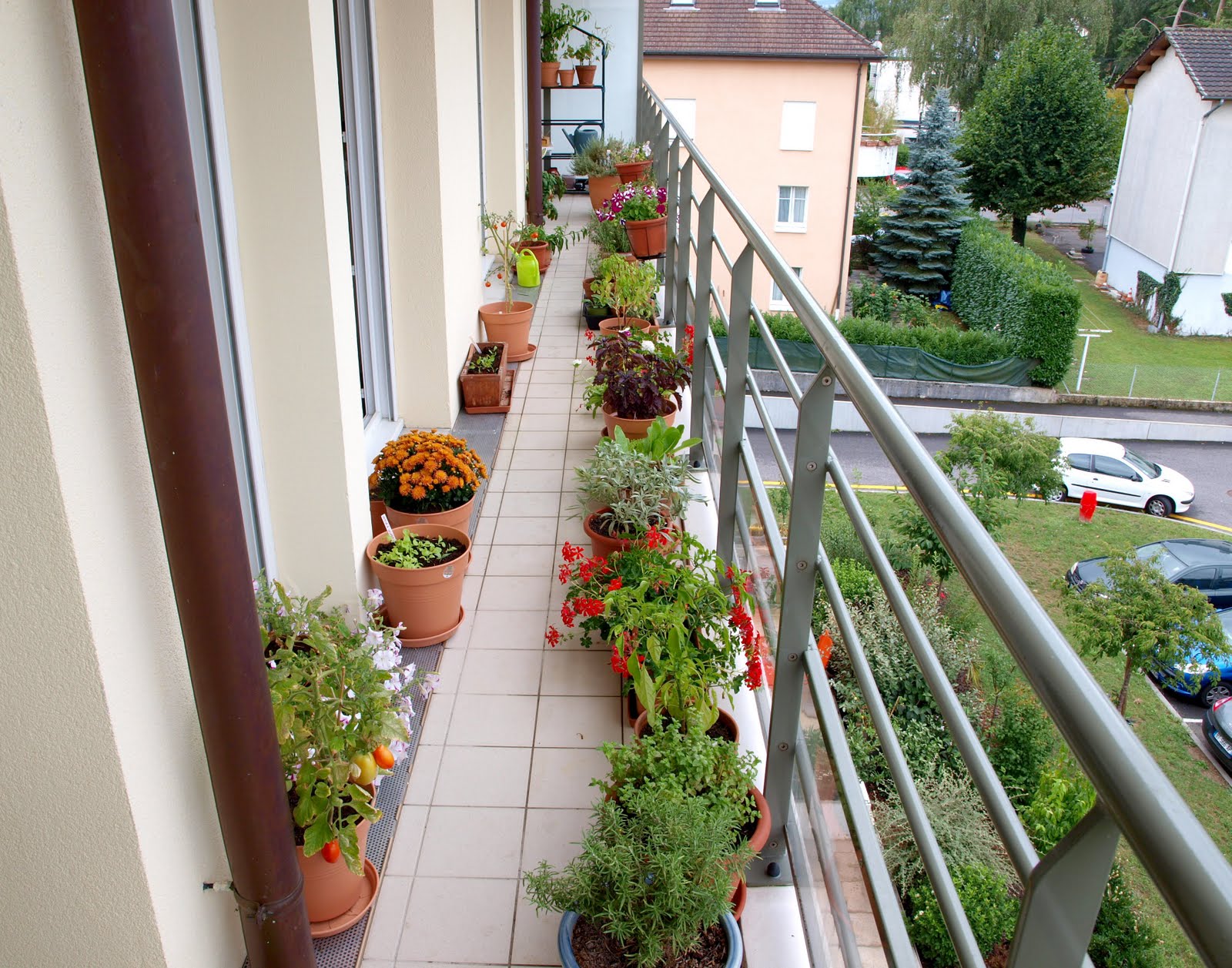 A narrow balcony may seem like a challenging space to turn into a garden, but the placement of the plants is everything! When they are placed near the wall and the railing, the space between turns into a really beautiful green corridor!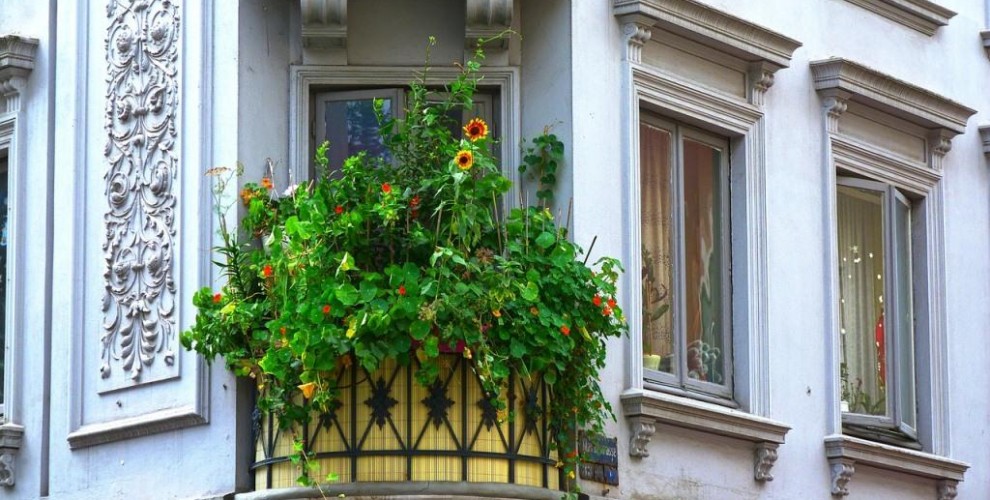 A tiny balcony is made noticeable by an incredible green garden that is almost completely hiding the balcony itself! This is a really fresh and organic element that shakes up the street's architecture and makes it appear more grounded.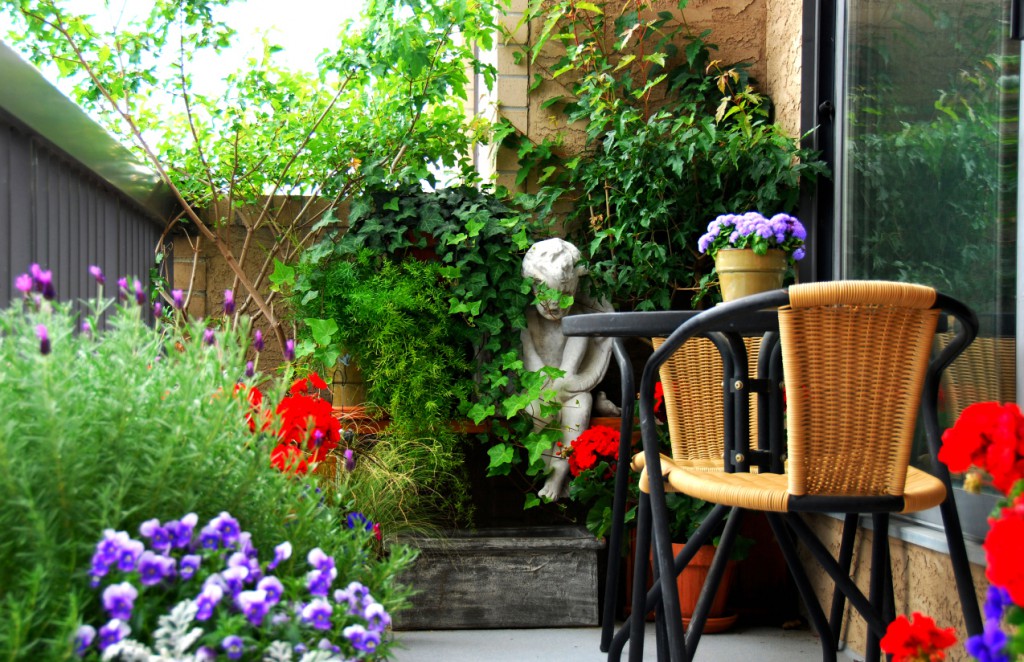 Within the busy city ambiance we can quickly start wishing for a peaceful space where we feel just a little detached from the gray pavements and the everyday frenzy. A tiny balcony garden is a great way to create a serene and natural space within an urban setting.
Oasis Within the Big City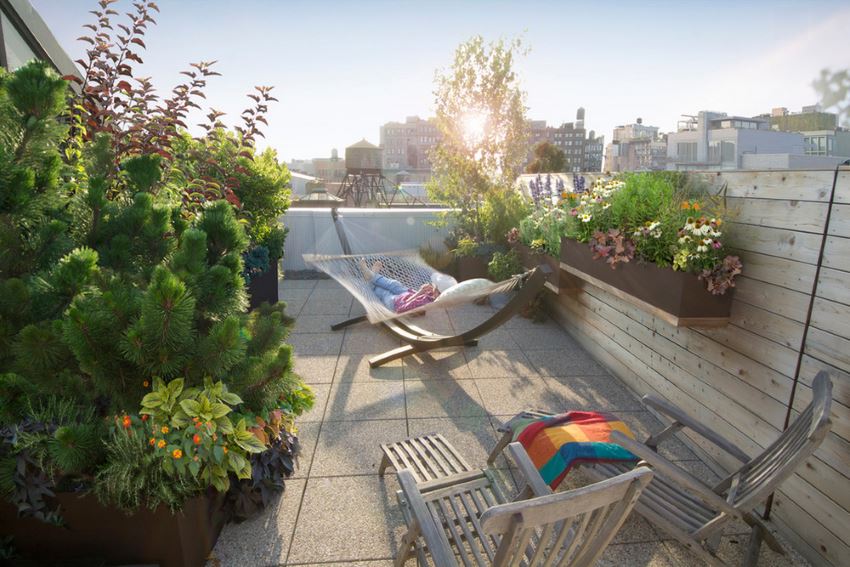 Just because a garden is created on a balcony it doesn't mean it has to be monotonous. There are many ways to create dynamic within the small space! You can start by placing some of the planters above the ground and simultaneously prevent the small balcony garden to become too cluttered!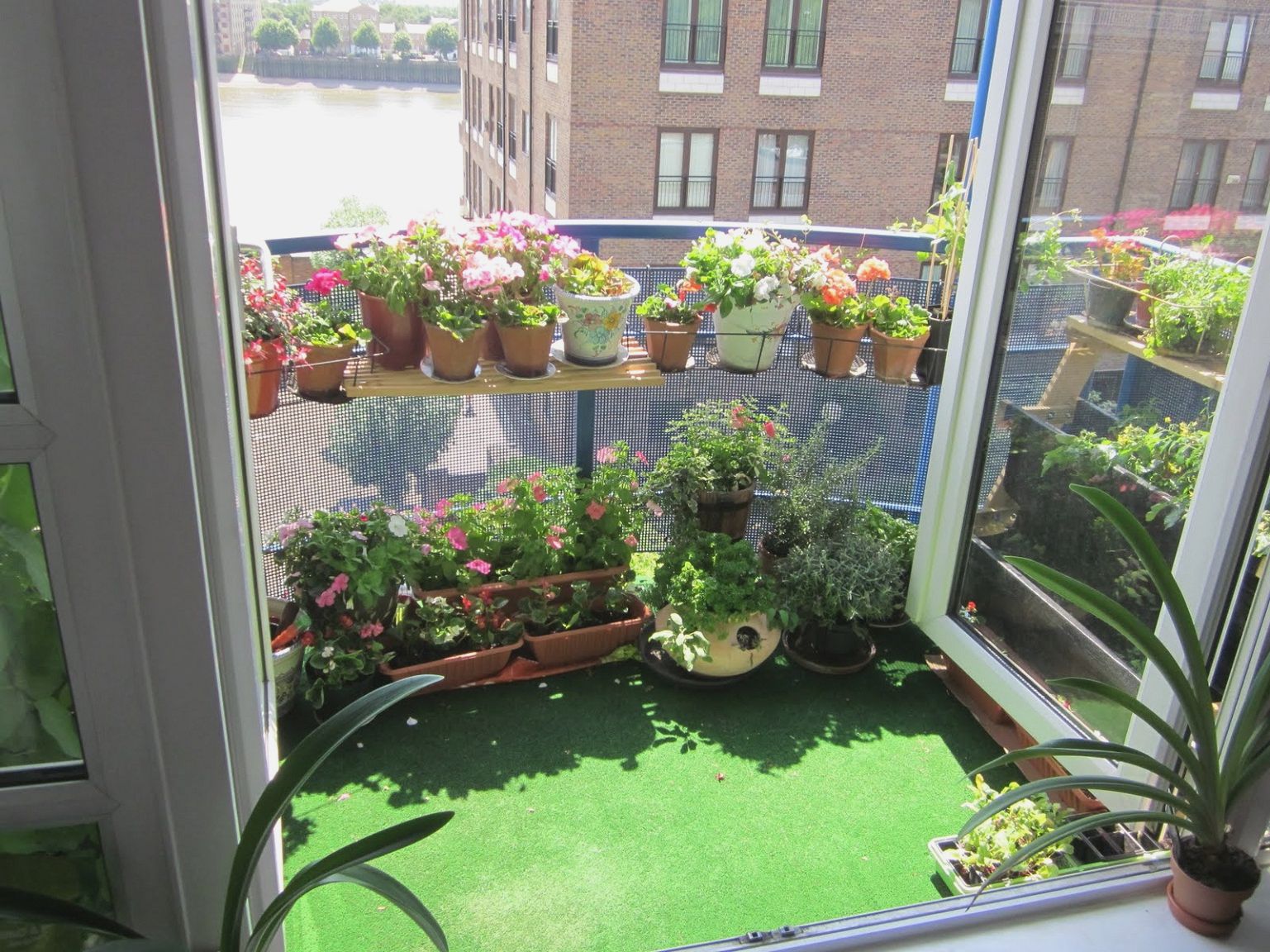 If you can't get enough of green, you can add an extra green element to your urban balcony garden and enhance the power of the energetic color on your tiny outdoor space!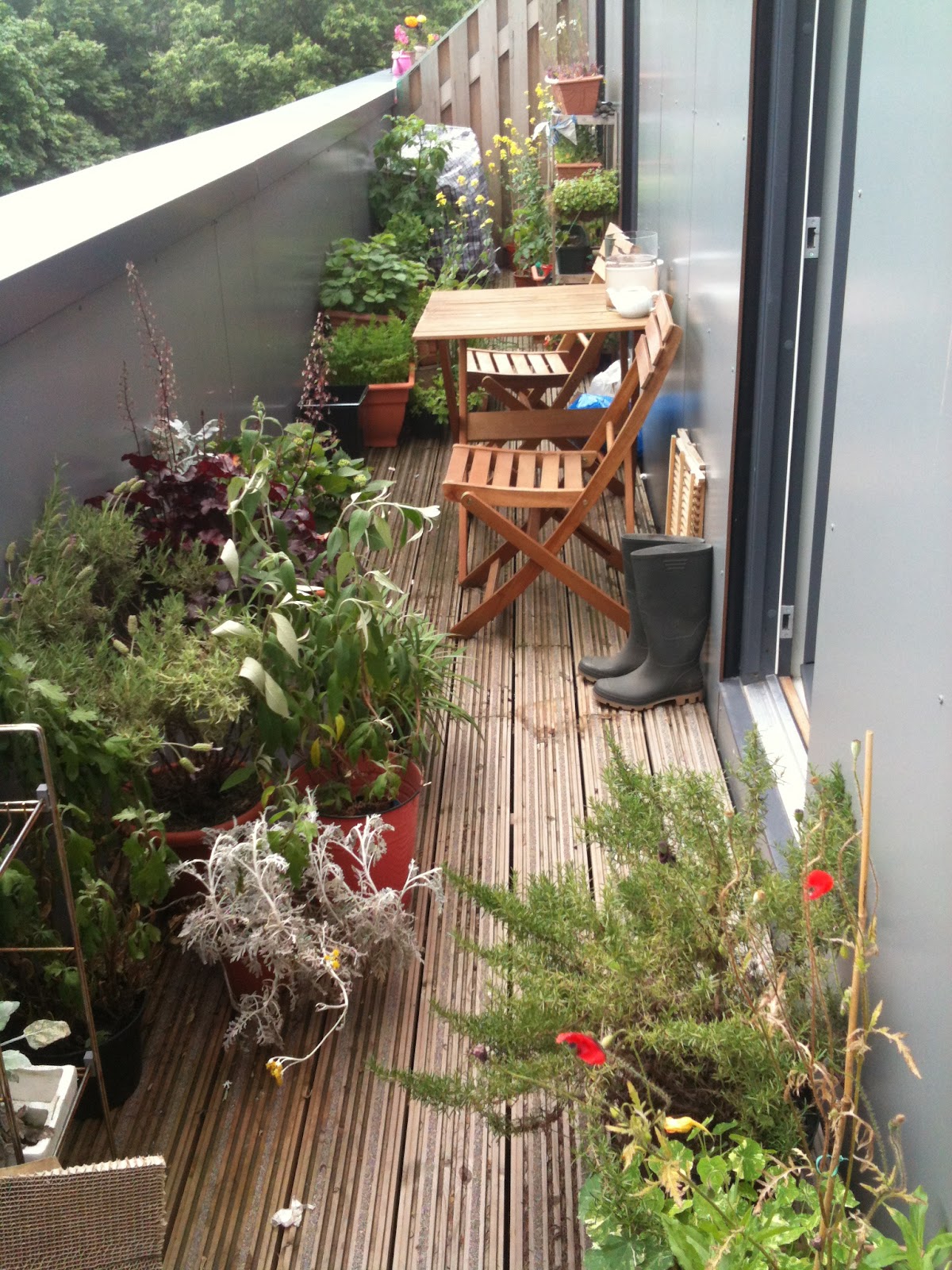 Here's another narrow balcony, this one with a slightly more random placement of the planters, creating a raw and natural look, channeling the view one might have onto a real, wild backyard!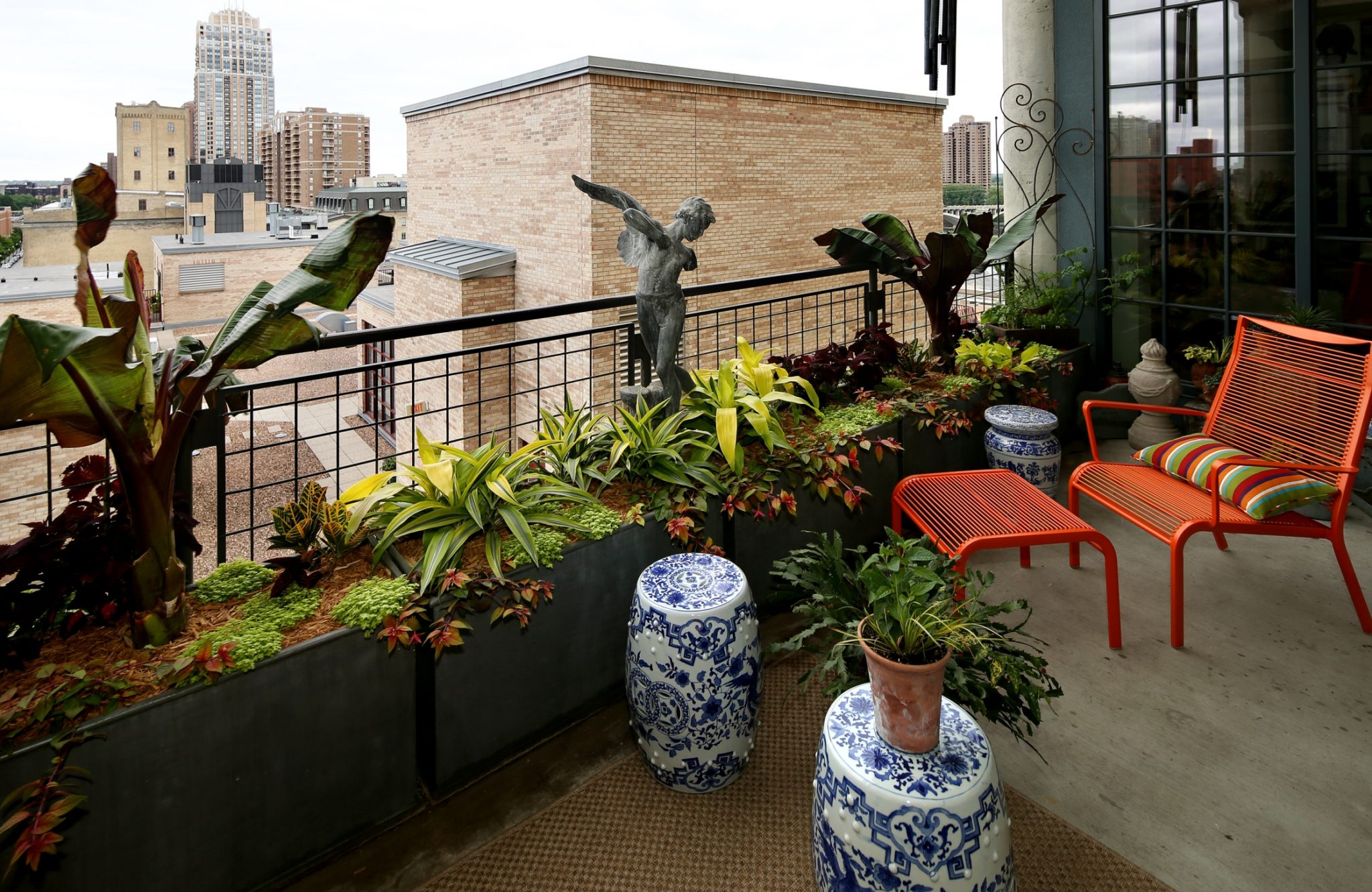 A modern balcony is a wonderful hangout place! To keep the space elegant and tidy, create the garden with raised planters with a matte look. They are a sophisticated piece that will add to your cultivated balcony.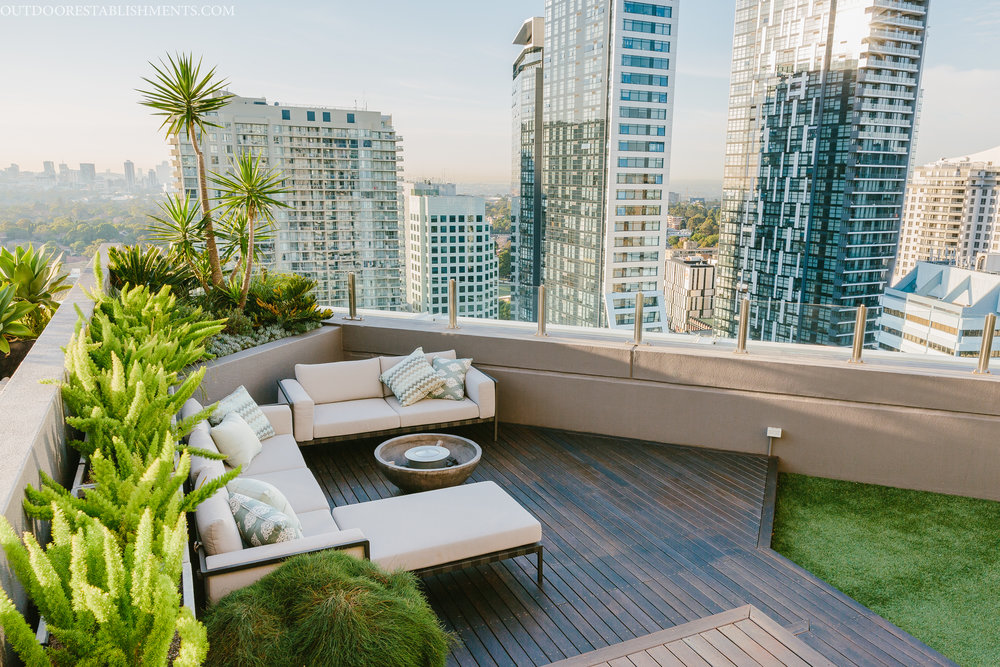 It's hard to ignore the captivating green in any space, but if you want to enhance its charm even more, decorate the balcony in soft beige tones that will totally make that green garden pop!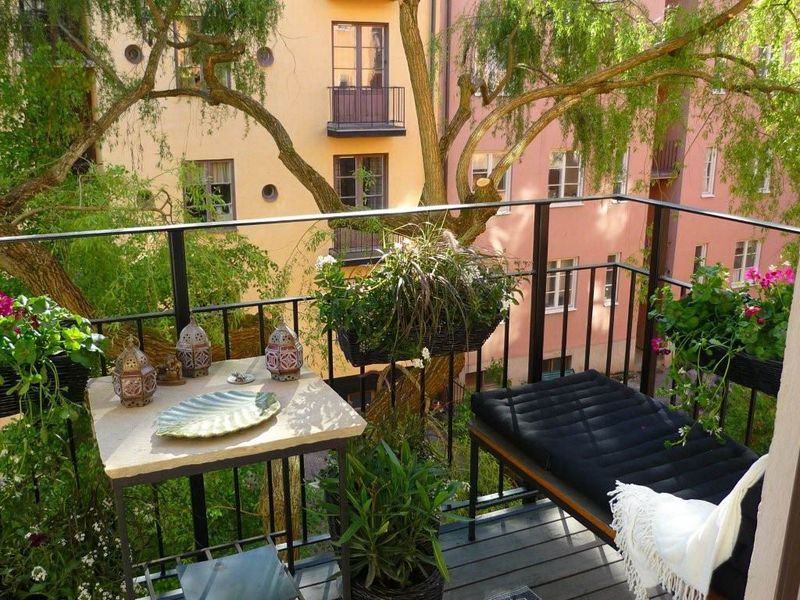 A mixture of plants hanging on the balcony railing and those set on the floor creates a balanced balcony garden that places all attention on the plants, but allows room for comfort as well!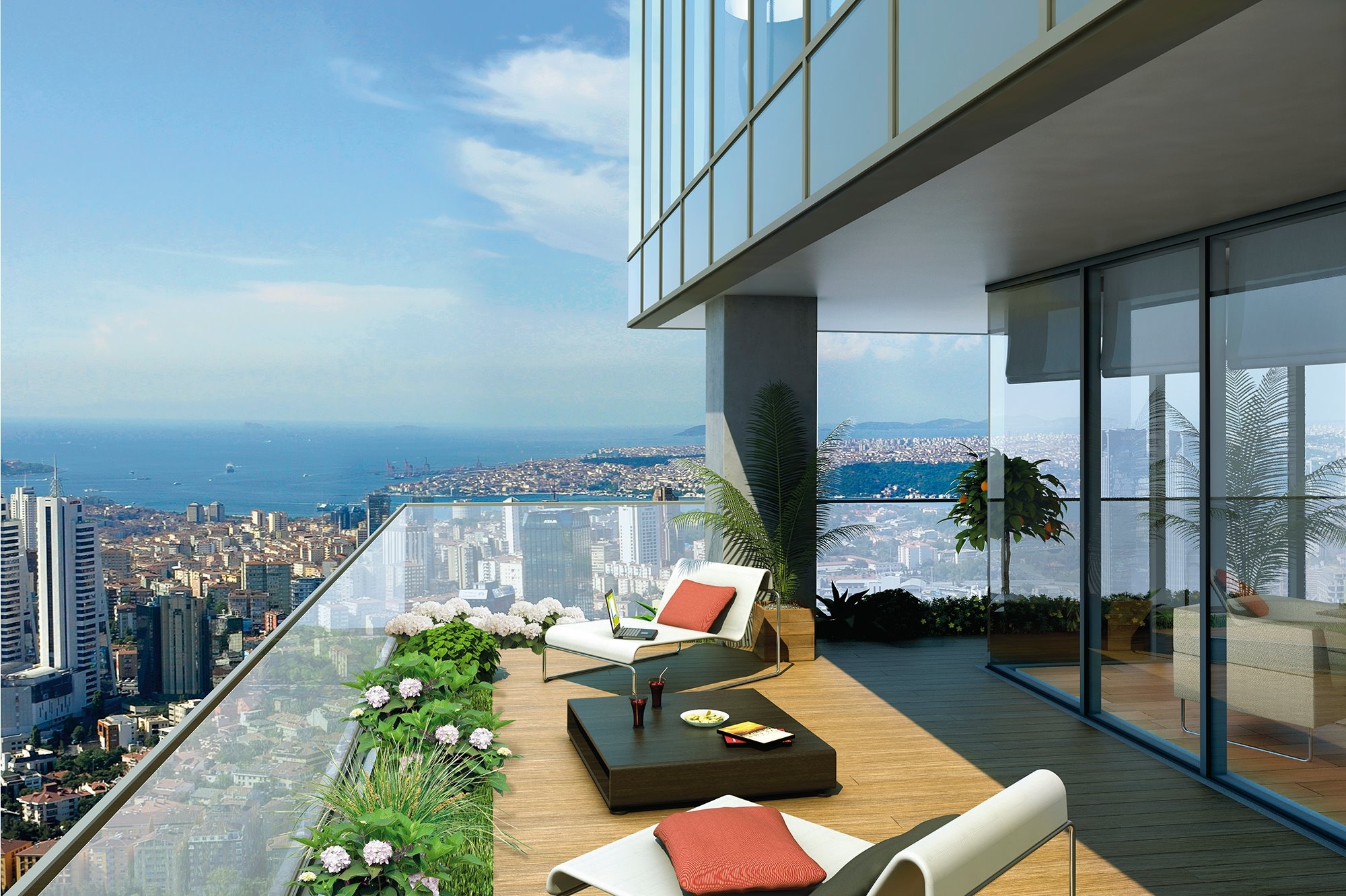 When you want to have a balcony garden but don't want it to be in the way, place the plants near the edge of the balcony to create a trim around the outdoor area. If they are planted into the floor it opens up the space even more, giving you a great view of the wonderful city below!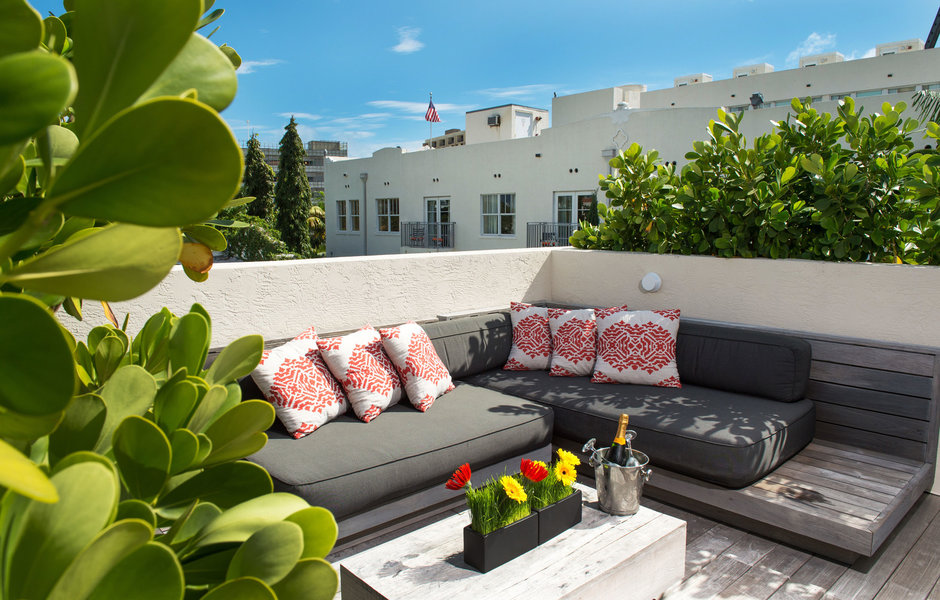 Somebody that swears by minimalism, and wishes to stay true to it even in their balcony garden, can easily prioritize quality over quantity within their plant selection. Choose the plants that capture attention but don't take over the whole space!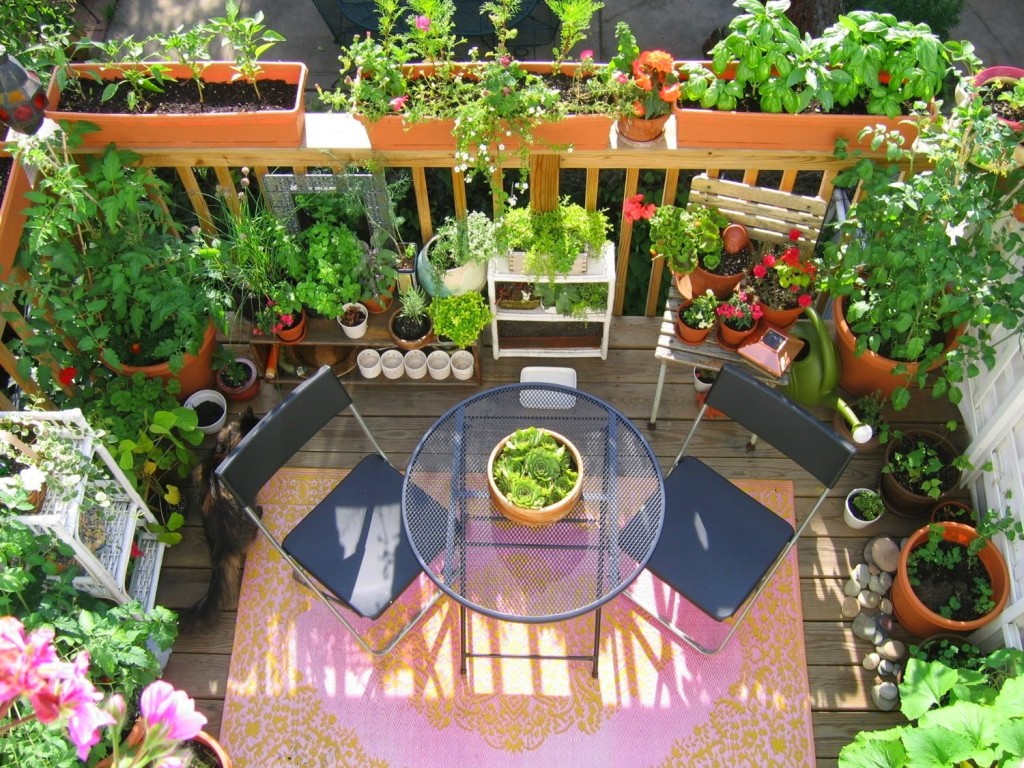 A small balcony that has beautiful green plants all around it and a cute table set for two in the center is an adorable place to hang out and a true paradise for anyone who wishes to enjoy a blooming green garden while living in an urban apartment!
Sours: https://www.decoist.com/balcony-gardens/
Balcony plants modern
33 Great Balcony Garden Ideas with a DIY Balcony Guide
When you hear the word "garden," what's the first image that comes to mind? A green oasis in your front or back yard? A bed of flowers adjoining a lush lawn? A plot of land for vegetables and fruits? Probably not a balcony garden!
But have you ever thought of bringing all of that and more to your balcony? And why not? You can add railing planters, hanging baskets, freestanding pots, trellises, and even crates and pallets to transform your balcony into your dream garden.
What's more, you can grow anything and everything in your balcony garden so long as your plants get enough sunshine, water, and love.
So are you ready to create your own green balcony? Put on your gardening boots, pick up your trowel, and read on for some awesome balcony garden ideas.
We've also got for you a list of the best plants and veggies for your balcony, plus a bonus DIY balcony garden guide.
Why Have a Balcony Garden?
For starters, a little greenery never hurt anyone. Balconies are easy to transform into green spaces and even easier to take care of. Blooming all summer long, a balcony garden can add to the overall charm of your house.
Besides, not everyone lives in the countryside with large backyards. So a green balcony is a perfect solution for the apartment-dwelling gardening buff.
Plus, in the midst of a concrete jungle, a bit of nature can have therapeutic and calming effects.
A balcony garden will also work as a natural air cooler, reduce pollution, and block high-frequency noise. So it seems there are many great reasons for you to start gardening on your balcony.
Balcony Gardening vs Terrace Gardening
Both balcony and terrace gardening have the same approach—making the most of small garden spaces. But while balcony gardens are more compact, terrace gardens are larger and can cover the entire roof space.
Balcony gardens are also generally sheltered or enclosed. On the other hand, terrace gardens are more open and airy. Thus, balcony gardens are not as versatile as terrace gardens.
On the plus side, balcony gardens are more accessible as they're often connected to indoor living spaces like the bedroom or kitchen.
Best Balcony Garden Ideas and Designs
A balcony is perhaps one of the most overlooked gardening spaces. But you can easily make it into a therapeutic and blooming garden.
Grow perennials, ornamental plants, shrubs, trees, and even herbs and vegetables in your balcony. Once you're happy with your space, throw in a couple of chairs to enjoy a cup of afternoon tea, read a book, or take a nap.
From an apartment to a container or vertical balcony garden, here's a list of the best ideas you can take inspiration from.
Small Balcony Garden Ideas
If your balcony is small or narrow, or simply can't hold a full-sized garden, don't worry. You can easily get started on a small balcony garden with these awesome ideas.
1. Rail Balcony Garden Bed
Not sure how to greenify a narrow and long balcony without shrinking it further? Go for railing planters. You can fix them on the rails or hang them using metal hooks.
Grow seasonal blooms or ornamental plants in your planters. They will add a nice pop of color to your balcony without making it look too crowded.
2. Minimalist Freestanding Container
Who says minimalists can't rock balcony gardens? Introduce a couple of freestanding planters in varied shades and shapes to your balcony, and voila!
Grow ornamental plants like paradise palm and umbrella plant for the right dose of greenery.
Idea: Use faux lawn grass for added effect and define it with white river rocks.
3. Deck-Style Balcony Garden
For something offbeat, turn your balcony into a miniature deck. Use wooden planks or deck tiles like in the image below. Add faux grass and pebbles to draw eyes.
Make use of the railing to hang planters. A pallet wall can also be used to hang potted plants.
Tip: Turn gardening equipment like boots, shovels, hoes, and watering cans into decor items.
4. Balcony Floral Oasis
Even if your balcony space is scarce, you can easily enjoy a floral garden. Use hanging planters and pots that can be hooked to the railings.
Grow petunias, geraniums, and clematis to make your space look like it's straight out of an Italian rom-com.
5. Secret Rose Garden
Create a retreat you can escape to in your own balcony. How? With roses! They look absolutely gorgeous and will make your space fragrant all summer long.
While roses can easily be grown in colorful pots, you can also allow the climbing varieties to spread across your balcony.
Herb Garden on Balcony Ideas
Imagine having fresh and fragrant basil, rosemary, lemongrass, and mint waiting to be picked and used in your kitchen. Tempting, isn't it? What's even better is that you can get started on a herb garden in your balcony.
Most herbs do well in small spaces and are not as fussy as flowering or ornamental plants. Plus, they'll make your balcony smell great!
Below are some balcony herb garden ideas you can take inspiration from.
6. Terra Cotta Balcony Herb Garden
Grow herbs like dill, rosemary, and basil in terra cotta planters. But why terra cotta? Well, clay planters look attractive and are porous, which means that you don't have to worry about overwatering your herbs.
Tip: You can hook the planters to the balcony railing or place them on the ground.
7. Tin Can Planters
Use old or unused tin cans to make classy planters for your balcony. Nail holes in them and fasten them to the railing using zip ties.
Small tin cans can be used to plant shallow-rooted herbs like basil and thyme while parsley and lemongrass would need larger cans.
Tip: Line the sides of your balcony with these planters to keep the floor uncluttered.
8. Metal Staircase Stand
Set up your balcony herb garden in a multi-level metal stand. These stands come in different sizes and are highly durable, too.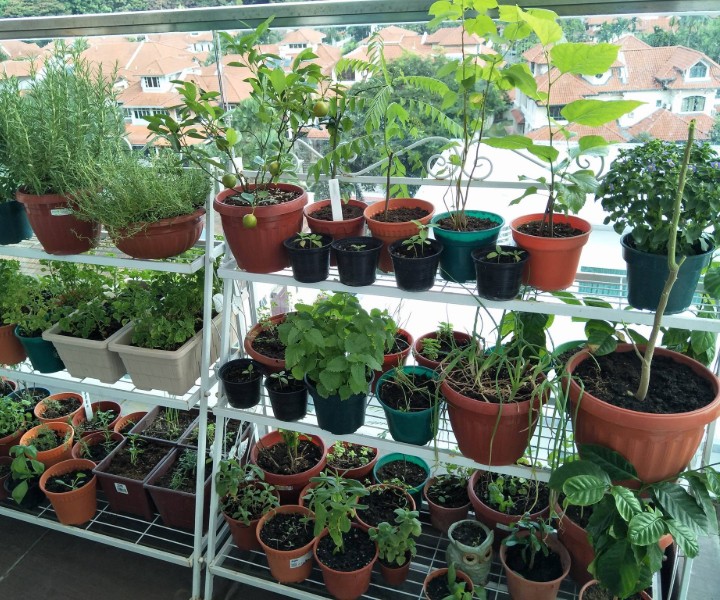 Not only will they allow you to grow a variety of herbs in limited space, but also help display them beautifully.
9. Wood DIY Planter Box
Make your own planter box using scraps of wood from useless pallets. Once your planter is ready, fill it with soil. Grow herbs like mint, basil, parsley, and oregano in your planter.
Idea: Use tiny chalkboards to mark different herbs. This way, you'll know which herbs you have in your little garden.
10. Wooden Crate Planters
Upcycle old wooden crates to hold your herb garden. These planters have a rustic, country vibe and don't take up too much room.
You can also raise them off the ground using wooden legs. This way, you wouldn't have to stoop while collecting fresh herbs.
Balcony Container Gardening Ideas
Container gardens are another great way to save space in your balcony. You can use fancy plastic, terra cotta, and wooden planters. But why limit yourself? Upcycle metal buckets, pallets, tin cans, and crates, too.
Here are some container gardening ideas you can take inspiration from.
11. Multi-Colored Metal Buckets
Turn up the heat in your balcony garden with colorful metal buckets. Go for bold hues—pink, red, orange, and blue. These planters will look fancy even in winters when your plants turn bare.
Plant dahlias, lavenders, roses, and pansies as they are easy-to-care-for and vibrant.
12. Trellis Fairy Plater
A wooden trellis to hang pots is too beautiful to not include in your balcony. You can fasten planters of varied sizes to it and get gardening.
Now include a small fairy house and some fairy lights to your arrangement to invite pixies to your balcony.
Tip: Place a café table in your balcony where you can escape to whenever you please.
13. Hanging Clay Pots
For a striking visual element, hang terra cotta pots from the ceiling of your balcony. Create a chain of pots if you want to make the most of your vertical space.
This way, your balcony space will not shrink further. Plus, you'll be able to enjoy the bright seasonal blooms.
14. Urn Planters
For a balcony garden that is sure to steal the show, bring in urn planters. Paint them with striking colors and arrange them in clean rows.
Such planters have an offbeat look and can make your balcony garden stand out.
Idea: Grow moss roses in shades of magenta and yellow like in the photo below.
Vegetable Gardening on Balcony Ideas
To grow vegetables at home, you don't need a large backyard. Your balcony space is quite enough. Given the right care, you can easily reap the "veggies" of your hard work.
Below are some wonderful vegetable balcony gardens ideas for you:
15. Garden Vegetable Basket
Plastic baskets are perfect to get started on balcony vegetable gardens. They are space-saving, durable, lightweight, and generally portable. Fill them with good potting or planting mix.
Tip: Plant easy-to-grow greens like lettuce, spinach, kale, Brussel sprouts, cabbage, and coriander in your baskets.
16. Crate-To-Plate Garden
Old wooden crates are popular containers for growing everything from spinach to strawberries. Not only are they an eco-friendly and inexpensive way to get gardening on your balcony, but they are also pretty space-effective.
Fresh veggies in wooden crates will also double as a striking decor in your balcony.
17. Tomato Balcony Garden
Why tomatoes? Well, they're easy to take care of and grow, they don't need much room, and they look beautiful, too.
But the best part is that homegrown tomatoes can be used to make salads, sauces, and yummy tomato chutneys.
18. Hanging Wicker Baskets
While you can use pots of different materials to contain your vegetable garden, how about giving a try to hanging wicker baskets? Layer them with plastic, fill soil, and start planting veggies of your choice in them.
Idea: Use a woven wicker basket to store your balcony garden tools, equipment, seeds, and other supplies.
19. Vegetable Deck Garden
Transform your deck into a thriving vegetable garden. You can fill up all the space with planters to maximize your yield. Leave just a narrow passage in between for movement.
Idea: Create a small greenhouse for veggies that need more care to grow.
Apartment Balcony Garden Ideas
Give your tiny apartment balcony a green makeover. Sure you wouldn't be able to cultivate tons of vegetables and plants in it, but you can still live the garden life in limited space.
Here are some wonderful apartment balcony garden ideas for you.
20. Balcony Lawn
For an apartment-dwelling lawn lover, here's the perfect solution: create a lawn feel in your small balcony using synthetic lawn turf. It is easy to maintain and cost-effective.
Idea: Place a comfy swing chair, some potted plants, and use the space to unwind in the evening over a cup of coffee.
21. Jungle-Inspired Balcony Garden
A profusion of potted trees, lush plants, and vines can transform your balcony into an enchanted forest. It will make a gorgeous statement that can be noted from afar.
Plus, your balcony will get a sense of privacy, too.
22. Micro-Park Balcony
If gardening means the world to you, you may as well use every inch of space you have in your balcony. Use everything from clay pots and railing planters to hanging baskets and trellises.
It will give your balcony that mini-park look and make your gardening dreams come true even in a small apartment.
23. Rustic Apartment Balcony
You don't need tons of plants to make a rustic statement in your balcony. A handful of potted plants will also do the job. You'll essentially need containers and pots of varied sizes, shapes, and colors.
Arrange them randomly in your balcony and grow different types of plants in them. You're sure to rock the rustic look.
24. Floral Oasis
For a blooming balcony that will make your space look warm and inviting, create a floral oasis. How? Well, you can plant sweet alyssum, begonias, geraniums, and petunias in colorful planters.
Idea: Take inspiration from the image below and spread a carpet of faux lawn grass for added effect.
Home Balcony Gardening Ideas
Starting your dream balcony garden at home? Give a go to vertical planters, hanging baskets, railing pots, and maybe even wooden crates.
Below are some great ideas you can take inspiration from.
25. Cheerful Balcony Garden
How about a balcony garden overflowing with petunias and roses? Mount planters on the railing or hang them from the roof for an old-world feel.
For a bright and cheerful vibe, adorn your balcony with flowers in shades of reds, pinks, and yellows.
26. Balcony Corner Garden
Use a small corner of your balcony to grow plants in. Line the railing with colorful planters and add a few freestanding pots and trellises to greenify your space.
Grow sunflowers, marigolds, lavenders, and fuchsias. Your petite corner garden is ready. Marigolds can even contribute to the repelling of mosquitos in your garden.
27. Repurposed Crate Garden
Create a raised flower bed in your balcony using old wooden crates. They take up only a little space and are a clever and inexpensive way to grow plants and vegetables.
Tip: Prevent your wooden crate from rotting by simply lining it with plastic.
28. Blooming Floral Garden
With a vibrant and colorful balcony, you can make a dramatic statement even in a small space. Make sure you use every inch of space you have. Grow plants in hanging planters, rail pots, and even trellises.
Idea: Grow lots and lots of petunias in the shades of red and pink and use ivy for a striking green contrast.
Vertical Garden Ideas for Balcony
Take advantage of the walls you have in your balcony. How? Simple, by vertical gardening! Hang pots on your walls using trellises, shelves, and even gutters and pallets.
Take inspiration from these vertical garden ideas for your balcony.
29. Trailers Plant Wall
Create a green waterfall in your balcony with trailing plants in ceramic pots. Fix the pots to a clean wall using metal or wooden holders.
Grow plants like English ivy, golden pothos, string of pearls, and burro's tail and you're good to go.
30. DIY Pallet Hanging Garden
Upcycle old palettes for your vertical balcony garden. Fix it on a bare wall in your balcony and hang planters of different shapes and sizes on it.
This DIY project is budget-friendly and super easy to make. You can easily source old palettes from small local grocery or retail shops.
31. Living Wall Balcony Garden
Dress up a barren wall in your balcony with leafy plants of all shapes, shades, and sizes. It will give your space the needed depth and texture without taking up a lot of space.
Tip: For your living wall to thrive, make sure all the plants in it have the same sunlight and water needs.
32. Colorful Vertical Balcony Garden
For a nice splash of color, consider using pots and plants in vibrant hues. Polish a wooden palette to make it look more elegant and then hang orange, yellow, white, and green pots on it.
Next, plant flowering varieties like petunias and geraniums or grow herbs like dill and rosemary in your pots.
33. Balcony Trellis Garden
How about a painted trellis to hold your mini balcony garden? You may want to use pots in dark shades of grey or brown. The arrangement will look uber minimalist.
Idea: You can also introduce a box in your trellis, like in the image below. Fill it with soil and plant strawberries in it if you please!
Best Balcony Plants and Vegetables
You do not need a huge backyard to cultivate plants and vegetables. With the right container and plants, you can convert the limited space in your balcony into a thriving garden.
Best Veggies for Your Balcony Garden
Vegetables can add a little country charm to your balcony garden. Plus, growing them organically means both good health and taste. You'll essentially need to do the same things you'll do in your backyard to grow them.
Some easy-to-grow balcony veggies are:
Best Flowers for Your Balcony Garden
Bring flowering plants to your balcony for a nice summer vibe. Most plants are easy to grow in planters. Still, you may want to stick with hardy plants that can tolerate partial sun and survive drought.
Here are the best flowers to grow on your balcony:
How to Create a DIY Balcony Garden
Is your balcony in need of a little green? Get started on a DIY project for your balcony.
Whether you're a gardening pro or it's your first time at getting your thumbs green, you can easily get started on this easy DIY balcony garden with our step-by-step guide.
Step 1 – Consider Your Space
Before getting your hands dirty, quite literally, take a close look at your balcony. See what direction it faces, the amount of sunlight it gets, and how much space you have.
That way you can figure out what kind of garden to create.
Step 2 – Choose Your Design
There are endless design options you can choose from. You can go for railing planters, containers, plant pockets, vertical gardens, or a mix of these, depending on your space and taste.
Tip: Avoid hanging planters if you live in a high-rise building. If a pot fell off your balcony, it can be really dangerous.
Step 3 – Choose Your Plants
Here's the fun part: choosing what you want to grow. You can try a floral balcony garden to make your house look bright and blooming. Or you can choose to get started on a more functional garden featuring herbs and veggies.
Whatever you decide, keep in mind the sun, water, temperature, and soil needs of your plants.
Step 4 – Select Your Planters
Balcony planters should be compatible with the growth habits of the plants you grow in them. For example, you'll need long and wide planters for vegetables.
Tip: Make sure the planters you fix on the rails are made of lightweight material like plastic.
Step 5 – Add Some Furniture
You probably want to use the green balcony space to unwind after work. Maybe read a book or drink some tea there?
So don't forget to add to your balcony garden a couple of foldable chairs, a lightweight swinger, or a mattress with some pillows.
Step 6 – Safety and Maintenance
Last but certainly not least, make sure all your planters are securely fixed and won't tumble down with strong winds. Check also the weight restrictions you may have in your apartment balcony.
When it comes to maintenance, you'll have to ensure your plants are being watered on time, they receive proper sunlight, and are pruned now and then.
Balcony Garden Frequently Asked Questions
Ready to create a flora-filled garden in your own balcony? You may want to read through these important FAQs before you start dragging planters, crates, and trellises to your balcony.
What vegetables can be grown on a balcony?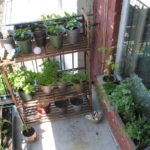 Almost every vegetable you can grow in your backyard can be grown in your balcony garden as well. Start with low-maintenance and easy-to-grow veggies like beans, green onions, peppers, eggplants, or cucumbers.
It's important that your vegetable planter is deep and wide and offers good drainage.
What do I need for a balcony garden?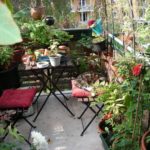 Starting a balcony garden is quite easy. You'll need a balcony (obviously) that receives at least three hours of sunlight. Next, you'll need plants or seeds, and some planters.
Finally, get your hands on basic gardening tools like a trowel, watering can, a pair of shears, etc. and you're ready to start your own balcony gardening adventure.
How do I build a small balcony garden?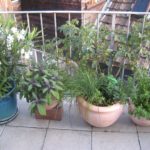 To build a small balcony garden, you'll first need to assess the space you have and how you can use it to the last bit. The rest is simple: bring in some planters and plants and start gardening. For a more detailed "how-to", read our step-by-step guide on a DIY balcony garden above.
Less Is More
When it comes to gardening, sometimes less is more. You can use the small balcony space you have to grow plants without a heavy investment of time, energy, or money.
With no lawn mowing or weeding, you'll have plenty of time to be creative. Use the space to grow plants and vegetables and occasionally even host guests.
Only a bit of planning can turn your boxed-in balcony into a little Eden garden. And that too with minimal effort.
So, are you all prepped up to start your own balcony haven? Let us know in the comments section below!
Until next time, happy balcony gardening!
Sours: https://www.plantedwell.com/balcony-garden-ideas/
SMALL BALCONY DECOR TIPS - TOP 9 DECORATING IDEAS
Beautify the balcony with plants – 24 ideas for balcony design.
Even the smallest balcony can be seen as a pretty garden. Hanging baskets and planters can blur the main lines of the railings etc while vines and creepers can transform the bare walls into a real live painting. If there is not enough space on the balcony, you can also arrange your flowers in pots or even surround the whole balcony with groups of beautiful plants. We've put together some ideas for the design of the balcony and suggestions for a balcony decorated with plants.
Great ideas for the design of your balcony.
Balconies are small, usually of simple design and making maximum use of their space is constantly recommended. If you rearrange the plants on the balcony, make sure you are aware of where the sunny and shaded areas are during the day. More specific conditions such as direction and strength of the wind and the drainage also need to be considered.
Ideas for designing and decorating the balcony.
---
---
Potted plants in high numbers on a balcony require adequate support. You should also check your pots every few years to ensure that the support is still stable. You may well be better off with a wooden planter rather than many different potted plants. Flowers have more space in the planter and so are sure to grow better. When planters are identical and arranged linearly they can act as a decorative frieze. In modern minimalist design identical containers are often placed in a row. In lieu of flowers you can use hedges or straight grass.
Arrange flower pots vertically.
Flowering shrubs provide a quick and effective way of introducing intense color to a design. Most balcony plants in containers can be planted alone or in combination with low shrubs such as evergreens and small conifers. At the bottom edge of the balcony flowers always work well, popular choices are Nasturtiums, Begonias and Semperflorens. Ageratum is average height, Gazania, Lizzie worker, Factory Ash, Snapdragons and Zinnias again have some height to them. Petunias, Lobelia and Verbena are very suitable in baskets or boxes, either alone or in combination with evergreen plants.
Small cozy balcony.
Interesting effects can occur if you combine plants with culinary herbs, perennials and vines. Pea Tendrils is a species of climbing plant and is very popular because of its beautiful colors, wonderful fragrance and long flowering period. Geraniums are perennial evergreen plants which originate from South Africa. Because Geraniums flower in early summer to late autumn they are very suitable for use in containers, hanging baskets and boxes. In winter, however, Geraniums should still survive on the balcony.
Folding furniture for a small balcony.
The shape, style and material of the floral container plays an important role in the overall composition. An old planter in ceramic or metal can be mysterious and minimalist. Plastic containers can be completely covered over by falling leaves or flowers.
Boxwood.
When it comes to potted plants you need to be careful when you have limited space. These plants also grow more slowly than those in a garden and rarely reach their full potential size. Now and then you must transplant these plants to a bigger container and change the soil when you do so. Since the nutrients in the soil of a potted plant are obviously limited regular watering and adding fertilizer frequently are essential chores. This is especially important in summer when the soil dries out more quickly!
Building a wooden planter.
Carpet and maximum comfort.
Small, beautiful green balcony.
Garden and BBQ.
Grow strawberries on the balcony.
---
BalconyBalcony plants
---
Sours: https://www.ofdesign.net/interior-design/beautify-the-balcony-with-plants-24-ideas-for-the-design-of-the-balcony-2328
You will also like:
.
1791
1792
1793
1794
1795