---
Join Date

Dec 2015

Location

Vancouver, WA

Posts

11
Post Thanks / Like

Likes (Given)

0

Likes (Received)

0

Dislikes (Given)

0

Dislikes (Received)

0

Welding Cart... Ideas Space Saving.

Shop space is limited

I have

Miller 211 "Mig"
Miller Diversion 180 "Tig"
Soon Either a 625 or Hypertherm 65 'Plasma"

3 Cylinders Argon, CO2, & Mig Mix,

Looking to make a Cart that holds it all is as Compact as possible with accessibility.

Just looking for Ideas maybe someone has built one for this combo.

My Personal Blog

Shop Tools:
Tormach 1100 CNC Mill
12X36 CNC Lathe
Miller 211 "Mig"
Lincoln 255C "Mig"
Miller Diversion 180 "Tig"
Miller LMSW-52T "Spot"
Miller 375 X Plasma
Quincy QT-54 Comp
Dayton 7 X 12 BS
SkatBlast 960DLX Blast Cab.

---

Join Date

Nov 2013

Location

Iowa, USA

Posts

426
Post Thanks / Like

Likes (Given)

0

Likes (Received)

0

Dislikes (Given)

0

Dislikes (Received)

0

Re: Welding Cart... Ideas Space Saving.

There is a welding cart thread in the stickey forum. Lots of ideas there.

---

Join Date

Nov 2009

Location

Pensacola , Fla

Posts

1,272
Post Thanks / Like

Likes (Given)

19

Likes (Received)

232

Dislikes (Given)

0

Dislikes (Received)

0

Re: Welding Cart... Ideas Space Saving.

There is something you should realize the operation of plasma cutting produces lot of very fine metallic dust. I mean close to baby powder like and it gets into everything. I would not want to have the 3 items you are thinking about combining on a single cart. I have Mig, Tig,and water cooler on one cart with 2 cylinders, And my PM65 is on a separate cart. Most of the time the plasma is attached to my CNC table which has a water table to collect the dust. If I hand cut plasma it is far from the other cart.

DIY CNC Plasma table USB BOB Price THC
Hypertherm 65
Everlast PowerTig 255 EXT
Miler 180 Mig
13" metal lathe
Mill/ Drill
ECT, ECT,

---

Join Date

Feb 2010

Location

Bandera,TX / MN

Posts

730
Post Thanks / Like

Likes (Given)

213

Likes (Received)

136

Dislikes (Given)

0

Dislikes (Received)

0

Re: Welding Cart... Ideas Space Saving.

Harbor Freight just came out with a cart designed to hold three welders. I think its called their Vulcan line.

---

Join Date

May 2012

Location

Missouri

Posts

185
Post Thanks / Like

Likes (Given)

0

Likes (Received)

0

Dislikes (Given)

0

Dislikes (Received)

0

Re: Welding Cart... Ideas Space Saving.

Here's what i use for my Dynasty 280DX. Its built on a HF hand truck.



Miller XMT 304 cc/cv
Miller 12RC w/ 15ft Tweco #4 Gun
Miller 30A Spoolgun
Custom Thermal Arc TA 10/270 Generator "Thermal Star"
Smith oxy/acet-propane with weld, cut & rosebud tips
And of course grinders, chop saws, hand tools

---

Join Date

Apr 2010

Posts

2,963
Post Thanks / Like

Likes (Given)

1

Likes (Received)

226

Dislikes (Given)

5

Dislikes (Received)

128

Re: Welding Cart... Ideas Space Saving.


Contract_Pilot

Why do you have CO2?



Originally Posted by

Contract_Pilot

Shop space is limited . . .

With limited space - why put them on the cart? Chain the
bottles to the wall with [Koike] gas quick-couples, and run
the hose with your power lead.

'Unsprung weight' will make your cart quicker . . .


Opus

---

Join Date

Mar 2014

Posts

4,394
Post Thanks / Like

Likes (Given)

0

Likes (Received)

6

Dislikes (Given)

0

Dislikes (Received)

0

Re: Welding Cart... Ideas Space Saving.

Originally Posted by

Contract_Pilot

Shop space is limited

I have

Miller 211 "Mig"
Miller Diversion 180 "Tig"
Soon Either a 625 or Hypertherm 65 'Plasma"

3 Cylinders Argon, CO2, & Mig Mix,

Looking to make a Cart that holds it all is as Compact as possible with accessibility.

Just looking for Ideas maybe someone has built one for this combo.

Contract_Pilot,

While it may sound good in theory to get everything on one cart it's been my experience that doesn't always turn out to be as nifty in practice as what you'd hoped it'd be. I think you should give serious consideration to leaving the bottles off the cart all together and keeping them secured against the wall. Then get enough hose and some quick disconnects to reach out to what ever machine you need to be using. If you can afford to have a regulator / flow meter for each of your different bottles it'll make changing between gas mixes quick and simple.



---

Join Date

Mar 2014

Posts

4,394
Post Thanks / Like

Likes (Given)

0

Likes (Received)

6

Dislikes (Given)

0

Dislikes (Received)

0

Re: Welding Cart... Ideas Space Saving.

Originally Posted by

osweld

Here's what i use for my Dynasty 280DX. Its built on a HF hand truck.

Boy howdy, that looks like if you took the bottle off it, it would want to tip backwards real easy.

---

Join Date

Dec 2016

Location

NW Indiana

Posts

73
Post Thanks / Like

Likes (Given)

0

Likes (Received)

0

Dislikes (Given)

0

Dislikes (Received)

0

Re: Welding Cart... Ideas Space Saving.

I used an old tool box for my MM 180s cart, it's worked out well for me, if I take the welding machine off I put a block of wood under the bottle to keep the cart and bottle from tilting, but I never take the machine off.

---

Join Date

Feb 2016

Location

South Branch, MI

Posts

38
Post Thanks / Like

Likes (Given)

0

Likes (Received)

0

Dislikes (Given)

0

Dislikes (Received)

0

Re: Welding Cart... Ideas Space Saving.

Limited space you say? My entire shop is 12' x 16'. I borrowed the basic design from the welding carts at school. I scaled it down slightly for my needs. I suggest using casters that swivel. Having a couple stationary ones makes it harder to maneuver a cart into & out of tight spaces. My machines stay covered/protected until they get fired up. I disrobed them for this pic lol

Last edited by MoltenMetalMaven; 02-02-2017 at 03:52 PM.

Lincoln Power Mig 210 MP
Lincoln Square Wave TIG 200
Hypertherm Powermax 65 plasma cutter
Kalamazoo 610W metal bandsaw
Atlas 618 lathe

---

Join Date

May 2012

Location

Missouri

Posts

185
Post Thanks / Like

Likes (Given)

0

Likes (Received)

0

Dislikes (Given)

0

Dislikes (Received)

0

Re: Welding Cart... Ideas Space Saving.

Originally Posted by

HT2-4956

Boy howdy, that looks like if you took the bottle off it, it would want to tip backwards real easy.

Nope, the weight of the welder & cooler is centered above the axle. All the cables, rod storage & tungsten grinder is in front of the axle. It is easier to tip back without a bottle but it wont fall over. The only time it doesn't have a bottle on is when im changing it.

Last edited by osweld; 02-03-2017 at 08:33 AM.

Miller XMT 304 cc/cv
Miller 12RC w/ 15ft Tweco #4 Gun
Miller 30A Spoolgun
Custom Thermal Arc TA 10/270 Generator "Thermal Star"
Smith oxy/acet-propane with weld, cut & rosebud tips
And of course grinders, chop saws, hand tools

---

Join Date

Dec 2010

Location

SoCal-LA

Posts

9,879
Post Thanks / Like

Likes (Given)

236

Likes (Received)

359

Dislikes (Given)

0

Dislikes (Received)

0

Re: Welding Cart... Ideas Space Saving.



This is nice for $299.

Weld like a "WELDOR", not a wel-"DERR"

MillerDynasty700DX,Dynasty350DX4ea,Dynasty200DX,Li ncolnSW200-2ea.,MillerMatic350P,MillerMatic200w/spoolgun,MKCobraMig260,Lincoln SP-170T,PlasmaCam/Hypertherm1250,HFProTig2ea,MigMax1ea.

---

Join Date

Oct 2016

Location

Delavan WI

Posts

514
Post Thanks / Like

Likes (Given)

23

Likes (Received)

53

Dislikes (Given)

0

Dislikes (Received)

0

Re: Welding Cart... Ideas Space Saving.

My cart 3 bottles, welder, plasma cutter, 2 hoods, 1 grinding shield, tig kit, spool gun kit, clamps, small toolbox, 3 weld blankets, 4 electrode tubes, and some other odds and ends all in a 2'x4' footprint. Still working on it but 90% done I think.

---

Join Date

Dec 2016

Location

NW Indiana

Posts

73
Post Thanks / Like

Likes (Given)

0

Likes (Received)

0

Dislikes (Given)

0

Dislikes (Received)

0

---

Join Date

Mar 2016

Location

North Georgia

Posts

1,934
Post Thanks / Like

Likes (Given)

0

Likes (Received)

0

Dislikes (Given)

0

Dislikes (Received)

0

Re: Welding Cart... Ideas Space Saving.

I like it..simple and easy to move around.

I may build a small one similar to yours. I like the handle you made to push it around with and the cable hangers.

---

Join Date

Dec 2016

Location

NW Indiana

Posts

73
Post Thanks / Like

Likes (Given)

0

Likes (Received)

0

Dislikes (Given)

0

Dislikes (Received)

0

Re: Welding Cart... Ideas Space Saving.

Originally Posted by

Michael ray

I like it..simple and easy to move around.

I may build a small one similar to yours. I like the handle you made to push it around with and the cable hangers.

Considering how much the machine weighs it moves around the shop effortlessly. There is plenty of storage room in the box under the machine and on the expanded metal shelf for the pedal and cables.

---

Join Date

Mar 2016

Location

North Georgia

Posts

1,934
Post Thanks / Like

Likes (Given)

0

Likes (Received)

0

Dislikes (Given)

0

Dislikes (Received)

0

Re: Welding Cart... Ideas Space Saving.

I'm going to build one for my multimatic 200 very soon and maybe one for my maxstar 210 if I keep it.

---

Join Date

Apr 2015

Posts

329
Post Thanks / Like

Likes (Given)

0

Likes (Received)

0

Dislikes (Given)

0

Dislikes (Received)

0

Re: Welding Cart... Ideas Space Saving.

Mine's only two bottles, a welder and a plasma cutter, but if I did a shelf instead of drawer out could fit another machine...




---

Join Date

Nov 2014

Location

Montpelier, VT

Posts

173
Post Thanks / Like

Likes (Given)

0

Likes (Received)

0

Dislikes (Given)

0

Dislikes (Received)

0

Re: Welding Cart... Ideas Space Saving.

Originally Posted by

HT2-4956

Boy howdy, that looks like if you took the bottle off it, it would want to tip backwards real easy.

I have the same hand cart(tractor supply) that I have been sizing up for a cart for my Lincoln 210. I like the two wheel design because of the small footprint. Well done.

---

Join Date

Jul 2014

Location

Puget Sound

Posts

192
Post Thanks / Like

Likes (Given)

0

Likes (Received)

9

Dislikes (Given)

0

Dislikes (Received)

0

Re: Welding Cart... Ideas Space Saving.

I have a similar need, but for a Lincoln 200SW and a bottle, and misc. tools- but it has to roll over gravel- so big wheels are a necessity. Anybody have favorites for wheels and castors for gravel?

---

Join Date

Oct 2016

Posts

19
Post Thanks / Like

Likes (Given)

0

Likes (Received)

0

Dislikes (Given)

0

Dislikes (Received)

0

Re: Welding Cart... Ideas Space Saving.

---

Join Date

Jan 2014

Posts

6
Post Thanks / Like

Likes (Given)

0

Likes (Received)

0

Dislikes (Given)

0

Dislikes (Received)

0

Re: Welding Cart... Ideas Space Saving.

I have the same issue. MIG, TIG, plasma, and four bottles. I took my cart and added some frame above to be able to lift the thing into my truck, and to have a cover. I still need to make the cover.









Sent from my SM-P900 using Tapatalk

---

Join Date

May 2012

Location

Missouri

Posts

185
Post Thanks / Like

Likes (Given)

0

Likes (Received)

0

Dislikes (Given)

0

Dislikes (Received)

0

Re: Welding Cart... Ideas Space Saving.

Originally Posted by

stoneaxe

I have a similar need, but for a Lincoln 200SW and a bottle, and misc. tools- but it has to roll over gravel- so big wheels are a necessity. Anybody have favorites for wheels and castors for gravel?

I have never found a caster that works good in gravel. Thats one teason I use the hand truck design. This is my 2 carts. The one with the XMT 304, suitsase & plasma I just lean it back & get it off the big cart to take it outside. I have 150ft of gas hose. When I work out of my trailer I leave the gas cylinders in the trailer.



Miller XMT 304 cc/cv
Miller 12RC w/ 15ft Tweco #4 Gun
Miller 30A Spoolgun
Custom Thermal Arc TA 10/270 Generator "Thermal Star"
Smith oxy/acet-propane with weld, cut & rosebud tips
And of course grinders, chop saws, hand tools

---

Join Date

Jan 2017

Location

Sylva, NC

Posts

34
Post Thanks / Like

Likes (Given)

0

Likes (Received)

0

Dislikes (Given)

0

Dislikes (Received)

0

Re: Welding Cart... Ideas Space Saving.

This is my cart I made a few years ago....made from old bed frame, holding my little mig machine/ahp tig-stick and 2 tanks as well as other misc items... I put on a cheap outdoor cart steering and rear wheel system.. now I need to build a cart for my plasma cutter.....



Cheap mig welder (gets the job done)
AHP AlphaTig 200X
Longevity forcecut plasma cutter

---

Join Date

Dec 2015

Location

Vancouver, WA

Posts

11
Post Thanks / Like

Likes (Given)

0

Likes (Received)

0

Dislikes (Given)

0

Dislikes (Received)

0

Re: Welding Cart... Ideas Space Saving.

My Personal Blog

Shop Tools:
Tormach 1100 CNC Mill
12X36 CNC Lathe
Miller 211 "Mig"
Lincoln 255C "Mig"
Miller Diversion 180 "Tig"
Miller LMSW-52T "Spot"
Miller 375 X Plasma
Quincy QT-54 Comp
Dayton 7 X 12 BS
SkatBlast 960DLX Blast Cab.

---
Posting Permissions
You may not post new threads
You may not post replies
You may not post attachments
You may not edit your posts
Forum Rules
Page generated in 1,634,489,302.69649 seconds with 11 queries
Sours: https://weldingweb.com/vbb/
Portable Welding Cart
Black welding cart with 3-levels. Max recommended weight capacity: 90 lbs.
Item #: 332
UPC #: 032277003323
$134.99 (Suggested retail)
Portable welder cart.
11-1/2" wide x 27-1/2" tall.
3-levels.
Four casters included.
1.0mm thick steel.
Max recommended weight capacity: 90 Lbs. (40.8 Kg).
Fits Forney 300-series welders and plasma cutters and all similar sized welders.
WARNING: CANCER AND REPRODUCTIVE HARM – www.P65Warnings.ca.gov
This product is known to contain the following chemicals:
Carbon, Lead, Di(2-ethylhexyl) Phthalate
This product can expose you to chemicals which are known to the State of California to cause cancer and/or birth defects or other reproductive harm. Click here for more information: https://www.forneyind.com/california-proposition-65
Product category: Welding > General
Please insert your postal code to check for stock availability.
Sours: https://www.forneyind.com/
350 lb. Capacity Welding Cart
The VULCAN® 350 lb. Capacity Welding Cart has a unique patent pending cable management system to provide the ultimate in welding storage. The cart has a tilted top shelf for easy access to welder controls, a shelf for a gas cylinder and an ample bottom shelf for supplies. Smooth-rolling wheels and casters provide easy mobility. Works with Harbor Freight welding brands including Chicago Electric® Welding, Titanium™ and Vulcan®. The cart is also compatible with LINCOLN ELECTRIC, HOBART, MILLER, ESAB, FORNEY and many other brands.
Two vertical handles with rubber grip for portability
Patent pending cable management system can be moved to either side of the rack
Cylinder rack with top and bottom strapping points hold up to 65 lbs. and up to 7 in. diameter
Two 8 in. heavy duty rubber wheels and 2-1/2 in. swivel casters
Oversized handles for easy mobility
Comes with a plastic consumables case and storage tray
Tough steel construction
Owner's Manual & Safety Instructions (PDF)
Important Information
All tool brands are the registered trademarks of their respective owners.
Sours: https://www.harborfreight.com/350-lb-capacity-welding-cart-56191.html
Welder Cart
All terrain welding cart build
I appreciate the input. I did decide to go ahead and at least make a version 1.0 to at least get me going.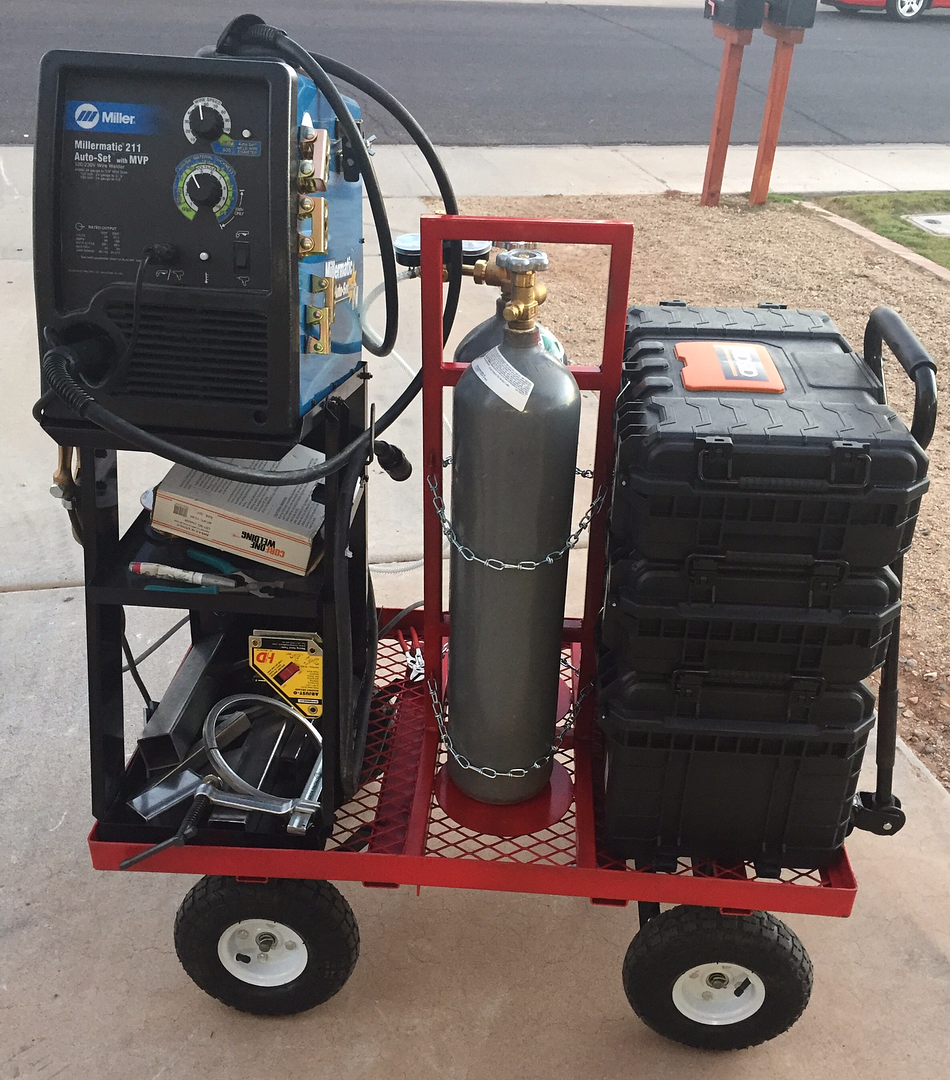 This started as the HF garden cart in my original post. I took the wheels of my HF mig cart, and cut a few inches off the back and bolted it down to the back of the car. It has to be on either the front or back so I can easily get to the controls. I decided that I will not be getting bottles larger than about 80cf, so this should help with the balance. I welded the bottle carrier up out of 1" 16ga square tubing and bolted it to the cart frame as well. I shortened the wagon by about 13" as well.
The tool boxes store my welding gear, clamps, magnets, and a pair of 4.5" angle grinders. I have plans to build a rack to hold the toolboxes so I can get one out of the stack without taking them all apart.
It does have some problems. The center of gravity is fairly high so tipping is a possibility, but realistically I am just using this to haul everything from the back yard shed to the driveway where I can work, dragging it over landscaping gravel that is pretty level. It keeps most of my welding related stuff in one place and is much easier to get things out and put them away.
I will probably widen the wheelbase on the rear wheels as was suggested by bsaint earlier in the thread.
Thanks everyone for your input.
Lee
Sours: https://www.garagejournal.com/forum/threads/all-terrain-welding-cart-build.341011/
Welding cart outdoor
.
Keeping the WELDING TABLE clean, shiny \u0026 smooth
.
You will also be interested:
.
1883
1884
1885
1886
1887