How to DJ with Apple MusicCan you be an Apple Music DJ?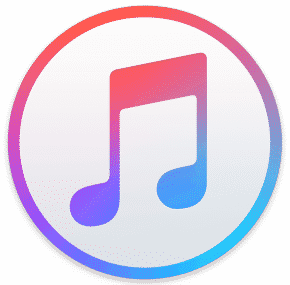 Loving Apple Music and want to use it to turn your hand at DJing? We don't blame you, which is why we've put together everything you need to know about DJing with one of the fastest growing streaming platforms out there.
We'll cover everything from compatible hardware and what DJ apps work with Apple Music, to the legal implications you need to know about.
We'll also go in depth so you can get a feel for just how reliable it's going to be before you decide to sign up. Then you'll have everything you need to add Apple Music to a DJ setup.
Now that we've covered the intro, let's get started on the interesting stuff.
What Software Works With Apple Music
If you want to know what DJ apps work with Apple Music, you've certainly come to the right place.
There's a whole host of different options out there, but we're going to focus on two main approaches and the software that you need to make DJing with Apple Music possible.
MegaSeg
Now on its 6th incarnation. MegaSeg is a DJ-ing product from Fidelity Media which takes a different approach to DJ software than its competitors. Thanks to this they've found a clever workaround of Apple's Digital Rights Management (DRM) which does work, kind of.
Rather than importing tracks from Apple Music the software can control the iTunes app on your Apple Mac, with play, pause, cue and a few other features enabled. Its true to say that MegaSeg does a much better job of playing imported music that isn't part of Apple Music, where it can create loops, pitch bend and key lock.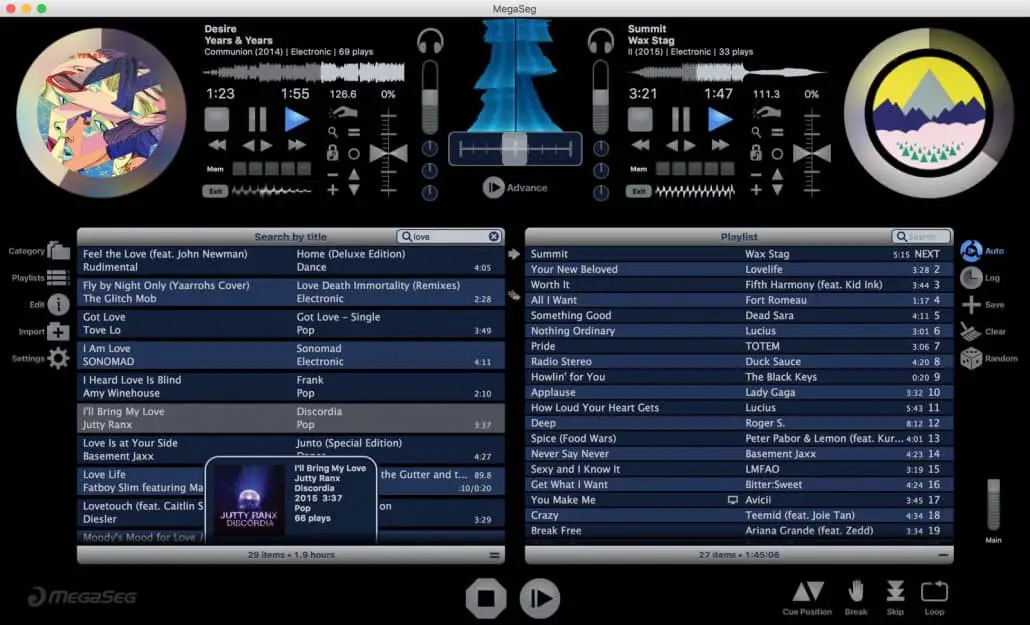 The caveat here is that MegaSeg can only play downloaded Apple Music. So it can't stream directly from source. you'd need to prepare your DJ sets well in advance, downloading all the tracks you wanted to your laptop via iTunes and then selecting them within MegaSeg to play them. Its convoluted but does at least work.
You also can't play 2 apple music tracks and transition between them, because only one deck can control the one track playing through your iTunes software. The other track will need to be from your standard music library outside of iTunes.
Apple are hot on DRM so whether this solution will work forever remains to be seen but for now MegaSeg does a pretty decent job of giving you full access to every Apple Music track you've downloaded. You can check out MegaSeg Pro here.
NoteBurner DRM Audio Converter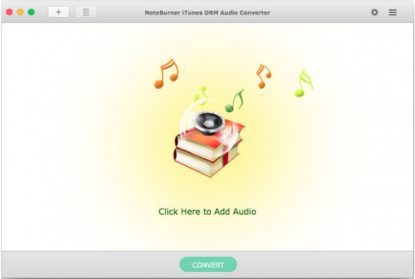 Now technically this isn't DJ software but it is a method of using Apple Music with your existing DJ software so worth a mention. NoteBurner does the same as MegaSeg in that it controls iTunes to circumvent the DRM restrictions, converting the output from iTunes to a save-able file format such as MP3.
Its effortless to use and can batch convert entire collections without any user input which makes the task of getting all your music ready that little bit easier.
As the software is playing each track to convert it the actual conversion process can take some time! On a large collection we're talking many hours or days so its definitely not something you'd want to do on-the-fly while at a venue, mid gig! It'll take up some processing power which your DJ software and controller will probably need.
As with MegaSeg you'll need to download your tracks first before converting and DJing with Apple Music so its not a seamless DJ streaming music experience. But never-the-less it is one approach.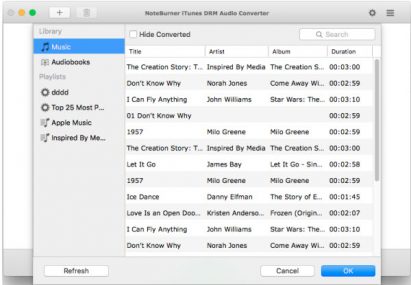 It's very important to note that this approach is most definitely NOT legal. You are essentially ripping copyrighted music from a streaming source which would invalidate your user agreement with Apple and not be covered by any digital music permit either.
Because of this I cannot recommend this method but as this is a page about how you can DJ with Apple Music it was at least worth mentioning.
Whether you choose to DJ this way is up to you. Check out NoteBurner DRM Audio Converter here.
Does Serato work with Apple Music?
If you're using Serato to DJ with then I'm afraid Apple Music cannot be used as your DJ library. There are numerous technical and legal implications to Apple Music and its use outside of Apple's ecosystem, something that some software packages have been able to circumvent.

Serato DJ software currently has no plans to do the same so you'll need to change DJ apps and try one of the software packages above.
Using the legally dubious method of ripping audio from Apple Music does however mean you can use those audio files on any music playing software. So yes you can technically DJ with Apple music on Serato, but its convoluted and unreliable for a professional DJ.
Whether Serato will work with Apple Music in the future? Keep an eye on the Serato Forums for the latest updates.
Can Traktor use Apple Music streaming services?
Traktor Pro 3 currently does not work with Apple Music for the same legal and technical reasons that Serato doesn't.

Apple Music has Apple's own DRM system built in and whilst your own iTunes Library is visible within Traktor, searching and streaming audio from Apple Music is not accessible. In fact if you download tracks from Apple Music to your laptop you still wont be able to play them on Traktor because of the Digital Rights Management system.
The same note applies here for DJ-ing with Traktor and Apple Music. You can rip audio files and play them with Traktor but its not an easy setup and quite frankly if you're serious about DJ-ing as a career you should be serious about paying for your music too.
For the latest updates on Traktor and Apple Music join the Traktor Forum here.
What Hardware Works With Apple Music
The hardware side of things can get a little tricky with Apple Music in ways that you're unlikely to encounter if you try DJing with Spotify.
Apple are well known for their strict DRM policies. With this in mind, we thought it best to focus on hardware that we know to be compatible with one of the above software approaches, rather than making the promise that everything we're about to write about will always work with your Apple Music subscription.
So let's take a look at some DJ hardware options that work with Apple Music.
Pioneer DDJ-1000
With its Customisable displays build in to the jog wheel Pioneer's latest DJ controllers are paving the way for modern robust and reliable DJ hardware. The most important factor here when DJing with Apple Music is versatility in support. The Pioneer DDJ1000 can be mapped to any midi controls on a laptop giving you full professional control of every feature.
Its price point reflects its features and you wont be let down on that front. Plenty of professional options and everything in just the right place. With both decks and mixer built in to one this covers everything you'll need and Pioneer's Rekordbox software will handle the rest. You just need to import your downloaded (and ripped) music and import it ready for use on these immensely popular turntables.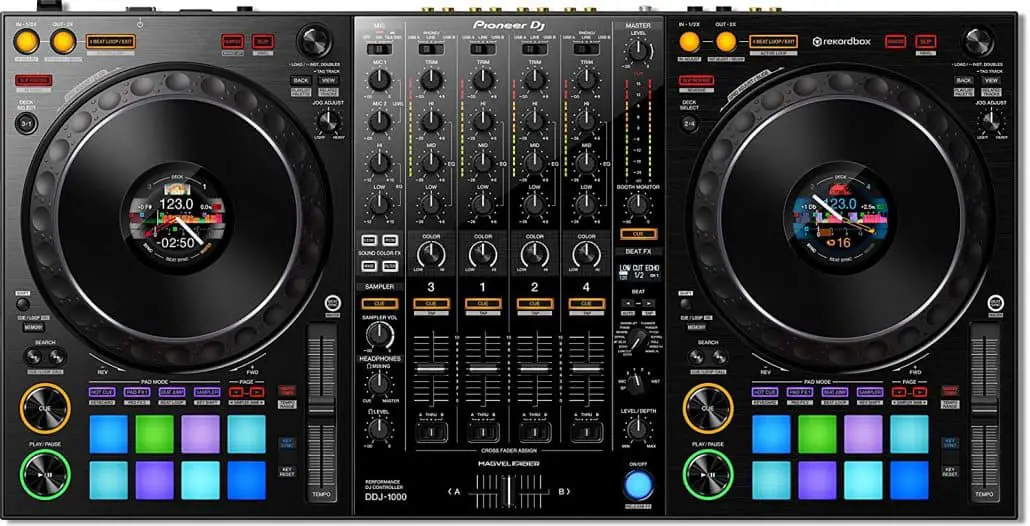 Other features include 16 colour pads for triggering hot cues, effect, samples and beat jumps. You can easily create new loops on the fly and layer effects during mixdown. DJing controllers don't get much more professional than this, For the latest prices from Amazon go here.
Numark DJ2GO2
If you're looking to use MegaSeg as your DJ software then its wise to use a controller that is sure to work with it. the Numark DJ2GO2 has been verified as MegaSeg friendly by the software producers themselves.
Its a simple budget controller that works seamlessly with a lot of DJ software thanks to its midi over USB setup. Handy for DJing on the go and if you don't need any extra bells and whistles this may just be all you need. Control MegaSeg, Traktor or Serato with this controller and mixer.
It works with Serato out of the box and doesn't take much setup to get working with any other DJ software that supports midi controllers too.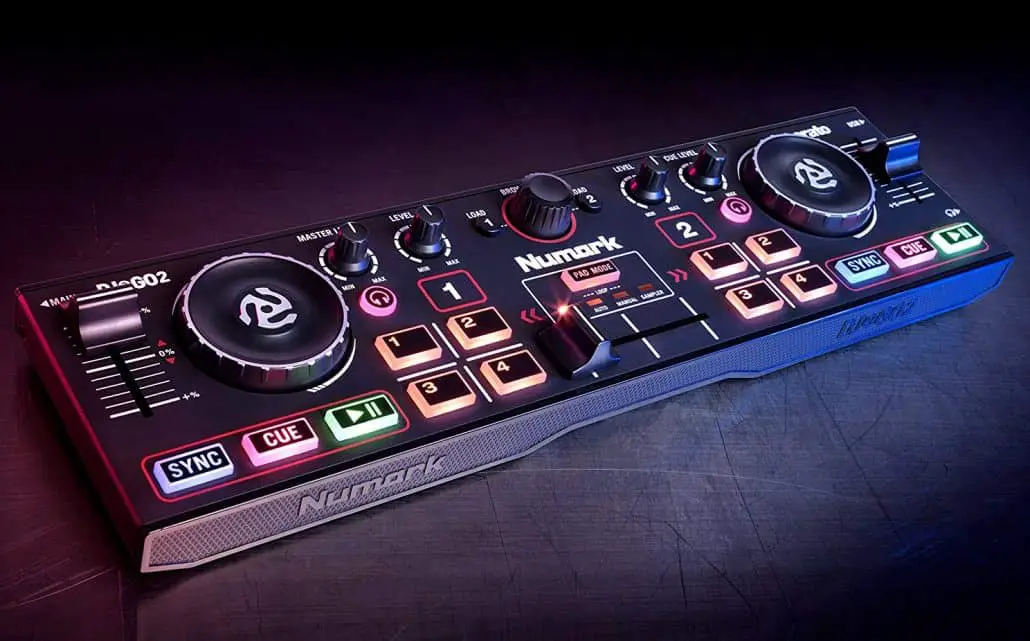 The surprising thing with the DJ2GO2 is that it has a build in audio interface so your master audio out goes right through the unit. No need to use your laptop's sound card or an extra sound card. Don't expect pro quality audio as at this price you're getting what you pay for.
On the plus side it'll fit in any bag, is powered directly by your laptop and makes DJing on a budget a reality. Check out the latests prices for the DJ2Go2 here.
Denon DJ MC4000
Meet the daddy of DJ controllers. Denon are the master when it comes to hard-wearing, feature rich and professional quality DJ equipment. The DJ MC 4000 has a new design making it the most intuitive controller out there.
Compatible with many DJ software packages so your Apple Music collection will be accessible one way or another whether its by ripping to Serato or controlling Megaseg via midi.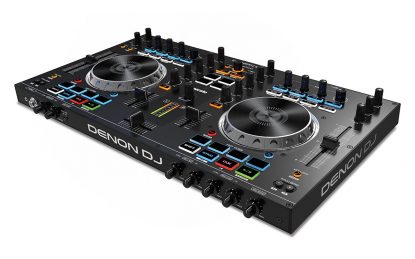 The robustness of the unit goes above and beyond the competition and builds upon Denon's many years as an industry leading DJ equipment manufacturer. You'll find most pro DJs talk highly of Denon hardware and once you get your hands on the DJMC4000 you'll see why.
For the latest prices on Amazon take a look here.
Hopefully this gives you an idea of the types of hardware you can get for your money, whilst also highlighting the need to stay up to date with the latest DRM policies Apple are employing. If you do that before you buy, then you should be able to ensure you end up with a functional setup you never want to stop playing with.
How to download any Apple Music song
As there is currently no DJ software that integrates with Apple Music there is only one real way of getting tracks from Apple's music library in to your own DJ software library. The use of third-party apps like TunesKit Audio Converter are your best option.
The software can access your local Apple Music library and convert any track, protected or not, in to a new audio file with no digital rights management. This means you can then import the tracks in to your DJ software's music library and use in your DJ sets completely offline.
Download the TunesKit Audio Converter app here and load it on your desktop. You'll also need an Apple Music subscription to be able to access their music and download the digital rights protected files.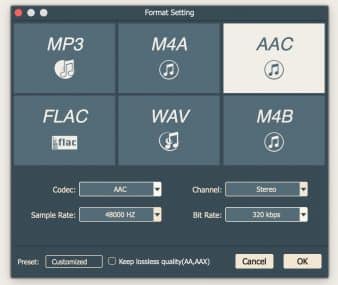 TunesKit Audio Converter also allows you to choose which music file format you want for best playback results on your setup. You can choose between MP3, AAC, M4A, FLAC and WAV although keep in mind that converting a compressed download from Apple Music to a lossless format like FLAC wont improve the audio quality.
I'd recommend upgrading the default music format and bitrate to the highest settings as Apple music tracks are usually 320kbps AAC files, anything less would downgrade the music quality.
Now that you have the songs downloaded and converted you can easily import them straight in to your DJ app of choice. the files will work in any DJ software as they are now unprotected audio files.
You can get a free trial of the software here and test a few tracks before getting either a 1 month licence for around $15 and a life-time licence for $50.
It must be noted that  you are still downloading copyrighted music that is against Apple's terms of service, so for legal reasons I don't recommend this approach for professional DJs. You can try other legal routes with streaming services like Tidal and Soundcloud that allow direct integration in to DJ software. Either way I advise you to make up your own mind. You can view all of TunesKit features here.
Legal Implications of DJing with Apple Music
There's often a whole host of legal debating that goes on online when you broach this topic, so we thought we would tackle it once and for all.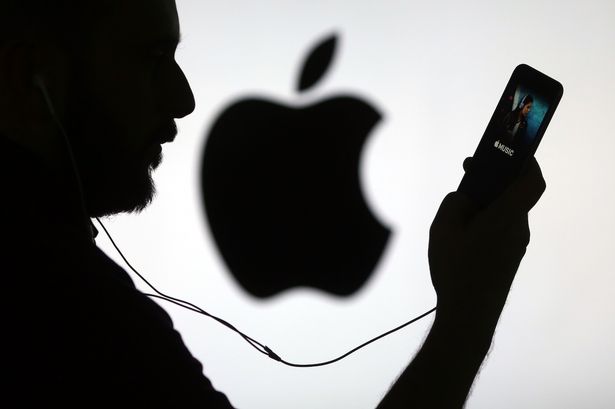 First and foremost, you can listen to Apple Music in your own home and DJ using it in your own home, this much we do know for certain.
Secondly, you're certainly not allowed to start ripping tracks from it, uploading them for sale, or burning them onto CDs you want to sell for your own gain.
This breaks Apple's terms and conditions as well as copyright laws (depending on the country you live in).
Again, we can be almost certain that Apple are not going to look favourably on us if we start doing this, not to mention the artists whose work we're using unlawfully and without consent.
Things start to get a little tricky when you look into whether a DJ can perform live with Apple Music.
The first thing you need to do is ensure that the venue you're playing at holds the suitable license to allow you to play to a live crowd.
This will vary depending on the state and country you're in so an exhaustive list would be a little tricky to fit in here. It would also be likely to become redundant as soon as one area changes their rules and regulations.
For this reason we suggest contacting the venue directly so that you can get confirmation of their license in writing. At the moment there are different permits for playing music and more importantly streaming music.
The standard licences do not permit streaming music so its unlikely the venue would allow this. Although these things are very hard to police and are generally not in my experience.
Next, you need to consider whether the nature of your performance will blur the lines between DJ-ing at home (fine) and ripping content (not fine). If you're just playing music to a crowd then it's going to be hard for anyone to argue that you're breaching Apple's rules, no matter how convoluted their DRM legalese has become in recent years.
If in doubt, play it safe and stick to what you can prove. That way you'll never have your fledgling new DJ career put on hold due to a frustrating legal technicality. The choice is yours but we would never advise breaking laws or breaching terms and conditions of the software and services you use.
Reliability Considerations when DJing with Apple Music
When you come to assess the reliability of Apple Music you also need to factor in which type of device you'll be using to play it. If you opt for any of the hardware above then it's safe to say that you won't be disappointed.
The real sound quality experts reading this will probably point to the fact that the maximum bit-rate of Apple Music is a little lower than that of Spotify.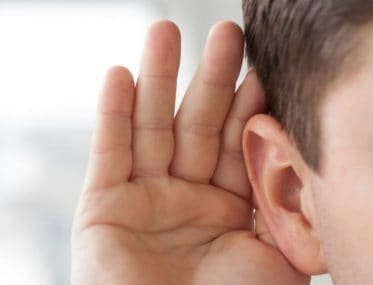 That said, 256 kbps is certainly not a speed you should turn your back on as it will be more than enough for just about anything you'll want to do. The only way Spotify can surpass it is by launching its 'Extreme' setting.
Another thing to consider is any pending updates which could slightly alter the functionality of the platform. Whilst this is something you'll have to deal with when using any streaming platform out there, Apple updates do seem to get a lot more attention than the rest.
But rest assured, this is more due to the size of the brand than it is the impact or negative changes of any given update. In short, people are a lot more invested in the Apple ecosystem than they are other platforms, and so it's just bigger news.
This certainly isn't a reason to shy away from using Apple Music to DJ.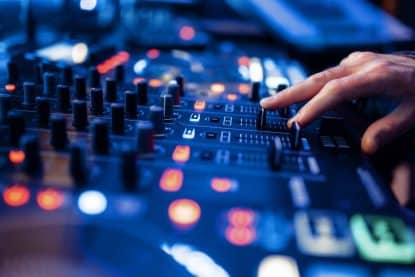 You could also make use of the suggestions and recommendations settings within Apple Music when you're looking to find some new inspiration for your sampling.
This will allow you to explore a wider variety of music than if you were simply left to your own devices, and it can be a great way to get a really fast, and yet still in-depth, musical education.
Just what you need if you're going to be the DJ that's known for getting the crowd excited.
Finally, you need to be aware of the pending migration from iTunes to Apple Music. iTunes has served a whole generation of digital downloaders well, but Apple feel the time has come to move on and push everything through their Apple Music platform, a standalone app on their latest Mac OS.
Whilst it's too early to say if this will result in any teething problems or bugs along the way, it may be prudent to have a reserve platform ready just in case.
Should you use Apple Music to DJ?
If you want to be able to listen to any song on the planet with the click of a button, then Apple Music is just about as good as it gets.
Whilst it doesn't have quite the same reputation as being DJ-friendly as Spotify, it's worth noting the growing number of DJs and software producers are trying it out and experimenting with whats possible.
It's also worth noting that whilst there are restrictions on the apps that will work with it due to Apple's fairly tight DRM conditions, there is still a selection available and some workarounds that do work, however morally or legally wrong they may be.
For some this doesn't matter so technically yes you can DJ with Apple Music in one way or another. Whether you should is up to you, we've given you the information you need to make an informed decision for yourself.
More DJ tips for you
There's plenty more you can learn while you're here so here's a few articles with think you should read next.
Share this article with others
Sours: https://www.djtoptips.com/dj-with-apple-music/
How to Mix Apple Music with djay

djay is a DJ application for everyone. I said that because whether you are a beginner or a pro, you can use djay to mix music and create beats. And the most important thing is that djay has great compatibility to brag about. Over the years, djay keeps releasing applications designed for Windows, Macintosh, iPad, iPhone, iPod Touch, and Android one by one. It is even available on Apple Watch early since the year of 2015. This basically covers all we can think of. You have to say, djay is doing everything it can to get closer to the users.
The only pity is that djay is not so perfect for Apple Music users. Actually, Apple Music release no API for any third-party DJ software or app. Algoriddim, the developer of djay, makes it very clear on the official website. Although djay is seamlessly integrating with iTunes, it doesn't make any better for those who stick with or only with Apple Music.
If you really don't want to abandon Apple Music for mixing in djay, here we offer a quick solution for how to connect Apple Music to djay pro.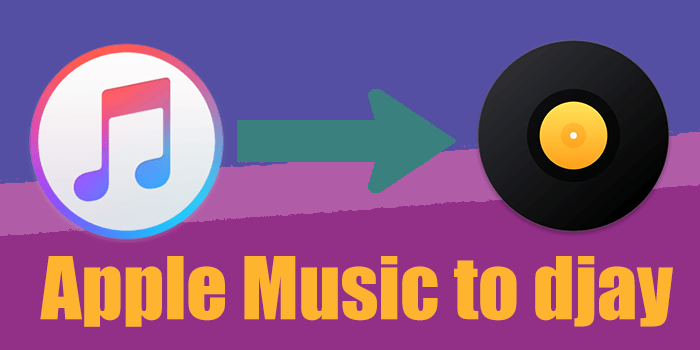 How to Convert Apple Music to djay Pro
Even though djay cannot get Apple Music files imported, Apple Music files are workable on djay if we convert Apple Music to one common format such as MP3. Thus, the solution is to change the format of Apple Music using a magical tool - ViWizard Audio Converter. It is capable of converting Apple Music to plain formats that are acceptable for djay so that you can add them to djay. The supported output formats include MP3, AAC, FLAC, WAV, M4A, M4B. You will get the music converted with 30X speed and in high quality. All the ID3 tags of the songs will be saved. Follow the guide below and learn how you can convert Apple Music to djay so that you can use Apple Music on djay pro without limits.

ViWizard Audio Converter Key Features
Losslessly convert Audible audiobook & iTunes audiobooks
Convert Apple Music M4P to MP3, AAC, WAV, FLAC, M4A, M4B
Retain 100% original quality and ID3 tags
Convert Apple Music songs to MP3, M4B, AAC
Convert between unprotected audio file formats
Step 1 Import Apple Music to ViWizard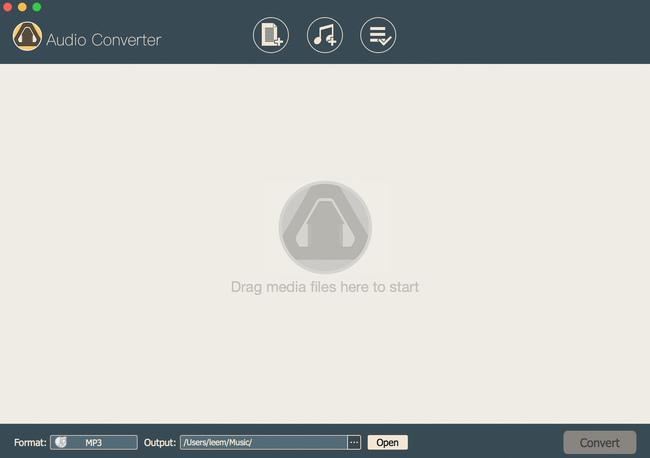 Before everything starts, you need to do some preparation. First, make sure you download and install ViWizard Audio Converter. You also need to download the Apple Music songs, which shall be playable on your computer. Then, you can run the converter and drag the files to the main interface. Wait for a few moments till the loading finish. There's another way to import songs. Click the + icon on the top of the converter can import Apple Music audios.
Step 2 Select Audio Output Format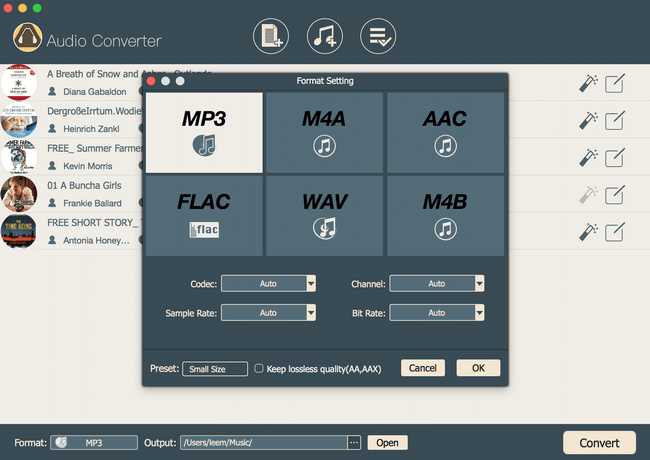 After all the songs are loaded into the converter successfully, you can start to work with the output settings. The first and the most important is the output format. Click and open the "Format" panel and select MP3 as the default output format. But MP3 is not the only choice. ViWizard provides 20 more options for input formats to 6 common output formats. To adjust the volume, speed, and pitch of the audios, you can use the "Effect" and "Edit" icons at the end of each column of the audio track. When all the settings are decided, don't forget to save the changes by clicking "OK".
Step 3 Convert Apple Music to djay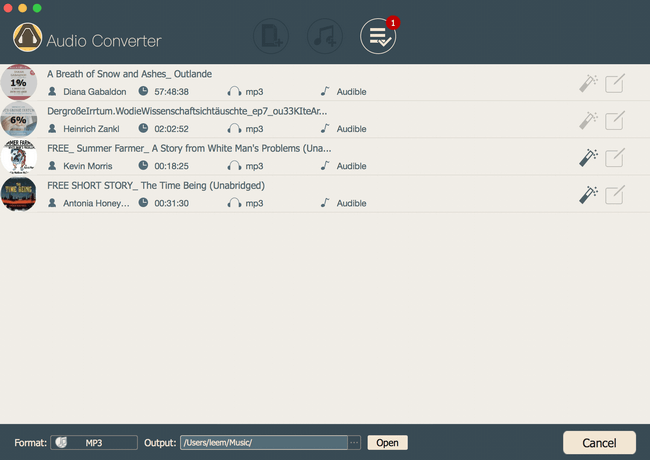 Now you're one more step to get the converted Apple Music songs. The step will be a click on the "Convert" button. After the process is done, you can locate the converted files in the folder you chose or find them through "Converted" history.
How to Import Apple Music to djay
Now you can save the converted Apple Music as your local music files and add them to djay. There are different ways to import tracks to djay. djay supports the importing from local, iCloud Drive, USB sticks, SD Cards, external hard drives, cloud services, iTunes library, and more. Here I will show you how to add Apple Music to djay from Mac and iOS.
How to Use Apple Music on djay on Mac
You can use the My Files library source or a drag-and-drop to import music to djay.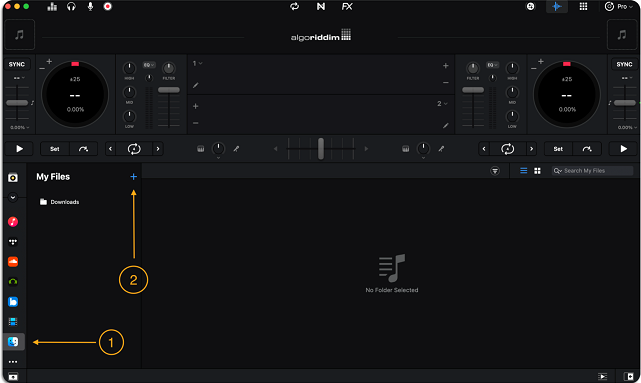 1. Go to the My Files section and click the + button.
2. Select the folder where your converted Apple Music songs are stored.
You can also drag these files to one on-screen turntable/deck of djay.
Note: Adding from My Files does not duplicate or move your music. It only saves a reference to your tracks.
How to Use Apple Music on djay on iOS
If you use djay for iOS, you can upload your files to the cloud from the computer and add Apple Music to djay from the cloud on your iOS devices.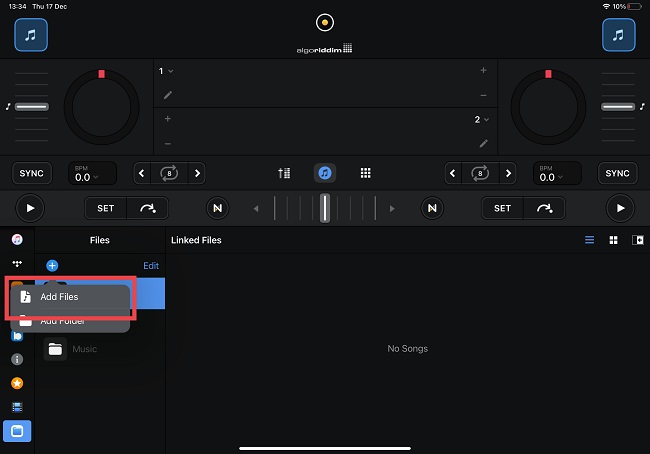 1. Open djay on your iOS device. Choose the Files tab of your library.
2. Choose "Add Files" from the poping-up window.
3. Locate and select the converted music. Then you will find they are in the Linked Files section of the Files browser.
4. Tap the number of songs and opt for "Add All to Playlist..." to add them to a playlist. Then you can mix Apple Music with djay.
The Bottom Line
With ViWizard Audio Converter, you will have no more worry about djay Apple Music support, which is something unlikely to happen in the near future. If you do not continue to wait for the hopeless cooperation between Apple Music and djay, why not try to convert Apple Music with ViWizard Audio Converter and make it come true by yourself!

Adam Gorden is an experienced writer of ViWizard who is obsessed about tech, movie and software.
Viwizard uses cookies to ensure you get the best experience on our website. Learn moreGot It!
Sours: https://www.viwizard.com/apple-music-tips/mix-apple-music-with-djay.html
Algoriddim's djay iOS app uses Shazam to recognize and sync with live music
Algoriddim has been working closely with Apple for years on its djay apps and regularly appears in the company's keynotes. Now, it's integrating another Apple product, Shazam, into its latest iOS djay app with the release of iOS 15. The new feature lets you can scan your surroundings and identify any song playing, whether at an event, listening to the radio or playing sets with other DJs. Once it picks out the song, djay will instantly load it onto the virtual decks and play it in sync with the external music source.
Once loaded, you can create a mix with similar tracks, remix the song, apply effects and deconstruct it into components using the company's Neural Mix tech. It can also save songs into iOS 15's music recognition history in the control center, "providing users with streamlined access to all of their song discoveries," the company said.
While this sounds like cool technology in search of an application, Algoriddim has a few use cases in mind. The main one is that you can identify a track you might hear and get it into your library with the tap of a button, or create an automated mix based on the recognized song. "djay can instantly provide you with similar tracks to the one you just heard, allowing you to quickly immerse yourself in a particular style," Algoriddim told Engadget.
Another, more marginal use case is with back-to-back DJing. If you're playing in tandem with another DJ or in a lineup, you can pick up where the last DJ left off by identifying and syncing with their song before phasing into your own set. This goes a step beyond beat matching, letting you match the last DJ's song exactly. Mind you, many DJs may not care to replay the last DJ's song or work with a playlist inspired by it, especially if they weren't familiar with the tracks
The Shazam-enhanced version of iOS djay lets you save recognized music to your Tidal (music and video), SoundCloud, Beatport and Beatsource libraries (not Spotify or Apple Music). Other new features include the ability to add effects to the master audio output, enabled by new Audio Unit (extensions) features in iOS 15. That will let you better tailor the sound for broadcast or to match a PA system. Algoriddim's iOS djay update for iOS is now available for free, or you can get the Pro version for $6.99 per month or $49.99 per year.
All products recommended by Engadget are selected by our editorial team, independent of our parent company. Some of our stories include affiliate links. If you buy something through one of these links, we may earn an affiliate commission.
Sours: https://www.engadget.com/algoriddims-djay-i-os-app-uses-shazam-to-recognize-and-sync-with-live-music-140001218.html
How To DJ With Apple Music
How to DJ with Apple Music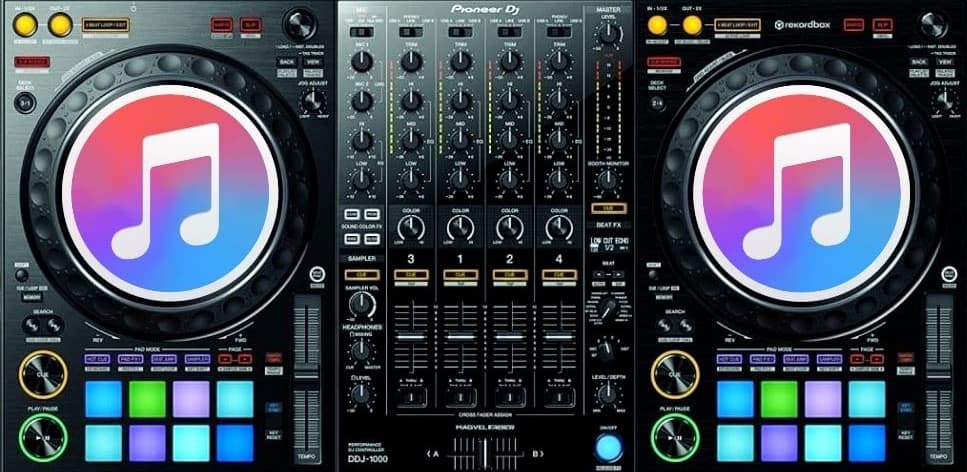 I am DJing a wedding tomorrow and got the playlist sent through Apple Music. I have an Apple Music account and can play the songs on iTunes, but not when using Djay pro or cross DJ. Is there a way to DJ with songs from Apple Music on a third-party DJ app?
Unlike Spotify, Apple Music hasn't integrated with other third-party DJ apps to allow music lovers and DJs to create more fun with its tracks.
Apple Music is among those music services that provide millions of songs to music lovers, and it boasts to have more than 70 million songs in its library. And a large music collection is no doubt a must-have for a DJ. If Apple Music is available for those aspiring DJs, that must be a huge improvement in their setups.
So in the following parts, we'll cover how to DJ with Apple Music on third-party DJ apps. Now let's get started.
Some Powerful DJ Apps
You don't need a hardware DJ setup to become a DJ now. Yes, you can find a dozen of DJ apps that work on various devices and start DJing right in front of the screen. Here are some of the most powerful and noted DJ apps.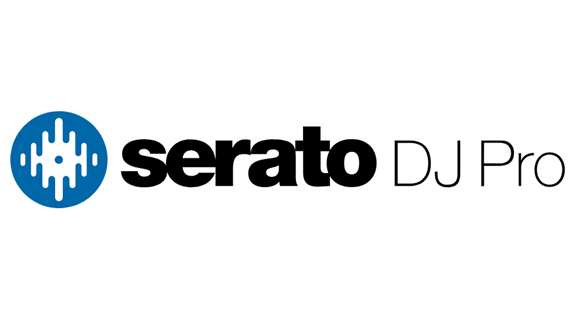 1. Serato DJ
Serato DJ is a DJ program from New Zealand, which introduces itself as the world's best DJ software. It enables you to use loads of features like Recording, powerful effects, Key Detection, advanced Sampler, Midi Mapping. You can subscribe to Serato DJ for $9.99 per month.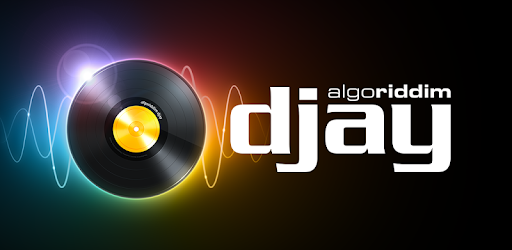 2.djay Pro
djay Pro is a digital music mixing program for everyone due to its simplicity. It supports Mac, Windows, iPad, iPhone, and Android. There are many features in this DJ app including perform live, enable Automix mode, or record mixes on-the-go. This software has integrated with Spotify but not with Apple Music yet.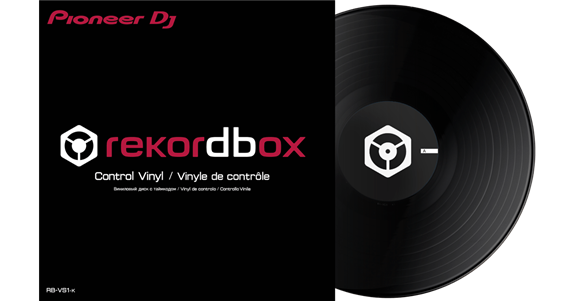 3.rekordbox
rekordbox is also a well-liked DJ program, which attracts users with its multi-deck mixing ability and the Auto Mix feature. It costs $9.99 or $14.99 per month.
DJ Apps that Work with Apple Music
All of the DJ apps are powerful and popular among DJs. Are there any DJ apps that work with Apple Music?
MegaSeg

MegaSeg is a DJ app that works on the Mac system. No matter you have a MacBook, iMac, or Mac Mini, MegaSeg is a perfect DJ app for you.
MegaSeg has been the first app that can DJ with Apple Music songs. Tracks you add to your iTunes library from Apple Music and your local music can be both loaded on MegaSeg with the internet on. Also, you can download songs from Apple Music and load them on your iTunes library, so you can play them without having to go online.
But the problem is currently those Apple Music tracks simply don't show in MegaSeg, meaning you can't play them there, even if you download songs from Apple Music with a subscription. Since each downloaded Apple Music song comes with protection from Apple, you can't directly apply them to any unauthorized usage.
Does Other DJ Apps Work with Apple Music?
Some of the well-known DJ apps like Serato, djay Pro, RekordBox, and Traktor have integrated with music services such as Tidal or Spotify, but not with Apple Music. If you're going to DJ with Apple Music in these apps, the only way is to download them to your device and upload them as local files. And in the next part, I'm going to show you how to do that.
How to DJ with Apple Music on Any DJ Apps
Since you can't get DJ apps for Apple Music currently, the only way is to remove the protection from each Apple Music track. Normally, when you're an Apple Music subscriber and download songs from the service, you can get the downloaded files on your device. But when you want to take them elsewhere and play them, Apple won't allow you to do this.
But with ViWizard Apple Music Converter you can easily download songs from Apple Music and at the same time, remove the protection from each track. After downloading them to your PC, you can load them as local files on any third-party DJ apps.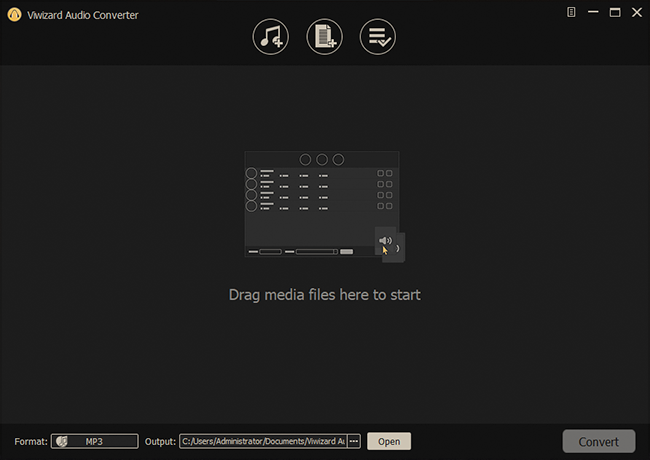 Comes with an intuitive interface, the ViWizard Audio Converter is designed to convert all protected iTunes, Apple Music songs, iTunes audiobooks, and unprotected audios from other sources into MP3, M4A, AAC, FLAC, and other common formats.
The specially designed engine can accelerate the converting speed up to 30X faster with high output quality preserved. With this tool, you'll be able to play Apple Music songs on any software or player and import Apple Music to DJ programs easily.

ViWizard Audio Converter Key Features
Convert Apple Music songs to MP3, M4B, AAC
Download and play Apple Music songs without limitations
DJ with Apple Music Songs Offline
Retain 100% original quality and ID3 tags
Convert at 30X faster speed
1. Launch ViWizard and Import Apple Music Files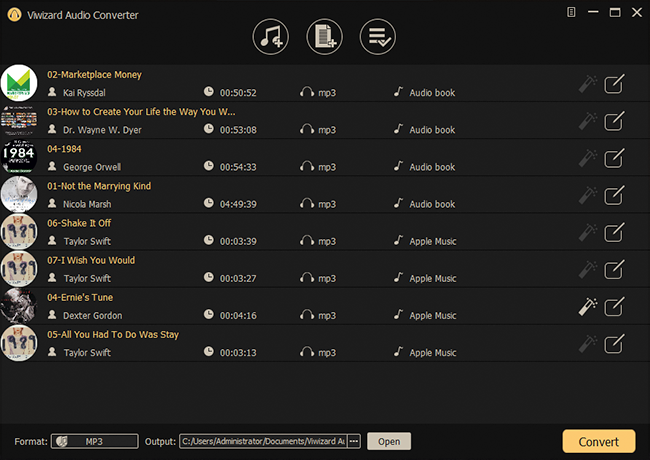 Launch your ViWizard Audio Converter and then click the music note "+" button to import songs from the iTunes library. Or you can drag and drop the audio tracks to the ViWizard interface.
2. Setting Output Format and Parameters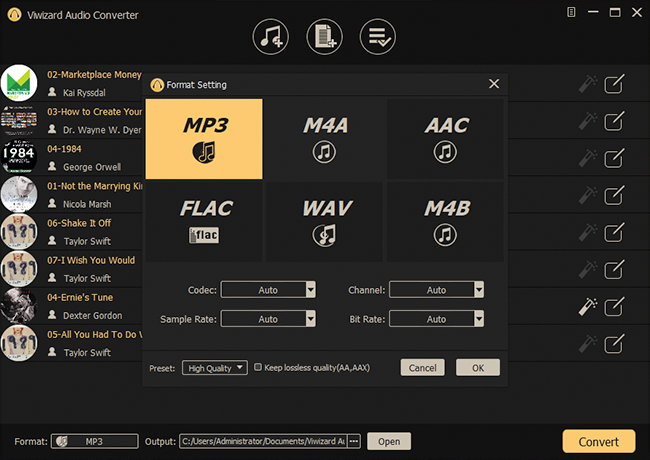 Once completed loading input files, you can click the "Format" button in the bottom left and choose the output format among MP3, AAC, FLAC, WAV, M4A, and M4B. You can also click the "Output" button and choose the output location.
3. Start Converting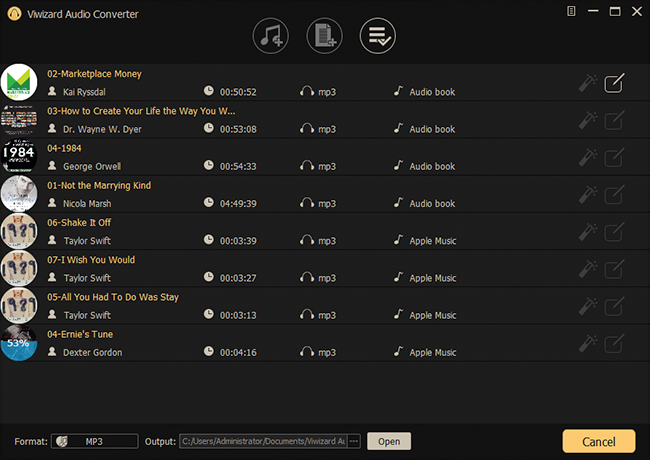 With the format setting done, press the "Convert" button and ViWizard will start the conversion process. When it is done, you can find all your converted songs by clicking the "Converted" button.
Video Tutorial
4. DJ with Apple Music Songs Offline on DJ Apps
After converting tracks from Apple Music, now you can access them on any DJ apps you have on your device and DJ with them right away. Here's an example of how to upload Apple Music songs to djay Pro:
1. Open djay Pro and click the file folder on the left of the screen.
2. Click Add Folder and choose the folder where your downloaded Apple Music songs lie.
3. Click Select Folder, then all the songs in the folder will be loaded in the app.
4. Drag the track to disc then you can start DJing with Apple Music songs.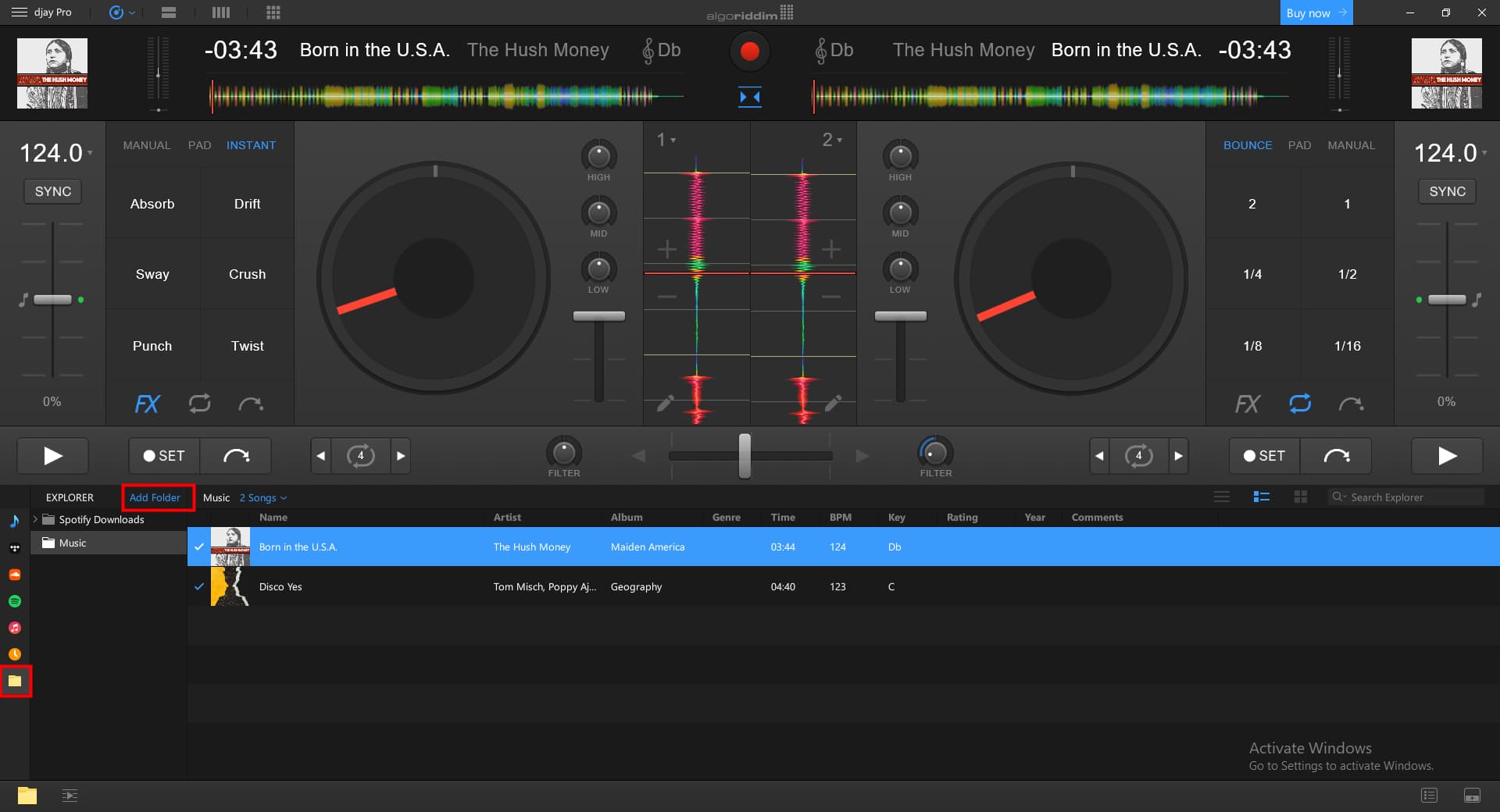 Summary
To conclude, you cannot DJ with Apple Music directly, since Apple Music songs are protected. But if you convert Apple Music songs to MP3 or other common audios, you are able to use Apple Music for DJ without any limits.
More iTunes music DRM removal tips

Adam Gorden is an experienced writer of ViWizard who is obsessed about tech, movie and software.
Viwizard uses cookies to ensure you get the best experience on our website. Learn moreGot It!
Sours: https://www.viwizard.com/apple-music-tips/dj-with-apple-music.html
Apple music djay
Screenshots
Description
Welcome to djay Pro AI! Algoriddim's acclaimed DJ software and winner of multiple Apple Design Awards has been rebuilt from the ground up using groundbreaking AI technology – NEURAL MIX™.

NEURAL MIX™ allows you to isolate instrumentals and acappellas of your favorite tracks in real-time and redefines the boundaries of creative mixing. You can crossfade drums, bass lines, and melodies of two songs independently, apply audio effects to individual components of music, and even loop the beat while the melody of the same track continues playing.

djay Pro's all-new, modern interface is built around a sophisticated integration with your music library, giving you instant access to millions of tracks. Pristine sound quality and a powerful set of features including live production tools, four decks, high-definition waveforms, video mixing and hardware integration give you endless creative flexibility to reinvent your DJ sets.

NEURAL MIX™
• Isolate vocals, drums, bass lines, and instrumentals in real-time
• FX routing: apply audio effects to individual components of music (Vocal Echo, Harmonic Filter, Drum Reverb, and more)
• Loop routing: Loop the beat while the melody of the same song continues playing, and vice versa
• AI crossfades: seamlessly blend and swap drums, bass lines, or vocals of two tracks
• AI waveforms: see vocals, drums, and harmonic waveforms per track side by side

MUSIC PRODUCTION TOOLS
• Sequencer: create instant beats on top of music
• Looper: remix music with up to 48 loops per track
• Beat-matched sequencing of drums and samples
• Extensive content library with 1000+ loops and samples

STREAMING INTEGRATIONS
• TIDAL: Millions of tracks, music videos, high quality sound /TIDAL Premium or HiFi)
• SoundCloud: Millions of underground and premium tracks SoundCloud Go+)
• Beatport: Millions of electronic music tracks (Beatport LINK)
• Beatsource: Millions of open-format music tracks (Beatport LINK)

AWARD-WINNING USER INTERFACE
• 2- and 4-Deck views
• Single Deck preparation view
• Video and Automix views

ADVANCED LIBRARY MANAGEMENT
• Create your own custom and smart playlists
• Powerful track filtering
• Finder Integration

AUTOMIX
• Automatic, beat-matched mixes based on artificial intelligence
• Queue and Playlist automation

VIDEOS, VISUALS, and PHOTOS
• Mix videos, visuals, and photos
• Music video streaming through TIDAL
• Beat-matched photo slideshows

POWERFUL AUDIO ENGINE
• Revolutionary AI audio engine
• Real-time music source separation
• High-quality mixer, filter, EQ, isolator, and limiter
• Advanced time-stretching and pitch shifting
• Over 40 built-in audio effects
• Master output effects through Audio Unit plug-ins
• Live recording
• Ableton Link integration

ADVANCED AUDIO ANALYSIS
• BPM and beat detection
• Key detection
• Multi color waveformsBPM
• Auto-Gain

HARDWARE INTEGRATION
• Native support for over 100 MIDI controllers
• Pioneer DJ CDJ Integration
• RANE Twelve integration
• Advanced MIDI Learn
• External Mixer Mode
• Support for multi-channel USB audio interfaces
• Support for external audio input and microphones

djay Pro AI is compatible with any Mac running macOS 10.14 or later.

The optional PRO subscription allows you to subscribe once and use djay Pro AI across all your Mac and iOS devices, including access to NEURAL MIX™, all PRO features, as well as 1000+ loops, samples, and visuals.

A supported streaming subscription and an internet connection is required to access songs from a streaming service in djay Pro AI. No recording available for streamed songs. Streaming service availability and pricing may vary depending on country, currency and service.

To use songs from iCloud in djay Pro AI please download them first via the Music app. DRM-protected songs are not supported and djay Pro AI can not access tracks from the Apple Music streaming service.

Thank you for using djay Pro AI. We update the app regularly to provide the best mixing experience for you. Here is what's new in this release:

• Improved fast backspins on RANE ONE
• Various bugfixes and improvements

If you enjoy the app please support us by rating it on the Mac App Store. We look forward to your feedback!

Ratings and Reviews
Editors' Choice
Like all art forms, deejaying requires skill, attention to craft, and hours of practice. But the free djay app can help expedite that. It teaches and simplifies the process of audio mixing through a visual interface that's slick enough to have earned an Apple Design Award.
Best money ever spent
If you're a dj or even just want to get into it this is the way to go, any dj at any level will be able to learn so much from this platform. I'm not that great of a dj to be honest still early in my efforts and I have used rekord box dj from pioneer, serato, and a couple other things just to see if I even liked it. Once I got on this platform literally just from my phone even I haven't even fully dove in yet with my controller yet, but holy mother of mixing is this thing amazing. From all the tools in one easy to use and understand interface, can mix in videos, all the crossfaders, eq, filters, fx's, and options to pull tracks from various sources and single out each different layer is absolutely beautiful, and something I've been after for a long time and finally found it! Seriously if you're at all on the fence about this just go for it, you'll only regret you hadn't done it sooner! There's so much more to what I am just saying too I've only used this two days now but immediately fell in love with its simplicity yet so complex. This is truly one of a kind and these guys killed it brought it back to life and killed it again, they got some magic workin in this and that's an understatement, so much to help you grow and have fun with.
Hi Ry Steezy, Thanks for taking out time to share your review! It really helps us to keep improving and delivering the best. :) It's amazing to hear how you're already seeing the vast possibilities as you're just getting started with djay. We wish you hours of fun mixing and letting your creativity flow using djay's features, like Neural Mix and video mixing. If you have any other feedback or suggestions, reach out any time at [email protected] Cheers, Algoriddim Support
Most used app on my phone
Ever since my hardware started acting screwy, I decided to give some alternatives a try. I've only ever mixed and recorded analog... 1200s, CDJs with actual CDs, mixer into the AUX of a stereo, cassette recordings... I've never used software before. I wouldn't even know how to connect my laptop to my mixer. Yeah I know... ridiculous, right? But if it ain't broke, don't fix it. Well... it broke. So I decided to give some of the DJ apps a try.
And I gotta say... most of the ones I tired were pretty terrible. Hot garbage, if I'm being honest. They had interesting qualities but wasn't quite "there". And the recordings sounded worse than my cassette recordings, hiss and all. This was the last app I tried. And I fell in love. So much so, I actually pay for it... and if you knew me... you'll know I never spend money on apps. Only reason this is 4 stars instead of 5, is because the app drains my battery pretty quickly. Otherwise it's be the full 5 stars.
Anyways, hope my review is helpful to someone on the fence about giving it a try. All I'll say is, this is by far the best app I've come across that fulfills what I need in a DJ setup... and more. I've tried about 4 other ones, and not only is this smoother and easier to use, the UI is way better looking than the others I tried. Solve that battery draining problem and I'd go as far as it say it's perfect (for what I need).
Good luck!
Hi smokey_mcpot, Thanks so much for the positive feedback and for taking the time to share your review! Your feedback helps us continually improve. It would be interesting to know exactly what setup you're using (e.g., device, any connected devices, etc.) to look into the battery issue you've described. Please reach out to us at [email protected] so we can help troubleshoot. We're happy to have you with us and happy mixing! Cheers, Algoriddim Support
The developer, algoriddim GmbH, indicated that the app's privacy practices may include handling of data as described below. For more information, see the developer's privacy policy.
Data Not Linked to You
The following data may be collected but it is not linked to your identity:
Purchases
Identifiers
Usage Data
Diagnostics
Privacy practices may vary, for example, based on the features you use or your age. Learn More
Information
Seller

algoriddim GmbH

Size

275.5 MB

Category

Music

Compatibility

iPhone

Requires iOS 12.2 or later.

iPad

Requires iPadOS 12.2 or later.

iPod touch

Requires iOS 12.2 or later.

Mac

Requires macOS 10.14.4 or later.

Languages

English, French, German, Italian, Japanese, Simplified Chinese, Spanish

Age Rating

4+

Copyright

© 2006-2021 algoriddim GmbH

Price

Free

In-App Purchases

Full Access to PRO$6.99
Full Access to PRO$49.99
Full Access to PRO$6.99
Supports
Family Sharing

With Family Sharing set up, up to six family members can use this app.
Featured In
You Might Also Like
Sours: https://apps.apple.com/us/app/djay-dj-app-ai-mixer/id450527929
The Future of Streaming in Djay Pro 2 without Spotify
djay Pro is an excellent digital music mixing software program for all music lovers to mix their favorite music. It provides a complete toolkit for performing DJs of all skill levels. Built specially for your device, djay Pro seamlessly integrates with your music library, giving you instant access to millions of tracks. If you have trouble mixing Apple Music with djay Pro, just read this post. Here we will help guide you in using Apple Music with djay Pro.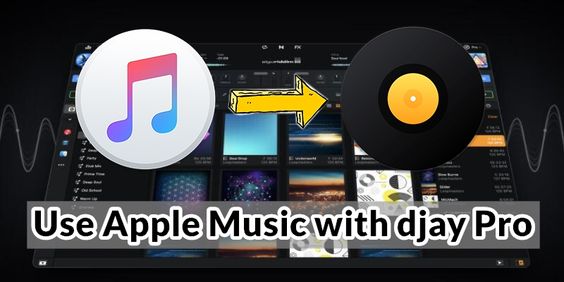 ---
Part 1. How to Convert Apple Music Songs to MP3
Apple Music, one of the highest-profile streaming music services around, continues its content growth. With a subscription to Apple Music, you're able to stream over 70 million songs ad-free from around the world and get exclusive playlists and live and on-demand radio stations. Without any doubt, Apple Music is a top place for you to find tracks for mixing with DJ software.
In fact, there is no way for 3rd-party DJ style apps such as djay to play songs from Apple Music, Apple's music streaming service. This also applies when songs are downloaded onto your device from Apple Music, as the downloaded files will be DRM-protected. This is a great limitation from Apple Music, which prevents you from applying Apple Music songs to other places. So, you're not able to directly use Apple Music with djay Pro for a mix.
With that being said, you could try to remove DRM protection from Apple Music and convert the downloaded Apple Music songs to MP3 for mixing with DJ software. Here we do recommend Tunelf Apple Music Converter to you. It is a professional and powerful music converter for Apple Music users. With its help, you're able to convert Apple Music songs to several audio formats and then apply the converted Apple Music songs to DJ software.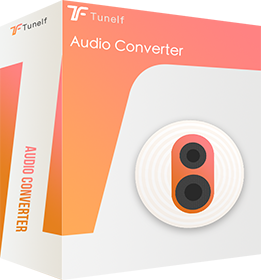 Key Features of Tunelf Audio Converter
Remove built-in DRM protection from Audible, Apple Music, and iTunes
Convert Apple Music, iTunes audios, and Audible books to MP3 and more
Cut large Audible or iTunes audiobooks into small segments by chapters
Keep audios with ID3 tags and lossless audio quality at 30× faster speed
Free Download
Free Download
Add songs from Apple Music to Tunelf interface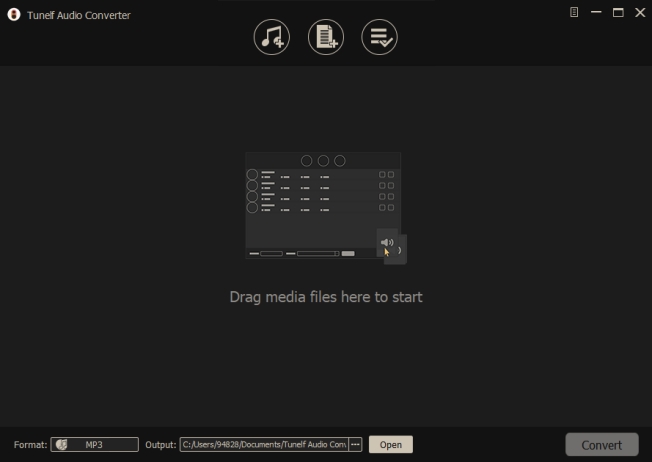 Start by launching Tunelf Audio Converter then it will automatically load Music on your Mac or iTunes on your Windows. To convert Apple Music songs, you first need to add your music files to the conversion list. You can add them to the tool by drag-and-drop. Or you can click the first icon marked as Load iTunes Library and then you can browse your library and select songs you want to play on djay Pro.
Customize the output parameters for Apple Music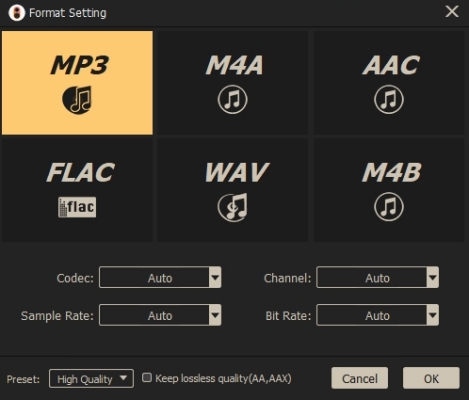 When your required music files are added to the conversion list, you can go to set the output audio parameters by clicking the Format panel at the bottom left corner. In this window, you can select the MP3 option from the list of audio formats. From there, you can also set the bit rate, sample rate, codec, and channel for getting better audio quality. Once you're satisfied with your settings, click the OK button.
Start to convert Apple Music playlist to MP3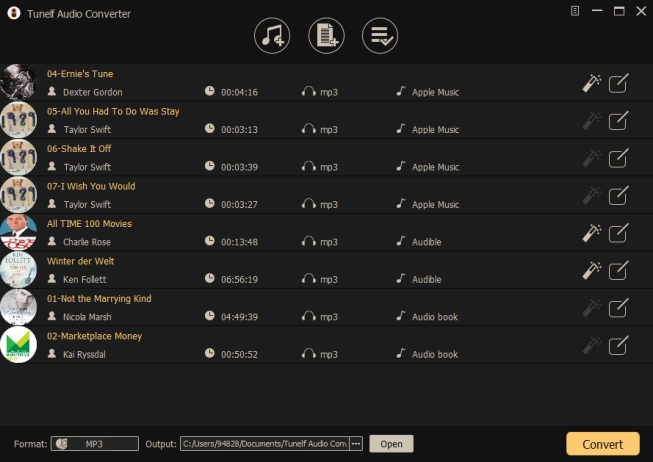 The final step is to initiate the conversion of Apple Music songs by clicking the Convert button on the bottom right corner. After conversion, you can click on the Converted icon to browse your converted songs in the history list. As your files have been saved to your default downloads folder, you can locate the folder by clicking the Search icon at the rear of each track. Now you can go on reading the next part to know how to add music to djay Pro.
---
Part 2. Guide on How to Play Apple Music on djay Pro
When everything is all right, then comes the most exciting moment. And you're ready to add Apple Music to djay Pro for mixing your favorite music. As djay is currently compatible with Mac OS X, Microsoft Windows, iPad, iPhone, iPod Touch, and Android phones and tablets, we'll introduce how to load Apple Music into djay Pro on the different devices.
2.1 How to DJ with Apple Music on djay Pro for Windows
djay Pro for Windows allows you to organize and manage your music with the tool called Library Browser. The browser includes music searching, track filtering, and access to Windows Media Player, iTunes, and the TIDAL and Sound music streaming services. Follow these steps in order for dyay Pro to access your Apple Music files on Windows: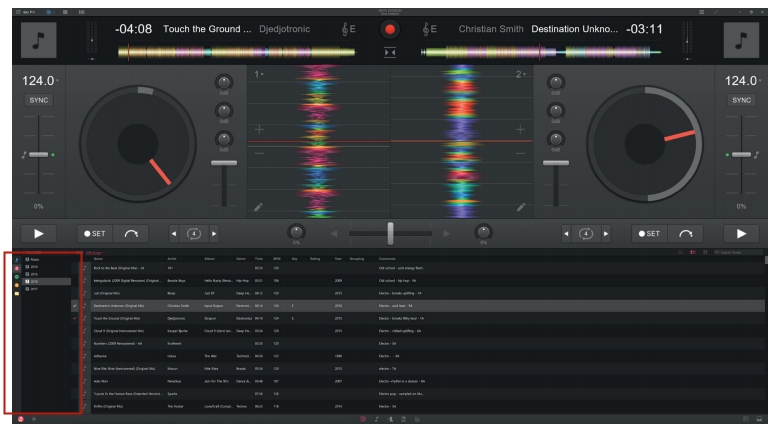 Step 1. Fire up djay Pro on your Windows computer and navigate the library browser in the lower half of the djay Pro window.
Step 2. The library browser gives you access to all your music from your own collection. You can try to add your music to djay Pro from:
Music Playlists: click the Music playlists tab on the left side strip of icons and browse your Apple Music files stored in Windows Media Player or Groove Music.
iTunes Playlists: click the iTunes icon on the far-left strip of the browser and the browser tree will then display your Apple Music playlists.
Explorer Folders: click the Explorer tab of the library browser and then click Add Folder to find where your Apple Music songs are stored.
Step 3. Now your Apple Music songs are loaded into djay Pro, and you can do a mix of your Apple Music.
If you try to access your iTunes library in djay Pro, you may need to make your iTunes library shareable with other applications by following the below steps first:
Step 1. Open iTunes and click the Edit menu then select Advanced under Advanced Preferences.
Step 2. Enable the Share iTunes Library XML with other applications option and click OK to confirm the setting.
2.2 How to DJ with Apple Music on djay Pro for Mac
There is also a browser for your music collection on djay Pro for Mac, and you can use the browser to access to all your music, from your own collection as well as the TIDAL, Beatport/Beatsource or SoundCloud streaming services. Now try to follow the below steps to load your Apple Music files into djay Pro for a mix.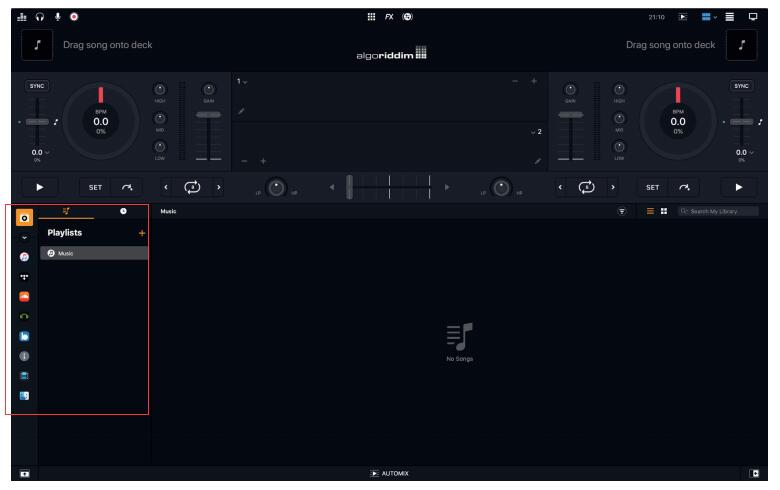 Step 1. Launch djay Pro on your Mac computer and find the library browser in the lower half of the djay Pro window.
Step 2. The library browse enables you to search music, filter track, and add your music from your own collection. You can try to manage, edit and sort your music within djay Pro from:
My Library: click the My Library tab on the left side strip of icons and use features such as smart playlists, search filers, and split library mode to add your Apple Music files.
Music Playlists: click the iTunes icon on the far-left strip of the browser and then browse your converted Apple Music songs saved in the Music app.
Finder: click the Finder tab of the library browser and simply click Add Folder to add Apple Music files from your hard drive or other places.
Step 3. Now your Apple Music songs are imported into djay Pro, and you can make your personal mixing with Apple Music songs.
2.3 How to DJ with Apple Music on djay 2 for Android
djay 2 for Android doesn't support streaming service songs except for TIDAL and SoundCloud. So, you need to transfer the converted Apple Music files to your Android device from your Mac or Windows computer first. After transferring the music to your device, you can automatically play it with djay 2 for Android.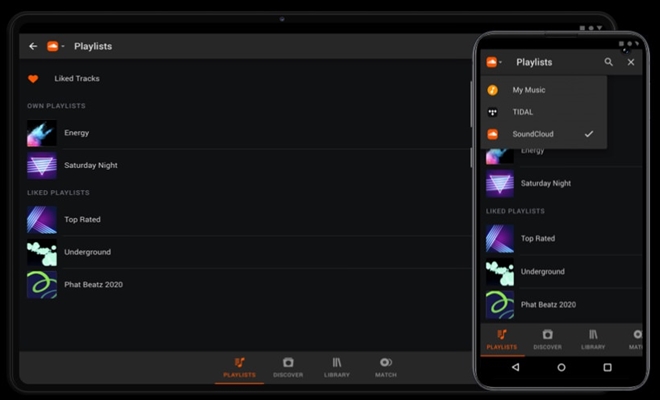 Step 1. Launch djay 2 for Android on your device and tap Playlists at the bottom of the screen.
Step 2. From the list, you'll see the option like My Music, TIDAL, and SoundCloud, and tap My Music.
Step 3. Now you could add the converted Apple Music files to djay 2 for Android to start your mixing.
2.4 How to DJ with Apple Music on djay for iOS
djay for iOS allows extending the local iOS device storage via iCloud Drive and other 3rd party apps. Thus, you can access files from cloud services, Wi-Fi hard drives, iOS hard drives, or other file sources. So, before start playing Apple Music on djay for iOS, just transfer your converted songs to your iPhone in advance. Then follow these steps to access your files: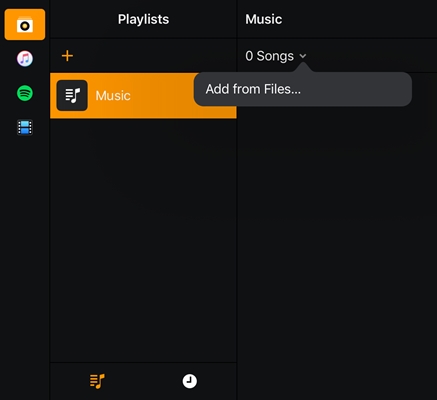 Step 1. Open djay for iOS and choose the My Library option then navigate to a playlist where you want to add the tracks.
Step 2. Click the Number of songs in the playlist and select Add from Files.
Step 3. Now you just browse the converted Apple Music songs you transfer to your iPhone and add them to your djay app.
For those iPad users, you can also add your Apple Music songs to djay for iOS via Apple's Split View feature:
Step 1. Slide up from the bottom of your iPad in order to display the Dock.
Step 2. Drag and drop the Files application to the side of djay for iOS.
Step 3. Now you can drag and drop the converted Apple Music files directly onto a deck of djay.
---
Final Words
Although there is no DJ software that works with Apple Music, you still can DJ with Apple Music by using Tunelf Audio Converter. With it, you can easily break the limitation from Apple Music and apply your converted Apple Music songs to any DJ software you like. You can also listen to Apple Music on any media player or device without a limit.
Sours: https://www.tunelf.com/apple-music/use-apple-music-with-djay-pro.html
You will also like:
.
1893
1894
1895
1896
1897