Naruto Shippūden (TV)
Selection Project Idol Anime's 3rd Video Unveils Opening Song, October 1 Debut(Sep 9, 2021)
Stand By Me Doraemon 2 CG Film's Trailer Reveals Masaki Suda's Song, November 20 Debut(Oct 6, 2020)
Happy-Go-Lucky Days Anime Film Opens on October 23 After COVID-19 Delay(Aug 18, 2020)
Tsugumomo Anime Season 2's 2nd Promo Video Unveils More Cast, April 5 Debut(Feb 25, 2020)
Crunchyroll, Viz Media Announce Anime Distribution Deal for U.S., Canada(Dec 16, 2019)
Meow Meow Japanese History Anime Film's Trailer Previews Theme Song(Dec 9, 2019)
Meow Meow Japanese History Anime Film Reveals Visual, February 22 Debut(Dec 6, 2019)
Takako Shimura's Happy-Go-Lucky Days Romance Manga Gets Anime Film Early Next Summer(Nov 20, 2019)
One-Punch Man 2nd New OVA Episode's 1st 80 Seconds Previewed in Clip(Oct 24, 2019)
GameSamba Develops Naruto Slugfest Smartphone Game(Aug 7, 2019)
North American Anime, Manga Releases, June 9-15(Jun 13, 2019)
North American Anime, Manga Releases, March 24-30(Mar 27, 2019)
Kengan Ashura Anime's Promo Videos Reveal 74 Supporting Cast Members, Summer Debut(Jan 27, 2019)
Toonami Lineup Drops Back Down an Hour(Dec 13, 2018)
North American Anime, Manga Releases, December 2-8(Dec 4, 2018)
North American Anime, Manga Releases, August 26-September 1(Aug 28, 2018)
One-Punch Man Anime Season 2 Unveils Teaser, JAM Project's Return, April Premiere(Aug 12, 2018)
Tubi TV Adds Yukikaze, Mave Chan, AIKa R-16 Anime(Jun 4, 2018)
North American Anime, Manga Releases, April 29-May 5(May 1, 2018)
Michael Gracey Gives Update on Live-Action Naruto Film in Interview(Mar 30, 2018)
North American Anime, Manga Releases, January 7-13(Jan 9, 2018)
Japan's Animation DVD Ranking, October 30-November 5(Nov 7, 2017)
Naruto Shippūden: Ultimate Ninja Storm 4 Game's Worldwide Shipments, Download Sales Hit 3 Million(Nov 2, 2017)
Japan's Animation DVD Ranking, October 2-8(Oct 10, 2017)
North American Anime, Manga Releases, September 24-30(Sep 26, 2017)
Japan's Animation DVD Ranking, September 4-10(Sep 12, 2017)
THR: Lionsgate's Live-Action Naruto Movie Hires Red's Jon & Erich Hoeber for Rewrite(Aug 15, 2017)
Japan's Animation DVD Ranking, July 31-August 6(Aug 8, 2017)
Japan's Animation DVD Ranking, July 3-9(Jul 11, 2017)
North American Anime, Manga Releases, June 25-July 1(Jun 27, 2017)
Japan's Animation DVD Ranking, June 12-18(Jun 20, 2017)
Japan's Animation DVD Ranking, June 5-11(Jun 13, 2017)
Japan's Animation DVD Ranking, May 15-21(May 23, 2017)
Japan's Animation DVD Ranking, May 8-14(May 16, 2017)
Japan's Animation DVD Ranking, April 3-9(Apr 11, 2017)
North American Anime, Manga Releases, April 2-8(Apr 4, 2017)
Japan's Animation TV Ranking, March 20-26(Mar 30, 2017)
Naruto Shippūden Anime's Ending on 500th Episode Confirmed(Mar 23, 2017)
Japan's Animation TV Ranking, March 6-12(Mar 16, 2017)
Japan's Animation DVD Ranking, February 27-March 5(Mar 7, 2017)
Quick Reminder - Madman Anime Festival on in Perth this Weekend(Mar 2, 2017)
Japan's Animation DVD Ranking, February 6-12(Feb 14, 2017)
North American Anime, Manga Releases, January 15-21(Jan 17, 2017)
Japan's Animation DVD Ranking, January 9-15(Jan 17, 2017)
Swimy Performs New Naruto Shippūden Ending Theme(Dec 5, 2016)
ēlDLIVE Anime's 2nd Video Previews Alfakyun & The Super Ball's Songs(Dec 4, 2016)
Naruto Shippūden Arc For Adaptations of 3 Novels Continues Through February(Dec 2, 2016)
Naruto Shippūden Anime Details Plans For Adaptations of 3 Novels(Nov 10, 2016)
Japan's Animation DVD Ranking, October 31-November 6(Nov 8, 2016)
Alfakyun, The Super Ball Perform ēlDLIVE TV Anime's Theme Songs(Nov 6, 2016)
Australian Release List - October 2016(Oct 30, 2016)
Naruto Shippūden Anime Reveals More Information About New 'Boyhood' Arc(Oct 20, 2016)
Naruto Shippūden Anime Debuts New 'Boyhood' Arc on October 20(Oct 13, 2016)
Japan's Animation DVD Ranking, October 3-9(Oct 11, 2016)
North American Anime, Manga Releases, October 2-8(Oct 4, 2016)
ēlDLIVE Anime Unveils More of Cast & Staff, Full Promo Video, Main Visual(Oct 2, 2016)
Japan's Animation DVD Ranking, September 5-11(Sep 13, 2016)
Drifters TV Anime Reveals Maon Kurosaki's Ending Song, Bonus Short Anime(Sep 11, 2016)
Twin Star Exorcists' Anime-Original Arc Previewed in Video, Image(Sep 2, 2016)
Japan's Animation TV Ranking, August 8-14(Aug 18, 2016)
Japan's Animation DVD Ranking, August 1-7(Aug 9, 2016)
Naruto Epilogue Novels Get TV Anime This Winter(Aug 2, 2016)
Japan's Animation TV Ranking, July 18-24(Jul 29, 2016)
Japan's Animation DVD Ranking, July 4-10(Jul 12, 2016)
Free Anime in Australia: 11/July - 17/July(Jul 12, 2016)
North American Anime, Manga Releases, July 3-9(Jul 5, 2016)
Free Anime in Australia: 4/June - 10/July(Jul 4, 2016)
Japan's Animation DVD Ranking, June 6-12(Jun 14, 2016)
Huwie Ishizaki Performs New Naruto Shippūden Anime's Ending Theme(Jun 5, 2016)
ReLIFE Anime Reveals More Cast, Theme Song Artists(May 30, 2016)
Japan's Animation DVD Ranking, May 9-15(May 17, 2016)
Visual Art's/Key's Air Visual Novel Gets PS Vita Port This Summer(May 3, 2016)
Naruto Shippūden Anime Reveals Visual For New Arc Starting in May(Apr 24, 2016)
Japan's Animation DVD Ranking, April 4-10(Apr 12, 2016)
Australian Release List - April 2016(Apr 7, 2016)
North American Anime, Manga Releases, April 3-9(Apr 5, 2016)
Twin Star Exorcists Anime Casts Yuuki Ono, Daiki Yamashita, Taishi Murata(Apr 3, 2016)
Asian Kung-Fu Generation to Perform Next Naruto Shippūden Opening(Apr 3, 2016)
Australian Release List - March 2016(Mar 31, 2016)
Kuroneko Chelsea Performs New Naruto Shippūden Ending Theme(Mar 12, 2016)
Japan's Animation DVD Ranking, February 29-March 6(Mar 8, 2016)
Japan's Animation DVD Ranking, February 1-7(Feb 9, 2016)
Naruto Shippuden: Ultimate Ninja Storm 4's Opening Video Streamed(Jan 31, 2016)
North American Anime, Manga Releases, January 24-30(Jan 26, 2016)
Japan's Animation DVD Ranking, January 4-10(Jan 12, 2016)
CyberConnect2's Matsuyama Discusses Naruto Shippūden: Ultimate Ninja Storm 4 in New Video(Dec 31, 2015)
Japan's Animation DVD Ranking, November 30-December 6(Dec 8, 2015)
Thinking Dogs Performs New Naruto Shippūden Ending Theme(Dec 6, 2015)
Naruto Shippūden: Ultimate Ninja Storm 4's 5th Promo Video, TV Ad Streamed(Nov 30, 2015)
North American Anime, Manga Releases, November 8-14(Nov 10, 2015)
Japan's Animation DVD Ranking, November 2-8(Nov 10, 2015)
Japan's Animation DVD Ranking, October 5-11(Oct 13, 2015)
JAM Project Performs Cyborg 009 Vs. Devilman's Theme Songs(Sep 9, 2015)
Japan's Animation DVD Ranking, August 31-September 6(Sep 8, 2015)
Sukima Switch, Kanikapila Perform New Naruto Shippūden Theme Songs(Sep 4, 2015)
American Diana Garnet Sings Tantei Team KZ Jiken Note Anime's Theme(Sep 1, 2015)
Cyborg 009 Vs. Devilman Anime's Full Trailer Features Battle Scenes(Aug 25, 2015)
DBZ: Kai, Akame ga KILL! Topped Saturday U.S. Cable Ratings(Aug 12, 2015)
Japan's Animation DVD Ranking, August 3-9(Aug 11, 2015)
SMASH! 2015 On This Weekend in Sydney(Aug 6, 2015)
Naruto SUN Storm 4's New Trailer Shows Western Delay, Generational Battles(Aug 4, 2015)
Naruto Shippūden: Ultimate Ninja Storm 4 Slated for February 4 in Japan(Jul 30, 2015)
Boruto: Naruto the Movie to Play in Over 80 U.S. Cities(Jul 28, 2015)
North American Anime, Manga Releases, July 26-August 1(Jul 28, 2015)
Boruto: Naruto the Movie's New Manga One-Shot Previewed(Jul 26, 2015)
Japan's Animation DVD Ranking, June 29-July 5(Jul 7, 2015)
Naruto Shippuden: Ultimate Ninja Storm 4 Video Previews New Battle System(Jun 30, 2015)
J-Stars Victory VS+ Game's English Video Showcases 'Fighting Stars'(Jun 27, 2015)
Boruto: Naruto the Movie's Full Trailer English-Subtitled(Jun 26, 2015)
Boruto: Naruto the Movie's Full Trailer Reveals New Ninja & Foe(Jun 24, 2015)
Rock Band Kana-Boon Performs Boruto -Naruto the Movie- Theme Song(Jun 14, 2015)
Japan's Animation DVD Ranking, June 1-7(Jun 9, 2015)
FLOW to Perform New Ending Theme for Naruto Shippūden Anime(Jun 4, 2015)
Japan's Animation DVD Ranking, May 11-17(May 19, 2015)
Free Anime in Australia: 27/April - 3/May(Apr 27, 2015)
Boruto -Naruto the Movie- Teaser English-Subtitled(Apr 21, 2015)
North American Anime, Manga Releases, April 19-25(Apr 21, 2015)
OzComicCon Starts 2015 Tour in Perth This Weekend(Apr 9, 2015)
Japan's Animation DVD Ranking, March 30-April 5(Apr 7, 2015)
Naruto Shippuden Ultimate Ninja Storm 4 Game Adds Ten-Tails(Mar 13, 2015)
Shonen Jump's J-Stars Victory VS+ English Dragon Ball Z, Gameplay Trailers Streamed(Mar 11, 2015)
Japan's Animation DVD Ranking, March 2-8(Mar 10, 2015)
Yamazaru, sana Perform Next Naruto Shippūden Theme Songs(Mar 5, 2015)
FLOW to Perform Image Song For Live Spectacle Naruto Stage Play(Mar 1, 2015)
Animelab adds Naruto to Online Streaming(Feb 13, 2015)
Viewster Adds Naruto Shippuden(Feb 12, 2015)
Japan's Animation DVD Ranking, February 2-8(Feb 10, 2015)
Blu-ray Otorimonogatari, Collected Chrome Shelled Regios Released Monday(Feb 9, 2015)
Sailor Moon Crystal Unveils Black Moon's Cast, Designs(Jan 26, 2015)
Toonami Loses an Hour of Programming(Jan 23, 2015)
North American Anime, Manga Releases, January 18-24(Jan 20, 2015)
Ultimate Ninja Storm 4 Game Adds The Last Version Hinata, Sakura, Sasuke(Jan 15, 2015)
Japan's Animation DVD Ranking, January 5-11(Jan 13, 2015)
Sailor Moon Crystal's Black Moon Arc Trailer Previews Chibi Usa, Sailor Pluto(Dec 27, 2014)
Sailor Moon Crystal Casts Misato Fukuen as Chibi Usa, Ai Maeda as Sailor Pluto(Dec 27, 2014)
Naruto Shippuden Ultimate Ninja Storm 4's Jump Festa Trailer English-Subtitled(Dec 22, 2014)
CyberConnect2 CEO Interviewed on Naruto Shippūden: Ultimate Ninja Storm 4(Dec 21, 2014)
Naruto Shippuden Anime's Next Arc Begins in January(Dec 21, 2014)
Naruto Shippuden Ultimate Ninja Storm 4 Promo Streamed(Dec 19, 2014)
Naruto Shippuden: Ultimate Ninja Storm 4 Heads West on PS4, Xbox One, Steam(Dec 15, 2014)
Naruto Shippuden: Ultimate Ninja Storm 4 Heads to PS4(Dec 11, 2014)
Japan's Animation DVD Ranking, December 1-7(Dec 9, 2014)
American Diana Garnet Sings Naruto Anime's New Ending Theme(Nov 27, 2014)
Japan's Animation DVD Ranking, November 10-16(Nov 18, 2014)
Kishimoto: Naruto Invokes His Childhood, Breaks Shōnen Formula(Nov 12, 2014)
Japan's Animation DVD Ranking, November 3-9(Nov 11, 2014)
Toonami to Run Hellsing Ultimate Finale, Summer Wars, Akira, & FMA, DBZ, Evangelion Films(Nov 8, 2014)
Naruto Gets Special Before The Last -Naruto the Movie- Opens(Nov 7, 2014)
Naruto Manga Finale Is 2 Chapters Long, Including a Full-Color Chapter(Oct 29, 2014)
Japan's Animation DVD Ranking, October 6-12(Oct 27, 2014)
Inuyasha: The Final Act to Run on Toonami(Oct 24, 2014)
Japan's Animation DVD Ranking, September 29-October 5(Oct 21, 2014)
North American Anime, Manga Releases, October 12-18(Oct 14, 2014)
Naruto Manga Gets Stage Play Next March(Oct 9, 2014)
Japan's Animation DVD Ranking, September 1-7(Sep 9, 2014)
KANA-BOON, Shiori Tomita Perform New Naruto Shippūden Themes in October(Sep 7, 2014)
Aoi Yūki Joins The Seven Deadly Sins Anime's Cast(Aug 17, 2014)
Japan's Animation DVD Ranking, August 4-10(Aug 12, 2014)
Road to Ninja: Naruto Film's English-Subtitled Trailer Streamed(Aug 8, 2014)
Japan's Animation TV Ranking, July 21-27(Aug 4, 2014)
The Last -Naruto the Movie-'s 15-Second Trailer Aired(Jul 31, 2014)
Jump Tour to Show Naruto, World Trigger, Blood Blockade Battlefront(Jul 15, 2014)
Japanese Music Royalties Overseas Rose 61% With Naruto, One Piece, GTO, Sailor Moon(Jul 14, 2014)
North American Anime, Manga Releases, July 6-12(Jul 9, 2014)
Mecha-Naruto Character to Also Appear in the Anime(Jul 9, 2014)
Crunchyroll Streams Momo Kyun Sword TV Anime(Jul 8, 2014)
Japan's Animation DVD Ranking, June 30-July 6(Jul 8, 2014)
Sailor Moon Crystal Cast Adds Misa Watanabe, Daisuke Kishio, Kousuke Toriumi, More(Jun 30, 2014)
Nico Touches the Walls, Tia Will Perform New Captain Earth Themes(Jun 29, 2014)
Sailor Moon Crystal's Extended English-Subtitled Trailer Previews Music(Jun 25, 2014)
Viz Streams English-Subtitled Sailor Moon Crystal Trailer(Jun 19, 2014)
Naruto Shippuden Ultimate Ninja Storm Revolution to Bundle Anime(Jun 18, 2014)
Naruto Shippūden Ultimate Ninja Storm Revolution Slated for September 11 in Japan(Jun 14, 2014)
Sailor Moon Crystal 1st Promo Video Streamed (Update)(Jun 5, 2014)
Sukima Switch, tacica Perform New Haikyu!! Theme Songs(May 28, 2014)
Manga Entertainment Announcements at London Comic Con(May 24, 2014)
New Sailor Moon's Premiere Event Excludes Men — Unless Accompanied by Women(May 23, 2014)
Japan's Animation DVD Ranking, May 5-11(May 13, 2014)
Disney XD to Run Doraemon Anime in U.S. This Summer(May 9, 2014)
Naruto's Mother Joins Ultimate Ninja Storm Revolution Game's Roster(May 7, 2014)
Attack on Titan Premieres on Toonami on Saturday(May 3, 2014)
Kotono Mitsuishi Leads New Sailor Moon Crystal Anime Cast(Apr 27, 2014)
Naruto SUN Storm Revolution Trailer Previews Akatsuki's Untold Story(Apr 22, 2014)
Naruto Creator Designs Shisui's Susanoo for Ultimate Storm Revolution Game(Apr 16, 2014)
Girls und Panzer, Complete Kenichi, Blu-ray Pom Poko Released Monday(Apr 13, 2014)
Supanova Pop Culture Expo Opens in Melbourne this Weekend(Apr 10, 2014)
North American Anime, Manga Releases, April 6-12(Apr 8, 2014)
FanimeCon Adds Oreimo Director Hiroyuki Kanbe as Guest of Honor(Apr 7, 2014)
Naruto SUN Storm Revolution's 4-Minute Promo Showcases Shisui Uchiha(Apr 6, 2014)
Supanova Pop Culture Expo Gold Coast on this Weekend!(Apr 3, 2014)
Naruto SUN Storm Revolution Gameplay Teaser Showcases 3rd Raikage(Apr 2, 2014)
Shisui Uchiha Joins Naruto Shippuden Ultimate Ninja Storm Revolution Game's Roster(Apr 2, 2014)
Naruto UNS Revolution's Second Mizukage Video Posted(Mar 21, 2014)
J-Stars Victory Vs. Launch Ad Shows Naruto/Gintoki vs. Luffy/Saiki(Mar 19, 2014)
J-Stars Victory Vs. Game Videos Showcase Ichigo, Gintoki(Mar 14, 2014)
J-Stars Victory Vs. Game's Boss Dubbed 'Dark Phantom'(Mar 13, 2014)
Japan's Animation DVD Ranking, March 3-9(Mar 11, 2014)
J-Stars Victory Vs. Game's Last 13-Minute Full Promo Streamed(Mar 9, 2014)
J-Stars Victory Vs. Game Videos Showcase Toriko, Medaka(Mar 7, 2014)
J-Stars Victory Vs. Game Videos Show Off Seiya, Arale, Momotarō(Feb 27, 2014)
New Sailor Moon Anime Adds Majestic Prince Animator, Naruto Composer(Feb 27, 2014)
J-Stars Victory Vs. Game's 7-Minute Video Unveils 52 Characters(Feb 21, 2014)
Ace, Killua, Hiei, Momotarō Are Playable in J-Stars Victory Vs.(Feb 19, 2014)
J-Stars Victory Vs. Game Ad Showcase Goku, Gon, Seiya's Moves(Feb 18, 2014)
J-Stars Victory Vs. Game's 52 Characters Unveiled(Feb 18, 2014)
Japan's Animation DVD Ranking, February 3-9(Feb 11, 2014)
J-Stars Victory Vs. Game Trailer Recreates Famous Matchups(Feb 9, 2014)
Naruto: Ultimate Ninja Storm Revolution Game's 2nd English Promo Posted(Feb 8, 2014)
Naruto: Ultimate Ninja Storm Revolution Game's 2nd Promo Posted(Feb 8, 2014)
J-Stars Victory Vs. Game's Goku, Kenshin, & Luffy Combat Videos Posted(Feb 7, 2014)
Fist of the North Star Joins J-Stars Victory Vs. Game(Feb 5, 2014)
Shonen Jump's J-Stars Victory Vs. Game Video Features Theme Song(Jan 20, 2014)
Bleach/Yu Yu Hakusho/Hunter x Hunter Rivals Join J-Stars Victory Vs. Game(Jan 16, 2014)
4 'Kage' Are Playable in Naruto: Ultimate Ninja Storm Revolution(Jan 15, 2014)
Naruto/DBZ/One Piece/Kenshin Rivals Join J-Stars Victory Vs. Game(Jan 15, 2014)
North American Anime, Manga Releases, January 12-18(Jan 14, 2014)
Japan's Animation DVD Ranking, January 6-12(Jan 14, 2014)
Crunchyroll to Stream Strange+ Gag Anime(Jan 2, 2014)
Japan's Animation TV Ranking, December 16-22(Jan 1, 2014)
Space Dandy's Toonami & Animax Asia Ads Streamed(Dec 29, 2013)
Saint Seiya, D.Gray-man Stars Join J-Stars Victory Vs. Game(Dec 25, 2013)
Mecha-Naruto Rises in Naruto: Ultimate Ninja Storm Revolution Video(Dec 20, 2013)
J-Stars Victory Vs. Game's 5-Minute Video Reveals Assassination Classroom, Neuro(Dec 17, 2013)
Jojo's, Nube Characters Join J-Stars Victory Vs. Game(Dec 11, 2013)
Japan's Animation DVD Ranking, December 2-8(Dec 10, 2013)
Japan's Animation TV Ranking, November 25-December 1(Dec 8, 2013)
Bones' Space Dandy Anime Debuts on January 4 With Ian Sinclair(Dec 5, 2013)
Naruto Shippūden Gets New Special About Kakashi's Past(Dec 4, 2013)
New Naruto Fighting Game Heads to PS3, Xbox 360 in 2014(Nov 27, 2013)
Japan's Animation DVD Ranking, November 4-10(Nov 12, 2013)
Toonami to Run Naruto Shippūden in January in U.S.(Nov 6, 2013)
Naruto: Ultimate Ninja Storm 3 Upgrade Shown in 2nd Comparison Video(Oct 20, 2013)
Japan's Animation TV Ranking, October 7-13(Oct 20, 2013)
North American Anime, Manga Releases, October 6-12 (Updated)(Oct 8, 2013)
Japan's Animation TV Ranking, September 23-29(Oct 6, 2013)
Naruto Shippūden: Ultimate Ninja Storm 3 Upgrade Shown in Comparison Video(Oct 4, 2013)
Naruto Shippūden: Ultimate Ninja Storm 3 Full Burst Trailer Shows Added Content(Sep 20, 2013)
Japan's Animation DVD Ranking, September 2-8(Sep 10, 2013)
Anime DVD Sales August 2013(Sep 5, 2013)
Naruto Shippudden Delayed by Certification Issue(Aug 30, 2013)
Manifest 2013 Starts This Friday(Aug 15, 2013)
Japan's Animation DVD Ranking, August 5-11(Aug 13, 2013)
Japan's Animation TV Ranking, July 29-August 4(Aug 11, 2013)
Japan's Animation TV Ranking, July 22-28(Aug 4, 2013)
Naruto Shippuden Gets Original Event Anime This Fall(Jul 17, 2013)
Japan's Animation TV Ranking, July 1-7(Jul 16, 2013)
North American Anime, Manga Releases, July 14-20(Jul 16, 2013)
Naruto Shippuden: Ultimate Ninja Storm 3 Ships 1.4 Million(Jul 14, 2013)
Japan's Animation DVD Ranking, July 1-7(Jul 9, 2013)
Reel Anime to hold One Night Special Screening of Berserk Movie 2(Jun 13, 2013)
Japan's Animation DVD Ranking, June 3-9(Jun 11, 2013)
Japan's Animation DVD Ranking, April 29-May 5(May 7, 2013)
Manga Entertainment Podcast Updates(Apr 29, 2013)
Quick Reminder: GCFF Events Including Garden of Words Premiere this Sunday!(Apr 26, 2013)
North American Anime, Manga Releases, April 21-27(Apr 23, 2013)
Japan's Animation DVD Ranking, April 1-7(Apr 9, 2013)
Dream Eater Merry Released Monday(Mar 17, 2013)
Naruto Shippuden Ultimate Ninja Storm 3 Briefly Listed on Steam(Mar 15, 2013)
Japan's Animation DVD Ranking, March 4-10(Mar 12, 2013)
Japan's Animation DVD Ranking, February 4-10(Feb 12, 2013)
North American Anime, Manga Releases, January 27-February 2(Jan 29, 2013)
Japan's Animation DVD Ranking, January 7-13(Jan 15, 2013)
Naruto: Ultimate Ninja Storm 3 Slated for March 5 in Americas(Jan 4, 2013)
Japanese Box Office, December 15-16(Dec 26, 2012)
Japan's Animation TV Ranking, December 10-16(Dec 26, 2012)
Japan's Animation DVD Ranking, December 3-9(Dec 11, 2012)
Ninja Scroll Comes to Blu-ray/DVD on Monday(Nov 25, 2012)
Japan's Animation DVD Ranking, November 5-11(Nov 13, 2012)
Japan's Animation TV Ranking, October 29-November 4(Nov 11, 2012)
Newspaper: Teen Commits Suicide After Seeing Naruto Character Die(Nov 2, 2012)
Crunchyroll Launches Service in Brazil(Nov 1, 2012)
Japan's Animation TV Ranking, October 8-14(Oct 21, 2012)
Japan's Animation DVD Ranking, October 8-14(Oct 16, 2012)
Japan's Animation TV Ranking, September 24-30(Oct 9, 2012)
North American Anime, Manga Releases, October 7-13(Oct 9, 2012)
Japan's Animation DVD Ranking, October 1-7(Oct 9, 2012)
Neon Alley Streams of English Dubs to Debut on October 2(Sep 22, 2012)
Japan's Animation DVD Ranking, September 3-9(Sep 11, 2012)
Rosario + Vampire and Princess Resurrection Released Monday(Sep 10, 2012)
WonderCon Returns to Anaheim, With 2nd Event Possible Up North(Sep 5, 2012)
North American Stream List: Aug. 27- Sept. 2(Sep 4, 2012)
Japan's Animation TV Ranking, August 20-26(Sep 2, 2012)
Japanese Animation DVD Ranking, August 13-19(Aug 21, 2012)
Japanese Box Office, August 11-12(Aug 19, 2012)
Japan's Animation TV Ranking, August 6-12(Aug 19, 2012)
Japan's Animation TV Ranking, July 30-August 5(Aug 14, 2012)
Japanese Animation DVD Ranking, August 6-12(Aug 14, 2012)
Manga Entertainment Confirms November Release Dates(Aug 13, 2012)
North American Stream List: August 6-12(Aug 12, 2012)
Japanese Animation DVD Ranking, July 30-August 5(Aug 7, 2012)
Japan's Animation TV Ranking, July 23-29(Aug 6, 2012)
Japan's Animation TV Ranking, July 16-22(Jul 30, 2012)
Road to Ninja: Naruto the Movie's 3 TV Ads Streamed(Jul 30, 2012)
North American Anime, Manga Releases, July 8-14(Jul 10, 2012)
1 Million Ultimate Ninja Storm Generations Shipped Worldwide(Jul 7, 2012)
Japan's Animation TV Ranking, June 18-24(Jul 1, 2012)
Road to Ninja: Naruto the Movie Promo Posted(Jun 25, 2012)
Japan's Animation TV Ranking, June 4-10(Jun 17, 2012)
North American Stream List: May 28 - June 3(Jun 3, 2012)
MCM Expo Details (Updated)(May 22, 2012)
Ghibli-Animated Ni no Kuni Game to be Previewed at MCM Expo (Updated)(May 16, 2012)
AVCon 2012 Preregistration Open(Apr 19, 2012)
North American Anime, Manga Releases, April 8-14(Apr 10, 2012)
Japanese Animation TV Ranking, March 26-April 1(Apr 9, 2012)
Teaser, Ad for Naruto: Road to Ninja Film Posted(Apr 6, 2012)
North American Stream List: March 12-18(Mar 18, 2012)
One Piece Kaizoku Musou Game Sells 655,774 at #1(Mar 7, 2012)
Tales of the Heroes, Harvest Moon, Naruto Top Game Charts(Feb 29, 2012)
Japanese Animation TV Ranking, February 6-12(Feb 27, 2012)
North American Stream List: February 20-26(Feb 26, 2012)
Detective Conan: The 11th Striker Film's Trailer Streamed(Feb 22, 2012)
North American Stream List: Feb. 13-19(Feb 19, 2012)
Voice Actor Kyle Hebert To Appear at Alcon(Feb 17, 2012)
North American Stream List: February 6-12(Feb 12, 2012)
North American Stream List: Jan. 30-Feb. 5(Feb 5, 2012)
North American Stream List: January 23-29(Jan 29, 2012)
North American Anime, Manga Releases, January 22-28(Jan 24, 2012)
North American Stream List: January 16-23(Jan 22, 2012)
Chibi Maruko-chan's 1,000th Episode to Air in February(Jan 20, 2012)
Manga Plans 2012 Blu-rays of FMA: Milos and FMA: Shamballa, plus Naruto Shippuden: Bonds(Jan 18, 2012)
Japanese Animation TV Ranking, December 26-January 1(Jan 16, 2012)
North American Stream List: January 9-15(Jan 15, 2012)
Japanese Animation TV Ranking, December 19-25(Jan 15, 2012)
Crunchyroll Launches 1080p High-Definition Streams(Jan 13, 2012)
10 Million Naruto Games Shipped(Jan 12, 2012)
Votoms' Takahashi to Oversee Leiji Matsumoto's Ozuma(Jan 11, 2012)
North American Stream List: January 2-8(Jan 8, 2012)
Rock Lee TV Anime Directed by Naruto Films' Murata(Jan 3, 2012)
Crunchyroll to Stream Recorder to Randoseru Anime(Jan 3, 2012)
Manga Entertainment's Top Anime Sellers of 2011(Dec 21, 2011)
North American Stream List: Dec. 5-11(Dec 11, 2011)
North American Stream List: Nov. 28-Dec. 4(Dec 4, 2011)
North American Stream List: November 21-27(Nov 27, 2011)
North American Stream List: November 14-20(Nov 20, 2011)
Japan's Animation DVD Ranking, November 7-13(Nov 15, 2011)
North American Stream List: November 7-13(Nov 13, 2011)
Japan's Animation DVD Ranking: October 31-November 6(Nov 8, 2011)
The Disappearance of Haruhi Suzumiya DVD Released Monday(Nov 7, 2011)
North American Stream List: October 31-November 6(Nov 6, 2011)
4 Anime Rank Among Top 40 Shows on Hulu in U.S.(Oct 30, 2011)
North American Stream List: October 24-30(Oct 30, 2011)
2nd Macross Frontier Film Sells 142,607 Blu-ray Discs(Oct 26, 2011)
Japan's Animation TV Ranking, October 10-16(Oct 23, 2011)
North American Stream List: October 17-23(Oct 23, 2011)
Viz Media Streams Naruto Shippūden Film Before DVD/BD Release(Oct 21, 2011)
North American Stream List: October 10-16(Oct 16, 2011)
Viz Media Panel(Oct 16, 2011)
Naruto Shippuden Panel(Oct 14, 2011)
Japan's Animation TV Ranking, September 26-October 4(Oct 13, 2011)
Kami Voice Film to Have Anime Sequence by Production I.G(Oct 13, 2011)
North American Anime, Manga Releases: October 9-15(Oct 12, 2011)
Japan's Animation DVD Ranking, October 3-9(Oct 11, 2011)
North American Stream List: October 3-9(Oct 9, 2011)
Naruto: Bonds' U.S. Theatrical Premiere Slated for October 15(Oct 5, 2011)
North American Stream List: September 25-October 2(Oct 2, 2011)
Crunchyroll to Stream New Hunter x Hunter Anime(Sep 30, 2011)
North American Stream List: September 18-24(Sep 26, 2011)
Crunchyroll, TV Tokyo Sue YouTube Users for Unauthorized Anime Uploading(Sep 21, 2011)
Japan's Animation TV Ranking, September 5-11(Sep 19, 2011)
North American Stream List: September 11-17(Sep 17, 2011)
Japan's Animation DVD Ranking, September 5-11(Sep 13, 2011)
North American Stream List: September 5-10(Sep 10, 2011)
Japan's Animation TV Ranking, August 22-28(Sep 4, 2011)
North American Stream List: August 28-September 4(Sep 4, 2011)
Viz, T3 Networks Partner to Market Anime for TV(Sep 1, 2011)
North American Stream List: August 20-27(Aug 28, 2011)
Australian New Releases - July and August 2011(Aug 24, 2011)
North American Stream List: August 15-19(Aug 19, 2011)
North American Stream List: August 6–14(Aug 14, 2011)
Manga Cancels Xam'd 2 Blu-Ray(Aug 12, 2011)
Japan's Animation DVD Ranking, August 1-7(Aug 9, 2011)
Japan's Animation TV Ranking, July 15-31(Aug 8, 2011)
North American Stream List: July 31–August 5(Aug 5, 2011)
Japan's Animation TV Ranking, July 18-24(Aug 1, 2011)
North American Stream List: July 25-30(Jul 30, 2011)
North American Stream List: July 16-24(Jul 24, 2011)
San Diego Comic-Con 2011 - Shonen Jump Industry Panel(Jul 22, 2011)
NY Comic Con to Host Naruto Voice's Junko Takeuchi(Jul 22, 2011)
North American Stream List: July 9–15(Jul 15, 2011)
Tekken/Cowboy Bebop Writer Dai Sato Attends Comic-Con(Jul 15, 2011)
Japan's Animation DVD Ranking, July 4-10(Jul 12, 2011)
Birdy the Mighty Decode Released Monday(Jul 10, 2011)
North American Stream List: July 4–8(Jul 9, 2011)
North American Stream List: June 25–July 4(Jul 6, 2011)
Viz Media Industry Panel(Jul 1, 2011)
France's Japan Expo Award Winners Announced(Jun 30, 2011)
North American Stream List: June 18-24(Jun 25, 2011)
North American Stream List: June 10-17(Jun 17, 2011)
ANNAU Convention Update(Jun 10, 2011)
Japan's Animation DVD Ranking, May 30-June 5(Jun 7, 2011)
SFX Releases The Ultimate Guide to Anime(May 27, 2011)
Pop Band 7!!'s Concert to Be Streamed Live May 26(May 20, 2011)
Japan's Animation DVD Ranking, May 9-15 (Part 2)(May 19, 2011)
(Updated) Voice-Actors Announced At MCM Expo(May 19, 2011)
Japan's Animation DVD Ranking, April 25-May 1 (Part 2)(May 3, 2011)
Japan's Animation DVD Ranking, April 25-May 1 (Part 1)(May 3, 2011)
North American Anime, Manga Releases: April 24-30(Apr 26, 2011)
J-Pop Unit Flow to Perform at Anime Central, FanimeCon(Apr 23, 2011)
Japan's Animation TV Ranking, March 28-April 3(Apr 14, 2011)
New Manga DVD/BR Release Dates Announced(Apr 13, 2011)
Crunchyroll Reports Possible Simulcast Delays(Apr 3, 2011)
Japan's Animation TV Ranking, March 7-13(Mar 23, 2011)
Japan's Animation DVD Ranking, February 28-March 6 (Part 2)(Mar 9, 2011)
Naruto leads the week's releases(Mar 7, 2011)
5th Annual Seiyū Award Winners Announced(Mar 5, 2011)
Japan's Animation TV Ranking, February 14-20(Mar 1, 2011)
New Anime Chronicle Podcast Online(Feb 28, 2011)
Strike Witches 2, Hero Tales, Murder Princess Streamed(Feb 11, 2011)
North American Anime, Manga Releases: February 6-12(Feb 9, 2011)
Japan's Animation DVD Ranking, January 31-February 6 (Part 2)(Feb 9, 2011)
North American Anime, Manga Releases: January 23-29(Jan 26, 2011)
Japan's Animation DVD Ranking, January 10-16 (Part 2)(Jan 18, 2011)
Japan's Animation TV Ranking, December 27-January 2(Jan 16, 2011)
Hell Girl 3, Seitokai no Ichizon, Regios Streamed(Dec 27, 2010)
Japan's Animation TV Ranking, December 13-19(Dec 26, 2010)
Crunchyroll Adds Seitokai no Ichizon, Demonbane Anime(Dec 22, 2010)
Supernatural, Yumekui Merry, Showa Monogatari Promos Streamed(Dec 20, 2010)
Nyan Koi!, H20, Ninomiya-kun, Air Movie, Beck Streamed(Dec 17, 2010)
8th Naruto Film to Open Next Summer(Dec 13, 2010)
Japan's Animation DVD Ranking, November 29-December 5 (Part 2)(Dec 7, 2010)
Lucky Star, Spice and Wolf II, Uta∽Kata Streamed(Dec 2, 2010)
North American Anime, Manga Releases: November 14-20(Nov 16, 2010)
Japan's Animation TV Ranking, November 1-7(Nov 14, 2010)
Go Lion, Ultra Maniac, Oreimo, Togainu Streamed(Nov 13, 2010)
Japan's Animation DVD Ranking, November 1-7 (Part 2)(Nov 9, 2010)
Japan's Animation TV Ranking, October 25-31(Nov 8, 2010)
Kimikiss, Princess Jellyfish, Heaven's Lost Property Forte Streamed(Nov 8, 2010)
Japan's Animation TV Ranking, October 4-10(Nov 1, 2010)
Japan's Animation TV Ranking, September 27-October 3(Oct 23, 2010)
Manga/Anime 'Opera' Goes on Tour in Europe Saturday(Oct 21, 2010)
Hidamari Sketch×365, Birdy, Vampire Knight 2 Streamed(Oct 18, 2010)
Japan's Animation DVD Ranking, October 4-10 (Part 2)(Oct 12, 2010)
Supernatural, Hourou Musuko, Saiyuki Promos Streamed(Oct 7, 2010)
Japan's Animation TV Ranking, September 13-19(Oct 7, 2010)
Canaan, Trigun, Xam'd Streamed(Oct 1, 2010)
Japan's Animation TV Ranking, September 6-12(Sep 19, 2010)
Shigofumi, 2nd Inuyasha Film, Maria-sama Streamed(Sep 17, 2010)
Crunchyroll Adds Squid Girl, KamiNomi, Letter Bee 2(Sep 15, 2010)
Japan's Animation DVD Ranking, August 30-September 5(Sep 8, 2010)
Brighter Than the Dawning Blue, Beck, Ponyo Streamed(Sep 6, 2010)
Japan's Animation TV Ranking, August 23-29(Sep 6, 2010)
Ghost Hound, Sekirei 2, Eden of the East Streamed(Aug 16, 2010)
Japan's Animation DVD Ranking, August 2-8(Aug 10, 2010)
Supernatural Anime Teaser Trailer Streamed(Aug 6, 2010)
Japan's Animation TV Ranking, July 19-25(Aug 5, 2010)
Okamisan and Blessing of the Campanella Debuts and Blue Drop, Moribito, Corpse Princess, Hetalia Streamed(Aug 3, 2010)
Home Made Kazoku Concert(Aug 2, 2010)
Japan's Animation TV Ranking, July 12-18(Jul 28, 2010)
Viz Media Shonen Jump(Jul 24, 2010)
Golgo 13, Black Butler II, Captain Tylor Streamed(Jul 17, 2010)
Naruto, Fairy Tail, Occult Academy Leaked Before Airing (Update 4)(Jul 14, 2010)
Japan's Animation DVD Ranking, July 5-11(Jul 13, 2010)
Japan's Animation TV Ranking, June 28-July 4(Jul 12, 2010)
Japan's Animation TV Ranking, June 21-27(Jul 10, 2010)
VIZ Media Industry Panel(Jul 3, 2010)
Japan's Animation TV Ranking, May 31-June 6(Jun 21, 2010)
Bleach, 2nd Hell Girl Season Streamed(Jun 14, 2010)
Madhouse Makes Anime Series for Warners' Supernatural TV Show (Update 2)(Jun 10, 2010)
Japan's Animation DVD Ranking, May 31-June 6(Jun 8, 2010)
Viz Anime to Stream Bleach 'Very, Very Soon'(Jun 8, 2010)
Japan's Animation DVD Ranking, May 10-16(May 18, 2010)
Sours: https://www.animenewsnetwork.com/encyclopedia/anime.php?id=7293
5 Best Places to Watch Naruto Shippuden Online
If you haven't been living under a rock for the past few years, then you probably know about Naruto or Naruto Shippuden. Naruto is one of the most popular shounen anime series of all time. In fact, this anime is so popular that anime fans often refer to it as "one of the BIG THREE long-running shounen series." If you still have not watched this masterpiece, then you need to start right now! Today, I have compiled together a list of the top 5 best places to watch Naruto or Naruto Shippuden online. Make sure to read this article till the end, as I'll also be telling you guys where you can purchase the Blu-ray disk set for the show!
Our protagonist in this story is a boy named Naruto Uzumaki. On the day of Naruto's birth, a Nine-Tailed Fox suddenly attacked the Village Hidden in the Leaves. In order to save the village, the Fourth Hokage (leader of the village) sacrificed his own life and sealed the powers of the vicious Nine-Tailed Fox inside the newly born Naruto.
In the present, Naruto is an impulsive little knuckle-headed ninja who never gives up hope and always keeps on fighting. Sadly, the people of Naruto's village hate him because of the beast that lives inside of him, but Naruto plans on changing the minds of everyone by becoming the next Hokage.
5 Places to Watch Naruto Shippuden Online
PLEASE NOTE: This list is only going to mention legal places to watch Naruto Shippuden or Naruto online. It will not include websites where you can watch Naruto for free.
1. Netflix
Netflix is one of the most popular streaming services of all time, and thankfully, it also lets you watch both Naruto and Naruto Shippuden online. This streaming service has both the dubbed and subbed versions of the anime. Also, when you first join, you can watch everything on the platform for free for the first month.
Like all anime, sometimes Naruto may be only available on Netflix in certain countries. If you log on and can't find Naruto on your Netflix library, don't worry! You can get around that problem by using a VPN. I have confirmed that as of the writing of this article Naruto is available on Netflix Canada. So all you have to do is use a VPN to fake a Canada IP address and you'll be good to go.
How to Watch Naruto on Netflix via VPN
This method works on both desktop PCs and mobile phones or tablets.
Purchase (or start a free trial) of a VPN. I can confirm thatNordVPN works for this purpose.
In the settings, choose the UK as your location.
Fire up the VPN and wait for it to do its magic
Once you're connected, navigate to Netflix (browser or app)
Search "Naruto" in the Netflix search bar and you should see Naruto and Naruto Shippuden pop up.
Enjoy! Please note that if your Netflix library doesn't update to reflect the country you selected in your VPN, you may have to clear the Netflix cache first and try again.
To to do this on mobile, go to settings -> apps -> Netflix -> clear cache. To do this on PC, you have to clear the cache in your web browser.
I've had no trouble using this method and I still use NordVPN to watch anime from various Netflix country libraries daily.
Pros:
You can watch anime and other kinds of tv shows and movies on this platform.
You can use Netflix Party to watch anime together with your friends.
Cons:
The library of anime is quite small on this platform compared to other options like Crunchyroll and Funimation.
You can't watch anything for free.
Price:
Netflix has three different plans. The basic one costs 8.99 USD per month, and the most expensive one costs 17.99 USD per month.
2. Hulu
If you don't like Netflix, then you can get HULU instead for a somewhat similar experience. The library of anime and TV shows available on HULU is a little different from Netflix. You can watch both dubbed and subbed anime, and Naruto and Naruto Shippuden are both present on the platform.
Pros:
It costs less than Netflix.
You can watch anime and other kinds of tv shows and movies on this platform.
Cons:
The library of anime on this platform is even smaller than Netflix.
You can't watch anything for free.
Price:
The first package of Hulu starts at only 5.99 USD per month. However, this package does include annoying ads. You can pay 11.99 USD per month to get rid of all ads and get the complete streaming experience.
3. Crunchyroll
Crunchyroll is an anime-only platform that has a far bigger library of anime compared to the previous two options on this list. The ads on this website are not too annoying, so even the free version is not half bad.
Pros:
There is a huge library of popular anime available on the platform.
Some anime shows are only exclusively available on Crunchyroll.
You can even watch anime for free if you don't mind ads.
Cons:
You can only watch anime with English subtitles.
You can only watch anime shows and movies.
Price:
You can get the Fan package of Crunchyroll for only 7.99 USD per month and watch all the anime and dramas available on the platform without ads. You can pay a bit more to enjoy extra perks as well. The most expensive package costs 14.99 USD per month.
4. Funimation
Funimation is your go-to option if you like to watch dubbed anime. The team at Funimation professionally dubs all of the popular anime into English and provides dedicated English-speaking fans with an amazing experience.
Pros:
You can watch Naruto in English or Japanese.
Some anime shows are only exclusively available on Funimation.
There are tons of other amazing dubbed and subbed anime available on the platform.
You can even watch anime for free on the platform if you don't mind ads.
Cons:
You can only watch anime shows and movies.
Price:
The most affordable package on the website only costs 5.99 USD per month, but you can pay up to 99.99 USD per year for the best experience.
5. Amazon Prime
Amazon Prime is different from all the other options on this list as you have to buy individual episodes and seasons instead of a monthly package in the case of Naruto and Naruto Shippuden. You can also buy a monthly package, but all the episodes of Naruto are not available in the package.
Pros:
You can keep each episode that you purchase indefinitely.
Cons:
Very expensive compared to all the other options.
Price:
Each episode of Naruto and Naruto Shippuden costs around 1.99 USD, or you can buy a complete season for 19.99 USD.
Naruto Shippuden Blu-Ray:
You should consider buying a Blu-Ray disk or DVD set if you are a dedicated fan of the series and want to experience Naruto in the best quality possible.
---
This blog is sponsored by ZenMarket, the number one proxy shipping service that helps you buy your favorite anime merch from Japan, regardless of where you are in the world. 
Check out our affiliate page on ZenMarket!
Related
Tags: featured, naruto, where to watch
Sours: https://jpbound.com/5-best-places-to-watch-naruto-shippuden-online/
Naruto Shippuden
UNLIMITED TV SHOWS & MOVIES
SIGN IN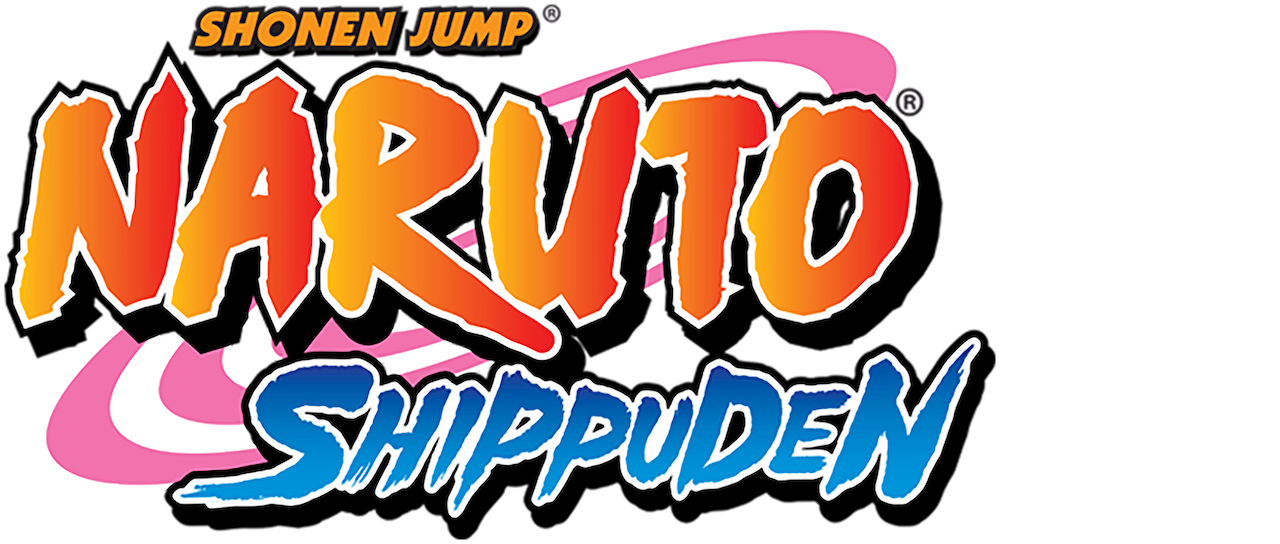 After training abroad for more than two years, Naruto Uzumaki returns home and joins forces with Sakura Haruno to battle an evil organization.
Starring:Junko Takeuchi, Chie Nakamura, Kazuhiko Inoue
"Naruto: Shippuden" continues to adapt Masashi Kishimoto's manga, which has sold more than 220 million copies worldwide.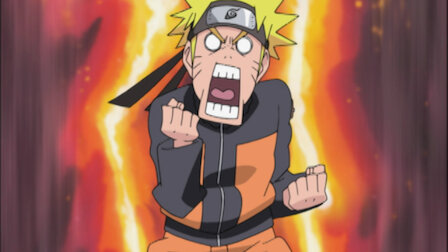 After training with Jiraiya for more than two years, Naruto returns to Konoha, where he soon runs into Sakura and Konohamaru.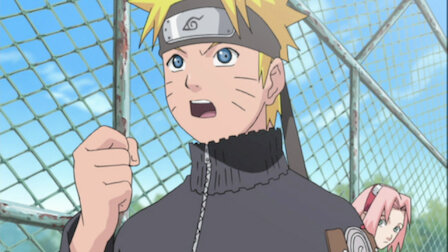 Kakashi tests Naruto and Sakura to see how far they have advanced, while the Akatsuki arrives at Sunagakure to capture the host of a tailed beast.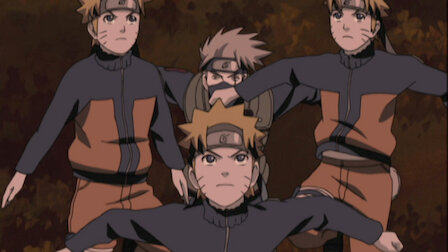 As Sakura and Naruto demonstrate their new skills, Deidara launches an attack on Sunagakure and is confronted by Gaara.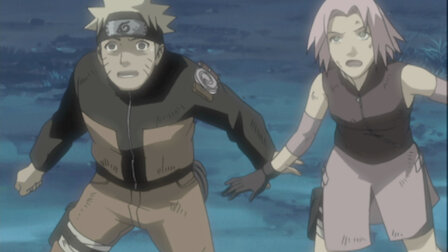 Naruto and Sakura struggle with Kakashi's jingle-bell test. Deidara and Gaara engage in an aerial battle.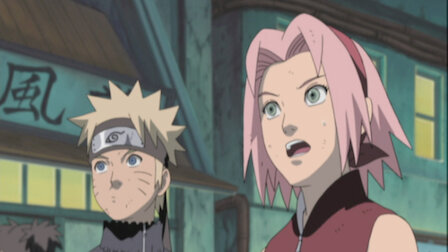 After finally winning the survival challenge, Naruto and Sakura are assigned by Tsunade to a three-man squad led by Kakashi.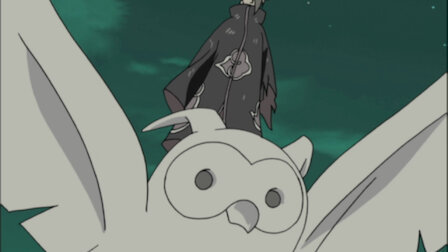 As Deidara drops a C3 explosive on Sunagakure, Gaara's efforts to protect his village leave him vulnerable to attack.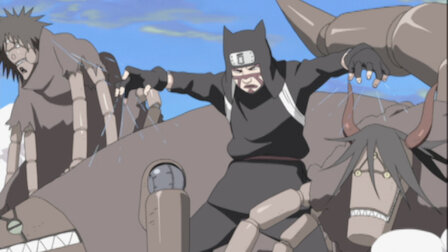 Despite Baki's efforts to stop him, Kankuro sets out to rescue Gaara, who's been whisked away by Deidara and Sasori.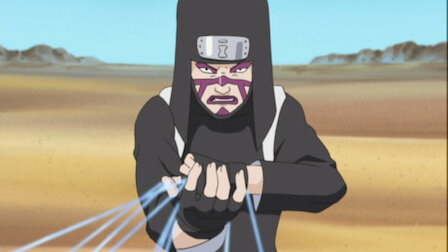 Kankuro proves to be no match for Sasori's scorpion-like tail. Meanwhile, Tsunade assigns Team Kakashi to back up Sunagakure in rescuing the Kazekage.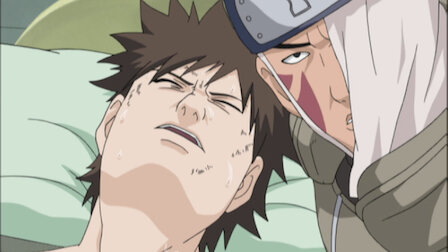 Kankuro suffers the effects of Sasori's deadly poison. Meanwhile, on their way to Sunagakure, Team Kakashi picks up Gaara's elder sister, Temari.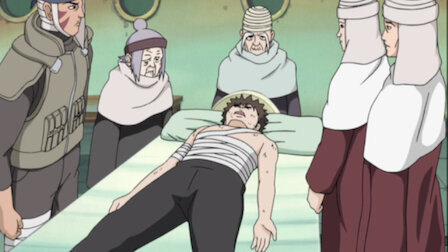 The Akatsuki begins a three-day-long jutsu to extract Shukaku from Gaara. At Sunagakure, Kankuro's condition worsens.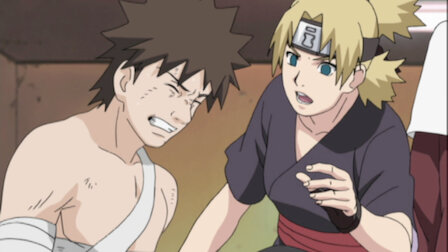 As a medic ninja, Sakura creates an antidote to treat Kankuro. Later, Kakashi's ninja dogs track down the Akatsuki's whereabouts.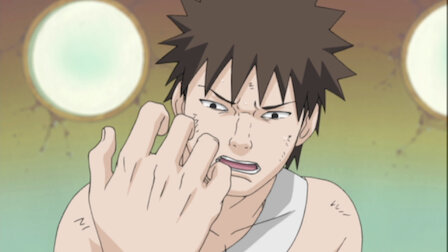 As Team Guy and Team Kakashi continue their mission to recover Gaara, the Akatsuki leader dispatches Kisame Hoshigaki and Itachi Uchiha to delay them.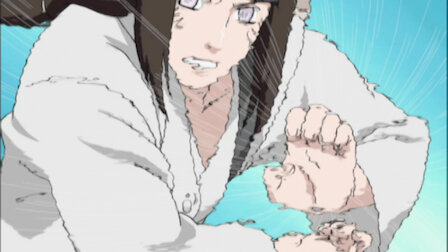 Team Guy engages Kisame in battle, while Kakashi leads the attack against Itachi with Naruto following close behind.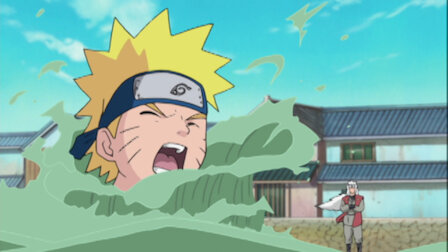 Guy resorts to extreme measures in his battle with Kisame.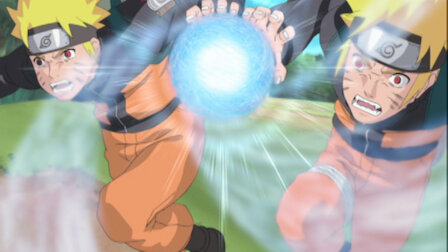 Chiyo and Sakura release Naruto from the genjutsu, while Guy frees Neji, Rock Lee and Tenten after finally defeating Kisame.
Team Kakashi and Team Guy realize their recent battles were only distractions. Chiyo informs them that the Jinchuriki extraction process can be fatal.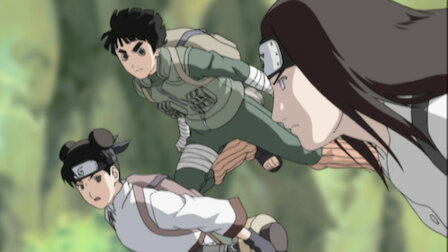 As the teams approach the Akatsuki hideout, Chiyo reveals that she was the one who sealed the Shukaku in Gaara, to protect Sunagakure.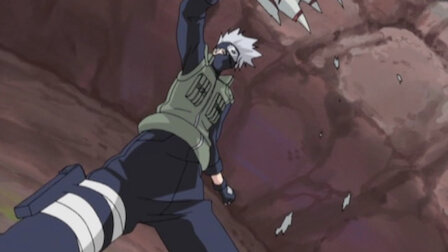 As Kakashi's and Guy's teams try to overcome the barriers to the hideout, the Akatsuki learn that one of the intruders is the Nine Tails Jinchuriki.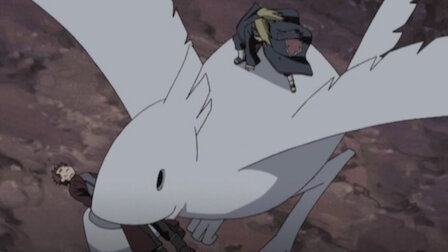 At the lair, Team Guy is ambushed and attacked by clones of themselves. Deidara takes Gaara's body away, forcing Naruto and Kakashi to follow him.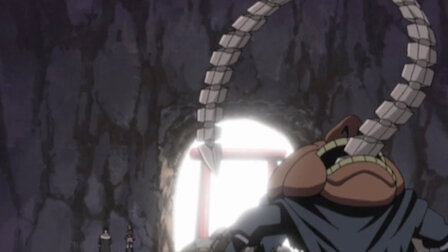 Chiyo reveals that her grandson's true body is hiding within his favorite puppet, and the only way to kill Sasori is to destroy his puppet.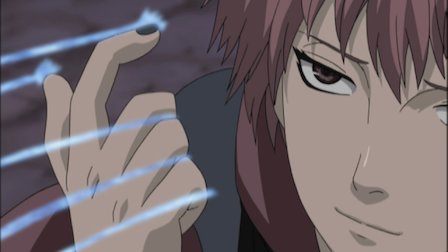 Chiyo and Sakura continue their battle with Sasori. Temari's team, along with Kankuro and Ebizo, continues to make its way toward the Land of Rivers.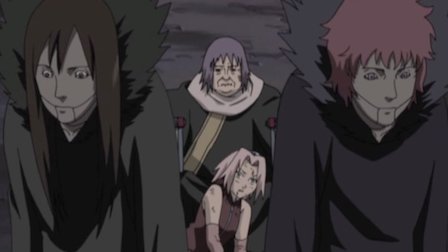 While Sasori releases the Third's secret technique, Naruto and Kakashi continue to pursue Deidara, and Team Guy struggles against the clones.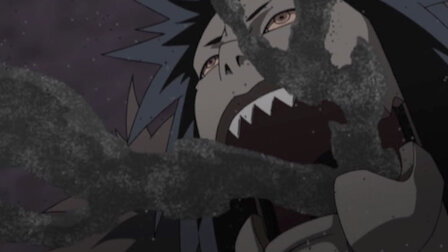 Faced with the Iron Sand, Chiyo and Sakura, as well as the mother and father puppets, lose ground in their battle with Sasori and the Third Kazekage.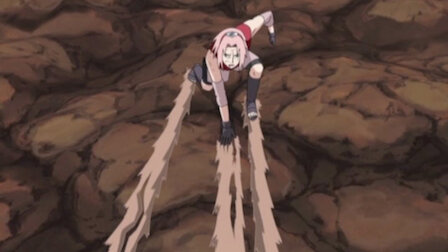 Sasori uses a new technique to attack with randomly growing iron spikes, one of which hits Sakura and paralyzes her with poison.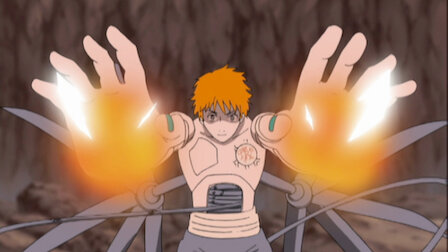 Sakura reveals that she had taken an antidote to Sasori's poison -- but it will wear off in three minutes. Deidara tries to ditch Naruto and Kakashi.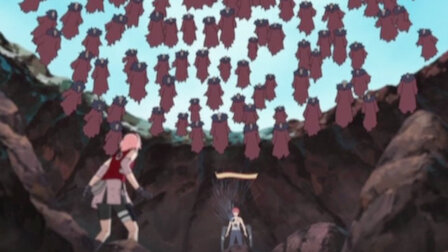 Chiyo summons the Ten Puppets of Chikamatsu, but Sasori goes one better by employing his One Hundred Puppet Manipulation Jutsu.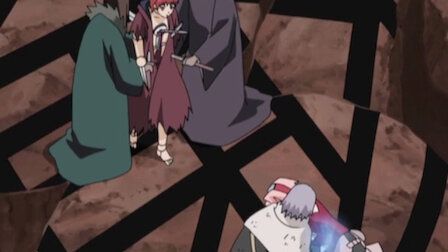 Chiyo and Sakura enter the final phase of their battle with Sasori, who reveals some valuable information about one of his spies.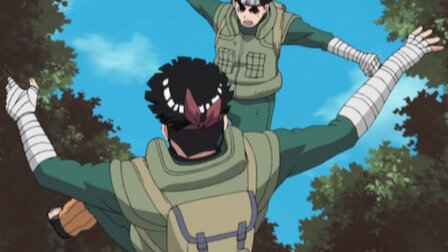 Team Guy seems to be outmatched by the clones, which, being nonhuman, remain as strong as they were when they were formed.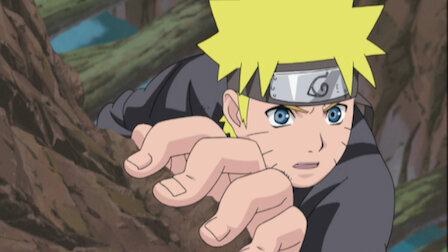 Kakashi uses his interdimensional warping technique against Deidara, but Naruto succumbs to anger and his Nine-Tailed Fox chakra begins to emerge.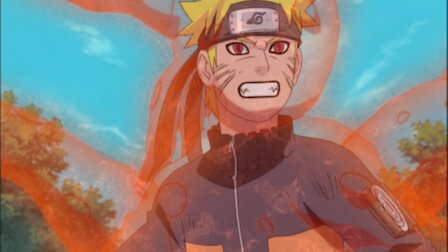 Kakashi uses a seal that Jiraiya gave him to suppress Naruto's Nine-Tailed Fox chakra. Meanwhile, Sakura fails to bring Gaara back to life.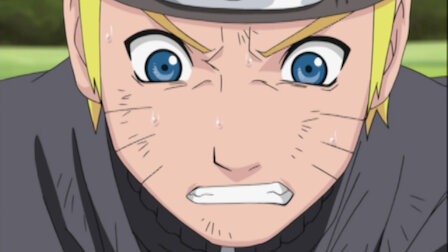 Relying on Naruto's power, Chiyo performs the Transmigration Jutsu on Gaara, a technique that carries a heavy cost.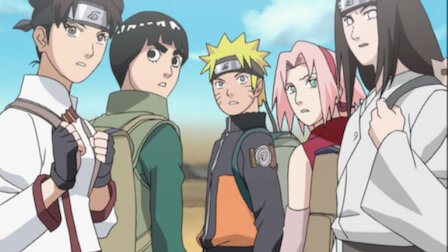 Team Kakashi and Team Guy return Gaara to Sunagakure, where they pay their final respects to Chiyo's grave. Meanwhile, Deidara searches for his arm.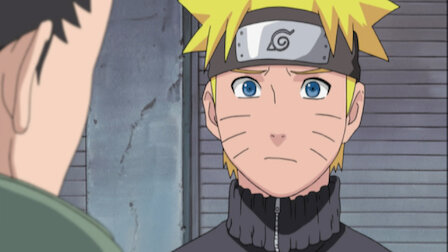 Back in Konoha, as Kakashi rests in the hospital, Naruto searches for another team member before they are due to meet Sasori's spy.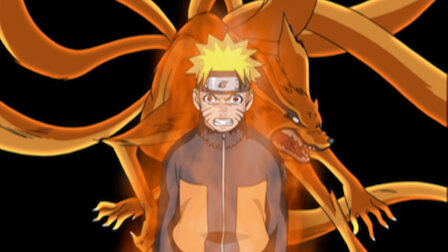 Naruto is dismayed when Sai, the boy who attacked him, is assigned to Team Kakashi, and an ANBU member named Yamato takes over as leader.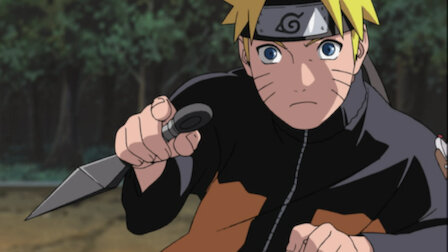 Jiraiya briefs Yamato on the Nine-Tailed Fox sealed within Naruto, and after a bumpy start, the new Team Kakashi heads out on its first mission.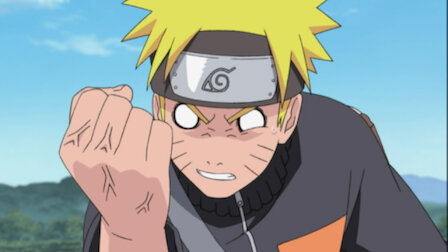 Despite Yamato's efforts to relieve tension and build team spirit among his crew, Naruto continues to despise Sai.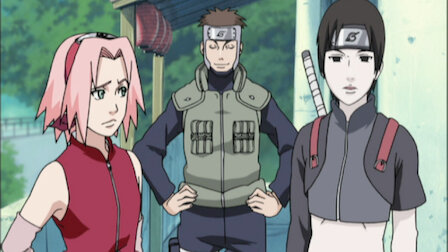 Sai reveals that he may have a soft side after all, and the team formulates a plan for capturing Sasori's spy.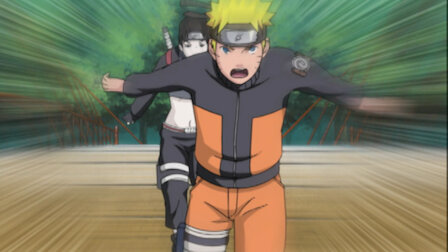 Yamato creates a mock test for his team to assess how well they coordinate and work together. Sai reveals some surprising information about himself.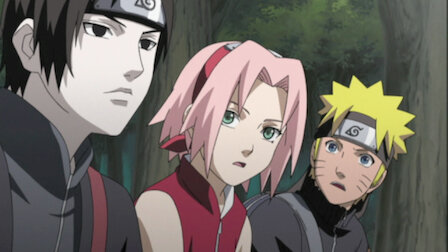 Disguised as Sasori, Yamato meets with the spy on the Tenchi bridge, where the team is shocked to discover the spy's true identity.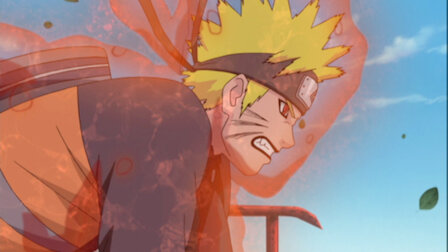 Enraged by Orochimaru's taunts, Naruto unlocks the Nine-Tails' third tail to do battle.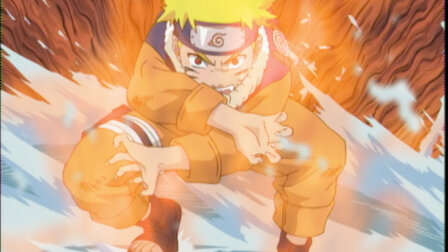 Pushed to the edge by Orochimaru during their battle, Naruto transforms into his four-tailed state.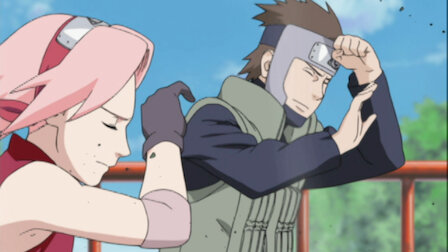 In his four-tailed form, Naruto proves to be a formidable opponent for Orochimaru. Meanwhile, Kabuto deduces that Sasori has died.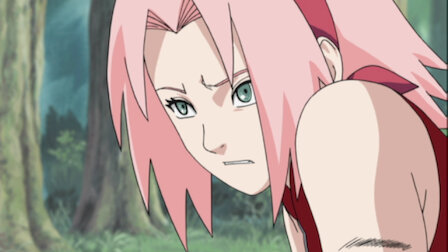 After an out-of-control Naruto attacks Sakura, Yamoto is forced to bind Naruto before he can do further harm. Sai confronts Orochimaru.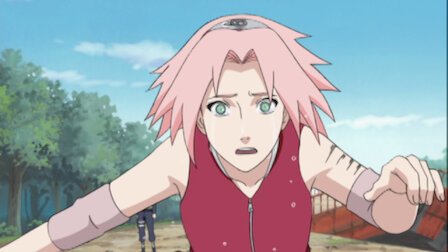 After his wood clone follows Sai, Orochimaru and Kabuto to their hideout, Yamato concludes that Danzo seeks to destroy Konoha.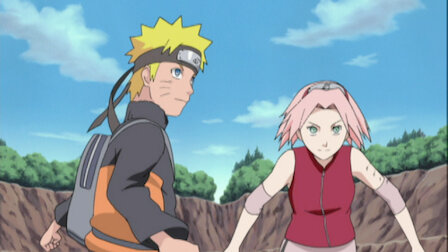 Recovering from their wounds, Naruto and Sakura accompany Yamato in pursuit of Sai. Naruto is shocked to learn he's responsible for Sakura's injuries.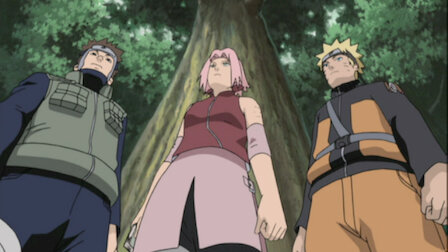 Hoping to learn more about Sai, the Konoha team decides to look at his picture book. At the hideout, Sai confronts a shadowed Sasuke.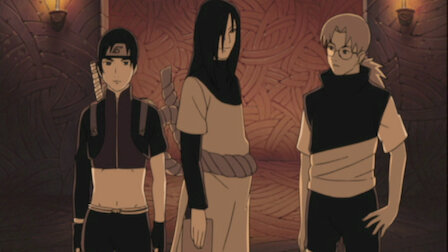 Orochimaru gives the envelope with information from Danzo about Konoha's ANBU to Kabuto. Yamato, Naruto and Sakura reach the hideout.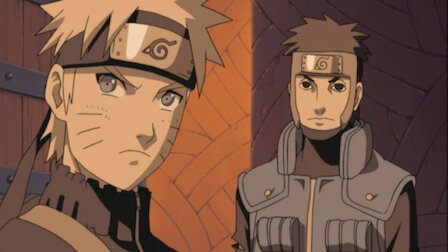 The Konoha team confronts Sai, who reveals his true orders. Naruto tells Sai about his bonds of a brother with Sasuke.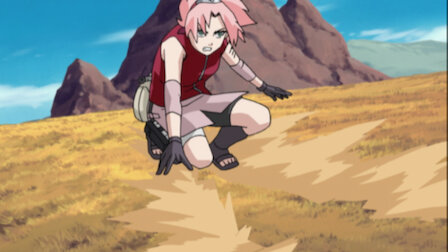 Kabuto attacks the team and frees Sai, who then betrays him. The team splits up to find Sasuke in Orochimaru's hideout.
As Sai reveals to Naruto that he does have feelings after all, Orochimaru attacks them, forcing Sakura and Yamato to come to their aid.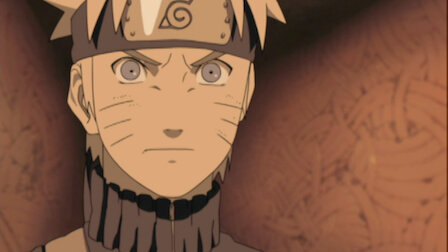 Naruto and Sakura finally reunite with Sasuke, who remains steadfast in his resolve to get revenge against his brother Itachi.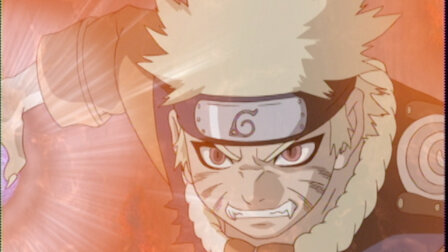 Naruto is attacked by a powerful Sasuke, who has an unexpected encounter with the Nine Tails.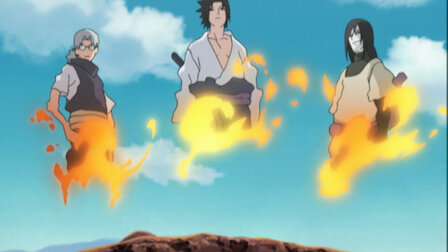 Sasuke's hunger for revenge grows stronger, despite Naruto's protests; only Orochimaru's intervention prevents Yamato from taking Sasuke by force.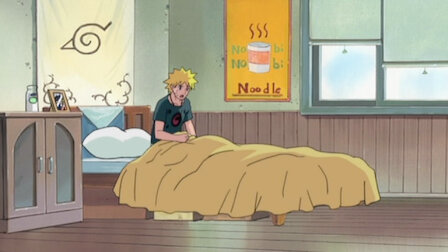 Naruto is haunted by nightmares. Sai tries to adapt to being a member of the team. Kakashi tells Naruto that he has something special for him.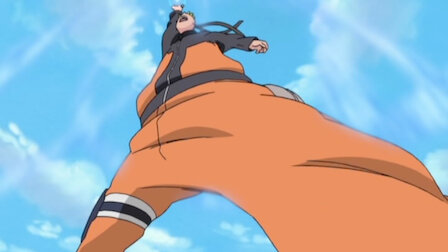 Naruto starts his new training regimen, learning a shortcut. After discovering which type of chakra he has, he explores its properties and powers.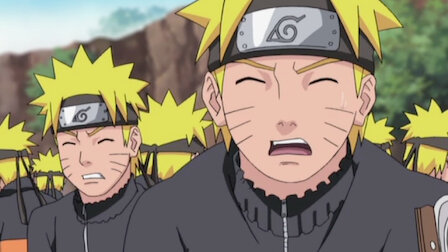 Naruto seeks advice from Asuma. A possible threat cuts Naruto's training short. Tsunade decides to send Kakashi's team on a new mission.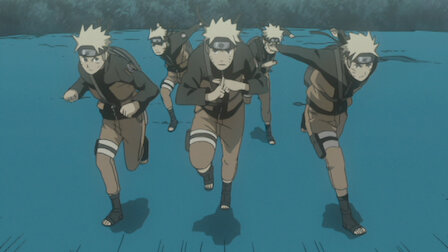 Kakashi's team goes to visit the Fire Temple to resolve the frequent vandalization of the temple's graves. Naruto comes upon a startling sight.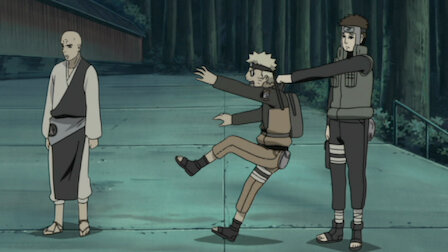 Kakashi's team learns the history of the Fire Temple's hidden tombs. Naruto realizes he and Sora have more in common than he thought.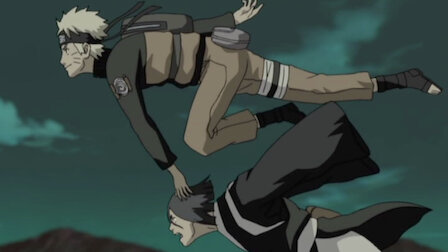 Tsunade suspects Danzo is up to something and orders an investigation. Back at the Fire Temple, Naruto and the others are lured into a trap.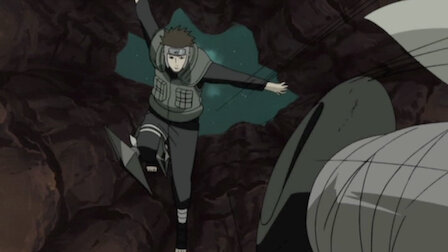 Kakashi's team members find themselves at a disadvantage against the enemy. Sora, off on his own, comes face-to-face with a mysterious figure.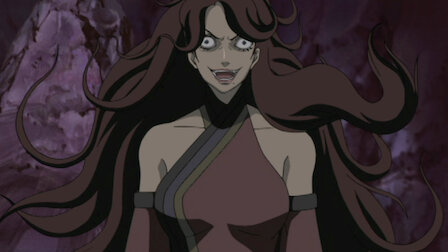 The mysterious figure gives Sora a cryptic message. To his dismay, Naruto discovers that Fūka is able to use all five chakra elements.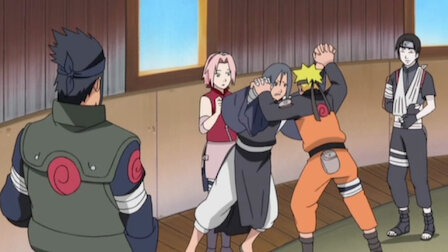 Yamato appoints a new member to Kakashi's team, a decision which proves unpopular. Meanwhile, in the Land of Fire, Furido makes his next move.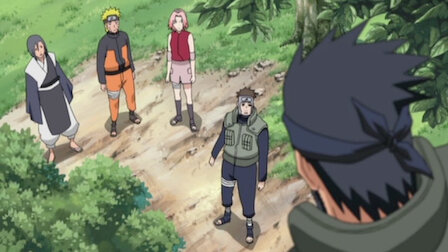 Furido drops a bombshell regarding Sora's family history. Tsunade receives a letter from the Fire Temple monk, detailing an incident involving Sora.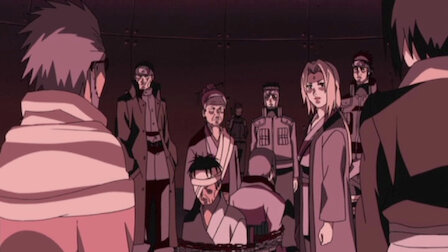 Tsunade catches Danzo in a secret meeting. After Sora learns shocking information about his father, Furido encourages him to seek vengeance.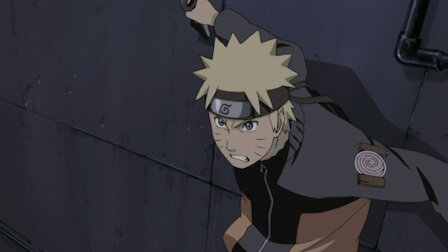 Furido launches an attack on the Leaf Village. Asuma suspects someone has been using Sora, and realizes why the village is endangered.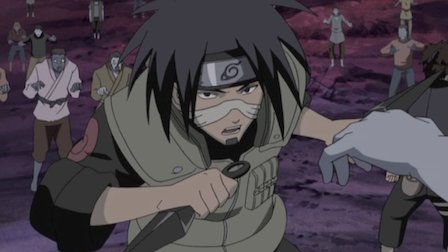 Asuma must confront an unpleasant part of his past. Naruto tries to stop Sora from going to Furido, but must first avoid the kiss of death yet again.
Sora is shocked when he realizes the extent of Furido's plans and desperately tries to stop him. Asuma struggles to battle Kitane.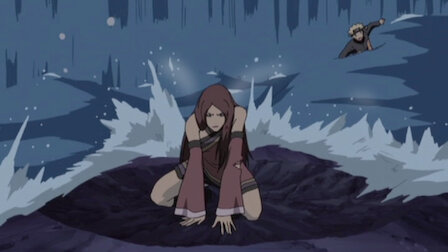 Naruto figures out the secret behind Fūka's ability to use all five chakra elements. Furido reveals the origins of Sora's strong powers.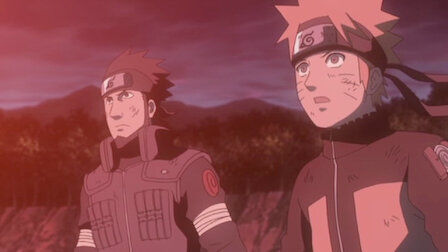 Sora falls into despair after a horrible betrayal. Only Naruto can truly understand Sora's pain, and can stop him from losing himself completely.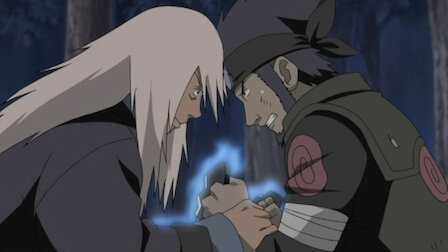 Asuma travels back in time to fight Furido's true form. The Nine-Tails' chakra inside both Naruto and Sora begins to manifest itself.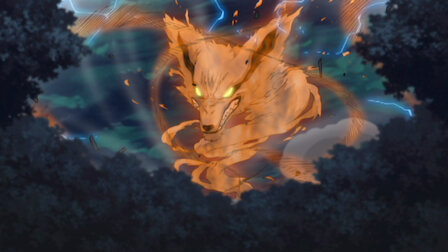 Naruto desperately tries to suppress the Nine-Tails' chakra in order to stop Sora's rampage. Asuma receives unexpected assistance in his battle.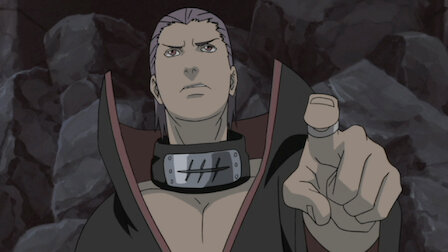 Kakashi returns, reporting to Tsunade that the Akatsuki have begun to move. Meanwhile, Hidan and Kakuzu near the end of their hunt for the Two-Tails.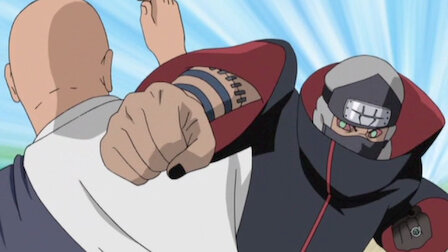 Hidan and Kakuzu head to the Fire Temple to begin their next mission. Naruto resumes his training, advancing to the next phase.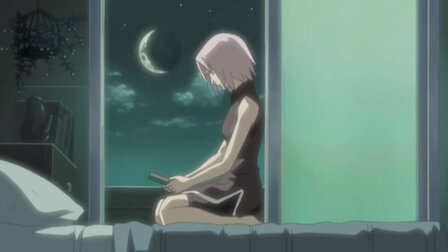 Hearing reports of the Fire Temple's destruction and the Akatsuki's infiltration into the Fire Country, Tsunade orders the 20 new teams into action.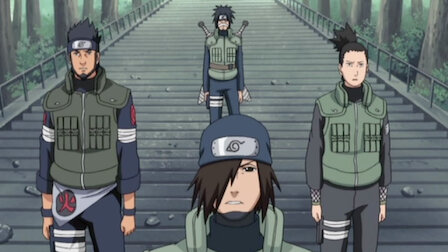 Asuma's team plans to intercept the Akatsuki at the bounty payment point. Kakashi reveals to Naruto the true purpose of his new training.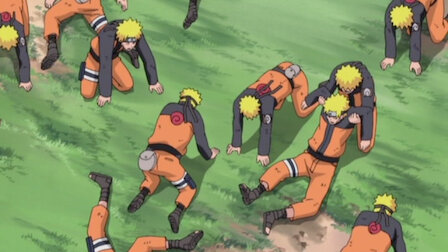 Kakashi challenges Naruto to become the first to be able to incorporate his chakra element into the creation of a new and more powerful jutsu.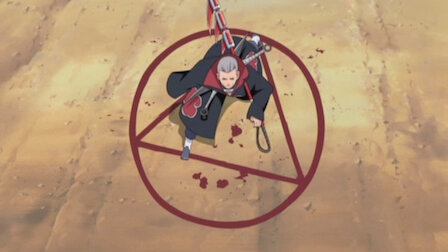 Surprised by Hidan's power, Asuma comes up with a battle strategy that comes as a shock to everyone on his team, especially Shikamaru.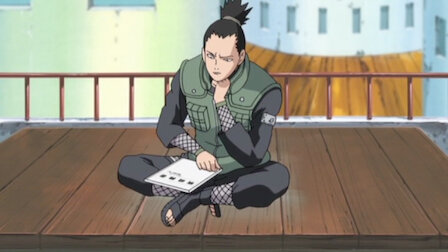 Hidan employs his ability to link his body to his opponent's after drinking their blood. Shikamaru desperately tries to find a way around this jutsu.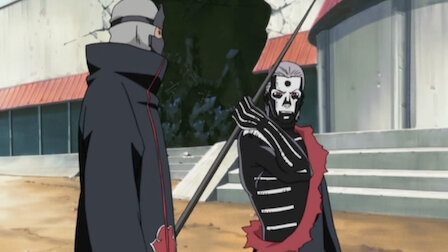 Hidan proves to be able to stay alive even after being mortally wounded. One of the members of the team falls victim to Hidan's jutsu.
Just as reinforcements arrive to help Asuma's team, a mysterious figure commands Hidan and Kakuzu to retreat. The end seems near for one team member.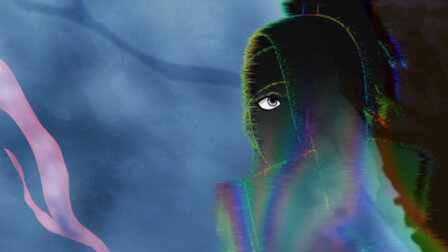 In a faraway land, the Akatsuki discuss how they will dominate the world. Meanwhile, Asuma's team reports its mission's tragic result to Tsunade.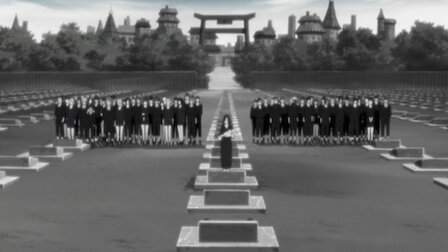 When Tsunade adamantly opposes Team 10's determined plan to stop and capture the Akatsuki, an unexpected person offers to help.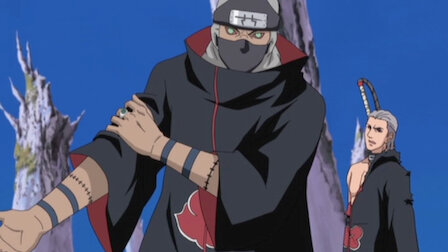 Naruto is given just 24 hours to perfect his new jutsu so he and Team 7 can provide backup for Team 10's plot to take down the Akatsuki.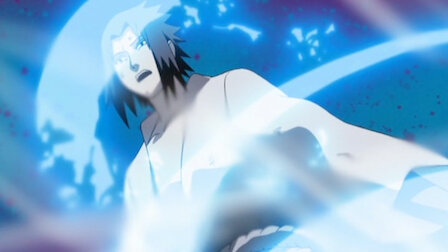 Kakuzu's unexpected abilities put Shikamaru's team in danger. Meanwhile, Naruto learns about the strengths and weaknesses of each of the five chakras.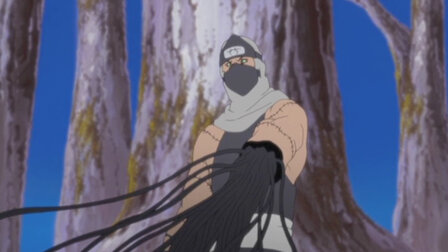 Shikamaru decides that separating Hidan and Kakuzu is the only chance they have at conquering the duo, so he sets out to create a diversion.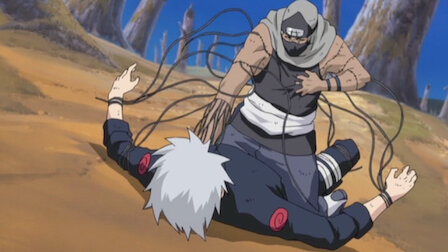 Hidan and Kakuzu are up to their old tricks. Little do they know that Shikamaru has figured out a way to turn their powers against each other.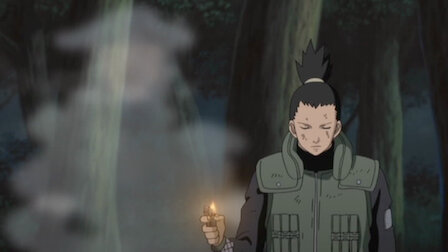 Team 7 arrives to assist Team 10 in its battle against Hidan and Kakuzu. Naruto prepares to unleash his new jutsu, Wind Style: Rasen Shuriken.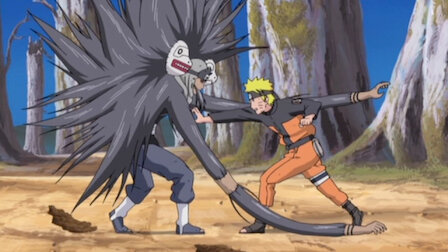 When Naruto's first attempt at using his new jutsu fails, he begs his comrades for another chance. Will the jutsu reach Kakuzu from a long distance?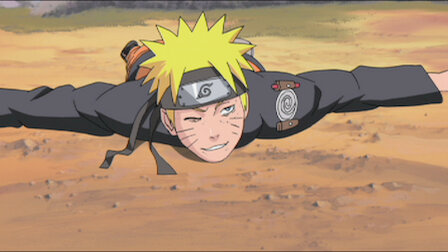 Tsunade makes a tough decision about Naruto's new jutsu, Wind Style: Rasen Shuriken. Meanwhile, Orochimaru sets his next plan in motion.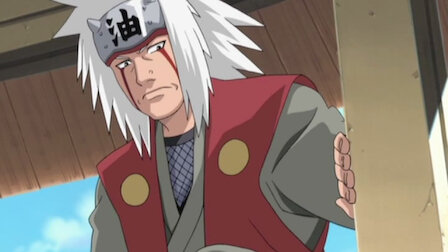 Word comes that Orochimaru's hideout has been found. Naruto seeks the guidance of a mentor who has returned. Guren begins a selection process.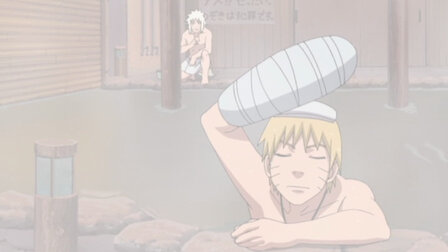 Jiraiya suggests Naruto train in a collaboration jutsu. Guren shows her Crystal Style jutsu. Sasuke wonders about Orochimaru's interest in Yukimaru.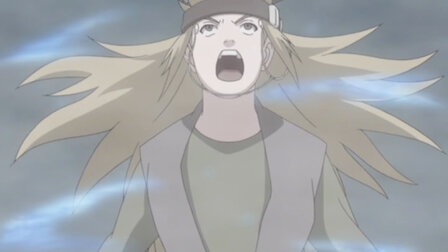 Orochimaru proposes a plan to Guren. Kabuto and Yukimaru try summoning the Three-Tail. Naruto has a chance encounter with Yukimaru.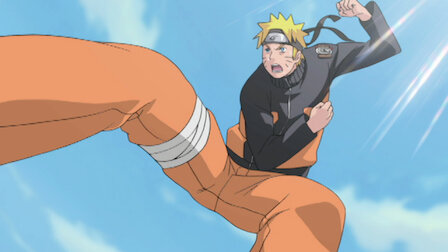 Tsunade investigates a mysterious crystal. Guren's men learn of the presence of Kakashi's team. Naruto's training runs into unexpected difficulties.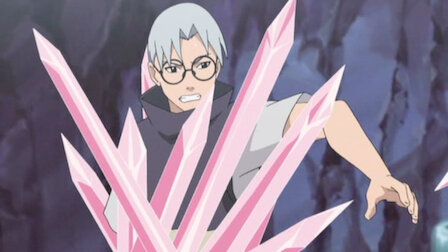 Kakashi and his team realize they're being watched. While taking care of Yukimaru, Guren has a peculiar dream, and later gives him a gift.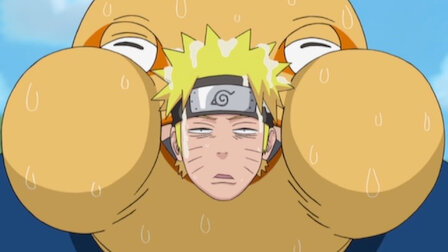 Yukimaru gives Guren a gift in return. Gamatatsu makes progress in his training. Naruto begs Tsunade to let him join Kakashi's team on its mission.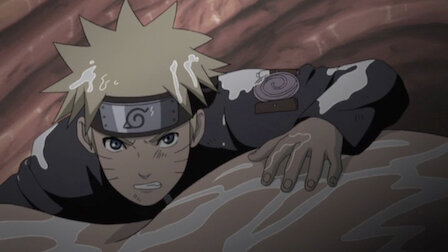 Naruto gets a hint on how to perfect his new jutsu. Kakashi's team is forced into an unplanned battle. Meanwhile, Yukimaru remembers his mother.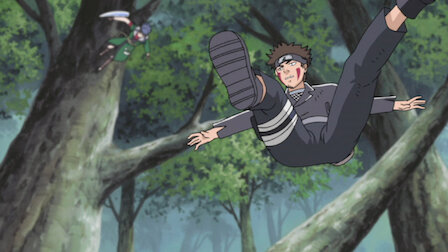 Kurenai's team members find themselves trapped in a perplexing environment. On his way to assist them, Naruto runs into Yukimaru again.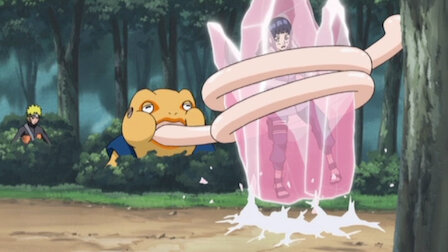 Naruto tests his collaboration jutsu against Guren's abilities. Later, Guren and her men resume their experiment and witness something extraordinary.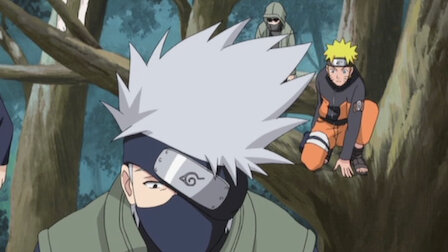 Using the bat to track Guren, Kakashi sends Naruto to the lake to investigate. Guren tries to capture the Three-Tails, but it doesn't go as planned.
Guren and Naruto fall victim to the mist emitted by the Three-Tails. Receiving a report of the beast's emergence, Tsunade plans a counteroffensive.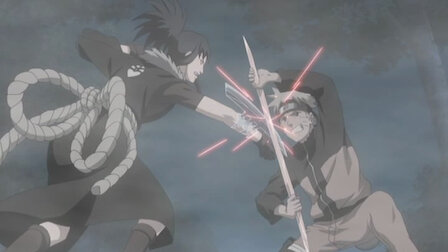 Naruto enters the mist to find Yūkimaru so he can take him back to the Leaf Village. But Guren isn't about to give up Yūkimaru without a fight.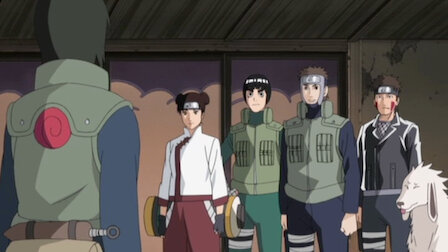 Reinforcements arrive from the Leaf Village with new marching orders. A figure approaches Kabuto to discuss Guren's growing affection for Yukimaru.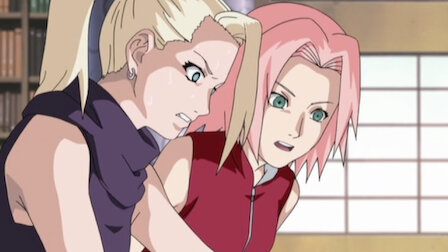 The sealing team begins its search as it activates the barrier to trap the Three-Tail. Naruto angers Guren, saying he won't allow her to use Yūkimaru.
Kakashi tests his secret plan against Guren's powerful Crystal-Style jutsu. The sealing team members track down the Three-Tail, but are being watched.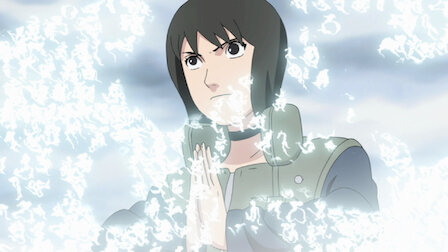 Kabuto plans to use Yūkimaru's powers to break the sealing barrier. Orochimaru's grand scheme involving Yūkimaru and Guren is revealed.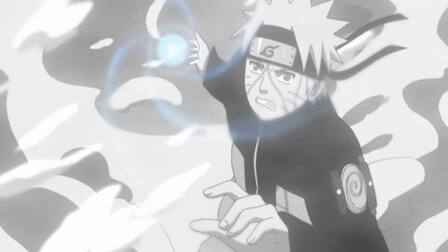 To protect Guren from the Three-Tails, Yukimaru exerts powers beyond his limits. While Guren and Naruto battle the beast, the unthinkable happens.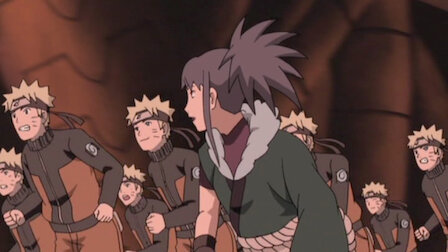 Guren and Naruto find themselves needing each other's help. Yukimaru delivers a startling message. Kabuto orders Yukimaru's return at all costs.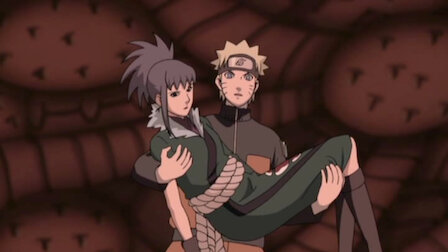 Kakashi and the others must rely on Yukimaru's mystical senses to guide their rescue mission. The boy uses something his mother taught him to help.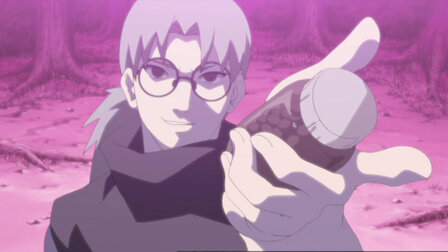 Sai is attacked while trying to bring Yukimaru to safety. The sealing team attempts to make another barrier to contain the Three-Tails.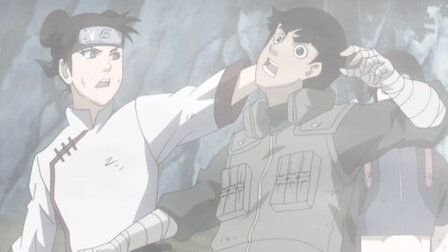 An unexpected ally saves the sealing team. Rinji tells Yukimaru the truth about his mother's death, hoping his reaction will rile the Three-Tails.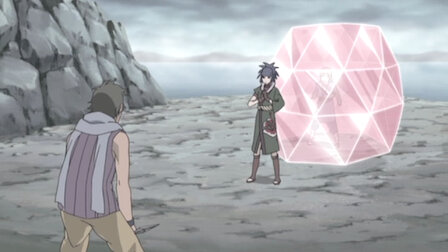 Determined to save Yukimaru, Guren resorts to her final tactic. Naruto unleashes his collaboration jutsu in a battle against the Three-Tails.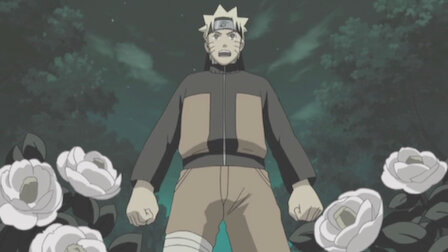 After the battle takes a heavy toll, Tsunade makes a tough call. Yukimaru goes missing. Two Akatsuki members arrive at the lake with their own plans.
Junko TakeuchiChie NakamuraKazuhiko InoueNoriaki SugiyamaMasako KatsukiAkira Ishida
A failed bank robber locks himself in a home, along with a real estate agent, two IKEA addicts, a pregnant woman, a suicidal millionaire and a rabbit.
In Autumn 1938, a British civil servant and a German diplomat cross paths in Munich and conspire to prevent war in Europe. Based on Robert Harris' book.
When an aspiring author and his free-spirited sister both fall for the enigmatic paying guest at their home, ensuing events rock their traditional family.
Sanjay Leela Bhansali brings his majestic signature flair to stories of love and betrayal in the lives of courtesans in pre-independence India.
A tailor gains special powers after being struck by lightning, but must take down an unexpected foe if he is to become the superhero his hometown needs.
When a psychiatrist shelters a mysterious cult escapee, her world is turned upside down as the girl's arrival threatens to tear her own family apart.
A determined prosecutor becomes consumed with the case of a missing 13-year-old and goes to extreme lengths to get to the truth. Based on a real case.
This genre-bending series puts a modern twist on Greek and Roman mythology, exploring themes of gender politics, power and life in the underworld.
Sours: https://www.netflix.com/mx-en/title/80000603
SASUKE'S DEATH in anime Boruto - Naruto took Sasuke's eyes - Boruto Episode Fan Animation
Naruto Shippuden
What's Included in The Disney Bundle?
Subscriptions to Disney+, ESPN+, and the Hulu plan of your choice for a discounted price. Available with Hulu (ad-supported) for $13.99/month, with Hulu (No Ads) for $19.99/month, or with Hulu + Live TV for $72.99/month.
 Savings of up to $7.98/month compared to the regular price of each service.
 Enjoy all your favorite shows, movies, sports, and more using the Disney+, Hulu, and ESPN apps (or sites, for those on a browser). Download each app separately to access each service.
 Access select ESPN+ content via Hulu.
Cancel anytime.
No free trial available. You must be 18 years or older to sign up.
Sours: https://www.hulu.com/series/naruto-shippuden-c6321cb1-1879-4d7f-9e2f-8d7d4fc55544
Tv online shippuden
Portada de Naruto Shippuden
Lo mejor de Naruto Shippuden en HD: capítulos de Naruto Shippuden, ovas y películas de Naruto Shippuden y todo sobre Naruto en Esp...
Keywords:
naruto shippuden online, capitulos de naruto shippuden, capitulos naruto shippuden, shippuden tv, lista de capitulos de naruto shippuden, juegos naruto shippuden, peliculas naruto shippuden
https://shippuden.tv
Server location

United States

Domain Created

12 years ago

Latest check

1 week ago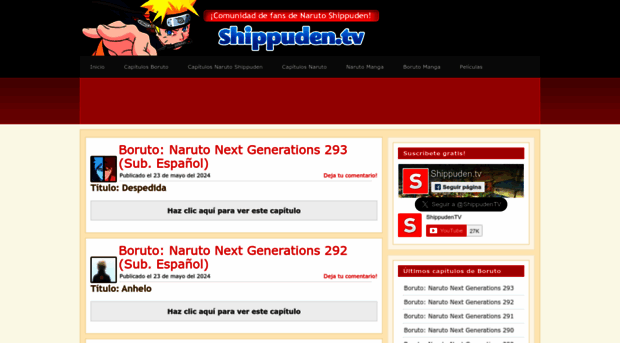 MYWOT
Shippuden.tv most likely does not offer any malicious content.
Safety status

Safe

Safety status

Safe

Safety status

N/A
Secure connection support
Shippuden.tv provides SSL-encrypted connection.
Shippuden.tv most likely does not offer any adult content.
Popular pages
Portada de Naruto Shippuden

Lo mejor de Naruto Shippuden en HD: capítulos de Naruto Shippuden, ovas y películas de Naruto Shippuden y todo sobre Naruto en Español.
Open neighbouring websites list
Sours: https://sur.ly/i/shippuden.tv/
Marvel's Hit-Monkey I Official Trailer
The best Shippuden.tv downloader online
---
Save Shippuden.tv videos
Download videos from Shippuden.tv by simply pasting the link to the video. TubeNinja will provide you the download link and you can easily save it on your device.
Save Shippuden.tv playlists
You can download and convert whole playlists from Shippuden.tv with a few simple clicks. You simply paste the Shippuden.tv playlist link and let our Shippuden.tv downloader handle the rest.
Convert Shippuden.tv content to mp3
Convert and save Shippuden.tv to mp3s by giving the link to us. We will handle the rest and provide you with a mp3 file.
Save Shippuden.tv audio
Download audio files from Shippuden.tv even if the source format is video. Give us the link and then choose to download as audio. As simple as that!
Fast and free
Our Shippuden.tv downloader is totally free thanks to our unique solution. You don't even have to register an account or install anything! You just need paste the link and then save the file.
---
How to download videos from Shippuden.tv with TubeNinja
Copy the link to the Shippuden.tv video that you want to download
is shortcut for copying ( on mac)
Open a new window/tab and go to www.tubeninja.net
Paste the link in the input box at the top of this page
is shortcut for pasting ( on mac)
Click Download and wait for the page to finish loading
Select what quality you want to download the video in
---
Sours: https://www.tubeninja.net/how-to-download/shippuden
Now discussing:
.
2046
2047
2048
2049
2050