Where to start?
We are big believers that starting small now is better than starting big, later. We have found that this approach actually makes things happen, helps reduce overwhelm and keeps the budget check. When we first started with solar, our setup was simple.
Our first solar setup is outlined below. This solution gave us the ability to use all the 12v systems in the RV for as long as our fresh and grey water tanks would allow. We could charge laptops, phones and drones as much as needed and never had any issues with the tongue jack, awning or any other onboard 12v systems.
We had two (2) six-volt Centennial Batteries.
120 Watt Zamp Solar Portable Solar panel
The 600-watt inverter
Now that we've started… it's time to improve
After we purchased "Grand Ginger", our Grand Design Reflection Bunkhouse (312BHTS), we were ready for more freedom and less fatigue. We were also preparing for more dry-camping during Season 5 in Alaska.
We wanted to create "Tricia-approved dry camping". This means that Tricia wasn't looking for the exit button on day 2 because everything was harder. We both wanted to turn the coffee maker on in the morning start working with 100% charged laptops. We wanted to take a warm shower and didn't want to feel like we were camping. To be clear, there is nothing wrong with camping…but we're not going home afterward. We wanted to live the same way whether we were in an RV park, Walmart or the most beautiful BLM site in North America.
It was time to get a bigger inverter, but with a bigger inverter comes more batteries and more solar to replenish those batteries.
Below is our Lithium Solar setup with Zamp Solar, Battle Born Batteries and Victron.
The complete freedom solar setup
Here is a diagram of how everything fits together. Jared made this diagram and explains it step-by-step in the video below.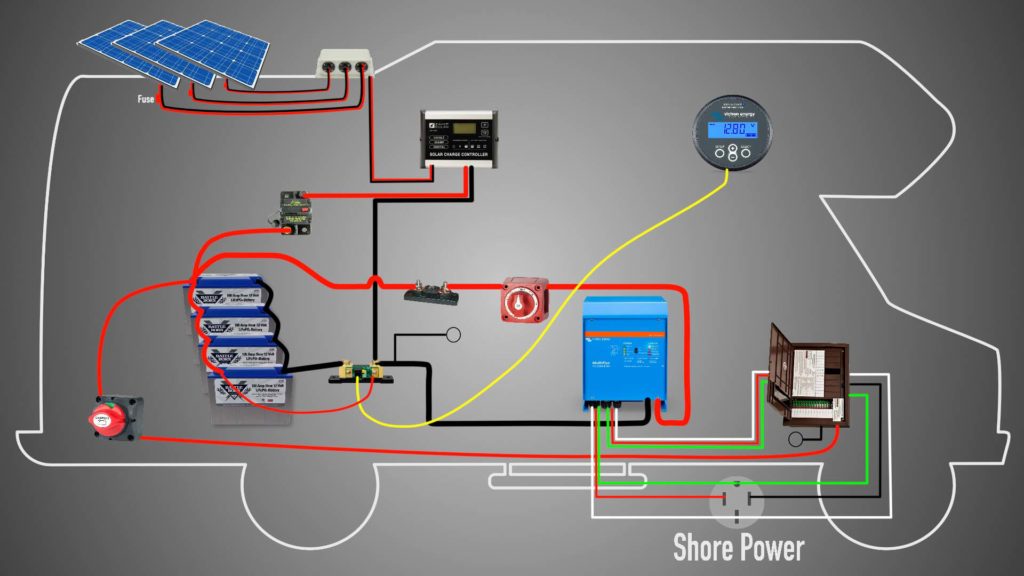 This setup gives us the freedom to stay wherever we want as long as we want. We're already saving money by not being tethered to RV parks, but as we discussed in the video, we discovered that the biggest benefit was reducing some of the fatigue from day to day travel.
Yeah, this is a lot so why would you do it? First of all, I think it's safe to assume that you like your rig and you plan on having for a while. If you're already taking long trips (not necessarily fulltime, but RVing a few months per year) and don't like RV parks, you'll make your money back in 48 nights per year over 3 years (not considering the cost of a generator, upkeep, and fuel).
On the other hand, you might not spend that much time away from RV parks, but not everyone in the family "loves to go RVing"! This setup will be able to turn everything ON no matter where you are. We bailed on many amazing BLM (Bureau of Land Management) sites because we just didn't want the hassle.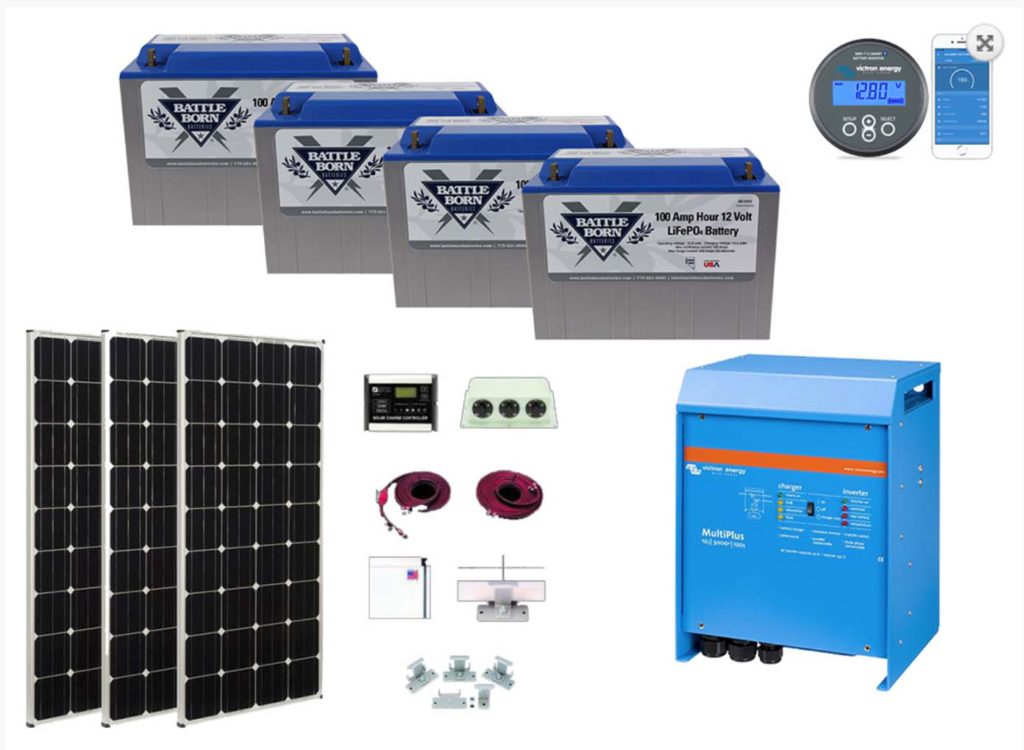 Battle Born Lithium Batteries
We've been hearing about the benefits of lithium from the start, but we were not experienced enough to understand. In other words, it didn't translate. As it turns out, we're really good at destroying batteries. As I mentioned in the video above, each time a lead acid battery goes below 50% it gets a little damaged and each time it goes to zero it losses one more heart (yeah, like a video game). When we're dry camping, we want to cook with the lights on and use our USB outlets to charge our phones, etc. The 12v system drained our batteries to zero on several occasions. As a result, we were no longer getting our available amp hours. Not to mention, distilled water needs to be added to the batteries for each week they are not connected to shore power.
Lithium, on the other hand, is able to use the entire available amp hours. In our case 100 amp hours per battery. We don't have to maintain (aside from minding the temperature) and they weigh half as much as lead acid. So we were able to replace our two 6v batteries (214 amp hours each ran in parallel giving us a total of 214 amp hours, but divided by 2 because we only get 50% usage = 107 amp hours) compared to our four lithium at 100 amp hours each giving us 400 amp hours… with the same total weight.
Victron Mult-plus Inverter
When Jared started doing research on this inverter, he called me up and said, "You could run a small commercial building with a few of these things!". Victron is far ahead of other brands and we couldn't be happier with it so far. One feature that didn't make the video is load sharing. This means if we were connected to someone's house with an extension cord (not enough to run the A/C) or we are in Mexico and only have 20amp available, we can set the inverter to use the available shore power and the inverter will provide the rest. The technical description is Power Assist (Hybrid) to supplement shore power.
Why is it called a Multi-plus? Because its a 3-in-1 device. It's an inverter, switch and converter. This means fewer devices to figure out where to find space for. We read sailing reviews of people not happy with a small hum when charging. This concerned me as it was going to be installed in our forward nose compartment which is under our bed. I'm relieved that I hear nothing.
If you're looking to save some money and don't need to run appliances all at the same time, Victron makes a 2,000 watt inverter.
Battery Monitor
Don't leave this out of your setup. After everything is setup and done, this will be your only interaction with your system and the Victron BMV makes it simple. I'm usually anti phone applications, but the BMV gives me both. An easy to read gauge mounted with my Zamp Solar Charge Controller and an app to show me everything on the same screen. Surprisingly, the app is simple to use, easy to understand and always connects. I can get the exact charge levels of the batteries, how much amps I'm currently pulling and how much longer I can stay based on the current condition. This is now a new daily RV metric and I'm loving it.
Solar Charge Controller
When the solar comes off the roof, it goes directly to the solar charge controller. This managed the current and also lets you know exactly what's coming in from the sun. The Battery Monitor lets you know what's actually going into the batteries with the net amount. i.e.: 24amps coming in with 10amps being used = 14 amps going into the batteries. If you have a Zamp System, the solar charge controller might come with your panels. Below are a couple of options.
Running the A/C on Batteries
"Can you run the A/C on Solar" is a question we get often. And now the answer is yes, but you'll need a couple things to make it happen. First, you'll need a battery bank and inverter large enough to handle the load and the second is a Micro-Air Easy Start 364. As mentioned in the video, any device with the motor has an initial surge of amperage when starting. This is the usually the surge that shuts-down the invertor or stops a single generator. The Easy Start 364 softens the start-up process and makes running your A/C possible with you batteries or single generator.
To get the technical information, specs, installation instructions and more, visit MicroAir.net
*Use promo code KYD1 to get $25 off the Micro-Air Easy Start

Cables and Wire
Written by Mark Yamamoto. For more information regarding cables or to get an estimate for custom (pre-cut) cables for your install, you can email Mark at [email protected]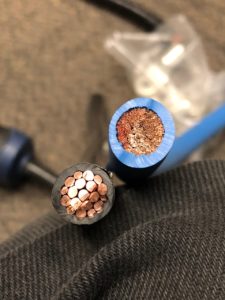 For the KYD install, we used 2/0 cable which is capable of handling 330amps.  The cables are called Arctic Ultraflex and will stay extremely flexible from -50C to 105C.  What makes these cables better and more flexible than your standard 2/0 cable that you can get at most hardware stores?  Arctic Ultraflex carries a class K stranding rating.  What is a class K rating? It is a classification of the number of strands contained in a specific sized cable.  Take our 2/0 cable which contains 1330 individual strands of copper.
If you were to go to a hardware store and buy a 2/0 cable, it is usually a class B rating.  A class B 2/0 cable contains 19 strands. Having a lot more and smaller strands make the cables more flexible for routing and pulling the cables when you do your install.
The ring terminals were crimped on to each end of the cable is thicker than most terminal ends and it is fully tinned and sealed to help prevent corrosion.  We also utilize a 6 sided or Hexagon shaped crimp to get the most uniform crimp.  
Once the cables are crimped we use an extreme duty heat shrink to seal between the cable and the terminal.  Why would we use this thick a heat shrink on our cables?  With the thicker heat shrink, it minimizes the chances of the heat shrink loosening up over time or possibly getting worn through if something happens to rub against it.  It also contains an adhesive on the inside of the heat shrink which melts during the heating process to completely seal the connection not allowing moisture, water, or acid to get into the cables and allow corrosion to start.  
Why are my cables blue instead of red or black like everyone else's cables? By going with a neutral color for the cable, this allows us to customize the cables for your individual needs.  If you are hooking up your batteries in parallel, we can make your cable with black on each end for the negative connection and red on each end for the positive connection.  If you are setting up your batteries in series, which would be connecting positive from one battery to the negative of the other battery, we can make the cable with one end being red for the positive and the other end being black for the negative so there is no confusion when you are connecting or disconnecting your batteries.  
How does everything fit together?
Jared's video breaks down each product listed above and shares a diagram of how everything is connected. Jared'd channel, All About RVs shares all sorts of helpful RV tips and Do-It-Yourself projects. Subscribe here.
KYD Partners & Affiliates
Not so small print: Zamp Solar & Battle Born Batteries are KYD Partners. We are not getting paid, but rather they provided the product so we can share the installation process plus a review as we use the product. We do have an affiliate relationship with Battle Born, but be assured that if for any reason, our batteries do not continue to meet our expectations, we'll share the results and not recommend the product. The reason we enjoy working with partners is so we can explore products and solutions we might not otherwise be able to use and these companies take care of the KYD community.
Sours: https://www.keepyourdaydream.com/rv-solar/
Clint Demeritt March 15, 2021
Marissa and Nathan of Less Junk More Journey live full-time in an RV with their two young children, Hensley and Judah. The family recently acquired a new RV, and one of the first upgrades they made to it was the installation of lithium batteries.
Let's peek in at their fabulous RV life and see how and why they decided to make this upgrade so quickly!
Why Less Junk, More Journey Decided to Install Lithium Batteries in Their New RV
Less Junk More Journey's new RV is a Grand Design Solitude 378MBS mid-bunk model. It did not come with lithium batteries pre-installed, but what it did come with is a full-sized residential refrigerator!
This type of fridge is excellent (and maybe even necessary) for a family of four whose RV is their full-time home. But, providing sufficient power to run a residential refrigerator is a challenge. This is especially true when the family spends time boondocking (camping without hookups) or even just overnighting in a parking lot during a lengthy trip.
A typical residential refrigerator draws around 725 watts, according to the United States Department of Energy. If we divide 725 by 120 volts (because that's the AC power supply voltage in the RV), we'll get the current that the refrigerator draws, measured in amps (or amperes). So a 725-watt refrigerator draws around 6 amps (725 ÷ 120).
Less Junk More Journey knew that they would need adequate battery power to run their residential refrigerator off the grid. They would also require battery power for numerous other things like their heater's blower, lights, various electronic devices, fans, etc. They'd had lithium batteries in their previous RV. So they knew from experience that they'd need them in their new home-on-wheels.
For these reasons, they decided to install lithium batteries immediately after acquiring their new RV. Read on to see what they did once they'd made this decision!
What Batteries Did Less Junk More Journey Use?
Less Junk More Journey chose two 100 Amp Hour 12-Volt LiFeP04 lithium batteries made by Battle Born. These are deep cycle lithium-ion batteries. At 31 pounds apiece, these batteries weigh about 50 pounds less than their previous lead-acid batteries and have about four times the power.
Battle Born Batteries have an excellent life expectancy of approximately 3000-5000 cycles. They have a 100 Amp Continuous current and a 200 Amp surge current (for 30 seconds). These ratings are necessary when many appliances are in the initial start-up phase of running.
Nathan decided to take on the project as a DIY install with the help of his friend Mike, from "The Dry Campers." The two rated the DIY project as "easy," so keep reading to see just how easy this install really was!
Other Accessories Used in Less Junk More Journey's DIY Install
As part of this lithium battery system, Less Junk More Journey installed a couple of other important components. Let's have a look at each of them to understand their significance to the installation better:
Progressive Dynamics 60amp Converter Charger
The Progressive Dynamics 12 V 60-amp LiFePO4 battery converter charger replaced the converter charger that came with the new RV.
The RV manufacturer, Grand Design, installed the original converter charger in the RV to charge the lead-acid batteries that came with the RV. This type of converter charger would charge the lead-acid batteries very slowly to prevent overheating. It would also prevent the potential for lead-acid battery explosion. So while the power coming out of the original converter charger was 55 Amps, it delivered that power to the batteries in short bursts, very slowly.
However, a lithium battery will take all of the power delivered to it in bulk charge. So the new Progressive Dynamics 60-amp LiFeP04 converter charger will charge the new lithium-ion batteries much more quickly.
Had Less Junk More Journey decided to keep the original converter charger, it would have taken multiple days to charge the new lithium batteries up every time they needed replenishing. Now you understand why Marissa and Nathan got the new 60-amp LiFeP04 converter charger as part of their new battery system install!
Victron BMV 712 Battery Monitor
Also included in Less Junk More Journey's installation was a Victron BMV 712 battery monitor. Adding this battery monitor to their install will allow them to monitor their batteries' condition at a glance.
They can mount the digital display inside their RV (which will require running wires from the battery to that location), or they can monitor the condition of their batteries using Victron's app via BlueTooth from their phones. They'll see how many amps are coming back into the batteries as they're charging and how much power is being drawn from the battery bank.
Advantages of Lithium Batteries
While the advantages of lead-acid vs. lithium batteries are
More Efficient
Lithium batteries are highly efficient. A Lithium-ion is said to have a 99 percent charge efficiency and a very low discharge loss. Lithium batteries are more stable and are capable of being recharged hundreds of times.
Lithium batteries charge at a much faster rate than other types of batteries. So when Less Junk More Journey uses a lot of their battery power while they're off the grid, for example, it will take far less time to recharge those new lithium batteries!
Unlike flooded lead-acid batteries with water levels that you must monitor, lithium-ion batteries do not require water. So, they require far less maintenance.
Lower Overall Cost
Lithium batteries may cost more to purchase at the outset, but they have a longer lifespan than other types of batteries used in similar applications. This means that you don't have to replace them as frequently.
Battle Born LiFeP04 batteries are robust, long-lasting batteries with a lifespan of up to ten years if cared for properly. This extended life presents significant savings over other types of batteries that need to be replaced every three to five years, even if properly maintained.
Less Junk More Journey's Successful DIY Lithium Battery Installation
It is easy to see why Marissa and Nathan Moss of Less Junk More Journey decided to replace their new RV's batteries with Battle Born lithium-ion batteries. They're more efficient and will keep their home-on-wheels supplied with power that recharges more quickly.
In the end, they'll see significant cost savings and peace of mind while boondocking off the grid or even just overnighting in a Walmart parking lot. Meanwhile, that handsome new full-sized residential refrigerator will keep their food and beverages cold and safe, which is priceless!
Want To Learn More About Electrical Systems and Lithium Batteries?
We know building or upgrading an electrical system can be overwhelming, so we're here to help. Our Reno, Nevada-based sales and customer service team is standing by at (855) 292-2831 to take your questions!
Also join us on Facebook, Instagram, and YouTube to learn more about how lithium battery systems can power your lifestyle, see how others have built their systems, and gain the confidence to get out there and stay out there.
Join Our Contact List
Sign up now for news and updates to your inbox.
Sours: https://battlebornbatteries.com/less-junk-more-journey-new-rv/
This post contains affiliate links. We earn commissions if you purchase products from retailers after clicking on a link from our site. As an Amazon Associate, we earn from qualifying purchases.
When you take your RV for any camping trip, one thing you want to be in working order is your power. There are multiple ways you can get power to your RV, one is through your trailer batteries, and the other is being plugged into shore power.
Two central power systems in your RV will allow your trailer to run smoothly. Your inverter and your converter will enable you to have power throughout your trip and help to make every trip more comfortable.
The RV converter takes the 120 volt power from when you are plugged into shore power and converts it to power to recharge your RV batteries. In every trailer, the converter can be located in multiple locations. The most common spot to find your converter is near your control panel. You will likely see a small vent or fan near your control panel that is an obvious sign that your converter is near.
Whenever you buy a new or used trailer, it is essential to know how your RVs power works. This article will cover where to find your converter, what precisely a converter is, and more.
Where is the Power Converter in my RV
Although the converter can be located in various places all over your trailer, there are multiple ways to help you find the exact one location.
One is that most converters will have some way to cool them off, such as a fan. Many converters will be located near the control panel and behind what looks like a small vent or fan.
Another way to discover where your converter is located is by having your AC off and turning all of the lights in your trailer. You will then begin to hear a slight buzzing sound that will guide you to the location of your converter.
If you are still having trouble locating your converter, you can always contact your RV manufacturer for guidance and direction.
What is the Purpose of my RV Power Converter
Your RV Converter allows you to use shore power to charge your battery and run DC appliances. The RV Converter will enable you to keep your battery charged anytime you are plugged up to shore power. Shore power can mean being hooked up to a generator or plugging in at a campground.
No matter where you are using your trailer, fifth wheel, or motorhome, an RV power converter is an invaluable aspect of your rig. There are multiple parts of your trailer that will be powered by your battery when not plugged in. These include, but are not limited to:
Refrigerator
Lights
Thermostats
Vent Fans
Having a battery in working order is essential, and your converter plays a crucial role in recharging your batteries. If you have a converter that is not working correctly, you risk multiple parts of your trailer malfunctioning, leading to larger issues down the road.
What's the Difference Between an Inverter and a Converter
Within each trailer, fifth wheel, or motorhome you will find an inverter and a converter. Both of these serve completely different purposes, but one thing they do have in common is that they both supply power to your rig.
An inverter will take power from your battery to run individual items and appliances in your trailer. It will take 12 volt power from your battery and convert it to 120 volt power to power items in your trailer or fifth wheel. One thing to always keep in mind that it will not power everything in your trailer.
Most of the time, with the inverter that your rig comes with, you can run lights, your slide mechanisms, and a few more things. An inverter alone will not power everything in your rig but allows you to get enough power to run some aspects of your rig.
A converter will take shore power and convert it to recharge your battery to be used in the future. Having a converter in your rig is the only way to restore your RV battery when plugged up to power. Whether you are plugged into a campground hookup, use solar, or have a generator, your converter needs power to transform the 120v household power into energy to recharge your battery.
A converter and inverter are installed in your rig and allow your trailer to be powered while you are on the road. While you will have one in your rig, you always have the option to change your converter out for ones that are larger and more powerful.
How do I know if my RV Converter has Gone Bad
A converter within your RV is a precious resource to your RV's power aspects that you will need. You should be aware of a few signs that will point to an issue with your converter.
Lights Dimming
Refrigerator not maintaining temperatures
Electronics not working properly
If you sense that something is wrong with your converter, it is imperative to consult a professional. A professional can get to the root of the issue quickly and efficiently, allowing you to have a properly working trailer in no time.
Installing a converter yourself is not recommended because you can cause a lot of issues down the road if you do it wrong. One problem you can run into if you install your converter incorrectly is burning up your electrical system, which is a far larger problem than a broken converter.
Although replacing a converter can be a bit more pricey depending on the size of the converter you need, it is something that you use on every single trip you take. Typically the cost for replacing your converter can range from $200 to $1400, but it is an investment that will prolong the life of your RV.
Conclusion
Having a trailer, RV, or fifth wheel can help your family create many memories that will last a lifetime. Every adventure you take, you can load up your trailer and pull it behind you to your next destination. Before taking off on your first road trip, it is essential to understand your trailer and how everything works.
One aspect of your RV or trailer that you should know backward and forwards is your trailer's electrical system. A few components you should understand are inverters and converters. Inverters take your battery and convert it to power for your RV. Your converter takes 120v shore power and converts it into energy that will recharge your 12v battery.
You can typically find your converter near your control panel, and if you ever have any issue with your converter, you need to consult a professional ASAP. Taking the time to understand what a converter in your RV does and why it is necessary is vital before heading out on your first trip.
Your rig's electrical system helps make your journey more comfortable and allows you to use many items you typically use in your home. It is essential to understand your rig and its electrical system because it is a lot easier to narrow down the cause if something goes wrong.
Sours: https://decideoutside.com/where-is-the-power-converter-in-my-rv/
Grand Designs UK ( 2021 ) Season 22 Episode 06 ::: Cumbria: Blacking Mill House
.
Converter grand design
.
Grand Designs UK ( 2021 ) Season 22 Episode 06 ::: Cumbria: Blacking Mill House
.
Similar news:
.
2147
2148
2149
2150
2151