With more local authorities becoming increasingly fussy about where ATV enthusiasts can ride their vehicles, ATV snorkel kits have grown in popularity as many riders look to protect their vehicles from the wet or muddy surfaces of deeper terrains. For such a level of protection, you need to buy and install the best kits.
The best ATV snorkel kits are designed to take the factory air and belt intake points as well as the belt exhaust point on the ATV from off the lower part of the machine. They ensure the engine gets a fresh supply of air when running across water puddles or mud, keeping the engine safe.
What qualifies as the best ATV snorkel kits will vary from one vehicle to another. This guide will look at the 14 best ATV snorkel kits you can get on the market today for your ATV as well as everything you need to know about ATV snorkel kits in general.
Can-Am Outlander 1000 (15-18) High Lifter Snorkel Kit
This snorkel kit from High Lifter contains everything you need to make sure your Can-Am Outlander 1000 (15-18) ride is properly protected. It comes with 2" (5 cm) risers featuring custom-molded elbows.
You also get heavy-duty vinyl tubing, which you can use to route vent lines. You can protect the critical parts of your ATV with its high-heat silicone hose. The bellows are excellent when it comes to keeping water out of the transmission and differentials.
You'll get all the mounting hardware required for the installation in the box, and there's a properly designed step-by-step list of instructions made to simplify the process if you choose to install it on your own.
Honda Foreman 500 (05-11) SYA Warrior Snorkel Kit
The Honda Foreman 500 kit does an excellent job of moving the stock air intake point away from below the seat and onto the location above the front fender. This allows it to guarantee clear and fresh air when you are riding through a water crossing or muddy path.
It is a 2" (5 cm) snorkel kit with two warrior risers. However, you do not have to install the second riser as it's there for decorative purposes and to create an even appearance. The risers come with vent line options that are designed to ensure the vent lines remain dry and properly secured.
There's an extra vent line meant for use when you intend to extend the stock venting points—a common theme with most manufacturers. The risers are also threaded to ensure easy disassembly and assembly. You can install this kit on your own if you've got some tools and can follow the detailed instructions in the box.
Kawasaki Brute Force 750 (14-20) High Lifter Snorkel Kit
This Kawasaki Brute Force 750 snorkel kit comes with 2" (5 cm) risers and heavy-duty vinyl tubing for the vent lines. It also comes with a custom powder-coated riser bracket designed to keep the risers straight and spaced evenly. Your ATV will not only be protected from mud and water; its aesthetic appeal will increase a great deal.
It's also another option made with high heat silicone hose protecting the critical areas to prevent melting. Mounting hardware is included in the box, alongside the mounting instructions.
Polaris General 1000 (16-20) SYA Warrior Snorkel Kit
This snorkel kit features 2" (5 cm) piping on the air intake system, dual CVT outlet, and dual CVT inlet. It comes with dark-colored SYA risers that form a perfect straight installation when they are locked together. Like most of the competition in other models, the risers also have built-in vent line slots designed to keep the vent lines at a high position, away from mud and water.
The snorkel kit comes with powerful rubber boot connections, and everything is assembled with ease of installation in mind.
Polaris Sportsman 450 & 570 (14-20) SYA Warrior Snorkel Kit
This dual air intake kit comes with Warrior Risers and pre-filter tips. The risers also have built-in vent line slots to ensure the vent lines are properly snorkeled. The side-mounted built-in slide connections of the risers mean you can lock the warrior risers together cleanly.
The kit also comes with an intake warrior plate that's injection molded. The risers are threaded to make them easy to assemble or disassemble. With the design of this kit, maintenance won't be difficult as you can still get to the components under the lid of the front storage box.
New High Lifter Snorkel Kit – 2014-2017 Honda TRX420FM1
This snorkel kit comes with a custom powder-coated riser bracket and heavy-duty vinyl tubing, which makes it easy to reach difficult parts of the ATV. It also features a high-heat silicone hose that won't melt from use. The manufacturers include all the mounting hardware you need in the box, and the installation is simplified, thanks to the step-by-step instructions.
If you have this Honda model, this snorkel kit from High Lifter should be high on your list.
Can-Am Outlander XMR 2013-2015 Snorkel Kit
This snorkel kit was built for the G2 and G2L (XMR models). It provides comprehensive protection for your ATV with its CVT exhaust and extended air intakes. The CVT outlet integrates seamlessly into the post cover.
With this snorkel kit, you can ride your Can-Am XMR ATV in muddy conditions safely. However, the installation process is not as seamless as some of the kits for other brands on this list, which means that you'll need professional help.
Can-Am Renegade GEN 2 (12-20) SYA Traditional Snorkel Kit
The Can-Am Renegade Gen 2 kit uses a 2" (5 cm) piping system for the CVT inlet and outlet, as well as the air intake. It also comes with an extra vent line for extending factory venting points like the rest. The kit's risers come unglued, allowing you to design the appearance of the risers in any way you deem fit.
Apart from the risers, everything else comes assembled, so you can install easily by following the detailed instructions. The kit is complete, so you won't need to buy anything else.
Honda Rancher 420 (20-21) SYA Warrior Snorkel Kit
This 2" (5 cm) snorkel kit is similar to all others in its range, with the only difference being that it's made for Honda models. It comes with two Warrior risers, but you only have to install one of them. The risers come with all the usual vent lines as well as the standard extra for extending factory points. The connections on the kit are threaded, so you can assemble or disassemble them by just looking at the pictorial instructions.
Honda Rincon 650 & 680 (03-20) SYA Warrior Snorkel Kit
This kit comes with 2" (5 cm) fitting and pipe, which has the reputation of delivering better airflow compared to the stock fittings the ATV models mentioned are shipped with. The risers are from Warrior, and of course, they have multiple vent line slots.
The kit is almost completely made of hard pipe. You get heavy-duty but flexible PVC and no cheap vacuum. This is another kit that is easy to install.
Polaris Ranger 1000 XP & Northstar (18-20) High Lifter Snorkel Kit
This is one of the most innovative snorkel kit designs in the market today. It is the first in the niche to come with high-temperature custom-molded silicone hoses. The molding makes installation easier and ensures a more reliable connection. Just like the stock vents, it blows belt exhaust across the manifold, which ensures better heat dissipation overall.
With this snorkel kit, you'll get a better rear view when compared to other snorkels thanks to the tactical snorkel riser placement, which ensures the rearview is not blocked when you are looking behind the ATV. The riser bracket is also powder coated. It comes with all the mounting hardware you need for a complete install.
Polaris RZR 900 & 900 S (15-20) 3″ SYA Warrior Snorkel Kit
The 3" (8 cm) risers are the main feature that sets this snorkel apart from the rest. It has everything else you'd expect from a kit design, including built-in vent line slots to keep the lines properly secured. The risers are made of hard pipe, and the installation process is simplified by the rubber boot connections and detailed installation instructions.
Polaris RZR XP 1000 (15-20) High Lifter Snorkel Kit
This is another kit with 3" (8 cm) risers in customer coated brackets. There are rubber grommets designed to hold the riser tubes in place. It also comes with heavy-duty vinyl tubing for routing vent lines and high heat silicone hose in the areas exposed to high temperatures.
The kit is able to keep your transmission and differentials safe from water, thanks to the bellows. The box contains all the hardware you'll need for a complete installation, as well as step-by-step instructions of the process.
Yamaha Kodiak 700 (16-19) High Lifter Snorkel Kit
This Yamaha snorkel kit comes with 2" (5 cm) risers fitted in powder-coated riser brackets for aesthetic purposes. The riser tubes are held in place by rubber grommets. The kit comes with all the other expected features such as vinyl tubing for the vent lines, bellows to keep water out of differentials, mounting hardware for a complete installation, and more.  
What Is an ATV Snorkel?
I wrote a pretty in-depth article on how snorkels work as well as the different types of snorkels. You can check it out here – How Does A 4WD Snorkel Work?
An ATV snorkel is a form of breathing apparatus designed for all parts of the ATV that needs a vent to the atmosphere or a regular supply of fresh air. Some of the newer ATVs come with snorkels made for their clutch housing vent and air box, but these may not work in some scenarios.
When Do You Need an ATV Snorkel?
If you only occasionally wade through a shallow pool that does not block out the vents on your ATV when you are riding past, you can get by without needing an ATV snorkel. If your riding route or chosen terrain has a lot of mud or water, you need ATV snorkels to ensure you have a pleasurable ride and also prevent damage to the machine.
If the water or mud can reach the conventional openings on the vehicle, it can get into your transmission, engine, differentials, and more.
ATV snorkels typically cost a few hundred dollars, but they can prevent damage that can set you back thousands. Even when you avoid damage, you do not want your ATV to go off deep in the mud. Towing it can be difficult, even when you have other riders that can help.
Parts of an ATV That Can Be Protected By a Snorkel
Snorkels on an ATV are meant to protect all openings into the transmission, differential engine, and so on that can be submerged when riding across a pool of water. The best ATV snorkel kits will cover the clutch/belt housing exhaust and intake, as well as the airbox inlet. These are the most critical.
However, some snorkel designs also make provisions for the carb vent tubes, differential vents, electrical connections, and the crankcase breather tube.
To be completely sure that everything is protected, you should speak with a snorkel dealer that is conversant with your ATV model. You can also look for your snorkel design while shopping around.
The Pros and Cons of Buying ATV Snorkels
Pros 
You'll be able to ride in deep mud or water that looked impossible before.
The better airflow may increase the power of your four-wheeler.
You can ride in wet terrains without worrying about costly damage.
You'll be able to cut down on the frequency of your maintenance cycle.
You can explore new terrains, go off the beaten path, and meet new people.
You'll save money on deep washes to clean ATV openings.
Cons
The installation process is tasking and can be expensive if you have to pay someone else to get the job done.
You may end up voiding your factory warranty.
The installation can make using the front rack more difficult.
The installation may require defacing stock parts like the air boxes and fenders.
Vines may get stuck on snorkel stacks.
In the event of a rollover, the snorkel stacks can injure the rider or get damaged.
With snorkels in the way, it may be more difficult to carry out regular maintenance.
The Various Types of ATV Snorkel Kits
There are lots of snorkel kit options in the market today. If you are an ATV enthusiast looking for snorkels that will allow you to go deeper into wet terrains, the first thing you should do is to look for systems that can be easily installed on your ATV model and are also easy to repair when there's damage.
You also have to choose between kits that have already been partially assembled, with comprehensive instructions on how to get them installed, and options that come in bits, requiring the help of professionals to install.
Various snorkel kits are made for different ATV models, so you need to ensure you are getting the right one for your model. ATV manufacturers like Honda, Polaris, Kawasaki, etc. all have their designated snorkeling kits. These kits generally feature PVC pipes as well as rubber bellows and grommets, all designed to protect the transmission and differentials from water damage.
In some cases, the kits are made of silicone hoses and heavy-duty vinyl tubes. PVC pipes are, however, a more popular option amongst ATV enthusiasts. This is because they are easy to repair and replace. The pipes are also generally resistant to corrosion and are very much pocket-friendly. 
Steel Crash Plate Feature
Some higher-end snorkel kits feature a steel crash plate, designed to ensure that the entire system does not disintegrate from the airbox in the event of an accident. The plate is typically mounted to the rack of the ATV and connects the exhaust vents to the PVC snorkel found under the plastic.
When the exhaust pipes sitting on the top suffer damage or fall off completely, you can get rid of the broken pieces and affix new ones to the top of the plate. With this approach, you won't have to dismantle the existing snorkel system to install a new one.
The crash plates are made durable with rubberized undercoating. You should also consider installing flexible radiator hoses if you are an ATV enthusiast that spends a lot of time exploring new terrains. The flexibility of the hose will make it more resistant to breakage in the highly likely event of a rollover or crash.
Making a decision from the various types of snorkel kits in the market should come down to knowing what works best for your specific situation. Cover all bases in your consideration, and you'll be able to save yourself a lot of money over time.
The Top ATV Snorkel Kits Manufacturers
As we mentioned earlier, top ATV makers also produce snorkel kits. However, there are other brands focusing on producing aftermarket ATV parts, including ATV snorkel kits, which can go on various four-wheel models. Below is a look at some of them:
Bayou Snorkels
They offer kits made for a wide range of ATV models including Honda, Kawasaki, Yamaha, Suzuki, Polaris, Can-Am, and Arctic Cat. You can count on them if you are looking for snorkel kits to be used on the Polaris RZR and the RZR-S. You can also get the Yamaha snorkel kits for use on the Rhino.
Bayou has been around for a while, and their Louisiana (Southern swamp hub) base means you can trust them to make kits designed to excel in swamp conditions.
Triangle ATV
The brand started making kits for Honda but has since grown into a trusted name for products from other brands. They are one of the most innovative in the space, known for their kits that exit in the headlight or upper pod beneath the handlebars. You should consider their kits if you are looking for protection for your ATV, but do not want to make any radical changes to the stock plastic on the front of it.
Their speaker box snorkel is also an interesting innovation you should consider if you want to go a bit Mad Max Fury Road while protecting your ATV. Blazing through swamps while your favorite tracks blaze through the speakers can make your ride all the more fun!
The brand is located in Beaumont, Texas and can help install any kits you purchase.
Performance ATV Snorkels
This is another innovative brand that became popular thanks to their snorkel kits that use marine exhaust hose as the tubing. They also use black PVC as their extension stacks. They make kits for various brands, including Arctic Cat, Can-Am, Yamaha, and Polaris.
Gorilla Axle Snorkels
This is a trusted brand in the ATV mudding world, known for their heavy-duty axles. They also make ATV snorkels for a number of brands, including Honda, Kawasaki, Yamaha, Suzuki, Polaris, Arctic Cat, Can-Am, and more.
Extreme Snorkels 
This is one of the newest brands in the market today, but they have grown a great deal over the years. They started with Honda kits, but have since added Polaris RZR and Kawasaki Brute Force snorkels. If you own a Honda Rancher and do not want to create holes in your fenders, you'll love the external kits for that model made by this manufacturer.
These are just some of the popular places you can look when you are in the market for ATV snorkels. However, you can also find excellent options from your local ATV or four-wheeler dealership or repair shops. Look for professionals that are experienced in constructing snorkels for your brand and see what they have to offer you. 
Tips to Keep in Mind When Buying ATV Snorkel Kits
Be sure to buy a kit designed for your specific ATV model. It's harder to install universal kits, even for professionals.
Do not force the installation process if you do not have the tools or the technical know-how to complete an installation. Let experts do it. This way, you'll avoid wasting the money spent on the purchase, or worse having a poor installation that leaves your ATV vulnerable.
Go for kits that do not have too many joints. More joints mean a higher chance of a leak happening at some point.
Choose pre-assembled kits when you have the option. They are easier to install and will cost less money if you are paying someone to do the installation.
Use the joints and fittings sealant copiously. You do not want to leave even the tiniest of gaps in the installation process.
To ensure less damage in the event of a rollover, you should choose flexible extension stacks where possible.
Always make sure the stacks are stabilized; otherwise, the snorkel tubing will shift on the slightest impact.
Make sure your belt housing is fully sealed, or the snorkels won't do the job you have in mind.
Most snorkel kits do not come with cover for the exhaust. You have to order and install this separately.
Keep an eye out for leaks. With impact and vibration, the joints on the snorkel kit can shift or come loose, and of course, even a small leak will damage your engine.
Riding in deep water can cause severe injuries. Your ATV snorkel kit does not give you the liberty to seek out deep water terrains to ride in.
Many manufacturers operate a no return policy on their snorkel systems. You should be sure of the kit you intend to purchase before making an order.
Are ATV Snorkel Kits 100% Protective?
On paper, ATV snorkel kits are supposed to offer complete protection. However, since there are so many variables to take into consideration—such as the depth of water, the installation process, etc.—many manufacturers do not offer any guarantees.
They often make it clear that the kits won't make your ATV waterproof and certainly is not a license to run your ATV underwater. You'll also find warnings on the dangers of having your ATV snorkel installed incorrectly. Also, some manufacturers protect themselves by adding that even a properly installed kit can still leak under certain conditions and damage your engine.
Therefore, although snorkel kits do an excellent job of protecting your engine, transmission, and differentials from water, they are not fail-safe in all wet conditions. Otherwise, the manufacturers won't have many disclaimers, and they'd be more open to refunds and returns.
Conclusion
If you regularly wade through deep water or mud with your ATV, you need to protect it with a snorkel kit. If you are not up for some DIY or do not have tools for it, take your four-wheeler to professionals and have the snorkel kits fitted properly. For more technically inclined people, however, most of the snorkel kit manufacturers make them easy to install with just a glance through the instructions.
With your ATV snorkel kit installed, you will be able to explore more terrains and easily get through some mud and water without any issues. Do not forget to get your exhaust snorkel as it is almost never a part of the kit.
Sources
Related Posts
10 Best Winches for Jeep Gladiator

Photo Credit As the name entails, Jeep Gladiators are massive vehicles. When you're going off-roading or Overlanding, you'll need a large winch to get the job done. Getting stuck with…

Do Lift Kits Come With Shocks?

Photo Credit If you're on the market for a lift kit for your truck, you'll need to keep in mind what parts you're specifically looking for. Lift kits generally come…
Sours: https://www.offroadaussie.com/14-best-atv-snorkel-kits/
ATV Snorkels -
Do You Really Need Them?
ATV Snorkels have become one of the most popular - and possibly misunderstood - of all the ATV aftermarket accessories. This article is all about the purpose of a snorkel, if you really need one, where to get them, and several more need-to-know tips.
Mud ATV riding has exploded in popularity as access to larger riding areas has been restricted. No matter if you want to join a mud racing ATV group, or just have some fun with your buddies at the nearest mud bog. It's a great way to have some ATV mudding fun in a smaller area that's a lot closer to home.
After you try a little "muddin" and want to get "deeper" in - you're going to need some special equipment to keep your ride healthy and your wallet happy. ATV Snorkel Kits will be at the top of that list.
Click the special link below for the best deals currently available. It updates constantly so you will always see the best deals possible.
Great Deals on ATV Snorkels!
from Ebay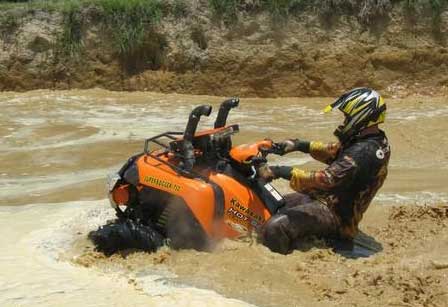 Not sure if you need a snorkel? If you plan on riding like this, yes you do!
What Exactly is a Snorkel for an ATV?
Basically it's a water tight breathing tube for any component on the ATV that needs a supply of fresh air or vents to the atmosphere. Some of the newer four wheelers are coming stock with ATV snorkels for the air box and clutch housing vents. These are OK for shallower water crossings but just won't do for serious ATV mud bogging.
What should be connected to a snorkel on an ATV?
Any opening into the engine, transmission, differential, etc. that could become submerged while riding. Most ATV snorkel kits cover at least the three most critical:
Airbox inlet.
Clutch/belt housing intake.
Clutch/belt housing exhaust.
Other things that may need some attention would be:
Carb vent tubes.
Crankcase breather tube.
Differential vents.
Electrical connections.
That should just about cover it but it would still be a good idea to check with a dealer for your make of ATV to make sure.
Why Do I Need a Snorkel?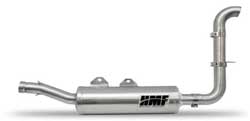 Remember your exhaust may also need a snorkel.
If you ride in water or mud that comes above the stock snorkel openings on your four wheeler - that same water or mud can enter your engine, transmission, diff, etc. - and cause massive and expensive damage!
If it gets in your clutch and belt housing it will cause slippage which will more than likely strand you where you sit. And then cause massive damage to the primary and secondary clutches!
Trust us on this - if you've already bolted on some serious mud ATV tires - you need to be looking at ATV Snorkel Kits before it's too late. Mud riding ATVs is a blast but it does take some special preparation to avoid the dark side.
ATV Snorkels - Pros and Cons.
Pros
Ride in mud and water so deep you won't believe it - or until your ATV floats!
Possible increase in power because of better airflow.
Enjoy ATV mud riding with no worries about damage.
Reduce maintenance and repair expense due to water damage.
Ride places you never could before.
Make new friends and live happily ever after.
Enable you local laundromat owner to retire early.
Cons
Could void the factory warranty.
May interfere with use of front rack.
May have to cut holes in stock fenders, air boxes, etc.
Regular maintenance may be more difficult with snorkels in the way.
Snorkel stacks may snag on vines or limbs.
Rigid ATV snorkel stacks can be damaged in roll overs or could injure the rider.
They can be expensive or a pain to install - depending on whether you pay someone or do it yourself.
What Are the Most Popular ATV Snorkel Kits?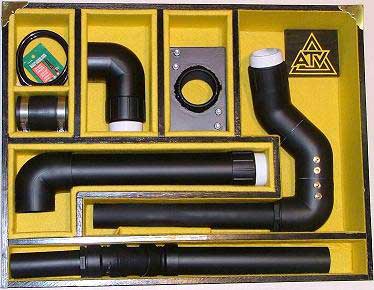 Factory kits make snorkels much easier to install.
Factory manufactured and dealer installed ATV snorkel kits. These are the most factory looking and most expensive kits on the market. They're usually professionally engineered and fabricated to some sort of standard for consistent quality and fit.
Since these kits are made in large numbers, and are being installed by shops everyday, most of the bugs have been worked out. These snorkel kits will cost the most up front but could be the best value by avoiding expensive do-it-yourself mistakes.
Self installed manufactured kits. Several of the Snorkel kit manufacturers also offer their kits in a version for owner installation. Almost identical to the professional kits - the end results will vary depending on your mechanical abilities.
The quality and ease of installation can depend on the experience of the manufacturer and the length of time they've been in operation. Some of these companies come and go pretty quickly so check around first. Check out our ATV Snorkel Kits Guide for a lot more info about this.
Full on Do-It-Yourself kit. For the hard core among you. Engineer the system - source the parts - do the fabrication - trial fit - rinse and repeat. If you have some fabrication experience and like to spend time on projects, it can be done. If you don't have the knowledge and tools I wouldn't recommend it.
Ready to shop? Just click the link below for the best prices on four wheeler snorkel kits.
Great Deals on 4 Wheeler Snorkel Kits!
ATV Snorkels - Conclusion.
If you plan on riding in deep water or mud you absolutely need snorkels. What's the best way to get one on your four wheeler? This is how we break it down.
If you have more money than time or you're not mechanically inclined with plenty of tools and a place to work - have your snorkels installed by a good shop. They can also take care of some additional things like carb and crankcase vents, and maybe an exhaust snorkel.
The manufactured kits are the way to go if you are familiar with tools and just like to do things yourself. Take your time, read the instructions, and be a perfectionist about sealing all the joints. You should be OK. Some manufacturers offer more customer support than others, so that might influence your decision of which kit to buy.
 Hard core DIYers or Honda ATV owners may want to do it all themselves. (Why Honda owners? - because they only need one snorkel for the air box. They don't have belt housings to worry about.) A trip to Lowes will provide almost everything you need and you'll save enough to buy the tools you might not have to complete the job.
---
ATV Accessories
ATV Mud Riding Guide.
Back to World of ATVs Home.
---
Sours: https://www.world-of-atvs.com/atv-snorkels.html
If you plan on driving your ATV through deep water or mud, getting a snorkel on your machine is something you might want to consider. A snorkel will help keep water out of your engine, so you can get through some pretty nasty areas on the trail without damaging your ATV.
If you get yourself into some deep mud or water for too long, your engine could stall. Your air intake could take on water causing major problems and costly repairs. I've done this before, as you can see in the picture, and that quad didn't have a snorkel on it.
Luckily I was able to shut the engine off before major damage was done, but still it ruined the day of riding for us. I need to be towed out of the muddy water, then we had to open the air box and wait for everything to dry out before we were able to get the quad running again. If that ATV had a snorkel, there would have been no problems.
What Is An ATV Snorkel?
Snorkeling your ATV is when you install a system onto your engine that will allow air to get where it needs to even in deeper water or mud. You will most likely see risers or stacks sticking up from the quad to capture or release air safely above the water line.
After you install a snorkel on your machine, the only part you need to worry about keeping above water is the opening of those stacks.
Snorkeling your ATV is most useful for getting though deep water or mud. It will keep water out of the most important parts of your engine that are only supposed to subject to air. Feeding clean air safely to your engine to keep you riding through wet environments.
What Needs To Be Snorkeled?
The main components you will need to snorkel are the air box, your clutch belt intake, and clutch belt exhaust. The clutch belt intake and exhaust will both need their own snorkel. If you try to connect them, the intake will be getting the heat from the exhaust and will overheat and wear out your clutch belt.
You may want to snorkel your exhaust ports as well. If you're giving the engine enough gas going through the water, that pressure should prevent any water from entering the exhaust. But if by chance water does enter through your exhaust it could cause major problems. This will most likely happen if plan to sit idling in the water.
It's also a good idea to water proof your electrical connections. I've heard of people snorkeling their electrical box, but that seems like overkill. The point is to just prevent water from getting to the electrical parts of the engine.
Other areas to snorkel might include thing like your crackcase breather tube or differential vents and carb vents. If you'll be hitting the occasional mud pit or stream crossing, the air box, clutch belt, and electrical stuff need to be taken care of as well as the carb breather if your engine has a carburetor.
ATV Snorkel Kits
There are some pretty good kits available on the market for most machines. The snorkel kits will vary from quad to quad because they are all set up a bit differently. A snorkel kit will be more expensive than making your own, but will come with everything you need and make for an easier quicker install. Plus the kits might even come with some kind of warranty.
You can use this link to find a Good ATV Snorkel Kit on Amazon. Just be sure to get the right one for your machine. They kits will vary a bit and the parts are custom made for each different engine.
I don't need to go over installation here because the snorkel kits come with instructions that are really easy to follow along with. You will need some basic hand tools to get the snorkel kit installed and you'll be all set.
Make Your Own ATV Snorkel System
Making your ATV snorkel can be fun and won't cost you too much money either. I'll admit, a lot times it won't look as nice as the professional snorkel kits you can buy, but if you do it right it will work all the same.
The cheapest thing to use is just some good old pvc pipe. You can find pvc pipe at any home repair store like Home Depot or Lowes. It's best to know the path you're going to take first and plan out how many bends, how much pipe, and how many 90 degree connectors you will need.
First, locate your air box and see what you're going to need to snorkel it. A lot of quads already come with a factory snorkel, they just don't go very far. In this case you can hook some pvc right to that factory snorkel and just extend it up as high you'd like.
I've seen some people use pool hose to navigate around the engine easier than you could with pvc pipe. It looks a little raggedy with the duck tape and all in this picture, but i'm sure if you secure it right and use some better connectors you can get a decent looking snorkel system going.
If you have a carburetor on your engine, it's pretty easy to just extend the carb breather tube that's already existing on the quad. You can find little tube connectors at most auto parts stores like Napa or Autozone. The just get some tubing and extend the carb tube up to a safe area on the machine.
Do the same thing for the front and rear differential breather. These lines are usually already ran pretty high up onto the quad up near the handle bars. But if you want them to be even further up out of the water it won't hurt to extend them.
Disclaimer
Snorkel kits or snorkeling your ATV may be illegal in some states. I think for the most part it's allowed on private property either way. But some states don't allow snorkeled machines on public land.
Check your local laws before riding any modified machines on public land.
Sours: https://atvhelper.com/how-to-snorkel-an-atv-snorkel-kit-or-make-yourself/
2018 Kodiak 700 Wild Boar Rad and Snorkel Kit!?
.
Kit atv snorkle
.
How do ATV Snorkels Work?
.
You will also be interested:
.
2171
2172
2173
2174
2175