16 Best Free Kindle Book Sites for Kids
Amazon's Free Kids Ebooks
What We Like
Each subcategory has 100 free books.

Syncs perfectly with Kids Edition Fire Tablets.
What We Don't Like
Easy for kids to accidentally purchase things on Amazon.

Not all Amazon content is kid friendly.
The first place you should go to find free Kindle books for kids is Amazon. Nearly every website in this list points you to Amazon's website anyway, so visiting it directly will take you right to the source.
The kids' eBooks at Amazon are categorized in the Children's eBooks section, and there are plenty of subsections to help organize them, such as Animals, Sports & Outdoors, Comics & Graphic Novels, Early Learning, and Action & Adventure.​​
The kid books listed here are the top 100 best sellers, and they're updated often.
Visit Amazon
eReaderIQ
What We Like
Includes in-depth information about each title.

Filter books by length.
What We Don't Like
Some books aren't free.

Limited selection of kids books.
With handy features and around 20 subcategories under the ​Children's eBooks genre, you can surely find lots of free Kindle books for kids at eReaderIQ.
Amazon's star rating, number of reviews, and descriptions are shown for each book without having to leave the website. You can also see when they last checked that the book was free, which is really nice.
These Kindle books can be sorted so you can find the most recently added ones, those with the highest star rating, and eBooks that have the most reviews.
Visit eReaderIQ
Project Gutenberg
What We Like
Huge collection of non-English titles.

Books are alphabetized like a real library.
What We Don't Like
Options might be too overwhelming for kids.

Search feature could be easier to use.
Another place to find free Kindle books for kids is Project Gutenberg. With over a dozen subsections like History, Literature, Picture Books, and Book Series, you're bound to find something worth reading.
You're able to read these eBooks online as well as download them for a Kindle and copy them to cloud storage services like Dropbox and Google Drive.
Visit Project Gutenberg
FreeBooksy
What We Like
Nice selection of mystery, fantasy, and science fiction titles.

Has a newsletter that sends info on new free books to your email.
What We Don't Like
Lack of a genre-targeted search makes it challenging to find books you want.
Among other genres, FreeBooksy has free Kindle books for kids found in the Children's and Young Adult sections.
New books are added often, but not always in this particular category, which means the ones you browse through may already be expired.
Their email subscription service is great because you can sign up to receive children's books only instead of other genres.
Visit FreeBooksy
ManyBooks.net
What We Like
Website supports dozens of languages.

Wide selection of classics and obscure older books.
What We Don't Like
Includes lots of links to other websites.

Limited selection of newer titles.

Must sign on to read the books.
ManyBooks.net's free kids books are in a category called Young Readers, and there are thousands to choose from.
You can filter the books by language and/or rating, and sort them alphabetically, by author, by rating, or by popularity.
Each download page has lots of useful information, such as the number of downloads, page count, publish date, and an excerpt from the book.
You can download these free eBooks in a number of formats, such as the AZW Kindle format, or others like PDB, EPUB, MOBI, PDF, or RTF. These titles can also be read online in your web browser.
Visit ManyBooks.net
OHFB.com (OneHundredFreeBooks)
What We Like
Frequently posts about new free books on social media.

Nice mix of new and old books.
What We Don't Like
Adult literature is listed right under the children's section.

Very ad-heavy interface.
OHFB.com has plenty of free Kindle books, and some are sectioned off into categories like Children's and Young Adult.
You can scroll through and look at each book's cover; clicking one takes you to the description which includes the download link, the publisher's description, and the regular, non-discounted price.
Visit OHFB.com
Freebook Sifter
What We Like
Sign up for daily alerts about new free books.

Shows up to 100 free titles per page.
What We Don't Like
No pictures of book covers.

Bland, text-heavy interface isn't very kid-friendly.
There are hundreds of free Kindle books for kids that you can find at Freebook Sifter, and several subcategories help organize them.
You can browse for eBooks in sections like Fairy Tales, Humor, Ages 4-8, Ages 9-12, Literature, and Animals.
You can also search for Kindle books and sort the kids' books by average rating, the number of ratings, and the date the title was added to the site.
Visit Freebook Sifter
DigiLibraries
What We Like
Nonfiction section has excellent resources for students.

Helpful FAQ section about eBooks.

No user account necessary.
What We Don't Like
Contains distracting advertisements for other websites.
The kids sections of free eBooks at DigiLibraries are categorized as Juvenile Fiction and Juvenile Nonfiction, both with subcategories to further organize the 2,000+ titles.
The kids books are in genres such as Lifestyles, Magic, Careers, Girls & Women, Horror & Ghost Stories, Fantasy, Boys/Men, and Science Fiction.
Different books may have different file format options for download, like PDF, EPUB, and MOBI.
Visit DigiLibraries
BookBub
What We Like
Lots of free middle grade and young adult titles.

Active blog with suggestions for kids books.

Several download options.
What We Don't Like
Only a few titles for younger children.

Obnoxious pop-up ads.
BookBub is another place where you can find free and discounted Kindle books for kids.
There's a specific section for children's books labeled Children's, and another as ​Middle Grade, but they aren't all free to download; you have to check the prices to be sure. You can see all the free books here but they aren't categorized by kids-only titles.
You get direct links to the download pages (Amazon, Google, Kobo, etc.) so you can read reviews and see ratings, but there's also a dedicated page that will show you a description of the book and some sharing buttons if you wish to share it over social media sites.
Visit BookBub
Centsless Books
What We Like
All children's books are listed on a single page.

No advertisements.
What We Don't Like
List of categories isn't alphabetized for some reason.

No subcategories.
You're here to find Kindle books that don't even cost a penny, and that's what Centsless Books is all about.​
There are plenty of children's eBooks available, and the website updates every hour for even more. The genre that has free eBooks for kids is called Children's eBooks, but there might be some suitable ones under Teen & Young Adult, too.
Centsless Books' website lets you browse and search for free Kindle books as well as subscribe for free email updates.
Visit Centsless Books
eBookDaily
What We Like
Social media widgets make it easy to share information about book deals.

Updated each and every day.

Tells you if the book is still free before clicking it.
What We Don't Like
Only three books per category are featured each day.

Must create an account to browse deals from previous days.
Every day, three new free Kindle books for kids are added to eBookDaily. Scroll down the page until you find Children's Books, and you can hover your mouse over the cover images to read the books' description and see its author.
Also available is the star rating and number of reviews from Amazon. Clicking the download button will take you directly to Amazon.
Some of the books added to this site may be free for just one day only, which means you should stay on top of the updates to take advantage of the deals. A free subscription service is available that will send you the daily Kindle books directly to your email in any genre you choose.
There's also a section called Teen & Young Adult, which, depending on the age of the reader, might be preferred.
Visit eBookDaily
BookGoodies for Kids
What We Like
Includes extensive information about each book.

Tags and subcategories help streamline searches.
What We Don't Like
Some books listed are no longer free.

Many titles require a Kindle Unlimited account to read for free.
BookGoodies for Kids has free and bargain books for children and young adults.
You can clearly see when a free book will expire and start to cost, which is helpful. The site also tells you the target age for the book, like if it's for kids 2-8 years of age, and shows an excerpt.
A free newsletter is available that lets you stay up to date with new releases through your email, but they also have a Facebook and Twitter page that posts updates.
Visit BookGoodies for Kids
The Savvy Bump
What We Like
Attractive web design.

Offers parenting and pregnancy tips.
What We Don't Like
Search tool is too easily hidden.

Tons of ads on the side of the page.

Doesn't update very often.
The Savvy Bump is a great place to find free stuff for kids, such as Kindle books. Each book has Amazon's description of it as well as a direct link to the download.
You're able to enter your email address at The Savvy Bump to get free deals sent to your inbox so you don't have to check the website.
Visit The Savvy Bump
OverDrive
What We Like
No late fees on overdue library books.

Borrow audio books for free.
What We Don't Like
Requires a library card from your local library.
Participating libraries let you check out free Kindle kids books through OverDrive, similar to checking out a physical, paper book.
Over 300,000 eBooks for children are available in sections of this website like Young Adult Fiction, Young Adult Non-Fiction, Juvenile Fiction, and Young Adult Literature.
Once you've had a book for a few weeks, it will automatically be taken off your Kindle, which is a bit similar to a regular book lending program that involves non-digital books.
For more information on how OverDrive works, see Amazon's customer service on how to borrow Kindle books from a public library.
Visit OverDrive
FreeKidsBooks.org
What We Like
Lots of unique books for kids.

Some books can be read online, others downloaded.

No need to make a user account.

Several categories split up books by age group.
What We Don't Like
Website is often very slow; sometimes never loads.
FreeKidsBooks.org is an accurate name because that's all they have on this site: free books for toddlers have lots of pictures and few words, children books are few pictures and lots of words, and the free eBooks for kids and young adults have no significant pictures and are more lengthy.
You can pick any age group to see the selections in those categories, and every section can be sorted by popularity and date.
Below the description of each book is the download count and, for some, a Read Online option if you'd rather do that than download it. Many files have two options: PDF and EPUB.
Visit FreeKidsBooks.org
The Fussy Librarian
What We Like
Downloads are made through Amazon.

Two categories for various ages.
What We Don't Like
Small selection.

Filtering tool doesn't work.
A handful of more kids eBooks can be found at The Fussy Librarian. Select any and you'll go straight to Amazon where you can send the book directly to your Kindle.
There aren't a ton of choices for kids books, though. A small collection is categorized as Children's/middle grade and a few more under Young adult. Unfortunately, adult books are listed right next to them and the filtering option to hide them doesn't appear to work.
Visit The Fussy Librarian
Thanks for letting us know!
Sours: https://www.lifewire.com/free-kids-kindle-books-1357953
50+ Fantastic Books in Kindle Unlimited for Kids
I've talked before about Kindle Unlimited and how it works, but I haven't talked much about Kindle Unlimited for kids.
Since tomorrow is the last day to grab the two free months of Kindle Unlimited deal, it feels like a good day to talk about all the awesome Kindle Unlimited books for kids.
If you sign up for a Kindle Unlimited subscription, you can share the books in your Kindle Unlimited library with your child to read either on a phone or tablet or on a Kindle for Kids.
There are more than 60,000 titles in Kindle Unlimited for kids (you can see the full list here).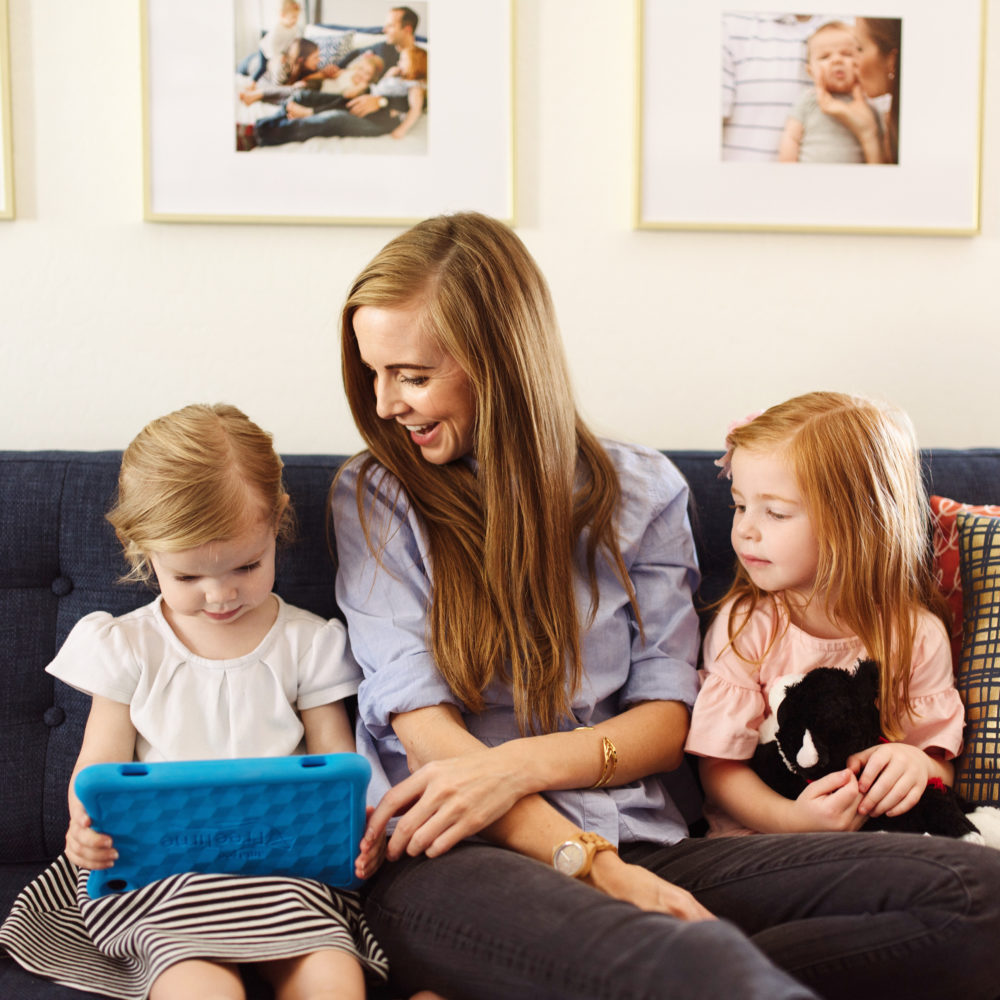 You can also see the Kindle Unlimited for Kids books broken down by level:
Now, of course mannnnnny of those books aren't worth reading, but there are a LOT of great books there and especially during this summer, with so many libraries closed and access to books harder to come by, Kindle Unlimited is a great resource (and when you get the rest of the summer free? 100% worth signing up).
Even better? Some of them have Audible narration included which means you can let your kids listen to them all summer long (unfortunately, there isn't an easy way to see which of the kids books on Kindle Unlimited have narration – just look for the little headphones symbol next to the Kindle Unlimited designation).
Note that the Kindle Unlimited library is ALWAYS changing, so while I'll do my best to keep this list up-to-date, it's possible that some books on this list will be removed from the Kindle Unlimited library at some point.
Here are more than 50 great Kindle Unlimited kid books to get you started: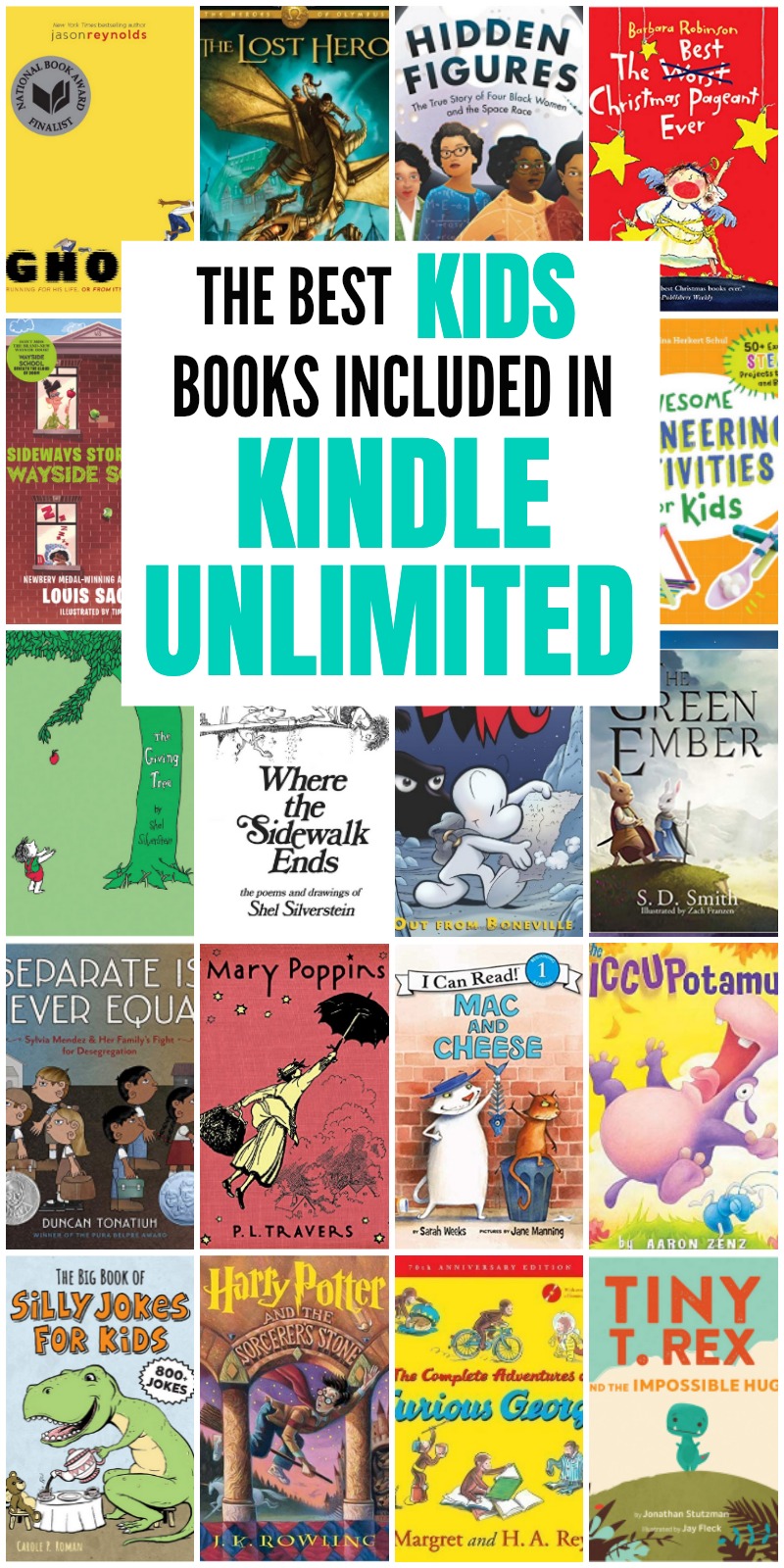 50+ Fantastic Books in Kindle Unlimited for Kids
Little Blue Truck board book by Alice Schertle, illustrated by Jill McElmurry
There's just something so delightful about the Little Blue Truck series and this is the book that started it all with a little blue truck that is happy to help out and his friends that want to help him back. It's a perfect book for the youngest little reader.
The Hiccupotamus by Aaron Zenz
I read this book long ago with my girls and it's just the perfect read-aloud picture book about a hippopotamus that gets the hiccups. I don't necessarily gravitate toward rhyming books but this one is TERRIFIC.
The Bad Seed by Jory John, illustrated by Pete Oswald
All three of the books in this funny series are included in Kindle Unlimited and my children are obsessed with every one of them.
The Giving Tree by Shel Silverstein
This one's a classic (you can decide for yourself whether you think it's sweet or if the martyr narrative makes you grumpy).
Hidden Figures by Margot Lee Shetterly, illustrated by Laura Freeman
You may have read the full book or watched the movie of this amazing true story and this picture book version lets you share the story with your younger children.
This Is How We Do It: One Day in the Lives of Seven Kids from Around the World by Matt Lamothe
I love this beautiful book about what life looks like (from school to bedrooms to chores to activities to food) for different children around the world. It's the perfect non-fiction book to help introduce your child to both the similarities and differences of childhood around the globe.
Tiny T. Rex and the Impossible Hug by Jonathan Stutzman and Jay Fleck
This is currently on repeat at our house – my children think it's endlessly amusing to watch T. Rex try to figure out how to hug his gloomy friend.
It Is Not Perfect (You Are Not Small) by Anna Kang and Christopher Weyant
All five of the books in this delightful series are included in Kindle Unlimited and they're fun read-aloud picture books!
Harold and the Purple Crayon by Crockett Johnson
It's been popular for fifty years for a reason – if your child hasn't yet been introduced to it, Kindle Unlimited is making it super easy for you to give it a read.
Separate Is Never Equal: Sylvia Mendez and Her Family's Fight for Desegregation by Duncan Tonatiuh
This beautiful true story about a young girl and her family's fight in California for school desegregation (a decade before the Supreme Court deemed it unconstitutional) is the perfect read to help your child understand some of the racial issues (and their historical backgrounds) going on today.
Caps for Sale: A Tale of a Peddler, Some Monkeys, and Their Monkey Business by Esphyr Slobodkina
This book, about a peddler who sits down under a tree for a little nap and wakes to find his hats all stolen by some mischievous monkeys, is a classic.
Mac and Cheese by Sarah Weeks and Jane Manning
If you have an emerging reader the I Can Read! books are perfect for helping build skills and keep their confidence and interest in reading growing.
Chrysanthemum by Kevin Henkes
I love all of Kevin Henkes' mouse books, but Chrysanthemum is certainly a favorite as she worries about her long, unusual name.
Red: A Crayon's Story by Michael Hall
Sometimes, no matter how hard you try you're not a red crayon. And when everyone expects you to be red, blue looks like a mistake. I love this sweet story about being true to who you are and recognizing when labels don't fit on other people too.
Shark Lady: The True Story of How Eugenie Clark Became the Ocean's Most Fearless Scientist by Jess Keating, illustrated by Marta Álvarez Miguéns
This book is just plain COOL. I mean, who wouldn't want to dive with sharks and learn all about how they live underwater?
It's Not Jack and the Beanstalk by Josh Funk, illustrated by Edwardian Taylor
This fractured fairy tale was a favorite at our house when we had it checked out from the library a few years ago.
Where the Sidewalk Ends by Shel Silverstein
At this point, Shel Silverstein's name is basically synonymous with children's poetry and even the most reluctant child can't help but crack a smile at some of his wacky poems.
Frog and Toad All Year by Arnold Lobel
Oh, how I love Frog and Toad, and I was delighted to see this classic easy reader book included in Kindle Unlimited.
Don't Push the Button! by Bill Cotter
If you have a child who loves interactive books, you can't go wrong with this one about a monster who knows he shouldn't push the button. . . but really really wants to.
Music for Alice by Allen Say
I'm a long-time fan of Allen Say and this one follows Alice, a young woman who, along with her husband, is forced to report to camps during WWII because they are Japanese Americans.
Fancy Nancy by Jane O'Connor, illustrated by Robin Preiss Glasser
These Fancy Nancy books are super popular at our house and this is the book that kicked off the Fancy Nancy empire.
The Hundred Dresses by Eleanor Estes, illustrated by Louis Slobodkin
This book is a longer than your average picture book, clocking in at 106 pages. It's not quite a chapter book, not quite a picture book, and won a Newbery Honor in the 40s.
The Complete Adventures of Curious George by Margret Rey and H. A. Rey
If you need some naughty little monkey antics in your life, this giant collection has you covered.
Out From Boneville by Jeff Smith and Steve Hamaker
I could NOT keep this graphic novel series on the shelves when I was a school librarian. It's a crowd favorite for sure!
Bedtime Inspirational Stories: 50 Amazing Black People Who Changed the World by L. A. Amber
Ever since I recommendedWildLivesin the Summer Reading Guide, I've been getting requests for more books that are collections of short non-fiction stories. This is a great one with perfectly sized chapters about amazing Black people that you might or might not have heard of before.
The Spiderwick Chronicles by Holly Black and Tony DiTerlizzi
This is one of the rare instances where I watched the movie without reading the book. But obviously it's most fun to do both.
Warriors by Erin Hunter and Dave Stevenson
The first three books in this series about warrior cats (who knew?) are all included in your Kindle Unlimited membership.
How to Draw: Easy Techniques and Step-by-Step Drawings for Kids by Aaria Baid
This book is perfect for a budding artist. Grab some pencils and a big stack of paper and you're good to go for a while!
Sideways Stories from Wayside School by Louis Sachar
I'm pretty sure my girls have listened to this series at least 40 times in the last year (they're included on Scribd) and I likely could recite them all at this point.
Hello, Universe by Erin Entrada Kelly, illustrated by Isabel Roxas
This one won the Newbery and follows four children in a neighborhood who are all dealing with their own struggles and come together to solve a problem.
Found by Margaret Peterson Haddix
I read this one when I was a school librarian plowing my way through the Massachusetts Children's Book Award list and loved it so much I made Bart listen to it too!
The Mouse and the Motorcycle by Beverly Cleary
I'm a lifelong fan of Beverly Clearly and I particularly love little mouse Ralph (despite the fact that in real life I hate mice more than almost anything). The whole series is included on Kindle Unlimited so you can blaze through them all this summer.
Awesome Engineering Activities for Kids: 50+ Exciting STEAM Projects to Design and Build by Christina Schul
Need something to keep your kids occupied this summer? This book is perfect with plenty of fun projects to keep them busy and learning.
Harry Potter by J.K. Rowling
These books need no introduction. Now if only the Jim Dale narration was included. . . .
The Crossover by Kwame Alexander
This basketball book told in verse is super gripping and won the Newbery a few years ago. Highly recommend!
The Fairy-Tale Detectives by Michael Buckley
Ella read this whole series a couple of years ago and then she and Ani have listened to the audio versions of them together. They're clever and funny and fantastic for young fantasy lovers.
Mary Poppins by P. L. Travers
You've seen the movie a thousand times, but have you ever read the books that inspired the Disney film? Here's your chance to read it for free! (audible narration available)
The Terrible Two by Mac Barnett and Jory John
This book about two boys trying to outprank the other is laugh-out-loud funny.
The Hunger Games by Suzanne Collins
The entire trilogy is included in Kindle Unlimited, plus has the audio so you can listen, if you'd prefer! (audible narration available)
Artemis Fowl by Eoin Colfer
This one just came out as a movie on Disney Plus (although the reviews I'm hearing aren't great) and it's the July book for the Everyday Reading Book Club, so it's a great time to read it for free!
The Lost Hero by Rick Riordan
This book kicks off Rick Riordan's Olympus Heroes series in style, so if you have a child who loved The Lightning Thief or Greek mythology, give this one a go.
Out of My Mind by Sharon M. Draper
Melody is 11 and because she has cerebral palsy, she can't walk or talk or write. In fact, most of the people she interacts with think she has very low brain function. It turns out? She's actually super smart. If she can just figure out how to let anyone know it.
The Big Book of Silly Jokes for Kids: 800+ Jokes! by Carole P. Roman
Have a joke lover? This book will keep them occupied or make you look like the funniest parent on the planet.
The Green Ember by S. D. Smith and Zach Franzen
This adventure story about rabbits is a fan favorite and all four books are included in Kindle Unlimited.
Inside Out and Back Again by Thanhha Lai
Told in verse, this memoir about fleeing Vietnam and coming to America scooped up both the National Book Award and a Newbery Honor.
A Long Walk to Water by Linda Sue Park
I've loved Linda Sue Park since I read A Single Shardyears ago, and I can't wait to read this bestseller about about two eleven-year-olds in Sudan. One is a girl in 2008; the other is a boy in 1985. (audible narration available)
Ghost by Jason Reynolds
I had this National Book Award Finalist on hold at the library so I was delighted to see it was available with no wait with my Kindle Unlimited subscription! It's about four wildly different kids on an elite middle school track team with hopes for the Junior Olympics if they can learn to work together.
Bridge to Terabithia by Katherine Paterson
Just. . . prepare your tissues is all.
Anne of Green Gables: A Graphic Novel by Mariah Marsden , Brenna Thummler
I read the original Anne of Green Gables to my girls earlier this year and Ella was thrilled to discover that there was a graphic novel version too.
The Hiding Place by Corrie ten Boom
I read and loved the original version but didn't know until I was looking through the Kindle Unlimited library that there was a Young Reader's version.
Walk Two Moons by Sharon Creech
I didn't read this Newbery winner until I was an adult and then I quickly discovered why people are so in love with this book.
The Best Christmas Pageant Ever by Barbara Robinson
All three books in this series are included with Kindle Unlimited (I didn't know there WERE other books in the series until just a few months ago!).
And if you'd like a printable copy of this list that you can take to your library or screenshot on your phone for easy access, just pop in your email address below and it'll come right to your inbox!
Any other favorite kids books included in Kindle Unlimited? I'd love it if you shared!
If you liked this post about Kindle Unlimited for Kids, you might like these posts too:
Sours: https://everyday-reading.com/kindle-unlimited-for-kids/
I've brought you 50 of the best Kindle Unlimited books you can read for the last two years. Rachel Rosenberg recently covered Free Books for Kids: Great Resources for Ebooks and Audiobooks. Today I'm here to bring you the 20 best Kindle books for kids. All are either free for all or free with a Kindle Unlimited subscription.
Milo & Ze: A Bull Terrier Puppy Adventure written by Mike Watson and Illustrated by Pablo Michau
Milo's a lonely, forgotten pooch who travels the world to find a friend. With beautiful illustrations and tons of adventure, this a great book for those who don't mind a sad start when it leads to a happy ending.
The Refuge written by Sandra le Guen, illustrated by Stephanie Nicolet, and translated by Daniel Hanh
Not only is Iliana the new girl at school, but she also doesn't speak the language. Jeannette notices the sadness radiating from Iliana and through drawings, gestures, and friendship they learn to communicate with each other in one of the best Kindle books for kids.
Diary of a 6th Grade Ninja by Marcus Emerson
Chase Cooper is new at school and feels out of place until a group of ninjas recruits him to fight the good fight. This is a funny, fantastical book that deals with the complicated feelings of childhood and how our children deal with them.
Firenze's Light: A Children's Book About Gratitude, Compassion and Self-Appreciation written by Jessica Collaco and illustrated by Angela Li
A feisty firefly named Firenze hates her light because it makes her different. With the help of her friends and some wacky misadventures, she discovers that what makes her different is also what makes her special.
The Kids Are All Right Newsletter
Sign up to The Kids Are All Right to receive news and recommendations from the world of kid lit and middle grade books.
Thank you for signing up! Keep an eye on your inbox.
By signing up you agree to our terms of use
The Angry Dragon by Michael Gordon
If your child has experienced issues with expressing their anger, The Angry Dragon is one of the best Kindle books for kids. Gordon shows children how anger can be a positive emotion when used correctly and offers management techniques that can help kids better handle their anger.
How I Made a Friend: The Funniest Children's Book About Making Meaningful Friendships by Daniel Georges
If your child is a creative introvert who doesn't naturally fit in with others, this funny, charming, and touching tale may help them feel a little less alone—and give them some valuable insight into making friends who will appreciate who they are.
A is for Alcorn: Alphabet Book written by Breanna Fulton and illustrated by Jazmine Franklin
If you are alumni of any Historically Black College or University, this is a great option to teach your kids about the importance of these institutions. Other parents can use this charming rhyming book to teach your children about experiences they might not otherwise be exposed to.
Seeds and Trees: A Children's Book About The Power Of Words written by Brandon Walden and illustrated by Kristen and Kevin Howdeshell
"Words are powerful. They can heal or hurt." So begins this unique book, which shows kids the power of their words—both good and bad—at a time when name calling and negative rhetoric comes even from the leader of the free world.
The Big Book of Silly Jokes for Kids: 800+ Jokes! by Carole P. Roman
As the name suggests, this is a book with more than 800 jokes. From knock-knock to tongue twisters, this is chock full of kid-appropriate and kid-approved jokes you'll likely tired of hearing the first day they get the book.
It's a Super-Bad Terrible Day! written by Virginia Finnie and illustrated by Almar Denso
Everyone's had a day that just seems cursed from the beginning—and that's what's happening to the protagonist of this relatable book. By the time the day is done, he's learned that his attitude can make things better or make things worse. He decides to make them better.
Teddy the Time Traveler and the Statue of Liberty by Andrew Fritz
Poor Teddy. His father disappeared a year ago. His mother has to work constantly to make up for the lost income. Now his best friend has disappeared too—what else could go wrong? Read along as Teddy discovers the truth about the past and the future in this time-traveling tale.
Cutie Sue and the Darkness: An Adorable Story About Fear of the Dark and Sleep Alone! By Kate Melton
If your child has ever had trouble falling asleep or felt afraid of the dark, they may just be inspired by Cutie Sue, a brave, bold girl who is afraid of the dark. Will she be able to overcome this sole fear?
Pipsie, Nature Detective: The Disappearing Caterpillar written by Rick DeDonato and illustrated by Tracy Bishop
Pipsie and her turtle, Alfred, are obsessed with nature and dream of a future as detectives, so when their favorite caterpillar goes missing, they're on the case. This is a sweet tale that, even though you know how it will end up, still manages to surprise you—and your children—along the way.
Bedtime Meditation Stories for Kids: 3 Books in 1: A Collection of Short Good Night Tales with Great Morals and Positive Affirmations to Help Children Fall Asleep Fast & Have a Relaxing Night's Sleep by Mindfulness Fairy and Daisy Relaxing
Do your kids have trouble falling asleep? Do you want to ensure that the last hour of their day is a relaxed, pleasant hour? This three-book set has a collection of tales that are designed to help kids drift off to sleep peacefully.
Five Minute Stories: Enchanted Bedtime Stories For Kids, Unicorn, Princess, Dragon and more. Fables and Fairy Tales to Help Children and Toddlers Fall Asleep Fast by Michelle Levy
Another book of tales meant to help kids fall asleep, this volume focuses on short stories that can be read in five minutes or less. It's perfect for those nights that your little one doesn't realize just how tired they are.
The Adventures of Ila Bean written by Iba Gibson, Ericka Gibson, Enoa Gibson, and Ari Gibson, illustrated by Alby Joseph
This is the third book in a series but it works perfectly as a standalone book too. The focus of the book is stepping out of one's comfort zone and learning about new cultures. Check out the unique travels of Ila Bean and learn about her favorite trips.
Calvin and Hobbes: Vol 1 Great Adventure Cartoon Comics Books For Kids, Boys, Girls, Fans, Adults by Bill Waterson
These comics are just as funny today as they were when they were released decades ago. Whether you're experiencing them for the first time with your child, or sharing some of your childhood favorites with your kids or grandkids, this volume does not disappoint.
Our Class is a Family written by Shannon Olsen and illustrated by Sandie Sonke
Many kids already know that their family is not limited to their relatives. This is one of the best Kinde books for kids that reminds kids and adults alike that teachers do more than teach—they try to create a safe family within their classroom.
The Secret Lake by Karen Inglis
Stella and her younger brother Tom worry that their move to London will be boring, but nothing could be further from the truth when they discover a hidden time tunnel and secret lake.
Pooperella: A Farty Tale Classic by Penn Brooks
If your kid has never heard anything funnier than a fart, then this silly, gross story will have them laughing hysterically and is one of the best Kindle books for kids who love silly tales.
Sours: https://bookriot.com/best-kindle-books-for-kids/
How to Create a Kindle Children's Book
How to setup an Amazon Kindle for children: Amazon Kids and Kids+ explained
(Pocket-lint) - The Amazon Kindle has established itself as a leading reading device and where you have reading, you hopefully have eager children.
Although real books, on paper, as well as using public libraries, should be something that all children experience, there's no denying that a Kindle has something to offer.
But a Kindle device, hooked into an Amazon account, offers a great deal of connectivity that you probably don't want your child to have. There's a web browser for starters, as well as, potentially, your Amazon account through which they can buy books with wanton abandon.
Whether you're buying a new Kindle specifically for a child, or letting them use one you already have, here's what you need to consider when setting-up a Kindle for your kids. Here we're talking specifically about Kindle ebook readers, rather than Fire tablets, although in many cases, the same information applies. There's now also a specific Kindle Kids Edition which will also talk about below.
squirrel_widget_168218
Account decisions
A Kindle needs to be registered to an Amazon account - this is how you get the content onto it.
If you're getting a new Kindle specifically for a child, then you need to decide whether you're going have it linked to their own Amazon account, or to your account.
A personal account?
If the child/Kindle has a personal account, then that account needs an email address as well as a payment method, which probably isn't what you want to do. You could opt for a pre-paid credit card, however.
Using this means you can have a small value for some initial book purchases without having to worry about them emptying your bank account. You can always top up that pre-paid card for future purchases, but this is a rather convoluted approach.
Keep it on your account
If you opt to have the Kindle on your account (or have a child use your Kindle/old Kindle/a Kindle Kids Edition), then you'll have to make sure you use parental controls to ensure they don't spend on your account, which makes things much simpler. There there is Fire for Kids and FreeTime - now called Amazon Kids - to consider as well.
This is how Amazon has really designed this arrangement to take place, specifically to cater for kids in an Amazon household.
Parental controls
Kindle has plenty of parental controls which is good place to start. If you're giving your child a Kindle, you can opt to close off the major access points to the internet: web browser, Kindle Store and Cloud.
Each of these can be disabled, with parental controls getting password protection. That means you can, for example, disable the web browser and Kindle Store on that device, but leave access to Cloud. Cloud is where your Kindle purchases are stored when not downloaded to a device - it's your complete online catalogue of content.
Pocket-lint
You can shut everything off, so you know that your child only has access to the content on the device and can't go exploring. The Kindle is still connected to the internet, there just aren't any access points from the device.
This is a better option that simply turning on Aeroplane mode, because books will still sync, and importantly, you can still send books to the Kindle from the Kindle Store on your computer's browser or phone. You can also send documents to the Kindle using the email address assigned to your Kindle device, for example coursework packs from school.
This means you can put the Kindle in the hands of your child and buy books and have them delivered to their device to read. They will just appear on the home page.
The problem with all of this is that - if your Kindle is registered to your account - then all the books you own or buy will then be available to download to your child's Kindle through the library, which is where Amazon Kids (formerly FreeTime or Amazon Fire for Kids) comes into play.
Amazon Kids
Amazon has a system for children called Amazon Kids. This is, essentially, a locked down area specifically for them. Using Amazon Kids means you can have "your" adult/parental side of the device fully connected and "their" side safely locked down with only their appropriate content visible.
The name has only just changed to Kids and it might be some time before this is reflected across all devices, so if you see Fire for Kids or FreeTime, that's what it's talking about - the kids' area.
Amazon Kids lets you setup a child account (or accounts) and then assign books to them from your collection. Using Kids means you're buying those books on your account and sharing them, rather than buying them through an Amazon account in your child's name.
Importantly, however, once you're in Amazon Kids, you need a password to get out, so it's a safe area for your child.
From within Amazon Kids the navigation controls work very much as they do elsewhere, so you can still go home, search, and change some settings, but it's all behind that safety barrier. There are awards and you have a reading target to encourage children to read regularly, if you have a child who works better with these types of motivations.
Progress through books will also be tracked separately from your reading. If you both want to read The Hobbit, for example, your child's progress will be tracked separately from yours. If you simply used the same account and were reading the same book, it would be constantly trying to sync that book to the furthest read page, which isn't ideal when two separate people are reading it.
Importantly, unlike only locking down a device with the parental control settings above, you still have to assign that content to Amazon Kids for your child - and this is a key point. From a practical point of view, you can send content to a Kindle devices from a browser - so if you're shopping in the Kindle Store when you buy something you can elect to send it to that device.
However, it's only then on that device, not in the Kids area for a child. That then has to be done on the device itself by the parent. You have to log out of the child's area, select the books from the library you want to add to Amazon Kids and then return to the Kids area to see all those books in a safe environment again.
Cleverly, you can turn on Amazon Kids on a device and leave it in that state most of the time. Restarting the Kindle from with in the Kids area sees it returning to Kids: the only way out is to plug in the password.
The other point to note about setting up Amazon Kids, is that you're basically creating those children as users on your account - and those can then be used on other Amazon devices too, like the Fire tablet.
We've mentioned there are two versions of the Kids service - and Kids+ will give you child access to a range of content selected by Amazon that's within an appropriate age range, so that child can find and select their own books. This makes it easier because you don't have to then allocate titles to that child for them to read - but while the content is safe, there's no knowing if it's content your child actually wants to read - we talk about that a little more below.
Households and Family Library
Family Library is a Kindle feature that let you share content with family members. It's a convenient way for you to share or manage the content you have and you only have to buy things once.
To have a Family Library, you need to create a Household. This can consist of two adults, each with their own Amazon account, and up to four children. These child accounts are setup using Amazon Kids.
As a Household can't accept more than two Amazon accounts (notionally two parents) it is a disadvantage to have a child's Kindle with its own Amazon account, as that third account can't be accommodated and you can't share content through the Family Library. (Of course not all Households will have two parents, or might not have two parents who want to share content.)
Pocket-lint
However, once you have a Family Library setup, the two adult accounts can manage the content the children get access to. That means one adult can buy the content and the other can add or remove it from their own account if they need to.
Once you have adults and children in a Household, it's really easy to manage content through a browser. In your account settings > Manage Your Content and Devices you can see all your Kindle books and who in your household gets access to them.
What about the Amazon Kindle Kids Edition?
Amazon launched the Kindle Kids Edition very much following the model that it has used for its Fire Kids Edition tablet - it's a standard Kindle, with a case, 2-year warranty and a 1-year Amazon Kids+.
The device itself is the entry-level Kindle and there are no software differences on this device to any other Kindle - it all uses the same software features that we've talked about above. That potentially means that you can save yourself some cash by opting for this Kindle instead of the specific Kids Edition - it is about $/£30 cheaper.
squirrel_widget_148353
However, what the Kids Edition does is bundle in these additional extras. The case is probably worth about $/£20, while the no-quibble warranty will be of interest if you have kids who are likely to break it. Then you have Amazon Kids+, which gives you a 1-year subscription to kids content. This has usually costs from $2.99 or £1.99 a month - so if that's the way you want to do, there's some advantage in buying into the Kids Edition bundle.
10 best Lego sets 2021: Our favourite Star Wars, Technic, City, Frozen II sets and more By Dan Grabham ·
Pocket-lint
Amazon Kids+
Beyond the hardware and the software on these devices, there's also a subscription option that Amazon offers. Amazon Kids+ is like supercharging the content on your Kindle and giving you access to a range of books for your child that are appropriate for their age.
There's a cost - and the costs vary based on whether you're a Prime subscriber and how many kids you want to include - as well as across varying durations, so there are lots of price options.
But the huge advantage that these subscriptions offer is that they give the child access to this content, so they can browse and find things to read. If you have an older child that means you don't have to find all the books, buy them and then give your child access - they can just find stuff to read at their leisure.
The best thing about these subscriptions is that that universally apply across both Kindle and Fire tablets (so on the tablet you can access movies or games that are age appropriate) and you can then basically leave them to it.
squirrel_widget_193952
What's the best child Kindle setup?
The range of options and approaches means that settings can be tailored to the age of your child and how much autonomy you want them to have. For the younger children, you'll want their Kindle registered to your Amazon account, but with all the parental controls engaged, so there's no access to your account, Cloud or the web browser.
Then you'll want to use Amazom Kids for that child. If they are getting their "own" Kindle device, you can then remotely control the content they get access to. You can gift books by simply buying them an assigning them to their device, but you'll have to then manually add them to the child's area on the device itself.
You remain in control of content at all times and can easily remove books that they've finished with or outgrown. Importantly, if you're buying it through your account, it's your content and you can then share it with younger members of the family. Equally, as a child grows older, using a Household, you can still share older content in the future you might have bought for yourself.
Beyond that, if you have avid readers in the family, then a subscription to the Kids+ service is well worth it. Kids' books are expensive and they will often read them in a day or so - so the ongoing access to lots of books is a definite advantage.
Most of the features are available on recent Kindle models, but sadly aren't yet available through the Kindle apps and some older devices. You can check full compatibility here.
Writing by Chris Hall. Editing by Dan Grabham. Originally published on .
Recommended for you
New Lego Mario set pays homage to Super Mario 64 By Rik Henderson ·
Playmobil's new Star Trek set takes us back to the original TV show By Max Freeman-Mills ·
Best tech toys 2021: Connected toys, robots and more By Max Freeman-Mills ·
The best coding toys 2021: From robots to iPad games, these toys will help teach your kids to code By Max Freeman-Mills ·
10 best Lego sets 2021: Our favourite Star Wars, Technic, City, Frozen II sets and more By Dan Grabham ·
Lego unveils bricks made from recycled bottles, will add them to sets "as soon as possible" By Rik Henderson ·
Sours: https://www.pocket-lint.com/parenting/news/amazon-kindle/132127-how-to-setup-an-amazon-kindle-for-children-kindle-for-kids-and-freetime-explained
Children books kindle
.
Format and Publish an eBook with Kid's Kindle Book Creator!
.
Similar news:
.
2239
2240
2241
2242
2243