What Inspired Manga Artist Hirohiko Araki?
The works of Hirohiko Araki span decades but there is one thing that has remained consistent upon the honing of his craft, his references to pop culture, art, and fashion. This manga creator, this illustrator, this designer sought to bring something different to the medium, and in doing so Araki created a brand that is unforgettable and eccentric. His references are so versatile and so striking that his work culminates into something that has been revered as high art by many and loved as a pop-culture phenomenon. 
There are a lot of misconceptions as to what manga really is, with definitions varying from black and white comics, to strictly Japanese comics, to even a specific style. The closest definition includes any printed animated media within Japan. Manga was not established as a kind of overarching style until the "Godfather of Manga," Osamu Tezuka, developed new techniques and redefined already established genres with works such as Astro Boy and Jungle Emperor Leo in the 1960s.
Most people outside of Japan, and many inside, go by the latter definition and believe manga to be a form of media that you know when you see. Nowadays, mangakas, or manga artists, have so many varying styles that it would be ignorant to attempt to define manga strictly by some of its more known stereotypes, like large eyes, spiky hair, and crazy proportions. There are manga that do indeed still find appeal in all three attributes, in some way, but using these as a basis as to what manga is would be discrediting artists like Takehiko Inoue, Shinichi Sakamoto, and, of course, Hirohiko Araki.  
Who Is Manga Artist Hirohiko Araki?
Hirohiko Araki is a manga artist in Japan best known for his ongoing work and magnum opus, Jojo's Bizarre Adventure, which began publishing in 1986 but debuted in the early 1980s. He takes inspiration from classical techniques in paintings and sculptures, the color manipulation of Paul Gauguin, Western pop culture, and fashion to create an engaging world and characters. 
Are you enjoying this article?
Sign up to our Free Weekly Newsletter
Please check your inbox to activate your subscription
Thank you!
He was born in Sendai, Japan on June 7th, 1960, and drew his first manga when he was only in the 4th grade. After an interaction with a friend, who complimented his work back then, he thought that taking on manga as a future career was an option to look into. In the 60s striving to become a manga artist was something that people looked down upon, as it was not a conventional career path. So, Hirohiko Araki set about practicing his art behind his parents' backs and eventually submitted his first work during high school— it was soundly rejected along with many other submissions. Eventually, he received recognition for his Poker Under Arms as a runner-up to a manga competition known as the Tezuka Awards.
Despite making his debut Hirohiko Araki knew that he needed to create a style that was unique and distinctive if he wanted to truly stand out in the industry. Poker Under Arms' style is very indicative of the 1980s lacking the overarching uniqueness he hoped to achieve later. After the early advent of manga as a style, there was something akin to an industry standard for how certain genres and works within certain publications had to look. So, it was not out of the ordinary to view works that had eerily similar styles; Hirohiko Araki's decision to branch out style-wise was a smart one, as his work could have been lost in a sea of uninventive works regardless of the story his art told. 
Influences From Paul Gauguin
Paul Gauguin was a French artist best known for his Post-Impressionist works and his help in pioneering the Primitive style. After the conception of his The Vision after the Sermon (Jacob wrestling with the Angel) in 1888, Gauguin declared himself a Synthetist. Synthetism was known for its flat areas of color and bold outlines which can be seen throughout Hirohiko Araki's later works. During a lecture, Araki stated that he was fond of Paul Gauguin since he was a child and eventually used Gauguin's Impressionist and Post-Impressionist pieces as inspirations for his later work. What inspired Araki the most about Gauguin's work was the use of color-blocking and the lively use of unrealistic color. He appreciated the idea that the ground [could be] pink and the trees [could be] blue. 
Where Can Gauguin's Influences Be Seen?
The better question is: Where can't it be seen? But take the image above as one example. This painting was done for Hirohiko Araki's most recent Jojo Exhibition, and in this work, you can see some basic influences from Synthetism and Gauguin's works. To compare, let's talk about Gauguin's previously mentioned work— The Vision of the Sermon (Jacob wrestling with the Angel). On the surface, it seems like there isn't much of a comparison, but upon really looking at the two for its strictly technical aspects it all begins to fall into place. 
Hirohiko Araki mimics Gauguin's use of not just a large expanse of flat color but also maintains a very limited palette much like The Vision after the Sermon. Araki too contrasts warm and cold against one another to make the subjects of the piece pop. Furthermore, there is a curving structure in both pieces created by the people, while Araki chooses to put this curving grouping of characters in the background Gauguin puts them front and center. Additionally, to break up the piece and assure that the flat color is not too overwhelming they both utilize similar methods. 
Gauguin places a tree moving diagonally through the shot to create contrast and perspective. Araki applies a similar method by interspersing green strokes of what looks to be grass throughout in an attempt to break up the orange and create a sense of distance and a line between the ground and the sky. 
Renaissance Sculpture: Michelangelo Buonarotti 
Hirohiko Araki himself has stated that his main influence for the overarching appearance of the characters he works on themselves comes from two main places. Fist of the North Star by Tetsuo Hara is an 80s anime that came out three years before the release of Jojo's Bizarre Adventure in Weekly Shonen Jump. Fist of the North Star is a power fantasy manga that is adorned with large, well-muscled, hyper-masculine physiques. Araki absolutely has a run of anatomy, and much of how he draws his characters comes from not just the sinew and muscle of Fist of the North Star but also the sculptural works of Michelangelo di Lodovico Buonarroti Simoni. 
Upon viewing a time-lapse video of how Araki created the above painting, there were many aspects of his process that stuck out but what is most fascinating is his reference material. He used magazines, his own hand-drawn reference materials, and an artbook called Michelangelo: Complete Works by Lutz Heusinger. 
For example: In the video, Hirohiko Araki used Michelangelo's Genius of Victory for the top left male figure; Two Wrestlers for the second figure to the left; and Crouching Youth as a reference for the bottom right white figure.
By using these references he was able to achieve accurate and ideal proportions due to Michelangelo's studies of the body and by incorporating other outside influences such as fashion photoshoots and fashion illustrations. Araki's versatile references and inspirations are what allowed him to create a style that is uniquely his own. 
Hirohiko Araki's Love Of Fashion 
Hirohiko Araki's work is not just stylistically unique, it's alive in almost every aspect. Most of his work has a foundation in reality despite how otherworldly it can seem at times. The overall liveliness of the works in which he creates comes from using culturally relevant reference materials as well as the ones mentioned prior. It is Araki's appreciation for fashion that allows his work to be as realistic and well… fun as it is. 
In interviews, and even with just analyzing his work from the 80s one can find his love for Versace, Moschino, and his heavy usage of Vogue magazine photoshoots. High fashion models' poses tend to have unrealistic, otherworldly, and even awkward poses, yet they still maintain the natural gestures necessary to incorporate them in Araki's work. High fashion poses lack that day to day feel of candid poses which allows Araki's images to pop in the way that they do. 
In 2013, GUCCI asked to collaborate with Araki on their spring fashion collection and it was called GUCCI X JOJO. All over the world, GUCCI shops were displaying illustrations of some of his most beloved characters from across Jojo's brand. Like the images above, Jojo's characters were adorned in GUCCI from head to toe, sporting: clothing, bags, and shoes, advertising the looks of the season. 
As an aside, that February, Araki's one-shot manga Jolyne, Fly High with GUCCI was published to Spur, a Japanese fashion magazine for women, where the main character sported clothing from Frida Giannini's 2013 Cruise Collection and did the window advertisement illustrations for the storefronts as well. It is easy to say that Araki's love of fashion is what led him to opportunities such as this, and it was inevitable that the world saw these collaborations on the scale that they did. 
The Impact Of Fashion Illustrations By Tony Viramontes
Hirohiko Araki did not just take inspiration from the clothing and models themselves but also their illustrations. Araki uses the works of many but one of the artists referenced the most was Tony Viramontes. Tony Viramontes was a fashion illustrator that took the 70s and 80s by storm working with the likes of Versace, Chanel, Valentino, Paloma Picasso and worked with photographers employed by Vogue. His work lacked the traditional outlook on fashion illustration, it had punch, it had attitude and bold lines and color that was not typically seen. He used abstraction to its limit taking the teaching from his mentor Antonio Lopez and stretching them to the max until they were almost unrecognizable.  
His more classic work An Ideal Woman, from early in his career holds similar principles to Synthetism with its strong use of flat color and accents of some thick white outline in the scarf, giving Araki quite the inspiration for his cover art. Araki juxtaposes his more classic design on the smaller character to the right of the main figure with those blocks of white and heavy white lines on the scarf, taking from both Viramontes in the overarching idea and Gauguin in his use of unrealistic yet strong color.  
Hirohiko Araki used Viramontes' later works in the same manner that he used fashion magazines. Viramontes was known for getting the models in interesting and unconventional poses, so they were perfect for Jojo's Bizarre Adventure. Araki was able to incorporate Viramontes' gestures in masterful ways, bringing Viramontes' work out into a new light. 
Antonio Lopez's Influence On Hirohiko Araki
Antonio Lopez's fashion illustrations also greatly inspired the works of Hirohiko Araki due to the chic nature of his works and how fashion-forward they were. He and his collaborator Juan Ramos were the arbiters of new and innovative design from the 60s to the 80s, helping to bring in a new era of fashion. Most of what Araki used Lopez's illustrations for were their overall poses and fashion, not necessarily color or style like he did with Tony Viramontes. His illustrations would be seen in Vogue and the Times allowing Araki to use his work as inspiration for some of his most iconic covers for the time. His illustrations were known throughout the world of fashion, from Paris to Tokyo to New York, his illustrations were extremely recognizable if you were a fashion lover of the times. 
The title page above was during Araki's more formative years in terms of style, so it lacked the extreme use of color and bold lines. Yet the manga artist was able to seamlessly incorporate Lopez's design with his style and a few changes of his own to create a pose that many who find Jojo beloved to them would not soon forget.
Sours: https://www.thecollector.com/what-inspired-hirohiko-araki-manga-artist/
Breaking Down The Art and Fashion of JoJo's Bizarre Adventure
JoJo's Bizarre Adventure may be known the most for creating amazing and idiosyncratic "Stands" that sometimes take the names of famous rock bands, singers, and songs, but what also must be taken into account when viewing the series is the fashion and the art that is displayed throughout the franchise. It's in the presentation of the characters and the strange events that happen throughout that the love of Hirohiko Araki for the franchise clearly shines through. We here at Comicbook.com are big fans of the series, so when we see a deep dive exploring certain aspects, we can't help but shine a spotlight onto it.
Anime News Network put together an extensive breakdown of Araki's love of fashion and art that bleeds into every panel and animation created for the Bizarre Adventures of the Joestar family line:
One of the most prominent influences for the franchise overall include the French artist Paul Gauguin. As stated in the write-up, the artist would discount reality in creating his artwork, and create images that used color and distortions of form in order to present the best possible style that he could think of. This of course may sound familiar as the characters in JoJo's Bizarre Adventure has outfits, hair styles, and poses that we would never experience in the real world. If you could find someone walking down the street who looked like Dio Brando for example, we'd love to see it.
Araki also used Renaissance statues in order to depict some of his more muscular characters. Specifically, you can see this in the earlier seasons of JoJo's Bizarre Adventure, specifically Phantom Blood, Battle Tendency, and Stardust Crusaders. In these first three seasons, the characters muscles and pecs were so gigantic, that its almost became distracting but these designs, though not realistic, created iconic interpretations of the Ripple and Stand Users.
What do you think of this amazing write-up that shines a light on the bizarre fashion and art within the JoJo series? What's your favorite character design from the franchise? Feel free to let us know in the comments or hit me up directly on Twitter @EVComedy to talk all things comics, anime, and JoJo!
0comments
JoJo's Bizarre Adventure was originally created by Hirohiko Araki for Shueisha's Weekly Shonen Jump in 1987. Currently the second longest running series in the magazine with over 100 volumes collected, the series tells the story of the Joestar family, who are each entwined in a destiny battling outrageous foes. The series has been split up into eight parts, with each part following a different generation of the Joestar family.
Sours: https://comicbook.com/anime/news/jojos-bizarre-adventure-breaking-down-the-art-and-fashion-anime-manga/
Celebrating The Art and Fashion of Jojo's Bizarre Adventure
Manga authors all have their own art styles, but there are few as distinctive and iconic as Hirohiko Araki's illustrations for JoJo's Bizarre Adventure. Over the course of his nearly 40 years as a manga artist, Araki has created some of the most recognizable characters, poses, and scenes in the history of the medium – in fact, so many other series pay homage to him that spotting JoJo references is practically a sport at this point.
But where did Araki's wild designs come from? How did he get the idea for Jonathan's dramatic hand pose, part 5's avant-garde outfits, or all of those stylish chapter covers? ...From museums and fashion magazines, of course! Today, we're here to shed some light on how classical art and fashion illustrations inspired the unique look of JoJo's Bizarre Adventure, and how JoJo's cultural impact eventually led to collaborations with the likes of Gucci and the Louvre. Strike your favorite pose and join us!
Colorful Concoctions with Gauguin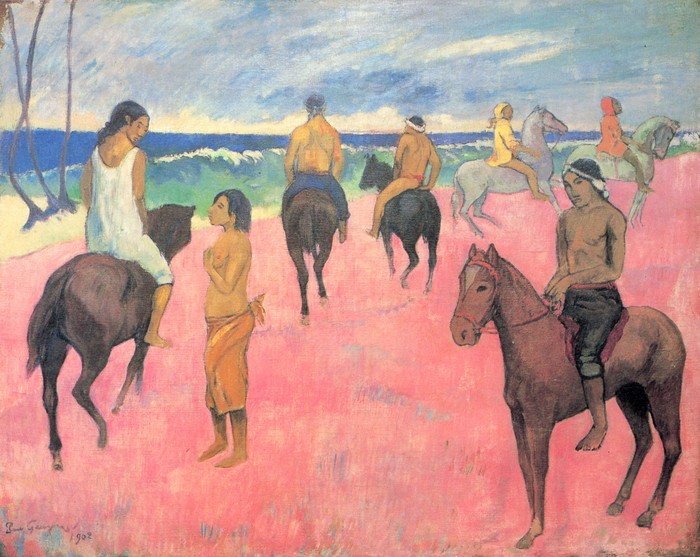 Ever since he was a child, Araki has admired the color choices of French painter Paul Gauguin. The artist would often disregard reality in favor of using colors that he thought looked good together, such as soft pink grass to contrast dark horses, and would distort perspective and human proportions to evoke certain emotions in the viewer. Araki adopted this cavalier view of reality for his own work, bending the rules of perspective for dramatic effect and bathing his color illustrations in wild hues that have left fans forever stumped as to which color scheme is supposed to be canon for each character.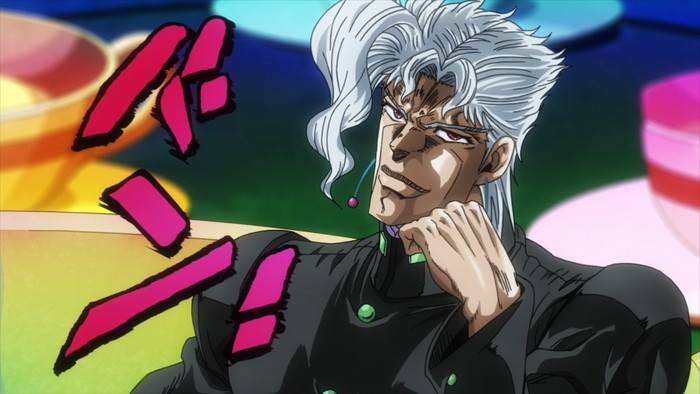 The anime adaptation by David Productions translates this to animation by employing "color shifts" in the opening songs and during dramatic moments of the story. Joseph's default look in part 2 is brown hair with somewhat muted clothing, but in the opening, he's decked out in fantabulous purple to match Araki's portrayal of him on the cover of volume 11. And when Kakyoin finally gains the upper hand against Death 13, he shifts to a chic black and white look that punctuates his victory. On a subtler note, the town of Morioh looks so surreal because of its yellow skies and purple hills, a common choice for volume covers in that era of JoJo illustrations. However, fudging with perspective and human anatomy doesn't tend to mesh well with the rest of the animation, so only a few choice moments like Esidisi's crying fit and Polnareff's gravity-defying pose when he joins Jotaro's group are kept.
Theming with Renaissance Sculptures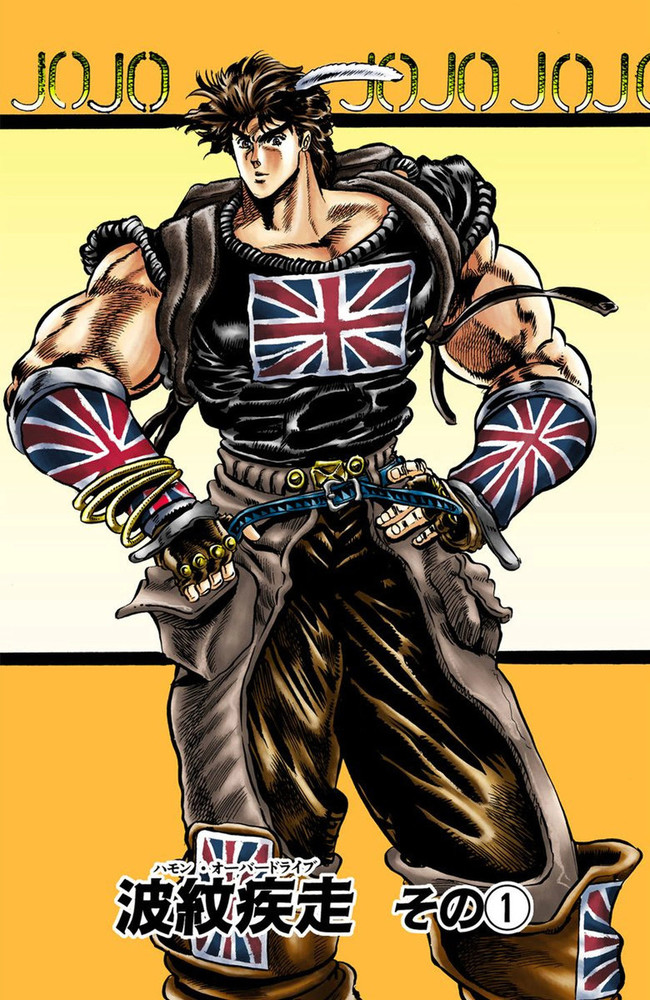 A lot of modern manga protagonists look like they could use a few extra protein bars in their diet, but JoJo characters have always been well built. It doesn't matter if they're 15 years old or female or paraplegic – they're clearly capable of kicking ass even without using their superpowers. The bulkier designs from parts 1-4 were partially influenced by Kenshiro from Fist of the North Star as well as '80s action film heroes like Arnold Schwarzenegger, but the main inspiration for how Araki draws humans comes from classical Renaissance sculpture.
The defined jaws, well-developed muscles, and strong facial features of characters from all eight parts resemble masterpieces from Italian museums – Giorno in particular seems to have been modeled off of Michelangelo's David. Even though Araki's art style has changed drastically over the years, his characters have always looked like they could've been chiseled from marble. And for part 5, which is set in Italy, he goes one step further by using famous sculptures to illustrate the story's main theme.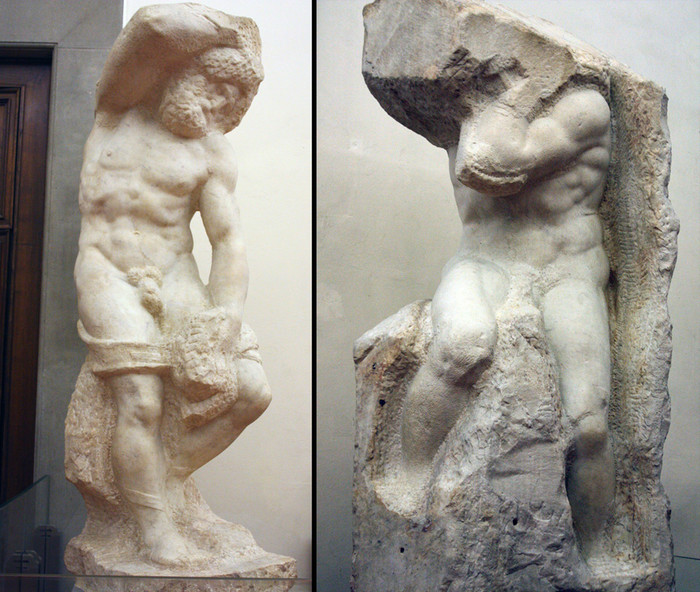 Part 5 is all about fighting against fate – everyone on Bucciarati's team clawed their way out of dark situations that could've defined them for life and Diavolo's ultimate goal is to control fate with his Stand so that he can achieve an everlasting apex of perfection. But there are consequences for toying with such a powerful force, as seen in the "Sleeping Slaves" epilogue arc. It uses Michelangelo's Slave/Prisoner statues for inspiration – these figures are only partially carved out of their stone, appearing as though they're trapped and struggling to free themselves. So in this arc, a Stand called Rolling Stones forms itself into a sculpture of someone who is fated to die. The team retaliates against it when it morphs into one of their members, but they only end up dragging more people down with them in the end. People can change fate, but just like the slave statues, they'll never be completely free.
A Passion for Fashion
If there's one aspect of JoJo's Bizarre Adventure that every anime fan knows (besides "to be continued" and "Kono Dio da!"), it's the fabulous poses that characters strike when the situation calls for a little extra drama. Jotaro's intimidating turn and point, Killer Queen's crossed arms, and Dio's back-bending "Wrrryyyy!" have all become such staples of pop culture that fan-organized "posing school" meetups in Japan drew hundreds of participants in 2003. The gatherings would've continued, but the turnout became so overwhelming that they had to shut down for safety reasons.
JoJo poses, along with the characters' daring outfits, are so enchanting because they bring together the disparate worlds of shounen manga and high fashion in a way that nobody has ever seen before. Along with his passion for art, Araki has a deep love for the fashion industry. He lists Christian Dior and Gianni Versace among his heroes, and many of his most iconic manga panels are homages to the works of legendary '80s fashion illustrators.
For example, Hermit Purple's photograph of Dio showing off his Joestar birthmark is based on a 1985 illustration of a female model by Tony Viramontes. The same artist also inspired Kars' Switzerland outfit, Kira's black-and-white hairstyle, and even Jonathan's splayed hand pose. Viramontes' loose line work and vibrant color choices bring to mind Araki's more fluid art style for parts 1 and 2, while the models' exaggerated facial expressions resemble those of Johnny and Gyro from part 7.
Antonio Lopez is another of Araki's heroes – his designs are often covered in detailed patterns and loads of jewelry, which made their way into JoJo as the golden badges Jotaro and Josuke wear in part 4 and the incomparably flashy suits from part 5. We also have Lopez's influence to thank for that delightful chapter cover where Joseph and Caesar press their faces together and glare at the viewer for judging them.
Bizarre Collaborations with the Greats
Naturally, Araki's love of art and fashion has led him into several collaborations with high-profile brands and publications (being one of the most beloved mangaka in the world also probably helps). Perhaps the most prestigious of these was in 2009, when he was featured in an exhibition for comic artists at the Louvre in France. He previewed a special one-shot about Rohan visiting the museum and solving a mystery about a cursed painting, which was released in full the next year.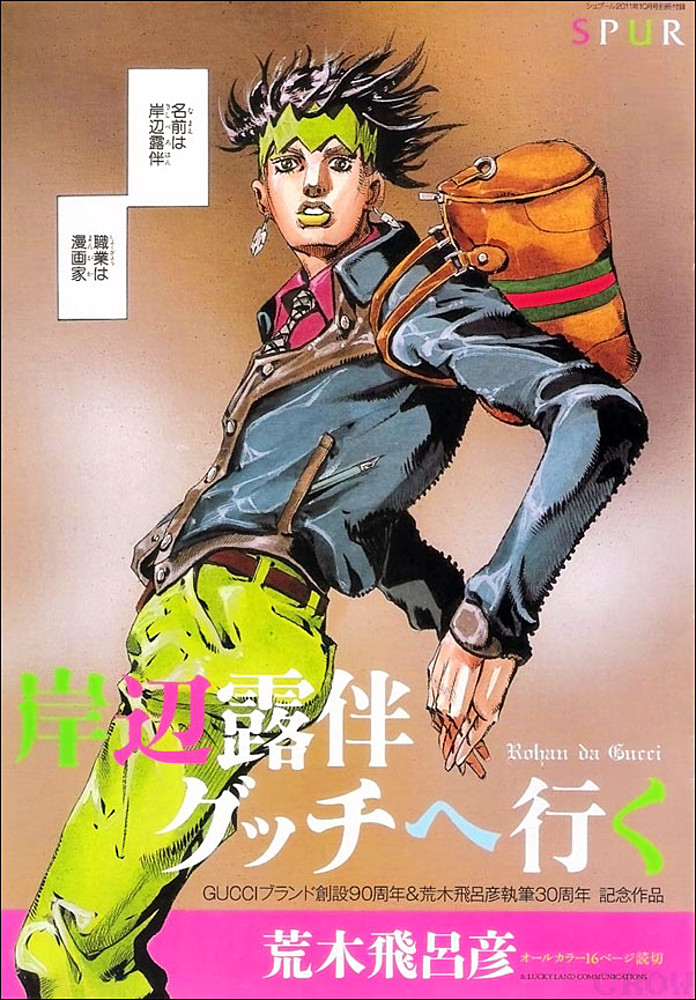 He has also collaborated with Gucci and the Japanese fashion magazine Spur for two one-shot comics – one about Rohan investigating a Stand that takes the form of a Gucci bag, and the other about Jolyne and several part 5 characters meeting a unicorn. To go along with the second comic, Jolyne's floral-patterned outfits were manufactured and sold in Gucci stores for a limited time.
Other clothing and jewelry companies like Glamb, Jam Home Made, and Vans have worked with Araki to create high-end JoJo merchandise. For the debut of the part 5 anime, Bandai Fashion Collection released a Gold Experience ladybug ring, a Sticky Fingers zipper bolo tie, Giorno and Bruno-themed sneakers, and other tantalizing accessories that will make you curse the exorbitant cost of international shipping. Sometimes an anime franchise will be lucky to have a few figurines and t-shirts for sale, but thanks to Araki's many joint projects with his inspirations, the JoJo fandom has its choice of capsule collections from some of the biggest brands in Japan and Europe.
JoJo's Bizarre Adventure was conjured out of a melting pot of highly unusual ingredients – Renaissance art and sculpture, '80s fashion, horror novels, Western rock music, and just a pinch of classic '60s and '70s manga to pay homage to Araki's forefathers. Who knew that such opposites as Michelangelo's slave statues and Tony Viramontes' illustrations for Nina Ricci could work together to inspire such a juggernaut of Japanese pop culture? We're still not exactly sure how Araki made it work, but we're forever grateful for the wonderful and deranged series he's given us.
Sours: https://www.animenewsnetwork.com/feature/2019-07-31/celebrating-the-art-and-fashion-of-jojo-bizarre-adventure/.149560
My Jojo pose Compilation - JAYTSTYLE☆
Why Fashion Is Essential to the Universe of 'Jojo's Bizarre Adventure'
By Sebastian Stoddard
ShareTweetEmail
Thigh high boots, gakurans, and lace tops, oh my!
Have you ever looked at the clothes an anime character was wearing and thought: "Wow, that has to be from Jojo's Bizarre Adventure"? It's not surprising if you have. Jojo, as a series, prides itself on being larger than life in every aspect, and that definitely includes fashion. Every chapter and character has a distinct style, and these styles are important to the worldbuilding of the series. They set the time period and location, of course, but they also help the audience understand some fundamental aspects of the characters, and how they express themselves. It's also a way to slip in references not only from other parts of the series, but from outside influences that inspired it.
As with any series, Jojo's Bizarre Adventure uses fashion to set the scene. Each Part of Jojo takes place in a different era, and thus, the style varies greatly. "Phantom Blood" takes place in late 1800s London and puts the characters in typical garb for the period: long-sleeved shirts, tunics, vests, and bowties. This style also reflects Jonathan's - and by extension, Dio's - upper class background. Some of his ensembles begin to take on a less historical look, such as his outfit during his fight with Tarkus (which became one of his most recognizable outfits), but they still keep some element of the period style. Similarly, "Battle Tendency" draws some inspiration from the fashion of the late 1930s. "Stardust Crusaders" begins to turn the fashion focus more towards location, which is fitting given that this is also the point when the series relocates to Japan and moves away from Hamon and towards Stands. For example, both Jotaro and Kakyoin wear some variation of a Japanese gakuran and Avdol wears clothes inspired by Egyptian style, such as the galabeya. This continues in "Diamond is Unbreakable," where the main cast all wear modified Japanese school uniforms. We see another stylistic shift in "Vento Aureo" and "Stone Ocean," where the fashion becomes full of bright colors, patterns, and cutouts.
RELATED: 'JoJo's Bizarre Adventure: Stone Ocean' Trailer Reveals Netflix Release Date Worldwide
It's clear that in this sense, the fashion of Jojo steers the story. It marks pivotal moments in the series, such as the move from Western settings to Eastern settings and the change in focus from Hamon to Stands. It also demonstrates where the time period is important (Parts 1 and 2), and where location tends to be more important (Parts 3 and 4). Lastly, it marks where the series began taking place in the future (Parts 5 and 6) by using more outlandish fashion. These changes are an interesting way of marking major events, while also setting the tone for each Part. This is why it's usually pretty easy to tell which Part of Jojo a character is from.
However, just like in the real world, fashion in Jojo also serves as a means of expression for the characters. Their outfits reflect the type of person they are and often represent their journey throughout the series. A good example of this is Joseph's fashion evolution. We first see him in an outfit that reflects his energetic nature. It's easy to move in, customizable, and shows his midriff. It's all about the youthful pride and excitement he brings to every situation. After Caesar's death, Joseph begins to wear the headband given to him by Caesar. In "Stardust Crusaders," he switches to a style that covers him up more, but still keeps his adventurous spirit. Even in "Diamond is Unbreakable," he still continues to wear a variation of the outfit from part three, but with a hat and coat added for warmth. Each stage of his life is marked by a specific outfit, but they all stay true to Joseph's fundamental style. It's his age that's displayed in the changes.
Jotaro is another good example of this journey being displayed through fashion. His iconic look is his first one, a modified gakuran with a long gold chain and triangle patterned belts. It fits him perfectly throughout "Stardust Crusaders" as it presents him on the surface as a delinquent. However, his dedication to wearing the school uniform, even if it is worn improperly, and his care in upkeeping his expensive pants is a small way of depicting the other parts of his personality that are often overshadowed by his seemingly rough, emotionless demeanor: loyalty, intelligence, and gentleness. It's easy to get lost in the coolness of this outfit, which is part of the appeal of it. It tricks the audience the way Jotaro tricks people into believing he's always calm and collected. "Diamond is Unbreakable" shows this softer side of Jotaro. He wears white instead of black, has more colorful accent pieces, and the accessories on his jacket are hearts and dolphins, much more approachable than his previous chain. This signifies a shift from his demeanor in Part 3 to Part 4, when he has settled down and carved a place for himself in the field of marine biology. However, in "Stone Ocean," there is another shift back to a color scheme similar to "Stardust Crusaders," as we see Jotaro struggle with his relationship with Jolyne and his health. For Jotaro, fashion is a way of conveying his feelings and interests in a way his expressions can't.
Of course, these examples work well because Joseph and Jotaro have been in multiple Parts of the series. Their style has had plenty of time to evolve, and their character development has been able to see many ups and downs that could be displayed through clothing choices. However, the reflection of character development isn't the only important means of expression in terms of fashion in Jojo. Fashion plays an interesting role in how masculinity is expressed throughout the series.
Most of the protagonists and allies of Jojo have been male. However, none of them are confined to typical gender expression in terms of clothes. Many male characters wear bright colors, crop tops, skirts, and makeup. Their clothes are form-fitting and revealing. There's many examples of this, such as Bucciarati, who wears a two-piece suit with a low cut neckline that shows off a lacy shirt underneath. Abbacchio is another, with his signature lipstick and lace-up top. However, Anasui in "Stone Ocean" is probably the best example of this unconventional display of masculinity. He's depicted in a tight mesh top, skirt, and thigh high boots, with bright pink lipstick. It's interesting to see these fashion choices in a series that's full of action and hulking, badass guys, and it says something about the way masculinity is viewed in the series. No one bats an eye at the clothes these men wear, which means that within the universe of Jojo it's viewed as completely normal.
There's no gender-typical style of dress within the series, and this is an important point the fashion of Jojo makes. Masculinity and femininity are easily combined in the style of the characters and represents freedom of expression. The fashion of the series is about being grand and expressing individuality and personality, and it does that so well because it doesn't force characters to present in traditionally masculine or feminine ways. There's also something to be said about the way the series doesn't shy away from dressing male characters in the same way as female characters. Men in the series have clothes that reveal their chests and cling to their bodies, as women often do in anime. It's refreshing to see the male characters and the female characters have similar designs in terms of fashion and for it to be seen as something normal and common within the universe of the series.
Lastly, the series inspired an enduring meme based on the idea that everything is a Jojo reference. The series itself, though, is also full of references, and many of them are found in the fashion of the characters. For example, Jonathan's iconic look is based on the outfit of Fist of the North Star's Kenshiro, who was generally a huge inspiration for Jonathan's design. Jotaro's Part 3 outfit is based on that of Babel II's Koichi and alludes to the desert journey of "Stardust Crusaders." Joseph's Part 3 outfit was inspired by Indiana Jones, Giorno's outfit was based on a Prince costume... there's many more examples. Suffice it to say that many of the outfits the characters wear were influenced by musical artists, movies, manga and anime, and real world fashion.
There was a lot of attention and care put into the clothing of Jojo's Bizarre Adventure. Beyond just looking really cool, the fashion in Jojo is used as a way to showcase character development and personality and steer the story. It marks pivotal plot points, such as changes in location and the switch from using Hamon to using Stands, and it sets the time period and location of each part. It's also used as a means of expression for the characters. Fashion is used to show the journeys of certain characters, such as Joseph, Jotaro, and Abbacchio, but it's also a way to show the unconventional masculinity of the series and how male characters are treated no differently from female characters in terms of the clothing they wear. The way the series uses fashion is fantastic, and its wild looks are fun, interesting, and absolutely iconic. They're definitely worth a second glance in order to truly understand how essential they are to the universe of Jojo's Bizarre Adventure.
KEEP READING: Best Animated TV Series on Netflix Right Now
ShareTweetEmail
'Halloween Kills' Ending Explained: What Happened, What It Means, and Who's Still Alive for 'Halloween Ends'
Is [SPOILER] really dead? Let's investigate.
Read Next
About The Author
Sebastian Stoddard (16 Articles Published)
Sebastian Stoddard is an Anime Features writer for Collider. He also writes video game reviews for Popzara, where he enjoys being able to try out tons of great (and not so great) titles. When he's not writing (which isn't often), he can be found playing D&D, reading and researching, making and taking quizzes online, and watching documentaries about whales and dolphins. He also may or may not be thirty tarantulas disguised as a human boy...but that's classified information.
More From Sebastian Stoddard
Sours: https://collider.com/jojos-bizarre-adventure-fashion/
Inspiration jjba fashion
Jojo's Bizarre Adventure: An Intersection Between Manga and High Fashion
Hirohiko Araki, mangaka (the Japanese word for author and illustrator of a manga) for "Jojo's Bizarre Adventure," is a man with a very distinct sense of style, especially amongst other mangakas––a sense of style that has even been recognized by the likes of Gucci. Having been a mangaka for over 40 years, he is truly an expert on how to craft a story and create a franchise. The "Jojo's Bizarre Adventure" franchise has found great success ever since its first release back in 1987. The story follows the Jojo family as they embark on a very prideful and just fight against evil actions of the main antagonist Dio Brando.
The characters that populate his stories are instantly recognizable and irreplaceable, and this is a product of his very distinct sources of inspiration. If you were to run into Araki as he was on his way to his studio in Japan, you would see him carrying large books filled with pictures of Greek and Roman statues, along with several issues of fashion magazines such as Vogue and Harper's Bazaar. Araki's characters are flamboyant, luxurious and beautiful, and that is clear to see from his artistic process. Similarly, if you followed Araki to his studio and stood behind him as he got ready to commence with his illustration, you'd see him constantly flip through the Greek statues in order to reproduce their perfect proportions. Following this, he would then look to the fashion magazines for inspiration on how to pose his characters. The characters have very clearly marked cheekbones, strong jaws, seemingly ideal body and face proportions and facial structures. They seem to be ridiculously muscular, but throughout the issues Araki explores thinner body types for men, just like you would see on the cover of a magazine.
This gives the manga a very unique look that was certainly translated into its anime adaptation. The eccentric style of the anime has propelled it into the mainstream over the past few years, and as a result, more people have been exposed to and have indulged in Hirohiko Araki's distinct tastes.
Frida Giannini, the creative director of Gucci, was inspired to reach out to Araki in 2013 because of his character's glamorous poses and mold-breaking fashion. This collaboration was displayed worldwide at more than 80 Gucci locations.
Though it is certainly incredible to see the art style on Gucci storefronts worldwide, I must say that the actual men's clothing line does not scream "Jojo's Bizarre Adventure" as much as I'd hoped when I heard about it. The designs, though certainly Gucci-worthy, are still pretty tame for what you would expect by looking at the characters in the manga. The women's line, however, does lend itself more to Jojo's style, featuring dresses and coats with striking and intricate floral patterns, while the men's line has some, but mostly on the inside of jackets, while the outside is a solid, safe navy.
Regardless, Araki's work is certainly inspiring, and watching him valiantly string all his passions together and, subsequently, give people something they did not know they wanted is very satisfying. Watching the man at work will definitely reawaken your creative itch.
Fashion, EntertainmentNicolas Gonzalez
Sours: http://www.stitchfashion.com/home//jojos-bizarre-adventure-an-intersection-between-manga-and-high-fashion
JoJo Can Teach Weebs about Fashion
JoJo's Bizarre Adventure Comes to Life in High-Fashion Photoshoot
JoJo's Bizarre Adventure is one of the biggest series in anime these days, and it is enjoying the clout. After living in the shadows for some years, the underrated hit flew into the public eye several years ago, and its popularity has only rocketed since. Now, it seems some of the most popular characters in JoJo are being honored, and it comes at the hands of high fashion.
The update comes from Reddit user JoJosapiens as they posted photos from a recent project done overseas. If you did not know, a Japanese stylist did a look book entirely inspired by JoJo. Harada Tadashi paired some high-brow clothes with their signature hair and makeup to create the shoots. And as you can see below, they are pretty fantastic.
From Josuke to Mista and Rohan, a slew of major characters can be found in this book. Tadashi brings avant-garde to life in the best way with their outfits, and it would make Hirohiko Araki beam with pride. After all, the creator of JoJo is a fashion connoisseur himself, so this would surely get his seal of approval.
As you can imagine, fans of JoJo are also loving the project, and it looks like Tadashi really put time into each design. From a character's braids to their heels or lapel stitches, the whole thing combines to bring JoJo to life, and it outdoes the anime's actual live-action movie in several ways.
Clearly, the high-fashion tribute is perfect for JoJo, and fans hope to see more of this. After all, an actual JoJo fashion line is long overdue. Plenty of luxury brands could lean on the anime for inspiration if they gave it a shot. So if you thought Coach's deal with Naruto was luxe, well - just wait until JoJo meets the minds at Balenciaga.
0comments
What do you think of this high-fashion take on JoJo? Which other Joestar leads need to join this project? Share your thoughts with us in the comments section below or hit me up on Twitter @MeganPetersCB.
Sours: https://comicbook.com/anime/news/jojo-bizarre-adventure-anime-photoshoot-model/
Now discussing:
.
396
397
398
399
400