If you love bold colors and rustic furnishings in your kitchen, then you should definitely consider a Mexican style interior design to bring a distinctive character to your kitchen. By using decorative and colorful detailing in your kitchen, you'll give your entire home a new lease of life. Here are 13 inexpensive Mexican style kitchen ideas that will spice up your cooking area and turn your interiors into a focal point. 
1. Add Decorative Tiles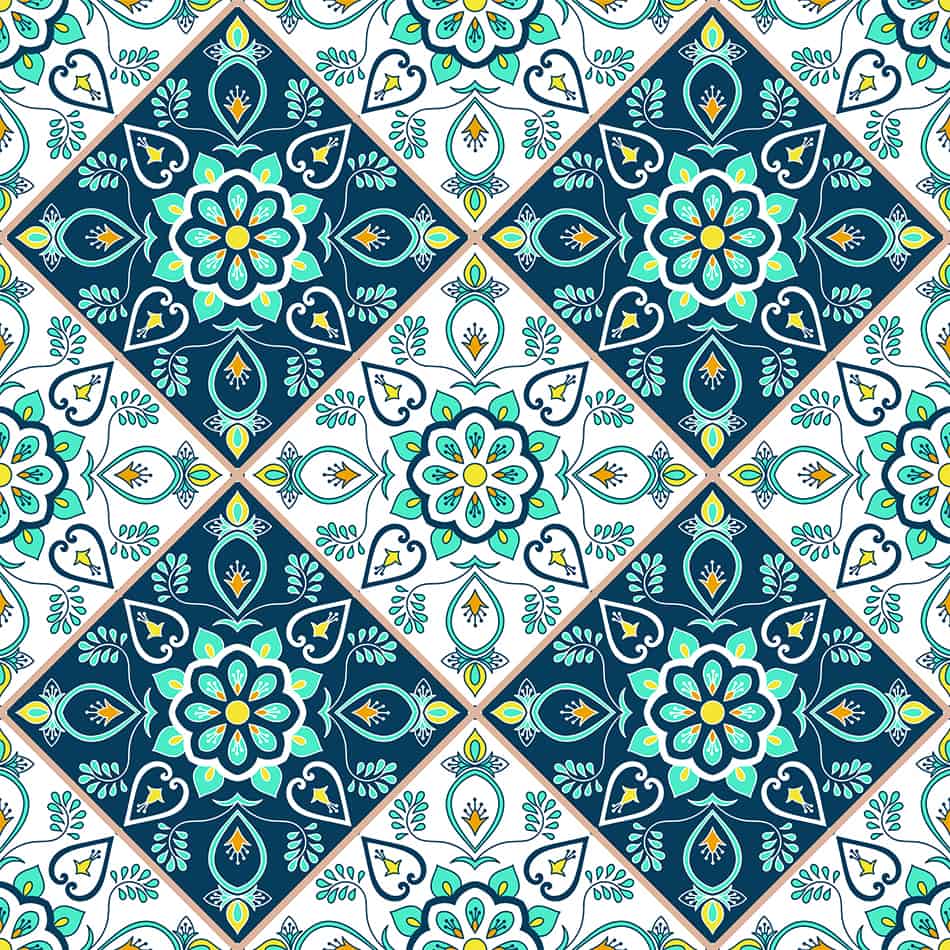 Adding colorful and decorative tiles to your kitchen is one of the simplest ways to visually enhance the look of this room using a Mexican style theme. Decorative tiles around the sink area and the worktop surfaces provide a Native American feel to even the most plain looking kitchen spaces. The key is to choose rustic tiles with Mexican motifs. You can also mix decorative tiles with bold colors above your worktops to enhance the visual interest. As an example, take a look at this floral patterned tile texture that's inspired by Mexican and Spanish motif. These tiles can be used on splash backs, flooring, and even the ceiling.  
2. Paint Your Walls a Vibrant Color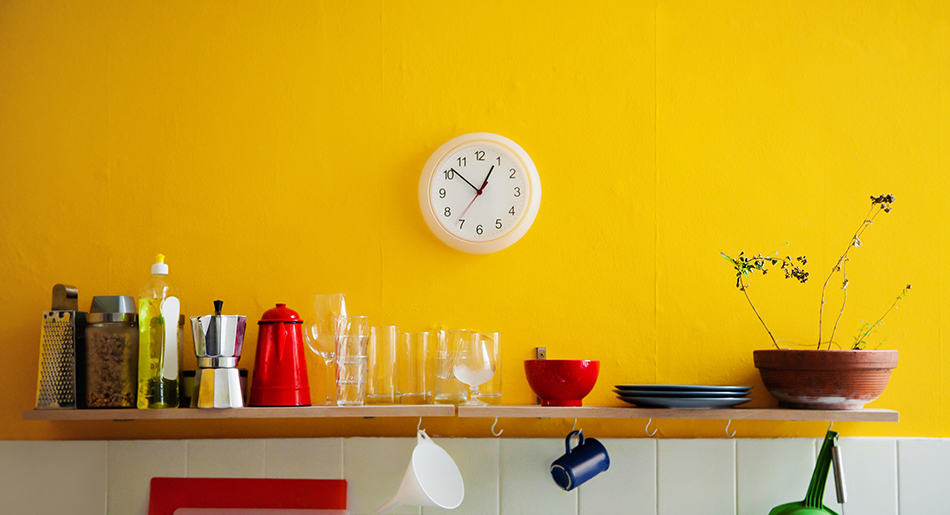 Bold colors and textures on the walls are key when it comes to decorating your kitchen in a Mexican theme. Always choose dramatic and vibrant tones to reflect the lively culture of Mexico. Vividly bold colors, such as deep yellow walls, with red, blue, and other loud hues for accessories, add a distinctive flair to your Mexican themed kitchen.
Just like you can see in this image, the wall of the kitchen is painted in deep yellow, which serves as a backdrop for the Mexican inspired kitchen. But if yellow is too much for you, opt for a warmer earthy tone like sand. To add a little authenticity to the walls, use a stucco technique when painting them with a vibrant color.
3. Hang Lots of Mexican Wall Art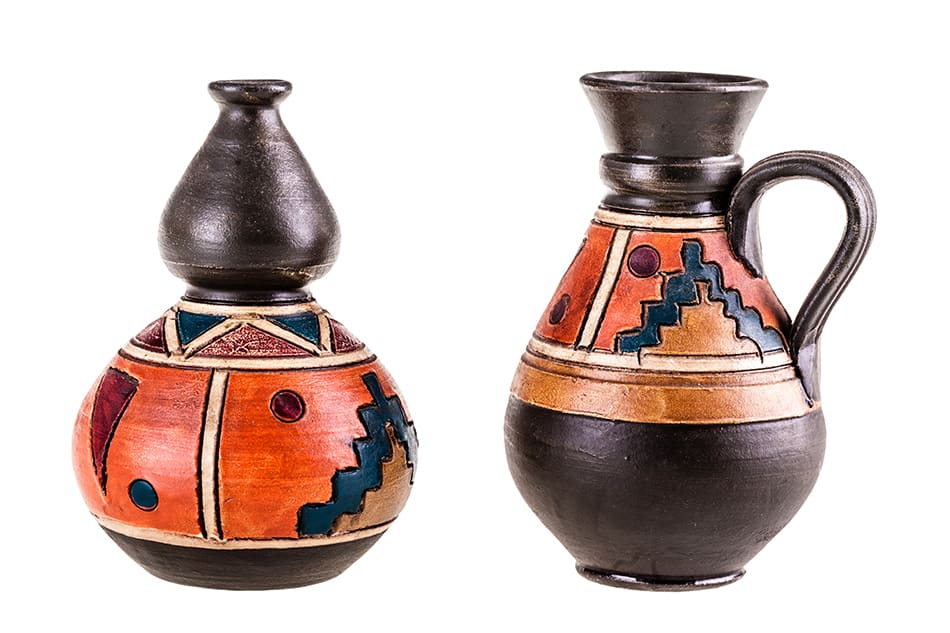 Mexican handcrafts are the crucial elements of a Native American style kitchen. You can use any traditional adornment, from ceramic pots (see image) and geometric motifs to miniatures and Mexican straw hats. The key is to make your kitchen wall a gallery of Mexican artwork. Painted ceramic plates hung above the stove or the window are naturally inspired motifs. Another example is clay jars or clay dolls placed on the shelves and countertops. Walls are a great place to highlight your traditional Mexican artwork so any adornment made of copper, ceramic, or tin will suffice.
4. Don't Forget the Talavera Pottery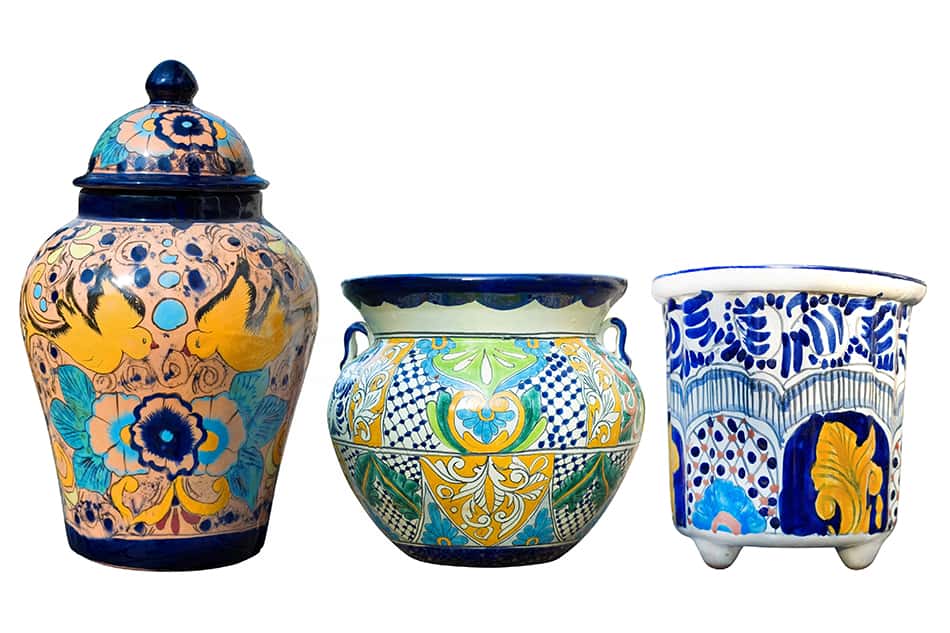 Talavera pottery is an authentic symbol of Mexico. This 15th century pottery is made in Puebla using the highest quality clay. You can also find Talavera tiles with the same intricate artwork and color designs. Most Talavera pottery designs reflect Mexico's flora and fauna as shown in this image. Other types of Talavera pottery you can find in Mexican kitchens include trays, plates, wall art, and decorative tiles.   
To find Talavera pots for your kitchen, look in local pottery stores and handcraft sellers. Most flea markets and vintage Mexican suppliers also sell Talavera pottery and tiles for low prices so you can easily showcase your Mexican themed kitchen using these symbolic accessories.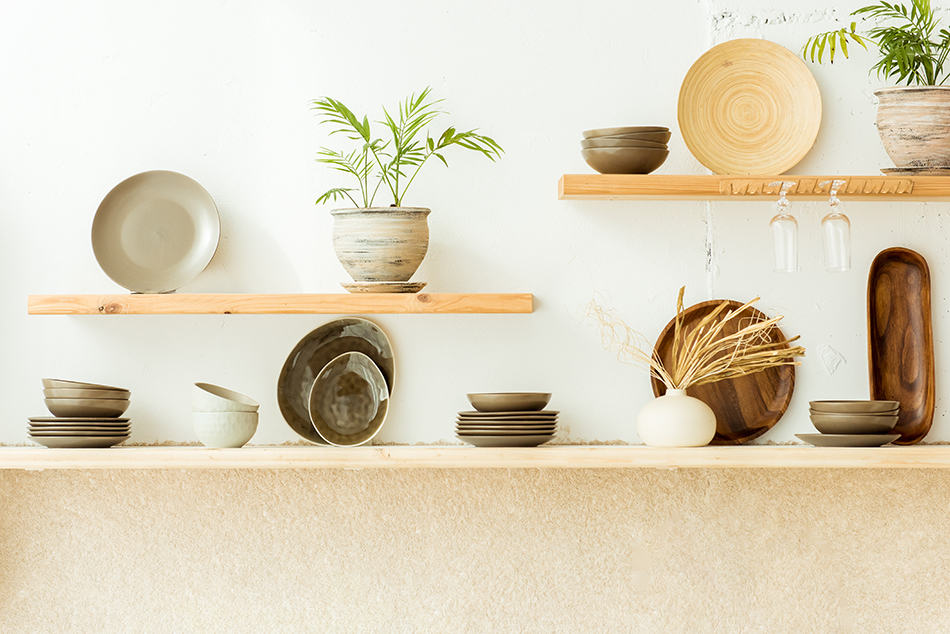 Now that you've collected your traditional Mexican ceramics and pottery, where better to show them off than on the open shelves of your kitchen. Lose the cabinet doors that will only make your kitchen darker and cramped and consider open shelving to have everything at your disposal. The advantage of open shelves is their versatility as you can arrange your plates, cups, and adornments however you like on these shelves.
Even if you don't want to show off your collection of Mexican items, you can always hang some woven baskets and place your cups, plates, and other paraphernalia in a stacked arrangement. The idea is to draw the eye to your rustic Mexican art collection by blending textures and shapes. If you don't have open shelves already or the space to install them on the wall, simply remove the upper cabinet doors or add some small corner shelves.   
6. Say it with Fabric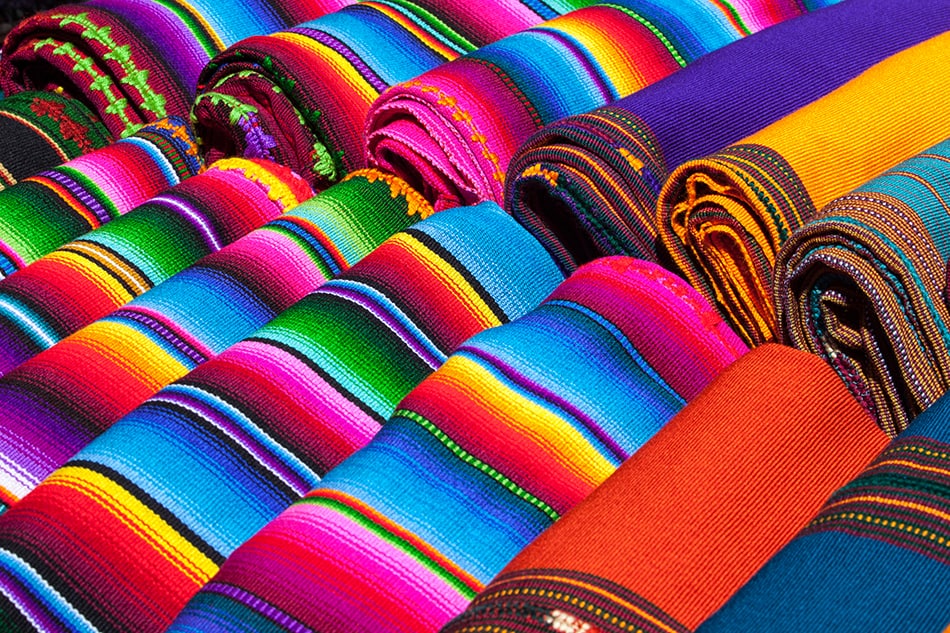 Colorful rugs and blankets hung on the wall or laid on the table will transform your kitchen. And the best thing is you don't need to spend a fortune on these fabrics. Wools, bamboo, or quality cotton fabrics make ideal window curtains, placemats, tablecloths, or rugs. You can mix bold stripes with medium-sized prints. Just remember to use rich colors like red, blue, orange, yellow, and green to accent your kitchen. Typical Mexican fabrics consist of decorative woven textures in primitive patterns and prints, which you can find online or in local flea markets.  
7. Bring your Garden to the Kitchen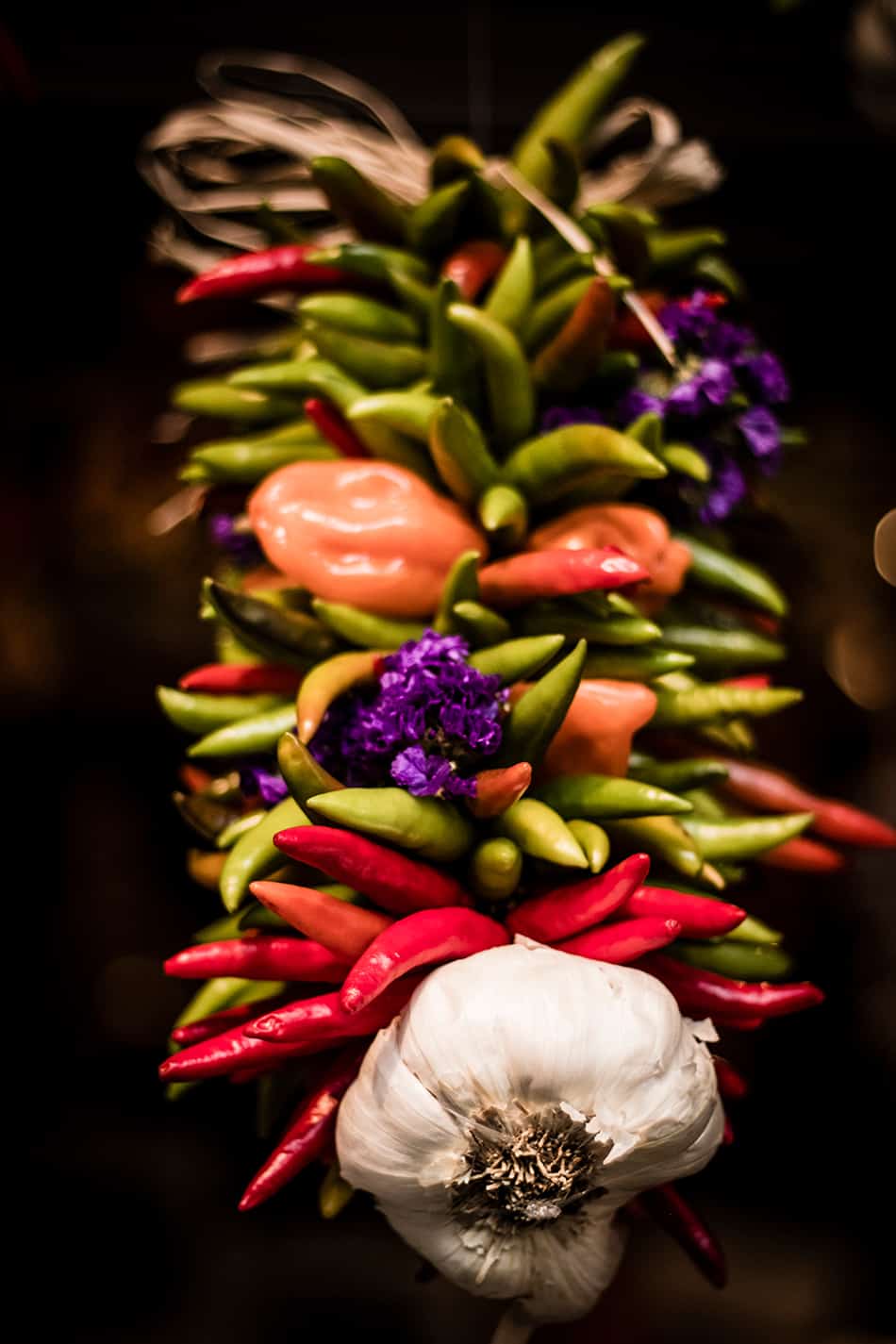 A Mexican kitchen is always full of nature with bowls of fruit, vegetables, exotic plants, and of course, chili peppers! A wreath or string of dried garlic and peppers is a perfect addition to your Mexican decor, plus you can add tomatoes and any other vegetable you like to a ceramic or clay bowl. Most Mexican kitchens have a display of braided corn, garlic, or grains that add aroma and texture to the space.
8. Motif Flooring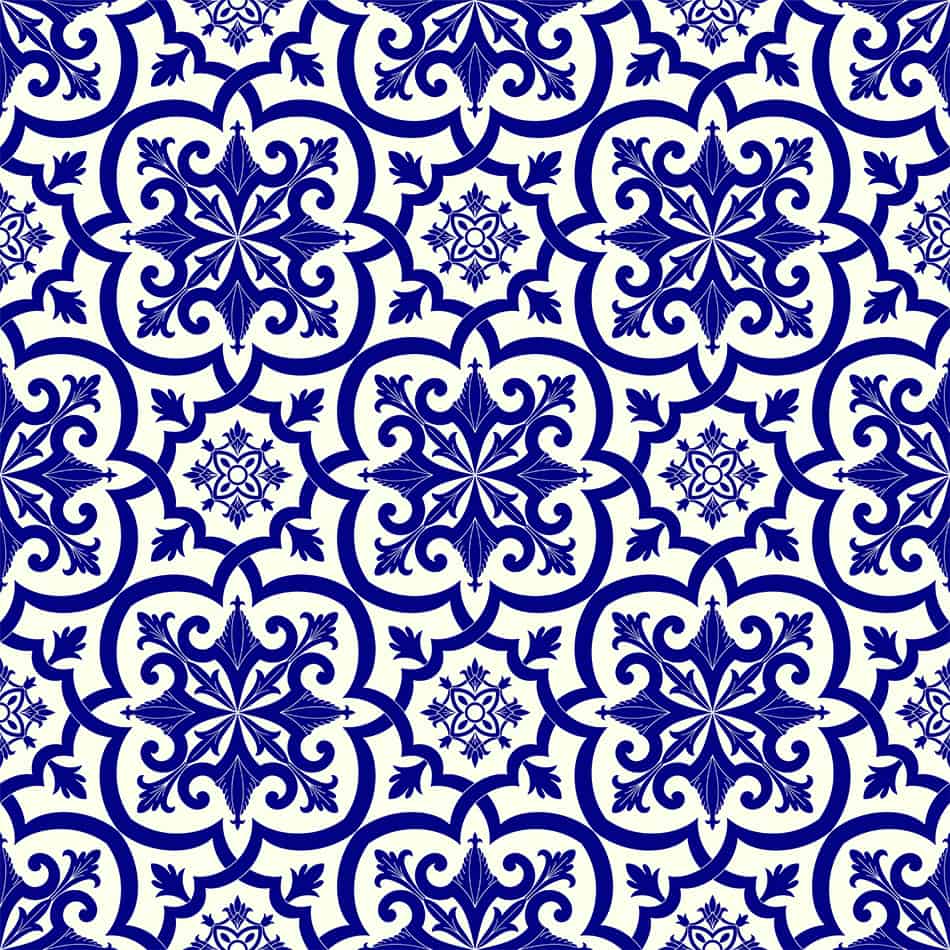 We've already mentioned wall tiles earlier, but let's not forget to follow the same motif with the floor tiles by going for a bold design. Blue on white, for example, works particularly well for a traditional Mexican themed kitchen floor. If you don't have the budget to replace your existing tiles for a Mexican themed one, consider adding these motif tiles to the middle part of the floor only.
Some excellent and authentic Mexican floor tiles include Tierra Art tiles that are especially colorful. These are non-slip and can be customized to fit your needs. Another variety is cement tiles that are highly durable and have been around for centuries. Mexican tiles have a unique aesthetic that not only suit rustic kitchens, they can also be used in contemporary floor designs.  
9. Multi-colored Worktops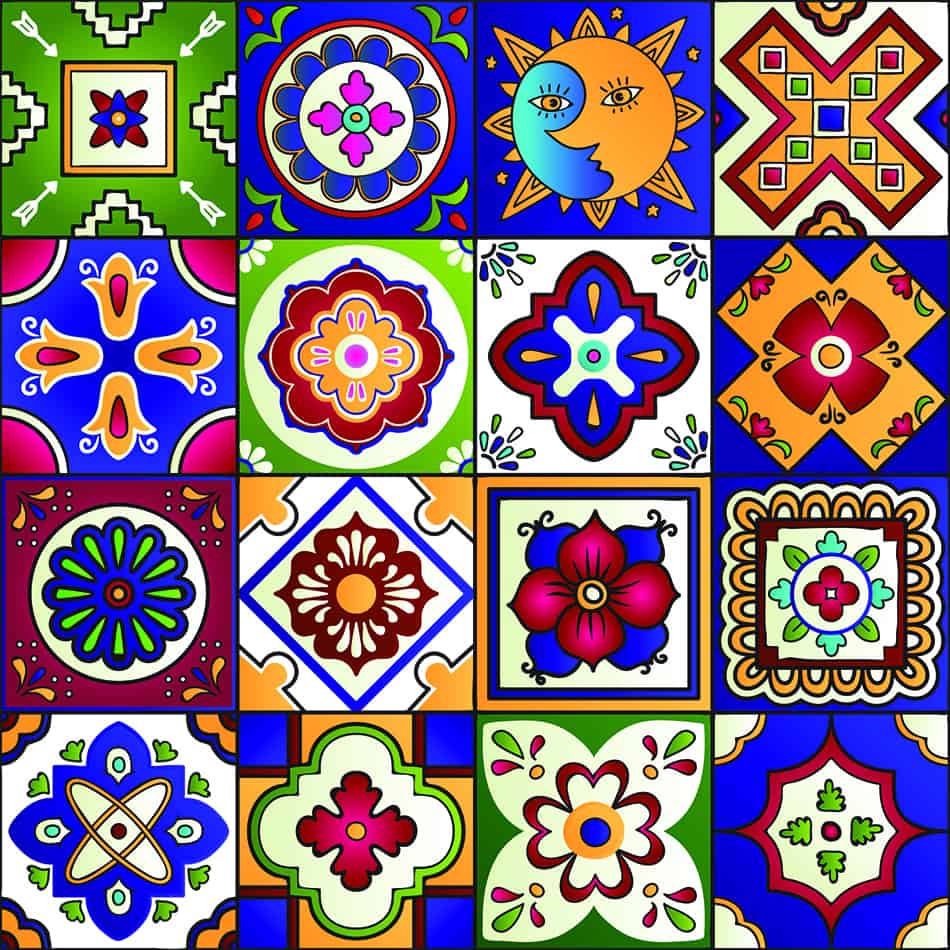 While granite and marble are the most obvious and popular choice for countertops, multi-colored Talavera tiles make a better alternative to achieve the perfect Mexican themed kitchen. A countertop with multi-colored Talavera tiles can be stunning and bring an artful look to the kitchen. To complete the theme, why not place some wooden spoons, planters, and ceramic vessels on these authentic countertops. 
10. Copper Sink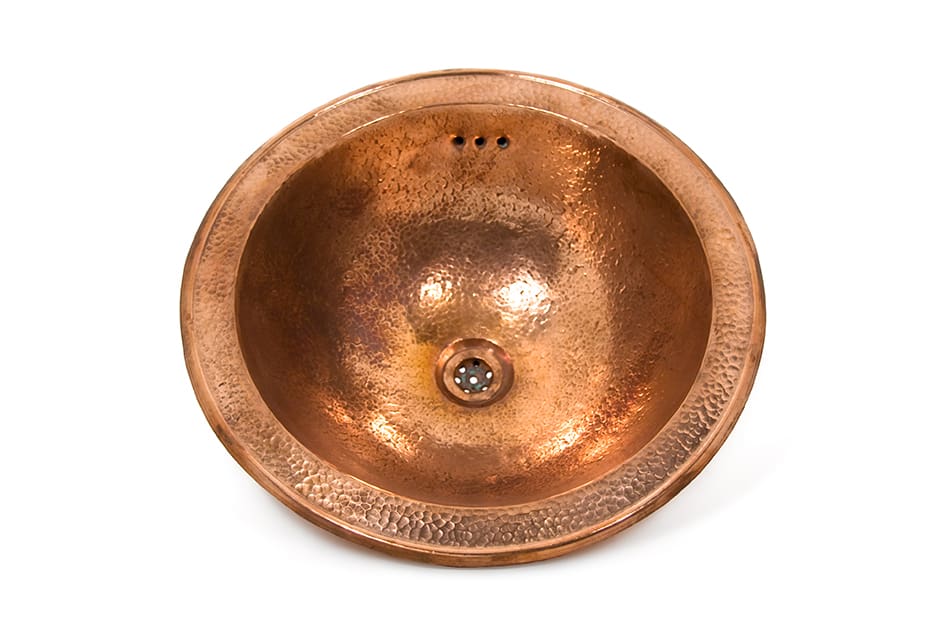 Changing your existing kitchen sink to a hammered copper design will offer many benefits. Installing a copper sink will enhance the natural beauty of your kitchen plus this material is antimicrobial, which means bacteria won't survive on surfaces for long. In fact, according to the EPA, copper sinks are much more hygienic than porcelain or stainless steel sinks. These elegant kitchen accessories suit both rustic and modern kitchens by giving the space a warm look. You can further enhance your Mexican decor by placing a copper hood above the stove to match the hammered copper sink.  
11. Exposed Wooden Beamed Ceiling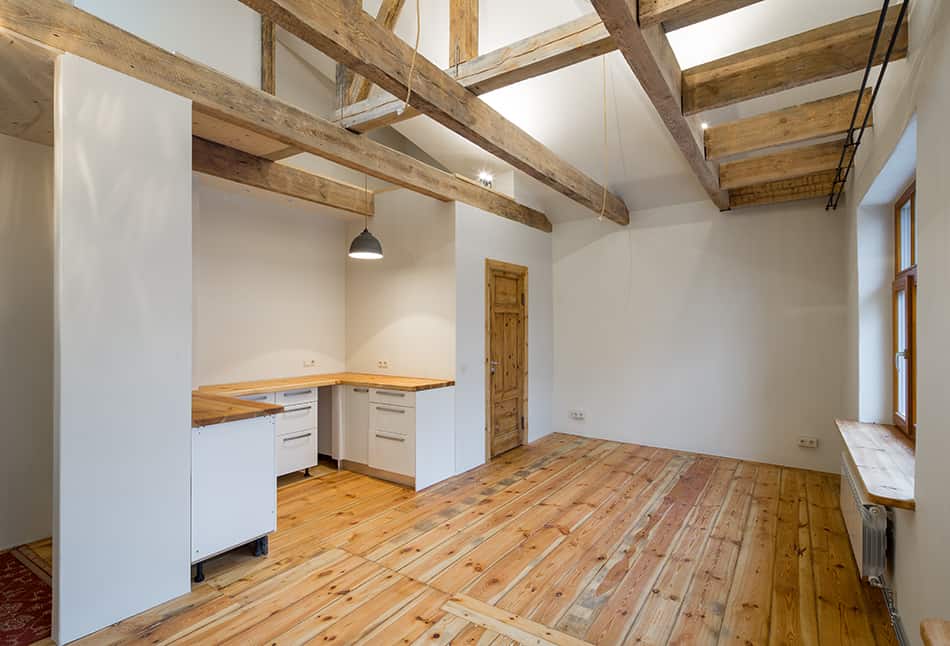 Most authentic Mexican kitchens have high wooden beamed ceilings. But if yours doesn't, don't worry as you can always mimic the look by adding some wooden beams to the white ceiling. Alternatively, you can opt for ceiling tiles using terracotta. Either way, your kitchen will look warmer and rustic using exposed wooden beams or Mexican tiles. Just make sure you use a professional to do this for you. 
12. Mexican-style Furniture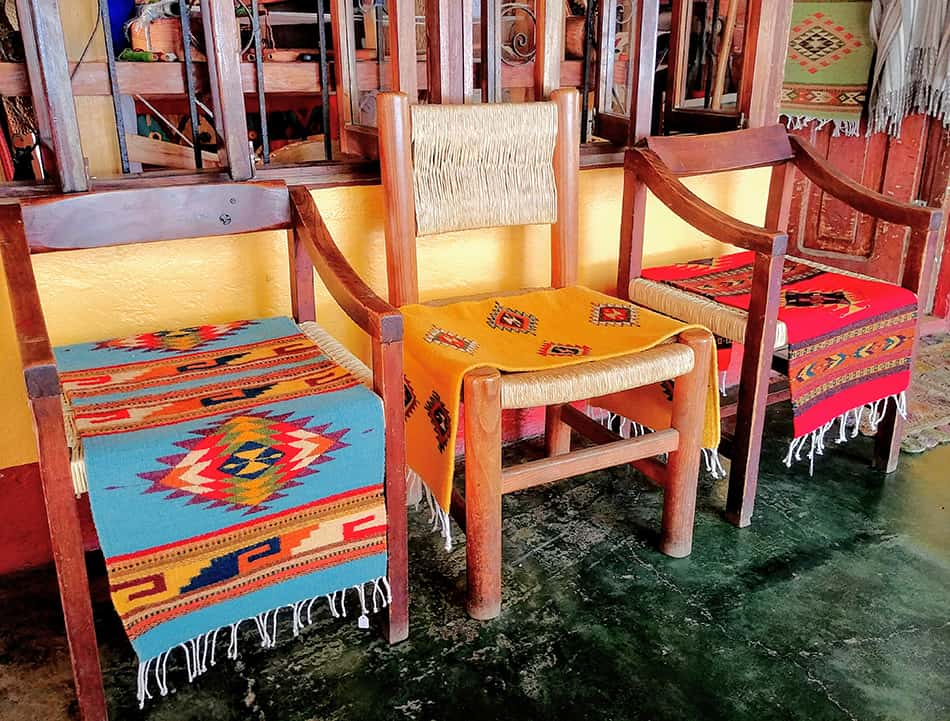 Mexican style furniture has a very authentic and rustic appearance. It is mostly made from pine, mesquite, or wrought iron. Old wood honey colored tables and chairs are typically seen in Mexican kitchens and they serve as a focal point. If you have old wooden chairs and tables lying around your home, give them a distressed look by staining them in rich, copper tones. Alternatively, you can find such furniture in second-hand stores or flea markets. You can create an excellent eye-catching feature out of your old wooden table and chairs by covering them with Mexican hand woven textiles.  
13. Authentic Decoration Items to Complete the Mexican Theme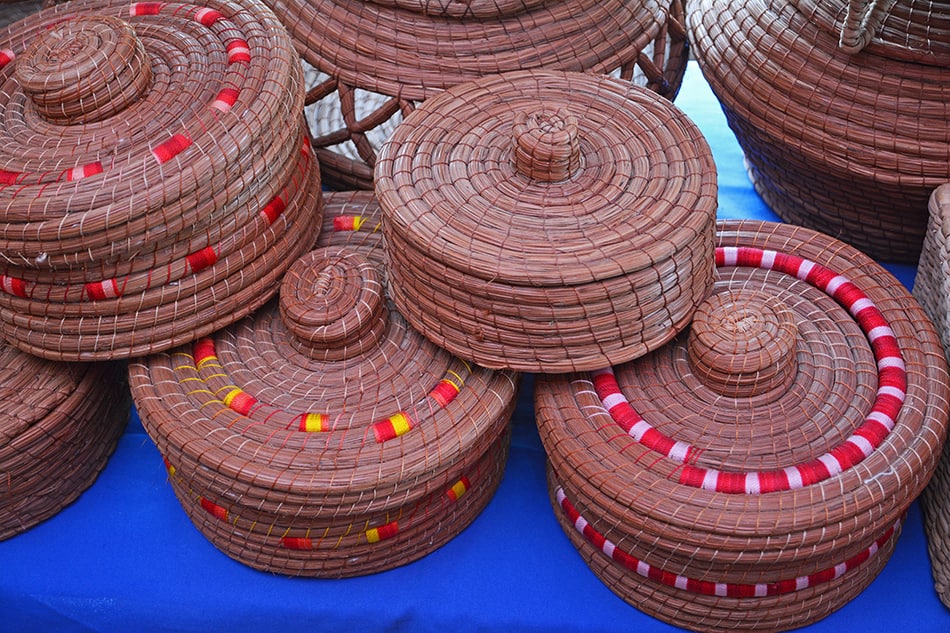 And finally, some other elements you can use to decorate your Mexican themed kitchen include hand-woven baskets (see image), terra cotta pots with geometric patterns, wooden candle holders, open cupboards, ceramic figurines, and Mexican copper plates or cups. As you can see, your options on how to decorate your kitchen in Mexican style are wide and varied.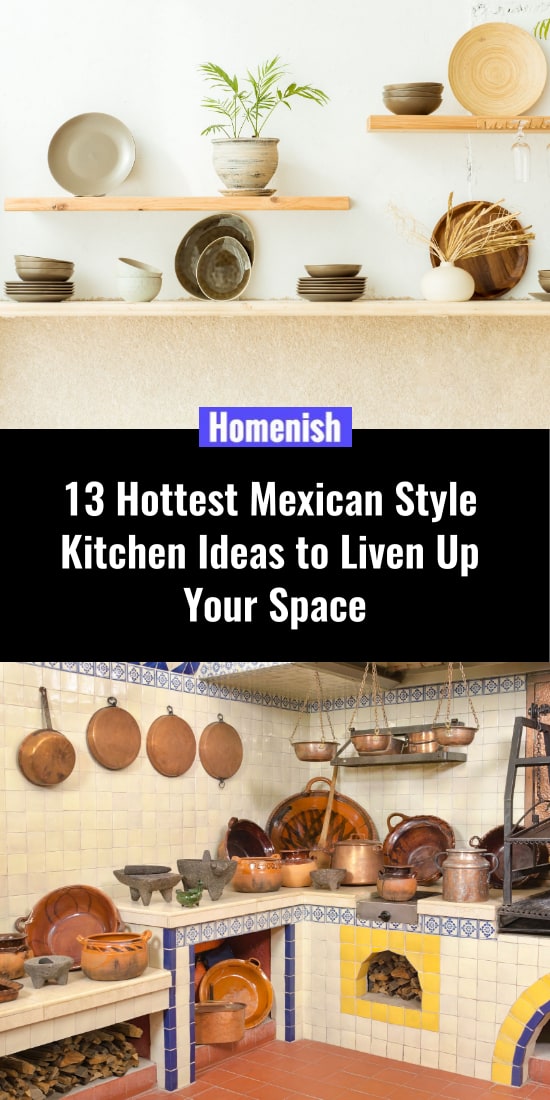 Sours: https://www.homenish.com/mexican-style-kitchen/
Mexican-Style Kitchen
Bright colors, bold textiles and decorative touches bring a touch of Old Mexico to this refashioned space.
A little Mexican flair plus some vivid color and distinctive tile transform this outdated kitchen and dining room.
The kitchen cabinets are painted red, and the hallway wall is painted blue. The upper part of one cabinet is covered with a shutter fitted with frosted glass and decoupage paper tiles. Holiday lights are placed inside the frosted cabinet.
An embroidered napkin is hung in front of the kitchen window for color. Glass chandelier prisms are spray-painted bright colors and hung from the cornice with cup hooks.
Talavera tiles have been adhered to the backsplash with hook-and-loop tape. Painted wood trim finishes the edges.
A new track light system gives the kitchen directional lighting with a more updated look.
The edges of two carpet remnants are bound so that they can be used as an area rug under the dining table and as a runner in the kitchen. A border is masked off around the perimeter of each and spray-painted red.
Bolder colors and fabrics make the Mexican-style dining room bright and cheery.
The Mexican theme now flows into the adjoining dining area. The dining room walls are painted a bold yellow above the paneling and the paneling is painted white.
Regular office chairs are repurposed into dining chairs. The seat is covered with red fabric and plastic, and the back is reattached upside-down to make it more prominent. A fabric slipcover dresses it up, and additional seat and back covers also are employed for dressier occasions.
The main part of the existing light fixture over the dining table is painted white and paired with a new drum shade made out of brass rings and fabric.
An old bedspread is fashioned into window treatments. Fleur-de-lis finials are disguised with decorative sombrero hats adhered with hook-and-loop tape.
The built-ins are dressed up with fabric-covered shelves and colorful plates hung on the back wall.
Cordial glasses are painted with glass spray paint and turned into hanging votive holders. Chain and cup hooks are used to suspend the glasses from the inside of the picture. Before, the paneling in the dining room was outdated and made the space seem very dark.
The yellow shade these homeowners chose for the walls was too pale to appropriately highlight the dining area. The lighting in this space was insufficient, and the dining chairs took up too much space. Now the room is bright, cheery and updated for this family to enjoy.
This outdated kitchen was in serious need of a makeover. The cabinets were worn down, and the hardware was in serious need of an update. Now the kitchen and dining areas flow together with a cohesive theme and color scheme.
Sours: https://www.hgtv.com/design/rooms/kitchens/mexican-style-kitchen
11 Mexican Kitchen Style Ideas to Freshen Up Your Mornings
FeastHome – Hola, amigos! What pops into your mind when you hear anything about Mexico? Is it about the cuisines? Or the distinctive décor? Whatever it is, you can bring the freshness and vibrancy of Mexican décor to your kitchen with these Mexican kitchen style ideas.
Red Kitchen with Plenty of Light
Who could restrain from staying for a little bit longer in this lovely kitchen? The vivacious red cabinets infuse energy excitement well. Red also encourages you to be more creative in cooking scrumptious foods.
The best thing about this kitchen that you cannot find in many other is the glass roof that allows more natural light to come inside, making it appears to be more spacious and airier.
The glass roof also enables you to blend with nature. When evening comes, you can enjoy looking at the stars while preparing for dinner.
Blue and Yellow Kitchen
When it comes to a Mexican kitchen style, matching does not matter at all. You can pick any color you like and toss them together to create a fresher and more dramatic look.
This kitchen features an orange wall and blue backsplash. To bring the harmony, the backsplash features a few tints of orange in a floral pattern.
In a Mexican kitchen, patterns play an important role to jazz it up. Therefore, traditional Mexican tiles are usually arranged to make a certain wall art just like the picture of fruit in the basket.
Artistic Backsplash
This kitchen embraces the traditional style of a Mexican kitchen. Instead of tiles that provide a sleek and clean floor, paved flooring is used here. The crimson red cabinets offer a vintage look.
Since this is a Mexican kitchen style, patterns are the main focus here. Just take a look at how the backsplash is arranged so it creates a picture of a desert with some cactus.
The area around the cooker hood also features unique patterns that complement the granite countertops. To draw the eyes upward, mostly-used sauces and condiments are stored around the cooker hood.
Cheerful Pops of Colors
You do not find many patterns here. But the brave choice of colors has made this kitchen look fabulous. Yellow and pink are chosen to amp this kitchen up. The bright yellow wall contrasts with the pink fridge.
To get rid of the haphazard look, pink and yellow chairs with sophisticated design are placed around the rustic dining table.
Besides the chairs, some other decorative elements can be found here such as the thorny pendant light and some other accessories above the fridge.
Exposed Brick Wall
Vibrant colors decorate this kitchen well. The jade shaker cabinets will color up your morning. The yellow chairs add the touch of a modern look with their minimalist design.
Besides jade and yellow, you can also find red pans here that add more color to the kitchen.
To anchor all the colors, a rainbow-patterned table mat is covered the table. And the most epic thing in this kitchen is the exposed brick wall that provides the charm of a rustic look.
Lots of Adornments
Adornments are the crucial elements that you must have in your Mexican kitchen style. You can use any kind of accessories, but make sure it features the traditional look.
Fabric wall art with geometric motifs and naturally-inspired miniatures would be your safe bet. This kitchen looks like a gallery as you can find a lot of artwork in it.
Some plates with geometric and naturally-inspired motifs are hung over the stove to frame the small window. Ceramics and clay jars jazz up the countertops and shelves well. Two clay dolls make the kitchen look more beautiful.
Wildlife in the Kitchen
Incorporating art in your kitchen is a convenient way to add Mexican style. Go bold with the color choice and pattern. You can even add a painting for your backsplash or cabinet doors, just like cabinet doors in this kitchen.
You can find the charm of wildlife here. The painting of a tiger and lion embellish the cabinet doors with a wide array of color hues, the noticeable characteristic of Mexican decor.
Vivid colors are not only found in the cabinet doors but also on the walls. The use of various colors has freshened up this kitchen and infused the good vibes.
Terracotta Flooring and Jade Kitchen Island
If you want to make your kitchen look more traditional rather than modern, opt for terracotta tiles instead of the ceramic ones. The brick hues provided by the tiles add more warmth to the kitchen, making it look classic.
The jade kitchen island features a well-worn finish that accentuates the rustic look. The wrought-iron chair frames enhance the classic ambiance with their curvy design.
A rack holding kitchen utensils hang above the kitchen island, incorporating storage solutions as well as adorning the island.
Spruce It Up with Plants
No matter what style you use in your kitchen ─ whether it is a modern, vintage, or Mexican ─ incorporating plants in your kitchen decor will never fail in adding a lively lift.
This traditional Mexican kitchen style features vivid colors like blue and red just like any other Mexican kitchens. However, the exposed brick wall provides a dramatic backdrop when you are cooking. Ivy dangles over the wall, enhancing the epic appearance.
Add More Colors
In a Mexican kitchen style, more is more. The more colors you apply, the better. Not only colors but also patterns.
This kitchen packs a lot of colors that beef it up well. Striped clothes hang in some spots, adding more patterns to this kitchen. Some woven accessories are also added to enrich the textural elements in this kitchen.
Repeat the Order
If you are worried about the haphazard look that might be caused by combining too many colors at once, stick to three or four color schemes and repeat the orders. By doing this, you can get a great Mexican kitchen style without having an eyesore.
---
Those are eleven terrific ideas to freshen up your mornings with Mexican kitchen style. The key to create a Mexican kitchen is to be bold in combining colors and patterns. So, happy trying! Adios, amigos!
Nynette Marechal
She love the kitchen's aroma so much and kitten, too. Always enjoy helping others with kindness.
Sours: https://feasthome.com/mexican-kitchen-style/
This Colorful Quirky Home Is A Must-See!
.
Mexican kitchen colorful
.
65 Colorful Boho Chic Kitchen Designs
.
Similar news:
.
457
458
459
460
461