FREE Warmers and Fillers
Planning a lesson is no easy task, especially if you're about to introduce a difficult topic. Sometimes, you need a little bit of something extra to really make your lesson flow. For this reason, ESL teachers usually use warmers and fillers. Warmers are used in lessons to ease the students into the topic you're going to present. Along the same lines, fillers are used to reinforce topics or follow up with extra practice for students. BusyTeacher.org has 363 warmer and filler worksheets to make your lesson run smoothly without skipping a beat.

The beauty of using warmers and fillers is that very little planning goes into using them. That's great because it cuts your planning time by a lot, and also cuts out any awkward downtime in the classroom. These worksheets are helpful when it comes to grammar, vocabulary, writing, or even listening and speaking practice.

These warmer and filler worksheets can be used in several ways. Some can be used as discussion topics to get your students speaking. Some can be used to review grammar topics you have covered in the past. Another great warmer is a writing practice worksheet, which gives students sentences like "This morning I…" and students write down what they did that morning. There are endless possibilities to what you can do in your classroom with these worksheets.

Another great feature of these warmer/filler worksheets is that most can be used for all levels. However, if you need a worksheet for a specific level, the descriptions of all worksheets on BusyTeacher.org show the levels for which they're appropriate . You can even reuse them for your other classes of different levels. Not sure if a certain worksheet is right for your lesson? No problem! Just click on the thumbnail to preview the worksheet and see if it's right for your class.

Don't worry about registering or subscribing, since all worksheets on BusyTeacher.org are free to download, and there's no limit to how many you can download! You can use one or two of our worksheets for your lessons every day. All worksheets on BusyTeacher.org were created and submitted by fellow ESL teachers from all over the world. They've been used in classrooms, too - so rest assured that these worksheets are tried and true.

If you have some worksheets of your own that you've found useful in your lessons, why not share them with other ESL teachers to use in their lessons as well? Upload your worksheets to BusyTeacher.org by clicking the link at the bottom of this page titled "Submit a worksheet," and join the hundreds of thousands of ESL teachers who already use BusyTeacher.org for their lesson planning needs.

Make BusyTeacher.org your number one online resource for worksheets by bookmarking us today. With 363 warmers and fillers, lesson planning will be a breeze. Get started by checking out our most popular warmers and fillers below.

read more......less
Make A Word Search:
Create awesome-looking custom word searches in seconds!
Make A Word Scramble:
Instantly create custom word/sentence scrambles for your class!
Make A Double Puzzle:
Generate double puzzles your students will love - hours of fun!
ESL Articles
Rate this Category
2.7 out of 5, rated by 55teachers

M&Ms – Getting Acquainted
iulkahrynkiv
•Teaching Ideas » Warmers and Fillers
If you are looking for a way to start a lesson with a new group, this activity is ideal for you. It is catching, entertaining and easy. Besides, it's appropriate for both young learners ...
1

4,441BegElemPre-IntIntAdv

Frozen by Madonna Song Worksheet
dephney
•Teaching Ideas » Warmers and Fillers
This is a song worksheet for elem. level students which can be used as a warmer or end of lesson activity. Students will listen to the song and fill in the blanks. After the fill in the blanks p ...
1

9,031Elem

Role Plays For ESL Classes
Isaac Bueso Borràs
•Teenagers, Adult Learners, Role Playing Games, Warmers and Fillers
This sample worksheet contains six role playing situations from the book "ESL role plays for English teachers: 40 great role plays for ESL classes." Each role plays presents some usef ...
1

129,070IntAdvExam

ESL Conversation Questions
roadtogrammar
•Teaching Ideas » Warmers and Fillers
50 sets of conversation questions on 50 different topics. Each topic contains six questions. This resource is suitable for ESL teachers who have classes of pre-intermediate or intermediate level w ...
1

33,757Pre-IntInt

Cat Idioms
kelteona
•Animals, Idiom, Movie + Video + Cartoons, Warmers and Fillers
A worksheet for this video about cat idioms in the English language. Idioms included: cat got your tongue?, a fat cat, to purr like a cat, when the cat's away, to be the cat's whiskers, the cat is ...
8

52,001Pre-IntIntAdv

Bankrupt
analia.ortiz
•Teaching Ideas » Warmers and Fillers
This a great warmer you can use to recycle any vocabulary or grammar structures I once read while diving on the Internet for ideas. The game is called Bankrupt. Collect the vocabulary flashcards y ...
369

172,965All

Dead or Alive
tannith
•Teaching Ideas » Warmers and Fillers
Write "WANTED DEAD OR ALIVE" on the blackboard. Explain to the students that you are looking for two very strange twins. On a piece of paper hand draw two funny looking brothers very different one ...
97

149,829

The Alphabet Game
Margarita Sindu
•Teaching Ideas » Warmers and Fillers
I have recently given this activity to my students who are in my conversation class. They work in pairs with a set of cut out alphabets folded where student A will have to pick an alphabet fo ...
57

144,652Elem

Directions Warmer
BUSYTEACHER_admin
•Teaching Ideas » Warmers and Fillers
Write your street address on the board; you can leave out the house or apartment number. Then give directions from the school to your street, writing key phrases (turn left, go two blocks, take Ex ...
40

73,632ElemPre-IntIntAdvExam

Heal Me
BUSYTEACHER_admin
•Teaching Ideas » Warmers and Fillers
Giving advice is always fun. Pretend to cough and ask students what you should do. Elicit answers such as, "Drink a glass of water," or "Use a cough drop." Write various ai ...
35

66,805ElemPre-IntIntAdvExam

Corrections
BUSYTEACHER_admin
•Teaching Ideas » Warmers and Fillers
Spotting and correcting writing errors is always a challenge for students. Here's an engaging game for practicing this important skill. Divide the class into three groups, and then writing a ...
42

74,665All
Got a great worksheet on Warmers and Fillers? Tell us about it and become a BusyTeacher contributor!
Submit a Worksheet
Working. Please wait...

Sours: https://busyteacher.org/teaching_ideas_and_techniques/warmers/
10 ESL Warm-Up Activities for Every Age
ByJohanna Kawasaki
August 25, 2021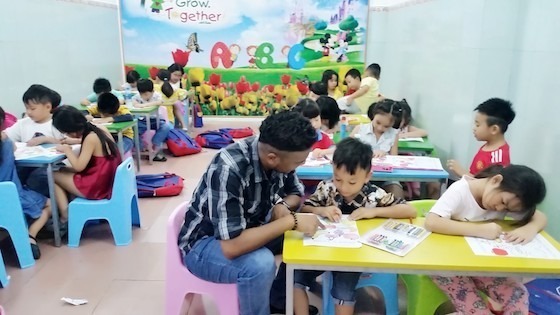 Do you usually start your ESL lessons by diving right into grammar drills, textbooks, and new vocabulary? Or, do you use ESL warm-up activities at the beginning of each class? Warm-up activities for English classes are an important teaching tool and often make or break a lesson. With that in mind, we'll give you some easy warm-ups you can incorporate into your virtual or physical classroom!
Why are ESL warm-up activities important?
They get students into learning mode
When starting a language lesson, it is important for you as the teacher to get your students into the right mindset first. This applies to all ages and levels. ESL warm-up activities for adults may differ a little from ESL games and activities for kids and teens, but they are of the same importance.
Until students are focused, they're not going to retain new information. Warm-ups provide a way to refocus students' attention. For example, warm-ups can help if your students are tired from school or work, are stressed or preoccupied with personal problems, or come to class either overly excited or tired.
They can provide a mental break
ESL warm-up activities and icebreakers can also be used in the middle of the lesson if your students need a break. If you notice that students are no longer paying attention, are bored or tired, or just need a respite from difficult content, pull out a warm-up activity in the middle of class to get things back on track!
Need a last-minute ESL lesson plan? Try these!
They are engaging
Warm-ups are designed to grab students' attention and motivate them to participate. ESL warm-up activities for online classes are especially important because you need to keep your students engaged in front of their computer monitor for quite some time. Throwing in some quick and easy ESL games for teaching online every once in a while does just the trick.
Here's an example of a teacher using the collaborative whiteboard function of an online teaching platform to engage students in a quick, fun activity:
What makes a good warm-up activity?
Effective warm-up activities for teaching English should be:
Considerate towards your students' emotional/physical state when they enter the classroom (for example, if students are tired, use a warm-up with movement to energize them)
Simple to understand and execute
Easy to carry out, i.e., require little to no preparation (Check out some great no-prep ESL activities here!)
Age- and level-appropriate
Time-efficient (not take up too much time)
Interesting and appealing
Leading towards the lesson content or target language
Using mostly known vocabulary to increase students' participation and confidence
Check out these tips for creating ESL lesson plans.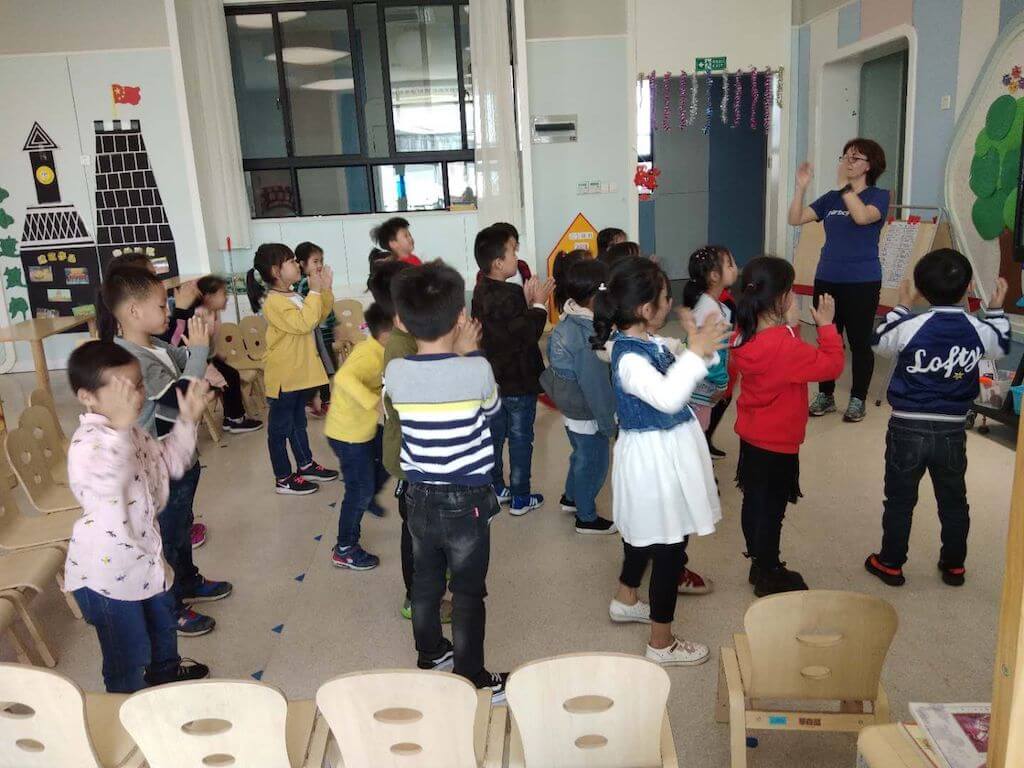 A teacher incorporates a song in an ESL class with young learners.
ESL warm-up activities for kids
Here are five original ESL warm-up activities for young learners that respect children's need to move their bodies frequently and express themselves creatively.
You can get more ideas in this Micro-credential course: Games and Activities for the Online Classroom (Young Learners).
1. Strike a pose
This is a simple ESL warm-up activity that includes a lot of movement. You can use it when your students enter the physical or virtual classroom for the first time. They won't know each other yet, so starting the lesson by introducing each other with their names is a good idea.
Have your students stand in a circle so that they can see each other. Give them a minute to come up with a gesture or pose that represents them. Then, the first student steps forward and says, "My name is [insert name]," accompanied by the gesture or pose that he or she came up with. Now, everybody repeats the student's name and gesture. Next, student B steps forward and says his or her name with a gesture or pose. Now, everybody repeats student A's and student B's names and gestures. Next is student C. Continue until everybody has said their name and all students can remember all of the names and gestures in one round.
2. Charades
Students take turns acting out a word provided by you while their classmates try to guess what it is. This is a good opportunity to review vocabulary from a previous lesson or to try and introduce a new word. Young learners become really immersed in this activity and they usually try very hard to act out the word's meaning.
Get more tips for teaching ESL vocabulary lessons.
3. Question time
Have all students stand up, and ask them a question — feel free to get creative! You could ask anything (How is the weather? What time is it? Which superhero wears the colors red and blue? What did I have for breakfast today? etc.). The student who raises his or her hand first gets a chance to answer. If the answer is wrong, the next student to raise their hand gets a chance. If the answer is right, that student gets to sit down. The goal is to not be the last student standing!
4. We are fun, fantastic friends!
This is a great team-building ESL warm-up activity that can be played in pairs or groups.
Depending on the class size, divide the students into pairs or groups. For online platforms that don't allow breakout groups, students can work individually. Assign each group or person a letter (and maybe don't use difficult letters such as X or Q). They now have to find two adjectives and a noun with that starting letter to describe themselves. When everybody is ready, each group introduces themselves in front of the class.
Students usually come up with funny, original ideas that make everybody laugh. You will hear things like "We are amazing, active animals," "We are cool, cheerful classmates," or "We are beautiful, bouncy balloons."
Pro Tip: You can easily adjust the difficulty of this warm-up to the level of your students by changing the number of adjectives that they have to use.
Want to teach English online to groups? Get started here.
5. All about me
Break students into pairs and tell them that they have one minute to talk about themselves. They can choose what they want to discuss, such as something they like, where they live, their birthday, how old they are, their hobbies, and so on. When the time is up, their partner talks about himself or herself. After these two minutes, switch up the pairs and start over. Continue swapping partners each round until everyone has talked with every classmate.
If you are teaching English online and cannot split students into pairs, simply give them each one minute to address the whole class.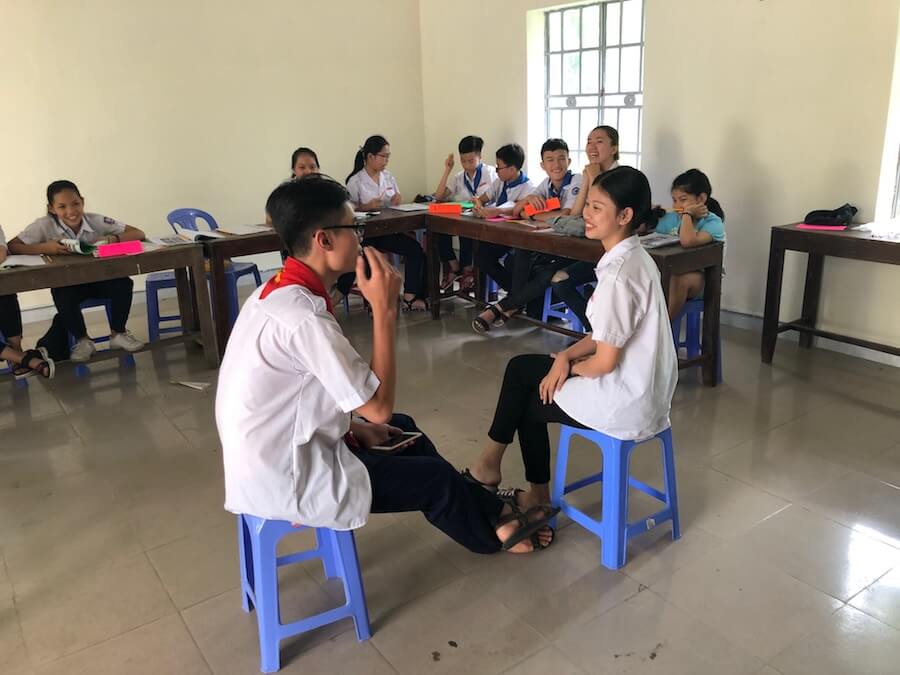 Thai students in an ESL activity
ESL warm-up activities for teens and adults
As mentioned before, teenagers and adults have an equal need for a fun warm-up activity as young learners. Here are some slightly more complex warm-ups that will engage your older students and prepare them for the lesson.
Take a look at these tips when using games to teach English to adults online.
1. Sentence scramble
For this activity, you can divide the students into small groups or pairs or they can work on their own. Come up with a few sentences before class, and write the sentence's words on your physical or virtual whiteboard in a random order. The first group or individual student to unscramble the words and read the sentence aloud correctly wins that round.
When creating the sentences, you can use motivating mottos, the target language of the day, or review a grammar point from a previous lesson.
Here's how to teach English grammar — even if you're terrible at it!
2. Storytelling
This is a great ESL warm-up activity for encouraging teamwork and practicing vocabulary and grammar. It can be used in the online classroom as long as you have a whiteboard behind you that is visible to the students.
Ask each student to give you one word they know. This can be a noun, an adjective, a preposition, anything they want to include in the story. Collect the words by writing them on the whiteboard. When you have all the words from your students written on the board, let them collaborate to tell a story with them. If they need help, you can ask questions like "How shall we start?" "Which word shall we use first?" or "What comes next?"
Check off the words as the class tells the story, and make sure everyone gets a chance to contribute!
Read more about the power of storytelling in the ESL classroom.
3. Speed interview
This activity revolves around improving fluency and asking questions. Students will have a chance to learn about each other and to use English freely. It's a good activity for intermediate to advanced learners.
Write a topic on the board or tell your students the topic of the day. This can be as simple as "Food" or more complex, such as "Your favorite memory." Put students into pairs and have them interview their partner by creating questions related to the topic. They can ask as many questions as they can within one minute, and then their partner has one minute to ask them questions. After the time is up, put students into new pairs and repeat as time allows.
Pro Tip: Instead of putting students into pairs, you can also let them take turns speaking to the whole class at once and asking their classmates the questions they created.
4. Guide me
For this warm-up activity for English teaching, show students a map of a town, and choose a starting point and a destination on the map. Then, in either pairs or as a whole class, have students provide the directions to the destination to guide you through the map. You can use this primarily as a speaking activity or even get in extra writing practice by having students write the directions down.
Alternatively, you can give students maps (either digitally or physically), a starting point, and a set of directions they have to follow to find out where their destination is. Have students race to see who can follow the directions the fastest and figure out the secret destination first!
5. Art appreciation
Print out some inkblots or images of abstract paintings ahead of the lesson. Hold up one of the pictures and ask the class, "What do you see in this picture?" Give your students some time to think, then call on them or let them raise their hands. Let them express the impressions, feelings, or words they associate with the picture, without correcting them or interrupting them. It is very important that the students feel comfortable expressing their thoughts for this warm-up activity.
The results are very rewarding, and you can learn a lot about your students' personalities, which you can reflect on later to tailor your lessons to your students.
For more ideas, take this Micro-credential course: Games and Activities for the Online Classroom (Adults).
ESL warm-up activities, no matter for which age, level, or group size, lead up to a fun, successful, meaningful lesson that your students will get more out of. Warm-ups give your students a chance to use the English they've learned so far, to review, and to experiment with new expressions — plus, they're loads of fun!
Want more games and activities? Read this next: ESL Pronunciation Games for Teaching Kids, Teens, and Adults.
---
Post byJohanna Kawasaki
After backpacking Australia on a Working Holiday visa, Bridge graduate Johanna traveled to Japan for a year to teach English. She then moved to New Zealand for another two years before returning to her chosen home country, Japan, where she currently lives. Now, with more than eight years of professional English teaching experience, Johanna enjoys her expat life in Japan teaching teenagers at a private junior and senior high school, where she recently received tenure after only two years. When she's not teaching, Johanna continues to travel regionally and explore new places.
Want more articles like this one and other TEFL resources delivered right to your inbox?
Sours: https://bridge.edu/tefl/blog/esl-warm-up-activities/
Warm up & Wrap up
Lesson Plans
Notes:
The beginning of your lesson is extremely important: you set the tone of your lesson and get everyone in the right frame of mind for learning English. It is also an opportunity to check homework and review previous lessons.
Warm up Procedure:
Suggestions for the start of your lessons:
These activities can be done in the following order at the start of your lesson:
1. Welcoming
Greet the students by name as they enter the classroom and gesture for them to sit down. If you have space on the floor, it's a good idea to have a cushion for each student as this makes sitting arrangements easy to organize. Try and arrange the cushions beforehand spaced out in a fan-shape around you.

2. Name Tags

Before class prepare some name tags (stickers or pin-on tags) with each student's name written in lower case letters. Sit down with your students and lay out the name tags in front of you. Pick up each tag and call out the name. Try and encourage each student to put their hand up and say "yes". Hand over the tags and help to pin / stick on. Later on as your students recognize their written names you can have each student in turn pick out their own name tag.
3. Greetings:

For younger students (7s and under):
Use a glove puppet (such as a Sesame Street puppet) to greet the students. Keep him in a cloth bag. Bring out the bag, open it enough to see in and shout into the bag the puppet's name (e.g. "Cookie Monster!"). Then move your ear to the opening to listen - nothing. Go to each student and encourage them to shout the puppet's name into the bag - each time nothing happens. Finally, get all the students together to shout the name at the same time. This time the puppet wakes up and jumps out of the bag! The puppet then chats to each student: "Hello", "What's your name?" "Goodbye / See you" before going back into the bag and back to sleep.

For older students (8 and older):

Sit everyone in a circle around you and throw (or roll) a ball to each student randomly. As you do so, ask questions, starting from the simple (What's your name?, How are you?) to more involved questions (Where do you live?, What is your favorite food, Do you like Superman?, Can you fly?, etc.). You can review questions from previous lessons and introduce new questions. Generally, I try to introduce one or two new questions a month - the first time they are introduced ask everybody the question, then always review in the next lessons.
4. Sing "Hello Song" or a review song
Sit in a circle and sing along to the song. Encourage students to clap along or pat their laps in time with the music. The Hello Song is a good song to start the lesson with, especially as it has an accompanying Goodbye song to sing at the end of the lesson.
Lyrics for "The Hello Song"
Hello, hello,
How are you today?
Hello, hello,
How are you today?
I'm fine, thank you,
I'm fine, thank you,
I'm fine, thank you,
And how about you?
Hello, hello,
How are you today?
I'm fine, thank you,
And how about you?
(download MP3 here)
Gestures for "The Hello Song"
These are quite straight forward. First time you play the song do the gestures and encourage everyone to do them with you.
Wave as you sing the "Hello, hello" parts.
Gesture to others as you sing "How are you today?"
Point to yourself as you sing "I'm fine, thank you"
Hand gesture towards another student as you sing "And how about you?".
We also have a video that you can stream in class to sing along with (Internet connection required):
5. Read a Classroom Reader again

As you progress through the lessons you will start to build up a catalog of classroom readers. Kids love going back to old stories and reading through them again. Invite a student to pick a classroom reader and read through it as a class. Make the story as interactive as possible by asking questions (e.g. what colors there are, the names of different objects, etc.) and getting students to speculate what is going to happen next in the story.
6. Homework check
Check each student's homework set in the last lesson. Ask each student some questions about their homework worksheet (e.g. "what color is it?"), give lots of praise, and then put some kind of mark on the homework sheet (e.g. a sticker, a stamp or draw a smiley face). Finally, tell your students to put their homework back into their bags.
7. Do "Exercise Routine" activity

Say the following and have your students follow your lead: "Stand up (teacher stands and so does everyone else), "Hands up / hands down" (x 3-5), "Jump" (x3-5), "Run! / Stop!" (x3-5), "Turn around! / Stop!" (x3-5), finally "Sit down". Throughout the course you can introduce other commands, such as "Hop", "Star Jump", "Wiggle", "Crouch" and so on.
Extra activity: Once your students have got to know these exercises you can play "Teacher Says" using these actions.
How to play ... Teacher Says
This is basicallythe game Simon Says but using the words "Teacher says" instead. The teacher tells the students to do an action and they do ask asked (e.g. "Teacher says ... jump 3 times"). The teacher keeps on giving instructions with different actions using "Teacher says ...". At some point the teacher gives a command without using the phrase "Teacher says" (e.g. "Hop 5 times") and the students mustn't do that action - they have to stay still. Any students that do the action have to sit out for the rest of the game. The last student standing is the winner.
8. Review past lessons
Reviewing past lessons is very important - students need constant practice of new vocab, structures, songs, games and so on. Always review parts of your last lesson as well as some parts from other previous lessons. You can spend 5-10 minutes reviewing - it's fine to recycle games and activities from your past lessons to review as kids enjoy playing familiar games (although be careful not to play a game to death!).
Note: You can also include review activities in the main body of your lesson. Kids can have short attention spans so it's good to be able to pull out lots of activities during different stages of the lesson.
Other ideas to include in your Warm Up:
What's in the bag?

This is a great activity to do at the beginning of your lessons. Fill a large cloth bag with items from your previous lessons (e.g. plastic fruit, animals, etc.). You can also throw in a few other objects (e.g. an eraser, a plastic bottle, a plastic cup - anything lying around (and safe!)). Show the bag to your students and shake it to rattle the objects inside. Pull out different objects, teach/elicit their names, have students hold and pass the objects around. You can even have students pull objects out of the bag. Pull out 1 or 2 objects per student. Finally, place the objects around the classroom and have each student retrieve each object as you call out its name and put it back in the bag.
Knock-Knock
This can be used at the beginning of each class. Teach the students to knock on the door before entering the classroom. There are 2 variations for the next step:
When the student knocks, teacher says "Who's there?". The student replies "It's (Koji)" and then the teacher says "Come in (Koji)".
When the student knocks the teacher must guess who it is "Is that (Koji)?". The student replies yes or no - if no, the teacher continues guessing. Having your students develop their own knocking styles makes this even more fun.

Spin the bottle

Sit students in a circle with a bottle in the middle. Teacher Spins the bottle. When it stops spinning the student it is pointing to has to answer a question. If the answer is correct then that student can spin the bottle. This is a good class warm up activity (e.g. How are you? What's your name? What is this? (show an object or flashcard) Do you like ___?, etc.).
Talk about the weather (do after you have taught the weather lesson plan).
Prepare a weather board. Before the first class prepare a piece of cardboard and cover it with felt – you are going to pin this to the wall. If you can, try and get blue felt (to represent the sky). Write at the top in large letters, "How's the weather today?". Below the write "Today it's". Cut out weather pictures (such as our weather flashcards) and stick some velcro on the back. Arrange the weather pictures around the edge of the board and then put the board on the wall of your classroom. You can now use this weather board at the beginning of every lesson.
Sing the Weather Song. Sing the song together doing all of the gestures.
Look outside. Get everyone to look outside by saying "How's the weather? Look outside". Elicit the weather for that day.
Put the weather pictures on the Weather Board. Invite some students to come up and put the weather pictures on the board. Make sure these students say the word as they put the card on the board.

Review the day, date and month (do after you have taught the days and months lesson plan).
You'll need a large calendar for this (ideally with the days and months written in English). Before class, set the calendar to the front page. Site everyone down facing you and turn the page of the calendar to January. Ask "Which month is this?" and have everyone shout out "January!". Then ask, "It it January now"? Elicit "Yes" or "No" depending on the month you are in. Keep turning the pages and eliciting months until you reach your current month.
Then ask "What day is it today?" pointing to the days at the top of the page. Get everyone to shout out the day.
Next, point down the column of dates and ask "What is the date today?" and elicit the correct date.
Finally, invite a student to come up to the calendar and stick a star or sticker onto the correct date.
Additionally, you can sing the "Days of the Week" song or "Months March" song.
Sours: https://www.eslkidstuff.com/lesson-plans/warm-up-wrap-up.html
ESL Warm Up Activities – Simple ESL warm up Activities
ESL Warm-Up Activities and Games | ESOL Warmers & Warm Ups
If you're looking to get your English classes started off in style, then keep on reading for my favourite ESL warmers, including games and activities. They're the perfect thing to do before jumping into the heart of the lesson. Help get your students ready to learn with these ESL warm-up activities and games!
Fun warm up games
ESL Warm-Up Activities
ESL Warm-up activities are an excellent way to begin class because they ease students back into using English again. In many cases, the last time students thought about or spoke English was in your class last week!
Here are some of my favourite ESL warm-up activities that I use in my own classes. Let's get to the 5 minute warm up classroom activities that you'll want to check out.

Warm-Up Activity #1: Just a Minute
Just a Minute is a very simple activity that you can use to get your students talking. Write a bunch of general categories on the board such as jobs (more ideas here: Jobs ESL Activities), hobbies, dreams, movies, food, etc.
Put the students into groups of 4 and they can number themselves 1-2-3-4. Then, ask one of the students can stand up and throw a paper airplane at the board and whatever word it gets closest to is the topic for the first student.
All the number ones must talk about that topic for one minute without stopping and if they stop or have a long pause, they've lost the challenge.
You can adjust the time limit to be higher or lower depending on the level of students (beginner = 30 seconds, advanced = 2 minutes). Erase the first speaking round word from the board and continue the activity with the remaining three students except that they have different topics.
For higher-level students, you can require each group member to ask the speaker a follow-up question at the end of each round.
Check out this short YouTube video for all the details about this popular ESL Warm-Up:
Activity #2: 5-Minute Debate
Try out one of the best warm up activities for adults. Give students a controversial statement such as something that's been in the news recently. However, because it's just a quick warm-up, don't have them read the whole article. 
In pairs or small groups, have them debate the sides. You may have to assign sides if too many agree or disagree with the premise. You may also need to scaffold with language like, "I think _____, because _____." "I agree with X, but _____."
Keep your students' personalities in mind. There are many books of conversation topics that really are quite controversial, such as abortion or the death penalty. You want them to practice speaking English, not get in a real fight.
In my early teaching days, I had some very heated classes, before I realized "controversial" could be anything people are likely to have a variety of opinions about, but unlikely to have no opinion. Finish up with a quick poll to see if anyone changed their mind about the topic.
This is one of the best 5 minute warm up classroom activities.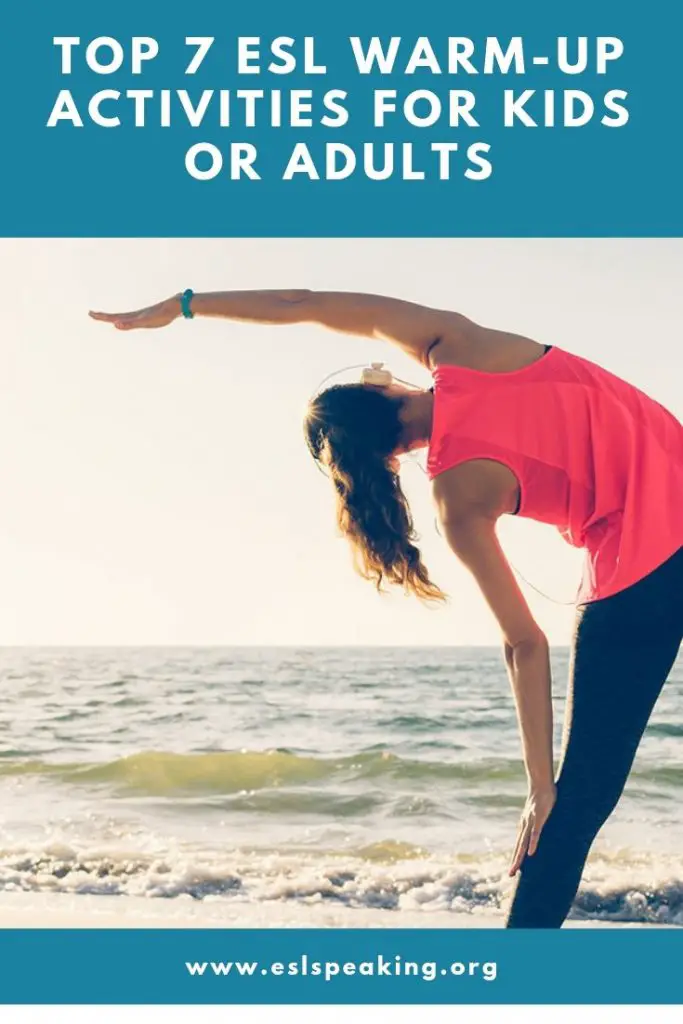 ESL warm up activities
Even More ESL Activities and Games for Adults
#3: Proofreading/Editing
To keep proper grammar usage fresh in your students' minds, they should practice frequently. This doesn't need to be a full grammar lesson; a quick warm-up can do the trick. You can give your students a variety of errors to correct: word choice, word order, punctuation, capitalization, etc.
Students should write sentences or passages correctly. Begin this activity by asking students a few review questions about whatever rules they are practicing. ("When do you use capital letters?" or "What is a run-on sentence? How can you fix it?").
It's a very good way to reinforce basic writing concepts. You can also have students work together in pairs to complete this activity, which works particularly well if they're beginners.
More details about this warm-up activity here:
Proofreading + Editing ESL Warm-Up
Like these ESL Warmers?
Then you're going to love the book, 39 ESL Warm-Ups for Adults. You can check it out for yourself on Amazon:

ESL Warm-Up Activities #4: The Alphabet Game
This is a simple way to introduce a topic. For example, jobs, cities, animals, etc. Have pairs of students write down A—>Z on one piece of paper. Give them 2-4 minutes to think of one word/letter that fits that certain category. 
Some examples of categories that work quite well include:
I make a rule that they can't use proper nouns. If you want to increase the difficulty and if you have a small class, you can make a rule that if 2 teams have the same word, it doesn't count which forces students to think more creatively.
Example: Topic = animals
Alligator
Bat
Cat
This is a great way to reinforce the alphabet and sounds with very young, beginner students.
If you want to add another layer of challenge for smaller classes, make a rule that they don't get a point if another team or person has the same answer. This will force your students to guess what other people will write and get creative.
This activity is certainly one of my favourite category games so be sure to check it out.
ESL Game #5: Boggle
You've probably played the word game Boggle before. You have to shake up the letters and then you have a certain amount of time to make some words with connecting letters.
You can also play it with your students but you don't need the actual Boggle game. Simply make up a grid on the whiteboard, PowerPoint, or on a piece of paper. I make a 6×6 one and put some obvious words in like colors or animals.
Then, students go in pairs and have to make as many words as possible that are 4+ letters. You can give a bonus for longer words if you like. At the end, students count up how many points they have, you can double-check for any errors and then award a small prize to the winning team.
For example:
| | | | | | |
| --- | --- | --- | --- | --- | --- |
| o | r | p | t | s | a |
| e | a | i | e | t | f |
| b | k | n | e | r | i |
| a | d | r | g | o | r |
| c | o | t | l | s | e |
| k | f | h | m | a | n |
Some possible words from this board:
green, pink, rake, back, fire, fires, fast, road, rose
***If you have small classes, consider investing in a Boggle game. Here's a Super-Big Boggle Game on Amazon.
Quick Tip: Depending on where the students sit in your class, it may be difficult to see the board well enough for this activity. So, I usually allow students to change seats if they have to.
ESL Warm Up Activity #6: Free-Writing Time
If you teach a writing class, an excellent way to start it off is to have free-writing time. Students can use a dedicated notebook for the task. Have a topic of the day—some examples are:
"My favorite memory from childhood was _____."
"If I could change one thing about my life, I'd change _____."
"The best thing about my family is ______. The worst thing about my family is _____." (more ideas here: ESL Family tree)
"When I get home from school, I like to _____."
Give students a set amount of time to write—5 minutes for intermediate level students and 10 minutes for more advanced.
Encourage them to write quickly in order to practice writing fluency. Put away those erasers and dictionaries! If you do this over the course of an entire semester, you can give students a simple chart to keep track of their writing speed-hopefully it increases!
Teachers can also participate in this (I did all the time!)
Check out more details here about one of the best warm up activities for adults:
English Writing Practice-Focus on Fluency
#7: Picture Prompt
This is a very simple warm-up for ESL that can be used with kids, teens or adults. The way it works is that you put up a picture on the screen. Depending on the level of students, there are a number of things you can do.
Beginners can simply list the things they see in the picture: dog, man, tree, house, etc. You can also ask something like, "How does the man feel? What is the boy doing?"
Intermediate students could do a similar thing but make sentences. For example, "The man is playing with the dog. The boy is coming out of the house and I think he's going to school."
Advanced students could make up a story based on what they see. Or, give an explanation for what's happening.
Learn more here: Picture Prompt ESL Warmer.
ESL Warmer #8: Would you Rather?
This is a fun, simple warm-up idea for your English class that requires no preparation or materials, just a bit of creativity. But, you can get the students to help you make them up too.
You can start with a question. For example, "Would you rather be able to fly, or breathe underwater?" Then you can have students discuss the question with a group of 3-4 students for a larger class, or with the entire class for a small class.
You can also play this as a circle game, where one student has to answer a question and then think of a different one to ask the next student.
Find out more about it here: Would You Rather ESL Warm-Up Game.
#9: Concentration 
Another 5-minute warm-up classroom activity is this concentration memory game. It's a great way to help students pay attention to some of the new terms and definitions that you've taught them in your class.
Combine this with the fact that it's fun, challenging and super easy to explain and it makes this one of the top ESL warm-up activities that I can tell you about!
Just about the only negative is that you have to make the cards that students will use for matching. However, it can be worthwhile if you teach the same class multiple times in a single semester, or you use the same textbook from year to year.
A quick tip: Consider laminating the cards to make them more durable, particularly if you teach children.
Learn more about it here: Concentration 5 Minute Warm-Up Game.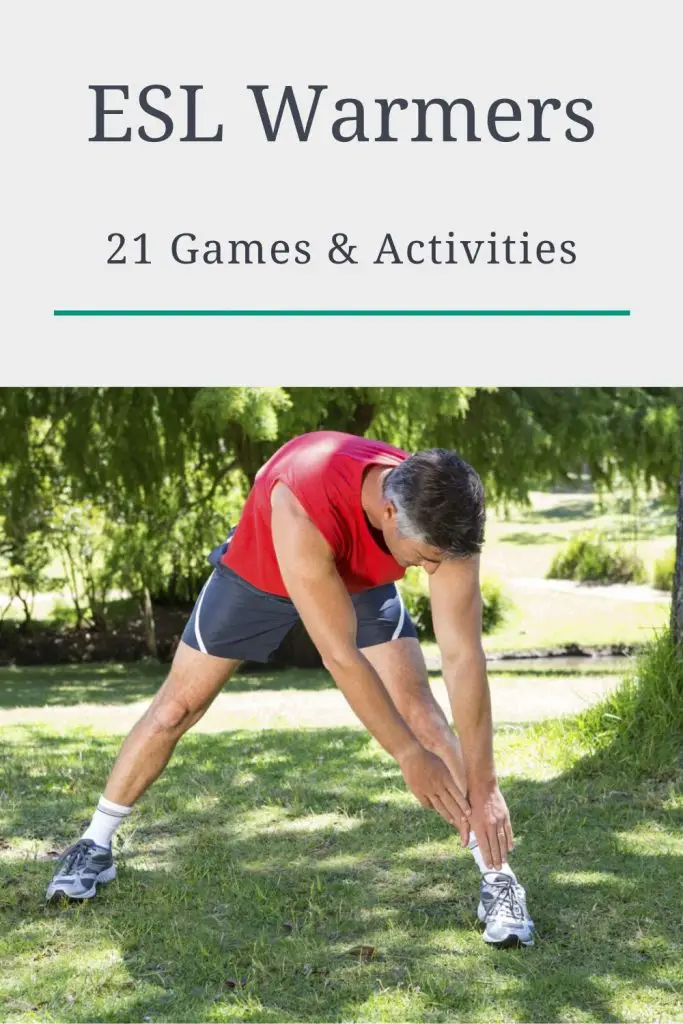 ESL warmer activities and games
#10: Famous People at a Party
Are you looking for a quick and easy ESL warm-up activity to try out in your classes? Then you'll need to consider trying out this one about famous people that you'd invite to a party.
Keep on reading to find out more about this activity that's perfect for that "famous people" unit that is in most beginner-intermediate ESL textbooks.
An ESL Warm-Up: Famous People at a Party
Skills: Speaking/listening
Time: 5-15 minutes
Level: Intermediate to Advanced
Materials Required: Nothing
This is an excellent ESL speaking warm-up activity for intermediate to higher levels. Put the students in small groups of 3-4 people. Have them pick four famous people, dead or alive that they'd like to invite to a party they are having. Then, they have to say the reason why they're inviting them. I do an example like this:
Person: Michael Jackson
Reason? He can play some dance music and entertain us. Also, I want to know why he got so much plastic surgery.
Person: Donald Trump
Reason? I seem him saying outrageous things on media all the time. Is he like that in real life too?
Give your students a few minutes, depending on the level. Then, I get the student to pick 1-2 of the people from their group, depending on the size of the class and tell the rest of the class their answer. I've gotten an interesting array of answers and the students are always quite interested to hear what the other groups have to say.
As you can see, it's easy to adapt this activity to any level. Beginners can simply state who they'd invite and then give a simple explanation of why.
More advanced students can have a small group discussion about it and perhaps think of things they'd like to talk to that famous person about. This makes it one of the best ESL warm-up activities for beginners or advanced level students. It's super easy to adapt to whatever level that you're teaching.
Teaching Tips for this ESL Icebreaker
I recommend students pick 3-4 people but then only sharing 1-2 because many groups will have the same answers. This way, you don't get lots of repeat answers which gets boring. Another way to counteract the tendency for students to pick the same people is to use those most common ones as your own examples.
For example, when I taught in Korea, I would choose the 3-4 most famous Koreans as my example. This prevented any groups from choosing them as well.
If you want to make this activity even more student-centered, you can put one student from each original group into a new group to share their answers instead of sharing the answers with the whole class.
Procedure for this ESL Warm-Up Activity
Put students in groups of 3-4.
Each group picks four famous dead people that they'd like to have at their party.
They must also think about why they'd like to invite him or her.
Have the groups share their answers with the class.
Try out this fun TEFL warm up activity for adults for yourself.
Famous People: A Fun ESL Warmer
10 Phrases to Talk about Celebrities
This video may be a nice lead-in to this famous people activity for your more advanced students. Check it out here:
#11: Conversation Starters
If you ask your students what they want to do in your speaking or conversation class, many of them will say free-talking. However, it's not easy for lower-level students to do this and the conversations will often die after a minute or two.
The best way to avoid this is to use conversation starters, which also make an ideal warmup activity. You can find out more about one of the best warm up activities for adults right here: ESL Conversation Starters.
#12: Hot Potato
Hot potato is a super versatile activity that can be used for any grammar or vocabulary you might be teaching and is one of my favourite ESL warm-up activities. It also makes a nice warmer activity to review material covered in previous classes.
The way it works is that students have to pass around a "potato" of some kind. Then, when the timer goes off, the person left holding the object has to do something. In this case, they may have to answers a question that you have, make a sentence with a certain word, or think of a question to ask another student.
Find out more about it here: Hot Potato ESL Activity.
#13: Flashcard Sentences
Flashcards are one of those teaching resources that are vastly underutilized by most teachers. You can use them for a quick review of the material covered in previous lessons. There are a number of activities you can do with them, so be sure to check out this article for all of them:
Using Flashcards with English Learners.
#14: Teach Young Children? Consider Using a Routine
If you teach very young learners, then you'll want to start off each class the same way. Kids thrive when they know what to expect and it's a very useful way to review things like English weather, numbers, time, days of the week, colours, feelings and emotions, etc. Find out more about how to use them here:
Using Routines when Teaching Young Children.
#15 ESL Warm-Up Activities: Show + Tell
If you're organized, this can be a nice warmer activity that you can use throughout the year. Assign each student a day and when it's their turn, they have to bring in something or theirs (or a picture) and then talk about it for 1-2 minutes. The students in the class can ask some follow-up questions.
It's a fun way to bring real life into the classroom! Learn more here:
Show + Tell for ESL.
#16: Words in Words
Think of a big, long word like dictionary, September, or elephant. Then, put students into pairs and have them try to make as many words as possible.
It's a simple, quick warmer or time-filler that works for just about any level of students. Try it out today!
#17: Mixed up Sentences English Warm Up
In this quick ESL warm-up activity, write some sentences on the board or PowerPoint with the word order all mixed up. Then, students have to work together in pairs or individually to make correct sentences. Of course, throw in some negative forms so that it's not too easy for your students!
#18: Odd One Out
I like to use Odd One Out for beginners who are just learning about categories or things. For example, fruits and vegetables or animals. The way it works is that you write groups of four words and one of them doesn't match:
apple, orange, carrot, banana
t-shirt, pants, gloves, hat
In the first case, students may choose carrot because it's not a fruit. And in the second, pants because you wear them on the lower half of the body, not the upper.
Of course, I'll take many possible answers as long as students are able to say why.
#19 ESL Warm-Up Activities: What Do You Know About _____?
Put students into pairs and give them five minutes to write down true facts about some common objects. For example, a pencil. Here are some of the sentences that they might write:
Pencils are made of wood and graphite.
I can use a pencil to write.
Pencils can be sharpened.
You can buy a mechanical pencil too.
The team with the most true statements at the end of the allotted time is the winner. A quick tip: Don't allow negative sentences!
#20: What Can You Do With a _____?
In this quick ESL warm up activity, students have to think of all the uses, even unconventional ones for a common object like a banana. For example:
Eat it
Use as a paperweight
Increase potassium levels in your blood
Pincushion when sewing
Etc.
The more creative the better!
#21: Chain Spelling English Warm Up
A fun but quick warmer activity that's ideal for reviewing key vocabulary is chain spelling. It's basically a "last person standing" kind of game where students have to take turns spelling words out, one letter by one letter. Do you want to give it a try? Find out more details here about this warm up ESL:
Chain Spelling ESL Game.
#22: 5 Senses ESL Warmer
Try out this fun warmer activity if you want to help your students work on descriptive adjectives. Bring in an object like a cucumber and then have them think of words about that describe that object which falls under the 5 senses.
This is a versatile activity that can be done through speaking or writing, alone or in groups. Check it out:
5 Senses ESL Warm-Up.
#23: TEFL Movies and TV Shows
Using a movie or TV clip is one of my favourite warm up activities for teaching English. There are just so many activities and games you can do with them! Plus, you can find a clip that leads into just about anything, whether vocabulary or grammar. Check out some of my ideas here:
ESL Movie Lessons.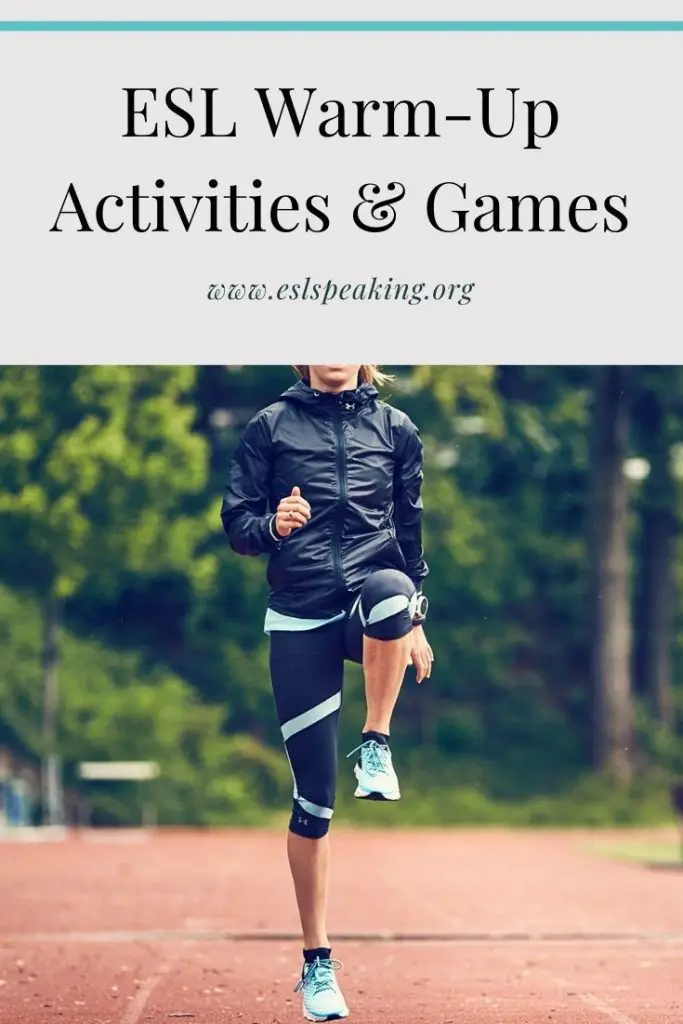 English warm ups
ESL Warm-Up FAQs
There are a number of important things that people wants to know about using an ESL warm-up activity or just about how to begin their classes in general. Here are the answers to some of the most popular ones.
What is Warm Up in Teaching?
A warm up in teaching (also known as a warmer) is an activity at the beginning of class that's designed to warm up the learners. For example, students may have to talk with a partner about a certain topic, review something from the previous class or watch a short video and talk about it.
What is a Warm-Up Activity?
A warm-up activity is the best way to start off an English class. It's beneficial for the students to warm up their muscles (brains) before jumping into the heart of a lesson. Teachers can also allow for some buffer time for late-arriving students and a minute or two to ease into the class.
How do Students Warm Up?
There are a number of different ESL warm-up activities that you may want to try out. Seriously, the sky is the limit and you can do just about anything from chatting, watching a quick video, review, a game, etc.
Why Use ESL Warm-Up Activities?
There are a number of reasons why you might consider using an ESL warm-up game in your classes. Here are a few of the most important ones:
They can activate students' prior knowledge about a topic, grammar point or vocabulary set.
They can engage the learners from the start of the lesson and help them learn English
Warmups can help to ease students in learning English. If you just right into the heart of the lesson, the important things can be missed
ESL warmups are an ideal way to review material from previous classes
They help to build rapport between students and teachers
Depending on what you do, they can be quite enjoyable and fun for the students
Fun, engaging classes—warmups may be part of the answer. Most teachers find that they work so try them out for yourself today!
What are Some Tips for Beginning Conversation Classes?
Over the years, I've kind of struggled with how to begin a conversation class. Not the very first class, but all the other ones after that.
If you're in the same boat, keep on reading. I'll share my top tips with you about how to begin your English classes in style.
I know everyone has their own way to start a conversation class but here's what I do. I try to arrive at least 10 minutes early so I don't have to do all this stuff while students are attentively watching and waiting for me! A requirement I have is that students talk to me after class, instead of before because I have more time to help them.
When you rush in at the last minute to your ESL class, your computer is bound to break, or you'll notice that your board marker is out of ink! Murphy's Law. Avoid this stress by giving yourself a few minutes to get everything together.
#1: The ESL Classroom Environment
I walk into the class, adjust the temperature, desks and podium to my liking. I'll turn on the computer and projector if using it for that class. A few random hellos as students walk in. Remember: You are the teacher and it's up to you to make a comfortable learning environment. Something like opening the blinds to allow a little natural light can really make a big difference.
#2: Prepare my Materials for ESL Class
I take my stuff out of my bag and set out all the materials I'll need for that class. There is nothing worse than having attention and then losing it due to poor preparation and having to search in your bag for things.
#3: The Day's Agenda
I write up the day's agenda on the board or load up the PPT that has it on the first page. I'll also write the first 1 or 2 things that we'll be doing on the board, so I don't waste time doing this later. By this time, there is usually about 1 or 2 minutes until class starts, so I'll walk around doing attendance.
#4: General Chit-Chat or Some ESL Warm-Up Activities
I'll start with a good afternoon/morning and then some general chit-chat for a couple of minutes. I'll avoid this with the really quiet classes because dead silence is never a good start to a class, but it's actually quite fun with the better ones.
However, I generally like to begin with a warm-up activity instead. I don't love small talk, over and over again, multiple times a day.
I do like ESL warm-up activities or games that help to introduce a new topic or review an old one. Any of these ones I've mentioned from this list would work well.
ESL Warmups FAQs
There are a number of things that people want to know about warmups. Here are some of the most common ones.
What are warmup questions?
Warmup questions are ones that are designed to get people talking to each other. They're also ideal for introducing a topic or setting the context in a language class or for easing students into using the target language before jumping into the heart of a lesson.
Why use warm-up questions ESL?
It's ideal to use warm-up questions in an ESL class because they help students make the transition into using English instead of their first language that they speak most of the time throughout the week. They can also introduce a topic or set the context for what is to come later.
How can I make warm-up questions?
In a language class, it's best to base warm-up questions on whatever the topic of the day is. Ideally, the warm-up questions will lead into the main topic and help to set the context for further activities such as a reading or listening passage.
Like these ESL Warm-Up Activities?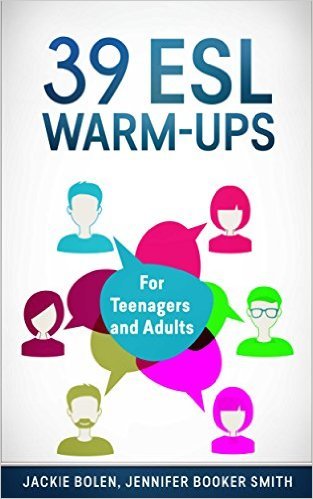 Jumping right into the lesson without a quick warm-up can be tough going. Try out an ESL warm-up or icebreaker and you'll notice a big difference. By the time you get to the main heart of the lesson, students will be settled and ready to learn.
Don't believe me? Try it out for a couple of weeks and I think you'll notice the difference! Your students will be happier and we're sure you will be too.
Awesome Classes, Easy Lesson Planning
Do you want to make your classes awesome and your lesson planning easy? I'm sure that all teachers do. However, it's not so easy when you're tired and pressed for time due to having to teach so many classes each week. We understand completely. And of course, we've been there ourselves too.
However, it really is possible to plan amazing classes that your students will love in a short amount of time. 39 ESL Warm-Ups: For Teenagers and Adults is the book that belongs in your teaching resource library because it will help you get your classes started well. A good beginning is a key to a good finish.
Ease Your Students into English
Many of your students will not have spoken English or even given it a single thought since you last saw them. By beginning your lesson with a warm-up activity, you are doing a number of things. First of all, you are easing them back into using English. Next, you are orienting them to the upcoming lesson. Finally, you are focusing them on the work ahead. All of these things can pay off big-time in terms of a better learning experience.
ESL warm-ups really are a valuable use of class time, but it can be difficult to come up with new games and activities for each class to keep things fresh and interesting for your students.
Tired of Wasting your Time?
And maybe you're like me and are tired of searching around on the Internet for fun, engaging and interesting ESL warm-ups that your students will enjoy. I wasted so much time that I eventually decided to write a book that would help out my fellow teachers.
Well-Organized and Easy to Understand Explanations
The TEFL activities are very well-organized. They start with a brief overview so that you can tell, at a glance whether or not it'll be a good activity for your class. Then, it moves into the detailed, step-by-step instructions. They show you what to do before class for prep, during class with your students and then some optional follow-up.
Awesome Teaching Tips Too
Don't forget the teaching tips too. They'll help you avoid the most common mistakes. If there's a mistake that has been made with one of these activities, we've most certainly done it. And our goal, of course, is to help you avoid it!
This way, you can have as awesome of an English class as possible. Yes, it really is this easy to have better English classes!
Seriously. Try an experiment and start with an ESL warm-up. Our guess is that you'll notice the rest of your class goes that much more smoothly.
ESL Teaching Awesome, Coming Your Way
Jackie Bolen and Jennifer Booker Smith have 20+ years of experience in the ESL classroom.  They've joined forces to bring you their 39 favourite ESL warm-ups for teenagers and adults that will get your students energized, active and engaged, right from the start of class.
Awesome classes, easy lesson planning: you've come to the right place!
ESL Warm-Ups on Amazon
You can get 39 ESL Warm-Ups: For Teenagers and Adults on Amazon in print and digital formats. You can read the digital one on any device-smartphone, tablet, Mac, or PC by using the Kindle App.
Keep a copy on the bookshelf in your office as a handy reference guide. Or, take a copy on your phone or tablet to your favourite coffee shop to do some lesson planning.
It really is that easy to plan the first few minutes of each of your lessons in no time. Mix things up and keep students on their toes with a variety of fun, engaging ESL warm-ups games and activities.
Click the link below to get your copy now:

Have your say about these ESL Warm-Up Activities for Adults and Kids
Do you have one or two go-to warmers for your ESL or EFL classes? Leave a comment below and let us know what you think.
Finally, be sure to share this on Facebook, Twitter, or Pinterest and give us a follow. It'll help other busy teachers, like yourself, find a fun ESL warm-up activity that they can use in their classes.
Also, check out the articles on this blog. You'll find lots of useful resources that'll help you make your classes as awesome as possible. And that's what we all want in the end, right?
Last update on 2021-02-06 / Affiliate links / Images from Amazon Product Advertising API
Sours: https://eslspeaking.org/top-5-esl-warm-up-activities/
Worksheet warm up
.
Warm Up All kids
.
Similar news:
.
479
480
481
482
483