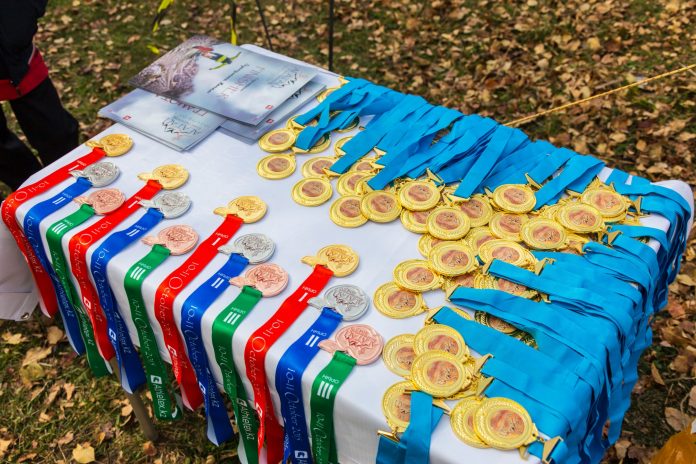 Remember the moment you got your first 10km finisher medal, you couldn't wait to put it on, proudly took photos of this victory moment and you did not want to let go until you had to. Just right before the shower, you displayed your medal nicely on the top of the shelf, at the most visible corner in your room. And every time you passed by before heading to work or school, the sight of this shiny little bling gives you the feeling like YOU OWN THE WORLD. Then subsequent months and years you got your next 15km medal, Half Marathon medal, Full Marathon medal, Triathlon medal, the 20th medal… and now they all become a cluster.
Where are your medals now? in a shoe box or in a cookies tin under your bed?
C'mon, all your victory earnings deserve a better place. Here are 6 creative ideas to display your medals and their pros and cons.
The Sound of Victory – The Medals Wind Chime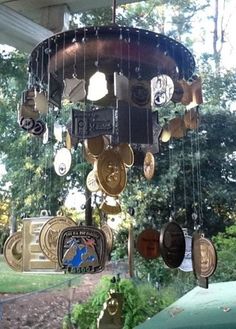 Pros: Presentable. This can be the decoration at your front door or balcony. Easy to make and the cost all you need are just getting the iron plate and some strings.
Cons: Being what it is – a wind chime, do expect tinkling sound comes from it. Try not to put it near to your working station or reading corner.
Forever Hang It On – The Medals Mannequin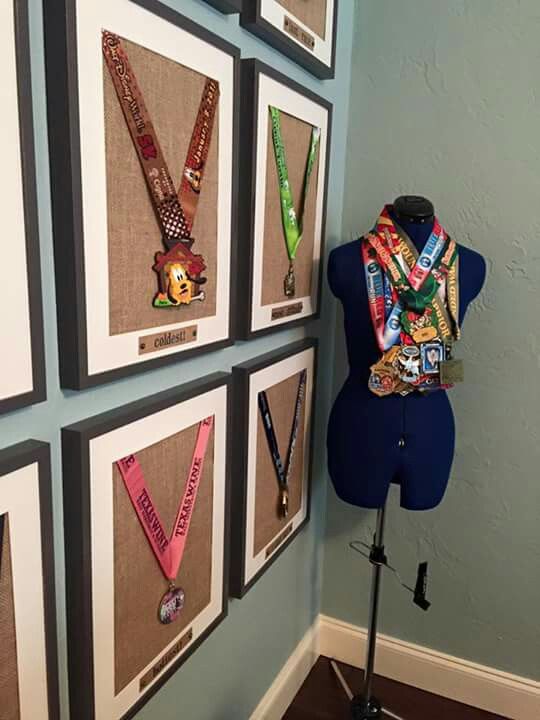 Pros: Your medal will look exactly like it is put on you. Save time and multiple uses.
Cons: Do consider the moderate set-up cost (a mannequin is sold about S$20 or more for a better quality). Heavy, bulky and the mannequin takes up space.
Who says I can only run? – The Medals Racquet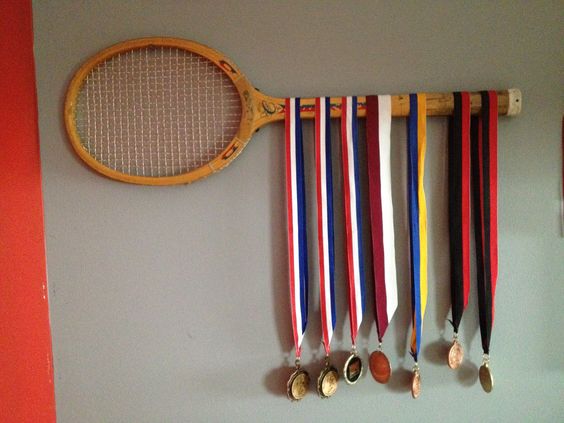 Pros: A special idea for a multi-sports enthusiast who does not only run or swim or bike, but also plays badminton or tennis or baseball etc. Keep your old racquet or bat and put all your favourite things together. Simple, but a environmentally friendly design.
Cons: Lacks of flexibility.
Store like Gemstones – The "Medals in a Jar"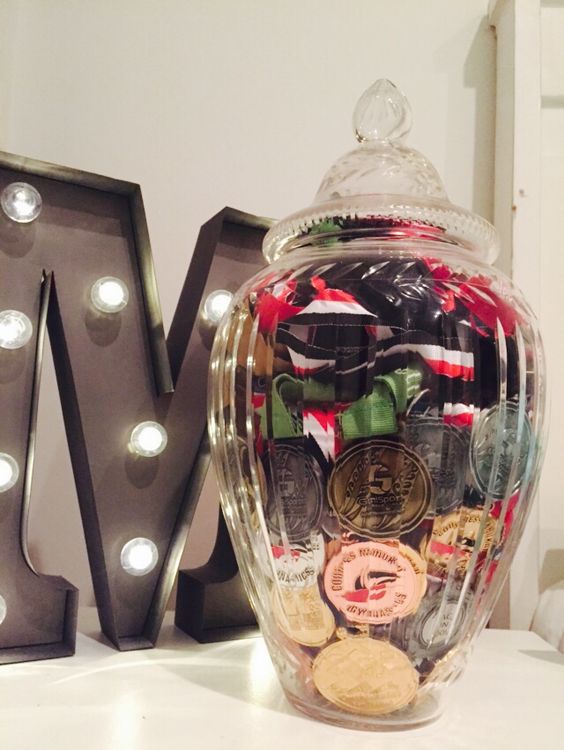 Pros: Good containing space, flexible application and cost friendly. You can easily get them in stores. With the jars come in different shapes and colors, you can mix-and-match them in your own style. Let your creative juice flows!
Cons: Jars are fragile and breakable articles. Be extra mindful of the placement, especially if you have young little ones at home or If you are a pet owner.
Each medal has a name – The Medals Frame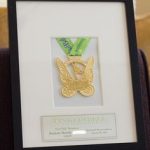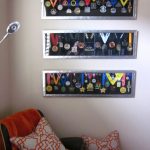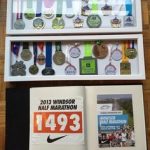 Pros: Clearly visible and you have more flexibility in designing their layouts. For your special medal, there's an option to add in the description below the medal.
Cons: Takes up space.
Show off the racing bling – The Medals X'mas Tree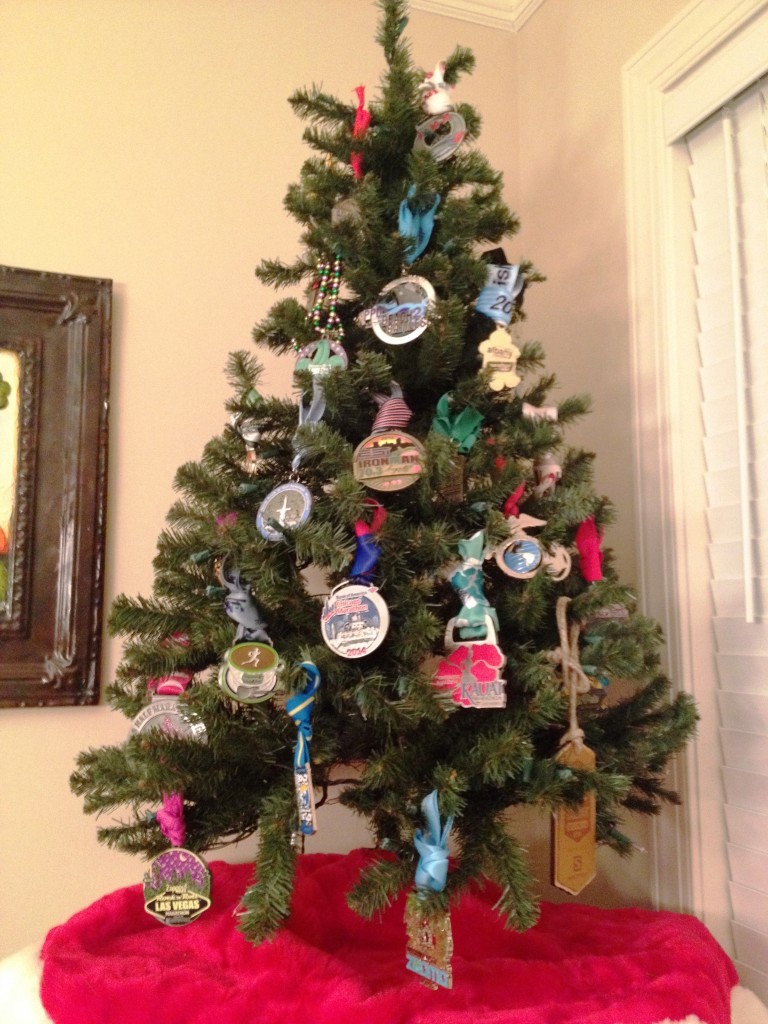 Pros: The best set up for this upcoming Christmas Holiday! Show off your medals on the Christmas tree then you can tell every story of them – a lot of sweat and pain – when the visitors come.
Cons: Bulky and takes up space. And when the occasion ends, you might have to look up a new place to display your medals.
Any more great ideas?
Share with us and hashtag #JustRunLah !
Share this article with your buddies
Sours: https://www.justrunlah.com/2016/10/11/6-creative-ideas-to-display-your-medals/
Three things are certain when running a race—you need to train, fuel, and you'll end up with a bib and medal you won't ever get rid of. Race medals keep getting cooler, and often give you an incentive to run more than one race a weekend. And let's face it, walking around after a race showing off your hard-earned hardware is great. But what happens after you get home? And, think of all those medals and bibs you just can't part with that are filling up a drawer or box in the garage.
Rather than forcing yourself to part with them or simply hanging them on a hook, there are plenty of ways to keep them on display. We asked our audience via a Facebook post to show us how it's done. Here are some clever ways and touching stories behind how runners have repurposed their bibs and medals.
Checking off a Bucket List
"Keeping track of my goal to run a race in every state!" —Stephanie LP (pictured)
"[Tracking races with a] map has magnets on the states that I have run halfs, fulls, or ultras in." —Claire Blanton
Homemade Hooks
"Made the RUN with my Bibs and wooden letters!" —Catherine Berry (pictured)
"I made a custom built a hanging rack for my medals so they double up as art/decoration/inspiration." —Janette Palmer
To Commemorate Races Near and Far
"Homemade wooden Rack says 'I run this town' for my local medals, and 'I run the whole country' for my out of state Medals. Awards sit on top. Plus I have another rack for marathons." —Pam Wolff (pictured)
"I made my own rack to hold marathon and half marathon medals with a small shelf for age group hardware. The dowels the medals hang on are easy to remove to add new awards." —David Trammel

Donating Them
"I gave mine away to kids fighting cancer in my area!" —Leanne Loney (pictured)
"Anything over 13.1 I always take and donate to Medals4Mettle! I have no use for all but maybe three in my lifetime, the rest get restrung and brighten someone's day in a hospital. I'm not sure if they have chapters everywhere but our local one in MI is huge and there is even a race to benefit it (and there is always a cool medal for it to donate back)." —Jessica Hebben Ericson
Furniture Turned Display
"We repurposed an old entertainment center for our bib and medal display." —Tara Carrao Christley
[From training tips, to fueling strategies, to improving the mind-body connection, the Runner's World 2020 Calendar will help you run your best all year long.]
Repurposed Windows
"I found an old window frame and added chicken wire and hooks to it." —Ashley Bible (pictured)

"I re-purposed an old farmhouse window. I just love it." —Michella Prokop
"My husband made [a] display for me out of old windows from my grandmother's house." —Valerie Hunt

Published Memories
"I put my bibs into custom designed books every year!" —Whitney Lyn Froelich (pictured)
"I made a scrapbook page for each race/event with the bib as a background. I called it my Race Book." —Brooke Botterill
"I [scrapbook] with my race bibs and photos I take at each race. Such a nice way to look back every time I add a new one." —Amy Rath

Holiday Spirit
"I turned mine into ornaments and cut all my bibs into a paper chain. I add to it every Xmas!" —Kathy Kostelny Nicklebur (pictured)
"We have a medal tree in addition to a traditional themed tree." —JoJo Swearington Bolden
"[Made a] 'runderful' tree with my medals and bibs from this year's 57 races." —Bev Klason

[Heading to a Park Can Make You Feel Just As Happy As Christmas]
To Inspire Students
"This is a display of some of my medals in my classroom. I use them to inspire my students to set goals and make plans to make them happen." — Cindy Jackson Wolfahrt (pictured)

"I use my finisher medals as hall passes. The kids never lose them or accidentally take them home. They also look like they won when they walk to the bathroom." —Amanda Margrave
Wallpaper
"I saw a photo of a wall covered in bibs once. I wanted to achieve that. They ended up wrapping around my room." —Amanda Schumaier (pictured)
"For me my numbers save on decorating! But after I total up the race entry fees it's probably the most expensive wallpaper I will ever have. Now onto the third wall..." —Rachael Welby
Overcoming Injury
"Made a medal holder from the slideboard I used when I was in a wheelchair and seven screws taken from my hip after I was injured in a car accident. That incident got me into running, and now I can use those tools to display my achievements since then!" —Anna Wood
Best Vest
"My mom helped me make this vest, for my oldest son, out of the numbers from his high school races, except for the yellow one. The yellow one is from his very first race ever... he was 4 years old, held my hand the whole way, and was disappointed that it was only 1/4 mile long. We call it his 'gateway race.' Anyway, the vest was a huge hit and I'm happy to have finished it in time for his senior year High School Varsity Athletic Awards Ceremony... too perfect!" —Chele Pippin-Reagh
Uplifting Costume Party Winner
"I was very sick at the time, undergoing chemo treatment for breast cancer, and my friends were having this 'do-it-yourself costume party.' Most of these friends are from L.A. Triathlon Club in Los Angeles, but we also have run many road marathons together. I felt really sick that day, but my mom helped me piece together this 'dress' with my marathon and Ironman race bibs so I could go to the party and do something uplifting, as being a cancer patient is anything but.
"I went to the party and could only stay for a little while, but I won the prize 'best dressed DIY' costume. So that was fun! I still have the 'dress' at home." —Alison Sunshine Bassett
Jordan SmithDigital EditorJordan Smith is a writer and editor with over 5 years of experience reporting on health and fitness news and trends.
This content is created and maintained by a third party, and imported onto this page to help users provide their email addresses. You may be able to find more information about this and similar content at piano.io
Sours: https://www.runnersworld.com/runners-stories/g30150412/creative-race-medal-bib-displays/
Creative Ways to Display Your Medals
Medals should not be kept in a box or in the storage. They exist to acknowledge someone's success, ability, excellence, and effort. A medal is mostly a form of validation but it can also be a source of motivation. This is why medals should be put on display, for you and other people to see.
Showcasing your medals need not be grand, especially if you do not have a spare room or a big space at home. For those who need some ideas, here are a few creative ways to display your medals.
Let the mannequin wear them
Some of the most important moments in your life probably include receiving medals so seeing them can bring awesome memories back. If you are one to enjoy looking back at those moments, level up the experience! Display your medals on a mannequin! You can even dress the mannequin according to your profession. Some athletes dress their medal-bearing mannequins in sportswear!
Associate with your sport
If you are an athlete or simply a sports lover, you may craft a shelf or a hanging display using a sports item. You may turn a vintage racket into a medal hanger or hang your medals on hockey skates you no longer use. There are plenty of equipment you can use but it ultimately depends on your favorite sport.
Similarly, musicians can also create their own medal hanger using the neck of their old or broken guitars!
Put them in a jar
Putting medals in a jar is an easy way to display them in a unique manner. It is also cheap and space-friendly. All you need to do is find a sturdy clear glass jar and carefully organize the medals inside. After doing so, make sure to place it on a noticeable yet safe spot, away from little children's reach.
Make a medal tree
Lastly, if you do not have any more space left to display your medals on, why not replace your corner plant with a tree and hang your medals on its branches? It should look similar to a Christmas tree, except that you will have your medal tree on display all year round!
There should be more creative ways to display your medals but these are some of them to help you generate more ideas according to your own preferences. Do not hide your medals because they deserve to be displayed, and you deserve to be recognized!
Sours: https://corporateawardsandgiveaways.com.ph/blogs/creative-ways-to-display-your-medals/
My Mom DIY Medal Wall Display / Jamila Abalos
.
Way display medals to creative
.
How to display Medals
.
Similar news:
.
514
515
516
517
518