2019 Cadillac ATS-V Coupe review:
One last spin in the M4-beater
The ATS-V has been on sale for some time and changes for the 2019 model year are few: the sedan is no longer offered, while the coupe now comes with the Carbon Fiber Package visual upgrade as standard. Above all, we know that this car's time is up, meaning this is my last chance to enjoy Cadillac's German sports-coupe fighter.
Meaty acceleration
That powerful engine helps define the ATS-V's aggressive character. Like most of its rivals, the Cadillac uses a six-cylinder mill augmented by a pair of turbochargers, in this case a V6 displacing 3.6 liters. Cadillac says the car gets to 60 miles per hour in 3.8 seconds and goes on to a top speed of 189 mph. Those figures are right on par with the likes of the Audi RS5 (3.7 seconds, thanks in part to all-wheel drive), BMW M4 manual (4.1 seconds) and Mercedes-AMG C63 S Coupe (3.8 seconds). A claimed top speed of 189 miles per hour makes the Cadillac faster than all those cars.
While it lacks the meaty burble of the C63's V8, the Caddy's engine still makes great noises, purring around town and clamoring ever louder as revs build. It's effortlessly responsive, with right-now power in any gear.
The whole experience is made even better by the six-speed manual transmission -- and not only because this is one of just two cars in its class offered with a shift-it-yourself arrangement. The shift action is direct and just weighty enough to satisfy without being a chore in traffic. An automatic rev-match function is available at the push of a steering-wheel paddle, but really, the gearbox and pedals are so well arrayed for sporty driving that you'll want to do all the engine-blipping yourself.
Involving yet forgiving chassis
The other half of the ATS-V's fun-to-drive equation is the way that it keeps its flypaperlike Pirelli Super Sport tires on the road. For all its race-track capability, it's hugely approachable on the road. Power out of a turn on a damp, cold afternoon, for instance, and the rear end will slither and wriggle, not snap. It makes for a performance car that can actually be used aggressively on the road. And the adaptive suspension is remarkably not-punishing on crummy roads, despite squelching body roll when driven hard.
Much praise must also go to the electronic differential and Cadillac's clever traction control, which doles out horsepower in the perfect quantity on the road. It allows for injudicious applications of turbo boost with an ease not possible in, say, the twitchy and nervous M4. For track use, there are also five specific "Performance Traction Management" modes, as well as electronic launch control and a no-lift shifting feature.
Perhaps the best bit of the ATS-V driving experience is its just-right steering setup. The ratio is quick, but it's not so sharp as to be twitchy off-center. And unlike many rivals, you get a novel's worth of feedback through the leather-wrapped rim. That'll pay dividends on a road course, sure, but it's essential to upping the engagement factory of more quotidian street drives.
Above all, Cadillac's sporty coupe looks the business, too, with flared fenders, a gaping grille aperture, big exhaust outlets and a big V-shaped spoiler atop the trunk lid. With optional black wheels and bronze brake calipers contrasting against the new Wave Metallic blue paint, this ATS-V screams aggression from every angle. Likewise inside, suede, Alcantara, carbon fiber and Recaro seats dress up the cabin. Those racy bits help distract from some of the less-expensive and dull plastics that are dotted throughout the car's interior.
Competent in-car technology
Since we last reviewed the ATS-V, Cadillac has equipped it with an updated version of the Cadillac User Interface (CUE) infotainment system. Straight away, the new system is easier and better to use than early CUE-equipped Cadillacs, with prompter responses to inputs on its 8-inch touchscreen. There are also advanced features like cloud-syncing for multiple driver profiles and "smart" navigation routing that can "learn" your typical commutes.
CUE also features satellite radio, Bluetooth and navigation integration, as well Wi-Fi and support for Apple CarPlay and Android Auto. Swapping between screens and functions is easy enough, though the only physical shortcut is a home button; some rival cars offer hard buttons to jump to, say, the radio or phone interface. CUE also had some trouble working reliably with my smartphone over Bluetooth, an issue I haven't had with that phone on any other recent test car.
To keep gadgets charged, you'll find two USB ports in the small-ish center console, as well as a wireless phone charging pad inside the electrically-opening center stack compartment. Touch lightly on the bottom edge of a panel on the stack and it motors open, revealing the charge pad.
Ahead of the driver, the Cadillac ATS-V's instrument cluster uses mostly analog gauges, which are highly legible with their red illumination but, sadly, not as slick-looking as rivals'. At the bottom is a reconfigurable color trip computer with three segments of information that can be configured to display everything from tire temperature to boost pressure. I set them up with the distance-to-empty on one side, the vehicle's speed in the center and tire pressures on the other bookend. A color head-up display provides speed, tachometer and even shift-light information at a glance.
Safety tech is plentiful on my test car, though it's worth noting that much of it is available only as part of paid option packages. Still, this ATS-V coupe has parking sensors, precollision warning, automatic headlights, blind-spot monitoring with rear cross-traffic alert, lane-keep assist and, somewhat unusually, even an option in the cluster that can tell you how close you're following another car, measured in seconds. Most of those are bundled into the $1,800 Safety and Security package, which also includes an upgraded alarm.
Not so great on the practicality front
In terms of everyday usability, the ATS-V coupe struggles a bit in terms of trunk capacity. Though, to be fair, 10.4 cubic feet isn't that bad for the class when you note that the Mercedes-AMG C63 Coupe offers only 10.5 cubic feet in its trunk and the Audi RS 5 boasts just 11.6. At least you can fold down the back seats should you need to carry bulkier objects.
Speaking of those rear seats, they're notably cramped -- even allowing for this being a sporty two-door car. Access to the rear is tight, and once installed, passengers will find legroom practically non-existent and headroom in short reserve. Use these seats for extra luggage space only.
Another area where the ATS-V lags behind its rivals is fuel economy, with this manual-transmission model EPA-rated for 16 miles per gallon city, 23 miles per gallon highway and 19 miles per gallon combined. That's a smidge behind competitors, with the AMG C63 S Coupe boasting 18/24 mpg, the RS5 offering 18/26 mpg and the manual-transmission M4 good for 17/25 mpg.
Worth the price of admission
A 2019 Cadillac ATS-V coupe starts at $68,790 with destination. That's versus the $70,145 starting price of an M4, the $70,875 you'll pay for an RS5 and the $68,495 for the C63 Coupe or $76,495 for the C63 S.
On top of that base price, my test car added $2,300 for Recaro front seats, $1,800 for the Safety and Security package, $2,100 for the Luxury package, $1,295 for a glossy carbon-fiber engine cover, $625 for the new-for-2019 Wave Metallic paint color, $600 for black wheels, $595 for bronze-colored brake calipers, $495 for a blacked-out front grille and $175 to darken the rear chrome trim. All-in, it's $78,775. If you wanted to add the eight-speed automatic transmission, that would cost an extra $2,000.
Buying the ATS-V also scores you two days of free on-track driving instruction at the V-Performance Academy, held at Spring Mountain Motorsport Ranch in Pahrump, Nevada. If you're buying a performance car, you owe it to yourself to learn how to fully exploit it, especially when the track time comes free.
The ATS-V proved that Cadillac could build a sports coupe that matched or even beat the best performers from Germany. It put a grin on my face every time I got behind the wheel -- coupe or sedan, automatic or manual. Nobody would ever argue that the Cadillac ATS-V was the perfect car in its class, for all the negatives I've griped about thus far. But I really don't care about its so-so practicality: the ATS-V is a fantastic car that I'd be happy to wake up to every day.
Let's just hope Cadillac builds another sports coupe that's this good in the future.
Sours: https://www.cnet.com/roadshow/reviews/2019-cadillac-ats-v-coupe-review/
2019 Cadillac ATS-V Coupe Review: Power And Luxury
A good-looking, fast, and comfortable Cadillac. That's what your grandpa used to daydream about in the '60s right? Well, we're glad to say that America's favorite luxury car brand has managed to claw themselves out of the doldrums of the last 40-odd years and finally cracked the code to building cars that not only look good but drive as well as the best that Europe has to offer. The 2019 ATS-V delivers the goods with its twin-turbo V6 engine producing over 460 horsepower, sublime chassis, and entertaining handling. There might be material and build quality issues, and the standard safety features list is a bit on the short side, but this Caddy coupe delivers where it truly counts and has managed to convert some of those who swore that sporty executive coupes were only to be found in Europe. The ATS-V starts from $67,795 which includes a four-year/50,000-mile basic warranty.
Read in this review:
2019 Cadillac ATS-V Coupe Changes: 🚙What's the difference vs 2018 ATS-V Coupe?
The ATS-V has been around since 2016, and since then has become a much-loved American performance car, adored by tuners and admired by young petrol heads around the country. For 2019, Cadillac has decided to drop the sedan, and now only offers the coupe version. Other than that, they have added the Pedestal Edition trim package, which adds a load of carbon fiber trim pieces, Recaro bucket seats, painted exterior bits, and in-your-face Brembo calipers.
Pros and Cons
It still likes to go around corners as well as the best
Powerhouse of an engine
Good road and track balance
It looks mean as hell
Arguably more involving than an M4
Cramped rear compared to the competition
Some interior features seem gimmicky
Not as polished as some German rivals
Best Deals on ATS-V Coupe
2019 Cadillac ATS-V Coupe
2019 Cadillac ATS-V Coupe
2019 Cadillac ATS-V Coupe
2019 Cadillac ATS-V Coupe
See All ATS-V Coupe For Sale
2019 Cadillac ATS-V Coupe Trims
See trim levels and configurations:
| Trim | Engine | Transmission | Drivetrain | Price (MSRP) |
| --- | --- | --- | --- | --- |
| ATS-V Coupe | 3.6L Turbo V6 Gas | 6-Speed Manual | Rear-Wheel Drive | $67,795 |
ATS-V Coupe Exterior
The standard ATS is a sharp-looking suit and tie car that shuns the more contemporary European design language, opting for a cut and thrust look that has stood the test of time and looks as good today as it did when it came out all those years ago. The ATS-V is bulked up and adds a serious dose of menace to Cadillac's range of sporty compact cars. Setting the coupe apart is a sports performance grille with active aero shutters and body-colored front and rear fascias. The turn signals are heated and power-adjustable, and the tinted windshield absorbs solar rays because the ATS-V cares about the environment. Not. It is disappointing to note that the 2019 ATS-V makes use of projector-beam headlights in standard form, although the tail lamps and center-mounted brake light are of the LED variety. The whole deal rides on a set of standard 18-inch alloy wheels, housed within arches flared compared to the standard ATS Coupe.
See All 2019 Cadillac ATS-V Coupe Exterior Photos
Dimensions
The 2019 Cadillac ATS-V measures up to the BMW M4 and Mercedes-AMG C63 Coupe. Total length comes in at 184.7 inches, and the performance coupe stands 54.5 inches tall. Both Germans are wider, with the ATS-V measuring in at 72.5, compared to the BMW's 73.6 inches, and the C63's 73.9. The ATS-V's 109.3-inch wheelbase is also the shortest in this comparison. Despite being relatively small for its class, the ATS-V isn't the lightest of the bunch: weighing in at 3,803, the Caddy is 178 pounds heavier than the BMW, but over 200 pounds lighter than the heavy-set AMG.
Length184.7 in

Wheelbase109.3 in

Height54.5 in

Max Width72.5 in

Front Width60.5 in

Rear Width61.4 in

Curb Weight3,803.0 lbs
Exterior Colors
A bold car deserves a range of bold colors: the 2019 ATS-V can be had in six different colors, each bringing its own attitude to the table. The bases are covered with a Crystal White Tricoat and Black Raven, while the rest of the palette is filled with Velocity Red, Satin Steel Metallic, Wave Metallic, and Bronze Sand Metallic. Black Raven is a popular choice and suits the car's undercover cop vibe, but we've seen a surge in popularity of the Wave Metallic, an intense deep blue that accentuates the more aggressive look of the ATS-V.
ATS-V Coupe Performance
It might look good, but most who buy the ATS-V will care more about how it drives. We're happy to report that it drives well, and then some. Not only is the Caddy fun to throw around a track or twisty mountain road, but it will get out of the blocks at a rapid pace. Zero to sixty times in the low four-second range puts it right alongside the BMW M4 and Mercedes-AMG C63. Oodles of torque and good response means the ATS-V is able to do the suburban thing quite well, especially when you need to take a gap in traffic or overtake that mumbling cop car. Merging onto the highway will feel like warp speed for those not used to a lot of power. The Cadillac ATS-V is just as much a sports car than anything on offer from Germany; in fact, it is more entertaining to drive fast on a daily basis - likely to do with the fact that the standard ATS was benchmarked against the E46 M3 for chassis development.
Engine and Transmission
For a car of its size and weight, the twin-turbo 3.6-liter V6 lurking under the hood of the ATS-V is more than ample, and that's putting it lightly. This engine makes use of modern direct injection to produce an impressive 464 hp and a tire-shredding 445 lb-ft of torque at a high 3,500 rpm. The large-capacity V6 responds well to boost; its linear powerband makes everyday driving a pleasure, and makes throttle modulation more predictive, unlike some turbocharged performance cars that upset mid-corner balance with unwanted power surges. Power is fed to the rear wheels via a six-speed manual transmission and an electronically controlled limited-slip differential. The six-speed manual isn't the best, but gearchanges always find their way home and keep the driver involved. An eight-speed automatic is optional and shifts gears quickly and smoothly, with only a slight hesitation in manual mode. The Mercedes-AMG C63, C63 S, and Lexus RC F are the only cars that produce more power in this class.
Transmissions

6-Speed Manual, 8-Speed Automatic
Handling and Driving Impressions
Many manufacturers have tried and failed to match the driving experience of BMW's M cars or the Teutonic beasts from the AMG stable, but Cadillac, a brand no one would ever suspect of building worthy sports cars, is getting close to offering a similar experience. What the Caddy gets right is to offer a refined driving experience when out and about, but being able to easily switching over to beast mode when the need arises. Turn-in is sharp and accurate, and the steering loads up nicely while providing good feedback, something that has gone amiss with its German rivals, who feel overly assisted in the steering department. Suspension lean through the corners is predictable, and you'll be amazed at how well the ATS-V will hang on in the corners, before breaking into a predictable slide. The BMW M4 might be a more precise weapon, and the AMG a better-balanced car, but the ATS-V gets close, and is arguably a more entertaining car to drive fast.
ATS-V Coupe Gas Mileage
A luxury performance coupe with a twin-turbocharged V6 doesn't exactly sound like it's going to match a 1.5-liter Honda Civic on an eco run, especially when you drive with enthusiasm, and in the case of the ATS-V, driving with any sense of economy will be harder than resisting the urge to do a burnout at your son's preschool graduation. Cadillac gives EPA estimated figures of 16/23/19 mpg city/highway/combined, which is one mile less than the BMW and Mercedes. With a fuel tank capacity of 16 gallons, the ATS-V will travel approximately 304 miles on a full tank of gas.
Fuel Tank Capacity

16.0 Gallons

Fuel Economy

City/Hwy: 16/23 mpg
* 2019 Cadillac ATS-V Coupe 3.6L V6 Twin Turbo Coupe RWD
ATS-V Coupe Interior
Once again, comparisons will be drawn with German rivals, but Cadillac has taken this opportunity to step up its interior game in great fashion, but in the end, it still falls short. The general layout of the cabin seems pedestrian when compared to the crafted space of the M4, or the gorgeously designed C63, but signifies a step in the right direction for Cadillac. Standard features on the 2019 model include 4G LTE Wi-Fi connectivity, dual-zone climate control, and a 5.7-inch driver information display. Cadillac has gone out of their way to include as many details as possible, which is surely appreciated, but the design and layout of many of the controls have been rendered impractical to reach and use. Getting in and out of the front is an easy process largely thanks to a set of wide-opening doors, but you'll have to squeeze and slither to get in the back. Once seated, visibility is good out of the front, but the rearview camera will be your best friend when backing up.
See All 2019 Cadillac ATS-V Coupe Interior Photos
Seating and Interior Space
In classic sports coupe style, the Cadillac ATS-V prioritizes those in the front, while disregarding blood flow to the legs of back seat passengers. The heated front bucket seats are adjustable in 18 different ways, including adjustments for back bolstering and lumbar support, and offer great support when pushing on, but can be set to provide lazy-boy levels of comfort on the open road. In terms of overall interior space, the Caddy coupe doesn't disappoint and actually offers slightly more space than the Mercedes-AMG C63. Front-seat legroom is measured at 42.3 inches, compared to the BMW's 42.2 inches, and the AMG Merc's 42 inches. Taller drivers won't be pleased with the 37.6 inches of headroom on offer, but it gets worse in the rear, where legroom drops down to 33.5 inches, which is still more than what the Mercedes has to offer. The headroom is also tight at 35.1 inches. Overall the ATS-V offers class standard interior space, which isn't saying much.

Front Leg Room42.3 in

Front Head Room37.6 in

Rear Leg Room33.5 in

Rear Head Room35.1 in
Interior Colors and Materials
Seat and accent colors are packaged together in four groups, with the optional V carbon-fiber trim being available across the interior color options list. The standard Jet Black leather seats feature suede microfiber inserts, which gives the interior of the ATS-V a decidedly sporty feel. The optional Recaro sport seats are available in three color combinations: you can have a black on black theme, or settle on a more mature Light Platinum and Jet Black, or Jet Black and Saffron combo. Either way, the optional Recaro seats look and feel great, and add a touch of European style. The quality of materials on the seats and significant touchpoints such as the steering wheel and shift knob is good, but you'll notice a few cheaper feeling plastics when you dig around the interior.
ATS-V Coupe Trunk and Cargo Space
Compact sports coupes were never intended to be taken on serious family road trips, and the ATS-V will make sure you never even attempt to: the sporty Caddy offers a grand total of 10.4 cubic feet of space, less than its key German competitors, but all is not lost. The trunk lid of the ATS-V has a wide opening, and the front half of the trunk shares that wide space, but eventually shrinks down to a narrow passage once you hit the wheel-wells. The BMW might offer slightly more space overall, but that space is less accessible, and the same goes for the Merc. The war on cargo space continues inside the cabin: small door pockets and cupholders seem very un-American, although the Caddy does offer a secret phone compartment behind the climate control panel.

ATS-V Coupe Infotainment and Features
Features
A short options list means you get more stuff as standard, which is good for the buyer. Unlike some auto manufacturers such as BMW, who present an appealing base price that is quickly obliterated by the optional extras, Cadillac offers most of its features at no extra cost. This helps to make up for the substandard build quality and refinement of the ATS-V. Exterior and mechanical features such as 18-inch alloys wrapped in Michelin Super Sport tires and connected to a sport-tuned suspension and a big Brembo brake kit will go unnoticed by some, but it is integral to making the ATS-V perform the way it does. LED taillights, heated and power-folding mirrors, and an active aero grille add style and attitude to the exterior. Inside, you'll find heated power seats, dual-zone climate control, 4G LTE Wi-Fi connectivity, an auto-dimming rearview as well as remote keyless entry, push-button start, and wireless phone charging.
Infotainment
We're pleased to report that the infotainment system on the 2019 Cadillac ATS-V is up there with the best in class, and apart from a few interface niggles provides an enjoyable user experience. The eight-inch full-color touchscreen display is mated to Cadillac's user experience five (CUE 5) software that delivers streamlined performance and seamless transitions between menus, but navigating said menus can get confusing for first-time users, and the soft-touch sliders are fickle. Cadillac thought it good to include 4G LTE Wi-Fi connectivity as well as Apple CarPlay and Android Auto, features that go a long way to future-proofing the ATS-V. A nifty feature worth mentioning is the teen driver mode, which limits certain parameters such as throttle input and in gear rev limits. It even reduces the amount of torque sent to the rear wheels. Sound is channeled through a 10-speaker Bose sound system that delivers outstanding clarity and full bass tones.
ATS-V Coupe Problems and Reliability
If you'd asked someone in the '70s, '80s, '90s, and early 2000s if they thought an American built sports coupe with a twin-turbocharged V6 would be a reliable car, you'd get a resounding "NO" as an answer. How things have changed since those dark ages. The 2019 Cadillac ATS-V has had no recalls, and you'd have to go back a good few years to find the last one, which affected the rear defogger coil. Some customers have complained about gearboxes that get stuck in a certain gear or power steering systems that would act out, but no major mechanical issues have been reported. Unfortunately, J.D. Power doesn't have an official score for the ATS-V, but Cadillac's four-year/50,000-mile warranty should put your mind at ease.
Warranty
Basic:

4 Years \ 50,000 Miles

Drivetrain:

6 Years \ 70,000 Miles

Rust-Through:

6 Years \ Unlimited Miles

Corrosion:

4 Years \ 50,000 Miles

Roadside Assistance:

6 Years \ 70,000 Miles

Maintenance Note:

1 Year \ 1 Visit
ATS-V Coupe Safety
One of the ATS-V's most considerable drawbacks is its unimpressive safety record. The Caddy coupe has been tested by both the NHTSA and IIHS and has been left wanting. The IIHS only performed a partial test, which revealed that the standard headlight system was not up to modern-day standards, but the optional driver assistance package offered superior protection. The NHTSA gave a 2018 model a score of four out of five stars due to an average performance in their frontal crash tests. The Mercedes C-Class range was awarded a Top Safety Pick Plus award.
Key Safety Features
The unimpressive list of safety features could explain why the Cadillac ATS range failed to impress the NHTSA and IIHS: a basic airbag system, stability control, and cruise control is what you get, not mentioning ABS brakes and the like. This is almost inexcusable considering the fact that this is a 2019 model. If you're in any way serious about safety, you'll have to include the optional Driver Awareness Package, which adds adaptive headlights, lane change, and blind-spot alert; lane keep assist with lane departure warning as well as forward collision avoidance, rear cross-traffic alert, and rain-sensing wipers. With these extra features added, there is no doubt that the ATS-V would perform much better on the American crash test circuit.
Verdict: 🏁Is the 2019 Cadillac ATS-V Coupe a good car?
Cadillac has made giant leaps from where they were in the early 2000s to where they are now. The ATS-V proves that American car companies can build premium sedans that can stick with the best that Germany has to offer. The Cadillac ATS-V falls short in a few areas, however: the interior build quality needs improving, and the general design would benefit from a more distinctive look. Standard safety equipment can also be increased to match industry standards. Apart from those issues, the ATS-V is every bit as capable and fun as the BMW M4 or AMG C63. The 3.6-liter engine is an absolute gem, delivers mountains of torque in a seamless fashion, and is one of the car's highlights. Interior features are up to scratch with the rest of the class. At $67,795, the 2019 ATS-V is priced right next to its acclaimed German rivals, so it will be a tough decision to make, but as soon as you get behind the wheel, you'll know what to do.
🚘What's the Price of the 2019 Cadillac ATS-V Coupe?
The 2019 Cadillac ATS-V starts at an MSRP of $67,795, but due to its discontinuation, you should be able to pick one up at a bargain price. Be careful of adding too many options, however, as the price can climb quickly, and you'll end up with a Caddy that costs as much as more exotic and more accomplished machines. By comparison, the BMW M4 starts with an MRSP of $69,150, climbing to $103,100 for the hardcore CS model. The Mercedes-AMG C63 Coupe starts at $68,750 and goes up to $76,450 for the 500 hp+ S version.
2019 Cadillac ATS-V Coupe Models
There is only one model on offer, which means you get standard features such as performance Brembo brakes, daytime running lights, and 18-inch alloys wrapped in summer performance tires. Inside, there's dual-zone climate control, heated and powered seats with 18-way adjustability, and an auto-dimming rearview mirror. Tech features such as wireless phone charging, 4G LTE Wi-Fi connectivity, and Apple CarPlay and Android Auto help keep the ATS-V relevant. The eight-inch infotainment screen offers quick response times and is easy to use once you get used to the somewhat confusing menu layout. A premium 10-speaker Bose sound system produces clear tones and full-sounding bass tones. The only letdown is the absence of any significant driver safety assistance features such as blind-spot assist or active forward collision avoidance, which are all optional extras on the 2019 ATS-V.
See All 2019 Cadillac ATS-V Coupe Trims and Specs
Additional Packages
Cadillac offers a number of optional packages mainly aimed at improving the safety, security, and appearance of the ATS-V. The Cadillac User Experience with navigation package adds navigation, a Bose surround sound system as well as a 110V power outlet. The Luxury Package includes three-zone climate control, heated rear seats, and power rear sunshades. The Recaro performance seats are a recommended option. For those who were less than impressed with the ATS-V's safety ratings, the Driver Awareness package is a must-have: it adds modern safety systems such as lane-keep assist, forward collision avoidance, and rear cross-traffic alert to the list of standard safety features. The eight-speed automatic transmission is also on the options list, for those who appreciate a more relaxed driving experience.
🚗What Cadillac ATS-V Coupe Model Should I Buy?
The 2019 Cadillac ATS-V is a standalone model that is only available in one trim, which makes the purchasing decision that much easier. The big decisions will have to be made when it comes to choosing features off of the options list. The exterior of the ATS-V can be optioned out with a sunroof or three different styles of alloy wheels. On the inside, the Recaro seats are a must-have, especially for those who are serious about driving their cars close to the limit. A non-negotiable is the Driver Awareness Package which adds driver assistance tech such as rain-sensitive windshield wipers, lane keep assist, lane departure warning as well as forward collision alert.
2019 Cadillac ATS-V Coupe Comparisons
2019 Cadillac ATS-V Coupe vs BMW M4 Coupe
Who would've thought the day would come when a Cadillac would square up against Bavaria's finest? Well, the ATS-V is, on paper at least, a worthy rival. The M4 is powered by a twin-turbo 3.0-liter inline-six that produces 425 hp and 406 lb-ft of torque at 1,850 rpm. This number is significantly lower than that of the ATS-V, but trick electronics, a quick-shifting auto transmission, and a lower curb weight allow the BMW to accelerate to sixty in similar times. Fuel consumption is slightly better than that of the Caddy, coming in at 18/25/20 mpg city/highway/combined. On the road, the BMW is a more refined car, especially inside the cabin, where the build quality and design are second to none. Dynamically, the M4 will be quicker around a track but can't entertain as much as the ATS-V. The steering feels overly assisted and arcade-like, but turn-in and mid-corner grip are both excellent. The BMW, once the hooligan's choice, has grown up, and it's got a young upstart barking at its heels.
See BMW M4 Coupe Review
2019 Cadillac ATS-V Coupe vs Mercedes-AMG C63 Coupe
Mercedes' ultimate compact coupe performance car is an old school muscle car camouflaged with modern styling. As is the tradition, whereas BMW M cars offer a focused driving experience, the AMG C63 delivers a hammer blow of performance. The ATS-V is barking up the right tree, then. The AMG's power is supplied via a twin-turbo 4.0-liter V8 that produces 469 hp and 479 lb-ft of torque further down in the rev range as compared to the Caddy. The Merc carries extra weight, but the sheer pulling force of that V8 cancels out any disadvantage, and the S version offers up more than 500 hp. Fuel consumption is still better than what the Caddy can muster: the C63 will manage 17/26/20 mpg city/highway/combined. The interior of the AMG C63 is a spectacle to behold: every detail oozes premium class, and the cabin feels more special overall. The same goes for the standard features and safety list. Driving the Mercedes-AMG C63 is a more refined and relaxed experience, but the ATS-V is more entertaining at the limit. The C63 is a safer car, with the closely related C-Class sedan scoring a Top Safety Pick Plus award from the IIHS. Plus, the C63 only costs a hair over a grand more. The sheer luxury and capability of the C63 are enough to win most over.
See Mercedes-AMG C63 Coupe Review
Cadillac ATS-V Coupe Popular Comparisons
The most popular competitors of 2019 Cadillac ATS-V Coupe:
2019 Cadillac ATS-V Coupe Video Reviews
Check out some informative Cadillac ATS-V Coupe video reviews below.
2019 Cadillac ATS-V Coupe Packs Solid Power and Premium Luxuries
CarProUSA
2019 Cadillac ATS-V Coupe Packs Solid Power and Premium Luxuries
CarProUSA
2017 Cadillac ATS-V Coupe UNBOXING Review - An American-Built M4 Killer?
CarBuzz
Sours: https://carbuzz.com/cars/cadillac/ats-v-coupe
2019 Cadillac ATS-V Getting $4,000 Price Increase
Order guides show Cadillac is increasing prices for the final year of the ATS-V Coupe. Like the 2019 ATS, the brand has discontinued production of the 4-door model while it develops two new cars likely to be called the CT4 & CT5.
For 2019, the ATS-V Coupe has been priced from $68,790, which includes a destination & handling charge of $995. That means it'll be $4,000 more expensive than last year's MSRP of $64,790.
At the same time, the car will be getting a bit more equipment. According to Cadillac spokesperson JL Lavina, the car will now come standard with the Carbon Fiber Package, previously a $5,000 option.
The package adds sportier-looking elements like carbon fiber hood vent trim, a front splitter and rear diffuser, as well as a more aerodynamic rear spoiler and composite rocker extensions.
Under the hood, the ATS-V will come with the same 3.6-liter twin turbo V6 as before. It's rated at 464 hp and 445 lb-ft of torque, and comes standard with a 6-speed manual. An 8-speed automatic is available for an extra $2,000.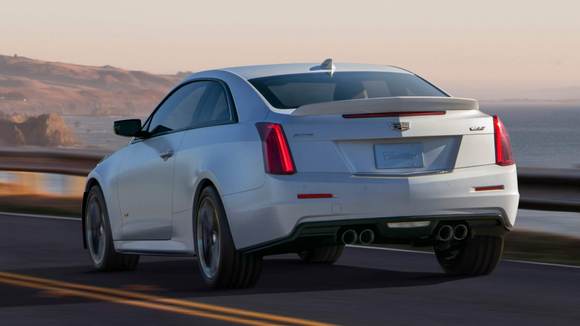 At $68,790, the ATS-V will be just over $19,000 less pricey than its big brother, the 2019 CTS-V ($87,990 and only offered as a sedan). It'll also be a bit more closely aligned with its main competitors.
The car will come in $295 higher than the 2018 Mercedes-Benz C63 AMG Coupe ($68,495), but $1,355 less than a 2019 BMW M4 ($70,145). For reference, it'll also be $475 more expensive than a 2019 Corvette Grand Sport ($68,315).
If you've been thinking of buying an ATS-V, deals on the 2018 model are actually pretty good at the moment.
All versions are eligible for a $1,000 national cash incentive plus an extra $1,000 here on the West Coast. There's also an unadvertised dealer "Flex Cash" incentive worth $2,000. But that's not all.
Current GM lessees may be eligible for a $2,000 loyalty bonus to sweeten the deal. Altogether, that's $6,000 in potential savings, all before you even begin negotiating with your local dealer.
Editor's Note: 2018 ATS-V pictured
Sours: https://www.carsdirect.com/automotive-news/2019-cadillac-ats-v-getting-4-000-price-increase
Is the Cadillac ATS-V with a 6-speed manual the PERFORMANCE car to BUY?
.
Ats v price 2019 cadillac
.
Is the Cadillac ATS-V with a 6-speed manual the PERFORMANCE car to BUY?
.
You will also be interested:
.
589
590
591
592
593