Looking for the best gifts for avocado lovers? Our list of avo gift ideas features a broad range of items including kitchen, decor and fashion stuff that will satisfy every avocado fan!
Avocado Piñata
Our posts contain affiliate links for which we may earn a commission. As an Amazon Associate we earn from qualifying purchases.
Buy Now
The perfect decoration for your guac-themed party, this avocado-shaped piñata is just the thing to make your festivity feel so fresh.
Avocado Tree Sprouter – Set of 2
Buy Now
More people these days are growing their own food to be more self-sufficient, so the avocado lover in your life would love to grow their own avocados too.
And with these sprouters they can! Just put the sprouter in a jar of water, place an avocado pit inside it, and wait for the tree to start growing.
Avocado plants come with beautiful green-glazed leaves, so they look great in every room of the house.
Avocado Huggers – Set of 2
Buy Now
Don't you just hate recipes that call for half an avocado? What are you supposed to do with the other half? These huggers keep avocados fresh and prevent them from browning for up to 2 days.
Made of BPA- and phthalate-free silicone.
Avocado Multi-Tool
Buy Now
Preparing avocados sometimes seems like a chore, but with this tool you can cut, pit and scoop in a cinch leaving time for more important stuff!
Mini Huggable Cooling + Heating Pad
Buy Now
Heat up and hug this mini plushie for warmth and relaxation whenever you need it! Microwave it to keep you warm or even freeze it to cool you off.
The small size is perfect for relaxing the jaw or belly cramps. Filled with natural buckwheat grains and lavender for a refreshing ritual.
Funny Avocado Lover Long Apron
Buy Now
This AVOCADO-OLOGIST apron makes a unique and funny gift for someone who loves avocados or a chef. Design features a big, green avocado cut in half and up to 2 lines of your own text.
Avocado Toast Breakfast Set
Buy Now
Cut, de-stone, scoop, and slice avocado with this one tool that has a fold-out plastic blade, stainless steel pitter, and curved slicing head.
Avocado Stud Earrings
Buy Now
These 18-karat gold vermeil Avocado Stud Earrings will look great with every outfit.
Avo Merry Christmas Card
Buy Now
Avo very, merry Christmas when you wish all your nearest and dearest a happy holidays with this card that doubles as a tribute to your favorite fruit.
Herb-Infused Avocado Oil Gift Set
Buy Now
Avocado oil is one the few truly healthy fats we can use, not to mention absolutely delicious. It gets even better with these avocado oils infused with ingredients like ginger and turmeric, roasted garlic, chili peppers, and rosemary.
Use them in salads, to saute veggies or for a healthy stir-fry meal. The end result will be mouthwatering!
Finishing Salt Gift Set
Buy Now
Those avocados on toast taste even better with a sprinkle of one of these salts. The set contains 4 flavors: Chipotle, Szechuan Peppercorn, Avocado Jalapeño, and Sriracha all made with locally sourced organic ingredients.
Molcajete with Tortilla Basket
Buy Now
Made from basalt (volcanic stone), the Molcajete is oven-safe and ideal for hand-smashing components of spicy salsas or chunky guacamole.
Just season it first, like a cast iron skillet. Also included: A hand-woven straw basket called a tortillero, traditionally used to keep tortillas warm before serving.
Taco Tuesday, here we come!
Taco Dreams Mobile
Buy Now
A great baby (shower) gift for future avocado lovers, this mobile features twirling tacos, avocados, and hot sauce for fun, festive nursery or playroom decor.
Avocado Chenille Patch Crew Sock
Buy Now
These fruity pair of socks are everything! The perfect color and a fuzzy avocado embroidered on them! What's not to like?
Avocado Bracelet
Buy Now
A super cute gift idea for daughter or a BFF, this bangle bracelet feature 4 charms including an avocado and a plate engraved with the words "Just a girl who loves avocado."
Packed in a velvet pouch, so it's perfect for gift giving.
Rated Green Avocado Nourishing Scalp Mask
Buy Now
Formulated with organic cold-pressed avocado and banana, this mask deeply nourishes and fortifies your scalp, leaving your hair feeling light and soft.
AVOGATO – Funny Avocado T-Shirt
Buy Now
This funny tee combines their love for cats and avocados. Also available in women and youth sizes.
Let's Avocuddle Fleece Blanket
Buy Now
Show off your love for avocados with this avocado blanket. Perfect for picnics in the park or just cozy on the couch.
Primal Kitchen Original Mayo Made with Avocado Oil
Buy Now
The best tasting mayo made with avocado oil and without sugar or other nasty ingredients. Perfect for salads, burgers
Any Keto and Paleo fans will love to get a jar of this stuff!
Avocados Doing Yoga Tote Bag
Buy Now
Made from 100% cotton canvas, this tote bag sports a cute avocado print and is perfect for taking to Yoga class or doing grocery shopping.
Guacamole and Salsa Serving Dish Set
Buy Now
The perfect guac set for the avocado lover! This cure bowl features the words "It's five o'guac somewhere" and comes with a silver spoon engraved with the words "holy guacamole."
More Gift Ideas
33 Best Food Gifts For Men
Best Pineapple Gifts For Housewarmings and Celebrations
Best Keto Gift Ideas
Eco-Friendly Gifts For Earth Loving Friends
Gifts for Taco Lovers
Sign up for our newsletter and receive a free Christmas planner!
Sours: https://www.absolutechristmas.com/food-gifts/gifts-for-avocado-lovers/
When you're looking for a gift for an avocado fan, it can be hard to know what to buy them. We've searched high and low to bring you the best selection of avo ideas around, so all you have to do is pick which ones you think they will love the most.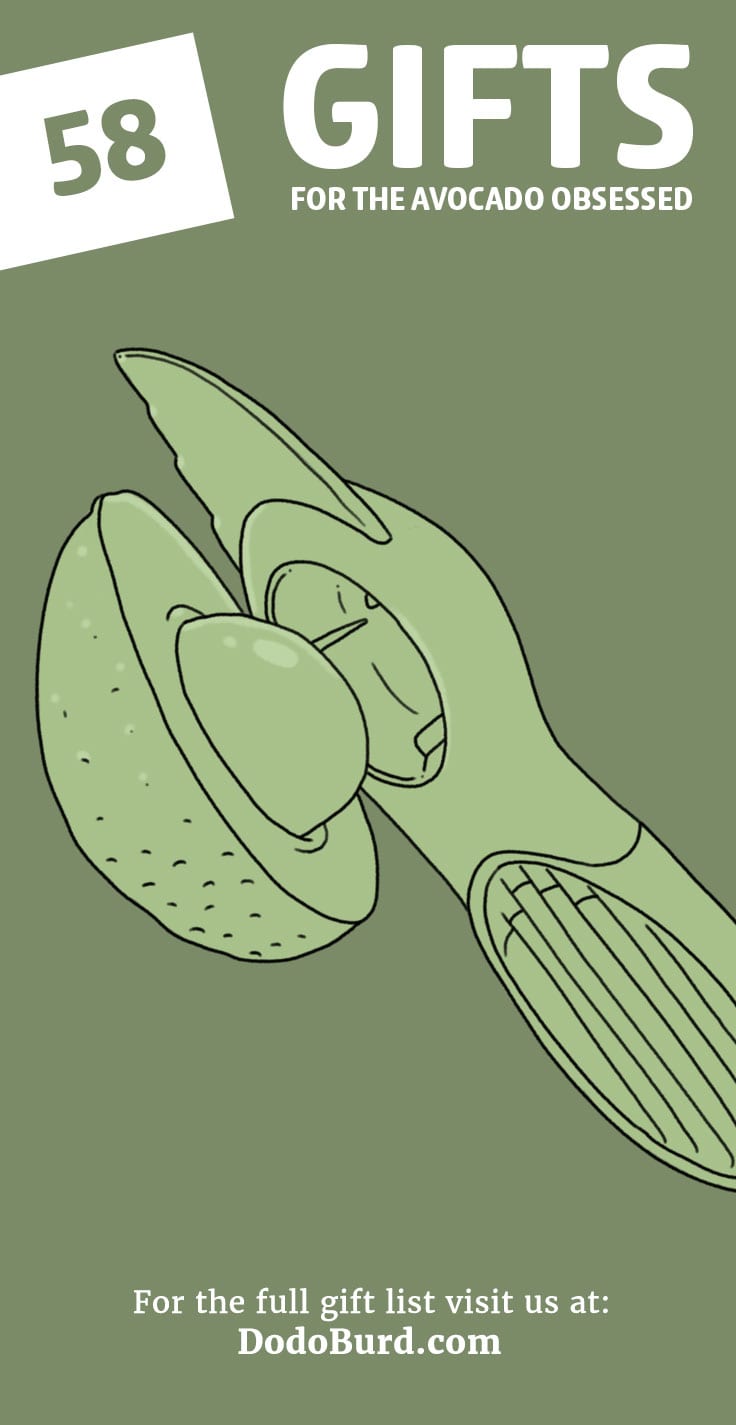 TUDIMO Mortar and Pestle Set
It can really grind you down trying to mash up your avocado for guacamole. This pestle and mortar set will make it a breeze, and it looks pretty stylish too. And unlike other mortars, this one comes with a non-scratch, non-slip foam bottom, so no chance of spilling it all over yourself.
$27.99
---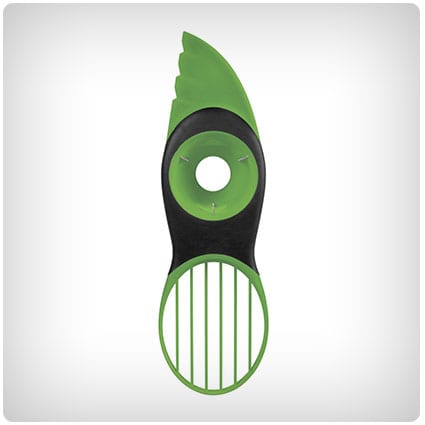 OXO Good Grips 3-in-1 Avocado Slicer
Avocado made easy! This three in one tool does everything apart from eating the fruit, and you wouldn't want that, anyway! Easy to grip, it splits, pits, and slices the fruit into seven delicious pieces, all ready for devouring. Could you 'av-a' better gift? And it's green, so it matches!
$9.82
---
Avocado Body Scrub
Avocado is so good for the skin, but washing it off does tend to clog up the shower drain! Harness the power of avocado with this body scrub, instead! Made with nourishing oils and salts from the Dead Sea, it will leave your skin glowing and soft.
$14.00
---
Chosen Foods Avocado Oil Spray
If you like the idea of cooking with avocado oil, but only want to use it sparingly, this spray is ideal. There are no hidden nasties, just 100% pure avocado oil, all ready to be delivered in short, economical bursts. A great idea for healthy, high-heat cooking.
$8.99
---
Vegan Sweater
This is a gift that 'Tex' first prize for originality! Handmade from a cotton blend, this sweatshirt features two avocados on the front, who look way too cute to eat! Available in black, grey, or navy, it's a great gift for someone who loves avocados and wants the world to know it!
$17.99
---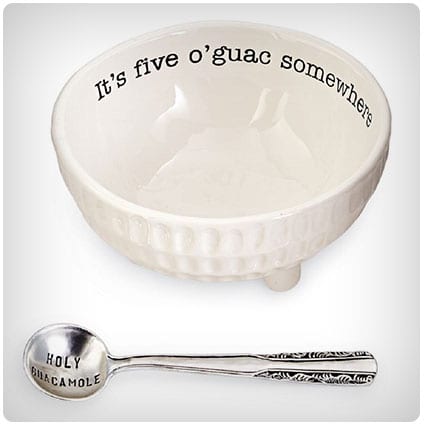 GUACAMOLE DIP CUP SET
Don't just dollop your guacamole into a bowl when you have guests, use this gift made especially for the occasion! Featuring the words 'It's 5 o' guac somewhere' this bowl shows that anytime is the right time for dipping into the green stuff! Complete with stamped silver spoon.
Prices Vary
---
Best Friends Tiny (1/2inch) Avocado Halves Braceletes
How cute is this gift? A pair of matching necklaces or bracelets, each one sporting half an avocado which fit together beautifully, just as best friends should! Keep one for yourself, and give one to your BFF, or just keep them both, because they are that cute.
$16.00
---
Adult Avocado Costume
If you know someone who loves to get 'stoned' at parties, this is the way for them to do it for all to see! The polyester 'fruit' displays a very prominent 3D 'nut', although anyone wearing this would have to be pretty nutty anyway!
Prices Vary
---
Avocado
We all know avocados are good for the heart, so why not wear one over yours? A great gift for any avocado lover, showing that home is where the avocado is! Whether you choose white or gray, this adorable little fruit will certainly stand out.
$10.86
---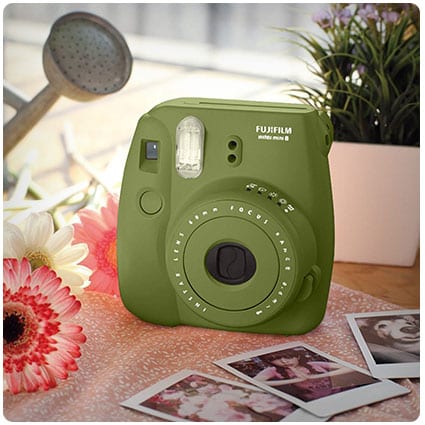 Fujifilm INSTAX Mini 8 Instant Camera
Cheese goes very well with avocado, so say it with your brightest smile for the camera. Unashamedly green, this instant camera from Fuji will take great pictures and deliver them straightaway, so no waiting around for them to be developed. Especially good for portraits thanks to the soft-look results.
Prices Vary
---
ExOfficio Men's Give-N-Go Boxer
Avocados are good for you, but as delicious as they are they can cause gas, and for anyone standing downwind that can be a problem! These boxers are a gift to any avocado-eater (or their long suffering partner) because their odor-resistance is a breath of fresh air for everyone!
Prices Vary
---
Avocado Queen Necklace
For the woman who has everything, including a love of avocados. A gorgeous sterling silver avo pear, with a hollowed out center for the stone, hangs fruitily on an 18 inch chain, reminding everyone that avocado is, indeed, the new black. Handmade and very very pretty.
$38.00
---
Joie Fresh Pod Avocado Keeper Storage Container
Oh the horror of rooting around in the refrigerator after a night out, only to find your finger sinking into a long forgotten rotten avocado! It's the stuff of nightmares. Stop that happening ever again with this look-a-like storage container, which keeps cut avocados fresher and firmer for longer.
Prices Vary
---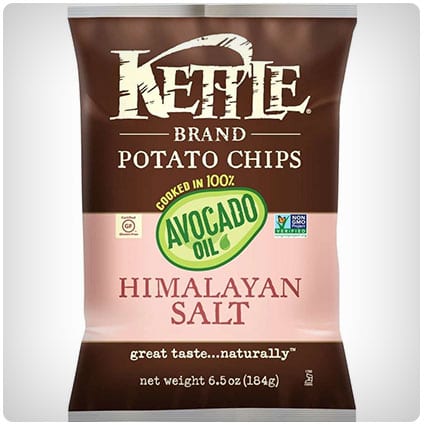 Avocado Oil Potato Chips
When the chips are down, reach for these super delicious Kettle chips, which are guaranteed to put a smile back on your face. Cooked in avocado oil, and seasoned with Himayan salt, these delicious snacks would be the perfect accompaniment to a Guac-ing big bowl of smooshed avocado.
Prices Vary
---
Vintage Avocado Scoop Spoon
The perfect fruit deserves its own perfect spoon, and what fruit is more perfect than an avocado? This vintage silver plated spoon is stamped with 'I heart avocado', although we doubt it'll be out of your mouth long enough for anyone to read it! A lovely gift for an avocado addict.
$14.99
---
Creamy Eye Treatment with Avocado
The skin under the eye is delicate, and it deserves special treatment. Kiehl's Creamy Eye Treatment is light, gentle and made with avocado oil for a feather light touch. It's so gentle, in fact, that it stays where you apply it, and doesn't migrate into the eye, which really isn't a good look for anyone!
Prices Vary
---
---
Primal Kitchen Avocado Oil Mayo
Mayo we introduce you to this wondrous jar of creamy yumminess that is avocado mayonnaise? Packed full of healthy stuff like Vitamin E, Omega-9, and of course, the king of knobbly food stuffs to keep you looking and feeling young and healthy, this mayo is full, rich, and makes an utterly gorgeous gift for avocado lovers.
$11.17
---
Happypop Men's NoveltyDress Crew Socks
Sock it to 'em with this three pack of fruity socks. Wear them to brighten up a dull day, a dull suit, or a dull mood. If you're really feeling daring, you could 'Mex' and match them, pairing up an avocado with a cactus – wait, would that make a prickly pear or a prickly pair?
Prices Vary
---
Casabella Guac-Lock Container with Tray
'Guac' a great idea! Homemade guacamole always tastes nicer than store bought, but the problem is it goes 'off' so quickly, which just means you have to eat it all in one go. Shame. But now you don't have to, with this clever gadget that keeps your dips as fresh as a daisy.
Prices Vary
---
That's The Pits – Avocado Card
Show someone you care by sending them a handmade avo-card-o. Bad news, rubbish day, or just feeling down, this cute but sad looking avocado will have them smiling, or at least comforted, knowing that you care, and really do understand that sometimes it's the pits.
$4.50
---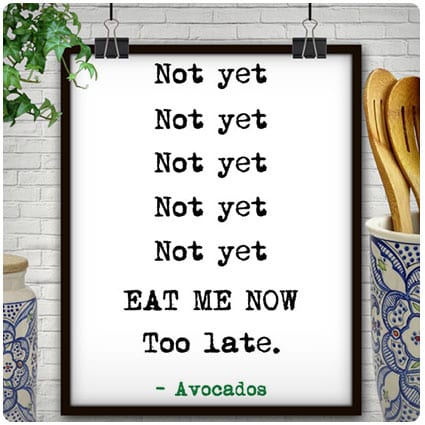 Avocado Print
This fun print is a must have gift for any avocado lover to hang in their kitchen, proving that when it comes to their favorite fruit, timing is everything. It'll be everything they avo wanted, but hurry, because it will be going…going…gone (just like guacamole).
$4.99
---
The Pet Avocado
This teeny little avocado is the perfect pet. He doesn't eat, or drink, and you don't have to buy litter or a pooper scooper. He's just happy to sit there under his little clear dome, watching the world go by, him and his little heart of stone.
$6.12
---
Avocado Huggers by Food Huggers
You know what it's like, you cut an avocado in two but you find you can only eat one half. What to do with the other half? These huggers come in two sizes to perfectly preserve the one that's left behind, and even accommodate the stone, so innie or outie, it'll fit like a glove.
$11.99
---
Boulder Canyon Avocado Oil Chips
These are nacho ordinary chips! They're canyon cut wavy kettle chips, cooked in 100% avocado oil and seasoned with malt vinegar and sea salt. Crunchy, savory, and begging to be dipped into a big bowl of guacamole, these chips are waaay too good for kids.
Prices Vary
---
Green Avocado Friendship Necklace Pendant
Best friends live in each other's hearts forever, and now they can hang around each other's necks too, with adorable matching avocado halves necklaces. You buy them as a 'pear' and then gift one to your bestie, so you're never far from their thoughts.
$17.95
---
Avocado Shirt
Show the world what a gorgeous pear you have with an avocado t-shirt! Cut for women, it can be worn fitted to flatter or baggy for that boyfriend look. The bright white background shows off the strategically placed halves to perfection, and leaves everything to the imagination.
$16.00
---
Fancyqube Women's Retro Pleated Floral Print Skirt
Some people end up with food all over themselves because they're clumsy, but this gorgeous retro swing skirt with its pretty avocado pattern means you can wear what you eat without spilling a single morsel (and who wants to waste avocado, anyway?) It's flirty, fun, and very feminine.
Prices Vary
---
Be Gentle, Be Kind Avocado + Quinoa Co-Wash
If you're not 'keen-wa' on washing your hair with sulfates and other chemicals, this is the stuff for you. Made from avocado and quinoa, this gentle shampoo and conditioner is jam packed with nutrients to ensure your hair is squeaky clean, without stripping it of its goodness.
Prices Vary
---
Avocado Fabric
Does someone you know love avocados so much that they would drape themselves in them if they could? This fabric, with its all over print of avocado halves, can be turned into pretty much any item of clothing with a bit of sewing know-how, so now they can wear the pear from head to foot.
$10.50
---
Evriholder Avo Saver Avocado Holder
Strap yourselves in for this one! This avocado keeper might look like it is straight from the movie 'Terminator' but it does keep your pear fresh in the fridge with no nasty discoloration. Just cut it, place it, and strap it in for freshness that lasts for days. A great gift for an avocado addict.
$11.46
---
Peter Lamas Avocado & Olive Ultra Smoothing Shampoo
Combining the power of avocado and olive oil, the Peter Lamas shampoo is designed for all manner of unruly hair, without the damaging effects of sulfates, parabens, or other harsh chemicals. Vegan friendly, and with sandalwood, barley, and vitamin B5 it's a treat for your hair and your nose!
$24.00
---
Kamen Extra Virgin Avocado Oil
Avocado is the new kid on the block when it comes to cooking oils. As you would expect – nay, demand – it is a beautiful, rich green color, and can be used for marinating, drizzling, or cooking even at high temperatures for a nutty, buttery hint to your dishes.
Prices Vary
---
La Tourangelle Avocado Oil
Why have twenty bottles when one will do? Well, technically it's a tin. Not only is this oil a perfect gift for use in the kitchen, but it is also brilliant in the bathroom, for skin and hair use, and as a base for homemade cosmetics. Yes, it really is that good.
$9.98
---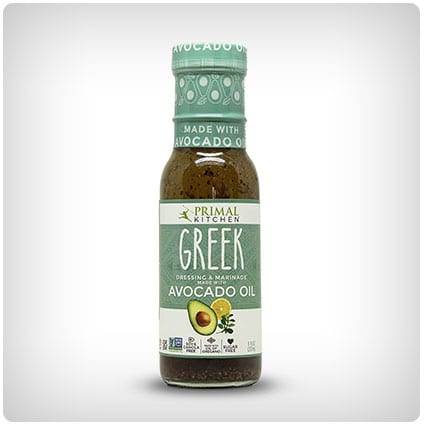 Primal Kitchen – Greek, Avocado Oil-Based Dressing and Marinade
Full of pesky hidden sugars and trans fats, most salad dressings can scupper even the most ardent of healthy eater's good intentions. Not so with this tasty Greek avocado oil-based dressing, which is chock full of healthy oils and delicious herbs. Dairy, soy, and gluten free, and Paleo certified.
$10.48
---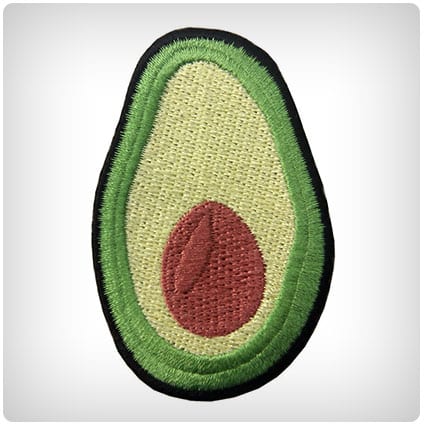 Avocado Cute Fruit Embroidered Applique Iron On Sew On Patch
Never mind the Sons of Anarchy, sew or iron this patch on to your denim jacket (or anywhere else for that matter) and you will be part of an even cooler gang – the Sons (and Daughters) of Avocado! Just 15 seconds with an iron and Bob's your uncle, cool as a cucumber. Oops, wrong fruit!
$6.29
---
Avocado Print T-shirt
'Pear' an avocado t shirt with jeans, shorts or anything you like for a fresh fruity look. And no matter how many times you put it through the spinner, the print won't fade or crack, meaning you look as fresh as a freshly sliced 'cado.
$22.99
---
Taco Dreams Mobile
For any little one with a taste for the exotic, this adorable mobile will hold their attention while you tip-taco out of their bedroom at nap time. With dangling avocadoes, stuffed tacos, and hot sauces, it will send your baby off into a delicious siesta.
$48.00
---
Avocado Joint Health Supplement
Make getting rid of the pain of arthritis a joint effort, utilizing the power of both soy and avocado. Just one capsule a day means that there is a two month supply in one bottle, giving the natural ingredients time to work their magic on arthritic pain.
$39.95
---
Avocado Salt and Pepper Shaker
'Tis the seasoning to be jolly…' Give your salt and pepper a shake up with the gift of an avocado salt and pepper shaker. The pit holds the pepper, and the fruit holds the salt, and they fit together when not in use like, well, like salt and pepper really.
$45.00
---
Avocado Hair Milk
It's hard work being hair, and your tresses can really work up a thirst! Luckily, that thirst can be quenched with a daily dose of avocado hair milk. Made with a whole bunch of botanicals for your bonce, dry locks will be hair today, and gone tomorrow.
$12.75
---
Avocado Tree Starter Kit
You've heard of banana boats, right? Well now you can have an avocado boat, or three of them to be precise! Just place your avocado stone in the holder, float your boat in water, and watch as a new plant is born! It's an avocado reincarnation!
$20.00
---
Guacamole Utensil Kit
Make fresh, tasty guacamole with a set of avocado colored guacamole utensils! With everything you need to halve, stone, scoop and mash, along with herb cutters for your cilantro, and a citrus juicer for lemons and limes, this gift means you're just a few short steps away from guacamole heaven.
$39.99
---
Grow your own Avocado Tree
If you want a never ending supply of the super food that is the mighty avocado, then this is the gift that keeps on giving! Just place the avocado stone in the holder, float it in water, and before you know it you'll have your very own avocado plant!
$10.95
---
Avocado Peppermint Soap
Get yourself in a real lather with handmade, all natural, avocado soap. Made with olive and coconut oil, (and of course avocado), shea butter, and essential oils, you'll be bubbling over with excitement at the fresh smell and creamy feeling this little bar will bring.
$6.95
---
Avocado Crochet Gift
A woolly avocado! What could be cuter? Any 'cado pear loving person will adore this hand crocheted version of their most beloved fruit. With a super sweet smile and a softly stuffed tum, he's a gift to be treasured by anyone and everyone who sees him.
$13.59
---
Avocadhoe Mug
Sometimes someone will come along who seems to love avocados a little too much, if there even is such a thing! Remind them of their love with the gift of a mug that spells out exactly what you think of them! (Avocadhoe. Noun. Someone who loves avocados a little inappropriately.)
$10.99
---
AvoSeedo
When one is never enough, now you can grow not one, not two, but THREE of your very own avocado trees, right there in your kitchen! Just pop an avocado stone in the little boat, float it in a clear container of water, and watch as it takes 'root' and grows before your very eyes.
$19.95
---
8 DIY Avocado Ideas
Avocado Soap Recipe
Soaps are, or can be, quite drying due to the chemicals they contain. Making your own soap allows you to know exactly what you're putting in your soap, and therefore on your skin. This easy to follow recipe combines both avocado oil and puree, along with other nourishing oils, to make a beautifully gentle bar.
---
DIY Avocado Hair Mask
'Hair' is a really great recipe for a DIY hair mask that will leave your locks looking lustrous and luscious (and it really is good enough to eat!) Combine avocado with honey, olive oil, and egg yolks, work into your hair, and 20 minutes shampoo it out for healthy, shiny hair.
---
DIY Face Mask
Avocado feeds your stomach, your soul, and your skin! Make your face glow with a DIY face mask that softens, moisturizes, and rehydrates all at the same time. The recipe makes enough for 3 or four masks, so share with your BFF or keep it all to yourself for your own nightly ritual.
---
Natural Avocado Beauty Face Mask
If you love using natural ingredients both inside and out, you will really love this recipe for a face mask you can make at home. Using food stuffs you probably already have (avocado, anyone?) you can create a gentle exfoliating face mask that leaves your skin feeling satisfied.
---
Whipped Avocado, Honey And Olive Oil Hair Mask
Av a go at this avocado hair mask, which is packed full of hair and scalp friendly ingredients. Avocado – 'nach-o-rally', olive oil, and honey all come together to make a softening, strengthening mask for achieving healthy hair. A few drops of lavender will even make it anti-dandruff.
---
Avocado Beeswax Hand Salve
You've got to hand it to them, avocados are good for pretty much anything! This DIY hand salve is perfect for dry hands, as it uses avocado oil, beeswax, and essential oils, and if you use tea tree it takes on anti-bacterial properties. Great for dry feet too.
---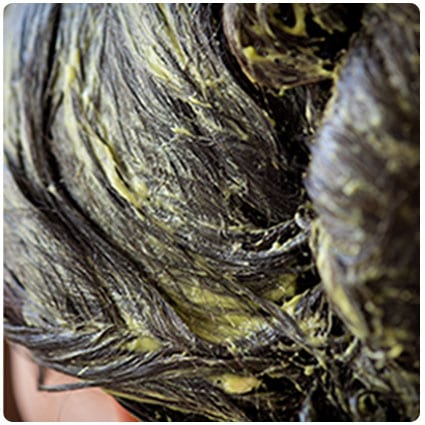 Rosemary Avocado Coconut Oil Hair Mask
Why use several different products to condition your hair when this one will do everything in one? Rosemary, avocado and coconut oil all combine to make a hair mask that is anti-bacterial, anti-hair loss, stimulates the scalp, and makes the hair all shiny and nice! And it smells soooo good.
---
Honey Face Mask
This face mask is a powerhouse of goodness! With brightening lemon juice, moisturizing honey, and awesome avocado to smooth and soften your skin, it's a little pot of mush with a veritable smorgasbord of benefits. And you can lick your fingers afterwards.
(You may also like: 47 Gifts for Bird Lovers)
Other Gift Ideas
Sours: https://dodoburd.com/gifts-for-avocado-lovers
Best Gifts For Avocado Lovers
If you need suggestions for that special person who is crazy about avocados, look no further!
We have plenty of the best gifts for avocado lovers that are sure to please fans of this magical fruit.
Whether it for Christmas, a birthday or just because, check out our ideas below to find the perfect present!
Among all the plush squishables for sale, none are as cute as this piece of toast with slices of avocados on it.  If you are in need of gifts for avocado toast lovers, this one is at the top of our list!
---
A tree growing kit for those who want to experience their own avocados at home, comes with everything you need to get started.  It's one of our favorite avocado lover gifts.
---
Whether for cuts, scrapes or nicks, nothing heals wounds better and cuter than adhesive bandages with avocados printed all over them, they will almost make you look forward to your next injury. With over 900 buyers giving these 5 stars on amazon, you can't go wrong with giving these as avocado Christmas gifts 🙂
---
When it comes to avocado gifts, amazon plenty of choices for cool wall décor.  Here is a make guacamole sign featuring a retro advertisement that would look fantastic hanging in a kitchen or den, in a lovely variation of green colors along with too cute characters.
---

Everyone loves Crocs, and decorating them with Jibbitz to make them stand out and look different from everyone else is loads of fun.  It's one of our favorite avocado gifts for her.  With over 5000 positive reviews, these make excellent & super affordable gifts.
---
Nothing tickles the taste buds better than gourmet toast seasoning loaded with the perfect blend of savory, slightly garlic-y, slightly spicy flavors.  If you wondering what avocado toast gifts are the best, this is definitely one of them!
---

Airpods are expensive, so it's wise to protect them against damage, so getting an airpod case is a no-brainer, especially if the case is designed with cute avocados, and with over 2300 positive reviews, it's are one of our top picks for avocado related gifts!
---
Better California avocado gifts are those that pack a punch, like this SoCal Guac Sauce that is flavorful, spicy and will make eating tacos & guacamole a heavenly experience.
---
It's a fact that personalized avocado gifts help make a regular present a special one.  A great example for a baby shower would be this wooden teetherthat can be customized with the name of the recipient.
---
I can't think of anything better than relaxing on the couch, watching Netflix and snuggling up underneath a warm fleece blanket that is covered with avocados!  When it comes to cute avocado gifts, can you imagine one better than this?
---
Avocados are adorable, especially when you can carry them around with you all the time, which is why this adorable crossbody bag is sure to become the go to accessory in your wardrobe.  It's one of our recommended picks for avocado birthday gifts.
---
When thinking about organic avocado gifts, beauty products come to mind, especially those that help to nourish and moisturize the skin, like this marine clay mask deep pore cleanser and minimizer set.
---

If staying fit and healthy is part of your routine, then this portable shaker bottle is a must for mixing up delicious beverages while you are on the go.  Every health nut will love having one of these, and with over 5000 positive reviews, you can be confident that this is one of the better presents to give.   When speaking of the almighty avocado, small gifts are sometimes awesome.
---

This 3 piece makeup bag set is ideal for carrying brushes, lipstick, nail polish & more.  Even better, the colorful design that is sure to be a hit, making this set on of our best choices for avocado inspired gifts!
---
Preparing this fantastic fruit does have it's challenges.  However, with this slicer for avocados, cutting, slicing and removing pits is a breeze.  With over 11,000 people rating it 5 stars on amazon, this is one of the must have avocado gifts for him if he loves making his own guac!
---
This squishible plush is the perfect companion for hugging, squeezing and cuddling.  It's one of the avocado secret santa gifts that you should add to your shopping list, super affordable too!
---
No one, especially guys, want to eat avocados that have turned brown and are about to spoil.  With this freshness keeper, leftovers can be stored for several days to add extra life.  When I saw this, I immediately knew that it would make be one of must have avocado gifts for boyfriend!
---
As one of our favorite avocado print gifts, this pair of novelty socks is sure to be a big hit as a gift idea.  Perfect to wear at a party, for casual office day or just because.  Very cool and stylish!
---
Many in the know understand the power of the avocado, especially when it comes to improving the health and beauty of the skin.  This facial mask & hand cream set is one of the better avocado based gifts that is sure to be a welcomed gift and perfect for anyone who wants to beautify their appearance.
---
Sometimes, handling a cell phone can be an uncomfortable experience, especially those that are hard to grip.  This set of smartphone hand grips are the perfect solution that will keep your hands from tiring out.  Even better is the lovely avocado design, making this set one of our favorites for cheap avocado gifts.
.
---
There is something about an avocado stuffed plush that will make anyone feel good.  The cute face, colorful design and soft fabric all combine to create perfection.  It's one of our favorite avocado style gifts!  Great for little ones and for adults who are kids at heart.
---
This avocado beach towel is made using microfiber to dry you quickly after relaxing in the pool or swimming in the sea.  The lovely artwork and colorful design makes it on our list of best avocado gifts!
.
---
This guacamole serving bowl will allow you to serve up your next batch in a fun & unique way, it's avocado shaped and even comes with a spoon.  With over 1000 buyers rating it 5 stars on amazon, it's great gift item for those who love hanging out in the kitchen or for the newlyweds as one of their avocado wedding gifts!
.
---
Weird, interesting and original is what makes this throw blanket one of the outstanding choices for avocado gag gifts .  Imagine being wrapped up in this while relaxing on the couch watching your favorite movie!
---
Need an avocado gifts idea?  Everyone knows that getting a good night's sleep is important, which is why this avocado pajama set is one of our favorites. It's a 2 piece set that comes with a sassy short sleeve shirt and a super kawaii set of shorts.
---
Make lunchtime a lot more fun with this bright and bold lunch bag that is insulated, so warm items stay warm and cool items stay cool.  It's one of the novelty avocado gifts that will make the recipient think of you everytime they use it!
---
Fanatics of this wonderful fruit can never have enough pairs of socks, especially those which are as appealing as these, filled with enchanting yoga designs that are sure to bring a smile to anyone who wears them, making them perfect as avocado novelty gifts.
---
It's important for best friends to show each other how much they care.  Here is a cute piece of friendship wall art that would look great in a bedroom or den.  This is one of the perfect avocado pun gifts that allow bff's to show their appreciation!
---
Infants need to keep their bodies & minds active, which is why this avocado stroller toy is one of the great avocado baby gifts, as it rattles, is squeezable and full of attention grabbing colors which are guaranteed to entertain any baby.
---
When I visit amazon, avocado gifts that really leave an impression are those which are fun & festive, like this super cool avocado pattern backpack, with plenty of room for books, a computer, other necessities, and of course, avocados!  Great for university students too!
---
A coffee mug is a great replacement for the typical, boring mugs everyone else uses, making starting off the day with a cup of delicious joe much more fun and interesting.  Makes a unique gift and is one of the funny avocado gifts you can give that will be truly appreciated!
---
This journal is great for jotting down notes while on the go, organizing thoughts and increasing productivity.  Furthermore, the cute design provides plenty of positivity, making it a wonderful gift.
---
Here is one of the perfect avocado gifts for baby, a body suit.  Great to wear for Halloween or a birthday party, it's a great way for babies to dress up and have fun!  It's sure to become your infant's new favorite romper.
---
Keeping feet warm & toasty is a high priority, and these fuzzy slippers will do just that, while making you look pretty darn cute while wearing them, you'll never want to leave the house.
---
Staying organized is always a good idea, and there is no better way to start than with erasers, pens & pencils, so this flashy pencil case will come in handy for storing all your writing instruments.
---
Decorating the tree is part of Xmas tradition, and here is a cool ornament for lovers of the green and brown superfood, guaranteed to garner plenty of attention & compliments!
---
Dressing for Xmas is a great way to get into the holiday spirit, and there is no better way to show it than wearing a pair of cute christmas socks bursting with red, green, white, Avo-merry Christmas!
---
For lovers of the avocado, small gifts are always treasured, especially when it's an item that is both cute and practical, like the bear keychain coin purse that is simply adorable.
---
Adding a splash of color to your accessories is a great way to express your creative side, and a great way to do it is with this colorful iPhone case featuring a super cute design of the world's healthiest fruit!
---
Great for nurses, doctors or anyone who wears an ID for work, this badge holder will help to make displaying identification much easier & way more attractive.
---
For those who are wine drinkers, a bottle stopper is an indispensable item to help keep wine from going bad, so they can enjoy sipping along with snacking on avocado slices.
---
Sometimes, holding on to a smartphone or tablet can tire out hands and fingers quickly, but with a popsocket, those problems will become a thing of the past, as the design allows for effort free use of your gear.
---
It's great to be able to drink a cup of hot and delicious coffee anytime, anywhere, and this thermos bottle with cup will allow exactly that to happen, with a design across the front that is too funny.
---
If you enjoy giving presents that are practical and unusual, this coin purse pouch hits a home run, with plenty of room for cash and coins, it looks very realistic too!
---
Part of the joy of giving gifts is wrapping them up, and with this fun wrapping paper, your present is sure to stand out amongst the others.
---
This matching keychain set is perfect for a husband & wife, boyfriend & girlfriend, Bff's or any couple that wants to let their other half know they care.
---
Lounging in the backyard pool will never be the same with this inflatable pool float, even "the pit" pops out and can be used as a ball, adding to the excitement and sure to provide hours of enjoyment.
---
Glam and glitter is what you get with this liquid phone case, that not only protects against dings, scratches and nicks, but looks very luxurious too!
---
Jewelry has always been a gals best friend, and this bracelet set is sure to be a welcomed addition to any jewelry box, with colors and styling that will coordinate perfectly with just about any outfit.
---
Having a safe & secure way to store cash and credit cards is important, even better is having a colorful, boho style zip clutch wallet with avocados all over it, that can handle the task to perfection, in a cool and hip way.
---
Toys that help stimulate the mind are great to give as presents, and even better if its something musical.  Here is a developmental guitar toy that will allow toddlers to express their creativity.  It's tops for avocado themed baby gifts.
---
A travel tote bag will come in handy for those that are always out and about doing chores, shopping, and completing daily tasks that require hauling around lots of stuff.
---
The easiest way to make a dramatic change to the décor of a bedroom is by changing the bedding, and with this bright, bold and colorful bedding set, it's like adding a breath of fresh air.
---
Dressing up is a ritual for the ladies, as they are always looking for cute accessories to liven up their outfits, and this stylish set of earrings is the perfect addition to her jewelry collection.
---
For coffee, tea or someone who is a collector, this engraved spoon is truly unique, with a message that lets everyone know exactly what your favorite fruit is!
---
Nothing adds to the decor of a room like a throw pillow, with lots of color and a design that makes you feel good, every home needs to have a few of these on display.
---
It seems as if we can never have enough shirts, and with that being said, here is another one that is a must have for anyone who loves avocados and eating healthy, it's the powered by tee.
---
Keeping baby warm and comfortable is always a high priority, and with this sleep sack, it's easy to accomplish both, in a super cute and adorable way.
---
Natural oils and beauty go hand in hand, helping to smooth out wrinkles and moisturize otherwise dry skin, and using this deep tissue carrier oil to improve your appearance, is worth it's weight in gold
---
Wearing an Apple watch is fun, as they are cool, stylish and packed with loads of features, but even better, you can jazz up the otherwise boring strap with something fashionable, like this avocados strap.
---
Staying warm and comfy is a high priority, so doing it in a stylish and relaxed way is easy with this oversized blanket hoodie that will have you looking forward to lounging on the couch with your favorite movie on the tube.
---
Those in the know perfectly understand the power of avocados as a superfood, and with this cookbook, you will be able to prepare over 70 delicious meals using them!
---
Hanging out in the kitchen preparing meals is part of the pleasure of cooking, and with an apron that's funny yet stylish, you'll look forward to protecting your clothing from splats and spills.
---
A book full of stickers are fun for kids to use when playing games or art projects, teens and adults love placing them on notebooks, computers, super cheap too!
---
If you are planning an event, why not go all in and get some cool party decorations that will make the atmosphere bright, colorful and festive.
---
Carrying around stuff just got cuter with this avocuddle tote bag that works well for students, grocery shopping or anytime you need an eco-bag.
---
Need gifts for someone with a sense of humor?  The gift of a shirt is timeless, like this funny t-shirt that is ideal for the female fan who loves eating them.  The design is fun & a wearing it is sure to attract plenty of smiles.
---
Everyone loves an plush, and when there is a hidden corgi inside, it makes the surprise extra special, super kawaii too!
---
Drinking coffee is a ritual for most, and here is an avogato mug that will make the experience more enjoyable, especially with this super cute cat design, after all, mugs are loved by all!
---
Items for the kitchen are always welcomed, especially when they can be used everyday or displayed as accent pieces, like this adorable dish towel set.
---
One of the ways best friends can show how much they care about each other is with matching jewelry, like this cute pendant set.
---
This year has been a bit crazy, to say the least, and everyone knows that wearing a mask to keep us protected is important, so why not have some fun while wearing one with this face mask.  Colorful, cute & makes a great gift.
---
A pair of leggings make a great gift for the person who likes to work out and wants gear that is a bit out of the ordinary.  After all, exercise makes us happy & healthy, so do it in style!
---
With over 40 people rating this diet power 5 stars on amazon, let it be your solution for making quick & easy smoothies, toast and guacamole.  It's 100% natural, and a great gift for those striving to live a healthy lifestyle.
---
One year olds can never have enough outfits, so giving a onesie is always a great gift idea.  This all over design will keep little ones safe and comfy, all while looking sweet & precious.
---
Mom's always love a new shirt, especially with adorable designs, like this colorful Mamacado tee featuring a momma fruit with a pit as the baby.  Makes a great gift for mother's day or as a birthday present.
---
If you know someone who loves preparing fresh guacamole at home, this mortar & pestle set will help make things so much easier, with less mess to clean up after.  Every kitchen needs one of these sets, making it an super gift idea!
---
If you are shopping for someone who loves to cook, get them some oil spray as a gift to help them prepare healthier main dishes and dressings.  With over 1600 people rating it 5 stars on amazon, this spray dispenser makes it easy to use when cooking, baking or frying.
---
Clothing is always welcomed as a gift, especially if it's a cute sweatshirt like this one.  Great for wearing when lounging around the house or when you feel like dressing down with something that is stylish, yet comfy!
---
If you are planning an event, you are going to need some party decor to liven up the room and get your guests excited.  Setting up the party space properly is almost as important as the gifts!  This set has everything you need to do it, in style!
---
A coloring book to relax and reduce stress is a fun gift that is ideal for a birthday or as a Christmas present.  It's filled with loads of cute & colorful designs.
You're the avocado to my toast!
Sours: https://9thgifts.com/best-gifts-for-avocado-lovers/
YouTube Challenge - I Gave My Kids a Terrible Present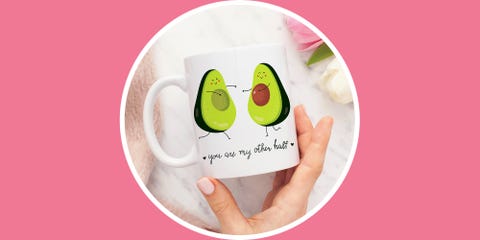 FoxyMug
Have a friend who adds avocado to everything? These great gifts for avocado lovers will please even the most obsessed, so you don't have to mash, slice, or dice your way into their heart.
1 of 10
Wanna Avocuddle? T-Shirt
SHOP NOW
Sometimes, being single is the pits. This hilarious T-shirt is guaranteed to score your avocado-crazed companion many laughs (and maybe even a cuddle buddy).
2 of 10
Brooklyn Lighting Company Avocado Silver Wire Lights
amazon.com
SHOP NOW
Got an avocado lover who lights up your life? These avocado-shaped string lights will set the mood for a guac'n good time.
3 of 10
Elisabeth Fredriksson for Deny Rainbow Avocado Cutting Board
urbanoutfitters.com
$35.00
SHOP NOW
This natural wood cutting board is ripe with personality, but it's also ultra functional for super precise avocado slicing (because that avocado toast needs to look on point for Insta).
4 of 10
​J.Crew Girls' Glitter Avocado Bag
$39.50BUY NOW
A seriously avo-dorable addition to any tiny wardrobe, even the littlest of avocado lovers will flip over this find. But for real, does it come in an adult size? Asking for a friend...

5 of 10
nocturnalpaper Finger Lickin' Nail Decals
SHOP NOW
These decals totally nail the avo-aestheic. The pack includes more than 90 decals in a variety of trendy summertime foods, like popsicles, pineapples, and our personal favorite, avocados.
6 of 10
Treenafairy8 Basic Avocado Throw Pillow
SHOP NOW
If you thought your favorite avocado lover couldn't possibly get more basic, this pillow is about to change that. Designed in the spirit of everyone's favorite Snapchat sticker, it's a super cute addition to any simple space.
7 of 10
FoxyMug Avocado Coffee Mug
SHOP NOW
Express how much they mean to you with a gift that may be mushy, but it's a definite way to make mornings a little more lovable.
8 of 10
Flōtēz Inc. Avocado Pool Float
SHOP NOW
Take your love of avocados to the pool with a summer-ready float that's guaranteed to make a splash. Pop out its center pit to use as a beach ball, then sit back with a beer for seriously smooth sailing.
9 of 10
Monki Avocado Lunch Box
SHOP NOW
Every avocado eater on the go needs a great place to store their guac. This cute and functional lunch box will not only keep 'cados fresh, but it'll also totally make coworkers jealous.
10 of 10
AvoSeedo Avocado Tree Growing Kit
SHOP NOW
This at-home tree-growing kit will help you give the gift of endless avocados, so your fruit-loving friend will be set for life.
Advertisement - Continue Reading Below
Zarah A. KavaranaZarah Kavarana is the contributing editor at BestProducts.com, where she spends her days hunting for shareworthy home, tech, fashion, beauty, and lifestyle finds, and resisting the urge to add them all to her cart.
This content is created and maintained by a third party, and imported onto this page to help users provide their email addresses. You may be able to find more information about this and similar content at piano.io
Sours: https://www.bestproducts.com/lifestyle/g19551072/gifts-for-avocado-lovers/
Gifts cute avocado
44 Absurdly Cool Avocado Gifts
Novelty avocado gifts
Choosing from all of these unusual avocado-themed products will put you between a guac and a hard place.
1jeweled avocado charm | This sterling silver avocado pendant is decorated with colorful czs and green enamel. It will fit on a Pandora bracelet (or similar) and is SURE to be noticed and complimented by fellow avocado lovers.
2avocado storage case | This little 3D avocado pouch is advertised for use with school supplies, but the storage possibilities are endless! Think makeup, jewelry (for travel), charging cables, hand sanitizer, etc.!
3avocado mug | This 11 oz ceramic coffee (or tea) mug is a great gift for a caffeine lover, a work colleague, or any collector of novelty avocado paraphernalia.
4stainless steel travel mug | This precious S'ip by S'well travel mug is double-walled and vacuum-insulated, which will keep an avocado lover's drink cold for 16 hours or hot for 4 hours!
5avocado phone case | Assuming you know the correct iPhone model of the gift recipient (this is for an iPhone 12 or 12 Pro), this beautiful but tough avocado-decked case is an absolute winner!
6microwaveable heating pad | This is a brilliant invention—and it just happens to come in a cute avocado version! It's a buckwheat-filled pouch that you heat in the microwave. It does WONDERS to relieve cramps and sore muscles.
7insulated lunch bag | This spacious lunch tote keeps food and drinks warm or cold for 4-6 hours.
8guacamole kit | Holy guacamole, this is the cutest gift set! It includes an avocado tool, avocado salt and pepper shakers, and guacamole seasoning.
Sours: https://www.adensmom.com/avocado-gifts/
CUTE AVOCADO PLUSH 🥑 #shorts #wishlist #gifts
Foodie cults all have their favorites, whether it's standing in line for hours at that novelty bakery for a one-of-a-kind treat, exploring the local farmers market for the best of the best produce, or discovering new and exotic favorites at tasting menus for coffee, wine, or beer. But few food obsessions gather the headlines like avocado creations. Loved, hated, and blamed for a tough housing market, avocados remain an evocative yet affordable splurge, rich and delicious for breakfast, lunch, or dinner. Even when they aren't in season, there's always something that will help you proclaim yourself their biggest fan.
1. It's the truth.
Dishwasher and microwave safe, this mug is great for everyday use, even if it takes multiple refills to get through the day. LookHuman carries a wide range of humorous, avocado themed mugs, so there's something perfect for every avocado aficionado.
2. Just when you thought you couldn't avo-flavor anything else, the bees said "hold my beer".
Support pollinators! This uniquely flavored honey comes from bees pollinating Hass avocados, giving it a complex sweet and bitter flavor, and a dark, mineral-rich color.
3. When you become avo-obsessed at a young age.
Naming your baby avocado is a bridge too far, but dressing them like an avocado is both adorable and socially acceptable. Plus babies love avocado too!
4. Because why not...?
Perfect for crafting, DIY, and decorating, washi tape helps dress up everyday items and make them personal statement pieces. Turn notebooks, pencils, backpacks and more into a chance to show off your fabulous taste.
5. Be the talk of the pool party floating around in this bad boy.
Eating guac in the pool might be too messy, but this fun float keeps the party going in between snack breaks. Definitely healthier than that giant donut float the neighbors have, too.
6. It's called fashion, look it up.
Great for a warm weather picnic, a stroll through the farmers market, or an alfresco dinner party, this charming black skirt with buttery yellow and rich green avocado print draws plenty of compliments.
7. When you're obsessed with your phone AND avocados.
Heart healthy fats may be a healthy habit, but overdoing anything isn't good for you. If frequent phone use is straining your hands, a popsocket may help reduce strain; plus this avocado printed one is adorable.
8. If you start finding avocado stickers all over the house, you're welcome.
Great for entertaining kids on car rides or restaurants, or amusing anyone who loves puns, this avocado activity book guarantees hours of amusement for anyone
9. When you want some truly authentic guac.
A versatile kitchen tool for spice grinding and herb milling, this oversized molcajete is also perfect for making fresh batches of pico de gallo or guacamole tableside. With a four cup capacity you can serve any sized party quickly and easily, and with traditional style.
10. Who doesn't enjoy a good pun (or pin) every now and then.
Avocados may not be naturally spicy, but this pin sure is. Perfect for pin collectors, avocado lovers, or anyone with a somewhat "aggressive" sense of humor, the 1" size means it fits easily in with other collectible pins on hats, bags, or jacket lapels.
11. Cute AND entertaining, it's the perfect stroller accessory for your bundle of joy.
This dangling rattle is great for babies young enough to still be in a car seat or stroller. The soft plush is fun to squeeze, and the rattle adds texture and interest. Avocados are "brain food" and this avocado toy lives up to that reputation, keeping kids entertained and amused.
12. Take your obsession one step further and start growing your very own avocado tree!
Like all investments, avocado trees can take some time to bear fruit, but a little love and care will see you to a bountiful harvest. Makes a great housewarming gift, or an engagement present.
13. Backpacks with an ultra-cute avocado pattern is a must-have.
Right sized for everyday use, travel, or a school commute, the Jansport Superbreak backpack is well loved and ubiquitous. This peppy avocado pattern helps your bag stand out in a crowd, so you're never left checking tags and labels for initials again.
14. Love this tasty treat from your head all the way to your avoca-toes.
Show your love from your head down to your avoca-toes with these fun crew socks. Great for maintaining the appearance of professionalism in the workplace, while secretly having more fun than is allowed.
15. When your love of face masks and avocados collide.
We've all heard that you can make face masks and hair creams out of avocados, but in case your avocados have a different destination, like say, breakfast, Tonymoly's avocado face sheet mask is here. Nourishing and rich, it's a luxurious experience that you'll crave over and over again, not unlike avocados in general.
16. Avocados have much more to offer than just tasty treats!
Bring the smoothing power of avocado oil to nourish and strengthen hair with this hydrating shampoo by Briogeo. It's free of parabens, formaldehyde, triclosan, and other ingredients shoppers often want to avoid, and full of amino acids and the healthy fats avocado oil provides.
17. If you thought you knew every possible avocado creation...think again.
Put together professional looking plates with avocado centric recipes that are guaranteed to be instant Instagram winners. Make avocado rosettes, stun foodie friends with avocado brownies, or just learn the right way to smash, season, and spread the world's perfect food on anything that even remotely qualifies as "toast."
18. All we have to say about this one is...why not?
Play with avocados, without making a mess! This family friendly card games entertains any size crowd. Comparable to playing Uno or Go Fish, it's an easy to understand concept- get rid of those cards!
19. Because avocados are not only delicious, but fashionable too.
No matter how professional your avocation, you can sneak some avocado love under the radar with this keychain earring set, perfect for an avo toast aficionado.
20. You'll have the sweetest of dreams in this adorable pajama set.
This tee and shorts pajama set is too cute for words. You'll never feel guacward about staying in PJ's all day when they're this adorable.
21. What could make avocados better you ask? One word: Sparkles.
Eye catching and sparkly, this liquid clear case showcases avocado green glitter and stars as well as tiny avocados. Enjoy the tactile squish under your fingertips, this phone case is comfortable to hold, and the standout design makes it easy to always know which phone is yours.
22. "Buy Avocados" is probably already on your to-do list.
Organize your to do list, weekly meetings, scheduled trips, and keep that grocery list close at hand while running errands; we'll venture a guess this planner will make it easier to remember when you need to pick up avocados.
23. I mean, it doesn't get much cuter than this.
A comforting substitute for the real thing, this huggable avocado toast plush makes for a soothing squeeze for any age of avocado aficionado. At 15" it's about the size of a standard throw pillow, so it's a great conversation piece for living room decor.
24. Wait a minute...we might've been wrong. These slippers are the absolute cutest!
Perfect for weekend brunch at home, with or without avocado toast, these plush slippers have non slip bottom layer to prevent falls, and an adorable avocado pattern to draw compliments. Right sized for traveling, you'll stay comfy and cozy no matter how bad the weather outside; the sherpa lining keeps that body heat on lockdown.
25. For the stylish, avo-obsessed gentleman.
Visive offers business casual button downs to help show your love for any and every food; from tacos to pineapple, to donuts, and yes, they even avocado themed shirts. With a slim fit and a short waist ratio, these are great shirts for people who struggle with menswear being big, bulky, or billowing.
---
More Articles You May Like
Sours: https://www.wishlisted.com/best-gifts-for-avocado-lovers/
Now discussing:
Get 25% OFFwhen you buy 4+ stickers!
*Cannot be combined with additional sales/discounts.
Sticker FAQ
What material is this item made of?
Individually die cut vinyl sticker. Semi gloss finish. 3 x 4 inch max size includes a thin white border around the sticker. Not recommended for automobile use. Perfect for placing on your laptop, notebook or almost anywhere your imagination leads!
What is the Return/Exchange policy?
We want you to love your order! If for any reason you don't, let us know and we'll make things right. Learn More »
Sours: https://www.teepublic.com/stickers/cute-avocado-gift
677
678
679
680
681