Have you ever heard the saying "Go Big or Go Home"? Ya..I know a bunch, right! As you may have noticed Small Form Factor (SFF) builds have been gaining more and more traction, even with enthusiasts. Cooler Master has taken notice and developed a line of SFX power supplies, that range from 550W to 850W. Today we are going to be showing you the Cooler Master V650 SFX Gold. So if you are unfamiliar with SFX power supplies then I will quickly fill you in. Obviously they are going to be a lot smaller and have shorter cables than what you are used too. They are intended to be used with all those mini builds and fit into those SFF designed cases. These power supplies have power specifications very similar to regular ATX power supplies. Which is kind of crazy that they can pack that much power in such a a small package. If you really wanted to you could use one of these with any system if you wanted no matter the size of your case (if you don't modding). These SFX power supplies do cost a little more that your typical ATX power supplies. One thing you will find when you start looking for a good SFX power supply; the market really isn't that crowded. Your available options are somewhat limited. So, a big thank you goes out to Cooler Master for giving us another option to choose from.
The V SFX Gold is Cooler Master's debut entry into SFX power supply units. After much demand, we have finally produced a PSU specifically made to meet the needs of mini-ITX system builders. This unit delivers top-shelf performance in 550, 650, 750, and 850 watt levels. It offers an 80 PLUS Gold efficiency rating, full-modular cabling, a 92mm FDB fan, 16AWG PCIe high efficiency cables, 100% Japanese capacitors, and a 10 year warranty. And with the included SFX-to-ATX bracket, this unit is compatible with cases ranging from mini-ITX all the way up to E-ATX systems.
I would like to thank Cooler Master for providing this review sample! Let us see what Cooler Master has to say about themselves on their website:
Building a PC is a highly personalized journey. We know that components are carefully chosen based on price, functionality, and aesthetic preference. Your personality is embedded in each of those choices, transcending from hardware to an immersive, custom-built experience. From custom PCs to all-out gaming rooms, we encourage every decision to reflect who you are.

Our components represent so many different personalities because PC enthusiasts don't fit into just one mold. It doesn't matter if you're a student on a tight budget, a graphic designer that's brand new to building, or a veteran modder of high-end gaming PCs; we offer components to inspire creative freedom in everyone. We believe that personal preference and individual expression leads to innovation.
The simple desire to make something better is exactly why Cooler Master is the standard in thermal innovation today. The aspiration to provide better cooling was a matter of personal preference, inspired by the freedom and enjoyment in building and creating something new. Now, our strategic partners like NVIDIA and AMD, our loyal community of gamers and PC enthusiasts, all rely on Cooler Master to strive for thermal excellence. That's the result of simply wanting improved functionality and wanting to tailor something to fit our personal preference. That's how innovation starts.

The PC community is never short on feedback and strong opinions—we love that. Hearing your thoughts and ideas give us the opportunity to be a part of your building journey, it helps us perfect the DIY experience, and it encourages us to adapt our product development process. After all, it is the community of builders, creators, and gamers who are an integral part of Cooler Master, helping bring our ideas to life. Together, we have been able to heighten the standards of how PCs are configured, transform the way they look and feel, and surpass the technological expectations of today. That's where our passion stems from and that's what it means to truly Make It Yours
Now let us see what the Cooler Master V650 SFX Gold has to offer! You can buy the Cooler Master V650 SFX Gold
power supply for around USD $119 from Amazon – https://amzn.to/34wdCev
Related articles
Sours: https://www.funkykit.com/reviews/power-supplies/cooler-master-v650-sfx-gold-psu-review/
Cooler Master V750 SFX Gold Power Supply Review
---
---
---
Mike Sanders
/ 12 months ago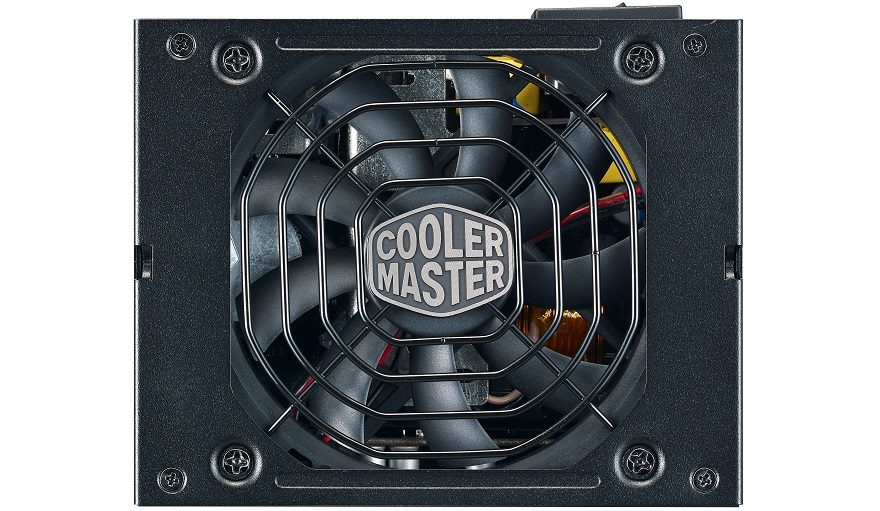 It's certainly been a very busy spell for Cooler Master and particularly with their power supplies as we have seen the company launch two separate model series within just the last few weeks. With those being designed for 'full-sized' systems, however, you have been a little frustrated at your lack of options for more space-sensitive systems.
Fret ye not though! If you need a new power supply for your compact PC, the V750 SFX Gold might just be the perfect solution for you.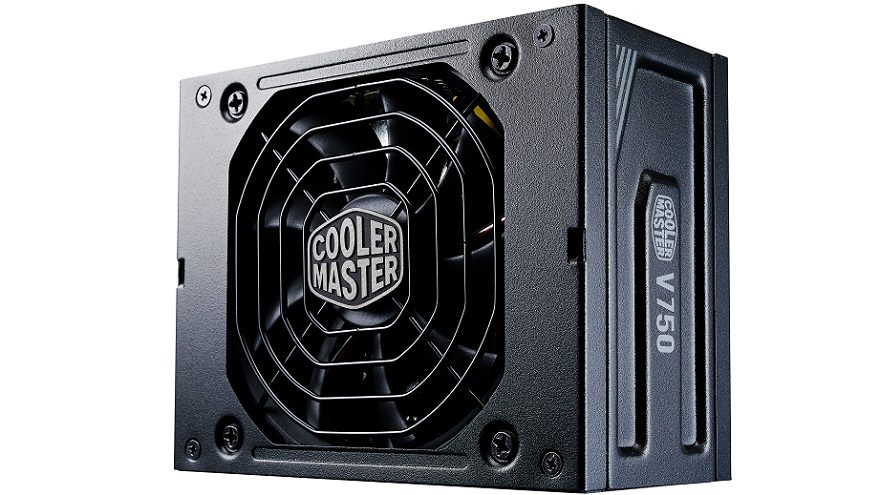 Cooler Master V750 SFX Gold
Designed as an SFF PSU, while the Cooler Master V750 SFX Gold might be small in stature, it doesn't skimp on some pretty amazing features! 80-Plus Gold efficiency rated with a fully-modular design? It's already ticking off some pretty important boxes for the savvier of PSU consumers. Backed-up with a huge 10-year warranty, however, for big or small systems, the V750 SFX Gold looks like a great choice!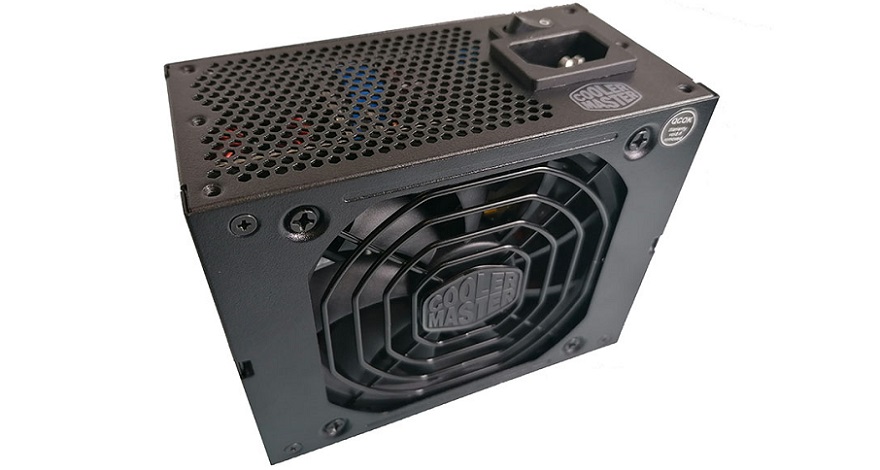 What Does Cooler Master Have to Say?
"The V SFX Gold is Cooler Master's debut entry into SFX power supply units. After much demand, we have finally produced a PSU specifically made to meet the needs of mini-ITX system builders. This unit delivers top-shelf performance in 550, 650, 750, and 850 watt levels. It offers an 80 PLUS Gold efficiency rating, full-modular cabling, a 92mm FDB fan, 16AWG PCIe high efficiency cables, 100% Japanese capacitors, and a 10 year warranty. And with the included SFX-to-ATX bracket, this unit is compatible with cases ranging from mini-ITX all the way up to E-ATX systems."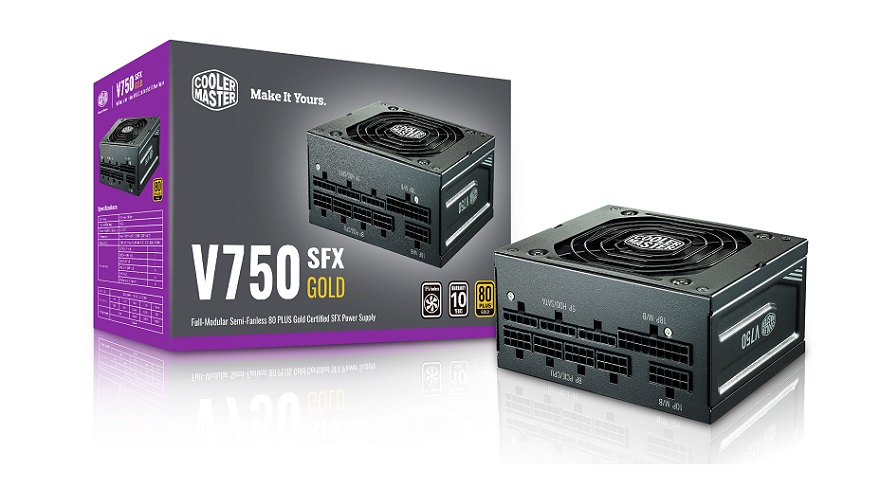 Features
80 Plus Gold Efficiency
SFX Form Factor
SFX-to-ATX Bracket
Semi-fanless Mode
Full-modular Cabling
10 Year Warranty
Specifications
For more details specifications, please visit the official product page via the link here!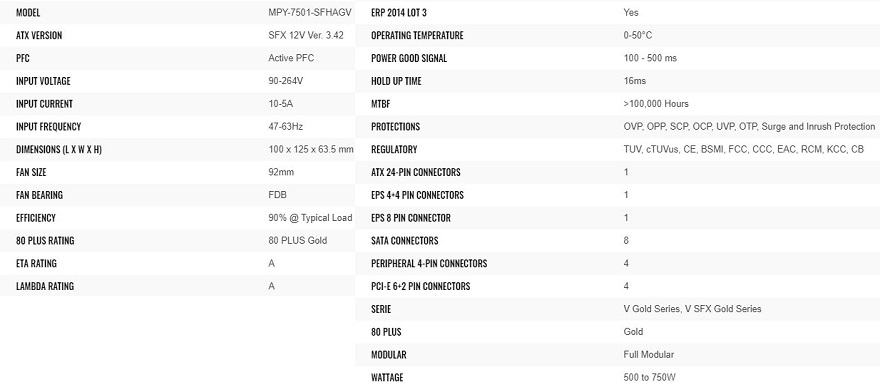 Connections
As this is a fully-modular power supply, one of the key perks of this design is only having to install the cables your system needs. With that in mind, however, it's also vitally important to know that you still get enough of the cables you need. Thankfully, the Cooler Master V750 SFX Gold provides you with more than enough solutions for even the more-elaborate end of gaming PC ownership.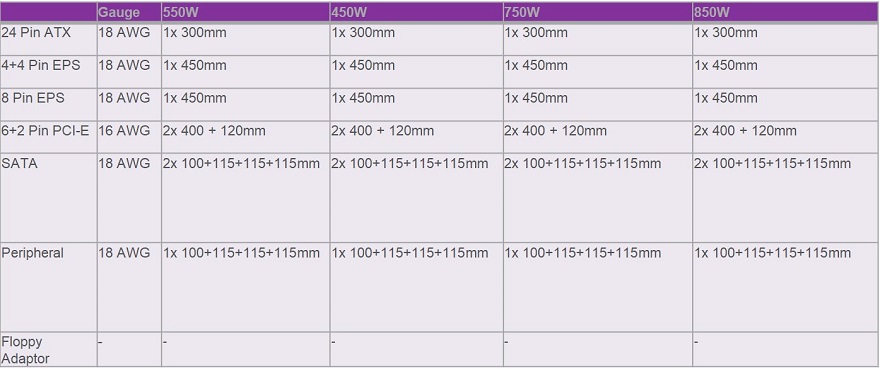 Sours: https://www.eteknix.com/cooler-master-v750-sfx-gold-power-supply-review/
Our Verdict
The V650 has high build quality and satisfactory overall performance, but with the same or a lower amount, you can find better options.
For
Full power at 47 degrees Celsius
High build quality
Quiet operation
Long hold-up time
10-year warranty
2x EPS and 4x PCIe connectors
Fully modular
Against
Expensive
No MOV and NTC thermistor
Mediocre EMC performance
Average transient response
Small distance between peripheral connectors
The Cooler Master V650 Gold features good build quality, but this is not enough to beat the competition, especially since its price is stiff and availability, in the US market at least, is limited. With the same or even lower amount, someone can get better power supplies from Corsair (RM650x), Seasonic (Focus Plus Gold 650W), EVGA (SuperNOVA 650 G3), and Asus (Rog Strix 650).
Cooler Master's V Gold line consists of four models, with capacities ranging from 550W to 850W. We have already evaluated the 750W unit (V750 Gold), and in this review, we will take a detailed look at the 650W model, which has enough power to handle a mid-level system.
The V650 Gold (model number: MPY-6501-AFAAGV), like all the other members of the family, is fully modular and is equipped with a 135mm fluid dynamic bearing fan, which is supported by a semi-passive mode that can be deactivated, should you want the fan to be always spinning. Another interesting note about the V650 Gold is that it uses 16AWG gauges for the PCIe connectors, despite its modest capacity. Nonetheless, our sample came with standard 18AWG gauges, but according to Cooler Master, this won't be the case with retail units.
Image 1 of 9
Product Photos
Image 2 of 9
Image 3 of 9
Image 4 of 9
Image 5 of 9
Image 6 of 9
Image 7 of 9
Image 8 of 9
Image 9 of 9
The V650 Gold is 80 PLUS certified, and it has also been evaluated by Cybenetics, scoring ETA-A and LAMBDA-A-, efficiency, and noise levels, respectively. This is not the quietest 650W power supply that money can buy today, but it is quiet enough with less than 30 dB(A) overall noise output.
Image 1 of 7
Product Photos
Image 2 of 7
Image 3 of 7
Image 4 of 7
Image 5 of 7
Image 6 of 7
Image 7 of 7
Specifications
| | |
| --- | --- |
| Manufacturer (OEM) | Chicony Electronics |
| Max. DC Output | 650W |
| Efficiency | 80 PLUS Gold, ETA-A (88-91%) |
| Noise | LAMBDA-A- (25-30 dB[A]) |
| Modular | ✓ (Fully) |
| Intel C6/C7 Power State Support | ✓ |
| Operating Temperature (Continuous Full Load) | 0 - 50°C |
| Over Voltage Protection | ✓ |
| Under Voltage Protection | ✓ |
| Over Power Protection | ✓ |
| Over Current (+12V) Protection | ✓ |
| Over Temperature Protection | ✓ |
| Short Circuit Protection | ✓ |
| Surge Protection | ✗ |
| Inrush Current Protection | ✗ |
| Fan Failure Protection | ✗ |
| No Load Operation | ✓ |
| Cooling | 135mm Fluid Dynamic Bearing Fan (SAC4H2H) |
| Semi-Passive Operation | ✓ (selectable) |
| Dimensions (W x H x D) | 152 x 87 x 162mm |
| Weight | 1.46 kg (3.22 lb) |
| Form Factor | ATX12V v2.4, EPS 2.92 |
| Warranty | 10 Years |
Power Specifications
Rail
3.3V
5V
12V
5VSB
-12V
Max. Power
Amps
20
20
54
3
0.3
Watts
130
648
15
3.6
Total Max. Power (W)
650
Cables & Connectors
| Modular Cables | Cable Count | Connector Count (Total) | Gauge | In Cable Capacitors |
| --- | --- | --- | --- | --- |
| ATX connector 20+4 pin (650mm) | 1 | 1 | 18-22AWG | No |
| 4+4 pin EPS12V (650mm) | 1 | 1 | 18AWG | No |
| 8 pin EPS12V (650mm) | 1 | 1 | 18AWG | No |
| 6+2 pin PCIe (550mm+120mm) | 2 | 4 | 18AWG | No |
| SATA (500mm+120mm+120mm+120mm) | 2 | 8 | 18AWG | No |
| 4 pin Molex (500mm+120mm+120mm+120mm) | 1 | 4 | 18AWG | No |
| FDD Adapter (125mm) | 1 | 1 | 22AWG | No |
| AC Power Cord (1350mm) - C13 coupler | 1 | 1 | 18AWG | - |
Although it is a mid-capacity unit, the V650 Gold has plenty of connectors, including a pair of EPS and four PCIe. The number of peripheral connectors is also high, but the distance between them is small at only 120mm. Finally, there are no in-cable caps in any of the cables, which is an asset for cable management and routing processes.
Image 1 of 8
Cable Photos
Image 2 of 8
Image 3 of 8
Image 4 of 8
Image 5 of 8
Image 6 of 8
Image 7 of 8
Image 8 of 8
Component Analysis
We strongly encourage you to have a look at our PSUs 101 article, which provides valuable information about PSUs and their operation, allowing you to better understand the components we're about to discuss.
General Data
-
Manufacturer (OEM)
Chicony Electronics
PCB Type
Single Sided
Primary Side
-
Transient Filter
4x Y caps, 2x X caps, 2x CM chokes
Inrush Protection
-
Bridge Rectifier(s)
2x GBU15JL (600V, 15A @ 115°C)
APFC MOSFETS
1x Infineon IPW60R099P6 (650V, 24A @ 100°C, 0.099Ohm)
APFC Boost Diode
1x CREE C3D06060A (600V, 6A @ 154°C)
Hold-up Cap(s)
1x Nichicon (450V, 560uF, 2,000h @ 105°C, GL)
Main Switchers
2x Infineon IPA60R099P6 (650V, 24A @ 100°C, 0.099Ohm)
APFC Controller
Infineon ICE3PCS03G
Resonant Controllers
MPS HR1000A & 2x MPS MP6903 (Installed on the secondary side)
Topology
Primary side: Half Bridge & LLC resonant converter
Secondary side: Synchronous Rectification & DC-DC converters
Secondary Side
-
+12V MOSFETS
4x JA54
5V & 3.3V
DC-DC Converters: 2x Infineon IPD040N03L (30V, 76A @ 100°C, 4mOhm) & 4 Alpha & Omega D528
PWM Controllers: 2x APEC APW7160A
Filtering Capacitors

Electrolytics: 6x Rubycon (6-10,000h @ 105°C, ZLH), 1x Nichicon (5-6,000h @ 105°C, HV), 1x Nippon Chemi-Con (5-6,000h @ 105°C, KZH), 1x Nippon Chemi-Con (4-10,000h @ 105°C, KY)
Polymers: 7x FPCAP, 6x United Chemi-Con

Supervisor IC
CP006WD
Fan Model
Apistek SAC4H2H (135mm, 12V, 0.5A, Fluid Dynamic Bearing Fan)
5VSB Circuit
-
Rectifier
1x Diodes Inc. SDT20100CT TSR (100V, 20A) & 1x Alpha & Omega AOTF3N80 FET (800V, 1.8A @ 100°C, 4.8Ohm)
Standby PWM Controller
400BBBBB2 PAJH
-12V
-
Rectifier
UTC LM7912L (-12V, 1A)
Image 1 of 4
Overall Photos
Image 2 of 4
Image 3 of 4
Image 4 of 4
The platform's design looks clean, with adequate distance between the components for proper airflow. The primary heatsink is small, given that it hosts both the APFC converter's parts and the primary FETs. On the secondary side, the heat sinks are even smaller, since the +12V FETs are installed on the solder side of the main PCB.
On the primary side, a half-bridge topology is utilized along with an LLC resonant converter. On the secondary side, we find a synchronous regulation scheme along with a pair of DC-DC converters, for the generation of the minor rails. Finally, the assembly and soldering quality are good, and the parts that Chicony used belong to good lines, especially the capacitors.
Image 1 of 4
Transient filter
Image 2 of 4
Image 3 of 4
Image 4 of 4
The transient filter doesn't include an MOV, unfortunately. This inexpensive part provides protection against voltage surges and spikes, coming from the network, so it is crucial and this is why most PSUs include one.
Image 1 of 2
Bridge rectifiers
Image 2 of 2
Both bridge rectifiers are bolted onto a small heat sink.
Image 1 of 5
APFC converter
Image 2 of 5
Image 3 of 5
Image 4 of 5
Image 5 of 5
The APFC converter uses quality parts, including a Nichicon bulk cap, with enough capacity to provide a longer than 17ms hold-up time.
Image 1 of 4
Main FETs and primary transformer
Image 2 of 4
Image 3 of 4
Image 4 of 4
The main switching FETs, two Infineons, are configured in a half-bridge topology. An LLC resonant is also used to lower the switching losses.
Image 1 of 5
12V FETs and VRMs
Image 2 of 5
Image 3 of 5
Image 4 of 5
Image 5 of 5
The +12V FETs are installed on the back side of the main PCB. The same rail feeds a pair of VRMs, which generate the minor rails (5V and 3.3V).
All filtering caps belong to good lines of Japanese manufacturers. Besides electrolytic caps, Chicony also used enough polymer ones, which are much more tolerant of increased operating temperatures.
Image 1 of 3
Modular board front
Sours: https://www.tomshardware.com/reviews/cooler-master-v650-gold-power-supply-review
Cooler Master MWE 550W 80+ Power Supply Unboxing \u0026 Review - Tips in Safety Precautions of PSU
Today we'll be taking a look at Cooler Master's V650 Gold V2 White Edition Power Supply. Ask any gamer what the most important part of a computer is and you'll get answers ranging from GPU to CPU to peripherals. While there are cases for each, none of it really matters if you can't trust the power you are feeding them. Your expensive GPU, your flagship GPU, your favorite keyboard all have one thing in common, and that is where they draw power from.
Most people don't think about the power supply, but it has a very serious job to do. It has to take high voltage AC, often full of electrical 'noise', and turn it into highly precise DC for multiple things in your computer that change their demands literally billions of times a second. Launch your favorite game and in a single click your idling system can spin everything up to 100% instantly. If your power supply isn't up to the task, weird instability and crashes and sometimes very bad things can happen. Ask around any forum and you'll find a few horror stories where a failing PSU took part of the computer with it when it expired. Cooler Master is here to show you that its new Gold V2 series power supplies are not only up to the task, but can look good while doing it!
PC Test Bench would like to thank Cooler Master for sending the V650 Gold-V2 power supply over to check out!
Cooler Master's take on the V650 GOLD-V2 White Edition power supply:
The V Gold – v2 series delivers a top-shelf power supply unit in 550, 650, 750, and 850 wattage levels. It offers an 80 PLUS Gold efficiency rating, full-modular cabling, optional semi-fanless operation with a hardware-based hybrid switch, a 135mm FDB fan, 16AWG PCIe high-efficiency cables, and a 10-year warranty. This series has brought together a number of innovations and improvements from past products to form a PSU that meets all your needs. The 100% Japanese capacitors, half-bridge LLC resonant converter, and DC-DC circuitry work together, resulting in a product that even the pros can respect.
Features:
80 PLUS GOLD CERTIFIED
The efficiency of your power supply unit is important because it directly affects your system's performance and your power bill. The efficiency rating does not reflect the quality or reliability of a PSU. It only reflects the unit's ability to move power from the wall to your components. The higher a PSU's efficiency is, the lower the total amount of power it needs to power your system. The V Gold series has an 80 PLUS Gold efficiency rating, meaning it has a guaranteed typical efficiency of 90%.
PERFORMANCE DRIVEN TOPOLOGY
The V Gold – v2 is a professional-grade power supply unit made for the normal user. It's more than just the 80 PLUS Gold efficiency rating. It's the performance, stability, reliability, lifespan, and so much more. That quality starts with the technology used on the inside. The half-bridge LLC resonant converter and DC-DC technology, made with 100% Japanese capacitors, work together to create a PSU that offers reliable and stable voltage outputs for safer, more reliable performance and higher efficiency.
A BIGGER, BETTER FAN
The V Gold – v2 keeps cool under pressure. The fluid dynamic fan bearing creates less friction, making it great for low RPM operations. This technology, combined with a larger 135mm fan, keeps the fan running smoothly and efficiently for longer, keeping the noise level down and extending the lifespan of the PSU. The cooling system isn't just bigger, it's better. And when you aren't pushing your system too hard, the semi-fanless mode will keep the unit completely silent when under 40% maximum load. The built-in analog hybrid switch allows you to disengage fanless mode at any time with a simple button press for testing, debugging, or simply achieving maximum cooling at all times.
FULL-MODULAR CABLING
Cabling is often the most troublesome part of building a PC. The V Gold – v2 can't solve all your cabling problems but it's an excellent place to start. With full control and customization of your cables, you don't have to have excess cables cluttering your PC. This level of control can reduce cable bulk which can increase airflow and make your system look as great as it runs. And with the included 16AWG PCIe cables, you'll get increases to both efficiency and style. All models now include two EPS connectors.
IMPROVED PCI-E CABLE CONDUCTIVITY
The V Gold – v2 series comes with 16AWG PCIe cables. These are thicker than current industry standard 18AWG cables, meaning less heat resistance during use. The reduction in heat resistance improves efficiency and stability so your components can get the most out of that 80 PLUS Gold rating. As an added bonus, the lower resistance means less ambient heat in your case being expelled from your cables, making your entire system safer and cooler than the same setup with standard-issue cables.
10 YEAR WARRANTY
The V Gold series offers top-quality power supply units that can and will deliver professional-grade performance at normal use wattage levels. Just because you don't need 1000 watts of power doesn't mean you shouldn't get the quality that goes with it. You can trust this PSU for all your computing needs, whether it's casual work or hefty, continuous sessions. Just in case you aren't sure, all V Gold series models come with a 10-year warranty. Chances are you'll be changing homes before you need to change this power supply.
Specifications:
ATX VERSION – ATX 12V V2.52
INPUT VOLTAGE – 100-240V
INPUT CURRENT – 9-4.5A
INPUT FREQUENCY – 50-60Hz
DIMENSIONS (L X W X H) – 160 x 150 x 86 mm
FAN SIZE – 135mm
FAN BEARING – FDB
FAN SPEED – 1500 RPM
NOISE LEVEL @ 20% – 0 dBA
NOISE LEVEL @ 50% – 18.3 dBA
NOISE LEVEL @ 100% – 32.1 dBA
EFFICIENCY – 90% @ Typical Load
80 PLUS RATING – 80 PLUS Gold
ERP 2014 LOT 3 – Yes
OPERATING TEMPERATURE – 0-50°C
HOLD UP TIME – 17ms
MTBF – >100,000 Hours
PROTECTIONS – OVP, OPP, SCP, OCP, UVP, OTP
12345Next page
Sours: https://www.pctestbench.com/cooler-master-v650-gold-v2-white/
Supply review power coolermaster
Did i make a wrong decision buying this PSU or is it good ?
Joined

Jul 2, 2007
Messages

32,635 (6.25/day)
Location

Republic of Texas (True Patriot)
| | |
| --- | --- |
| System Name | PCGOD |
| Processor | AMD FX [email protected] 5.0GHz |
| Motherboard | Asus TUF 990FX Sabertooth R2 2901 Bios |
| Cooling | Scythe Ashura, 2×BitFenix 230mm Spectre Pro LED (Blue,Green), 2x BitFenix 140mm Spectre Pro LED |
| Memory | 16 GB Gskill Ripjaws X 2133 (2400 OC, 10-10-12-20-20, 1T, 1.65V) |
| Video Card(s) | AMD Radeon 290 Sapphire Vapor-X |
| Storage | Samsung 840 Pro 256GB, WD Velociraptor 1TB |
| Display(s) | NEC Multisync LCD 1700V (Display Port Adapter) |
| Case | AeroCool Xpredator Evil Blue Edition |
| Audio Device(s) | Creative Labs Sound Blaster ZxR |
| Power Supply | Seasonic 1250 XM2 Series (XP3) |
| Mouse | Roccat Kone XTD |
| Keyboard | Roccat Ryos MK Pro |
| Software | Windows 7 Pro 64 |
Sours: https://www.techpowerup.com/forums/threads/did-i-make-a-wrong-decision-buying-this-psu-or-is-it-good.261839/
Cooler Master MWE 550W 80+ Power Supply Unboxing \u0026 Review - Tips in Safety Precautions of PSU
Cooler Master MWE Gold 750 Power Supply Review
Author: Dennis Garcia
Published: Tuesday, February 26, 2019

Introduction
Building a computer can be a daunting task. One side you have your budget, this is what drives the entire project and also what can make or break your build. Personally I have never liked the process of picking the cheapest parts for the sake of them being inexpensive. That just is not the way to get a quality build. Sure, there are some gems in budget land but more often than not you'll get what you pay for. Likewise overspending is just painful however, that is a different problem.
When it comes to power supplies there are a few things to consider. First and foremost select the power range best for your build. If you are putting together a high-end SLI rig using a 12 core CPU with 30 hard drives there is a good chance a 600w PSU isn't going to cut it. Likewise you don't need a 1200w Platinum to run a Rasberry Pi. So, what is the right range? Ironically the magical number as the perfect size for ANY mainstream and gaming build is between 600w and 800w.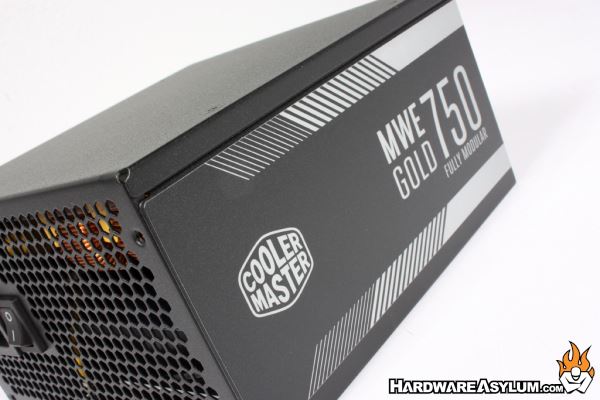 The next thing to look for is the 80 Plus rating. As many of you know the 80 Plus rating is for power efficiency and is another way to further determine the quality of a PSU using independent standardized testing. The basic idea is that power supplies have an optimal range to work efficiently and when you exceed that range the power efficiency drops, things heat up and power delivery "could" become unstable.
In this review we'll be looking at the new Cooler Master MWE 750 Gold. This is a fully modular 750w PSU with a 80 Plus Gold rating. The Gold rating means that the PSU is at least 90% power efficient when operating at 50% load allowing it to deliver more power to your system while producing less heat.
A fully modular PSU indicates that every cable can be removed from the PSU. This can really help when it comes to building a PC and figuring out where to hide all the cables. Simply remove the cables you aren't using and one less cable to route making cable management a breeze. Of course if you happen to upgrade your build and need another cable, pull it out of storage and away you go.
Any good power supply will come with a power switch. This allows you to completely turn off your PC when it is no longer in use and is just as effective as pulling the cable from the wall.
It also gives you a way to quickly disable your build if you have some catastrophic failure like having a hardline tube blow off at a LAN party right before your tournament is about to start. *yikes*
Even though the MWE 750 is Gold rated there is still a need to have a cooling device. For this Cooler Master has included a 120mm Silencio fan based on their MasterFan Pro Air Pressure edition. The motor is different but the fan blade profile is identical and features a sealed LDB bearing and Silencio Technology for longer life and reduced noise.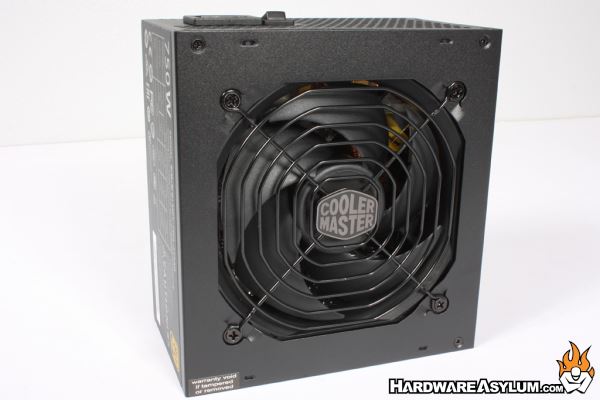 Of course every PSU is only as good as its cables. With the Cooler Master MWE 750 you get everything shown below which includes
1x 24-pin (20+4) main power cable which is 610mm long (24 inches)
1x 8-pin (4+4) CPU power cable which is 650mm long (25 inches)
If you are building a system that requires two 8-pin power connectors this will not be the PSU for you.
Other cables include:
Two PCI Express cables with two 8-pin (6+2) connectors at 720mm long (28 Inches) . These cables can power two video cards with dual power connectors each. If you happen to be lucky enough to be running an EVGA KPE or MSI Lightning with three power sockets you'll be limited to one card.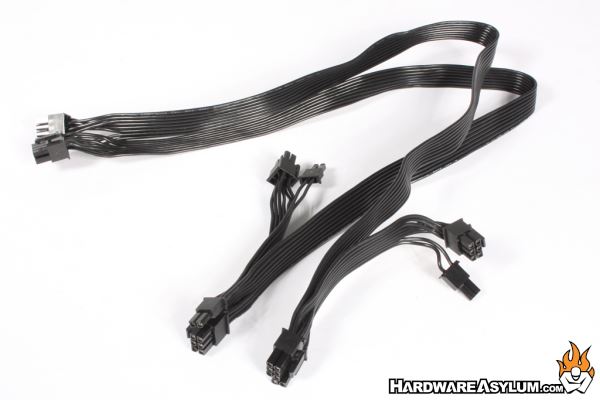 The final two cable sets are for your drives. You'll get two SATA based cables with four connectors each and two Molex based cables with three connectors each. One will have a mini molex plug. This would have been used for your 3.5" floppy drive back in the day.
Both cables are 760mm long or 30 inches for us Americans.
Conclusion
The Cooler Master MWE 750W Gold fills a very common niche in the system building world that many system builders do not take advantage of. For instance buying a gold PSU over a Bronze or Silver offers more than better power efficiency as it will also reduce noise while drawing less power overall. Of course you will pay a little more but can also get away with adding more components to your build.
To a certain point.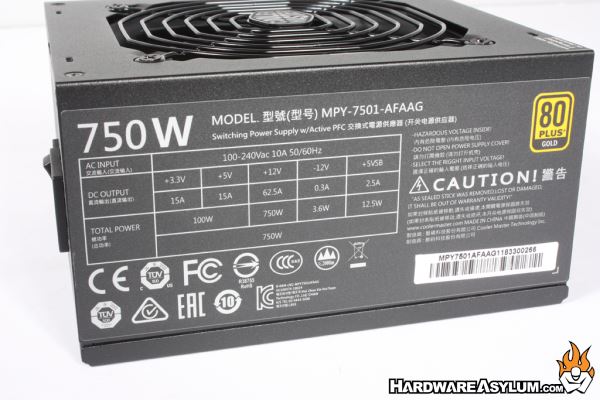 Currently the 750w Gold featured in this review is the highest wattage PSU in the Cooler Master MWE lineup with modular versions being available down to 550w. Of course if you are against modular cables the same PSU can be purchased with hardwired cables and is otherwise identical. Speaking of cables the MWE features flat ribbon style cables for everything except the main 24-pin power wire. Given that it is also the shortest cable and easily hidden I'm not too bothered by this. Personally I find ribbon style cables easiest to route but, can also offer unique challenges when they overlap behind the motherboard tray.
PSU cooling is handled by a Cooler Master Silencio FP fan that is designed to keep overall noise down while offering a nominal 160k hours of operation. The fan blades are modeled after the MasterFan Pro Air Pressure fan offering optimal airflow without the need for excessive rotation.
One nice thing about the 80 Plus Gold design is that the form factor can be kept small. The Cooler Master MWE 750 measures 160mm x 150mm keeping it within the current "mid-sized" form factor. The smaller size allows it to be installed in smaller cases with limited space and doesn't require a large fan to keep cool. The modular cable design helps with cable management and can support more devices when compared with the older MWE Bronze edition PSUs at the same wattage.
Be sure to check out Cooler Master for more information and click on this Amazon link if you are curious about price and/or want to pick one up for yourself
Sours: https://www.hardwareasylum.com/reviews/power_supply/cm_mwe750
You will also be interested:
Cooler Master said screw it, we're designing our own PSU line in-house
The power supply unit (PSU) is the unsung hero of the PC. It doesn't carry the same cachet as a graphics card or CPU, and it won't directly improve your framerates. But without one, you won't get very far. That's probably not going to change, but in an effort to "put some respect on the PSU name," Cooler Master will finally release the first ones it designed in-house, as part of its XG Plus series.
I say "finally" because Cooler Master has been talking about launching its first in-house designed PSUs since 2018. That's when the outfit opened its own power development lab and concocted a Thermal Enhanced Platform (TEP) to guide its efforts. It also showed off some early prototypes at Computex that same year.
"The main focus of TEP's development was improved efficiency. From day one, our engineers tasked themselves with creating a power supply platform that would deliver high efficiency with reduced thermal needs. To accomplish this, a number of innovations had to be implemented. For example, the DC-to-DC circuit layout was completely redesigned and a new internal layout was created for the transformer as well. These sorts of developments often seem small on their own but when coupled together they allow this new platform to perform at an optimum level," Cooler Master explained at the time.
I'm not savvy on the finer intricacies of PSU design and manufacturing, but Cooler Master also talks about things like using manually installed copper screws in place of traditional soldering to connect the backboard to the mainboard, and investing in machine soldering in place of doing it by hand in areas where it is needed. Good stuff, I think.
That said, everything in the gaming space always seems to come down to RGB lighting, and yes, the XG Plus series will have that as well, albeit as part of a digital display on the side of the units. This will offer up real-time monitoring of certain vitals, including temperature, fan speed, and power consumption.
Cooler Master is also touting things like fully modular cabling with in-line capacitors, 80 Plus Platinum certification (the second highest efficiency rating, behind only 80 Plus Titanium), the use of all-Japanese capacitors in both the platform and cables, and a lengthy 10-year warranty.
The PSUs will initially be offered in 650W, 750W, and 850W variants, with pricing expected to range from $160 to $180. Cooler Master says they ship as we head into the Summer.
Paul has been playing PC games and raking his knuckles on computer hardware since the Commodore 64. He does not have any tattoos, but thinks it would be cool to get one that reads LOAD"*",8,1. In his off time, he rides motorcycles and wrestles alligators (only one of those is true).
Sours: https://www.pcgamer.com/cooler-master-said-screw-it-were-designing-our-own-psu-line-in-house/
732
733
734
735
736