Reptile Rapture,
6308 Monona dr, Monona WI 53716
608-221-0094, www.reptilerapture.net
CALIFORNIA KINGSNAKE Caresheet
Common Name: California Kingsnake
Scientific Name: Lampropeltis getula californiae
Origin: The west coast of the U.S., throughout most of California and in parts of Oregon, Nevada, Arizona, and Baja California.
Size: 3-4 feet
Lifespan: 20+ years
You will find many ways on the internet on "how to" take care of this animal. This care sheet is showing the way we found works best for us from our many years of experience of caring for this species.
HOUSING
California kingsnake babies can start out in enclosures as small as 10 gallons. At around a year old, you can increase the size. There are several kinds that work for kingsnakes, e.g., glass aquariums or any of the commercially available plastic-type reptile enclosures. For a yearling, you can step up to an enclosure that is at least 30" x 12" inches (like Zilla critter cage 20 Long) or go to the adult enclosure size. Adults do well in a tank at least 36" x 18" (Exo Terra Large, or Zilla 40 gal). If you use a glass tank, you'll want to provide a humid hide--that is, a hide that has some damp moss in it for extra humidity. They are also skilled escape artists. It's extremely important that your top is clipped or locked to the tank to prevent them from getting out.
You can use many types of bedding for your kingsnake. The ones that look and work the best are Zoo Med aspen, Zoo Med repti bark, Zilla jungle mix, Zoo Med eco earth, and Zoo Med forest floor. Spot clean the bedding whenever they defecate. You should only need to clean the whole thing out about once a month. Disinfect the enclosure and change the bedding at that time. Zoo Meds wipe out or vinegar and water both work good for cage cleaning.
LIGHTING AND HEAT
Kings originate from the western U.S. and they like it fairly warm, though they need to be able to cool off if they want to. Like all reptiles, they are dependent on external thermoregulation to control their body temperature. This essentially means you need to provide both a hot and cool side to your enclosure. All the lighting and heat elements should be on one side and the other will then be the cooler side. This way your snake can move back and forth between the different temperatures depending on its needs.
The hot side basking spot should be at 88-90 degrees. Put one hide there and another on the cooler side. The cool side can be between 75-80 degrees. At night it can drop down to 72 ambient temperature. It's a good idea to use a basking light and an under tank heat pad also. The heat pads are usually placed on the hot side with a hide over it. We recommend a Zoo Med heat mat or Exo Terra heat pad that stays on 24/7 to give them a little bit of supplemental heat during the night. Both of these are placed on the outside, underneath the enclosure. You want a heat pad that only covers half the tank (or less). The basking light should be housed in a good quality light dome like Exo Terra and Flukers that has a ceramic housing to tolerate high heat and an on/off switch.
Use a good quality temperature gauge too, like Zoo Meds digital temp gauge or Exo Terras Thermometer. Don't guess at it. You can also use a rheostat and/or timers to control your heat source. We do not recommend the use of hot rocks. They have a tendency to heat unevenly over too small an area and can cause serious burns.
HUMIDITY
Keep a non-porous water bowl in with your California king and make sure they always have clean water. Exo Terras water bowls or Flukers water bowls are good decorative choices or a good ceramic crock dish. Scrub the bowl at least once a week to keep bacteria slime from building up. If you maintain a humidity level of 50-60%, your snake will be able to shed properly. Hand misting is usually sufficient.
FEEDING
California kingsnakes, even juveniles, should not be kept together in the same enclosure due to the fact that they will eat other snakes.
Do not handle your king for several hours before you are going to feed it. We do recommend feeding in its own enclosure. Feeding in its home will not make your snake more aggressive or associate you with food. California kings are generally a very docile snake. If you are worried about your pet associating food with you, get yourself a good snake hook. Gently hook your snake out of its enclosure when you want to hold it. Check out these hooks: Exo Terra collapsible hook for babies and larger hooks for adults. Using a snake hook when you take your pet out will greatly reduce the chances of you being bit from a feeding response. If you don't have a hook and are still worried about picking up your snake, reach around and pick your snake up from behind, rather than from the front. This way your hand is not coming at its face.
King snakes have a faster metabolism than say a boa. So feeding 1-2 times a week is fine. 1 rodent of appropriate size or several smaller rodents at a time works. This means the girth of the rodent should not exceed 1 1/2 times the girth of the snake (at it's biggest point, not his neck size) Do not handle your snake for at least 24 hours after it has eaten. Snakes in general tend not to eat when they are in shed. Just wait to feed until your king sheds.
TEMPERAMENT
California kingsnakes are a very popular pet. From their banded dark brown or black to white or yellow, the variety of colors and patterns found in kings is truly amazing. They are generally friendly and easy to care for.
When holding your pet, always remember to support your snakes body. Once a king realizes that you will not hurt it, they often seem to enjoy being handled. Relax and give your snake time to get used to you. Avoid touching the top of its head. Unless it knows and trusts you, touching the top of the head will cause it to jerk away. The fast movement is called being "head shy" and tends to scare a lot of new snake owners. Most kings will get over it with gentle handling.
Give your snake at least a day to settle in to its new home before handling. Start slow and gradually increase the amount of time you have your snake out. Remember your new pet's life is in your hands. So please take care of it properly.
With their cannibalistic instincts, the only time two California kingsnakes should share one cage is during the breeding of adults. Keep a close eye on them for aggressive behavior.
Ooop! The email you entered isn't valid.
WooHoo! You subscribed successfully.
Copyright Reptile Rapture. All Rights Reserved.
Sours: https://reptilerapture.net/california-kingsnake-caresheet.html
Common Name: Kingsnake
Scientific Name:Lampropeltis spp.
Distribution: Found throughout the southern United States west into California.
Size: 3′-6′
Life Span: 15-20 yrs.+
Kingsnakes are among the most beautiful snakes in the world and have been popular pets in the reptile hobby since the beginning. There are many different types of kingsnakes found in North America, and care requirements are very similar for all of them. Kingsnakes were given their name because they are the "King" of snakes in America. They are considered "Kings" because they regularly eat other species of snakes in the wild, including rattlesnakes! Common Name: Common Kingsnake
Hatchling to juvenile kingsnakes can be housed in a 10-20 gallon terrarium.
Adult kingsnakes will need at least a 40 gallon terrarium.
A secure, lockable slidingscreen lid is essential for safely housing these snakes.
Zoo Med's ReptiHabitat™ terrariums are an excellent choice for kingsnakes.
A Repti-Shelter™, Habba Hut™, or Cork Bark will provide a secure hiding place to help reduce stress.
Daytime Terrarium Temperature 75-80°F
Basking Temperature 85-88°F
Nighttime Terrarium Temperature 72-75°F
Create a thermal gradient in your snake enclosure by placing a heat lamp and an Under Tank Heater on one side of the terrarium. Zoo Med's Daylight Blue Reptile Bulb is a good choice for heating snake enclosures. By placing the heating elements on one side of the cage, you will naturally provide a thermal gradient.
Any of Zoo Med's thermometers will help you keep a close eye on terrarium temperatures.
Keep all hides, such as a Repti-Shelter™ or Habba Hut™ on the cool end of the enclosure.
A ReptiTherm® Under Tank Heater or ReptiCare™ Rock Heater is may be used to provide belly heat to your snake while it digests a meal.
Snakes typically do not require UVB to meet their vitamin D requirements. However, many snakes receive UVB and sunlight in their natural habitat and there is new evidence that they benefit from UVB lighting in captivity.
Zoo Med's NatureSun® or ReptiSun® fluorescent lamps can be used to illuminate your terrarium and create a natural day/night photoperiod.
Kingsnakes can be housed on Zoo Med's Aspen Snake Bedding™, Forest Floor™ cypress mulch, or ReptiBark®. We recommend a substrate layer of 2-3″ in depth.
Provide moistened New Zealand Sphagnum Moss in a Repti Shelter™ to create a humidity chamber. This chamber will help your snake shed its skin as it grows.
Zoo Med's Eco Carpet™ can be used as a safe, environmentally friendly, and easy-to-clean substrate.
Kingsnakes can be fed exclusively mice and small rats throughout their lives. Rodents provide snakes with the needed calcium and vitamins so additional supplementation is not needed.
Have fresh water available at all times. ReptiSafe® Water Conditioner is a good choice for removing Chlorine and Chloramines from tap water.
Zoo Med's Corner Bowls are an excellent choice of water bowls for all snakes.
When choosing the proper sized food item for your snake select a mouse/rat that is the same size, or slightly bigger than the girth of your snake.
Hatchlings: Will eat 1 pinkie mouse per week.
Juveniles: Will eat 1 hopper-adult mouse per week.
Adults: Will eat 1-2 adult mice per week. Particularly large Kingsnakes will eat 1 appropriately sized rat per week.
Sours: https://zoomed.com/kingsnake/
With their dark brown-black bodies and blue iridescence, Mexican Black King Snakes are certainly memorable. They are also easy to keep and tolerate handling well. It's not surprising that Mexican Black King Snakes are very popular in the pet trade.
Mexican Black King Snakes are very good snakes for novices. They have a few environmental requirements which you must meet if you want to keep a Mexican Black King Snake. They can tolerate less than ideal conditions but will be happier and healthier if you make the effort to give them the best possible environment.
This article will teach you everything you need to know about your Mexican Black King Snake. You will learn about its native habitat and diet and how you can best reproduce those conditions in your snake's new home. Armed with this knowledge, you will be ready to enjoy years of companionship with your new Mexican Black King Snake.
Mexican Black King Snakes in the Wild
The Mexican Black King Snake (Lampropeltis nigrita) is native to Mexico's Sonoran Desert. Its range borders that of the California King Snake (L. californiae) and the Desert King Snake (L. splendida). Many of the King Snakes found in these border regions are hybrids between the different species.
For a long time, biologists thought thease were different subspecies of the Eastern or Common King Snake (Lampropeltis getula). Recent DNA tests have revealed that they are separate but very closely related species. King Snakes get their name because they eat other snakes. (This is why we call the largest and deadliest of ophiophagus snakes the "King Cobra").
Despite their name, Mexican Black King Snakes are actually a very dark shade of brown. Their blue sheen makes them appear glossy black. While hatchlings may be born with a few white or yellow spots, those quickly fade. A Mexican Black King Snake is dark all over, with gray-black belly scales and onyx-black eyes.
In their native habitat Mexican Black King Snakes are found in rocky and semi-arid brushland and grassland regions. They will burrow into loose soil and are also excellent swimmers. Though they spend most of their time on the ground Mexican Black King Snakes can also climb and will sometimes explore small trees in search of bird nests.
Housing Your Mexican Black King Snake
When they hatch, baby Mexican Black King Snakes are a bit over eight inches long. You can fit them comfortably in a 10-gallon aquarium. But your cute little worm will grow quickly. Within two or three years it will be a stocky snake of 3 to 4 feet long.
A Mexican Black King Snake kept in a cramped container may stop eating – or it may begin eating its own tail! When stressed king snakes may engage in autophagy (self-eating). Forming an ouroboros, it will keep swallowing until it dies. If you see your Mexican Black King Snake tail-biting gently tap its nose to distract it. Then start looking immediately for a bigger container.
Mexican Black King Snakes are curious snakes that love to explore their territory. While you can keep a Mexican Black King Snake in a 2.5-foot cage, it will be much happier and more active in a 3-foot or even a 4-foot cage. The bigger the cage, the more often you will see your Mexican Black King Snake out and about.
Because the Mexican Black King Snake is intelligent and curious, you will need to make sure their cage is tightly secured at all times. If there is a way out of the cage, a Mexican Black King Snake will find it. Avoid using screen tops. Your Mexican Black King will repeatedly poke at the screen in its escape efforts. This can lead to a raw nose and subsequent infections.
Your Mexican Black King Snake will appreciate an enriched environment. Give them a branch or two to climb, hides on both the warm and cool sides, and tubes to crawl through. This will give them exercise and let them explore for something other than an escape.
Clear plastic holiday tree containers are an inexpensive way to give your Mexican Black King Snake a roomy, secure and easy to clean home. Add ventilation by poking a few tiny air holes on each end with a drill or awl. Poke from the inside and when you are done carefully sand away any rough edges with ultrafine sandpaper so your snake does not injure himself.
Keeping snakes together in the same habitat is never a good idea. It is especially bad when you put the Mexican Black King Snake in a container with another snake. Your Mexican Black King will soon be alone in his environment again, and you will be out a snake.
The only time you should put two Mexican Black Kings together is for breeding purposes – and even then you should keep a close eye on things in case one decides they turn their romantic pairing into a dinner date.
Heating a Mexican Black King Snake's Cage
Though they come from a hot desert, Mexican Black King Snakes are not overly fond of too much heat. Most of the year Mexican Black King Snakes hunt during the day. But in the hottest months, they only come out at night when things cool down and hide in a burrow or under a bush as the morning sun begins warming things up.
Your Mexican Black King Snake will do best in a terrarium with an ambient temperature between 80 and 82. Give them a hot spot between 85 and 90 degrees. Use a reptile thermostat like the Zoo Med ReptiTemp RT-600 Digital Thermostat Controller to ensure things are neither too warm nor too cold.
Heating pads or heat tape on the bottom of the tank will ensure your Mexican Black King Snake always has a warm spot to digest its meals. Do not use "hot rocks," as they can burn your snake terribly if they malfunction.
A better option is a piece of heat tape across the bottom of a thick 12" square ceramic tile with a thermostat probe attached. Set the thermostat for 90 degrees and place the probe atop the stone. Check this regularly with an infrared thermometer to make sure it is not overheating. Buried in substrate, it will provide your Mexican Black King Snake with a nice basking area.
At night you can let the entire tank drop to a temperature of 75. Deserts get chilly at night, and the Mexican Black King Snake will feel more at home if you provide a nocturnal temperature drop.
Substrate for your Mexican Black King Snake
For a substrate that resembles the Mexican Black King Snake's wild environment, try a mixture of two parts Exo Terra Plantation Soil and one part play sand. A substrate of 4 inches depth will allow your Mexican Black King Snake to burrow.
While this is good for your Mexican Black King Snake, it will make your habitat more challenging to heat with an undertank heater. You can make up for this by providing PVC pipes or paper towel tubes that will give your snake a nice burrow substitute.
If you use substrate and heat the tank with a halogen heating bulb or ceramic heater, make sure it is safely above the tank so your Mexican Black King Snake doesn't burn itself exploring.
Avoid substrates with wood chips or 100% sand substrates. Aspen shavings will also work as a substrate. Do not use pine or cedar shavings as their oils are toxic to snakes. Whatever substrate you choose, check it every day and spot-clean any excrement you find. Once a month change the substrate out entirely. Dirty cages can lead to scale rot, infections and other problems.
UV Lighting for Mexican Black King Snakes
Because Mexican Black King Snakes spend a great deal of time in the sun in their local environment, they may benefit from some UV supplementation. A fluorescent UV bulb used 10 to 12 hours a day may lead to a happier and shinier Mexican Black King Snake.
If you do not use UV supplementation for your Mexican Black King Snake, don't worry too much. Many herpers do not use UV supplement for their snakes and report no issues. For lizards like iguanas and bearded dragons UV supplements are required. For snakes they are optional though they may be beneficial.
Water for your Mexican Black King Snake
Your Mexican Black King Snake should have a shallow water dish which is big enough for it to soak in, and heavy enough that your snake cannot tip it over. Mexican Black King Snakes will soak or even swim in water in their native habitat. Make sure your water is fresh by changing it out every day or two.
A soaking dish will help your Mexican Black King Snake when it is shedding. But if you notice your snake is constantly in their water dish but still has bad sheds, they may have mites. Spray your Mexican Black King Snake and their environment with a mite relief spray like Natural Chemistry Reptile Lizard Spray. If the problem persists consult your veterinarian.
While Mexican Black King Snakes love soaking, they do not love excess humidity. If their surroundings are too damp, they may get lung infections or scale rot. If your snake tips their water dish clean it up as soon as you notice and replace the substrate with dry bedding.
Feeding a Mexican Black King Snake
In its native habitat the Mexican Black King Snake frequently eats rattlesnakes. Their powerful constriction allows King Snakes to take down larger and even venomous snakes. (It helps that Mexican Black King Snakes have a natural resistance to rattlesnake venom).
While they are most famous for gobbling vipers, Mexican Black King Snakes favor a varied diet. They also eat lizards, rodents, birds, and eggs (bird or turtle will do). And if Mexican Black King Snakes encounter each other outside of mating season, the larger snake will eat the smaller.
Your Mexican Black King Snake will do fine on a straight diet of appropriately sized rodents. Feed hatchlings every 5-7 days. An adult Mexican Black King Snake can go 10-14 days or longer between feedings. You can feed your Mexican Black King feeder anoles, chicks or quail eggs if you want to offer some variety.
In the wild, snakes store fat as a guarantee against an unsure food supply. After a meal they may and often do go weeks or even months without eating. Given all the food they want when they want it, captive snakes never burn off that fat. Give your Mexican Black King Snake enough to eat, but don't overdo it.
While continued anorexia is a sign of stress, don't worry about an occasional refused meal. Mexican Black King Snakes will often go off their feed during the cooler winter months. So long as your snake is not lethargic or emaciated it will be fine.
Handling Your Mexican Black King Snake
When you first get your baby Mexican Black King Snake, you may be nipped a few times. Hatchling Mexican Black King Snakes are notoriously temperamental. You can't really blame them. You would be nervous too if you were eight inches long and surrounded by things that wanted to eat you – including your parents!
As your Mexican Black King Snake grows, they will become much easier to handle. Older Mexican Black King Snakes are docile animals and should give you no trouble if you take them out for occasional handling.
While you don't have to worry about defensive bites, you may still get hit with the occasional feeding strike. Mexican Black King Snakes have healthy appetites and may mistake your hand for food.
One way of dealing with this is by using a snake hook or even a stick to touch your snake gently before you reach in. Do not do this when you are dropping food in the tank. In time your Mexican Black King Snake will come to associate the stick with "not food" and will be far less likely to bite your hand.
Avoid handling your Mexican Black King Snake for 24 to 48 hours after feeding. Give them time to digest their food so they do not regurgitate. Also avoid unnecessary handling when your snake is shedding. Your Mexican Black King Snake cannot see well while in shed and is more likely to strike out in self-defense.
You should handle your Mexican Black King Snake no more than three or four times a week. Make sure you have a gentle but firm grip on them at all times. If your Mexican Black King Snake slips out of your hands they could be under heavy furniture in a matter of seconds.
Conclusion
Mexican Black King Snakes are easy-going and easy to keep. They are also very popular, which means you have many experienced keepers who will be willing to help you if a problem arises. You might not be familiar with the issue, but chances are there are other owners who will be able to offer solutions.
Fauna Classifieds has a forum dedicated to King Snakes and Milk Snakes where you can get advice and show off your snake. Kingsnake.com (as per the name), has several King Snake groups, including one for Mexican King Snake owners.
Thanks for reading and may you have years of joy with your Mexican Black King Snake!
Categories SnakesSours: https://www.reptileadvisor.com/mexican-black-king-snake/
California Kingsnake, The Best Pet Snake?
Eastern Kingsnakes are incredible snakes that rule the southern forests of North America.
They are called "Kingsnake" because of their bravery in the face of venomous snakes. They have venom immunity so can easily hunt, kill and eat venomous snakes.
This snake is easy to identify because they have glossy black scales with yellow or white chain patterns. Choosing a color pattern is one of the most enjoyable parts of adopting this species. Color is also the biggest influence on price with snakes priced from $50 to $650.
These small snakes are easy to care for, adapt well to captivity and learn to tolerate handling from a young age.
If the Eastern Kingsnake has captured your attention, read on to learn how to make the King of the forest your pet snake…
Eastern Kingsnake Overview
This species of snake is one of the most widely spread snakes in North America.
They are known to live anywhere from northern Mexico to southern New Jersey.
The Eastern King is currently listed as "least concern" by the International Union for Conservation of Nature. They are protected in some southern forests of North America due to deforestation (making them victim to predatory birds) and urbanization.
These snakes are typically a glossy black or dark brown in color with white or yellow banding across their backs. The banding meets along the sides of the snake creating a "chain" pattern.
Their scientific name, Lampropeltis getula getula, was given to them because of their unique chain pattern and appearance:
Lampos means "radiant"
Pelta means "tiny shields"
Getula references the Getulians of Morocco who used chain patterns in their clothing and artwork.
Despite being known for their feisty temperament as babies, this snake is one of the best for beginners because they very quickly tame with handling and are happy to eat varied foods.
What We Like About Kingsnakes
Pros
Famous for eating venomous snakes because of their venom immunity.
With frequent handling as a baby they tame easily and quickly.
This snake is a consistent eaters and adapts very well to frozen-thawed prey for their diet
They are hardy snakes that do not require advanced husbandry.
Cons
This snake needs specific heat requirements in their enclosure.
They must live alone and cannot be co-habitated.
If they are handled incorrectly or too frequently they will spray musk or bite because they feel threatened.
Species Appearance
There are nine recognized subspecies of Kingsnakes.
The Eastern variety is similar in appearance to many of the nine recognized subspecies in their family. They have glossy black scales with yellow or white chain patterns.
Genomic studies suggest that five of these subspecies should be recognized as their own species:
Eastern lineage (Eastern Kingsnake)
Mississippi lineage (Black Kingsnake)
Central lineage (Speckled Kingsnake)
Desert lineage (Desert Kingsnake)
Western lineage (California Kingsnake)
Eastern Kingsnake Size
Kingsnakes hatch from eggs at between 8-12 inches long. Typically, they will reach 2ft long by the end of their first year and be fully grown by 5 years measuring between 3-5 feet long.
Compared to some other North American snakes (e.g. the Bull Snake, Indigo, and even Rat Snake), this snake will appear small.
These snakes tend to be long and slender with short, stout heads.
There are no significant visual differences between males and females. Probing is the only reliable method of sexing.
Color Variations and Markings
Eastern Kingsnakes are like many of the nine subspecies in their scientific family.
They have a dark brown to black body and any kind of variation of yellowish-white speckles and bands along their bodies.
Speckled, Apalachicola, and Black species all have some variation of light speckles on darker scales.
California, Florida, and Eastern are predominantly banded with the chain-like pattern. California Kings, however, tend to have thinner and more white than yellow bands.
The only truly unique subspecies are the light brown Brooks Kingsnake and the jet black Mexican Black. Mexican Black Kings are jet black without any pattern. The Brooks is a speckled pattern, but are light brown in color.
Enclosure & Set Up
Eastern Kingsnakes are always terrestrial (i.e. do not live in trees like other reptiles) but are often found near water. They can be found in pinelands, hardwood forests, swamps, wetlands, farmlands, and even suburban areas.
Despite their widespread geographic-range, these snakes are very secretive.
You will normally find this species hiding in stumps and burrows or under logs, boards, tins, and bushes.
Providing natural décor and hiding places in their enclosure will allow them to perform their typical behaviors. Your snake should display exploring, digging, basking, and hunting behaviors.
Eastern Kingsnakes typically grow 3-5ft in length, though some exceed this. As this snake grows, they will require different sized enclosures:
Babies should be housed in 10-gallon vivariums (or similarly sized plastic tubs).
At 24 inches long, juvenile Eastern Kingsnakes should be upgraded to a 20-gallon long.
If your snake grows over 4ft in length, move to a 40-gallon tank.
Remember, this species is terrestrial, so focus on floor space, not height!
Tank Type: Glass vivarium.
Tank Size: 20-gallon.
Lighting: 75-100 watt basking bulb.
Substrate: Topsoil.
Sticks, plants, leaf litter, hay, bark, or straw should be used to provide environmental enrichment.
Make sure you sanitize any décor found outdoors with 10% bleach spray and leave for 3-5 days in the sun to help kill any pathogens. Be sure to add areas where the snake can curl up and hide.
A large water dish for soaking and drinking should be provided in their enclosure.
Finally, place a secure lid on the enclosure to prevent escape. A screen top with clamps for a terrarium or a lock-top plastic lid with breathing vents will suffice.
All Kingsnakes self-thermoregulate, so they need a temperature gradient in their enclosure:
Eastern Kingsnakes need a cool side with a temperature of 75°F-80°F. This can be heated with an under-tank heater or low wattage ceramic heat emitter. Both devices need a thermostat and thermometer.
The hot side of their enclosure should be 85°F-90°F. The hottest place should be directly underneath a 75-100 watt basking lamp. A basking spot lamp is best because it can serve as a day-night cycle.
Never use heat rocks or heat pads inside the tank. Snakes will sit on them and suffer severe burns from the constant high heat.
Using substrates that can be easily changed is a good idea for babies.
That's why babies are typically housed on newspaper or paper towels.
Although they can also live on paper too, adults prefer 2-3 inches of substrate for burrowing and digging.
The best substrate choices for adults are: coconut fiber, organic topsoil (without perlite), bark chips, or aspen shavings.
You should avoid pine or cedar shavings. The oils and dust from these types of woods can cause eye irritation and respiratory issues for your snake.
Tank Cleaning & Misting
Cleaning your snake's tank is simple, but imperative for maintaining good health.
Every few days, you should spot clean the tank to remove any feces, shed skin and uneaten food.
Substrate should be changed every 3-4 weeks. If you don't spot clean frequently this will need to be every 2 weeks.
Changing the substrate keeps fungal or bacterial growth from infesting the soil. This helps to prevent issues like scale rot and respiratory infections.
During a substrate change, while the tank is empty, consider scrubbing all décor and using a 10% bleach solution to sanitize the inside of the tank.
Make sure the tank is dry before replacing the substrate.
Eastern Kingsnake Care
What Do Eastern Kingsnakes Eat?
Eastern Kingsnakes are opportunistic hunters.
In the wild, they are known to feed on lizards, frogs, salamanders, small mammals, birds, and even other snakes.
This snake can expand their jaws to eat prey that is nearly as large as their body size. Their constrictor abilities also make them experts at eating snakes that are similar in size.
In captivity, you should feed frozen-thawed prey. This will help to avoid prey-induced injuries during feeding.
These snakes adapt quickly to frozen-thawed prey.
To thaw prey:
Place frozen prey in the refrigerator overnight (or in cold water for 30-60 minutes).
Once thawed, place the bagged rodent in a warm water bath to raise the temperature (do not use the microwave defroster; it will just breed bacteria).
As your snake ages, their feeding size should increase, and frequency should decrease.
Babies should be fed once every 5-7 days, juveniles every 7-10 days, and adults every 10-14 days.
It can be hard to find frozen salamanders, so it is best to feed frozen mice, rats, and chicks. Prey should never be wider than the widest part of the snake. This will help to lower the risk of regurgitation.
If you decide to feed live prey, it must be removed immediately if uneaten. You should also examine your snake's eyes and face for injuries after each meal.
Finally, provide your snake with a water bowl as they will drink from it.
Common Health Issues
Just like any animal, snakes can suffer from health issues and carry diseases.
With consistent and correct husbandry, these hardy snakes can live to be anywhere from 15-25 years old. Careful husbandry and attentiveness to your snake are important in making sure they can live that long.
Some common diseases include:
Mouth rot
Internal parasites
Mites
Scale rot
Inclusion Body Disease
Respiratory infections
Stress-induced anorexia
Mouth rot is often a secondary infection from a low immune system or an untreated mouth injury. If the swelling and discharge are noticed early enough, it can usually be treated with antibiotics by a veterinarian.
Scale rot is normally due to overly moist or dirty substrate allowing bacteria growth. It can usually be slowed by cleaning the tank and allowing the snake to heal on clean paper towels for several weeks.
Mites can usually be treated with over the counter products like Prevent-a-Mite, though a vet should be consulted to find the appropriate treatment plan for you.
As with any new reptile, you should pay close attention and make note of regular bowel movements, eating routines, and activity levels.
Any abnormality may signal the need to contact a veterinarian.
Signs They Are Healthy
Hunting/foraging behaviors.
Eating regularly.
Sheds are intact with eyecaps.
Sickness Symptoms
Self-soaking for several hours at a time.
Refusing prey.
Stuck shed on eyes or body.
Typical Behavior
In the wild, the Eastern Kingsnake is a feisty snake. They have mastered the arts of fear, intimidation, flight, hiding, and self-defense.
When threatened, this species will show quick, jerky movements.
Their jerky movement helps to startle any predator that is approaching. If that doesn't work and they can't hide, they will often shake their tail like a rattlesnake.
These snakes are solitary in the wild when not mating.
In captivity, these snakes calm with age. Frequent, slow handling helps them become accustomed to human touch.
Your snake will enjoy exploring, digging and basking. So you should also provide plenty of hiding places and a deep substrate to help encourage these natural behaviors.
Overall, they are very docile and tame as juveniles and adults. Babies' behavior may need to be tolerated, but their bite is nothing to fear.
Is An Eastern Kingsnake Venomous?
No. They are completely nonvenomous, but biting can be stressful for an inexperienced owner. If picked up, a wild Kingsnake will likely expel a foul smelling musk and possibly bite. Though harmless, it can be unpleasant!
They seldom bite, but are known to constrict around and chew on whatever they see as prey.
Handling Advice and Tips
Any reptile can carry Salmonella. While harmless to your snake, it can infect you and lead to terrible intestinal side effects.
Sanitation before and after handling is essential. Washing your hands with soap and warm water is recommended.
You should handle your snake frequently. This will help to ensure they don't become aggressive as adults.
As babies, you can normally reach in slowly and just pick them up. If your snake is a little jumpy, you can use a small snake hook to let them know that they are being handled.
If handled frequently, your snake will grow up to be calm and docile. However, it is important to note, each snake has an individual personality and may not adapt to handling as easily as others.
Baby Eastern Kingsnake
Babies are typically identical to adults in their appearance (e.g. color and patterns), behavior, and diet (besides eating smaller prey). Immediately after hatching, they are independent.
Males will often court females during Spring. They will bite the female's neck and then twist their tail around hers and begin writhing.
Females lay 1-2 clutches in the Summer with 10-24 eggs in each.
After 60-75 days, the snakes will hatch and are ready to begin hunting and finding a home.
How Much Does An Eastern Kingsnake Cost?
You can find Kingsnakes on sale for anywhere from $50-$650. Color and pattern are the biggest influence on price.
Morphs have been bred to exaggerate their desired appearance; the rarer the morph, the more expensive the snake.
Buyer's Guide
This species is not endangered, however, you should still check local and state laws before adoption. Many states have laws governing native species, so you may have to choose a subspecies.
You should buy your snake from a reputable breeder.
Always look for an active, alert snake to buy!
Healthy snakes will be active, exploratory, or trying to find a place to hide to feel safe. If a snake seems limp or lethargic, has a wobbling head, or seems to be "star-gazing," that snake is likely sick.
Eastern Kingsnake Facts
Common Name
Chain Kingsnake, Common Kingsnake
Scientific Name
Lampropeltis getula getula
Price
$50 to $650
Size
3-5 feet long
Lifespan
15 to 25 years
Diet
Small mammals, lizards, amphibians, birds, and snakes
Tank Size
Minimum 20-gallon, 40-gallon preferred
Humidity & Temperature
Ambient Temperature: 75°F-85°F
Basking Temperature: 85°F-90°F
Humidity: 35%-60%
Popular Alternatives
Corn Snake, Rat Snake, and Scarlet Kingsnake
Summary
Eastern Kingsnakes are medium-sized, beautiful snakes that take well to captivity.
They are hardy animals that eat well and exercise frequently when given the space. Their high-activity level means that any owner must provide an enriching enclosure.
If you like the Eastern Kingsnake, there are eight other subspecies to choose from that have nearly identical care requirements and size. Other species of similar snakes include the:
Though temperature requirements can be tricky, this snake is easy to care for, making them one of the most popular beginner snakes.
Ready to crown a new King in your home? Let us know in the comments below!
Sours: https://www.everythingreptiles.com/eastern-kingsnake/
Setup kingsnake
---
California Kingsnake – Lampropeltis getula californiae
California kingsnakes are one of the most commonly kept pet snakes, and for good reason. Meeting kingsnake captive requirements is easy when you prioritize reptile health and wellness, quality husbandry, and proper snake supplies. The California kingsnake is one of many subspecies of the common kingsnake. Kingsnakes range from coast to coast and north to south in all 48 contiguous United States. When a snake has this broad of a distribution, and lives in so many habitats and conditions, it is a good indicator that it will adapt easily to a life in captivity.
The California kingsnake occurs in California and touches the neighboring states of Oregon, Nevada, Arizona and Baja California. It is one of the first snakes to be bred regularly in captivity and many patterns and morphs have been developed.
California Kingsnake Availability
California kingsnakes are still common in the wild (check for state laws regulating collecting from the wild) in many areas. However, it is advantageous to get a captive-bred, parasite-free, established (feeding on rodents) kingsnake with lineage and genetic traits records. Captive-bred California kingsnakes can be purchased at pet shops, reptile shows, from breeders, and sometimes at online reptile shops.
---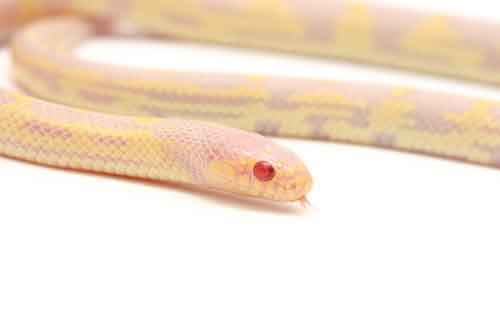 Gina Cioli/I-5 Studio
An albino California kingsnake.
---
California Kingsnake Size
California kingsnakes hatch from their eggs at 8 to 12 inches. Maximum adult size for California kingsnakes is more than 6 feet in length, although average size is 3 to 4 feet. California kingsnakes are not a bulky or heavy snake, so they seem smaller than they actually are.
California Kingsnake Life Span
California kingsnakes often live for more than 20 years. Females California kingsnakes often produce fertile eggs into their low teens.
California Kingsnake Caging
A general rule is that if the snake crawls around the perimeter of the cage and doesn't cover more than 2/3 of the distance, the cage is large enough – but bigger is better. A baby California kingsnake can live in a shoebox-sized cage for several months until it outgrows it. An adult California kingsnake requires a 20-gallon reptile terrarium or larger enclosure. Be sure it has a secure, escape-proof opening. If there is a weakness, the kingsnake will find it and escape!
---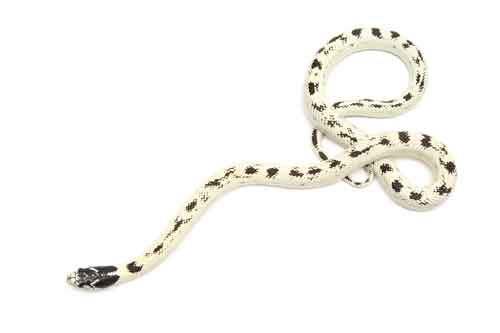 Gina Cioli/I-5 Studio
Banana California kingsnake.
---
California kingsnakes will eat other snakes and should be kept alone or in breeding groups of no more than one male and several adult females. Warning: Do not raise juvenile California kingsnakes together, they could eat each other. Wait until adult size, more than 2 feet, to introduce and watch them to be sure of nonaggression. Separate to feed and keep separate for a few hours.
California Kingsnake Lighting and Temperature
California kingsnakes require no special lighting if the cage is in a room with natural light. Be sure not to place the cage in or near a window where the sun will shine on the cage, or it can become too hot and fatal for your kingsnake.
California kingsnakes thermoregulate in the wild. They move about to find and maintain (when they can) a preferred temperature. Being "cold blooded" they become the temperature of their surroundings. In captivity, choices are limited to what you provide so you should have a warm end and a cool end of your cage.
There are many heaters, pads, cables and tape available from dealers to accomplish this. Some people use lights for heat, but this is not an efficient use of energy and has disadvantages. For instance, you could warm the air with the light, but the floor could still be too cool for the snake. Try to achieve 85 degrees Fahrenheit at one end and in the 70s at the cool end. Do not use "hot rocks," the heat is too centralized and can cause burns. If you are looking for a heat pad to use, the Zilla Heat Mats Reptile Terrarium Heater with a Zilla Terrarium Heat and Habitat Controller.
---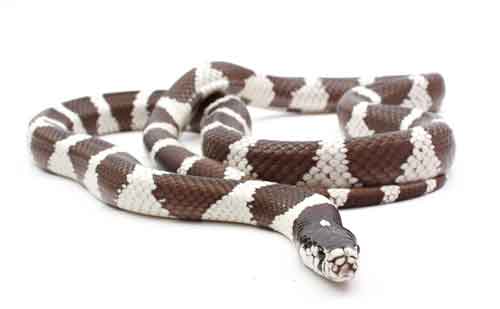 Gina Cioli/I-5 Studio
A "normal" California kingsnake.
---
California Kingsnake Substrate
Many commercial substrates and beddings for reptiles are available. Avoid cat litter and any chemically treated substrates and oily woods. General rule, if it looks good and doesn't give off a smell, it is OK. Feed your California kingsnake in a separate container if the substrate could be ingested while feeding. Newspaper, paper towels and indoor carpet are fine, but if the snake can't partially burrow in your substrate, you might consider a hide (Zoo Med Habba Hut) or two in the cage for security.
California Kingsnake Food
In the wild, California kingsnakes will eat just about any animal or bird small enough to be overpowered and swallowed whole, including rattlesnakes. In captivity they should be fed rodents, usually mice, which are readily available. You can offer live reptile food or well-thawed frozen mice. Live adult mice can inflict wounds to your kingsnake. Fresh killed is a safer choice.
The mouse should leave a lump in the kingsnake a little larger than the snake's normal diameter mid body. Until the snake is established with you, do not handle it until the lump has digested down to normal diameter of the snake. Feeding once a week will maintain your California kingsnake, but the snake will grow faster if you feed it twice a week or more, if it will take it. Once the kingsnake reaches adult size, avoid obesity. Reduce feeding if necessary.
California Kingsnake Water
Provide a fresh water bowl that is deep enough that when the bowl is half filled and the snake goes in to soak, the water will not overflow into the cage. You want a dry cage. If the humidity increases in the cage to where it looks or feels moist, remove the water and only offer it a couple days a week. Clean the water bowl as needed.
California Kingsnake Handling and Temperament
Even though California kingsnakes have been captive bred for generations, your snake is still wild by nature. Your new kingsnake might take a defensive stance and shake its tail and strike at you. It may defecate or urinate on you when you pick it up. This potential behavior is a natural, wild response to discourage you (a potential predator) from eating it. It is afraid!
With regular, gentle handling, your California kingsnake should settle in and make a great pet. Hand over hand, staying away from its face, with gentle friction to slow forward progress, is the preferred method for beginning handling.
Don't handle your snake when it is about to shed. The way to detect this is that their eyes will look "milky" or bluish. After a few days they will clear and a few days after that the snake should crawl out of its entire skin (shed, slough). This care sheet is a very brief overview of a subject that would require an entire book to fully cover. Be sure to consult experts if you have further questions or have any problems. Enjoy your California kingsnake!
---
Bob Applegate has been known for more than 25 years as a breeder of quality and rare reptiles. His name is on two strains of snakes: the Applegate Arizona Mountain Kingsnake and the Applegate San Diego Gopher Snake. Visit his website at ApplegateReptiles.com for articles, pictures, and more information.
View Archived Comments
Sours: https://reptilesmagazine.com/california-kingsnake-care-sheet/
SIMPLE SETUP: CALIFORNIA KINGSNAKE
California King Snakes make excellent pets, and they are a fairly common snake to own. Especially for first timers. These slithery little fellows are easy to maintain, don't get too big, and are typically friendly and docile. Whether your a first time snake owner, or a long-time enthusiast, this guide will provide everything you need to know about California King Snake Care.
California King Snakes are GREAT for first time snake owners!
We will cover every aspect of owning and maintaining a California King Snake right here in this post. Fun fact: my first ever snake was a California King! his name was Stanley, and he lived for nearly 20 years. Which is another thing you'll learn about in this king snake care guide – how long they live, what to expect throughout their lifetime, and more.
California King Snake Care Sheet Basics
So you're probably pondering about if California King Snakes make a good pet.
Short answer – yes! California King Snakes make excellent pets. These are excellent beginner snakes, and are easy to maintain. Plus, once they warm up to you, they are typically very social and friendly.
Overall, California King Snakes are great. They come in many different colors and patterns – making them a very visually appealing snake. Also, California Kings don't grow to be all that big. So you don't have to worry about them outgrowing you or your children.
This breed of serpent does have a few interesting characteristics that every owner should know about.
Below are some common knowledge facts that each owner should know to ensure proper California King Snake care.
California King Snake Cage Size
Rule of thumb, you'll need a 20 gallon cage or enclosure for your California King Snake. You can start off smaller if you want – but know that you'll have to upgrade down the road. Heck, I started my baby Cali King off in a shoe box cage…

Later on, you'll see our recommended setup. For now, if you're planning on converting an old fish tank, be sure it's a long, narrow 20 gallon tank as opposed to a tall, wide one. Also, make sure you have a mesh lid with clamps! King Snakes are known to climb. Rule of thumb – terrarium length should be at least 2/3rds of the length of the snake.
How Long Will a California King Snake Live?
Prepare to take care of your California King Snake for a long time. As most other pet snakes, California King Snakes usually live for 15-20 years. Some even longer. The good news is that maintaining this breed of snake is fairly easy. Once you have the basics down, Cali Kings are easy to care for and maintain.
How big Do California King Snakes Get?
California King Snakes hatch at about 8-12 inches. The good thing about these snakes is that they don't get too large, but they also aren't too small. They're great for a "medium size dog" type of person. Full grown California King Snakes typically grow to between 3-4 feet long. Additionally, California Kings don't grow too large in girth like more tropical snakes do.
Do Cali King Snakes Need a Heat Lamp?
No, not really. But we do recommend setting up a heated mat on one side of your Cali King Snake cage. These snakes require no special lighting IF they are in a room that has plenty of natural light. On the other hand, if you have your snake in the basement, it will need special lighting made for reptiles. California King Snakes like variety. So whatever heat source you choose, whether it's a lamp or heated mat, make sure you have one "warm" side and one "cold" side.
What Type of Bedding/Substrate Do They Need?
Substrate is a fancy word for bedding. Most common substrate you find in pet stores will work for California King Snakes. Avoid small bedding like sand or tiny wood chips. You don't want your new King Snake ingesting any substrate.

Coconut Substrate is probably the best you can get for Cali Kings. It's large, doesn't emit odor (never buy substrate with odor), and allows them to burrow. By the way – these guys/gals like to burrow, so make sure whatever substrate you choose is "digable".
Can My California King Snake have Roommates? (NO)
No! This is perhaps the most important information you'll need to know about California King Snake care. King Snakes will eat both warm blooded and cold blooded animals. Meaning they will eat rodents, frogs, lizards… and other snakes. King snakes have been known to be cannibals, too. They will eat their own kind. Unless you are an experienced breeder, keep your California King Snake by itself.

California King Snake Cage & Terrarium
So, you've decided on a Cali King. But now, you need to figure out what type of enclosure is best for this particular breed.
The good news is that these little fellows don't need a whole lot of special add-ons to get a proper enclosure created. There are a few basics – including the cage itself, the right bedding, a heat source, a little hidey-cave, and of course, a water bowl. Believe it or not, snakes like to take a dip every now and again Especially when they're shedding.
Ready to get started with your California King Snake adventure? You're in the right place. Below is a chart of every piece of your California King caging you'll need. Plus, we detail out why these products are best for your new elongated pal.
California King Snake Starter Kit & Cage/Terrarium Basics
The above California King Snake starter kit will get you everything you need for a basic California King snake cage setup. Although these are our most recommended products, there are plenty of other alternatives. In any case, here's some more info on the cage and the substrate.
We think these two are the most important parts of the California King Snake terrarium setup. If you have to compromise to save some money, we listed out some popular alternatives below.
Recommended California King Snake Terrarium:
REPTIZOO Reptile Glass Terrarium,Double Hinge Door with Screen Ventilation Reptile Terrarium 36″ x 18″ x 18″
This is easily the best cage for a California King Snake available. It has plenty of space and doors that open in the front (great for easy feeding). Plus, it comes well ventilated and is comically simple to set up. Your new California King will absolutely love this terrarium. Also, there is a ton of opportunity to make your Cali Kings cage a piece of work. Think of all the nooks and crannies you can give your little critter to hang out and hide.
There are also many other alternatives to this enclosure for a California King Snake. Most 20 gallon aquariums or terrariums can be converted into a proper cage. Be sure you get the right mesh lid and clamps – and presto! you can create a California King Snake cage on a budget.
See on Amazon
Recommended California King Snake Substrate/Bedding:
ReptiChip Premium Coconut Substrate Organic Reptile Bedding.
Substrate is key to a happy Cali King. They like to burrow, and this is the perfect bedding to let them do so. This bedding is made from coconut chips that are large enough to not interfere with feeding. It's important that you use bedding that isn't too small – snakes can sometimes ingest small substrate during feeding. That is not good for there digestive system and can cause regurgitation.

If you're looking for a cheaper alternative to these chips, not to worry. Although we highly recommend them, there are alternatives. A cost effective alternative is to simply use shredded news paper. If you go down this path, be sure get your California King Snake a cave. Sometimes, it can be tough to burrow underneath newspaper shredding.
View on Amazon
Water Habits and Best Practices
King snakes, and many other snakes, enjoy clean water and a nice soak every now and again. It's best practice to change your snake's water every day.
Also, it's important to scrub and sanitize your snakes water bowl at least once week. Residue can build up (think red shower mold) pretty quickly in a serpents water bowl. To make sure your snake lives a long, healthy life, make sure their drinking water is fresh and their water bowl is clean.
Why does my California King Snake Sit in the Water Bowl?
There are a few reasons for this behavior:
Your California King Snake is about to shed. This is totally normal. Usually, when snakes are about to shed their skin, soaking it makes the process a little easier for them. Keep an eye out on your Cali King – if it sits in the water bowl for a while and sheds, you're good to go. If not… there are other reasons why you're Cali King is in the water.
Your Cali King is hot. Do you have a heat lamp on top of your snakes cage/terrarium? it might be too hot. Snakes will turn to the water bowl if they become overheated. A good solution to this problem is opting for a reptile/serpent heating pad and ditching the light. As mentioned, California King Snakes do not need light source if they are in a room with natural light.
Your snake might have mites. This is usually worst case scenario. To prevent mites, avoid bringing in stones, sticks, and any other outdoor objects into your snakes habitat. If this happens, it's best to take your snake to a local veterinarian to be evaluated and prescribed a fix.
Hides and Structures for Cali Kings
Stone Snake Hide
Perfect, subtle hide for a California King
Hardcore Snake Hide
Want your Cali King to look really cool? Well, this one's for you.
Classic Wood
Always a solid choice going with this option.
To ensure proper California King Snake care, you'll need to make sure it has plenty of places to hide away. This breed of snake enjoys burrowing or a little nook to curl up in.
There are plenty of good solutions for your snake to have a little cave to hide in. Here's one of our favorite California King Snake hides, and it should do the trick.
Note that it's especially important to buy the right kind of bedding for your Cali King. They like to burrow as a way to feel comfortable. Meaning – if you choose to go for the more cost effective route of shredded newspaper for bedding, be sure to get your snake a hide.
California King Snake Lighting and Temperature
California King Snake care is pretty easy when it comes to temperature. Unlike other snakes, this breed is versatile and isn't picky when it comes to how hot or cold it is.
There are some precautions you'll need to take to make sure your snake is comfortable. California Kings like to have a cool side and a warm side to their enclosure – so be sure not to heat the whole thing.
Also, if you have your California King Snake in a room with plenty of natural light, feel free to skip the heat lamp. Get a heated mat instead and place it under one half of the Cali King's glass tank.
Although a thermometer isn't necessary, it's good to have one side of the tank be around 68-74 degrees and the other side of the tank to be around 82-87 degrees Fahrenheit. That will ensure optimal comfort for your California King Snake.
One word of caution: be careful with direct heat sources in the terrarium (like a heated stone or heated rocks). They are often not high-quality and can damage or irritate your California King Snake.
California King Snake Food & Feeding
In the wild, California King Snakes feed on both cold blooded and warm blooded animals. That means frogs, lizards, fish, rodents, birds, and just any any other small woodland creature you can think of.
They even eat other snakes. In fact, they will eat their own kind – other King Snakes. That is why it's so important you do not keep your California King Snake with other snakes – even if they're from the same breed.
For best results when it comes to captive California King Snake care, feed your snake once a week (at least). Once it is full grown, you can scale back to once every 2-3 weeks. Avoid snake obesity (yes this is real) at all costs.
If you buy your California King Snake at a young age, you could have trouble feeding them live mice… or "Pinkies" at this stage. For convenience, you should try your best to make your snake take to frozen mice. That way, you aren't running around town trying to find a live mouse once a week when it comes feeding time. Plus, live feeder mice still have teeth and claws and can do quite a bit of damage to a California King Snake if caught off guard.
So – here's the general rule of thumb when feeding your California King Snake:
Young snake (10-18 inches): start with pinkies
Maturing young snake (18-26 inches): transition to fuzzies or hoppers
Nearing full grown Cali King (26-40 inches): Move to adult mice
Full grown California King Snake (40-60 inches) : Stick with adult mice or move to weaned mice depending on girth and size
Also – it's important to give your California King Snake time after feeding. Wait until their food baby (or mouse bulge) goes away until handling. During the post-eating bulge phase, California King snakes are vulnerable and will regurgitate their meal as a defense/escape mechanism.
Give it some time, usually a day or so, before handling again.
Why Frozen Mice?
First, convenience. To take proper care of your California King Snake, you need to make sure it's fed once a week. That's a lot easier of a task if you have a bag of 25 frozen mice in your freezer.
Believe it or not, you can even get frozen mice on Amazon. Now that's convenient. See for yourself and check out the above link to explore different frozen mice options.
Second, live mice can be potentially harmful to captive California King Snakes. The little rodents have sharp teeth, and can dig them into a Cali King whilst being constricted.
[adinserter block="1″]
Handling Your California King Snake
To ensure proper care for your California King Snake, you need to handle it frequently. Try to maintain a healthy relationship with your snake. A good goal to aim for is to handle it 2-3 times per week at least.
Handling them at a young age is important. That said, if you purchase a California King Snake from captivity, chances are you're going to get a snake that's used to being held. By the way -we highly recommend purchasing a captive California King Snake as opposed to capturing one in the wild. (More on reasons why below)
Are California King Snakes aggressive?
No, captive Cali Kings are most likely not going to be aggressive. Be sure when you handle this breed that you're not in a stressful environment. Snakes have a great sense for danger and stress – and they do not like it.
When your California King does not want to be picked up, they will let you know by shaking their tail at you. This is a defense mechanism that is supposed to mimic that of a rattle snake.
When should I not handle my California King Snake?
There are two main times when California Kings should not be handled. here they are:
Right before, during, or right after shedding. Snakes will typically become more aggressive during shedding time. Consequently, it's best to leave them alone, let them soak in their water bowl, and successfully shed before handling them again.
Right before or within ~12 hours after feeding. Simply put: don't handle your snake around feeding time. If handled too soon after feeding, California King Snakes can become defensive and regurgitate. That's because they are most vulnerable when they are digesting a recently constricted rodent.
Where to Buy a California King Snake?
Now that you know proper California King Snake care, you can take the plunge into becoming a snake owner. Since this breed is very common as a pet, it's not very costly. Usually, you can buy a baby California King Snake in the $30-50 range. Yup, that's all a California King Snake costs.
Not too steep, right?
Now – where to buy them. Lucky for you, this breed will be in most local pet stores that supply snakes. If not, do a few google searches to find a breeder near you. Chances are, they will have this breed since it's so common.
There aren't many hoops to jump through like with a dog or cat after purchasing. No need to get it neutered or spayed. That said, if you want to make sure you're giving the best care to your Cali King, take it to a vet for a checkup. Call first, though – as some vets may not evaluate serpents.
Lastly, avoid capturing and keeping wild snakes as pets. While all snakes are wild animals, ones kept and born in captivity often make for better companions. The reason is because captive bred and raised snakes are typically mite, parasite, and disease free. California King Snake care can be difficult and cumbersome if you catch a wild.
In most cases, wild caught snakes have a high likelihood of having some type of ailment. It's easiest to avoid wild caught snakes altogether and purchase a California King Snake from a reputable breeder.
Condensed Facts About California King Snakes
Adult California King Snake Size: Typically 3-4 ft. Specimens can get as large as 6 ft. this is unlikely for snakes in captivity.
Scientific Name: Lampropeltis getula californiae
Lifespan: 15-20 years
Native Location: West coast of the United States (California and neighboring states)
Are California King Snakes poisonous? No, they are not poisonous
Temperament: California King Snakes are typically docile and friendly when raised in captivity.
Sours: https://happyserpent.com/snake-care-guides/california-king-snake-care-sheet/
You will also be interested:
.
750
751
752
753
754