How To Test & Fix Low Compression On Your Dirt Bike
Does your dirt bike have low compression? What does it mean when the engine compression is low, and how do I check it? If you're asking these questions, then you found the right article.
We'll look at the when and why you should test engine compression, what happens when you don't, and how to check it.
What Is Engine Compression?
An engine, 2 stroke or 4 stroke, is basically a pump. It takes in air and fuel (gas) and compresses them under extreme pressure to help ignite and combust the mixture that keeps the engine rotating or running. 
If the compression is too low then the mixture will not completely burn. For common low compression symptoms continue reading.
What Causes Low Compression In A 2 Stroke?
Compression is produced in a 2 stroke by the piston and rings with a specific size tolerance. The rings seal to the cylinder wall and keep the pressure inside of the combustion chamber.
If the piston or rings are worn beyond the manufacture tolerance then it will not maintain proper compression and symptoms will follow. A bad or blown head gasket can also cause a loss of compression. 
This is why it's important to keep your 2 stroke top end regularly maintained by replacing the rings and/or piston when the compression starts going down.
4 Stroke Compression Complications
While a 4 stroke dirt bike has piston rings that need to be replaced at certain intervals, the cylinder head is more complex. The intake and exhaust valves will eventually wear out or burn away and not seal. Worn valves will result in a loss of engine compression.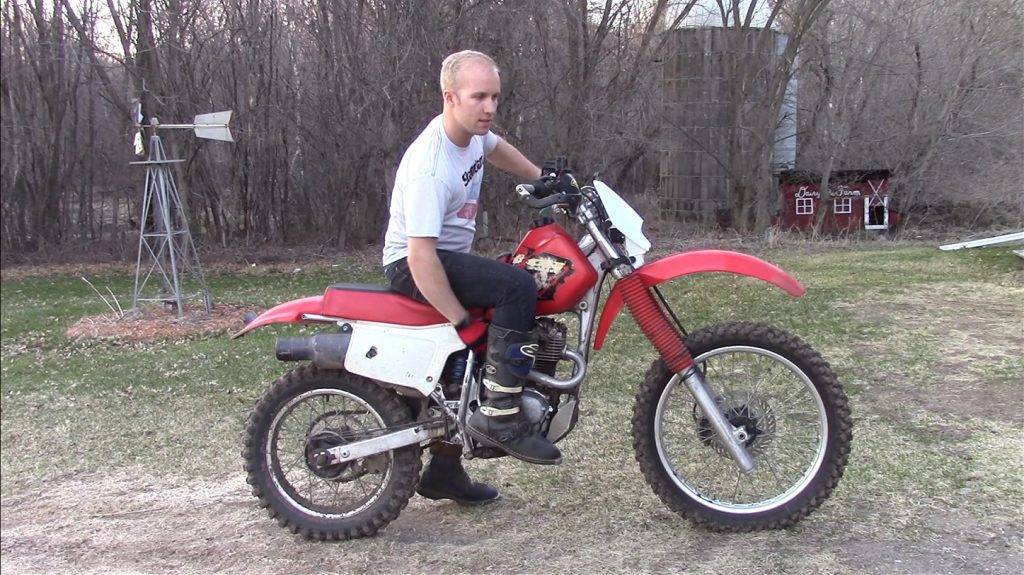 2 Stroke Low Compression Symptoms
Before you even check the compression on your dirt bike, there are a number of signs and symptoms that will tell you that the engine is getting worn out and needs attention. Here are the most common symptoms that a 2 stroke dirt bike has when the engine compression is low
Hard to start
Kick-starter is easy to kick over
Low on power
Bike is bogging
Spark plug fouling
Doesn't idle well
4 Stroke Low Compression Symptoms
A 4 stroke dirt bike will have similar signs when the compression is low, but there's a couple of different symptoms than a 2 stroke shows. With that said, checking the compression on a 4 stroke isn't as effective testing a 2 stroke compression. 
Learn To Ride Safely With Proper Technique From My Virtual Dirt Biker School
Type your email below to get this guide on proper riding techniques sent right to your email inbox!
Thank you!
You have successfully joined our subscriber list.
Since a 4 stroke has valves and other parts that a 2 stroke engine doesn't have, the rings aren't the only area where the compressed fuel and air can leak out.
For a more accurate test of a 4 stroke engine, you should do a Leak-down Test. It shows you exactly where the engine isn't perfectly sealed, costing you power and potentially a future repair.
Here are the top symptoms of low compression in a 4 stroke engine:
Hard to start
Kick-starter is easy to kick over
Backfiring/popping on deceleration
Running rough
Complete loss in power
Minimum Compression For A 2 Stroke Engine
Engines need a certain amount of compression to be able to start and run, but what is the minimum compression my dirt bike needs? This is harder to determine since different bikes have a different factory compression number. 
If you upgrade to a high compression piston or head then the number will be higher. Your OEM manual may have a minimum PSI specification. 
Minimum 2 Stroke Compression Chart
With that said, here is a minimum 2 stroke compression PSI that you can follow as a general guideline, but are not absolute numbers for every dirt bike:
| | |
| --- | --- |
| 2 StrokeEngine size | Minimum Compression PSI # |
| 50cc  | 120 PSI |
| 65cc | 120 PSI |
| 85cc | 130 PSI |
| 125cc | 140 PSI |
| 250cc | 170 PSI |
| 500cc | 140 PSI |
A 50cc and 65cc 2 stroke dirt bike should have a minimum compression of 120 PSI to run properly. Good compression is about 150 PSI. 
An 85cc 2 stroke dirt bike should have a minimum compression of 130 PSI to run well. Good compression is 150-160 PSI.
A 125cc 2-stroke dirt bike should have at least 140 PSI and about 180 with a fresh top-end.
A 250cc 2 stroke should have 170 PSI or more and 210 PSI when new. 
A 500cc 2 stroke should have at least 140 PSI of compression and 170 PSI for good performance.
How To Test Compression On A 2 Stroke Dirt Bike
Checking the compression on a 2 stroke is actually pretty easy and doesn't take long. Here are the 5 simple steps to test the compression on your 2 stroke dirt bike:
Remove the seat and gas tank (some dirt bikes have enough room under the tank and don't require you to remove it. I would continue the next steps unless there is not enough room to work with)
Remove the spark plug from the cylinder head.
Install the compression tester with the correct size/thread attachment.
Hold the throttle wide open (twist the throttle all the way back).
Kick the kick-starter over quickly with 5 strong kicks (only test on a cold engine that hasn't been run in the past 6 hours). Check the compression PSI number of the tester gauge.
It's really that simple to test the compression on your dirt bike. Electric start dirt bikes are basically the same process. Instead of kicking the bike over 5 times, just hold the starter button for 5 seconds (make sure the battery is fully charged so it will properly crank the engine to get the most accurate reading).
Choosing The Best Compression Tester
Now that you know how easy it is to keep an eye on the life of your 2 stroke engine is, you need to decide which tool is best for you. If you're just looking for a good compression tester that will get the job done without spending a lot of money then this is the one for you. Otherwise, Motion Pro makes a high quality tester if you plan on using it for many years to come.
If you want to read more then learn how much you should spend in this list of top 5 compression testers for dirt bikes (article coming soon!).
How To Fix Low Compression On A Dirt Bike
The main reason for low compression in a 2 stroke dirt bike engine is a worn top-end. A general top-end rebuild on a dirt bike is replacing the piston and/or just the piston rings(s). However, the cylinder may need to be re-honed or re-plated if it is worn out of spec or has physical scratches on it. A 4 stroke top-end rebuild may include new valves and valve seals, as well as a new timing chain for maximum reliability.
Is rebuilding a 2 stroke top end hard? How much does it cost? Learn how to rebuild your 2 stroke here.
Learn To Ride Safely With Proper Technique From My Virtual Dirt Biker School
Type your email below to get this guide on proper riding techniques sent right to your email inbox!
Thank you!
You have successfully joined our subscriber list.
Sours: https://motocrosshideout.com/dirt-bike-compression-test/
exciting promotions Upper/Lower Chain Roller Yamaha YZ125/250 78-80 YZ400 77-79 YZ465 80 IT175 80-81 incentive promotionals
twitter announced today that it will be removing its implementation of stories dubbed "fleets." the feature was either loved or hated by twitter users since its initial release last year.
this short-lived feature, which was released in november of last year, will be removed on august 3. twitter acknowledged the controversial nature of the snapchat/instagram clone with the farewell tweet. notably, there was no fleet from the main twitter account announcing the departure of the feature, only a standard tweet.
in the goodbye, the company said it is working on "new stuff." one can hope that they add the ability to edit tweets, in addition to the new edit audience and monetization features.
in a more detailed blog post, twitter shared that it hoped fleets would make people more comfortable posting onto twitter. as fleets disappear, some of the fleet creation features, like gifs and stickers, will be implemented into the standard tweets composer.
ftc: we use income earning auto affiliate links.more.
---
check out 9to5mac on youtube for more apple news:
you're reading 9to5mac — experts who break news about apple and its surrounding ecosystem, day after day. be sure to check out our homepage for all the latest news, and follow 9to5mac on twitter, facebook, and linkedin to stay in the loop. don't know where to start? check out our exclusive stories, reviews, how-tos, and subscribe to our youtube channel
Sours: https://www.eyeboston.com/doctors/finddoctor.php?pneumonia21/bdbd1317372.htm
How To Compression Test A Dirt Bike
Performing a compression test on a dirt bike's engine can tell a lot and it's something anyone who rides should do occasionally as this gives you a better feel of the engine's top end condition than "feeling the kick", Doing this can serve two purposes. First, it can give you an indication of how close you are getting to needing a top end freshening, secondly it can tell you whether or not any problems you may be having with the performance of the dirt bike such as hard starting, or low power are related to low compression.
This is a pretty simple and straight forward procedure as you'll see below, so whenever you freshen up the top end on a dirt bike, or have a few hours on the top end, it's a good idea to perform a compression test, as well as after breaking in a new set of piston & ring(s), then Record the Reading by scratching it in yourself in pen on either our Advanced Setup Log or Basic Setup Log
In the future, when you check the compression readings, if the pressure drops 20% from the reading that you noted after the break in period of a fresh top-end, this would indicate that the motor likely needs a tear down to check the condition of the top end, which includes the piston, piston ring(s), exhaust valve with it's related components on a 2 stroke, or the cylinder head and valve train on a 4 stroke, as well as the cylinder's condition on a 2 or 4 stroke.
Note: Some dirt bikes may require some disassembly, such as removal of the fuel tank so as to be able to screw the hose into the cylinder head at a straight angle and not kink the hose or damage the soft aluminum threads dropping shavings into the cylinder. If you can't easily thread the compression tester into the spark plug hole, be sure to remove anything in the way so as to allow access.
Before You Perform A Compression Test...
If It's a
4 Stroke...
If this is a 4 stroke dirt bike we're working on, it's not going to be possible to base your readings off of the suggestions listed below.

Due to the auto decompression release mechanism found on 4 stroke dirt bikes, you're going to need a service manual specific to that dirt bike as you can then obtain the true recommended pressure by the reading to determine the condition of the top end on a 4 stroke.
Make sure the dirt bike is clean It's important there's no dirt or water near the spark plug or coil pack on 4 strokes otherwise dirt or grit could get into the cylinder upon removal of the spark plug which is never good and leads to problems such as scoring of the cylinder walls and accelerated wear of the piston & rings, among other parts not mentioned.
Turn the gas off at the fuel petcock.
Ensure that the air filter is clean and in good condition.
If necessary, remove the fuel tank as this will allow you unobstructed access to the spark plug, and you'll be able to thread a compression tester (Available at Auto Parts Stores) into the cylinder head without any sharp angles being placed on the hose, as well as allowing you to inspect the cables and hoses for any under tank chafing or other damage.
Finally... Remove the spark plug, and using the appropriate hose or adapter with the appropriate thread size and pitch on the compression tester's hose end to mate the threads in the cylinder head, thread the compression tester hose into the spark plug hole and tighten it finger tight, or just enough so that the o-ring or gasket which seals the compression tester to the cylinder head is making contact and becomes slightly compressed.
Keep the Top End in it's Best Condition by
Staying On Top of the Air Filter's Maintenance
Performing the Compression Test
For the following steps and assuming everything above has been covered, hold the throttle wide open with the engine stop / kill button depressed, or have the engine run switch turned to OFF.
Note: If you're working with an electric start motorcycle, you'll likely need to leave the engine run switch turned to "ON" so as to be able to use the starter for turning the engine over, just be sure to disable the ignition system by disconnecting the primary lead from the ignition coil (small single wire or weather proof electrical connector) and Waterproof the Electrical Connections at reassembly.
Next, with the throttle held wide open, Kick the engine over, (or by using the electric start as can be found on some models) turn the engine over until the needle on the gauge of the compression tester peaks at it's maximum pressure and record this reading for future reference.
The ideal pressures for an average 2 stroke dirt bike at sea level that is not heavily modified should be in the vicinity of the numbers below.
A 50cc, 60cc, 80cc, 100cc, 125cc 200cc or 500cc should be able to squeeze out a reading of 120-190 PSI.
A 250cc should be in the neighborhood of 170-240 PSI.
If It's a 2 Stroke You're Working On and It's Low on Compression,
Here's Everything You Need to Know to Rebuild the Top End Yourself
If you're unable to reach a satisfactory compression reading, or there's a 20% difference (or more) from the reading you obtained after breaking in a new top end, this may be an indication that the top end is in need of being rebuilt.
If it's determined that the top end IS in need of being rebuilt, you should get a service manual specific to the dirt bike, and / or refer to our article on rebuilding the top end on a 2 stroke, then disassemble the top end to check the condition and clearances of parts as detailed in the factory service manual, replacing parts that are worn beyond the service limits stated, or have a clear indication of wear, as well as at a minimum, always replace the piston ring(s) upon disassembly no matter of their physical appearance or measurement.
After finishing up with the compression test, (provided that the pressure reading looks good), replace the spark plug with a new one of the correct type and heat range, then put everything back together and check out these:
Dirt Bike Maintenance Articles
Instantly See Your Dirt Bike Here Absolutely Free Of Charge
...& Remove Or Renew It Whenever You Want...
No Questions Asked
You Maintain Legit Full Control Of Your Motorcycle's Listing
Create Your Ad In Seconds & Instantly See & Edit Your Ride Live
Trusted & Easier With Greater Privacy Than Craigslist Or Cycle Trader
Popular FAQ's
Best Practices When Selling A Dirt Bike
×
Q: What Happens When I Create An Ad?

A: Exactly what you'd expect. An Ad just like these will be created based on the information and photos you provided, exactly as you provide it, Complete with your own User Interface (UI) for editing, removing or renewing your ad(s).

Q: How Do I Edit, Update, Renew Or Deactivate My Ad?

A: Easy, Just click where you want to edit and make your changes on the live site, or alternatively make any changes within your automatically generated UI.

Q: What Happens After 30 Days?

A: Your Ad and photos are removed from public view and renewing your ad is as easy as editing or removing it from your automatically generated UI.

Q: Do You Share Or Sell My Info?

A: NO, And not only are you not revealing anything you wouldn't publicly share elsewhere, There's not enough $ to interest us in anything that would tarnish our reputation.
Watch the Simplicity Of Adding Your Motorcycle Here but Hang Tight, There's A Better Version Coming
×
We're In It To Win It
With Our Classifieds, You don't install or have to sign up for anything, nor do you reveal any details you wouldn't make public knowledge elsewhere.
Afterall, If Google & eBay Have Trusted Me Since 2009, Shouldn't You?
Sours: https://www.epicmotos.com/compression-test.html
How To Rebuild the Top End on a Yamaha YZ125 \u0026 YZ125X
.
Psi yz125 compression
.
F1MOTO YZ125 HOW TO CHECK UNCORRECTED COMPRESSION RATIO
.
You will also be interested:
.
79
80
81
82
83