Art Quilt Essentials and Inspirations
You finished the top for your art quilt and have quilted it. Now what? Do you want to bind it? Face it? Make a hanging sleeve? Be sure to make a label! If your quilt will travel, how will you transport it? Art Quilt Finishing Essentials by Deborah Wirsu is especially useful for new art quilters.
---
Art quilting can be more than layers of cotton. Felted surfaces add depth and texture in a variety of ways.
Felting isn't always a thick, heavy material. It can be light and ethereal, even sheer. You might felt an entire quilt, or use felted portions to tell your story. The felt recipes in Felt Fabric Designs: A Recipe Guide for Textile Artists by Sheila Smith can help you do all of that.
---
The Complete Photo Guide to Felting by Ruth Lane is a comprehensive guide to wet felting, nuno felting and needle felting. You will find information on various fibers, tools and techniques to help you create your own felted fabric to use in your art quilts. The details dig deep into the subject, even charting the characteristics of various wool breeds.
---
Wen Redmond's Digital Fiber Art. Use your own digital photographs and photo editing software to alter and enhance images to use in your original fiber art. Then print on a variety of fibers and add stitch to complete your work. Wen guides you through the tools and techniques you need to embark on your digital adventure.
---
Textile Collage. Mandy Pattullo's work is inspiring for upcyclers and hand stitchers. She combines old and tattered fibers, vintage needlework and precious threads to create collage layers that you just know have stories behind them!
With Mandy's guidance, you will learn how to source materials for repurposing and combine them into creative works of textile art.
---
Serendipity Quilts. Susan Carlson's collage quilts are remarkable representations of people, critters and places.
The use of value is critical in these compositions, and Susan is a master. Fortunately, she shares the secrets of her fabric collage techniques in detail with clear instructions and process illustrations. One of the most delightful things about Susan's work is her creative use of commercial prints, and she lets us in on those tips, too.
---
Deborah Boschert recalls experiences and memories as she uses fabric, paint and stitch in her style of collage art quilting in her book Art Quilt Collage.
Her light approach to her subject matter results in captivating compositions. She shares her favorite techniques and materials so that you can capture your own memories in original art
---
Textile Artist: Small Art Quilts. Working small requires a different approach to art quilting, and it's sometimes hard to resist the temptation to add too much.
Creating small works provides the opportunity to practice and revise, accelerating the learning process. Series work is a natural when working small, as you can experiment more frequently with each iteration. Deborah O'Hare's fabric painting instructions are beginner-friendly.
---
The Art of Moy MacKay: an Inspirational Guide to Painting with Felted Fibres & Stitch. Moy's work is stunning, and she shares every detail of her process to create fiber art with felted fibers, paint and stitch. Learn every detail from materials and equipment to color, composition, texture and various felting techniques to create landscapes, animals, still lifes and architectural scenes.
Sours: https://createwhimsy.com/projects/art-quilt-essentials-inspirations/
Tips for Backing Art Quilts and Thread Paintings
Sometimes I get asked for tips for backing art quilts and thread paintings, especially when you don't want the stitching on the back to show, or you generally need your work to be neat and tidy.
So, should the workings of your free motion stitching or thread painting show on the back of your work, or not? Does it matter? And when should you 'cover up' or 'reveal all'?
Take a look at the back of any large, traditional quilt, such as a bed quilt. Does the free motion quilting show? Of course it does!
Nevertheless, I can hear you saying, 'A free motion stitched traditional quilt is not the same as a heavily stitched art quilt or thread painting.'.
And I agree.
I won't deny there have been occasions when I elected to cover the stitching on the back of my work with another piece of backing fabric. Generally, however, this happened more often back in the day when I had less confidence in my ability and work, and did not feel inclined to 'air my laundry' in public, so to speak!
Sometimes, the stitching was uneven, or I'd had problems with tension, giving the back a somewhat untidy appearance. And yet, the front looked just fine.
I knew my stitching wasn't perfect but wasn't prepared to abandon something I'd put my heart and soul into, just because there were a few minor blemishes!
As my experience grew, these problems became less frequent. I learned from my mistakes!
Thinking back to my childhood and remembering the lessons from my aunt (a professional dressmaker) who warned me to never machine backstitch a seam on a dress in her presence (!), I began to take more care over the details of starting and stopping a row of stitches.
These days, my art quilts and thread paintings – especially those destined for public viewing – are finished with a level of care that ensures the back of the work is neat and tidy.
Tips for backing art quilts and thread paintings
Use these tips and techniques to decide on the most appropriate method for backing your art quilts and thread paintings.
[Disclosure: Please expect that some (not all) hyperlinks are affiliate links, which means I may receive a small commission (at no further expense to you) if you click through and purchase the product. This is one of the ways I support myself and continue to bring you free content and information. The decision about whether to buy a product or not is completely up to you.]
---
Why hide the back?
The first question I ask is, 'Why do you want to hide the back of your work?'.
To my mind, the back is an inherent (and often very interesting) component of your textile art, sometimes offering an intriguing perspective of the work.
Of course, there are times, such as preparing a design for an exhibition or competition, when you want your best work on display. And you can be certain that, while the viewing public may not peruse the back of your art, the judges or gallery officials certainly will!
Also, at quilt shows, the public often demands to see the back of a particularly gorgeous quilt. That's when the 'white glove' attendants come to the rescue!
I'm not sure if the visiting public is showing innocent curiosity, or they want to see how neat you are!
Choosing a display method.
When deciding on a backing technique for art quilts and thread paintings, a major consideration is, How will the work be displayed? What is its purpose?
Art quilts are generally created to hang on a wall, as a piece of art.
Therefore, as long as the back is neat, it doesn't really matter (in most instances) what it looks like. The thing is, though…we (the artist) know when our work is untidy! So we do our best to present our work in the best way we can.
Nevertheless, there are times when the appearance of the back is not of prime importance.
Traditional quilt binding and display methods are not your only choice. Both art quilts and thread paintings can also be stretched over an artist'scanvas, hiding the back in the process.
Similarly, small and large works of all kinds can be framed. Even 3D pieces can be mounted in a deep box frame or transparent cabinet.
Ask yourself these questions:
Is your project an art quilt that will hang on a wall?
If so, will the quilt be permanently displayed in one place, such as a private collector's home?
Or are you showing it at a gallery, where it may be moved from one venue to another?
If your art quilt will be stationed in one place, then the most important thing is to ensure that the back is neat and secure.
Textile art that is frequently moved from place to place is subject to the wear and tear of packing and unpacking. Any loose or insecure thread ends, stitched embellishments, etc., are likely to work loose over time, if not well-secured from the outset.
Will your work be framed?
Both small and large works can easily be framed and generally (in my opinion) look wonderful. Framing has the added benefit of protecting the fabric, keeping it clean and secure from fading. The downside to framing behind glass is that there is some loss of textural sensation (both visual and physical).
Will the finished piece be incorporated into another piece of work?
For example:
A thread sketch or thread painting could be used as a side panel for a shoulder bag.
Or it could be made into a cushion cover.
What about transforming small pieces into postcard art?
Placemats, table runners, and other household items.
Perhaps you're creating a stitched work to use as upholstery. In this case, does it matter what the back looks like? Nobody will ever see it!
How do you choose a finishing process, and why?
Read on to find out!
Tips for backing art quilts
Take pride!
Be proud of your stitching!
Everyone comes to art quilting and creative machine stitching with a different level of experience. I urge you to display your work with a smile, even when things go wrong – which they do, from time to time. Nobody is exempt!
Also, there have been many times when I've found the unusual patterns of colour and stitch on the back of a quilt intriguing in their own way.
And this has sometimes led to a burgeoning of ideas for future artworks. Never discount the benefits of exploring different angles!
Backing before stitching – keep it neat.
One of the most common methods for stitching art quilts is to stitch through all layers of fabric – the top, batting and backing. This method results in your stitching being visible if someone turns over the quilt to look at the back.
On those occasions when it's essential that the back of your work is as neat as the front, use the technique of burying the thread ends in the interior of the quilt.
How to neaten your thread ends.
Before you begin a row of stitching, insert the needle into the fabric and raise the needle again. You should notice the bobbin thread appearing on the top. Gently pull on the threads so that you have about 4″ of length. Hold these threads as you begin stitching, and then keep them out of the way or your work.
At the end of a section of stitching, pull the quilt a little away from the machine (about 4″ again) and cut both the upper and lower threads. You now have long strands on both top and bottom.
Using the threads at the end of your stitching: Gently pull on the bobbin thread to bring the top thread to the back.
Thread both strands through the eye of a hand sewing needle and bury the ends in the quilt batting. Snip off any remainder.
Using the threads from the start of your stitching: [Note: These threads are on the front of your work.] Thread them through a needle, and carefully choose an unobtrusive spot to take them through to the back. Then bury the ends in the batting and snip off any remainder.
Backing after stitching – when you need to 'cover up'.
If you really don't want your stitching to show, then cut a piece of backing fabric, just as you would for any quilt.
Using this scenario, you will probably have worked your art quilt on a firm base of batting and stabiliser.
Once the thread painting and embellishment process is complete, it's time to add the backing fabric.
Pin the backing fabric to the base (back) of your work.
Pinning the backing fabric in position before finishing all the free motion quilting, allows you to complete the quilting through all layers, thus securing the layers together. This method offers a neat solution with only minimal stitching showing on the back.
Alternatively, using a hand stitching needle, select a few unobtrusive spots where you can insert a few tiny stitches to secure the backing fabric to the layer underneath. This inner layer could be comprised of stabiliser, batting, or even another backing fabric.
For small art quilts, finishing the edges with a border or binding is usually sufficient. However, a larger quilt may develop bubbles on the back if not secured in some way.
Smooth the new backing out to the edges and pin or tack around the sides. Then bind as usual.
What type of fabric should be used for backing an art quilt?
My suggestion is to stick to the usual – quilter's cotton or quilt backing fabric.
Select a colour that tones with the front of your work, so that anyone who chooses to surreptitiously lift a corner and peek at the back is not confronted with a startling surprise of colour!
Alternatively, be a rebel and do just that!
Thread painting on a 'traditional' quilt.
I just thought I'd touch on this situation, which occurs from time to time…
So you're planning to make a traditional bed quilt (for example) but wish to include some thread painted elements?
How can you approach this to avoid having small areas of dense thread painting showing on the back of what is otherwise an expanse of regular free motion quilting?
Here are a couple of suggestions:
Thread paint directly onto the quilt top.
When you have finished piecing your quilt top, take a piece of tear-away or wash-away stabiliser (e.g. Floriani Stitch-n-Wash) and pin or tack it to the back of the quilt top.
Secure it underneath the area you wish to thread paint. Work your stitching, then carefully cut away any stabiliser from around the edges of your design.
Then proceed to finish your quilt as usual, by layering with batting and backing fabric, and working the free motion quilting.
Create your thread embellishment as a separate piece.
Stitch your thread painted or machine embroidered elements as separate pieces. Use an embroidery hoop, or tear-away or wash-away stabiliser for this. Once your embellishment is complete, carefully cut any fabric away from the edges and mount the embellishment on your quilt top, using either hand or machine stitching.
Tips for backing thread paintings and thread sketches.
Thread sketches and thread paintings may present different challenges when it comes to backing and finishing.
So how do I choose what to do? Read on to find out!
Binding
There are times when I elect to bind my thread paintings – both large and small.
To do this, I choose between a traditional binding with a border or an invisible faced binding.
Use regular quilting fabric for the back, cutting to size and pinning around the edges before adding the binding or edging. Choosing a toning or matching fabric colour creates a professional appearance.
Learn how to do these two binding styles in Art Quilt Finishing Essentials.
Alternatively, simply straighten and trim your work, and use a decorative stitch to finish the edges.
Mounting
Both art quilts and thread paintings can be mounted on artist's canvas. These canvases are readily available.
All you need to do is stretch your work around the sides of the canvas and secure to the back using woodworking staples or upholstery pins.
Mount on card or felt.
Turn your small pieces into postcards using firm cardstock. The card can be either glued or stitched to the back of your design.
Use firm felt in much the same way as you would use cardstock. The felt will result in a more flexible piece.
Finish the edges with a decorative stitch or simple satin stitch.
Framing
Many of my smaller thread sketches and thread paintings are worked with the intention that they will be framed on completion.
These designs are stitched on a base of heavy stabiliser to prevent puckering and pullup.
On completion, the edges are trimmed carefully, leaving sufficient fabric around the picture to secure the piece under the frame mat.
I also like some of my larger works to be prepared for framing. A lot of time and effort goes into making these pieces of art, so it's my wish to see them protected from light, dust, and inquisitive hands!
To frame or not to frame? The dilemma of framing art quilts.
My views on framing textile art sometimes cause controversy and disagreement. Everyone is entitled to his or her opinion!
In recent years, I've been pleased to observe that the incidence of framing quilts is on the rise. Yes, this is a little passion of mine!
Nobody baulks at seeing the work of painters hanging, framed, in art galleries. Sometimes we see paintings worked directly on mounted canvas. So why shouldn't we see quilts and other textile pieces displayed the same way?
A few years ago, while visiting my city's major gallery, the NGV (National Gallery of Victoria), I was absolutely delighted to see a textile work mounted in a frame.
Oh, happy day!
This piece wasn't a quilt, as such, consisting (I believe) of two layers of fabric embellished with stitch and framed. Oh, yes!
Have you ever sat at home, spending weeks or months stitching a 'tapestry' or needlepoint work? How are these usually finished? Framing, of course. So why not quilts?
I do believe we will see more and more instances of people framing their quilts. Not only are they easier to hang on the wall, using just a simple picture hook, but are also easier to care for and protect from the ravages of light and dust.
I confess I do get excited when I spot framed quilts on display at major quilt exhibitions.
What I long for, however, is the day when framed quilts are accepted as entries in quilt competitions.
While I'm well aware that the stitching skills of the artist are being judged in a competition, I take the opinion that if the front – i.e. what is on display – looks good, and there is no evidence of poor finishing, then what does it matter if the back is not visible?
I know there will be many dissenters to my opinion. That is fine!
Which art quilt or thread painting backing technique will you choose?
All this brings me full circle, back to your decision on how to finish your work.
Be guided by:
Personal preferences.
How the finished piece will be used or displayed.
Entry requirements for exhibitions and competitions.
What you deem essential in the finishing process.
Whichever path you choose, be proud of your work.
Taking the time to finish a project well, regardless of whether the back will be seen or not, will leave you with a warmer glow than knowing you are hiding something!
Sours: https://www.threadsketchinginaction.com/tips-for-backing-art-quilts-and-thread-paintings/
Used Products
My name is Leni Levenson Wiener; I am a BERNINA Ambassador and author of several books—and best known for making art quilts from photos. Why from photos? I can't draw! So if I can see it, I can capture it with my camera and create it. I don't need to figure out all the perspective, proportion or the light source. Today I am going to introduce you to my technique. You can find more detailed information (including a workshop in a book) in my most recent book Pictorial Art Quilt Guidebook.
Creating an art quilt fabric collage from a photograph is not difficult. For this tutorial, I will be using a very simple example so you learn the basics. These basics do not change even when the photo is much more complex—just break up the photo into manageable pieces and treat each one in the same way.
I always start with a photo. I take lots of photos that I save in computer files by type (landscapes, seascapes, animals, people, etc). For this project, I have chosen to use a photo of a single pear. I love their color and shape (and think they are delicious with almond butter, but that is another story for another time!).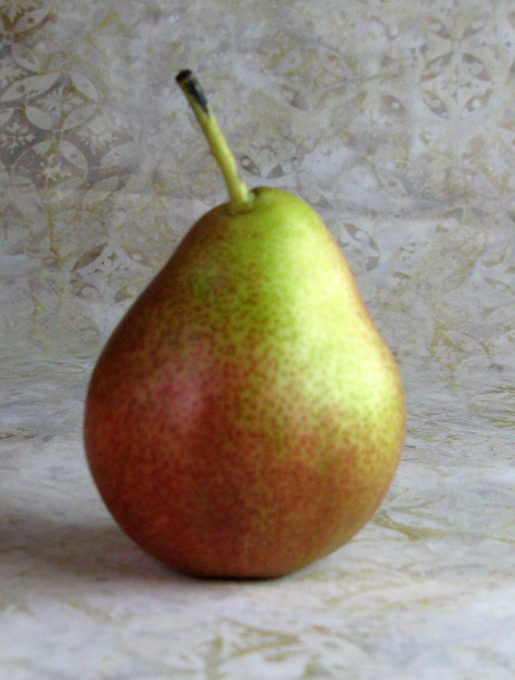 The first thing I do is simplify the photo using a computer program—either Photoshop (or Photoshop Elements using the cutout filter) or a free downloadable program called Gimp (using the color to posterize function). Both programs will allow you to reduce the number of visible colors in the photo to show clear color distinctions which are easy to follow as your pattern—and allow you to control the level of detail in your art quilt. In this case, I used Gimp (at posterize level 5) to create this simple pattern (if you are intimidated by the computer part, I have a pattern service on my website www.leniwiener.com). I print this pattern in the size of my finished artwork—in this case, sized to fit on a single piece of paper.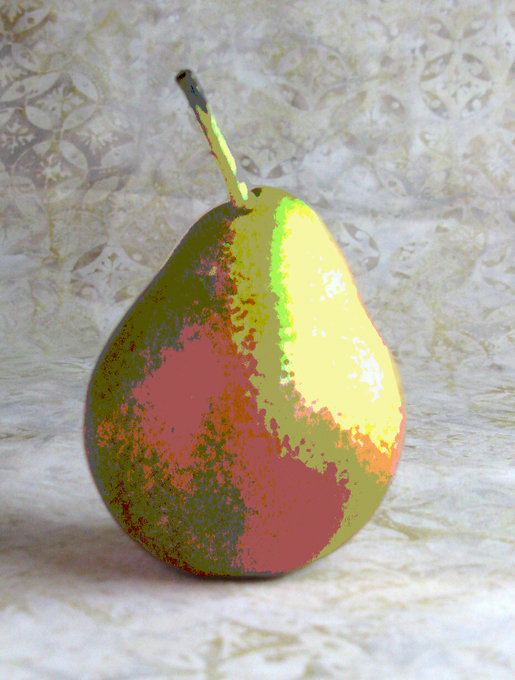 One thing to keep in mind is that these programs can sometimes change the color a bit, so I still refer to the original photo for my color choices. What I use the pattern for is value. Value refers to the relative light/medium/dark of each color to the others, and gives the illusion of depth and dimension. Think black and white photo, and you will have a good understanding of values.
Many art quilters will print their photo in black and white in order to see value changes, but that can be problematic when two different colors are the same value—they look alike in the black and white photo and can often blend together. So instead, I have developed a gray scale value card that helps me determine what the value is in the photo and then I find a fabric in the same value. Keep in mind that the gray scale value card (laminated cards are available from my website) is just a selection of gray values, there is nothing magical about any of the numbers I use.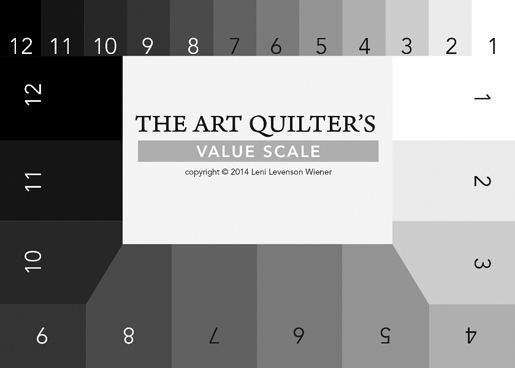 Let's start with the lighter red area in the pattern. Holding the gray scale value card next to that area of the photo, I can see the gray value that is closest is somewhere between a #6 and a #7 (this is an art, not a science).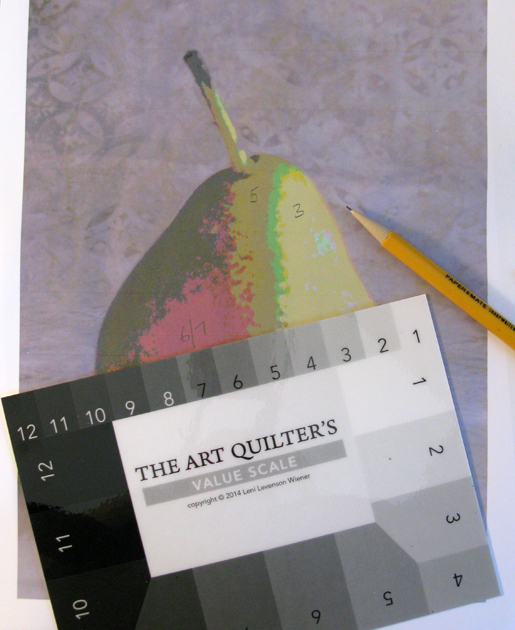 I write that number onto that area on the pattern and go to my fabrics to look for a fabric the color I want that is also a # 6 or #7 value. I do that for all the values/colors in the pattern.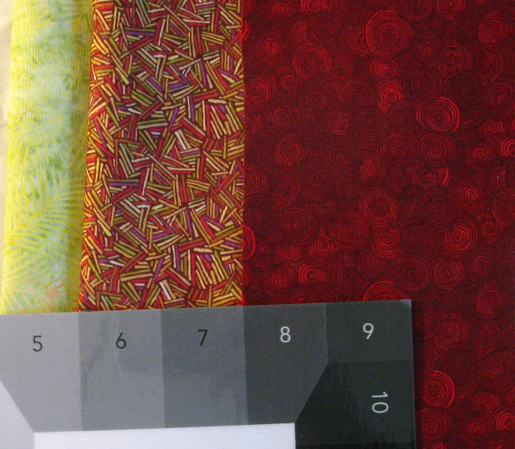 I have identified the darker red area as an #8, the next red area somewhere between a #6 and #7, the first green area as a #5 and the lighter area as a #3. Those two little color changes around the lightest area—one looks green and the other sort of pink–can either be included or just blended into the #5 piece. I think they are interesting so I will use them. They look to be around a #4 or #5 as well but in different colors. Have fun with color and pattern—the more unexpected the pattern, the more interesting your finished artwork will be. Just look at the fabrics I have chosen—very un "pear-like" aren't they? The layering of pattern and color makes the finished product so much more exciting than translating it directly.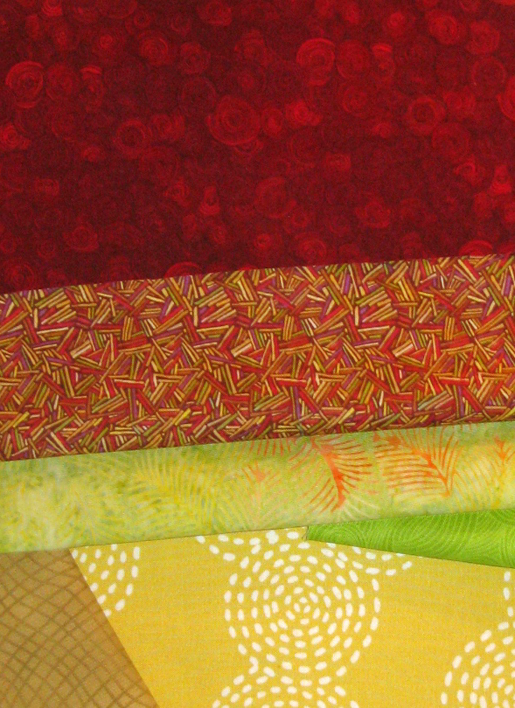 Now that I have chosen my fabrics, I can begin constructing my pear. I will start with the largest area of color, in this case the #6/7 red, and cut the entire pear out of that fabric. This will allow me to use it as a foundation and layer the rest of the fabrics on top of it, insuring that nothing slips around while I sew. It also means the finished pear will be self-contained, which makes it easy to audition on different backgrounds.
I start with freezer paper. I love freezer paper—it has a glossy side and a dull side. Using a lightbox or window, I place the freezer paper on top of the pattern dull side up and trace around the main shape with a mechanical pencil.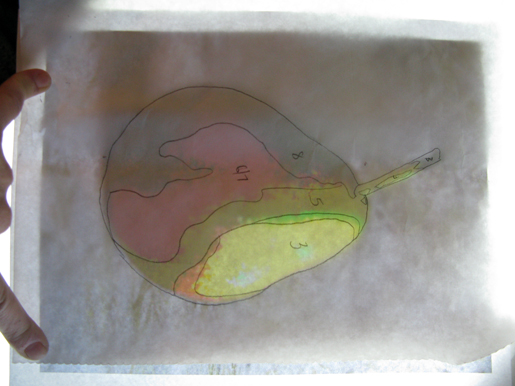 Don't worry about all the little giggy-gaggy lines the pattern creates, just smooth those lines into something easy to cut out.
When I place this freezer paper drawing on top of the right side of my fabric and press for a few seconds with a warm iron, the glossy side will stick to the fabric.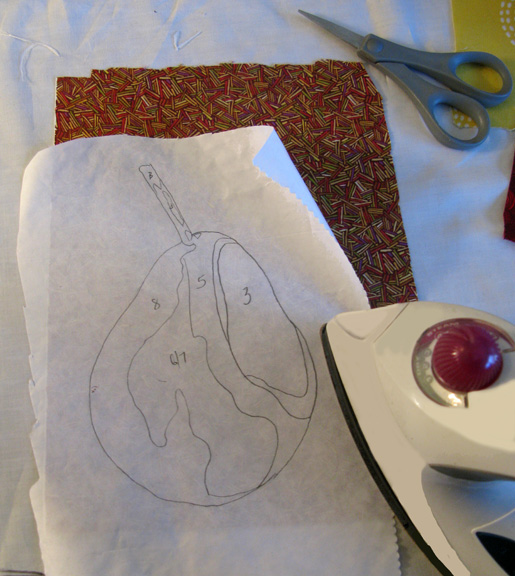 Now I can easily cut around the drawn shape and fabric together, and when I pull the fabric away from the paper—I have my foundation.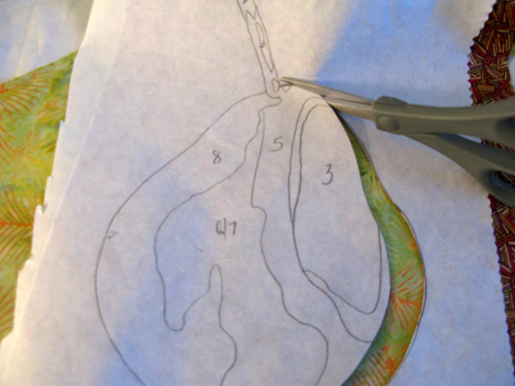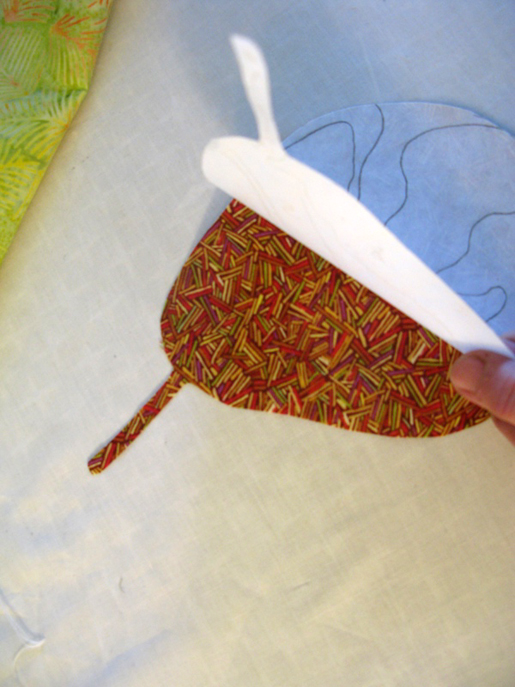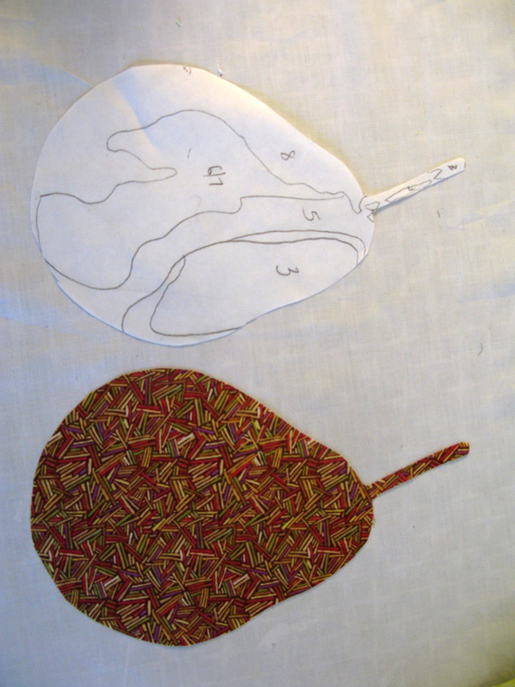 I repeat the process now for the #8 piece, using the same piece of freezer paper. Once I have cut away the #8 piece, the remaining freezer paper pattern helps me line up the placement on my foundation.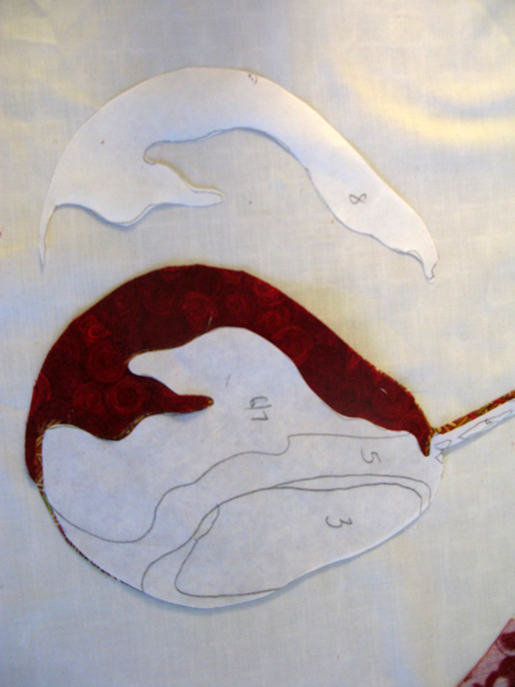 It is already starting to look like a pear!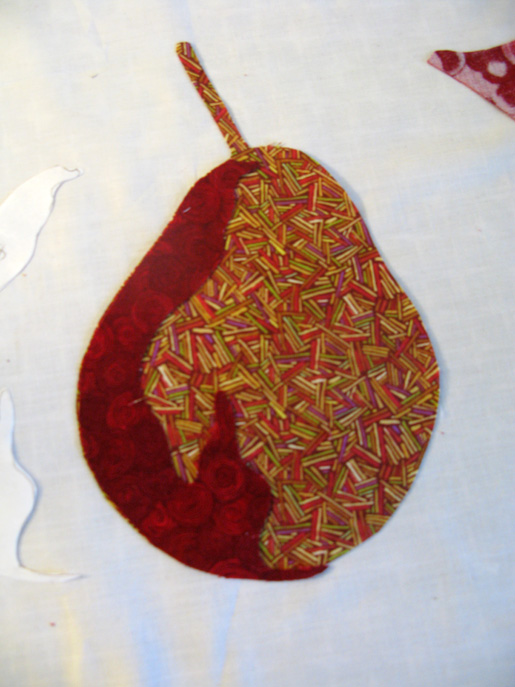 I continue along for the rest of the shapes, using the same piece of freezer paper when I can and layering them on top of the foundation until I am done.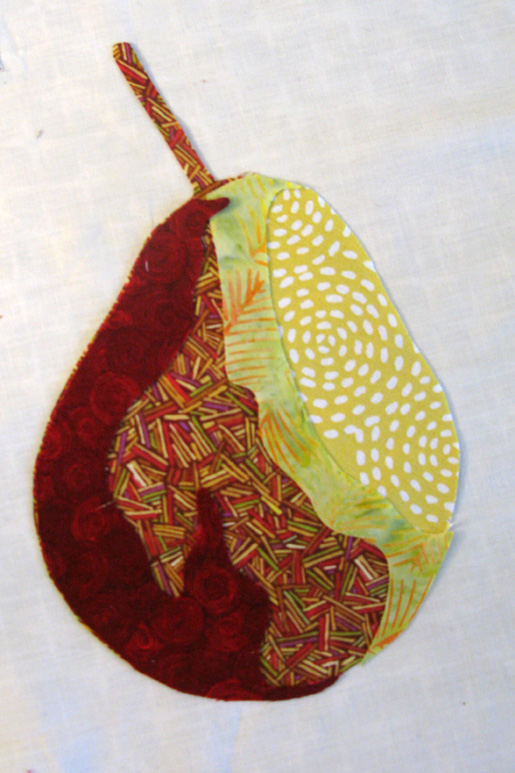 Remember those last two pieces along the edges of the #3 area? They are optional, but I decided to put them in.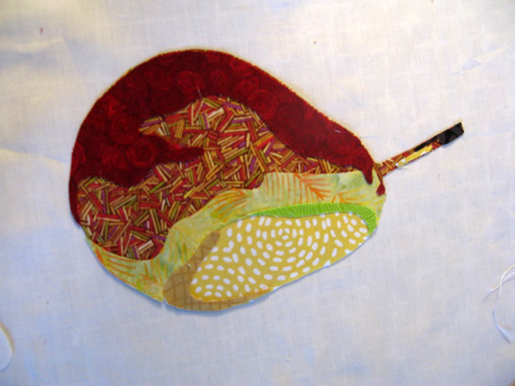 Now I can look at it and evaluate. Anything I don't like I can change. Once satisfied, I use a toothpick to place tiny dabs of fabric glue under the pieces to hold them in place.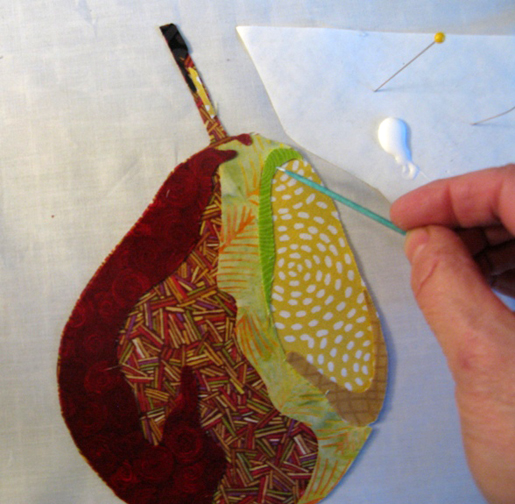 Now my pear is a single unit. If I were working with a more complex photo, I might have lots of these individual units that would eventually be put together to reinterpret the photo. I can audition the pear on different backgrounds to decide what I like. Here are some fabrics I considered: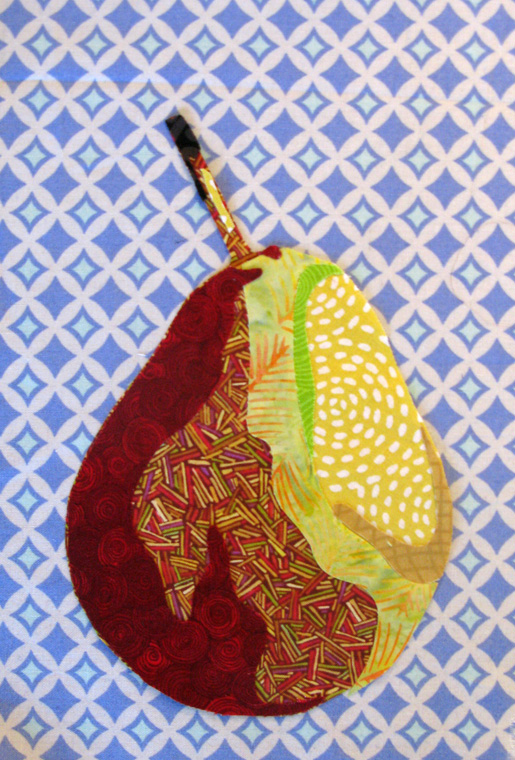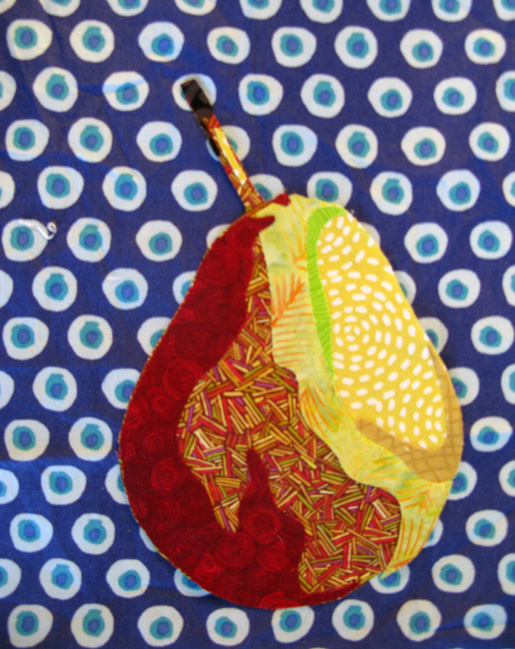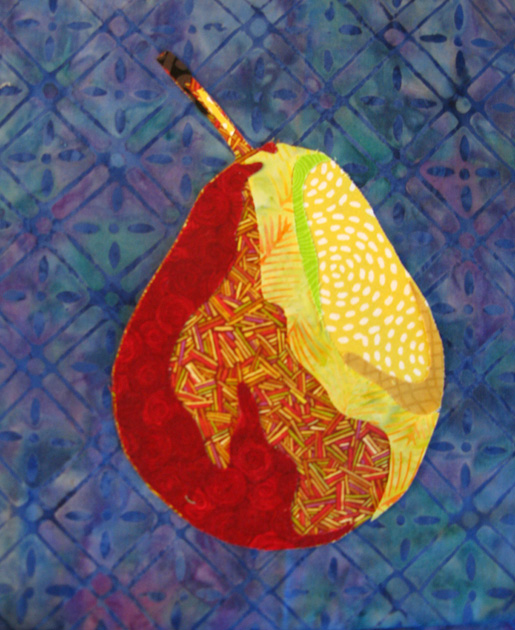 I have decided to use a nice turquoise fabric. Don't forget that little shadow, it "grounds" the pear to the background. Place the pear and shadow on the background and glue in place.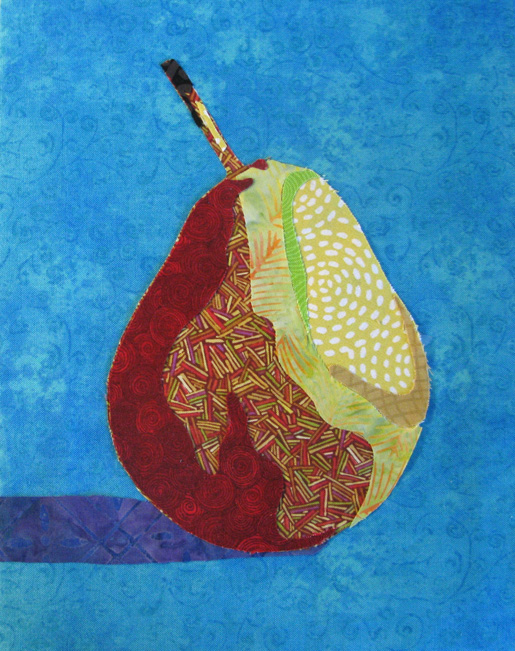 You have the choice of using batting and a cotton backing or no batting and a more substantial backing fabric—I like to use cotton canvas (also called cotton duck) and no batting (always press the cotton canvas with a hot iron before you use it—it shrinks).
The functional sewing is next. I use either a straight stitch (when I want the edges to fray and have a little texture) or a zigzag when I want to encase the raw edges. Here I am using a zigzag with a clear mono-filament thread and free-motion stitching. Don't worry if you are new to free-motion, the thread disappears, and no one will ever see your mistakes (and of course, if you have the BERNINA Stitch Regulator, all your free-motion stitching is perfect anyway).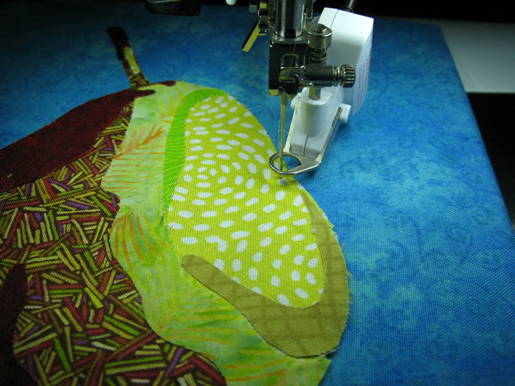 Drop your feed-dogs and use the BERNINA Stitch Regulator or a darning foot to stitch around all the raw edges. Here is a tip: for most fabric colors, the clear mono-filament thread works great, but for very dark colors it will leave a reflection, so for those areas, use smoke mono-filament. I never use mono-filament in the bobbin—your preferred bobbin thread in a neutral color will give the mono-filament something to "grab onto" for a better stitch.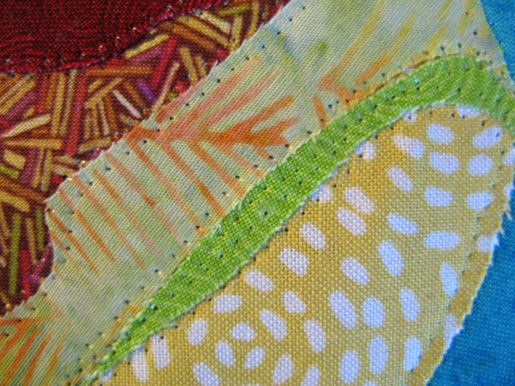 The functional stitching is done, and the art quilt is ready for quilt stitching if you wish; finish the edges and you have a fabric collage from a photo.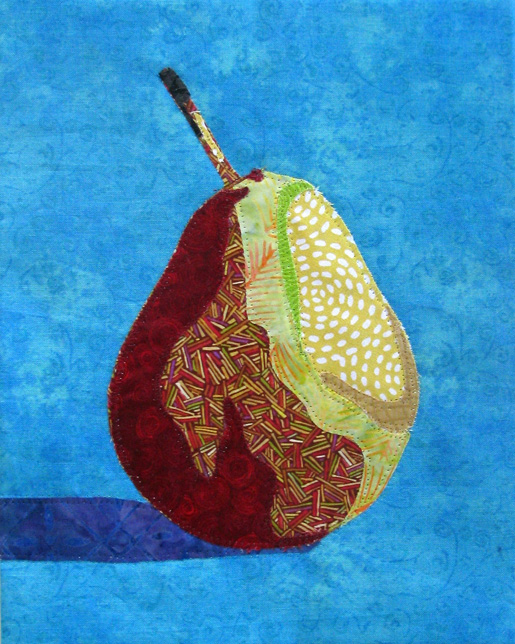 Sours: https://weallsew.com/create-a-fabric-collage-art-quilt-from-a-photo/
Landscape Quilt - Part 1 - Preparing to Sew
Hi everyone.  I can't believe it's already October!  I love that it is fall, because it was a hot and somewhat rough summer for me, but it occurs to me that I have several projects I have in mind for fall and for the Christmas/winter season that aren't even started yet.  Yikes!  I better stretch my time in the studio a bit more!
I have been working really hard on the complex multi-video two birds project.  I am about three fourths of the way.  I want mostly to complete the whole project before publishing the first video because I need to make sure the accompanying workbook and pattern with all its techniques are good and actually work with the videos.  That will be available from my shop on my website and together with the videos presents a fairly complete class.  This class presents a lot of the techniques I have used in the past on some of my show quilts and I think quilters will enjoy making it.  Besides, it makes up into a really nice wall or lap quilt that would be a wonderful present or enjoyable quilt for yourself.
Sew, kind of as step one on this project, I uploaded a video that discusses how to turn a line drawing, like a coloring book page, into a pattern similar to my two birds to use in your own designs.  I know everyone may not have all the software or want to play with it in that way, but I know some will and may not have thought of using it for that or really know how.  If you have Bernina software v8, for instance, you have Corel Draw elements.  Anyway, take a look at the video and see what you think.
Here is a picture of some luscious Wonderfil threads (see link on the right). I love their specialty threads and am using a lot of them in my two birds project.
I have a couple of wool applique by machine decorative wall hangings–one for fall and one for Christmas–coming too, if I succeed in getting them all done in time.
In the meantime, I have my right eye cataract surgery on the 14th of this month.  I will be glad to get that taken care of.  I can see so well out of my left eye now and not well at all out of the right eye.
Then to top off everything, I have clothes I need to make.  We'll see how much of all of this I get done.
The Simplicity pattern from my substantial pattern stash. Note the pants have a simple full elastic waist and no pockets…not what I want, but I have a better slacks pattern. The long sleeve tunic provides a suggestion for the embellishment. I would be adding something more for fun.
I always plan more than I can do it seems.  But it is so much to look forward to and have fun with in my studio as we drift into fall and winter.
Sew happy everyone!  Have fun in your studio.
This coming Monday, August 23rd 2021, I will be having surgery for a cataract in my left eye.  I know it is often the case that people have both eyes done within weeks of each other, but my right eye is doing just fine at the moment.  I am having a hard time seeing my work lately and so I thought all I needed was a new pair of glasses so I went to my eye doctor and find myself here, preparing for this on Monday.  I am looking forward to the result.  I have had many people tell me what a great result they have had from such surgery and it does not seem to be a big major disruption in their lives.  Still, I would appreciate your prayers for a good result and a quick recovery and thankfulness that this is available to me at this time in my life plus that I have excellent doctors.  The lack of good vision has clearly slowed me down in my work. My eye doctor told me I would be happy.
Sew I think it would be fun to make something celebratory.  I am thinking it might be time to start a Christmas project, and I promised some of my followers that I would come up with another project for wool applique by machine with embellishment.  I am thinking of making a Christmas project, and have already begun working on the design. I still have a bunch of beautiful melton wools and it would be really fun to do one with lots of beautiful stitching with beautiful threads and hundreds of beads, crystals, buttons, and other embellishments…a real decorative piece to celebrate both my improved vision and the Lord's birth.  Maybe I'll do two–one in wool and one in cotton or silk!  LOL
In the meantime, progress is finally being made on the project I am calling "two birds" that will be presented with three videos and a detailed pattern.  The pattern is basically done, but it is being tested and the project is being filmed as I make it.  It's more complex than my introductory projects on my YouTube channel, so I want to complete the work on the project before I publish any of the videos.
Sew me and my family advisory team have come up with some ideas for shorter videos to publish along the way that we think people will like.  These will be showing up periodically, and, before too long, the two birds project will get there.
Sew happy everyone!  Have fun in your studio and keep an eye out for my upcoming projects and videos.  God bless you all in this perilous time.
Birds at Play Detail from Pattern
Hi gentle readers,
I am almost ready to start making and filming a fun new wall quilt that focuses on stitching…both free motion and some with feed dogs up.  It also has a small amount of appliques behind some of the stitching and 9 pieces of fabrics to make a simple style quilt background to put all this stitching with some appliques and some paint onto.  The picture above is a single tile from a multi-tile downloadable pattern with instructions and supply list. This project was inspired by a page from a Dover Publications coloring book.
I got the missing fabrics this week and they are all washed and ready to go.  I am still working on the pattern, but the hard part is done so I will be publishing that for sale at a moderate price on my website store to go along with an undetermined number of free YouTube videos to take people through the project…fun to simply watch, and fun to make with me if you want.
I will be adding a page to this blog site with links to my recommended supplies that apply to ongoing projects.  Once it's there you can just click on "Supply links" above and you can go shopping!
Sew I am excited about making this piece.  I will be testing some products I have not used before I make it and will tell you about them as I go.  This includes some new specialty threads from Wonderfil Threads I have only briefly used and Sulky's Sticky-Fabri-Solvy printable self adhesive water soluble stabilizer. I think it could be a real blessing for limiting the amount of marking I have to do for this project and stabilizing the stitching.  I might do a 60 second shorts video on my test of all of this just so you can see it even if I decide not to use it for this particular project.  Would you like that?
I should be publishing the first parts of this project in a few weeks.  We'll see though.  It takes a while to film the making of a complex project like this and get it edited.  In any event, I will let you know how it stands with my next blog post.  Let me know what you are working on.  Do you have any special requests for techniques to discuss? (Please comment here.  I love comments because it helps me know if people really view and like my blog efforts here and the comments stay with my blog if I look back on them a few months later for reference).
Sew happy everyone!  Have fun in your studio!
I am working on the designs for several free motion thread work and couching small quilts.  Essentially these are small whole cloth wall quilts done in multiple colors and styles of threads, cords, and yarns.  They are pictorial in design and include both free motion thread painting and quilting.  I will add some cord or yarn couching and might even add some decorative stitching with my Bernina 880 plus here and there.  It's kind of exciting for me.
Scanned coloring book page before cleaning up and turning into a pattern. This is not one of the four.
Sew what are these planned pieces?  They include one scene of evergreen trees in the summer, one scene of trees at night with white winter stylized trees and a night sky both designed entirely by me, and four stylized tropical bird scenes based on scenes found in a Dover coloring book that will be colorful and, yes, challenging to stitch. I am  turning them into downloadable pdf patterns to print and tape together ready for tracing onto your fabric. Then I will stitch them out with some additions of quilting designs and embellishments.
I hand stitched this little crewel scene using wool threads years ago. My youngest son took it and had it framed in a museum quality acid free framing to protect it. I believe it is possible to replicate crewel stitching by machine to look nearly like hand stitching.
It's an adventure!  And yes, there will be videos on YouTube and workbooks and patterns available on my website shop so you can sew along with me.  I am considering the possibility of creating background fabrics for tracing these bird scenes onto that could then be purchased at Spoonflower.  I am not sure this will work, but I will let you know if I am successful.
This is from another Dover coloring book, but I think it would make a wonderful piece of crewel work-like piece.  Maybe I will add this one to my thread-work projects.
Sew I hope very much a lot of you will join me in these projects that will be presented in July and August, and possibly September.  These small wall quilts make wonderful presents or home decor (either one or in groups).  I don't have the final sizes or supply lists yet because I'm still working on them, but I'll let you know.  Mostly I will be using threads from Wonderfil Threads and Superior Threads.  I love both brands and they work well together because Wonderfil has some wonderful specialty threads that Superior does not and I have a huge collection of Superior threads in "normal" weights I have collected over the past several years.
If you do one or more of my projects and send me pictures at [email protected] of your projects, I will share them here on my blogs if you would not mind.
I will let you know when the workbooks with patterns and supply lists are available in my shop for each project.  Right now, however, you can join me on the deciduous tree in full bloom quiltlet.  There is a workbook with pattern and the first of two videos already available. The second video will likely be available next weekend. This is a skill-builder project and I think you would enjoy making it.  If you do you would get to practice textured padded applique and broiderie perse by machine that are two great techniques for the fabric artists to have in their tool belts.
Sew happy everyone!  Have fun in your studio!
Tags: Having fun in my studio, I love comments., let's make a quilt together, Thank the Lord for all the cool things we have to work with today, What is that crazy B.J. doing now?
knight detail from "Equipped to Stand"
My family helped me produce a new video I could never have done on my own for my YouTube channel that is a discussion and trunk show of my experimental quilting.  I think you might enjoy seeing it.  Here's the link:  video
For years I have thought of much of my work as experimental fabric art, where I try to get certain looks in my quilts and sometimes had to develop a new technique or figure out how to apply a known technique to produce the look I wanted or just to see what something would look like.  It has been a bit of a wild ride over the years and so it seemed the thing to produce a show and tell for you all.
Thanks to my family for their help and encouragement both for the videos and the quilting. There are some fun things on the way.
Sew happy everyone!
Tags: I love comments., I must be crazy, I really like comments., Thank the Lord for all the cool things we have to work with today, What is that crazy B.J. doing now?
                                                    Detail from The Wizards' Duel
Textured appliques can be derived from using a combination of techniques.  Such appliques can add major interest, even take center stage, on an art quilt and I find them really fun to do and a little challenging to figure out what needs to be done.  The detail shown in the picture above started off as  white basic quilting cotton that I washed and steam pressed.  Then I traced the applique outlines on the fabric using my light table, painted with artists water soluble crayons, backed the applique itself with wool batting, quilted (I think of this as "prequilting"),  backed with fusible  web, cut out closely to the applique, fused it down.  Then I and edge stitched it to the top.  After the quilt top was completely ready, I sandwiched the quilt with a double bat of wool on top and 80/20 cotton/poly on the bottom and did some more stitching to improve the look of the appliques.  I was particularly trying to help show muscles and shapes on the dragon and so I added more paint highlights, this time with iridescent Shiva sticks.
Here's a little closer picture of the dragon so you can see it better.
That's just an example, but I have used a lot of other techniques to get textured appliques for my work.  I'll probably do a video on this…maybe within my upcoming tree series.  They need a lot of texture.
Sew happy everyone!  Have fun in your studio.
Tags: Buy David's new book and you will have a fun read, Having fun in my studio, I love comments., I really like comments.
First of all, I am celebrating today, because my youngest son David just released his latest novel (click on the book to find it)! Congratulations to him.
Setting up for free motion quilting or thread play
While my communiques (blogs, vlogs, and YouTube videos) are intended for everyone who wants to play, regardless of their machines, sometimes I also address some quick specifics for working on Berninas.  Please don't stop reading when you come across those if you are not a Bernina owner, because you might find some of what I say interesting anyway.
I have three Berninas: a Bernina Q20 sitdown longarm, a Bernina 880 Plus, and a Bernina 350.  I also have a simple older BabyLock serger.  I am truly grateful to have this collection of machines I obtained over the years through trade ups, gifts, and so forth. This is a wonderful set of machines for me to play with here in my studio. It's like playing inside my own wonderland with favorite toys.  But it does require practice, sometimes research, testing tools and techniques, and (gasp!) reading my manuals to get the most from this stable of machines.  So I want to share what I have learned from this.
Setting Up For Free Motion
Domestic Machines:
The setup for free motion on these machines is relatively simple.
If you don't have a Bernina Stitch Regulator (BSR attachment) or want to work without it, simply put on a darning or quilting foot like foot #73, #24, #29 or #9. Drop your feed dogs.
If you have a Bernina stitch regulator attachment that works on your machine, attach it and set it for your chosen BSR mode. BSR1 runs smoothly and constantly, idling with a little stitching, which is great for smooth free motion quilting and free motion embroidery. The idling allows you to stitch several stitches at the corner of a sharp turn in addition, which makes a nice turn.  BSR2 stops when you stop and starts when you start, so you may prefer this setting. I find with this attachment I have to use a slightly shorter stitch length and not sew too fast for best results.
One of the interesting things you can do with this BSR attachment, is free motion zig zag with stitch regulation, which can't be done on a sitdown longarm with a stitch regulator. This can provide some unique thread play opportunities and looks.
For most domestic machines you probably won't need to make any adjustment in tension from the default for normal threads. For specialty threads, however, you may need to lower or raise the top tension to accommodate specialty thread weights and types. It's a good idea to do a test using similar fabrics and write down your changes before working on your project piece.
When doing free motion it helps a lot to have a slick supporting surface, so I use a silicone mat, such as a Supreme Slider. I tape mine down with that indispensable studio tool blue painters tape because I have ruined more than one mat by stitching it to the back of my project. I have repaired them a bit with clear packing tape if they aren't too badly torn. Yes, I know the stickiness returns if you rinse the back, but you have to remember to do that periodically and also the heavier and larger your quilt the more likely it is to dis-attach from the table and get caught in the stitching.
A queen sized Supreme Slider taped down with blue painters tape at my old Bernina 830 LE (I traded it for my 880 Plus last year). This works well and is easy to remove when you need to.
Setting Up the Q20 and the Q16 sitdown longarms
These machines are built for free motion quilting and free motion thread work and truly you can dive right in just as they are. But there are a few things that are helpful to know to make your free motion stitching work better.  Note that I have had my Q20 now for nearly five years and I love it.
Free motion is always better when the supporting base is slick and the fabric can slide easily. There are some very large silicone mats available for these machines, where you cut the square carefully around the BSR/Bobbin square area (whatever do you call that?!!!).
Some people like using these extra large silicone mats with their sitdowns, I don't have one. I spray the table before each project with Sullivan's silicone spray, and wipe it fully dry with a soft cloth or paper towel. But before I spray it, I cover the BSR/Bobbin area under the needle and the vent area at the back of the machine with blue painter's tape to prevent the spray from going down into the machine works. Alternatively, you can spray into the cloth and wipe the table but I think you get a little less silicone on the table that way (not scientific, just an opinion). From personal experience I know the spray works very well.
These machines have two BSRs built in which provide excellent stitch regulation.
BSR1 constantly runs and has a speed setting to make it cruise along easily at the pace you like. I use it for most of my free motion quilting and all of my free motion embroidery. I like to start off with a relatively slow "idle" speed of 250 to 300 and will raise that if I need to. The machine will run very fast if you want it to.
BSR2 stops when you stop and starts when you start. I use this mostly for ruler work.
BSR3 is a basting stitch with multiple stitch lengths to choose from. I use it a lot for larger quilts. I will spray baste the sandwich and then do some large segments of thread basting. This is especially good for your masterpiece or show quilting that will take a long time just to keep everything in good placement.
Then there is manual setting that does not engage the BSR, of course, but it does have a speed control on it so you can set it at a comfortable pace for you. I like this for micro-quilting, but I don't use it for much else. It is smooth running and quieter and makes it easy to do those tiny bubbles for instance, but I still prefer the BSRs for most of my quilting.  It's a personal preference. Some people prefer this mode for everything, but if you are new to the machine, I urge you to try the BSRs first. They are wonderful.
I often get the question about what thread will the Berninas use. All my Berninas will work well with almost any good quality thread. I just have to be sure I have the right needle, tensions, stitch length, and the speeds set up right for that.
Keeping notes on how you set things up is always helpful, but these machines have four savable programs for various thread settings, which is really nice. Once you set it all up like you like it, you can save it and even tell it what thread and needle it is for in the naming of the programs.
I like to use the kickstart feature, which allows me to free motion stitch/quilt with a very steady power feed.  This helps me relax while stitching and eliminates most stitch skips and the like, without my foot on the pedal. This is because the pedal is basically on/off and if you don't keep your foot fully down it might skip a stitch, though not usually.
For using the kickstart, get your BSR mode chosen and make sure you are all set up, then kick the pedal at the heel and the machine will sew until you press the pedal at the front to stop it. I love it. You don't have to concentrate on anything other then where you place your stitching once you get used to it.  Here's a youtube with cute fluffy slippers on using it:
And last, but not least be sure to set your bobbin tension to match your thread in the bobbin.  I use mostly Superior Bottom Line in my bobbin…even mostly their prewound M sized bobbins, which are Bottom Line…and set my tension to 180 using the Towa Guage that comes with the machine.  The Bernina default setting is 220, but I find you really need to adjust per thread size.  If you somehow didn't get one, be sure your dealer gives you one. It's not like a domestic…it's a real longarm.
Sew happy everyone!  Have fun in your studio. I hope you found this helpful.  I will be posting my next video probably this weekend.  Cheers.
Wool sampler prototype piece part one. Embellishment will be presented in part two and quilting and finishing in part three.
Wool applique and embellishment is a great tool in a fabric artist's quiver. There's nothing else that provides the rich, warm, depth that real wool fiber does. It can make all the difference in achieving the artistic look you want. In my artist's eye it compares to working with thick oil paints while cotton or silk is  like watercolors. Both are beautiful but achieve totally different looks.  Both require different techniques to get the best results.
So using a small project in wool applique I am finally launching my first video set  in my YouTube channel. Here is the link to the new video.  I have plans for multiple videos on my channel this year, and have just revamped my studio to include the things I need for producing them. So I would love you to subscribe to my channel and enjoy my videos just as a matter of interest or especially to  join me in working through the projects you like.  See the handout and pattern pdfs on my Aids and Links page here on this site for you to download and print out.  Then go to my YouTube video here.
* * * * * * * * * * * * * * *
Here is a list of the supplies with links that I will be using in this first project to which I have added links to help you in your shopping for the supplies:
1 yard of background fabric.  I am using all wool Melton, which I had in my stash.  Since the price of wool has skyrocketed since I filled my stash with it, I suggest using a melton wool blend for this, which is less expensive and still has a lot of the same characteristics and depth of beauty. Here's another link at B. Black tailoring supplies, which is a fabulous store that has things that are difficult to find elsewhere.  A solid color quilting fabric would also work but will not provide the same deep sense of richness.
There is another option.  Use wool clothing that is no longer worn, or that you find in a thrift store, or use pure wool fabrics you have stashed under your bed in those storage boxes you put your clothing fabrics in. You may have had it for a decade and still haven't made that garment you bought it for, like me.  Cut the clothing so you get the largest pieces from them and wash your wool in hot water with some detergent in your washing machine and dry it in your dryer.  This provides some amount of felting and cleans the fabric. It is also possible to dye this.  It requires all three elements…hot water, agitation, and detergent, to make it do a bit of felting the fibers together.  It does need to be pure wool for this to work well. The resulting fabric is also easy to dye in your washer.

One package of lightweight woven fusible interfacing sufficient to cover the yard of background fabric, such as  Pellon SF101 Shapeflex
One pack of precut melton wool felt pieces in a variety of colors for flower heads and a pack of a variety of green pieces for stems and leaves. You will probably have enough felt pieces for a couple of small wall hangings or other wool applique projects.  Be sure to save all the leftovers for small applique uses elsewhere. Please don't use craft felt not made with any wool.  The comparison is like using paper to fabric. You can use wool blend felt, but pure wool really makes a big difference in how this looks.
Aurifil 12 weight wool blend thread (small spool collection)  or (large spool collection..the best value by the yard) or three or four colors of the large spools.  If you prefer to use a 12 weight cotton as a slightly cheaper alternative I recommend Sulky 12 weight cotton,  for this project, it will still look beautiful, just different and not quite as close to hand done that the wool thread will provide.  I have even successfully used 40 weight  all poly embroidery threads, and I sometimes have mixed them across a project in order to get particular looks or colors.  The wool adds a depth of beauty and is probably what most hand stitchers would use. You should do some testing to see how they look.
1 black 12 weight Aurifil wool thread or Sulky 12 weight cotton for outlining.
1 spool of Superior monopoly or multiple colors matching the applique fabrics of light weight threads such as 6o to 100 weight polyesters or silks. I used both the monopoly and 100 weight threads.
2  packs of fusible web. I used Steam a Seam2 for my project and it works well.
1oo/16 top stitch needles
universal 80/12 needles if you choose to use monopoly thread for your appliques. I found the Schmetz super non stick needles really helps with dealing with the fluff from wool combined with the fusible web.
1 piece of backing fabric about 25 x 25 inches (for the back of this small quilt)  This is a good thing to pull from your existing stash.
Small piece of lower loft batting about 25 x 25 inches.  I am using 80/20. This is a good place to use leftover batting from a larger quilt project.
Bohin mechanical chalk pencil to mark the wool with, if needed.
And whenever I use fusibles, I like to have on hand this effective iron cleaning kit good for multiple cleanings that I have successfully used for years: Rowenta Iron cleaning kit
* * * * * * * * * * * * * * *
While you can print the pattern out and use it to cut out your appliques, I did cut all my appliques using my Accuquilt Go! machine, which I really like for such projects.  I have had mine for some years, collecting dies a bit at a time, and use it a lot for circles, rectangles, strips, bindings and borders and projects such as this.  In my opinion, it is well worth the investment required.  I can cut out a simple snuggle lap or crib quilt of squares and a border (prestarched) with a few fun appliques to snazz it up (backed with steam-a-seam 2)  in ten minutes (after the fabric is pressed with starch) and make the quilt top all in the same day.  Everything is nice and accurate too, very unlike it looks if I do my own cutting.  Hahaha.
I used the following three dies for this project and it only took a few minutes for all the shapes I needed with some leftovers:
Go Circle (1 1/2″ to 2 1/2″) it's so hard to hand cut good circles.  These are beautiful. If you can only get one dye set for this project, this might be it.

Go Round Flower

Go Stems and Leaves 
Sew happy everyone!  Let's get started.  Please feel free to ask questions using comments here or on the YouTube channel.
I love quilted fabric art pieces, in case you haven't figured that out yet,  They can be as artistic as any great painting and can warm the home and office with their beauty.  The texture can approach three dimensional with different finishes and dents and poufs, and they make you want to go and touch them.  There are so many directions they can take.
I also love using the power of my great machines and my computer to work well beyond my own talents and abilities even as my hands age and can do less. There is much there to take advantage of for creating and enjoying and the additions continue. I even recently bought a new Bernina foot and my dealer kindly mailed it to me.
Learning the techniques, and taking advantage of the various attachments and feet is an important and interesting part of this.
Understanding how the machines respond to fabrics, threads, and quilt sandwiches is a key aspect to getting the maximum advantages out of the machines.
Trying not to get too frustrated when things don't go well, but instead working through various steps to see what can be done to solve problems is equally important, and perhaps the hardest thing to do.
Learning how to better use various helpful software also adds to how far one can go.
These are the goals for me to continue to reach for this year even after all these years of sewing and quilting using these great tools.  I have concluded there is always more to learn.  And then I also want to get better adding surface design in the form of in-the-hoop embroidery, paints, beads, and crystals to move even further just adds to the enjoyment.  I feel almost like I am just beyond a beginner in this aspect.
Sew even though it is unclear where we will land in our quilting/sewing world after The Great Upheaval, my own name for the pandemic and actions taken, there will always be much to do and learn.  This makes me excited even as I still hang out safely in my studio.  Truth be told, even after we all get through this thing and I can go out more, I will be spending the majority of my time in my studio because I love these activities.  Yes, I will have my friends in finally and go see them, and I will go to brick and mortar fabric stores that may be left, and will delight as I see the rebirth of the industry across the nation.  I hope to go back to shows eventually.  I think we still have some months before this happens.
So I will be making some smaller projects in 2021 but still plan on doing them to quilt show quality even if they never go to a show.  It is the standard that I don't want to leave.  I will, of course, also make some cuddle quilts and a few clothes this year.
This Week's Featured Quilt
Kanazawa Memories, Completed August 2015 Sashiko designs stitched with 12 weight Sulky cotton on Peppered Cotton. I digitally painted the individual flower appliques and printed them on cotton, and then arranged them in a close approximation of arranging Ikebana with real flowers.  The vase is made from some hand dyed silk I had on hand.  I then appliqued them with Monopoly.  This is the perfect example of what I was just talking about.  I did take a hand Sashiko class from the great Pepper Cory and I loved it, but I have a very hard time hand stitching Sashiko now.  But here I used digitized Sashiko, some of which I digitized myself, and picked threads and fabrics close to what I knew were very Japanese in nature.  Decades ago, I lived in Kanazawa for three years and had some wonderful helpful friends.  This quilt was created while thinking about this time in my life.  You can see a better image of this on my website gallery.  I am still waiting my coming new computer after the great computer crash a week ago, so I must use what is available here on my laptop.  Here's the link to the gallery page where you can find this.
Sew happy everyone!  Join me in advancing our understanding of what we can do with the machines we have.  Cheers everyone.
I hand stitched this little crewel scene using wool threads years ago. It has a special meaning for me because I stitched it during my frequent visits with my mother in the months that lead up to her death in 1998. My youngest son took it and had it framed in a museum quality acid free framing to protect it.
I love both hand and machine stitched fabric art.  I do most, or nearly all my stitching by machine now, but that was not always the case.  I have done some rather beautiful, even if I do say so myself, embroidery, cross stitching, and crewel work by hand.  I used to d0 a lot of hand stitching when I made wedding dresses and couture tailored garments decades ago.  But I am now in my 70s and my hands get really tired in short order when I am doing hand stitching.
Besides that, I have wonderful Berninas that can help me do some remarkable things and I love exploring all they can do.  It seems to me possible to not only get an exquisite handmade look for some fabric art using my machines, but also to do some equally exquisite stitching that is clearly done by machine.
"Canterbury Silk". This quilt won several ribbons in national competitions. All the stitching in this quilt is by machine.
I am not sure how much faster it is to do the stitching by machine, though I am sure it is a little bit.  This is especially the case when I am trying to embellish with specialty threads and decorative stitching.  To do that well, I often need to stitch slowly.  I imagine that there are some of you who can stitch more rapidly with super results, but I totally enjoy the slow stitching around appliques, for instance, or embellishing parts of an especially nice quilted wall art piece. It is as enjoyable to me as the hand stitching ever was.
Kanazawa Memories, Completed August 2015
Sashiko designs machine stitched with 12 weight Sulky cotton on to Peppered Cottons.  Appliqued with Monopoly. I love how the Sashiko came out on this piece.
High end machine work requires planning, testing, practice, and a fair amount of knowledge, but it is sometimes thought to be less artistic 0r less appreciated somehow than hand done work.  While I love hand work, I disagree with this point of view.  I think both are important and can be exquisite and  admired as something special.  I also think it is wonderful what can be accomplished by machine.
Sew happy everyone!  Have a delightful Merry Christmas!
Detail from "Noel".
Tags: Don't give up without trying something else first, I love comments., Thank the Lord for all the cool things we have to work with today
Sours: https://www.blog.bjfabricartist.com/category/techniques/art-quilt-techniques/
Quilts techniques art
.
The Art of Quilting - Part 8
.
Similar news:
.
812
813
814
815
816